Real sugar, fresh cream, and plenty of strawberries make this creamy dessert a homemade treat you'll love all summer long.
This is the best strawberry ice cream recipe that I've found. It has simple ingredients and is easy to make. If you're looking for a fresh and straightforward dessert for spring and summer, give this one a try!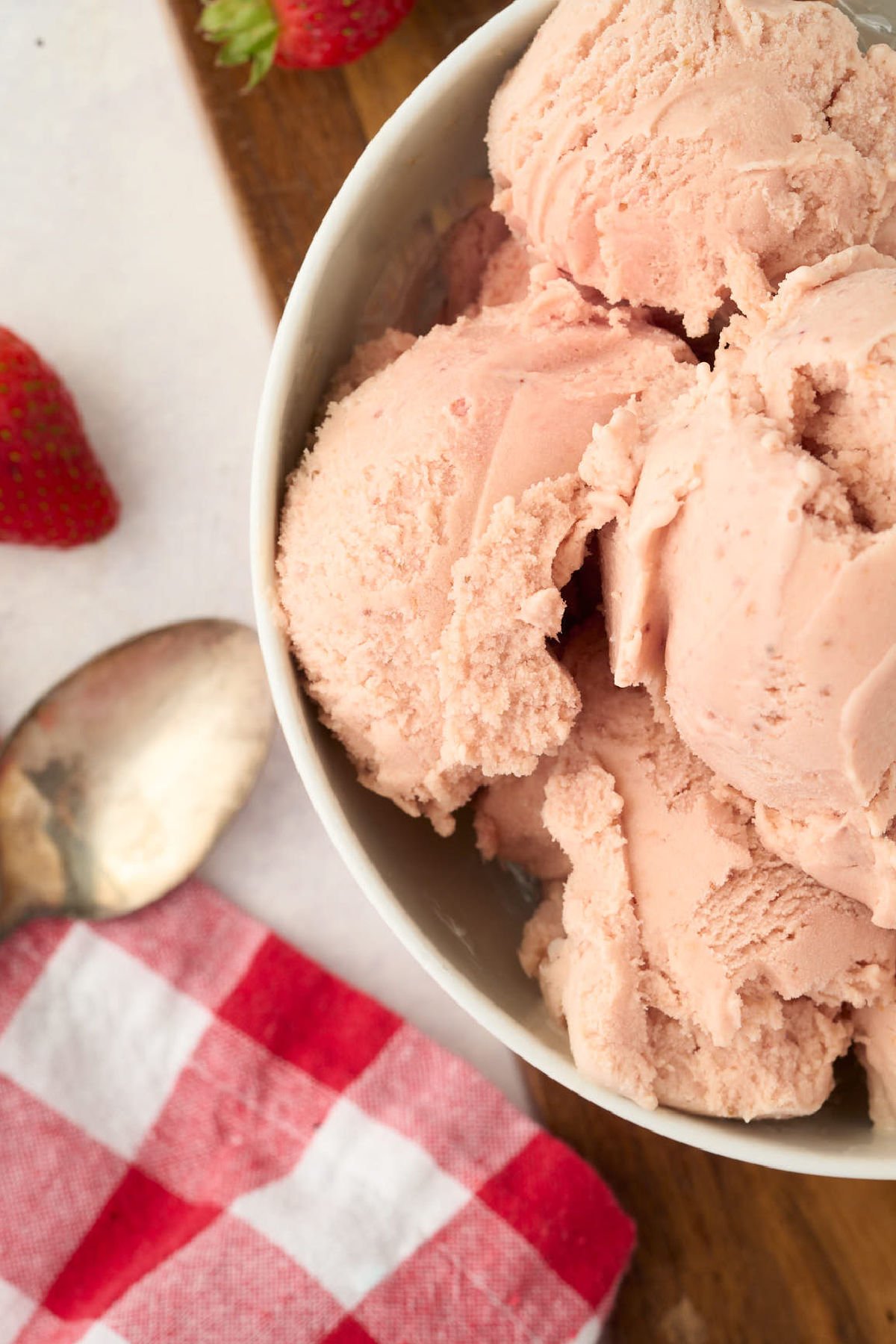 ❤️ Why you'll love this recipe
Basic ingredients– Homemade ice cream has no fillers, weird ingredients, or preservatives. That's what makes it so delicious.
Make-ahead– Even though there are a lot of steps, you can have this recipe ready to go ahead of time, making it perfect for a spring get-together.
It's fun!– There's nothing like churning custard into ice cream and pouring in strawberries to make it bright pink. Kids will love to help with those steps.
🧂 Ingredients
This is an overview of the ingredients. You'll find the full measurements and instructions in the printable recipe at the bottom of the page.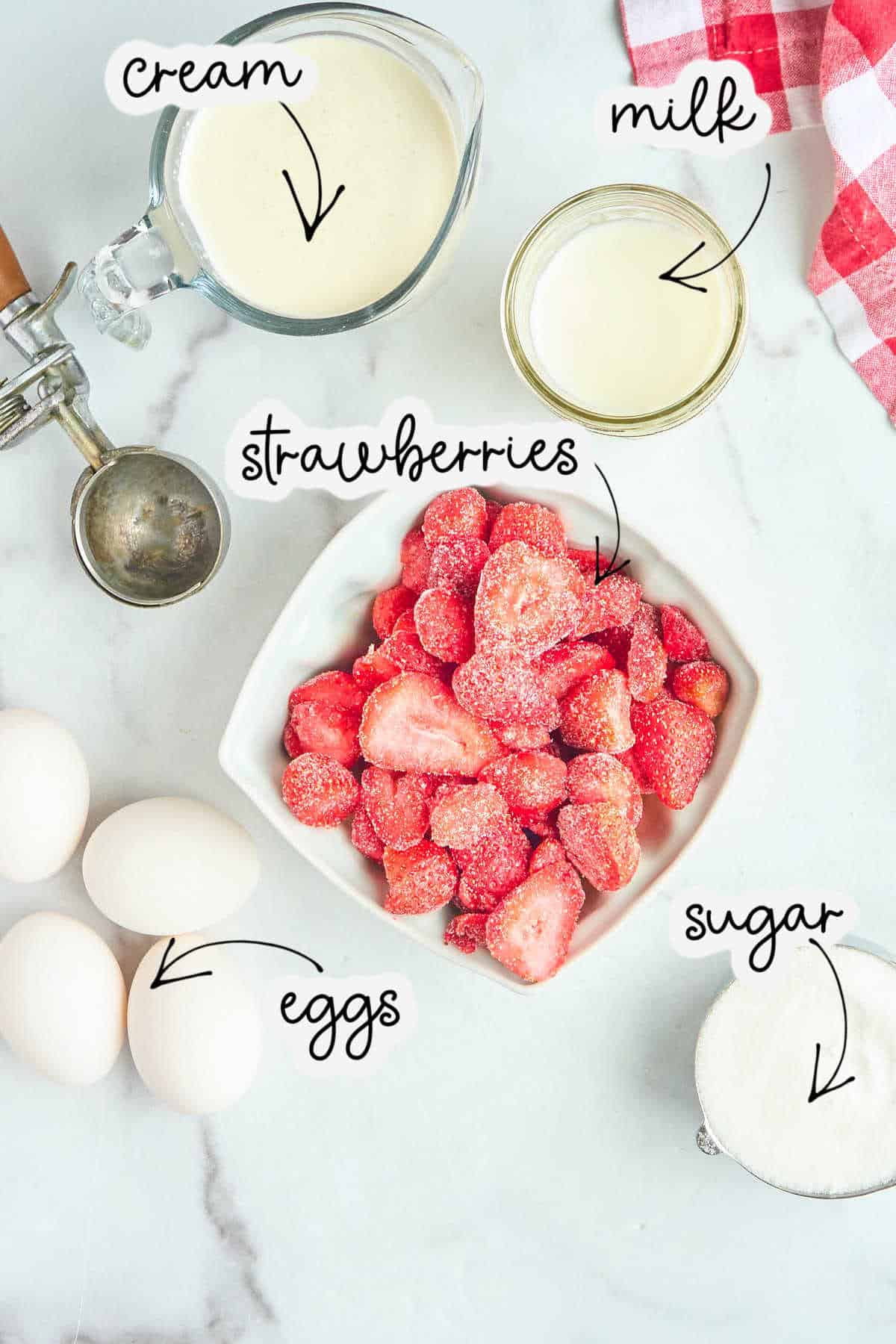 You'll need the following for this creamy homemade ice cream:
whole milk
heavy whipping cream
sugar
egg yolks
salt
sliced strawberries (frozen works well!)
lemon juice
🥣 Equipment
This article contains affiliate links, meaning that if you make a purchase after clicking on one, I may earn a commission at no extra cost to you. As an Amazon Associate, I earn from qualifying purchases.
🍴Instructions
Step One: make the strawberry syrup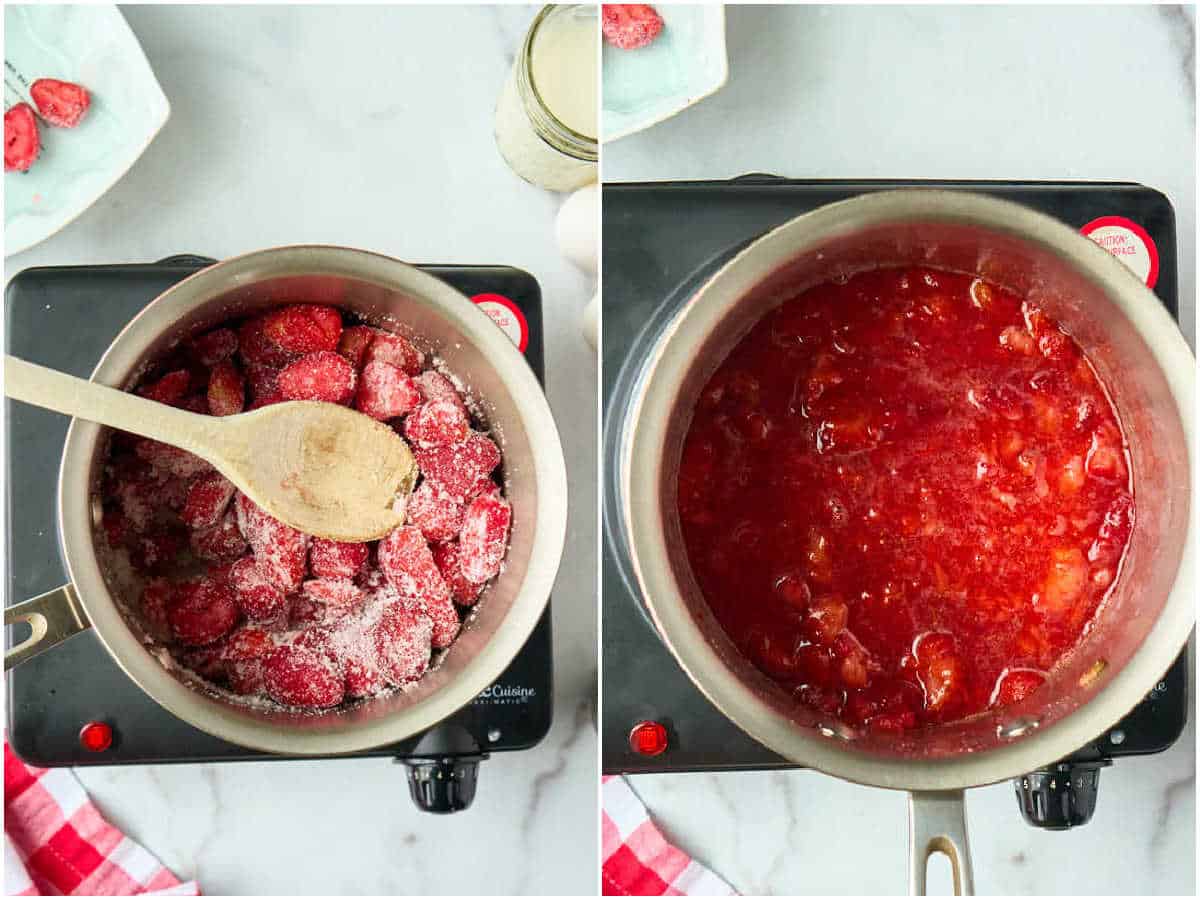 Make sure your ice cream maker is ready before starting this process, as it takes 24 hours for the canister to chill thoroughly. (Unless you have one of the cool ones that you don't have to pre-chill, in which case, ignore me.)
Make the perfect sugared strawberries by combining 1/4 cup of sliced berries, lemon juice, and sugar in a small saucepan. Bring to simmer over medium-low heat for 3 minutes before turning off heat & mashing into a delicious berry sauce with a potato masher or fork until some pieces are still intact. For the very smoothest ice cream, use a food processor.
Step Two: heat the milk and temper the eggs
Heat the milk and cream with some 1/2 cup of sugar. Add this mixture to a large saucepan over medium heat, warming it until it is hot (175 degrees), or about five minutes. It should be steaming but not simmering!
Beat eggs until they become lighter yellow: yolks only. (Save the whites and make meringue-topped key lime pie!)
Here's where it all seems a little complicated, but once you make homemade ice cream the first time, it will make sense. We have eggs, and we have hot milk. We can't just dump them together, or the eggs will cook. Gross. We must add the hot milk a bit at a time.
So slowly scoop some of the hot milk mixture into the egg mixture. Add 1/2 cup at a time, and stir. Add a little more. Keep going until half of the milk has been added to it. Now the eggs are safe. Dump the whole egg mixture back into the saucepan. Everything is back in there now.
Step three: finish the custard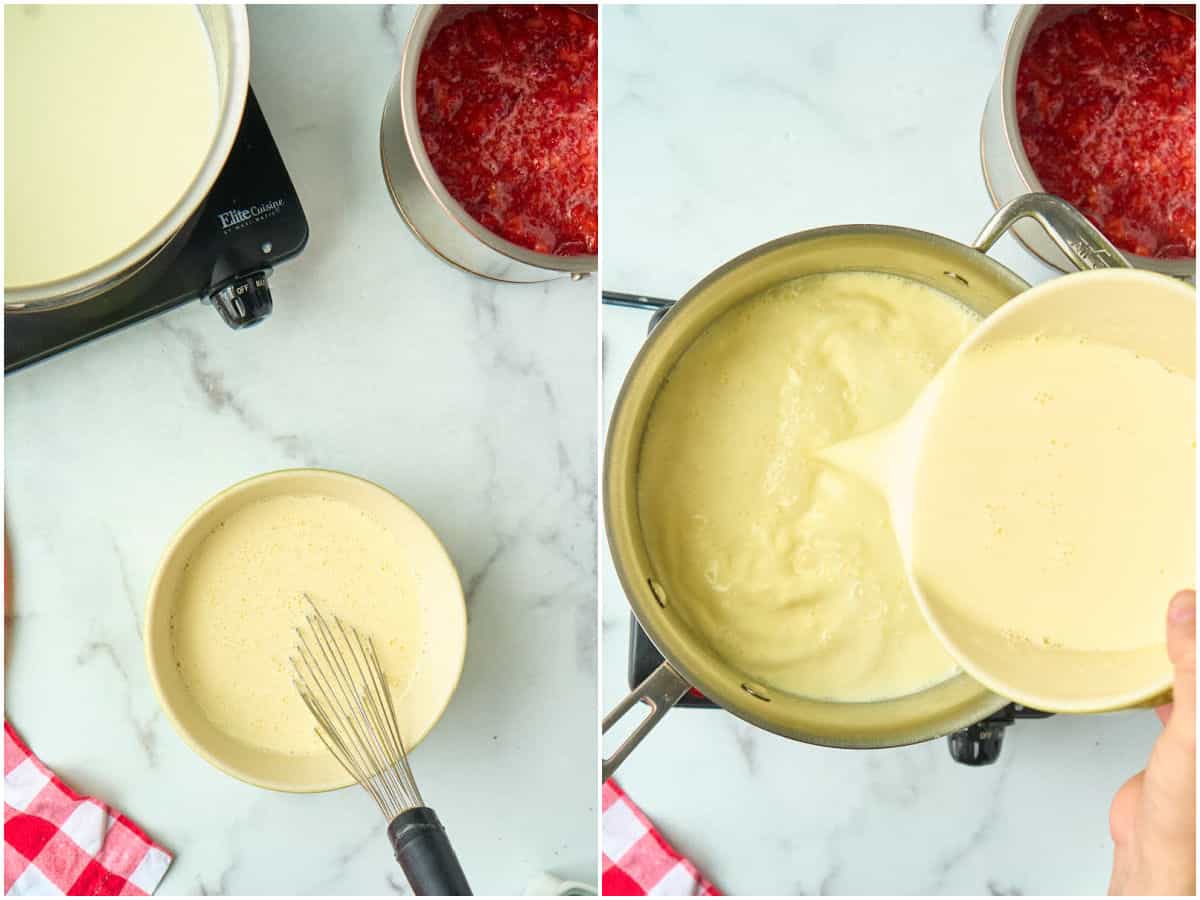 Now we heat the whole thing up. Return it to the heat. The mixture will be ready when it has thickened enough to coat the back of a spoon.
Step Four: strain and chill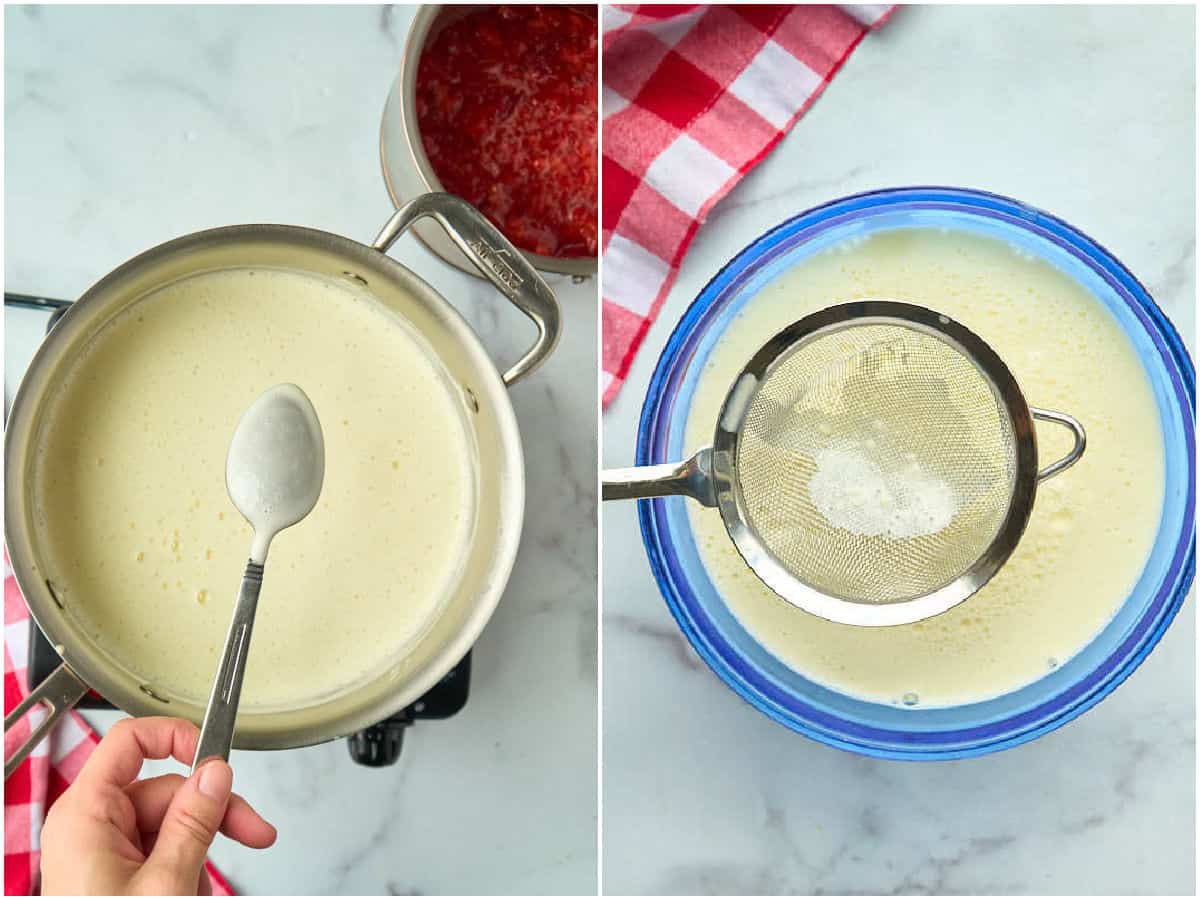 Remove from the heat, add a pinch of salt, and strain it to remove any cooked egg bits. It happens sometimes.
Now we have these two components, and they need to chill. Pop them in the fridge, covered in plastic wrap, and let them cool for at least 4 hours until they are very cold.
Step Four: churn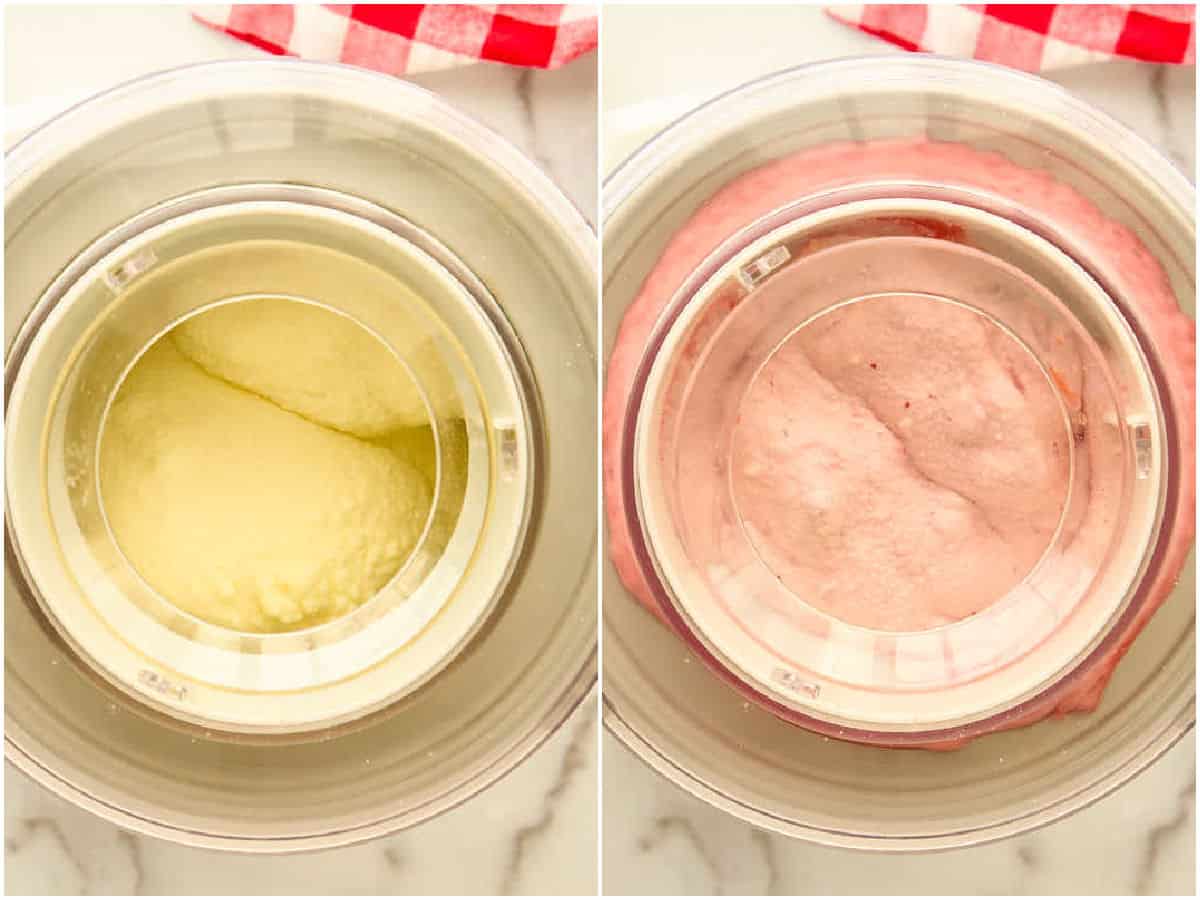 The first step is setting up the machine according to manufacturer instructions. Pour in the custard and let the ice cream maker run until it becomes soft-serve consistency. Then pour in the strawberry mixture and let it churn a few minutes more until it's incorporated. Once that's done, we'll start.
Scoop it all into a freezer-safe container (we use a loaf pan) and pop it back in the freezer until it's firm enough to scoop.
🥫 Storage instructions
Homemade ice cream will last up to a week in the freezer, stored in an airtight container with plastic wrap pressed on top.
🔍 FAQs
How long does homemade ice cream last?
It can last in the freezer for up to a week. There are no preservatives, which is great for flavor, but it's best to enjoy it right away.
Can I add other ingredients?
Yes! You can add nuts, chocolate chips, or any type of berry you like.
Can I use low-fat dairy?
No. Live a little
Can you use frozen strawberries in the recipe?
Yes! Please do, especially if it's not strawberry season.
👩🏻‍🍳 Expert tips
Plan ahead! The recipe takes a little time to make.
The ice cream will be firmer if you let it set in the freezer overnight.
The ingredients are simple but important. Make sure to use fresh dairy products and ripe berries.
📘 Related Recipes
🍽 Serve it with
Having a sweet, springtime party? Try these recipes too:
📖 Here's the recipe
Old-Fashioned Strawberry Ice Cream
Print Recipe
Real sugar, fresh cream, and plenty of strawberries make this creamy dessert a homemade treat you'll love all summer long.
Click here to grab a free seasonal e-cookbook!
Ingredients
For the ice cream base
1½

cups

whole milk

1½

cups

heavy whipping cream

¾

cup

sugar

4

egg yolks

pinch

salt
For the strawberry mix-in
2

cups

sliced strawberries

frozen works well

¼

cup

sugar

1

tablespoon

lemon juice
Instructions
Prepare ice cream maker by freezing the canister. Many machines require at least 24 hours of chilling, so don't forget to do this first.

Make the sugared strawberries. Combine the sliced strawberries, lemon juice, and 1/4 cup sugar in a small saucepan. Bring to a simmer over medium-low heat and simmer for 3 minutes. Turn off the heat and mash with a potato masher or fork until it is like a sauce with some berry pieces still intact. If you do not want pieces of berries in the finished ice cream, run it through a food processor or use a stick blender.

Heat the milk and cream with some of sugar. Add the milk, cream, and 1/2 cup of the sugar to a large saucepan. Over medium heat, warm the mixture until it is very warm (175 degrees), about 5 minutes. It should be steaming but not simmering

Beat the eggs and remaining sugar. While the mixture is heating, combine the egg yolks with the remaining cup of sugar. Beat until it turns lighter yellow in color. A hand mixer works well for this.

Temper the eggs by slowly adding some of the warm milk. Remove the milk mixture from the heat, and half a cup at a time, add roughly half of it to the egg mixture. Mix after each addition. Adding the warm milk slowly prevents it from cooking the eggs. Once you've added about half of the milk mixture into the eggs, pour the entire milk- egg mixture back into the saucepan. Heat over medium and cook, stirring constantly, until the mixture is 185 degrees, or has thickened enough the coat the back of a spoon. Do not boil.

Chill the custard and strawberries. Remove custard from heat and stir in the salt. Strain the mixture using a strainer or cheesecloth set over a large bowl. Allow to cool at room temperature, then cover and place in fridge until very cold- at least 6 hours, up to overnight.

Churn. Remove custard from fridge and set up ice cream maker, according to manufacturer's instructions. Churn until it is the consistency of soft serve ice cream, then add the strawberry mixture. Let the machine run a few more minutes until the ice cream is pink and the berries are distributed throughout.

Freeze. Cover and refreeze 2-4 hours until hardened. Scoop and serve. Will last up to week in the freezer, stored in an airtight container with plastic wrap pressed on top.
Notes
Do not rush any stage of ice cream making or it will not freeze properly.
Any whole pieces of strawberry will re-freeze solid, so be sure to mash them well!
Did you make this recipe?
If you loved it, please leave a review!
Homemade ice cream is a tasty and rewarding summer dessert. If you have the time, it's worth making from scratch to enjoy all of its deliciousness without any preservatives or artificial flavorings. The recipe for strawberry ice cream we've provided above might be a little complicated at first glance, but once you get started, it'll make sense in no time! Enjoy!