A truly simple sourdough recipe that is kneaded in your bread machine.  A great everyday bread for the sourdough lover.
Let your bread machine do all the hard work for you and say goodbye to overly complex sourdough recipes forever.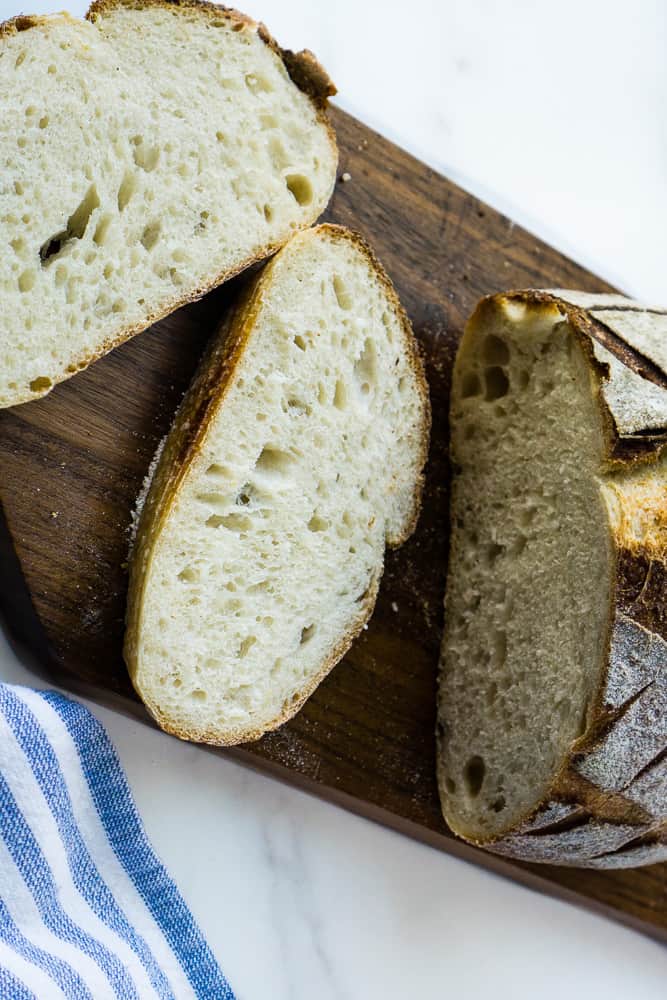 Have you ever had a complete baking fail? Well of course, we all have. But have you ever had a two year long baking fail? I bet you have not. When I first tried baking with sourdough, I failed at it every single week for two years before I finally quit. When I restarted years later, I was determined to succeed and it still took me FOREVER.
Most people love the idea of baking with sourdough because they see pictures of beautiful artisan loaves with deep crust, slashes, and all the rest. And then the reality of their bread is a flat, weird, situation that is not quite what they expected. Anyone else?
I am going to share a great recipe that is going to end that sadness forever. This recipe has no yeast, so it is a true sourdough bread. But it breaks some of the sourdough rules because it is kneaded fully, like a yeast dough, in the bread machine. It's not baked in there (that would not work at all.) But if you are looking for a truly simple sourdough recipe, you have found it.
When I was developing this recipe, I knew that it couldn't be a high hydration, super open crumb bread. That requires folding and a million steps. That's fine, but it's not what I wanted. I wanted a true, yeast free sourdough that could be made easily enough that it could be our everyday bread. So I had to make this a pretty low-hydration, but I think you'll be surprised by how nice the texture is. It turns out a great, consistent loaf of bread.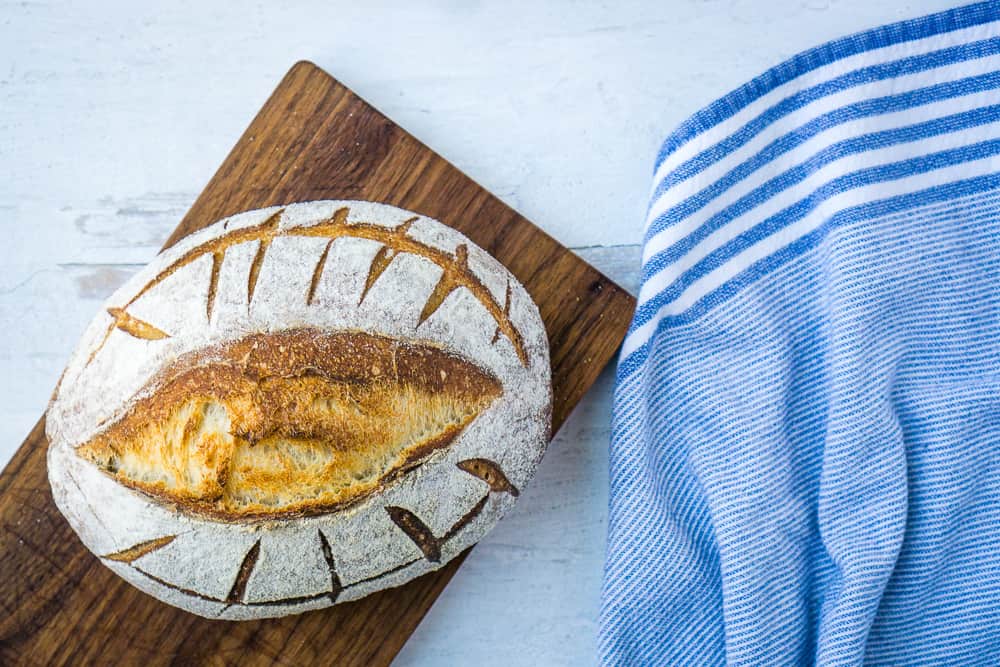 Looking for sourdough recipes that WORK, written in a language you understand?
Sign up for my sourdough email series that takes you from making a starter to baking all kinds of sourdough recipes! You can
grab it here
Step by step bread machine sourdough bread:
Day 1: Prepare the dough in the bread machine and shape the loaf
This bread has an autolyse step that is a fancy word for "mix everything in a bowl and let it sit there". Pour all the ingredients into a mixing bowl, EXCEPT THE SALT, and mix it up.
It may look dryer than you are used to seeing with sourdough bread. That's okay. Don't add any more water. You can use your hands to make sure any dry bits get mixed in.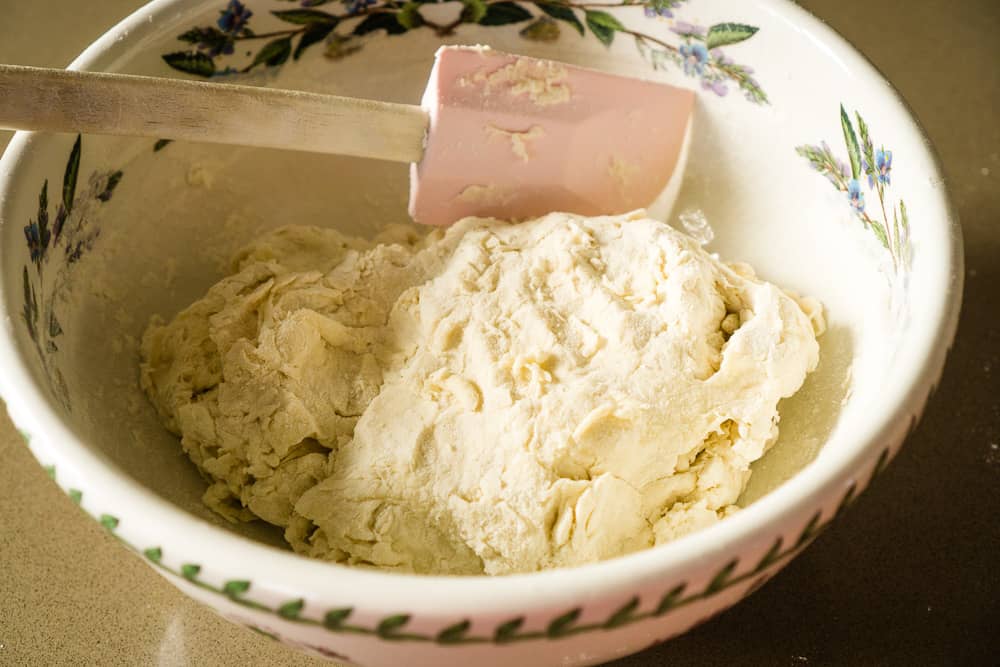 Cover with a towel and just let it rest on the counter for about 30 minutes. I always measure out the salt and put it in a little container on top of the towel so I don't forget to add it later.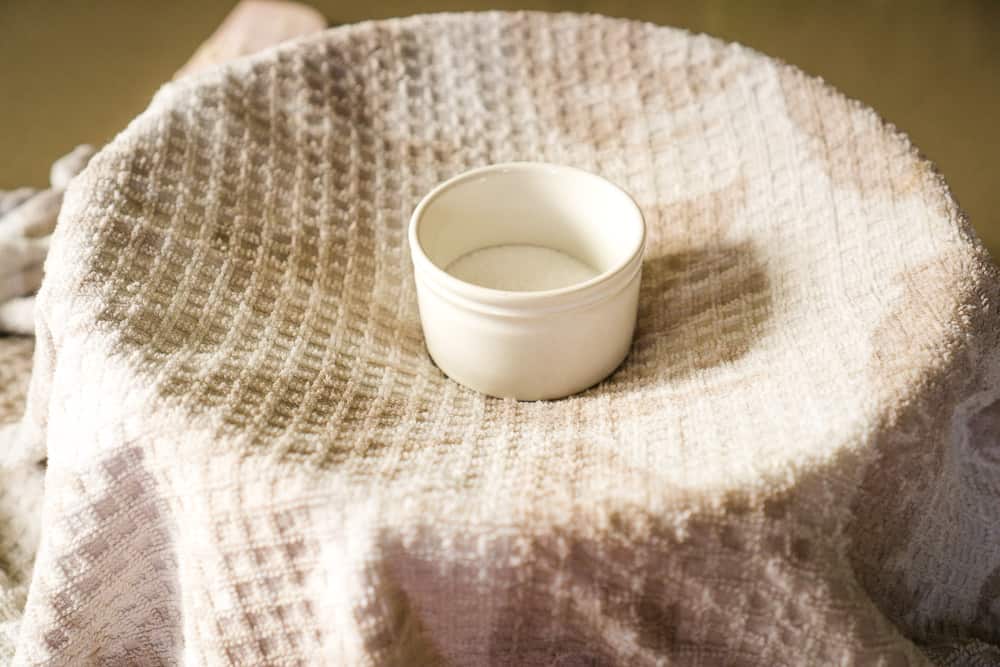 Come back after the 30 minute rest and the dough will probably seem less dry. Great!

Then we put the dough and the salt in the bread machine bucket. Set in on the dough cycle and press start. You don't need to fold the dough or anything crazy like that. Just walk away.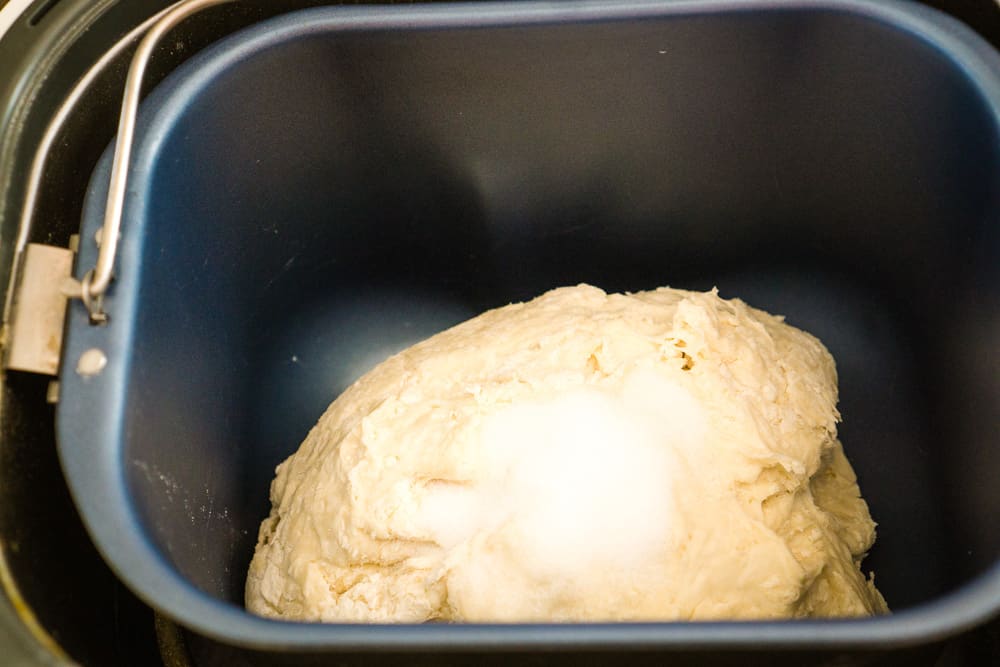 Since this is a true sourdough without yeast, it needs a longer rise time than what the bread machine gives it. Let it complete the cycle, turn itself off, then leave it for 2 to 3 more hours. It won't double in size, but should look noticeably puffier. The cooler the room, the longer the rise.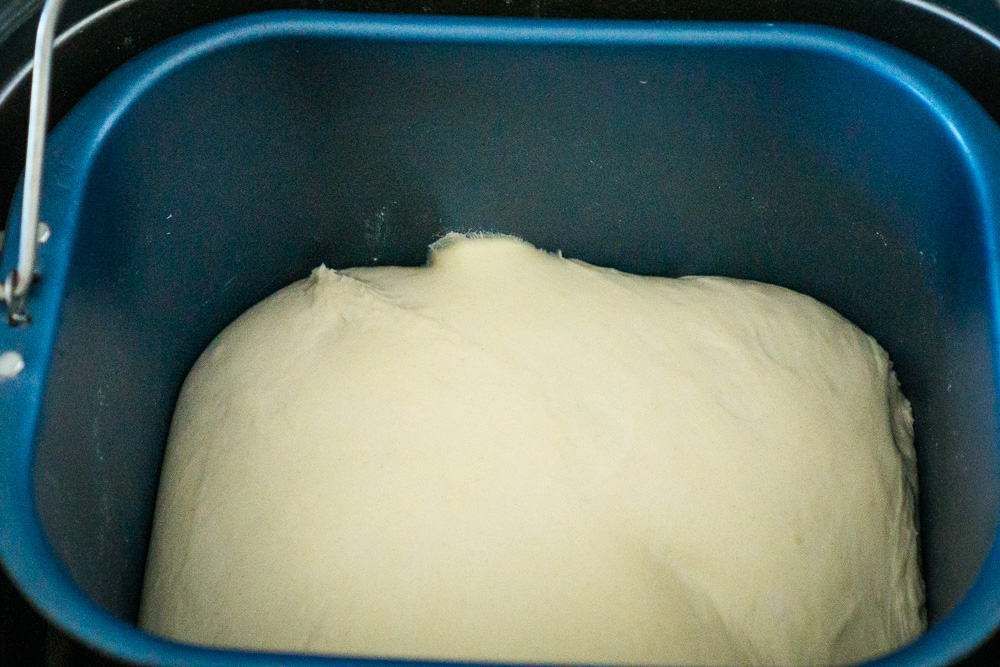 Now we take out the dough and shape it into a loaf. It will feel sticky, but should not be too difficult to work with. Don't flour your hands or anything else. Prepare a baking sheet by laying parchment paper on top and sprinkling it with cornmeal,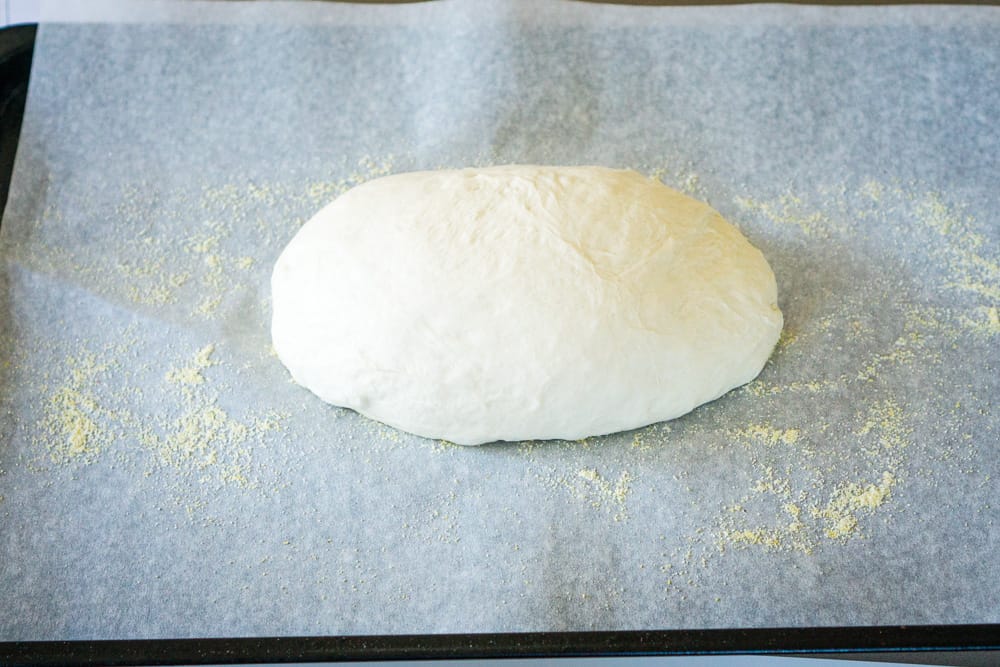 Roughly shape it into an oval without mashing it down. Just gently shape. I don't use any type of fancy technique. When it looks like a smooth oval loaf, great.

Place the loaf on the baking sheet and cover it with heaviliy greased plastic wrap.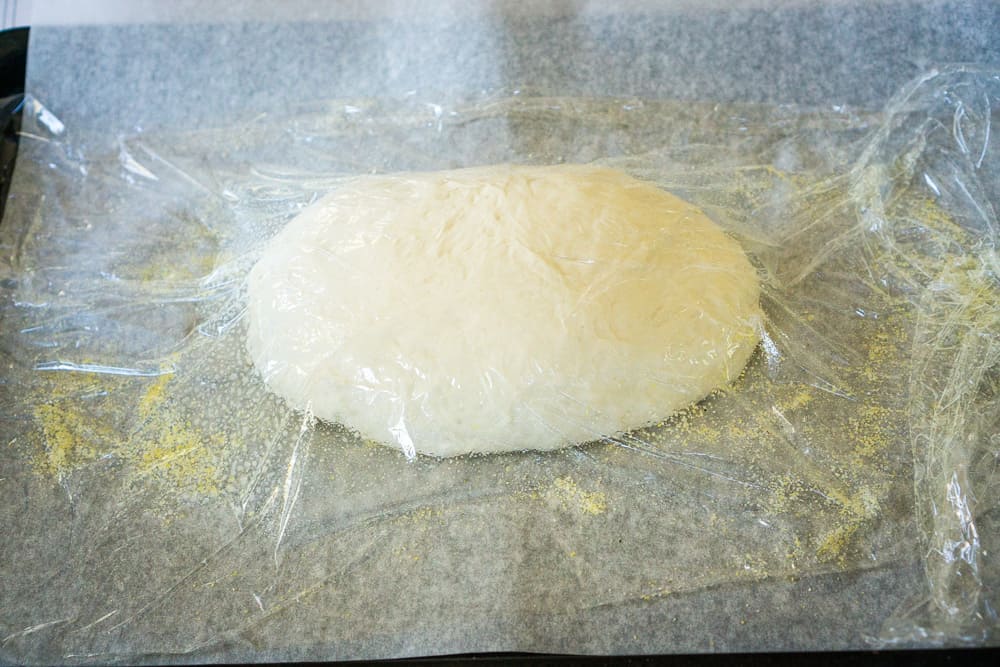 Put it in the fridge overnight. I have left it in there up to 18 hours without any trouble.

Day 2: Bake the bread
When you bake up in the morning, it's time to bake your bread machine sourdough. The earlier the better.
Preheat your oven to 450 with one rack in the center and one rack in the lower middle. Place an empty rimmed baking sheet on the lower middle rack. We want to heat it up so it can create steam. The steam is an essential part of getting a good shaped loaf.

While the oven is preheating, take the loaf out of the fridge. It may not look that much bigger than it did yesterday. Don't worry.
Gently rub it with flour (I use rice flour, but any kind is fine for this). and then slash it. If you want an "ear" on your loaf, do you main slash parallel to the baking sheet.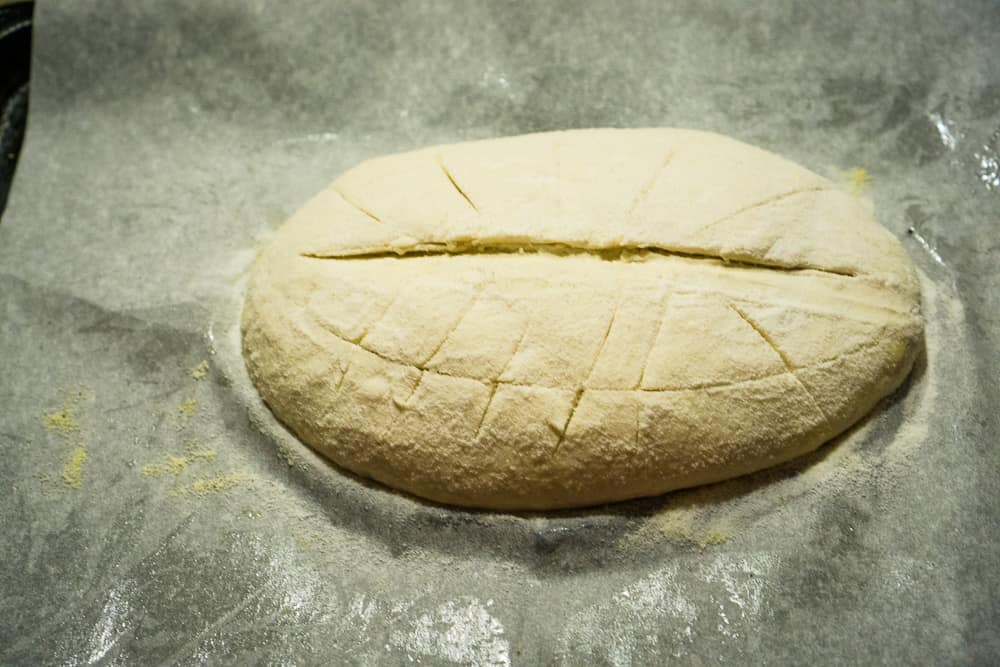 Once the oven has preheated, pour 1 cup of water onto the hot, empty baking sheet.
Immediately place the baking sheet in as well, close the door quickly, and set the timer for 45 minutes.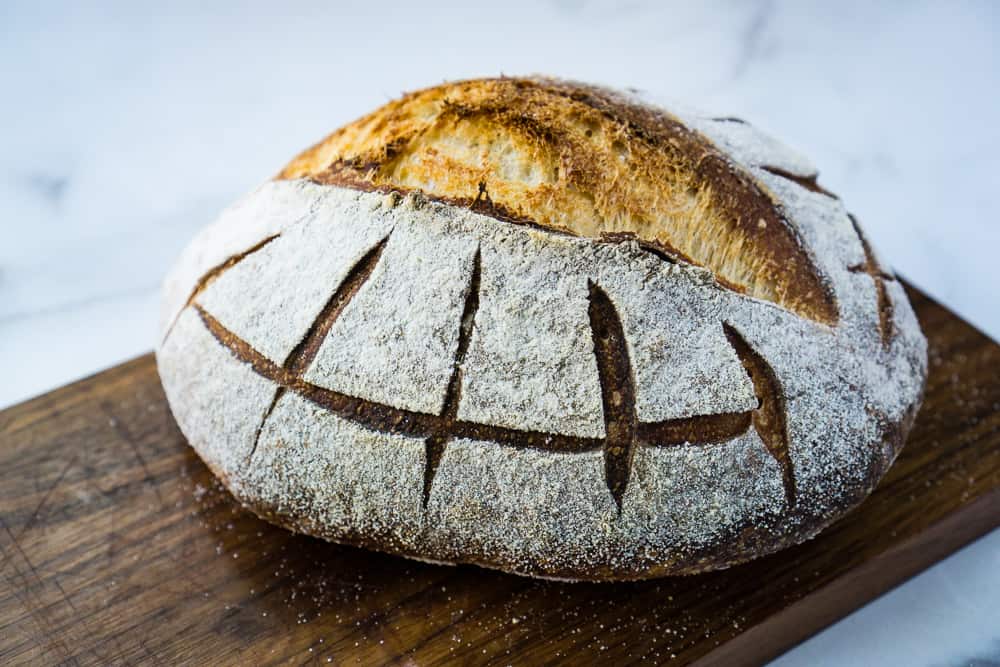 See how much oven spring you get with the steam? Amazing.
Let it cool at least 4 hours before slicing.
It is the perfect bread for sandwiches or toast with a chewy crust, great flavor, and beautiful interior with holes that aren't too big for sandwiches.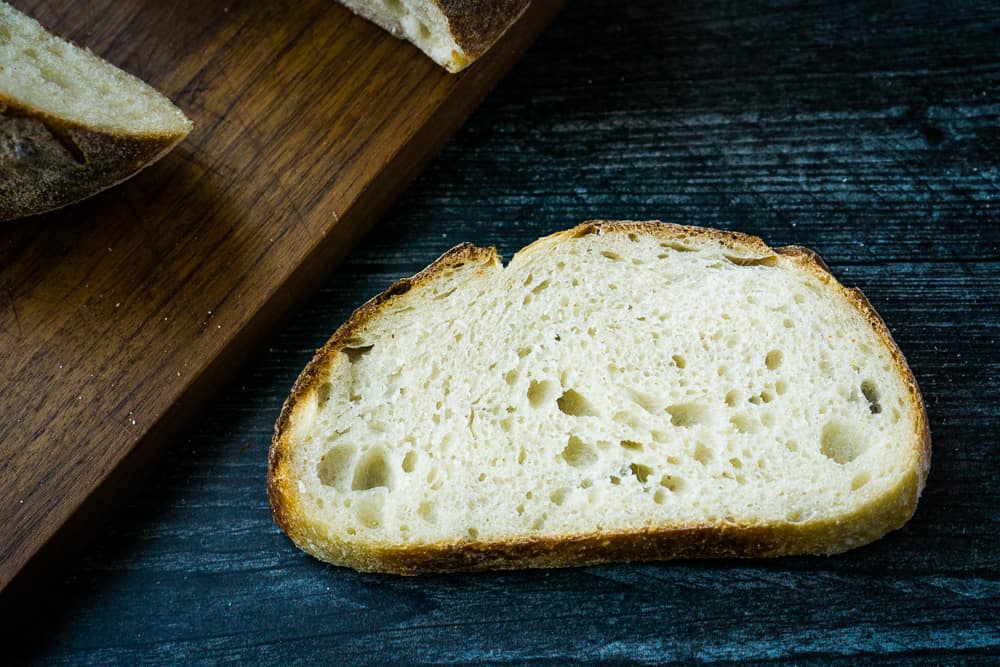 This post contains affiliate links, meaning that if you make a purchase after clicking on a link I may earn a small commission at no additional cost to you. As an Amazon associate, I earn from qualifying purchases.
Essential tools and ingredients for this recipe:
Here's the recipe!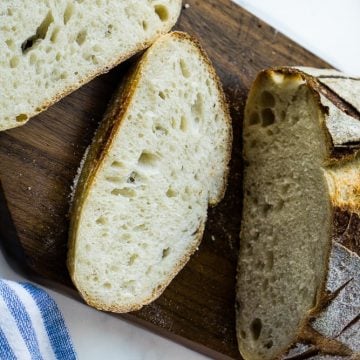 Bread Machine Sourdough
Print Recipe
A truly simple sourdough recipe that is kneaded in your bread machine. A great everyday bread for the sourdough lover.
Click here to grab a free seasonal e-cookbook!
Ingredients
3

cups

bread flour

15.85 ounces/ 450 grams

1

cup

lukewarm water

7.75 ounces/ 220 grams

3/4

cup

fed sourdough starter

5.65 ounces/ 165 grams

1/2

tablespoon

sugar

1 3/4

teaspoon

salt
Instructions
Mix the bread flour, starter, sugar, and water in a large mixing bowl. It will seem dryer than most sourdoughs, but don't add more water. Use your hands to make sure everything is incorporated into a ball. Cover the bowl with a damp tea towel and let it rest on the counter. (It helps to measure out the salt into a separate container on place it on top of the towel so you don't forget to add it later.)

Place the dough and salt into the bread machine bucket and select the dough cycle. The machine will beep when the cycle ends, but let it rise another 2-3 hours in the machine, for a total rise time of 3-4 hours. The dough should look noticeably puffier, but may not have quite doubled in size.

Prepare a baking sheet by lining with parchment paper and sprinkling with cornmeal. Take the dough out of the bread machine, and gently shape it into a round or oval loaf. The dough will be slightly sticky, but dry not to use any flour when shaping it. Place on the prepared baking sheet and cover with plastic wrap sprayed with cooking spray.

Place the covered loaf in the refrigerator to proof overnight. Anywhere from 8-16 hours will be fine.

In the morning, preheat the oven to 450 degrees with two racks: one in the center, one in the lower middle. Place an empty rimmed baking sheet on the lower rack while the oven is preheating. Remove the loaf from the fridge and gently rub with flour. Slash the loaf with a lame or sharp serrated knife.

When the oven has preheated, pour 1 cup of water onto the empty baking sheet to create steam. Immediately place the loaf inside, close the door, and bake for 45 minutes. Let cool on a wire rack for at least 4 hours before slicing. 7. Store at room temperature, well wrapped, for up to three days,
Notes
I use a 100% hydration sourdough starter (equal parts flour and water), if yours is dryer or wetter, you will need to slightly tweak the amount of water in the dough.
I have done this recipe both by weight and volume and the results were similar.
To make ahead, fully bake the loaf, allow it to cool completely, and freeze, well wrapped, for up to a month.
Nutrition
Calories:
138
kcal
|
Carbohydrates:
28
g
|
Protein:
4
g
|
Fat:
1
g
|
Saturated Fat:
1
g
|
Sodium:
408
mg
|
Potassium:
38
mg
|
Fiber:
1
g
|
Sugar:
1
g
|
Calcium:
6
mg
|
Iron:
1
mg
More sourdough recipes for beginners:
Your sourdough bread didn't turn out the way you hoped?
Check my Sourdough FAQ page to see what could have gone wrong, or leave me a comment and I will do my best to help you out!
Happy baking!