A recipe for a hearty white sandwich loaf that's easy to make and rises high and fluffy.
This is a versatile, easy-to-make sandwich bread that can be used for BLTs, morning toast, or… I'm pretty sure you know how to use white bread 😉.
First time? Read my ultra-opinionated bread-baking tips so that you can do it right.
Want some free Christmas printables? Click here to grab 'em
Ingredients
3

cups

bread flour

1 cup

plus 1 tablespoon

lukewarm water

2

tablespoons

butter

softened

2

tablespoons

sugar

1 ½

teaspoons

salt

2

teaspoons

instant yeast

(SAF brand is recommended)
Instructions
Mix. Add all ingredients to the bowl of an electric stand mixer or to a large mixing bowl. Combine until a dough is formed that holds together and does not stick to the sides of bottom of the bowl. If it seems too dry and crumbly, add more water a teaspoon at a time. If it's too sticky, add more flour.

Knead. Knead the dough by machine or hand for ten to fifteen minutes, until it is smooth, soft, and reaches the windowpane stage (meaning that when the dough is stretched, a translucent area appears). If using a stand mixer, allow the machine to rest every five minutes.

First rise. Shape the dough gently into a ball and place into a clean, lightly oiled bowl. Cover with a clean, damp tea towel and place into a warm place to rise. Let the dough rise 60 minutes, until it is puffy and has doubled in size.

Shape. Gently stretch the dough into a rectangle, with the short side of the rectangle as long as the long side of the loaf pan you will be using for baking. Tuck in the corners and top of the dough, and roll into a long. Pinch the seams closed and place the loaf, seam side down, into a lightly oiled loaf pan.

Second rise. Cover with heavily greased plastic wrap and place in a warm place to rise again, until the dough rises to be one inch above the top of the loaf pan. When it is ready, preheat the oven to 350 degrees. Generously flour the top of the loaf with flour.

Bake. Bake at 350 for 45-50 minutes, until the dough is 200-210 degrees internally and sounds hollow when tapped. Remove from loaf pan and allow to cool fully on wire rack. Bread stays fresh 2 days at room temperature, or 2 months frozen.
Notes
To make this dough in a bread machine, use the BASIC cycle to have the machine bake it completely, or use the DOUGH cycle, then remove the dough to shape, do the second rise, and bake.
If you do not have bread flour, all purpose flour can be substituted. You will need to reduce the water by 20% and increase slightly if needed. The bread will have a less hearty texture.
Nutrition
Calories:
129
kcal
|
Carbohydrates:
26
g
|
Protein:
5
g
|
Fat:
1
g
|
Saturated Fat:
1
g
|
Cholesterol:
1
mg
|
Sodium:
295
mg
|
Potassium:
54
mg
|
Fiber:
1
g
|
Sugar:
2
g
|
Calcium:
8
mg
|
Iron:
1
mg
Did you make this?
Let me know how it was! Please see below for serving ideas, storage instructions, and substitutions.
You'll need the following
bread flour (You can use all-purpose. You won't get that super-hearty texture; it will be softer. And you'll need to reduce the water by just a bit.)
lukewarm water
butter
sugar (I put sugar in all my bread recipes! I find that it improves the rise and you can't even taste it. You can leave it out if it's bugging you. 😊)
salt
instant yeast (SAF brand is recommended)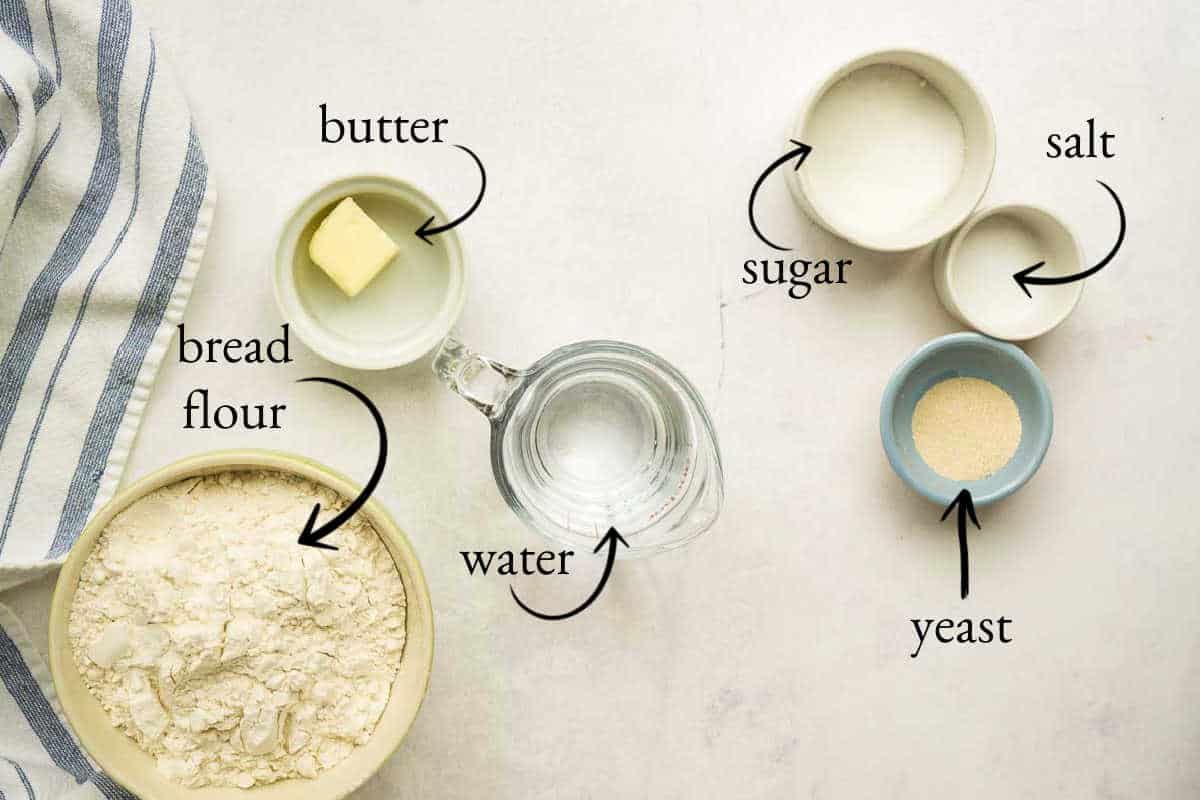 stand mixer or bread machine (helpful but not essential)
plastic wrap
loaf pan (8.5 x 2.5 x 4.5)
🥫 Storage instructions
The bread will stay fresh at room temperature for about three days.
To store longer, slice the loaf and freeze it, just pulling out slices as you need them.
You can also freeze a whole loaf for later.
👩🏻‍🍳 Expert tips
Our absolute favorite way to make bread is in the dough cycle of a bread machine. It gives you perfectly kneaded dough with a beautiful first rise.
If you want a shiny crust, brush it with a beaten egg before baking
This recipe doubles very well!
📘 Related Recipes