A simple tartar sauce recipe that can be adapted for what you have on hand.
This the best recipe for a simple, old fashioned tartar sauce. It uses ingredients you probably have on hand for the perfect sauce for any seafood.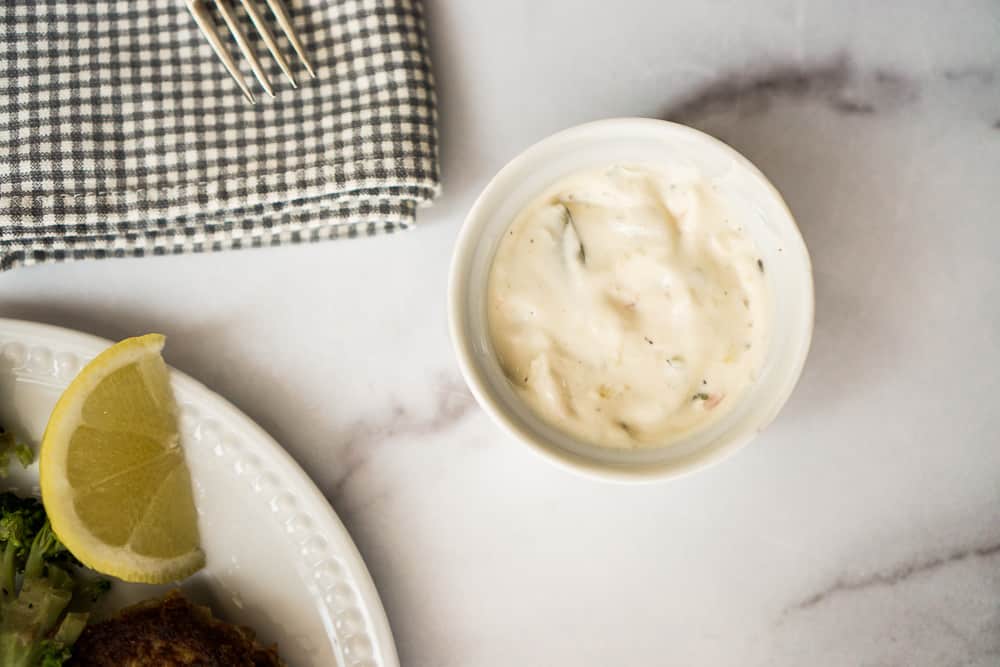 Some things require precision in the kitchen, and some things don't. Tartar sauce is one of those wonderfully flexible condiments in which a lot of things will work well. As long as you have a well seasoned mayonnaise base with plenty of acidic flavoring, it will be tasty and be the perfect balance to rich or fried seafood.
But I am believer in a good recipe, and this recipe is my favorite. Feel free to add any fresh or dried herb, especially dill or parsley. I've left them out of the recipe because I don't think they are essential. There is certainly no use buying them just for this. The lemon, pickle relish, shallot, and pepper add plenty of flavor on their own.
Once you try homemade tartar sauce, you will never go back to buying the bottled stuff. It's so easy to make and so fresh tasting. Definitely worth the very little effort that it takes. It takes less than 15 minutes from start to finish.
Substituting ingredients
The most important part of this recipe (or really any other), is balance. You are beginning with a base of mayonnaise, and likely using this sauce for fried food, To balance out all that heaviness, we need acid. Lemon juice is the best at this, but if you don't have any, vinegar will do as well. The relish also adds acids and brightness. If you are missing dill relish, just add a finely chopped dill pickle. (Or make your own dill relish!)
The salt, pepper, and shallot add flavor. If you don't have any shallot, a minced onion is fine, and even a teaspoon of onion powder will work.
You can also add many things to this base recipe for even more flavor. Capers, dill weed, dill seed, a minced garlic clove, dijon mustard, or even a dash of cayenne pepper can add even more to this great recipe.
Tips
Tartar sauce is traditionally served with any fried seafood like fried fish sticks, fried shrimp, fried oysters, crab cakes etc. But in many places people dip their fries in it or use as a steak sauce! So don't be shy if you mix this up and find that you love it!
If you are on a keto on similar low carb diet, this recipe is very low in carbs.
The tartar sauce is best if it's allowed to chill a few hours before serving so that the flavors blend. But if you don't have time, that's okay too.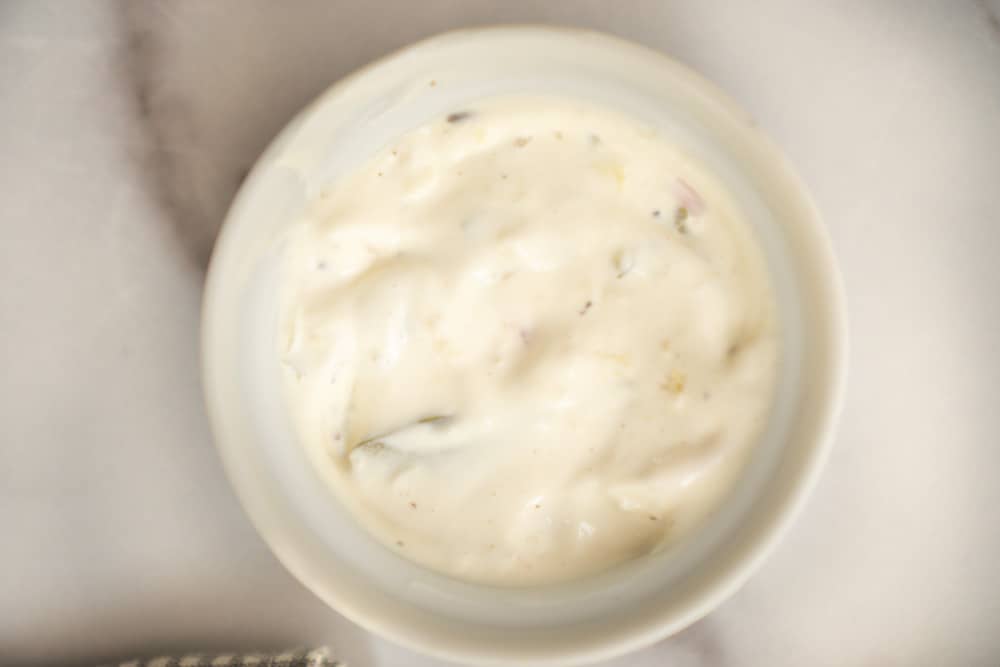 I am a big believer in homemade everything, as long as it is realistic. This is one of those simple swaps that is so easy to make from scratch. It takes just a few minutes, can be made ahead of time, and uses everyday ingredients. One little switch like this is a great way to get started filling your fridge and pantry with homemade items.
If you want to get starting making some of your own homemade staples and go beyond tartar sauce, you might enjoy some of these simple little kitchen projects:
Have fun in the kitchen, and I hope you like this recipe!
Here's the very simple recipe!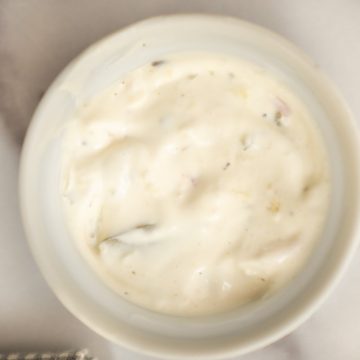 Homemade Tartar Sauce Recipe
Print Recipe
A simple tartar sauce recipe that can be adapted for what you have on hand.
Click here to grab a free seasonal e-cookbook!
Ingredients
1

cup

mayonnaise

2

tablespoons

dill relish

1

tablespoon

lemon juice

1

tablespoon

minced shallot

3/4

teaspoon

salt

1/4

teaspoon

coarse pepper
Instructions
Combine all ingredients in a medium sized bowl.

Cover and refrigerate at least 2 hours.

Spoon into individual ramekins before serving.
Notes
Substitutions are fine! If you don't have lemon juice, substitute white vinegar If you don't have shallot, substitute onion If you don't have dill relish, substitute a finely chopped dill pickle
Good additions include minced fresh parsley, fresh dill, minced garlic, dijon mustard, and capers.
Nutrition
Calories:
47
kcal
|
Carbohydrates:
2
g
|
Protein:
1
g
|
Fat:
4
g
|
Saturated Fat:
1
g
|
Cholesterol:
3
mg
|
Sodium:
312
mg
|
Potassium:
6
mg
|
Fiber:
1
g
|
Sugar:
1
g
|
Vitamin A:
13
IU
|
Vitamin C:
1
mg
|
Calcium:
1
mg
|
Iron:
1
mg