Easy, homemade croutons using sourdough bread. Take you soups and salads to the next level with these crunchy, flavorful cubes.
How to make beautiful and delicious croutons with sourdough bread. Sourdough croutons are so easy and add a special homemade touch to any salad recipe!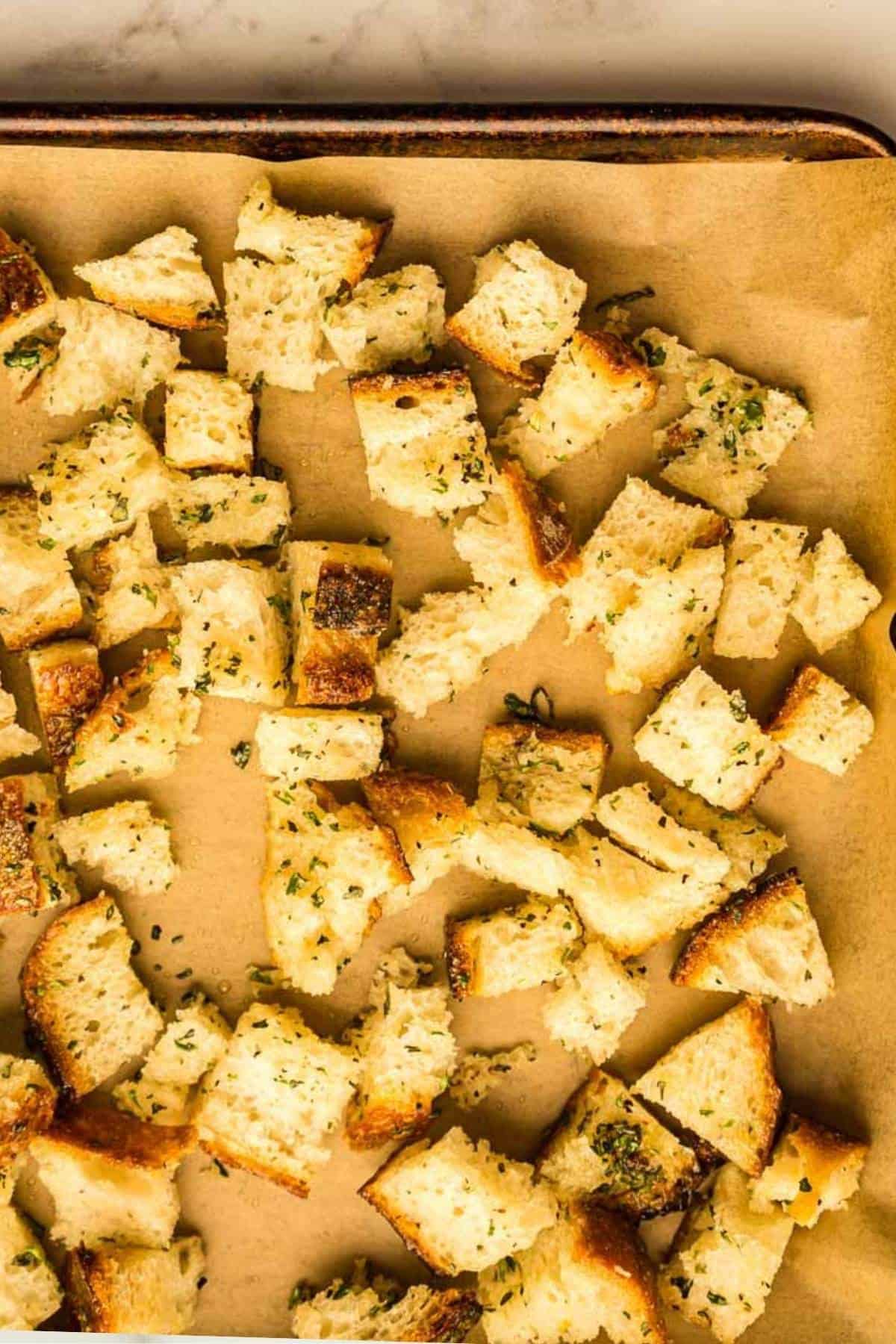 ❤️ Why you'll love this recipe
Easy to make. Every dedicated bread baker struggles with what to do with leftover bread. Croutons are a classic choice and are welcome day after day. They're perfect for tossing on a salad or sprinkling on your soup. Perhaps best of all, they are easy to make and forgiving if you change up the recipe a bit.
Stays fresh longer. Sourdough bread tends to keep quite well for a few days at room temperature, especially if you store your sourdough properly. But even the best of us let a loaf get away from us that turns out too stale to eat.
A tasty way to use leftover bread. This recipe is the answer! Don't waste your bread; turn it into something delicious.
🧂 Ingredients
This is an overview of the ingredients. You'll find the full measurements and instructions in the printable recipe at the bottom of the page.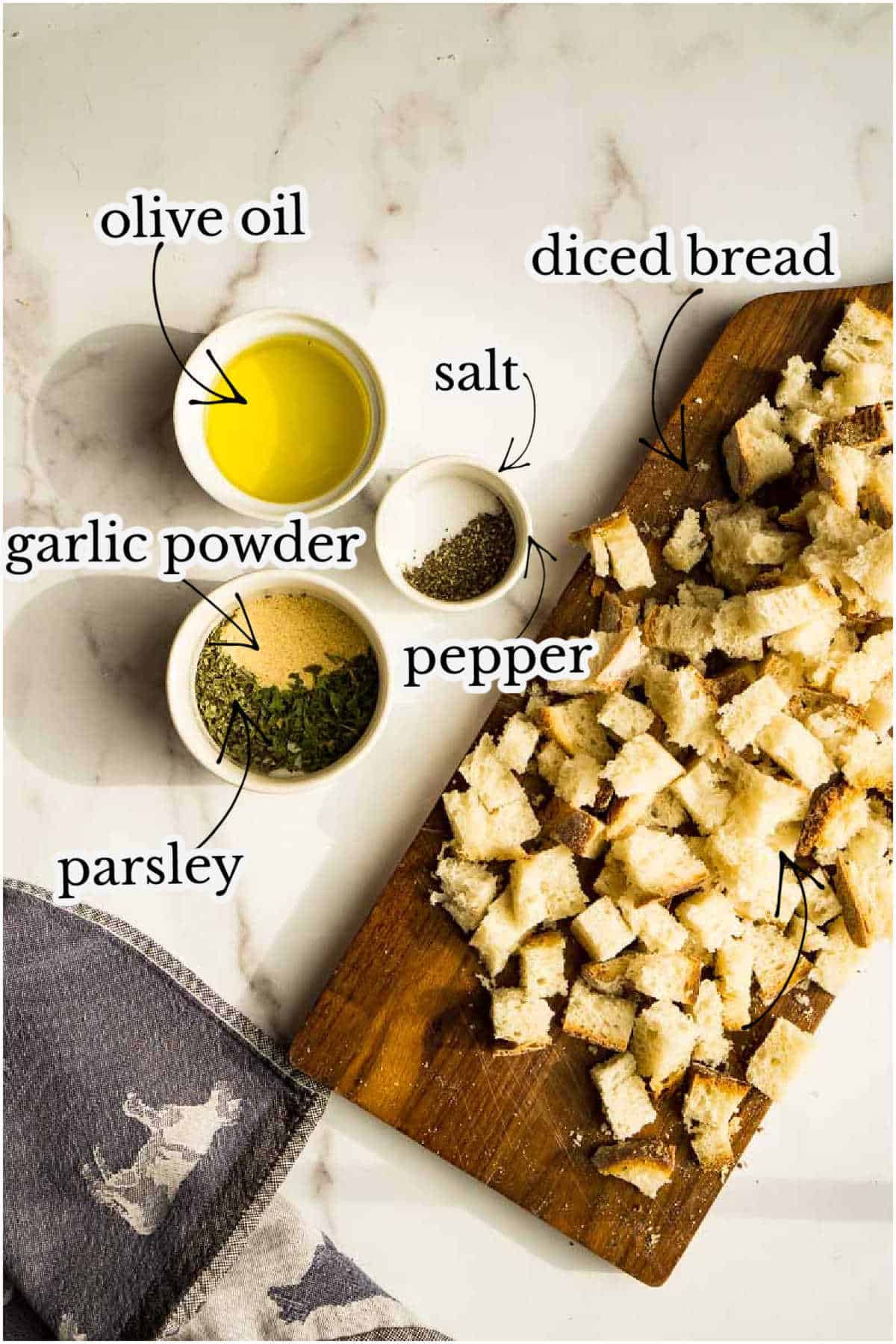 You'll need the following for these sourdough croutons:
sourdough bread, cubed about 12 ounces, see notes
olive oil
dried basil
dried parsley
garlic powder
salt
black pepper
🥣 Equipment
parchment paper
rimmed baking sheet
🍴Instructions
Step One: make bread cubes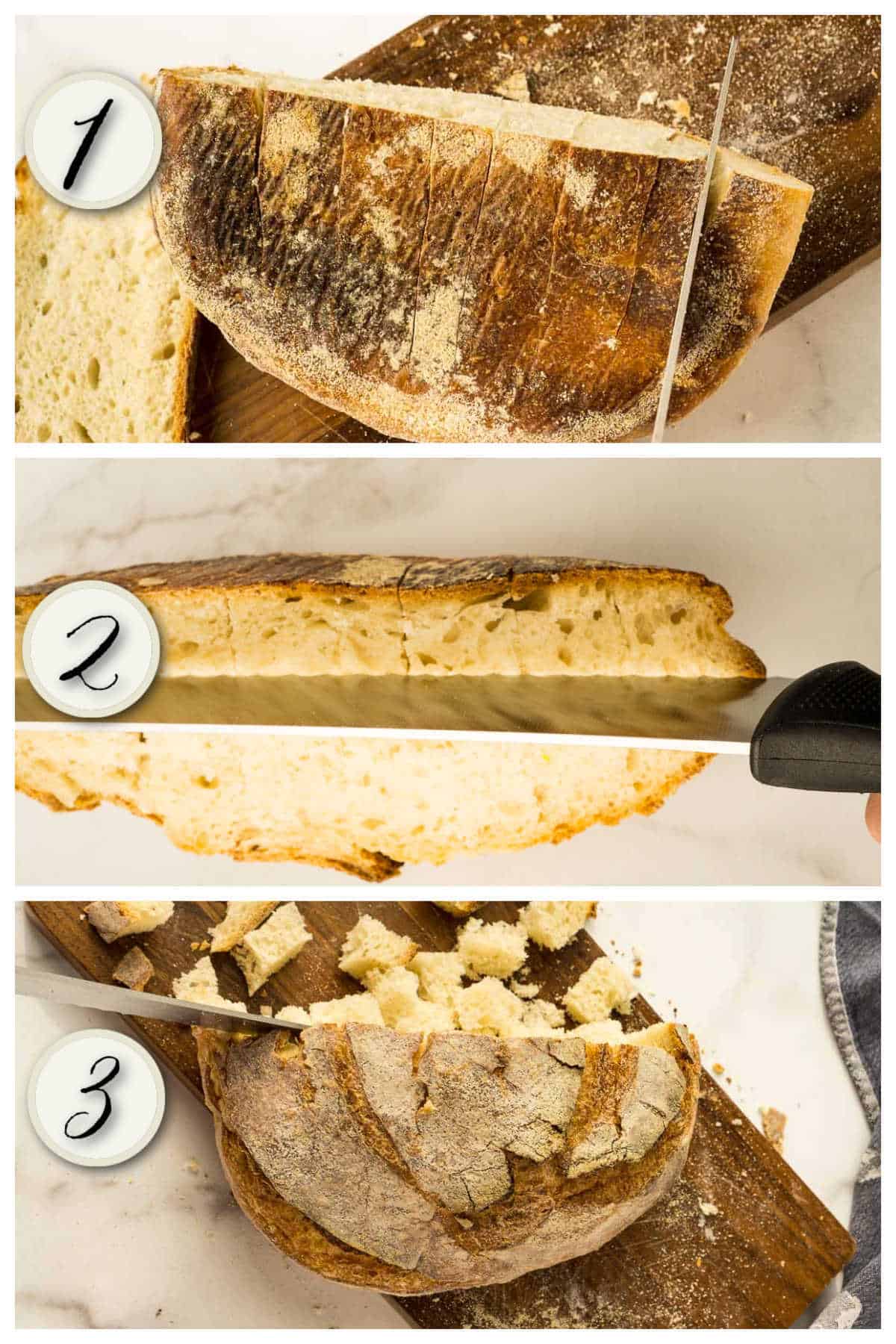 Here's how I do it quickly. My cubes aren't perfect (obviously), but it's easier than slicing the bread, stacking it, and cubing it. No thanks.
Just slice into 3/4 inch wide slices from top to bottom, but don't go all the way to the end.
Then turn the loaf and do the same thing going lengthwise
Then turn it over and cut it normally. Instead of slices, you'll get cubes!
(Hopefully, the image above explains it!)
Step Two: mix ingredients
This is so easy that the hardest thing is cutting the bread. (And I'm not trying to be insulting; cutting the bread can actually be pretty hard.)
Begin by preheating your oven to 375 and preparing a baking sheet. All you have to do is line it with parchment paper.
Mix up your olive oil and all the seasonings in a little bowl. Make sure you really mix them up, sometimes the salt can settle a little.
Place all your lovely cubes in a big mixing bowl and drizzle the seasoned olive oil on top. Toss everything together with a wooden spoon or spatula until they are well coated.
Step three: pop it in the oven
And then pop them in the oven!
The baking time really varies, depending on how big your cubes of sourdough are, and how crunchy you like your croutons. For me, I like them baked a bit past 20 minutes. You definitely want them golden brown, but they can go from golden to burned quickly. So keep an eye on them. Check at ten minutes, flip them over, and keep baking.
And you're done! Let them cool and then sprinkle on salads, top your tomato soup, or just nibble.
🥫 Storage instructions
Once they are completely cool, you can put them in something air tight, like a zip-top bag or an old coffee can. They will keep at least a week at room temp.
You can freeze them for at least a month with no issues. They will defrost quite quickly at room temperature just spread out on a plate.
They can be stored in the fridge but will lose some crispness, so room temperature or freezer is best.
🔍 FAQs
What kind of bread should I use for sourdough croutons?
Any type of bread can be used for sourdough croutons, but a denser bread like sourdough works best.
What is the best way to cut the bread for croutons?
The easiest way to cut the bread is into small cubes. You can also cut the bread into larger cubes or slices, but they will need a longer cook time.
👩🏻‍🍳 Expert tips
Make sure your bread is stale or dried out before beginning. This will help ensure that the croutons stay crispy.
Cut the bread into small cubes, about 1-inch in size. This will help them to cook evenly and quickly.
Season well – salt, pepper, and herbs like thyme or rosemary all make delicious croutons. Be sure to taste them as you go so they are perfectly seasoned.
Let them cool completely before serving or storing. Otherwise, they may become soggy.
📘 Related Recipes
🍽 Serve it with
Caesar salad is a classic choice
These are also great on most soups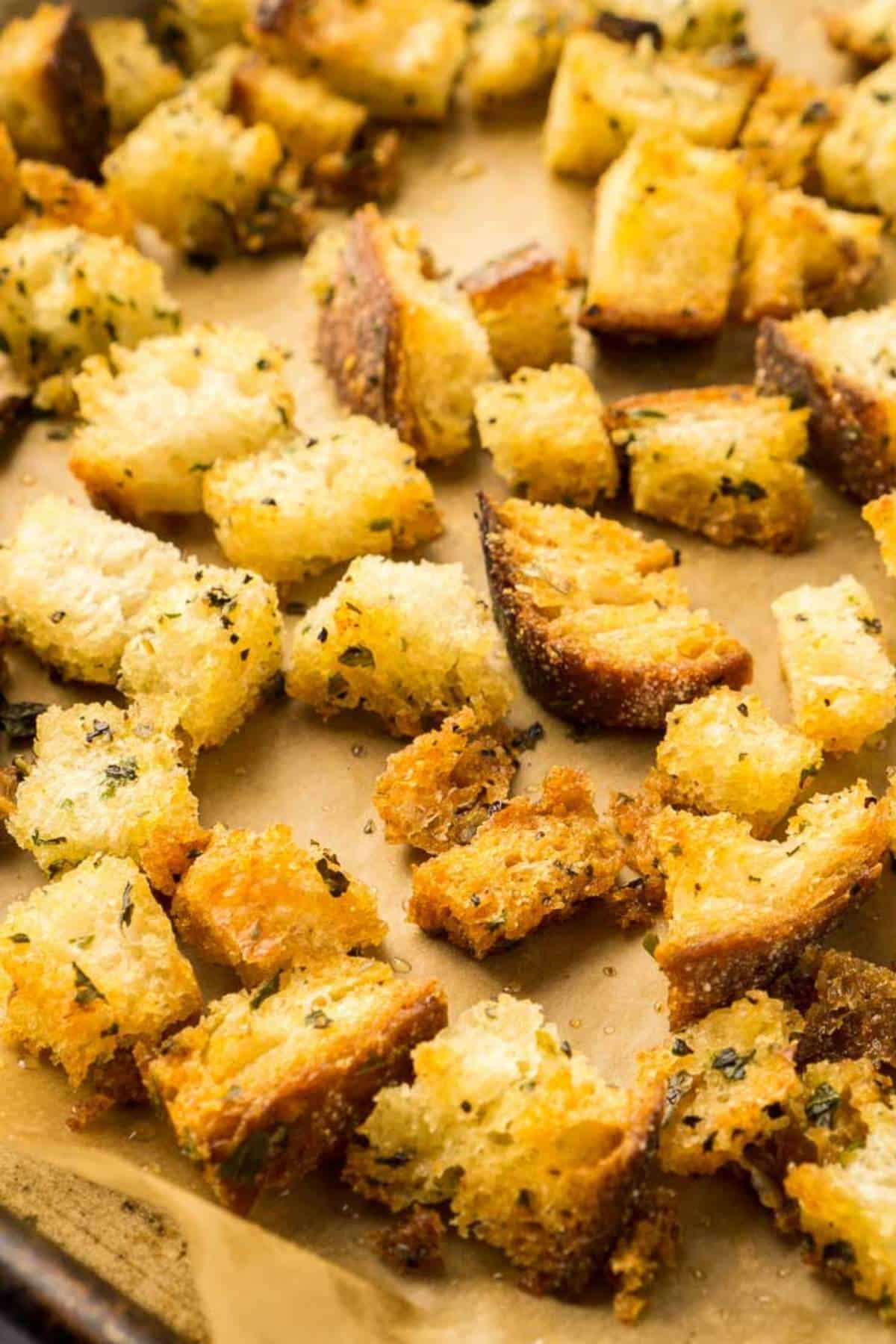 📖 Here's the recipe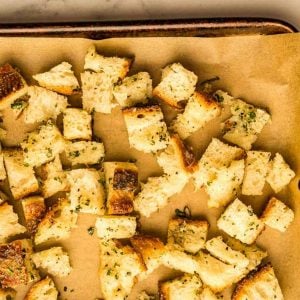 Sourdough Croutons
Print Recipe
Easy, homemade croutons using sourdough bread. Take you soups and salads to the next level with these crunchy, flavorful cubes.
Click here for a FREE autumn cookbook (25+ Recipes!)
Ingredients
1

loaf

sourdough bread, cubed

about 12 ounces, see notes

¼

cup

olive oil

1

teaspoon

dried basil

1

teaspoon

dried parsley

1

teaspoon

garlic powder

¾

teaspoon

salt

½

teaspoon

black pepper
Instructions
Preheat oven to 375° with the rack in the center.

Combine the olive oil, basil, parsley, garlic powder, salt, and pepper in a small mixing bowl. Stir thoroughly to combine.

Place bread cubes in large mixing bowl and pour the olive oil and seasoning mixture on top, tossing with a wooden spoon or spatula until all the cubes are coated. Pour onto parchment-lined baked sheet and spread out into single layer.

Bake in preheated oven 18-24 minutes, or until golden brown, turning halfway through. The baking time will depend on the size of your cubes. In general, sourdough will take a bit longer to turn golden than other types of bread.

Cool before serving. Store any leftovers in an airtight container for up to 1 week, or freeze 1 month.
Notes
Try adding a 1/4 teaspoon of crushed red pepper with the herbs for spicy croutons.
Of course, any type of hearty bread can be used in this recipe, but start checking after 15 minutes of baking time.
Nutrition
Calories:
291
kcal
|
Carbohydrates:
42
g
|
Protein:
9
g
|
Fat:
10
g
|
Saturated Fat:
2
g
|
Trans Fat:
1
g
|
Sodium:
660
mg
|
Potassium:
165
mg
|
Fiber:
4
g
|
Sugar:
5
g
|
Vitamin A:
4
IU
|
Vitamin C:
1
mg
|
Calcium:
121
mg
|
Iron:
3
mg
Did you make this recipe?
If you loved it, please leave a review!