The real way to make restaurant style French fries in your deep fryer.  A little work is all you need to turn a simple potato into something amazing.
A recipe to make deep fried French fries, the right way to make restaurant style fries at home!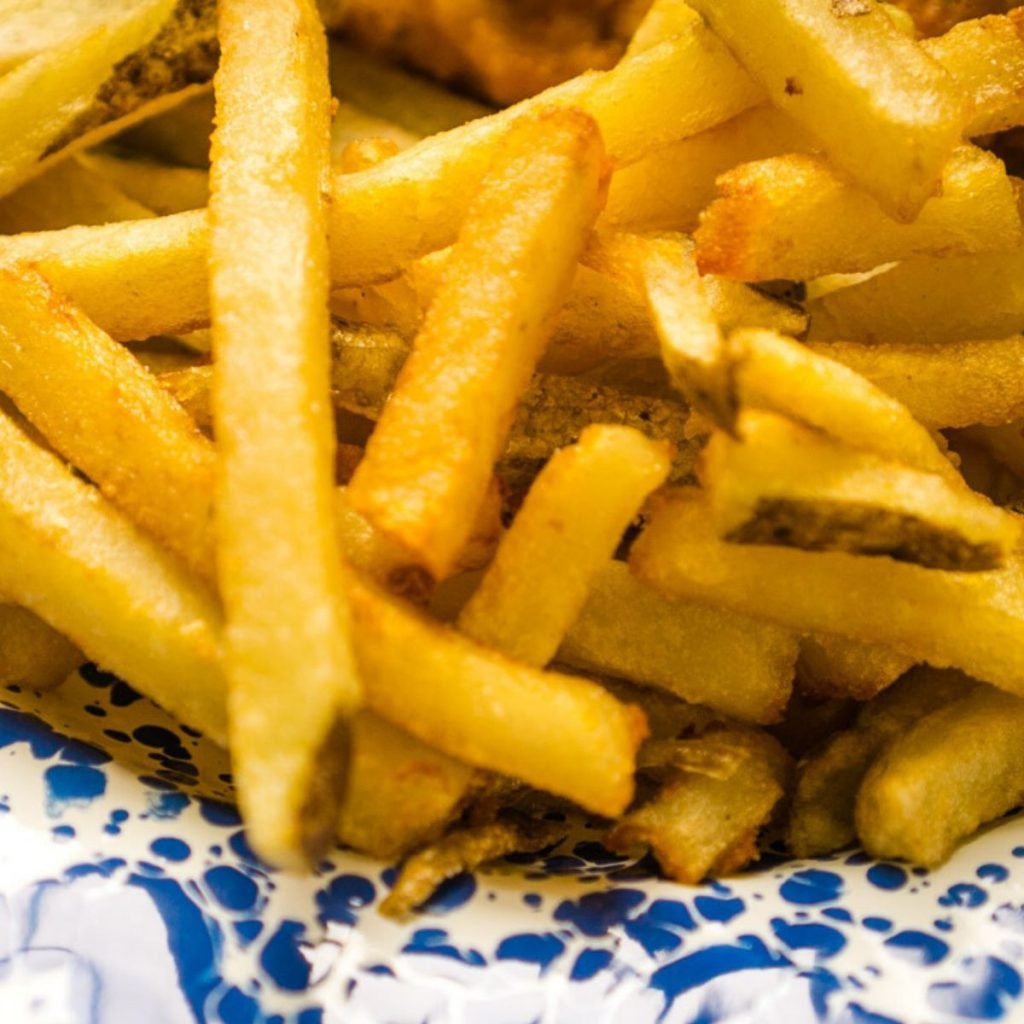 Of all the things that should be easy but are actually hard, fries are number one. And hard isn't exactly the right word, either. The issue is this: there is ONE correct way to make fries. You have deep fry them. Twice. And before that, you have to soak them in ice water. For hours. I know! It's totally ridiculous. But if you can just accept that, life will be easier. Let's do this, shall we?
French fry tools and ingredients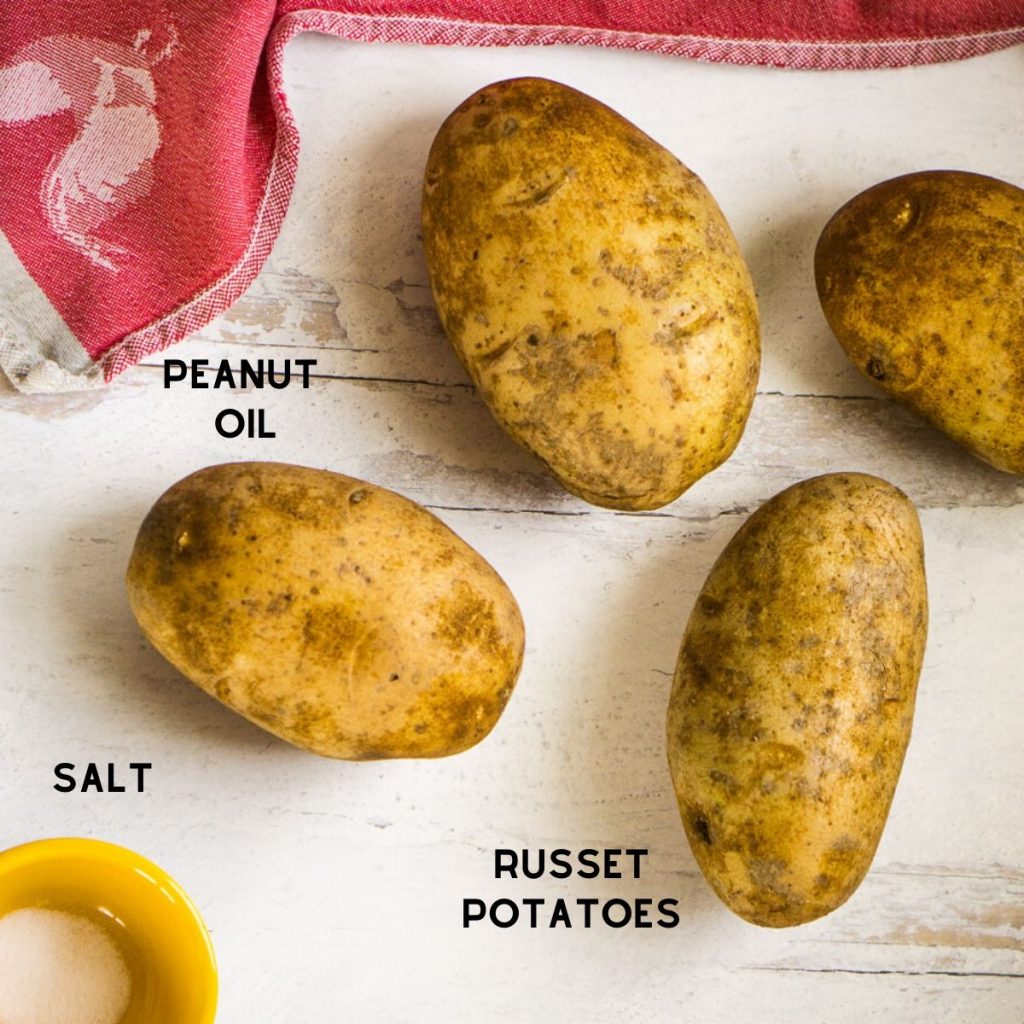 Russet potatoes
Salt
Peanut oil
French fry cutter (optional)
A deep fryer! (or you can deep fry in a Dutch Oven and use a candy thermometer to monitor the temperature)
???? Frugal tip
We all know potatoes and salt are about as frugal as it gets! Simply cutting out pre-made frozen fries will help you cut your grocery budget. Just remember that russet potatoes purchased in a bag are usually less than buying them per pound. Costco sells a big 25 pound bag that's a great deal.
As far as buying the oil, the best source is, again, Costco. Look for a
?? Let's make some fries together!
First we cut the potatoes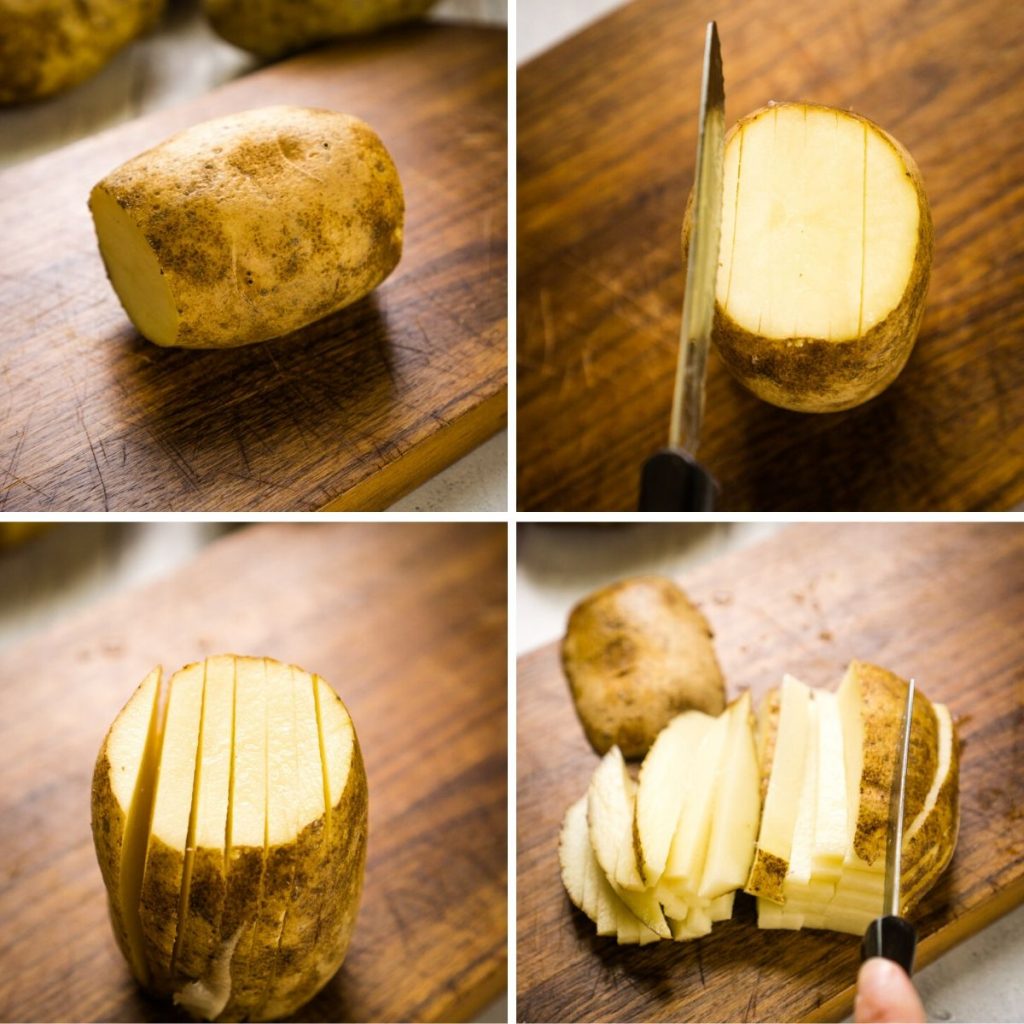 Make sure your potatoes are scrubbed very clean. We will be eating the outside of them.
Then we cut just cut them into French fry shapes. First cut the ends off so the two short sides are flat. Cut them into 1/4 inch slices, then strips. This takes a few minutes of work, but it's not hard.
But there's another way to do this too!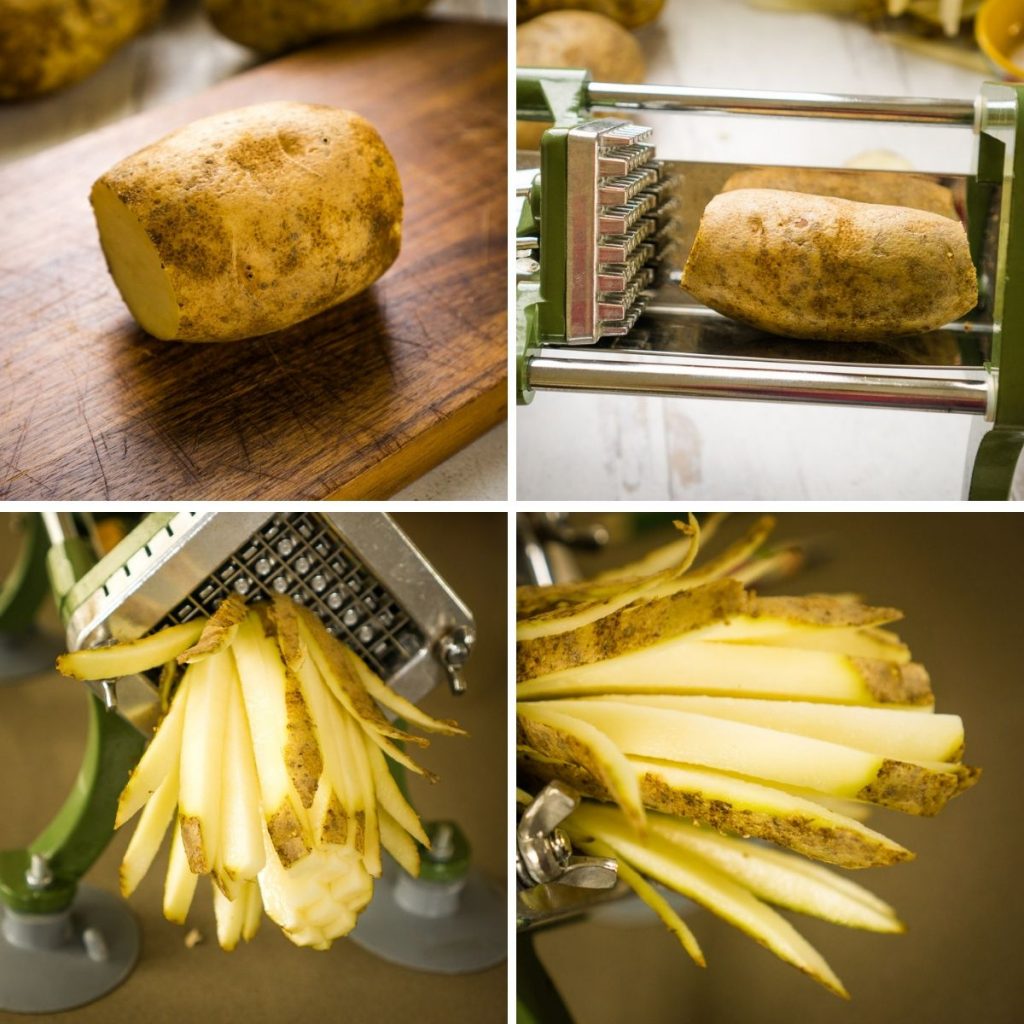 If you have a French fry cutter, slicing the potatoes just takes a few seconds. Cut off the ends, place the potato inside, and push. It will magically slice your potato into perfect fries.
Ice bath and deep frying the first time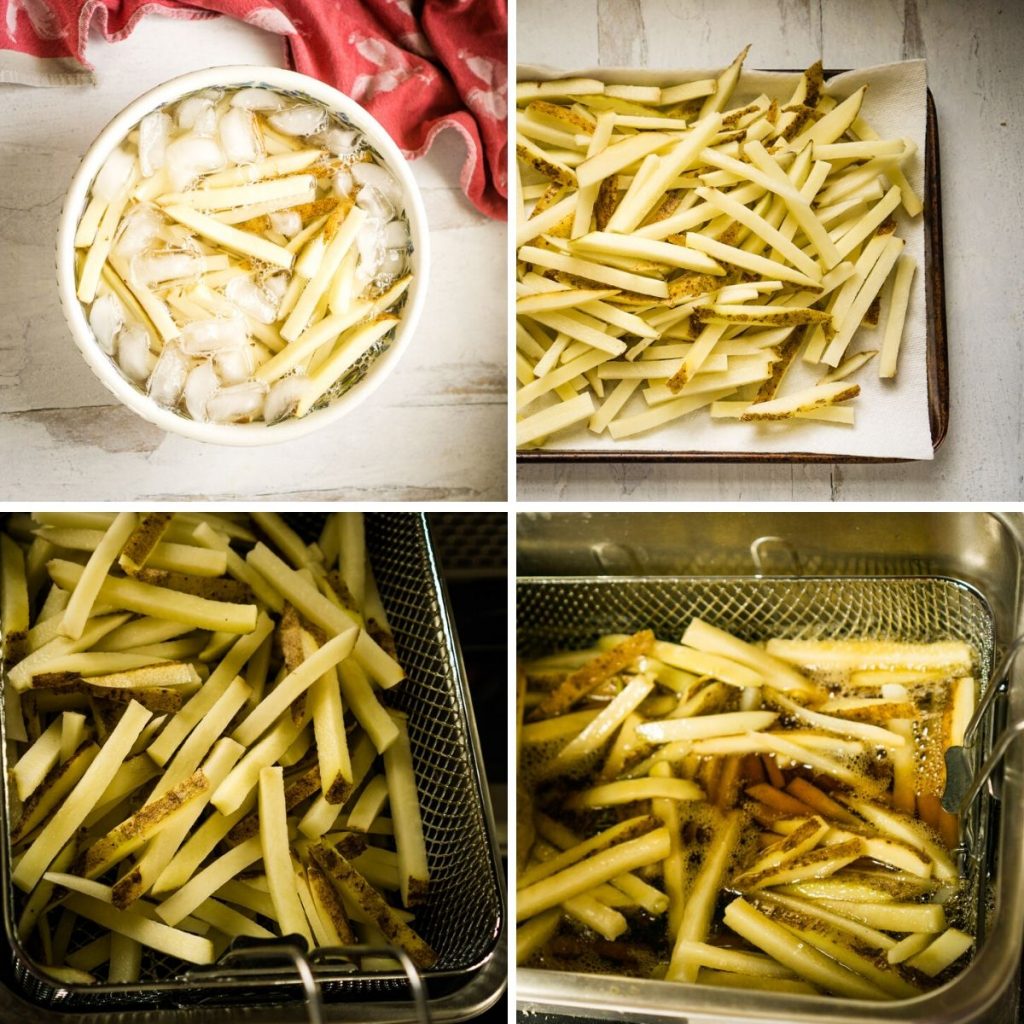 After slicing, the potatoes need to soak in ice water. Why? To pull out some of the starchiness in the potatoes. This makes sure that they are soft inside and crisp outside. It's a crucial step that you can't skip. (Trust me, I've tried!)
Just place them in a bowl with ice cubs and water and place it in the fridge. They'll need to soak at least 2 hours, and can wait up to 12 hours.
When that's done, take them out and pat them dry. Start preheating the deep fryer to 300.
This first fry is done for a longer time at a lower temperature to cook the potatoes. Fry them for about 5-7 minutes. They won't darken much, but they will be soft. Remove the fries and allow them to drain on a paper towel.
Increase the heat in the deep fryer to 360.
The second deep fry
So your fries are soft, pale, and not very delicious looking. Don't worry, when you fry them the second time they'll crisp right up.
Fry them in batches so that they have a little more room to swim around in the oil. This will help them brown faster. Lower them into the deep fryer and let them cook for a few minutes, about 2-4, until they are as browned as you would like them.
Lift up the basket and let them drain on a fresh layer of paper towels. Salt them immediately when you take them out.
Serve right away!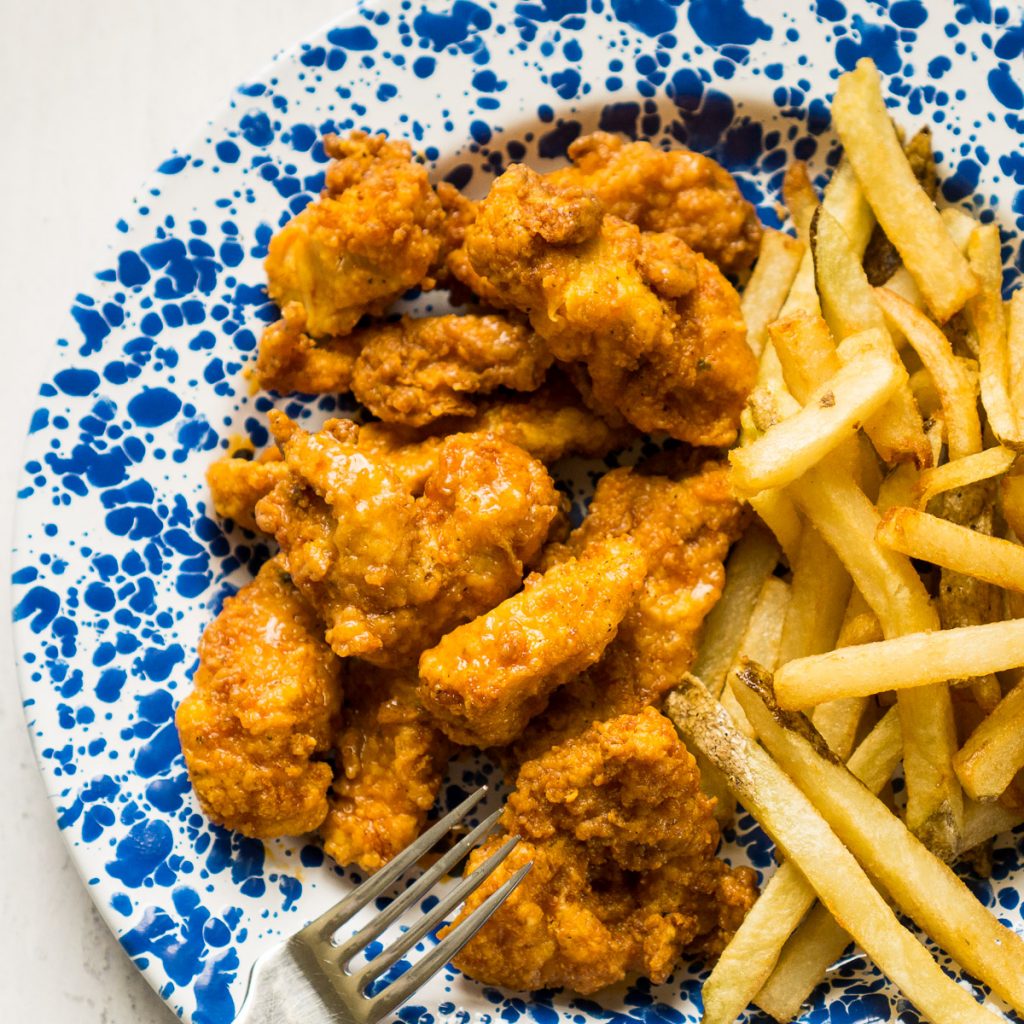 What to serve with fries?
Any time you are deep frying anything, you might as well make some fries! We serve these with deep fried chicken tenders, one of our favorite dinners.
Burgers are popular with fries, but I never, ever make these unless I am already deep frying something else.
???? Print the recipe here!
The Best Deep Fried French Fries
Print Recipe
The real way to make restaurant style French fries in your deep fryer.  A little work is all you need to turn a simple potato into something amazing.
Click here to grab a free seasonal e-cookbook!
Ingredients
3

russet potatoes

scrubbed clean

1

quart

peanut oil for frying

salt
Instructions
Using a sharp knife or French fry cutter, cut the potatoes into 1/4 square strips.  Place them in a bowl of ice water.  Place in the refrigerator and allow to chill for at least 2 hours, up to 12 hours.

Set up deep fryer according to manufacture's instructions and fill with peanut oil.  Preheat the deep fryer to 300.    

Drain the water from the potatoes and pat them as dry as possible.  They will be very cold, maybe even frozen.   Place the potatoes in the basket.  It's okay if they are crowded for the first fry.   Submerge into the oil and deep fry for about 5-7 minutes until they are softened and slightly darker, but still pale.  Place on paper-towel lined baking sheet to drain.

Increase heat in deep fryer to 360.  Fry the French fries a second time, this time in smaller batches so that they float freely in the oil.  Fry for only 2-4 minutes, or until they have reached desired level of brownness and crispness.  Drain on paper-towel lined baking sheets, and salt immediately.  Serve as soon as possible
Notes
Add Old Bay, white pepper, Cajun seasoning, Italian seasoning, or anything else you'd like to try as soon as you remove the fries from the deep fryer.
French fries do not keep well, but you can attempt to reheat them in an oven.  
Nutrition
Calories:
126
kcal
|
Carbohydrates:
29
g
|
Protein:
3
g
|
Fat:
1
g
|
Saturated Fat:
1
g
|
Sodium:
8
mg
|
Potassium:
666
mg
|
Fiber:
2
g
|
Sugar:
1
g
|
Vitamin C:
9
mg
|
Calcium:
21
mg
|
Iron:
1
mg
I know this recipe will be a family favorite of yours!