This cold process soap recipe is the best ever. It makes a moisturizing yet cleansing bar with tons of lather.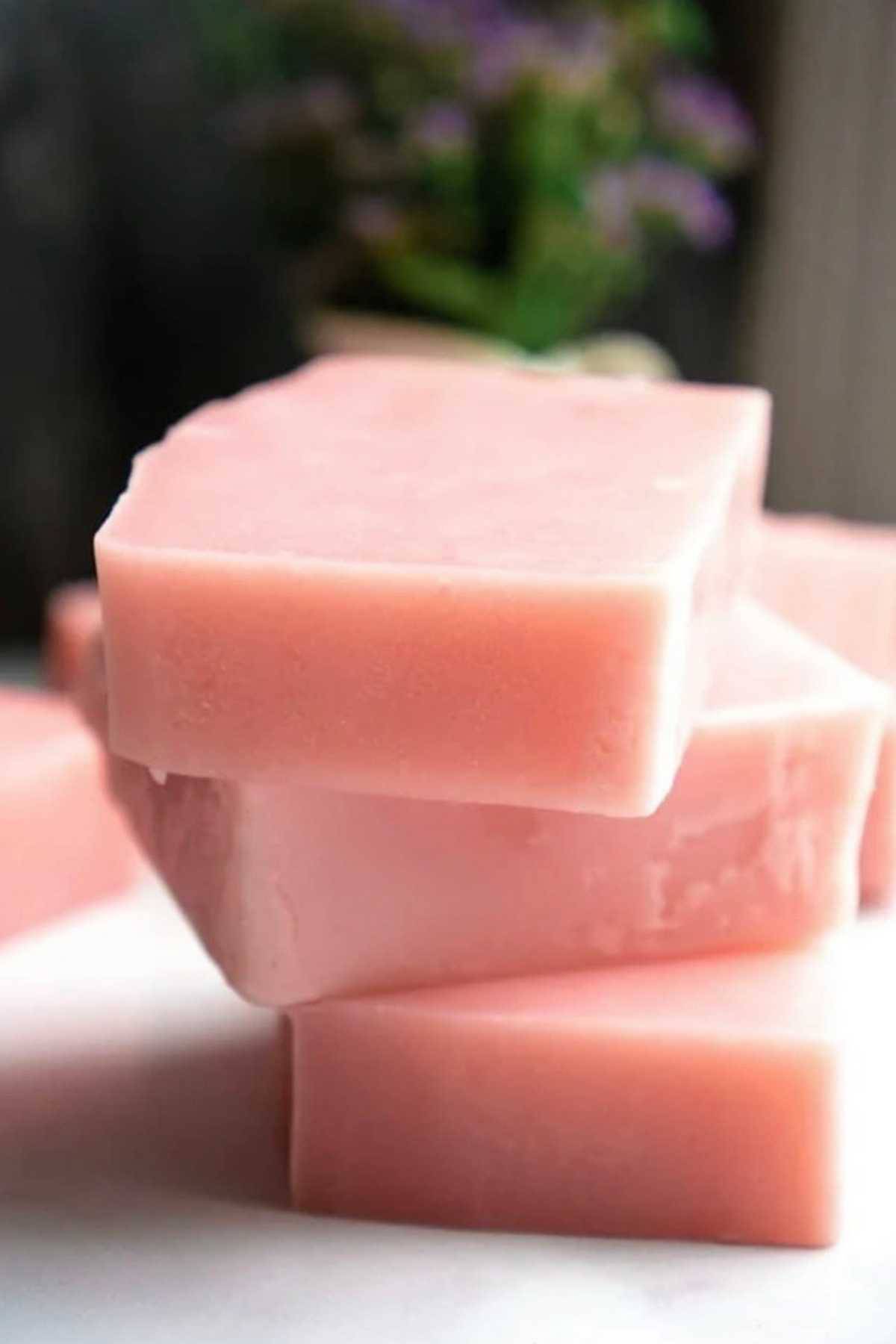 ❤️ Why you'll love this recipe
Perfectly balanced between cleansing and moisturizing: Every oil brings its own properties to a bar of soap, and finding the perfect soap recipe is a balance of those things. This recipe does it.
Tons of lather and big bubbles. This is most people's complaint about homemade soap, and this recipe takes care of it.
Suitable for beginners. Yes, it has a lot of oils, but the basic process is the same as any recipe. If you've never made cold-process soap before, you should read my Beginners Guide to Soapmaking first.
🧂 Ingredients
This is an overview of the ingredients. You'll find the full measurements and instructions in the printable recipe at the bottom of the page.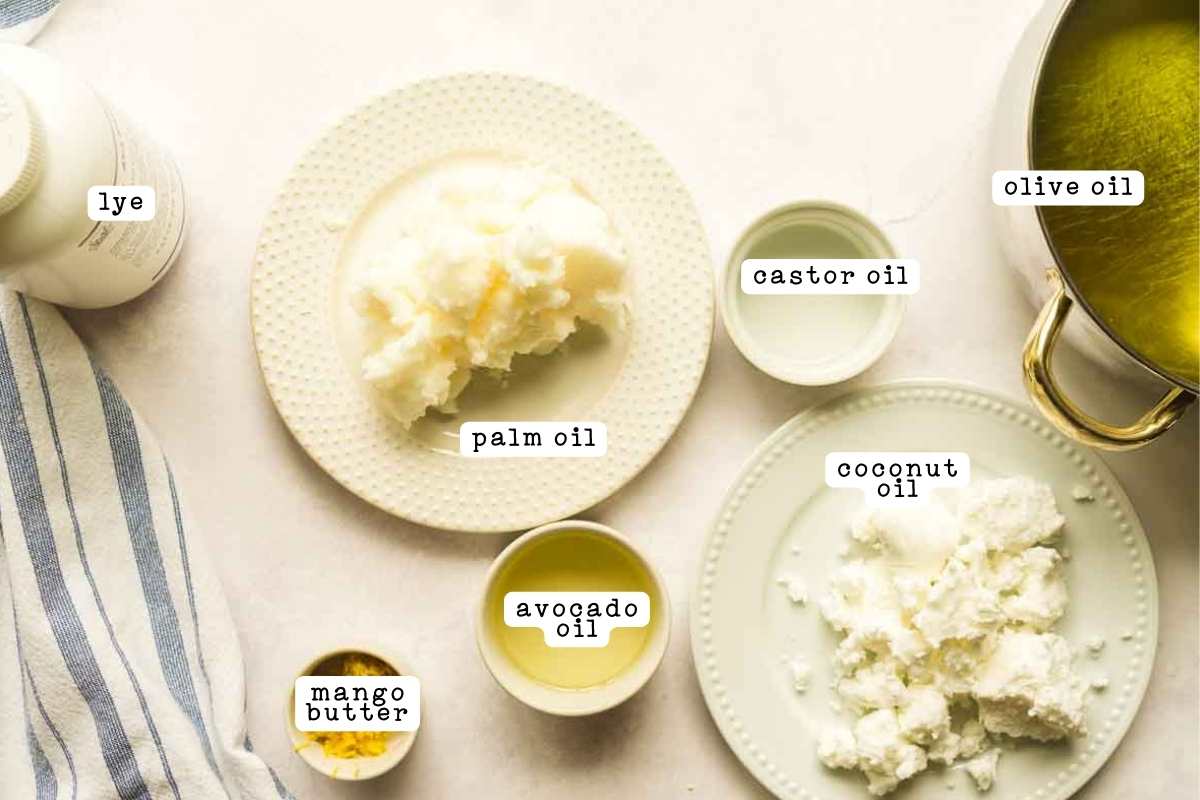 You'll need the following for this bubbly bar:
coconut oil
olive oil
palm oil
sweet almond oil
castor oil
avocado oil
mango butter
lye
water
fragrance and color (optional)
sodium lactate for a harder bar
🥣 Equipment
Safety equipment (gloves, goggles, apron)
🍴Instructions
Step One: Measure water and LYE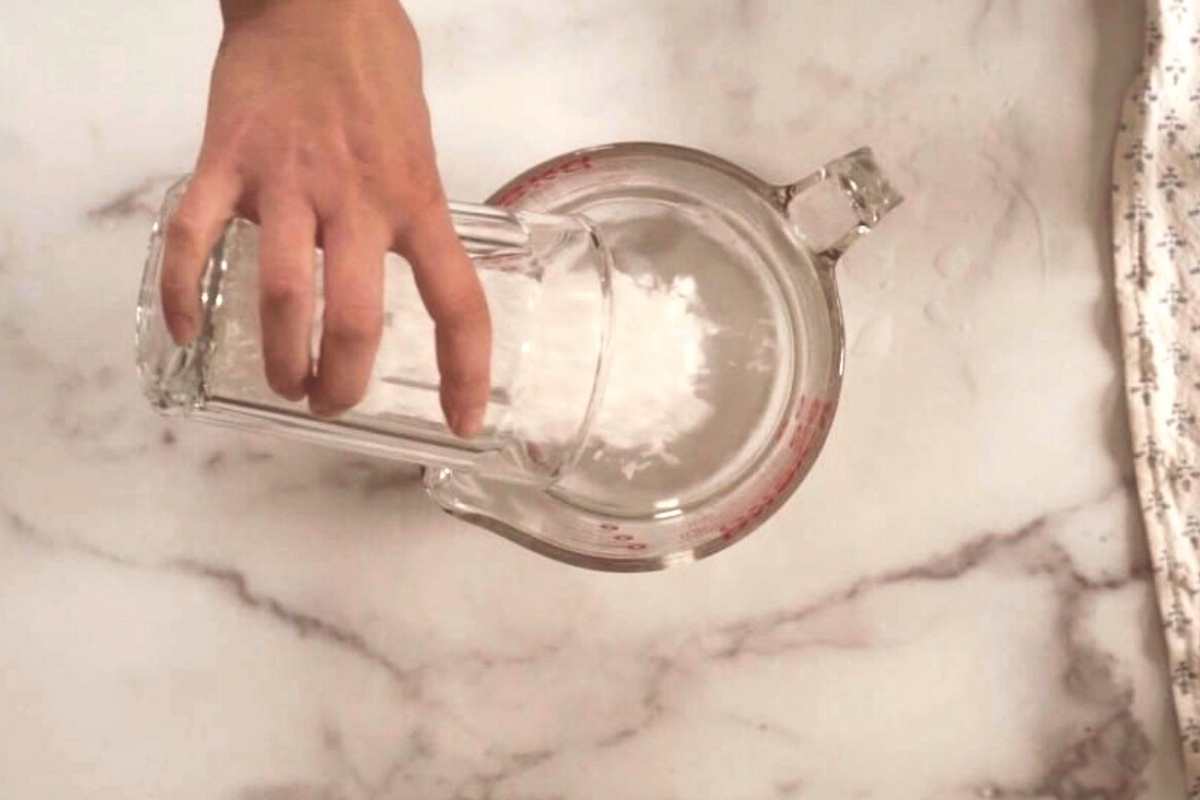 First measure your lye and water separately using a digital scale, then carefully combine them. Pour your water into a cup you don't care much about, then add the lye to the water, stir it until it dissolves, and set it somewhere it will not be knocked over, drank, or otherwise messed with.
Step Two: Measure, melt, and cool the oils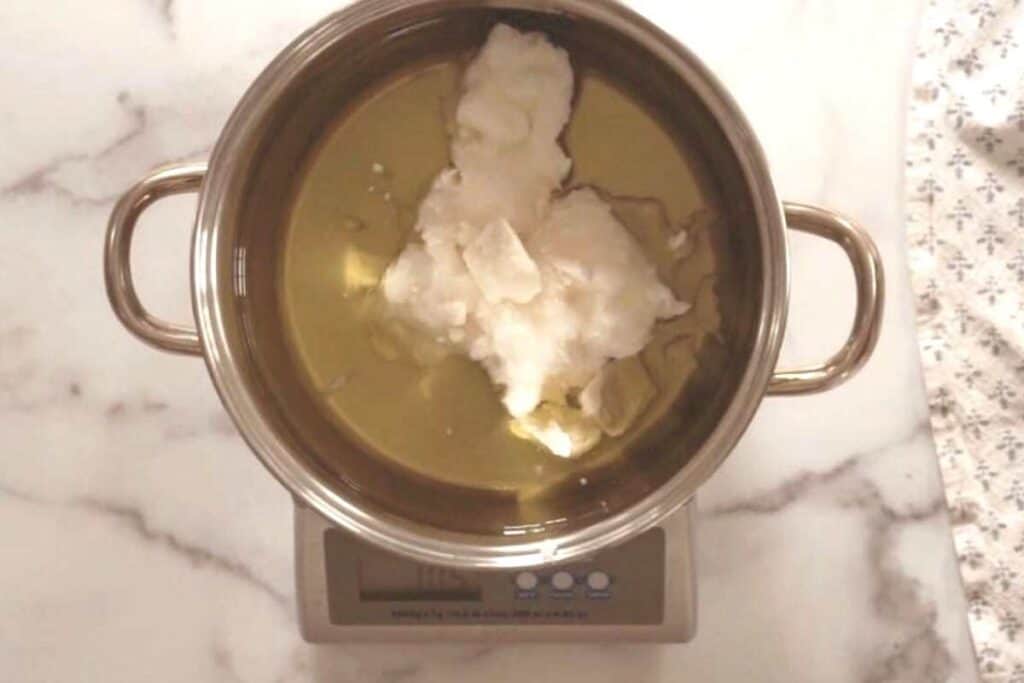 Melt them on your stovetop, bringing the temperature up to around 140.
Now everything needs to cool to about 110 to 120 degrees. It will take a few hours. Check with a thermometer.
If you're using sodium lactate, add it now to the cooled lye water.
Step three: Blend to trace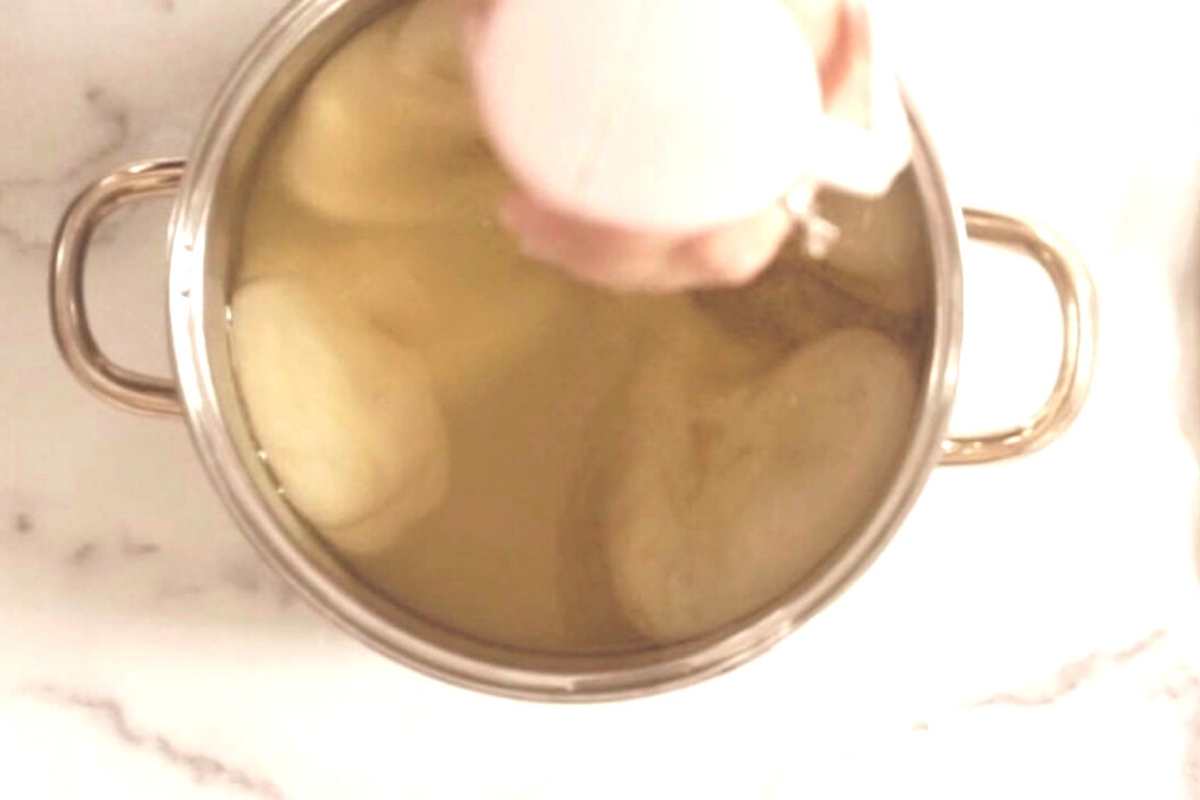 Once your temperatures are right, it is time to combine. Pour the lye water into the pot of oils and stick blend.
Important: Before you do this, make sure any color and fragrance you want to add are ready to go, and that your mold is prepared. Things will move very quickly and you don't want your soap batter hardening in the pot.
Until everything is combined and you have reached a thin "trace". This means your soap had thickened up JUST a little. If you were to drizzle a bit of soap on top, it would stay instead of sinking in.
Step FouR: Add Color and fragrance and pour into mold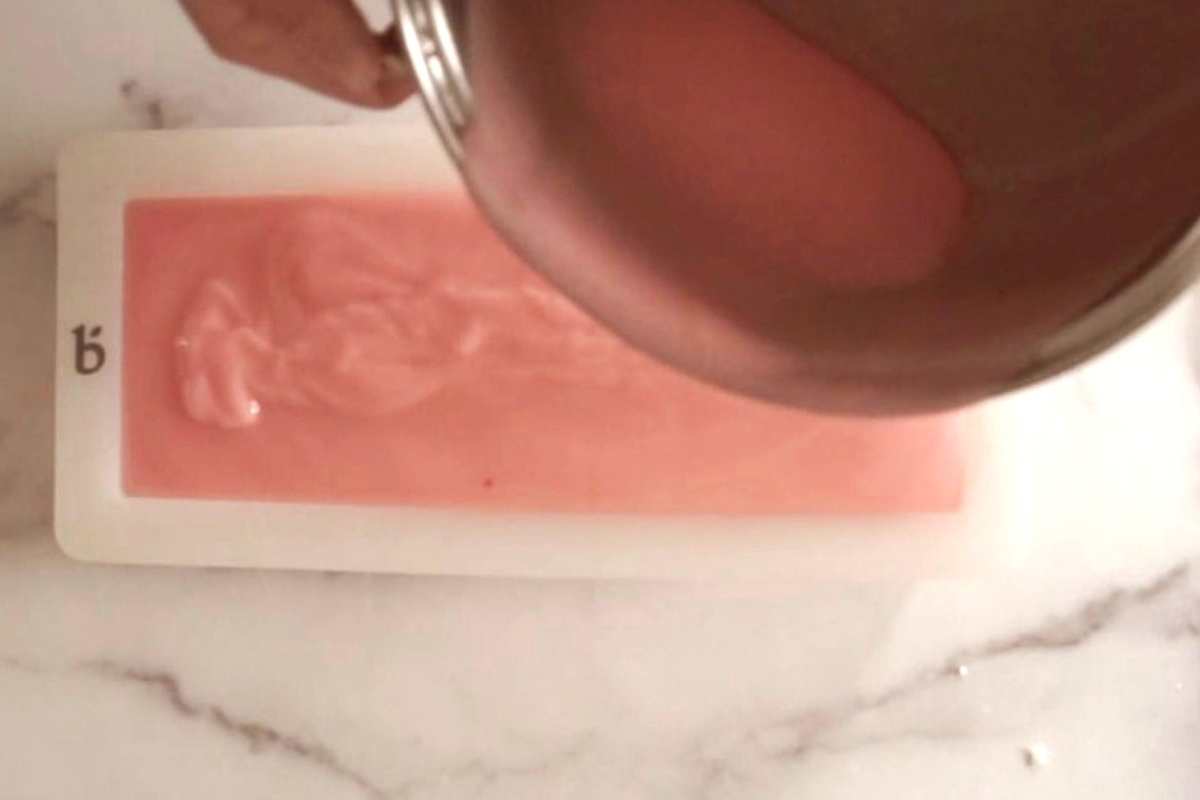 Add color and fragrance and stir by hand or slowly with the stick blender.
Then pour everything into your prepared mold.
Step FIVE: CUre and cut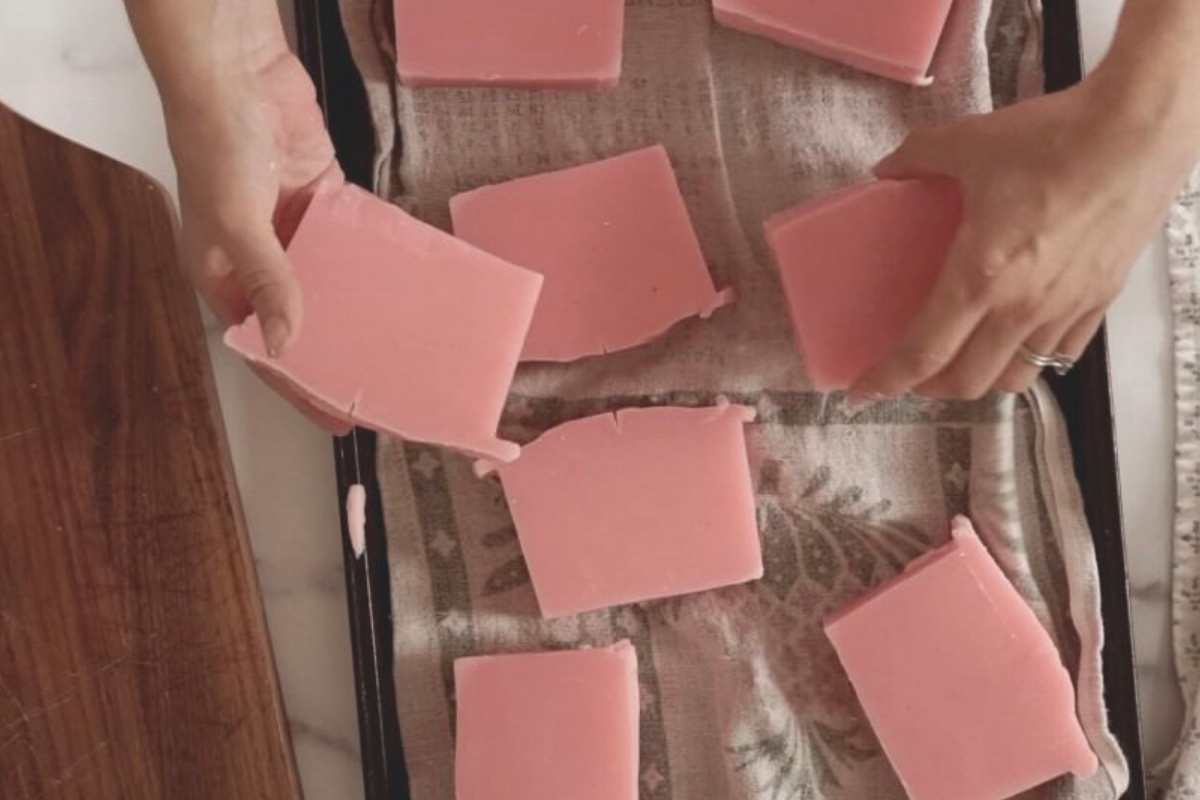 Let the soap cure in a warm, draft-free place (such a turned-off oven that has been warmed to 140 degrees, then turned off), or wrapped in quilts.
The next morning or afternoon you take it out and cut it into bars. Let it cure for 3-5 weeks before using in the shower
🥫 Storage instructions
Once fully cured, homemade soap should be stored in a dry, well-ventilated spot. I like to put it in shoe boxes in the closet with layers of newspaper in between the bars.
While it is in use, use a soap saver to keep your bar dry. It will last much longer.
🔍 FAQs
What kind of mold did you use?
A 10-inch silicone mold. It's my favorite for most soaps.
Can I use this recipe in individual cavity molds?
Yes, absolutely. I'd recommend using sodium lactate since it can be a bit soft when unmolding it.
What are the best soap fragrances?
This is 100% personal preference (except for the fact that florals are more difficult to work with). My personal favorites are Comfort and Joy from Nurture Soap and Mango Mango from Brambleberry
Will this recipe work with swirls or embeds?
Yes! I used to swirl it all the time before I got too lazy. 😊
Can I resize this?
You sure can. You'll need the following percentages:

Coconut Oil: 26.83%
Mango Butter: 4.88%
Olive Oil: 21.95%
Palm Oil: 21.95%
Sweet Almond Oil: 4.88%

Enter them into a soap calculator with the desired size of your batch and it will give you the correct amounts.

👩🏻‍🍳 Expert tips
Working with lye is dangerous and you must be in a well-ventilated, distraction-free workspace. Wear goggles and gloves to protect yourself and keeps kids and pets away.
You must follow soapmaking recipes exactly. If you're going to make changes or substitutions, you must first run the recipe through a lye calculator and accept that you've created your own recipe at this point.
Castor oil is the "secret" to big bubbles. Don't substitute!
📘 Related Recipes
📖 Here's the recipe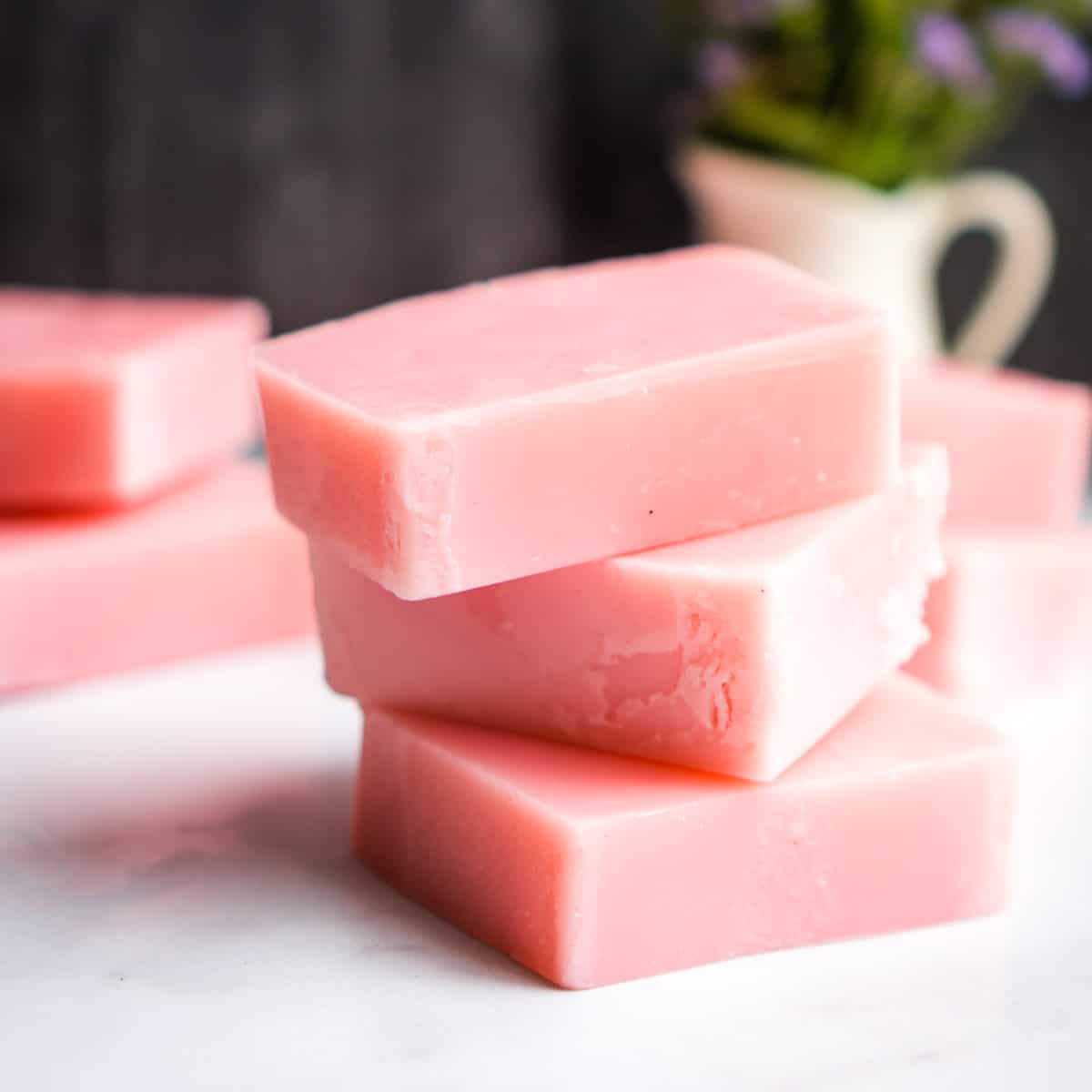 Want a free fall cookbook? Click here to grab a cookbook with 25+ of my best autumn recipes
Ingredients
11

ounces

coconut oil

9

ounces

olive oil

9

ounces

palm oil

2

ounces

sweet almond oil

4

ounces

castor oil

4

ounces

avocado oil

2

ounces

mango butter

5.83

ounces

lye

10-15

ounces

water

3

tablespoons

fragrance oil

for a strong scent, vary this to your preferences

2

teaspoons

sodium lactate

optional, for a harder bar

colorant or mica

optional
Instructions
Using a digital scale, measure out the lye and water in separate glass containers. Combine them by adding the lye to the water. (Remember: snow floats on the lake.). Stir until the lye dissolves. The temperature will shoot up. Place this in a safe place to cool.

While the lye solution is cooling, measure out the oils and butters and combine them in a large stainless pot. Melt them over low heat and heat them up to 130-140 degrees. Set them aside to cool.

After 2 hours, check the temperature of both solutions. They should be around 110 degrees. (A range of 100-120 is fine.). If not, allow them to cool longer.

Prepare your mold and measure out any fragrance or color you will be adding. (For best blending of colors, mix some color into a few drops of melted oils.). If using sodium lactate, add it to the lye water at this time.

Pour the water and lye solution into the pot with the melted oils. Blend with a stick blender until thin trace is reached. The soap batter will noticeable thicken and a trail of soap will sit on top of the liquid rather than immediately sinking in. (This will take about 1 minute.). Add the color and fragrance and stir by hand.

Immediately pour the soap batter into the mold. Place in a turned off oven or wrap with blankets to insulate the soap.

After 24 hours of curing, unmold and cut into bars. The bars may seem slightly soft but will harden considerably during the curing process. Allow to cure at least 3 weeks in a well-ventilated place.
Notes
Follow standard soap making safety guidelines!
Did you make this?
Let me know how it was! Please see below for serving ideas, storage instructions, and substitutions.