A soft and delicious sandwich bread made with oatmeal and sweetened with honey and brown sugar.  The perfect companion to peanut butter and jelly.
Soft and delicious oatmeal sandwich bread. Sweetened with honey and brown sugar, this recipe uses whole wheat flour and old fashioned oats.
Sandwich bread is hard to get right. So many of us are used to impossibly soft and additive-laden store bought bread, and that texture is hard to duplicate at home. I have served many a sandwich on homemade bread that my kids have turned up their noses at.
But this recipe will delight you over and over again, because it's perfect for everyday use. It's a soft and tender bread that kids and adults will both love, and delicious with any sandwich. And there's enough whole wheat and natural sweeteners to make you feel about serving it to them.
They say homemade bread changes your life, and so it does. There's no feeling like pulling a beautifully browned loaf out of the oven. We make this recipe week after week, and there's something magic about it every time.
Ingredients and tools you'll need:
Old fashioned oats, (not instant or quick)
Honey
Brown sugar
Salt
All purpose flour
Whole wheat flour
Butter
Instant yeast (SAF brand is my favorite.)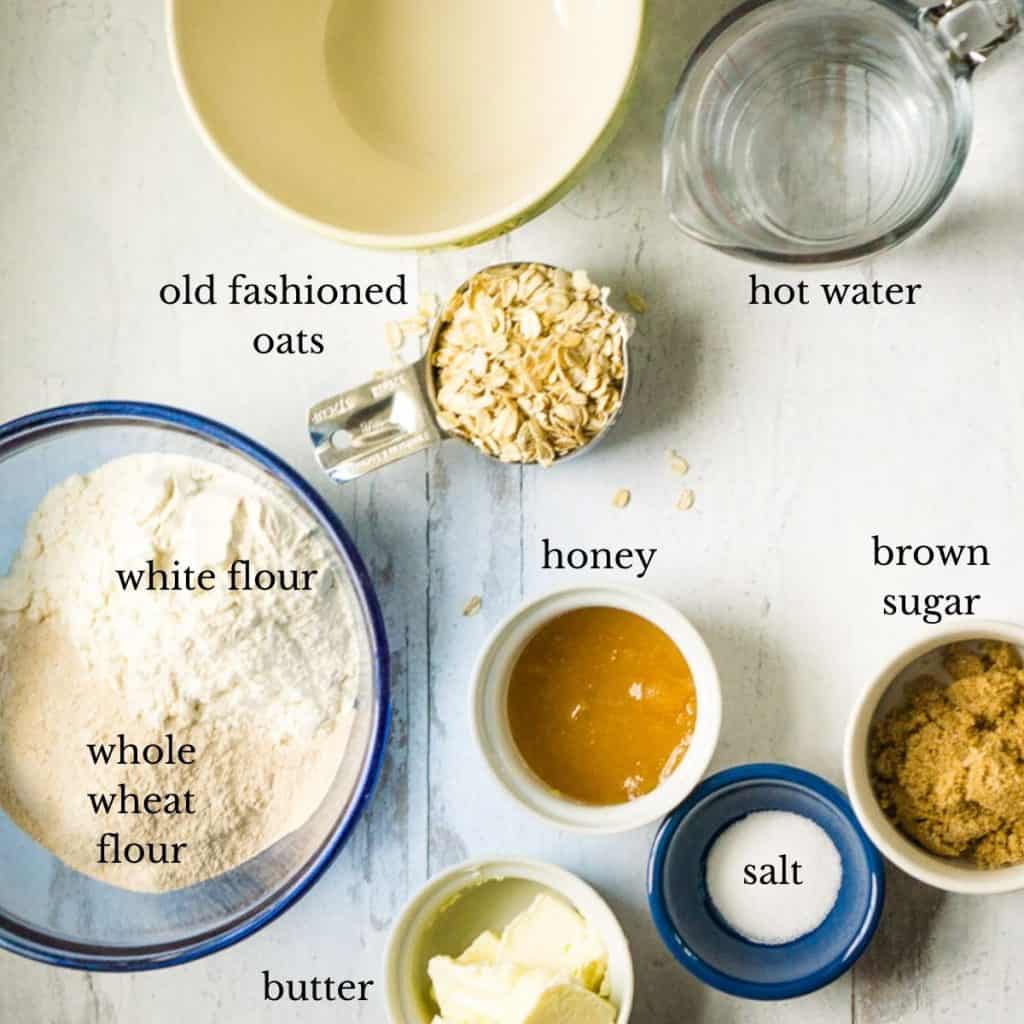 Step by step oatmeal sandwich bread
If you have never made a yeast bread before, please check out my beginners guide to yeast bread baking, which will go over the basic steps and different methods you can try.
Preparing the dough: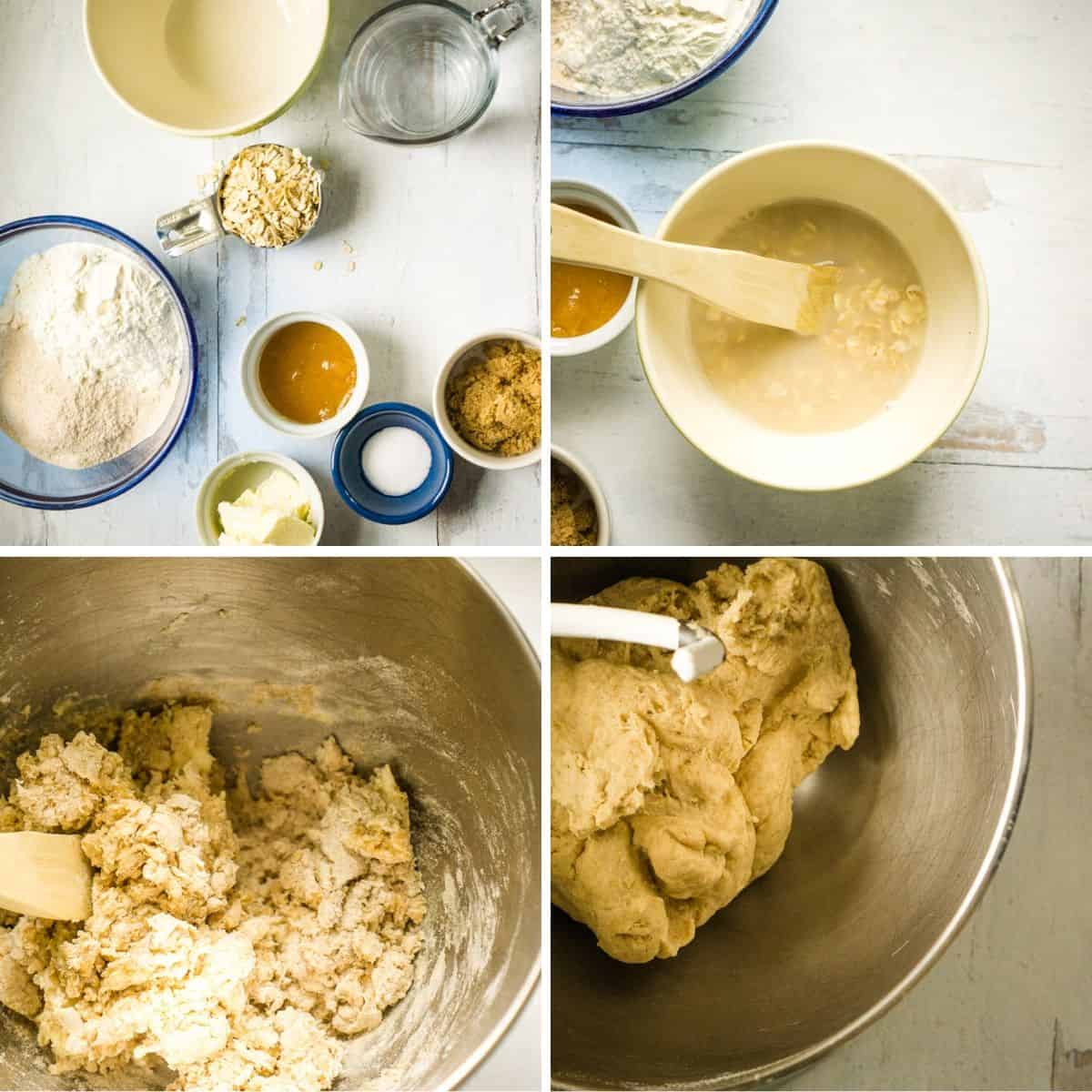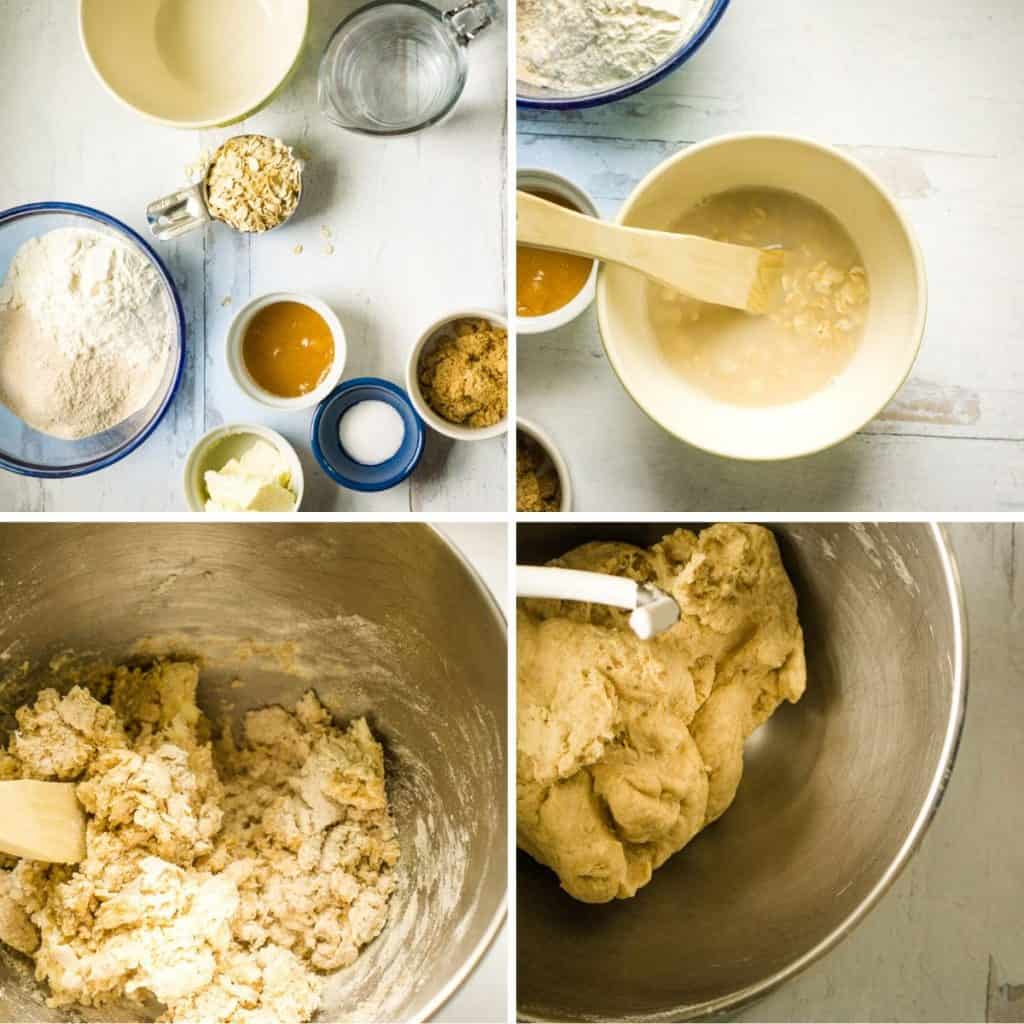 Measure out your ingredients and allow the butter to come to room temperature.
Before the oats can go into the dough, you need to soften them with the hot water. Pour the hot water right on top of the oats, then stir. Let the oatmeal cool to lukewarm or cooler before you add the rest of the ingredients. This will take about 5-7 minutes.
Once the oatmeal is cool, you can just add it with all the remaining ingredients to a large bowl and mix them together. If you're using your stand mixer to knead then that bowl will work great. The dough may seem a little dry at first, but it should absorb all the flour as it kneads.
You are looking for a smooth dough that clears the sides of your bowl. If it doesn't hold together and still seems dry and crumbly, add a little water a teaspoon at a time. If it's too wet, and sticks to the bowl, add flour a teaspoon at a time.
How to tell the dough is ready: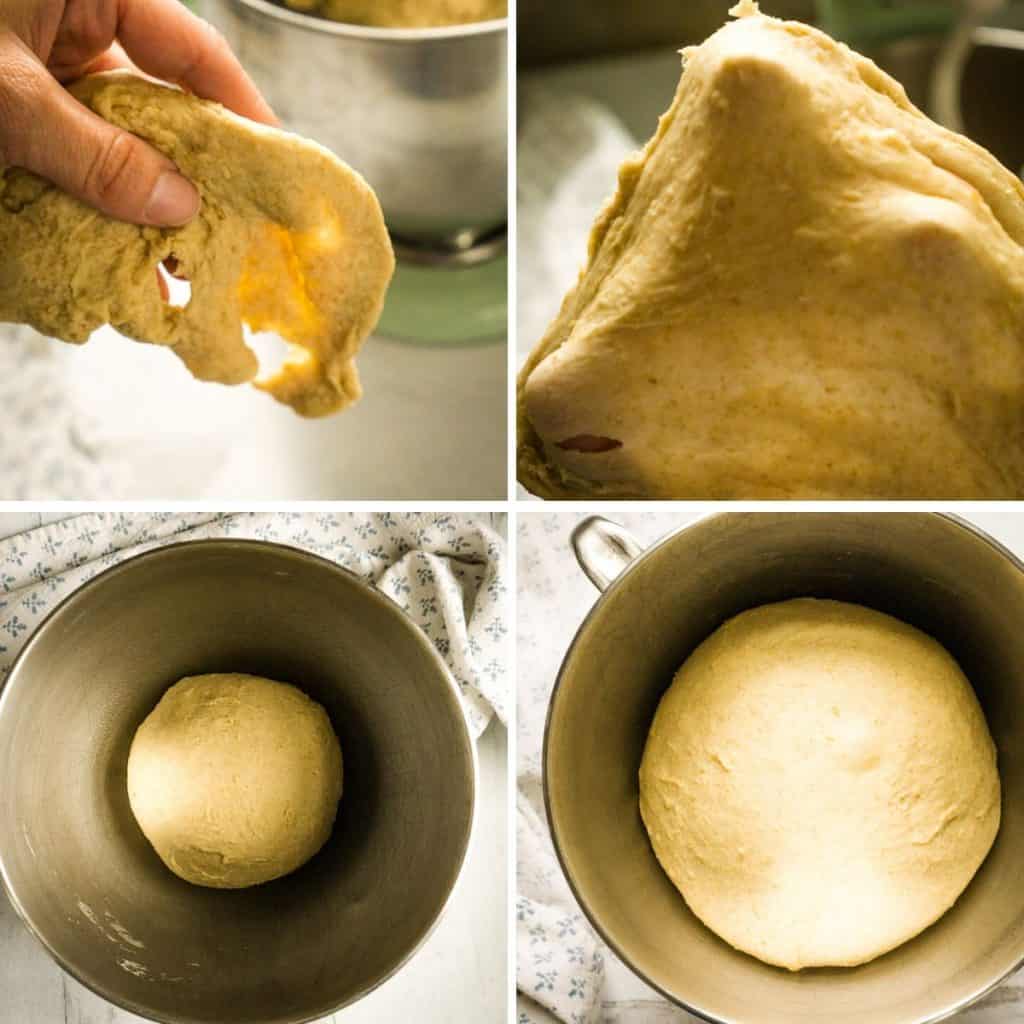 If you want to knead the dough in your bread machine, simply select the dough cycle and it will come out beautiful. If you want to use your stand mixer to knead, that's a little more hands-on. This dough took about 15 minutes of kneading on low with the dough hook. To check when the dough is done kneading, grab a golf ball-sized piece of dough and try to stretch it thin. If it tears, it needs to knead some more. If it stretches out and translucent "windows" appear, it's ready.
Shape the dough into a ball and place it into a clean, lightly oiled bowl. Cover it and let it rise in a warm and cozy place for about an hour, until it has doubled in size. You can warm your oven just a tad, turn it off, and tuck the bowl in there.
Shaping the loaf: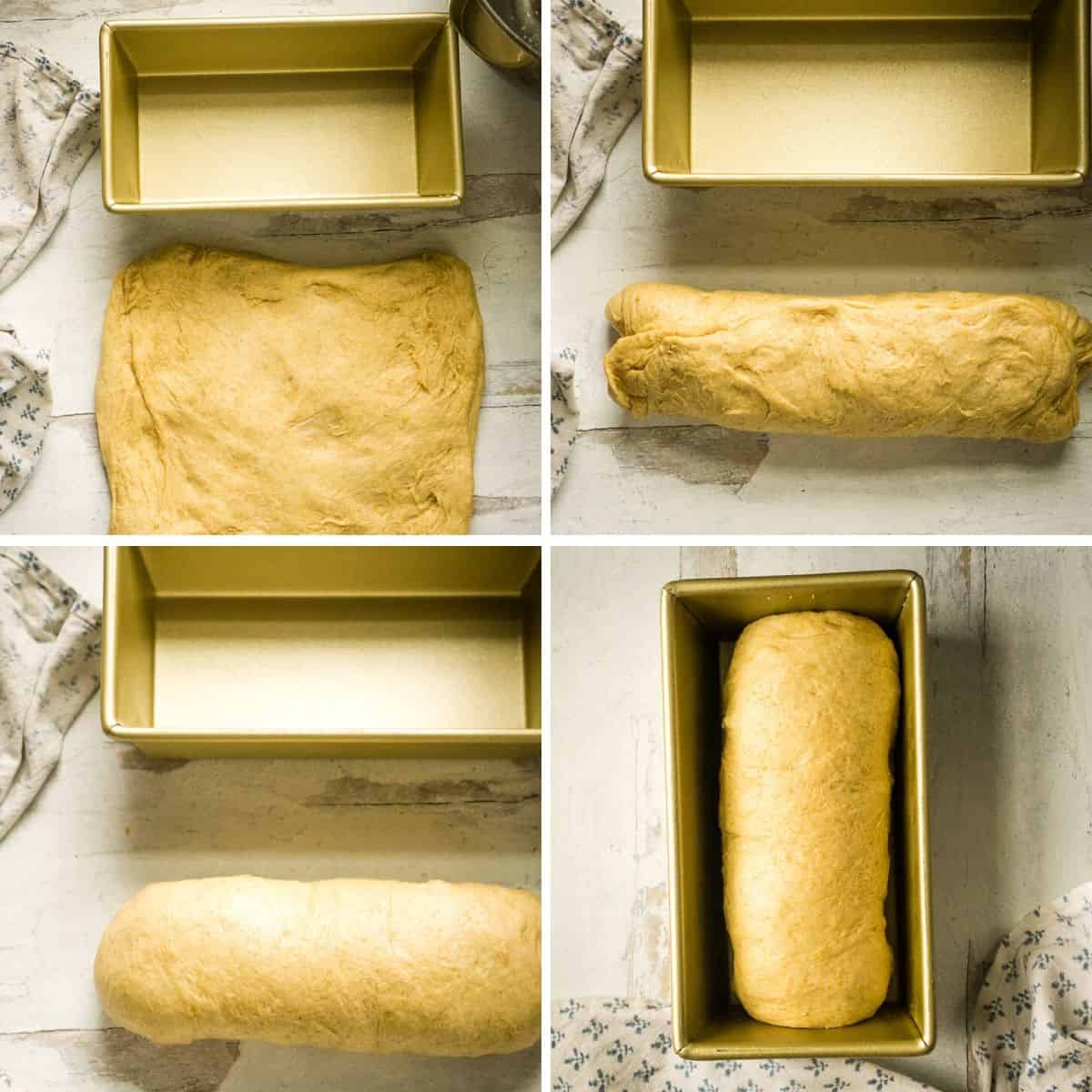 Don't fear shaping a sandwich loaf! Pull out your loaf pan and flatten out the ball of dough so that it is a rectangle with one side as long as the long side of the pan. Tuck the "shoulders" (the top corners) into the rectangle, then start rolling down. Pinch all the seams and flip the dough over so the main seam is on the bottom.
Place the loaf into a lightly greased loaf pan. You're almost done!
The final rise and bake: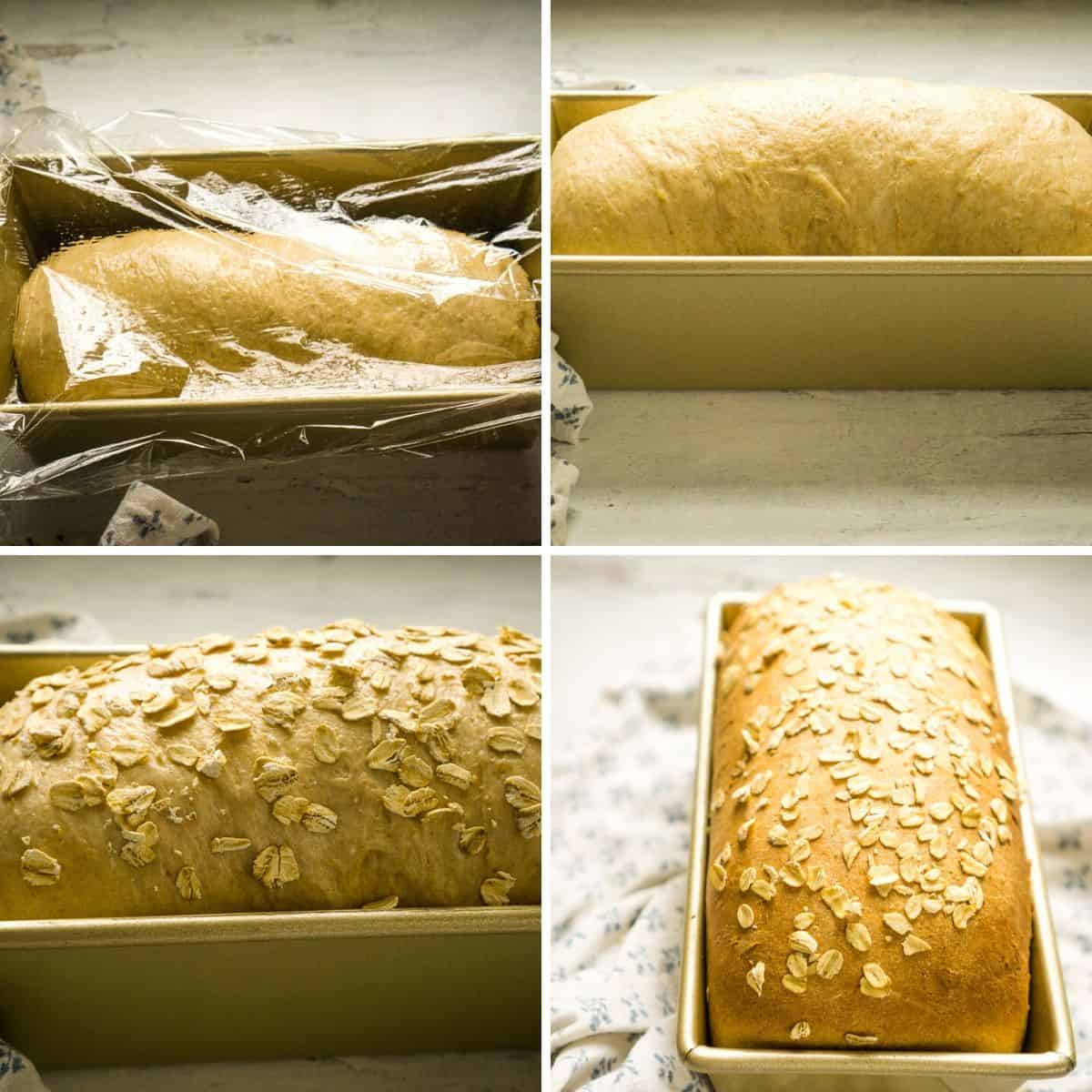 When bread is going through its final rise, you want to cover it with something that won't stick. My preference is plastic wrap sprayed heavily with non-stick cooking spray. Lightly drape it on top, and tuck that little loaf back into the warm spot to rise again. Don't rush this stage. The second rise will be a big factor in how fluffy the bread is in the end. It will take about 45 minutes to 1 hour for the second rise. You can preheat the oven toward the end of that time period, but don't forget to take the dough out if its rising in there!
When it has risen 2 inches over the top of the pan, it's ready. If you want to put oats on it, now is the time. They will stick best if you lightly brush the loaf with water and gently press them on.
Bake at 350 for 35-45 minutes until golden brown. Remove from the pan immediately and let the loaf cool on wire rack. Make sure it cools at least an hour before you slice it.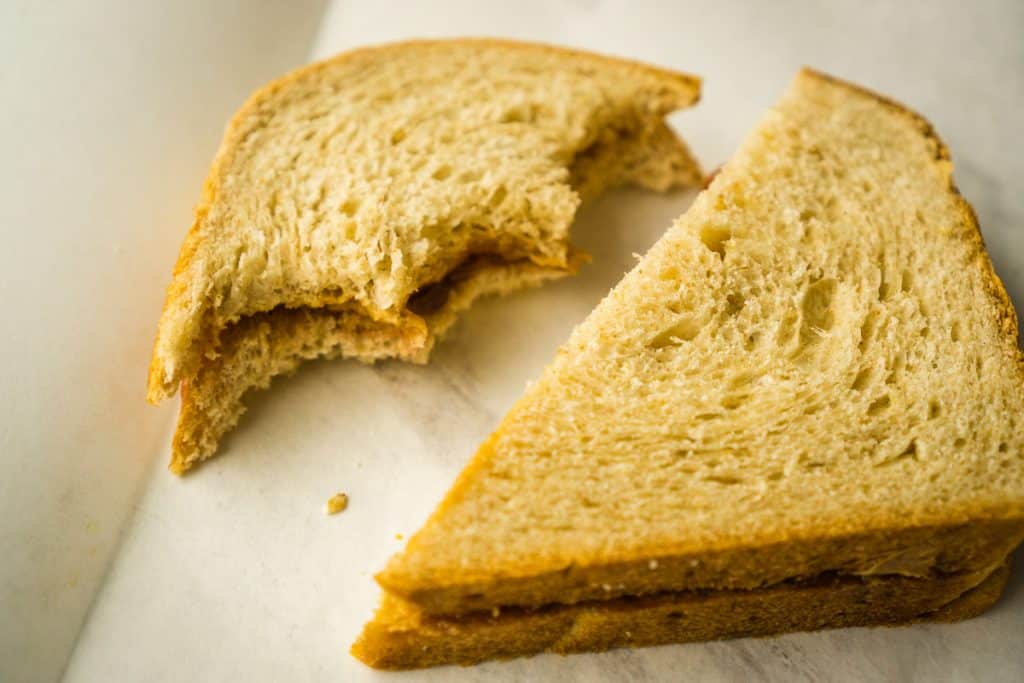 Get the recipe here: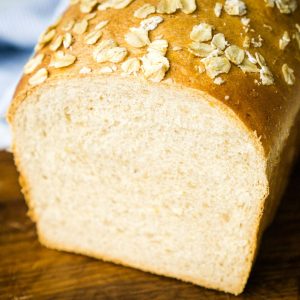 Oatmeal Sandwich Bread
Print Recipe
A soft and delicious sandwich bread made with oatmeal and sweetened with honey and brown sugar. The perfect companion to peanut butter and jelly.
Click here to grab a free mini-cookbook with my best seasonal recipes
Ingredients
1/2

cup

old fashioned oats

1

cup

hot water

2

tablespoons

honey

2

tablespoons

brown sugar

1 1/2

teaspoons

salt

2 1/4

cups

all purpose flour

1/2

cup

whole wheat flour

1/4

cup

softened butter

2 1/4

teaspoons

instant yeast
Instructions
In a large mixing bowl, combine the hot water and oats. Stir to combine and let cool to lukewarm.

Add the remaining ingredients and stir until combined. The dough may appear slightly dry at first. Knead by hand, stand mixer, or bread machine on the dough cycle until smooth and elastic. When sufficiently kneaded, windows will be visible in dough when it is stretched apart. (If using bread machine, skip ahead to step 4.)

Place the dough in a clean, lightly oiled bowl and cover with a clean, damp tea towel. Place in a warm place to rise until doubled in bulk, about 1 hour. (Try an oven that is slightly warmed and then turned off.)

When the dough is sufficiently risen, turn out onto the counter to shape. First stretch the dough so that it is as long as the long side of your loaf pan. Tuck the corners in then start rolling up into a log. (Shoulders in, head down.). Pinch all the seams shut. Place into a lightly oiled loaf pan with the seam side down. Cover with. greased plastic wrap and set in a warm place to rise, until the loaf is 2 inches over the top of the pan, about 45 minutes to 1 hour. Towards the end of the rising time, preheat your oven to 350 degrees.

When the loaf has risen, remove the plastic wrap. If desired, brush the top gently with water and press oats on top. Bake at 350 for. 35-45 minutes, until golden brown. Cool on wire rack. Allow to cool completely before slicing. Will stay fresh at room temperature, tightly wrapped, for 3 days, or frozen up to month.
Notes
This recipe is also an excellent base for cinnamon swirl bread. Before you roll up the dough to shape the loaf, sprinkle 1/4 cup of white sugar mixed with 1 tablespoon cinnamon.
To freeze this loaf, allow it cool completely then wrap in plastic wrap and again in aluminum foil. Alternatively, if you know you will eat it within a week or so, slice it and place in a freezer bag for easier serving.
Nutrition
Calories:
105
kcal
|
Carbohydrates:
22
g
|
Protein:
3
g
|
Fat:
1
g
|
Saturated Fat:
1
g
|
Sodium:
220
mg
|
Potassium:
58
mg
|
Fiber:
2
g
|
Sugar:
4
g
|
Calcium:
6
mg
|
Iron:
1
mg
More recipes your family will love: