A Dutch Oven is perfectly suited for baking bread because it creates a mini-oven that traps steam and heats evenly. Here are eight delicious recipes for bread that will bake perfectly in a Dutch oven.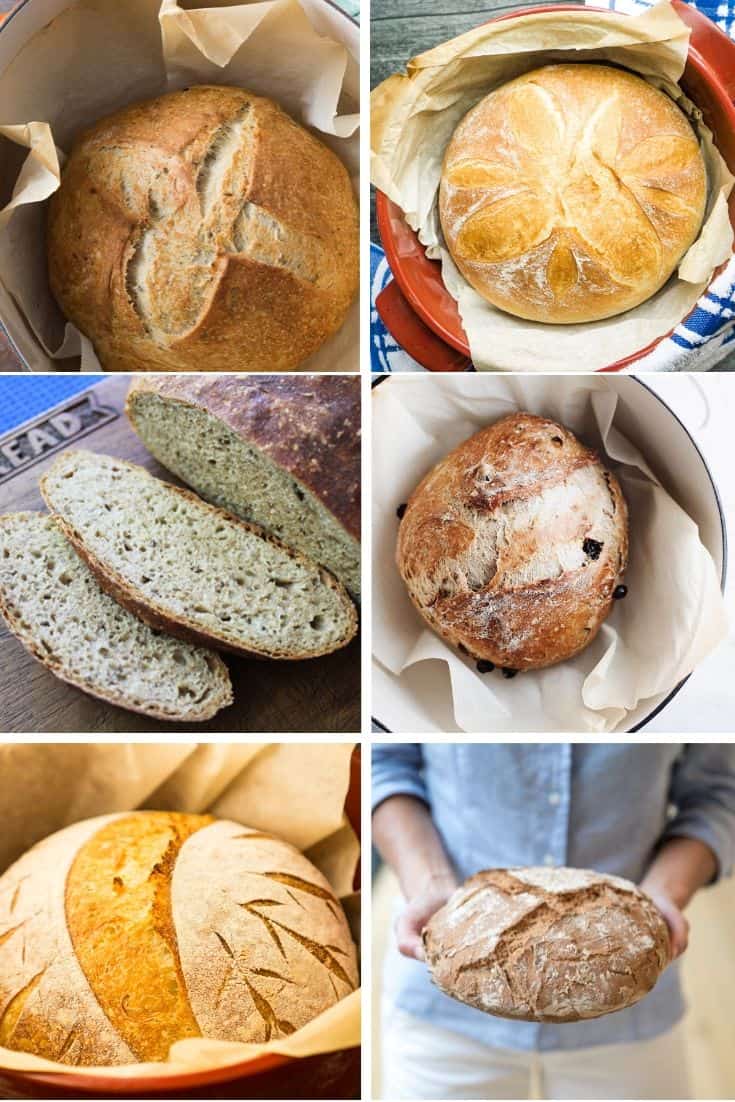 What kind of Dutch Oven works for baking bread?
To bake any of these recipes, all you need is a Dutch Oven with a tight-fitting lid.
A cast iron will work perfectly as long as it is enameled. The Lodge brand is popular and affordable. I like to use a 6-quart size, like this one.
You can also try a clay one like the Emile Henry brand. They are more expensive but lighter, which is nice when you lift them out of the oven. A 4.2 quart size will hold all of these recipes.
Preparing a Dutch Oven for baking bread:
Use parchment paper. Always! The dough will stick terribly without it! I find that flat sheets like these are easier to deal with.
Consider pre-heating the Dutch oven before placing the dough inside. It's not necessary, but it will help the crust brown more evenly.
If you want a round loaf with good height, shape it into a tight ball so it will rise up instead of out.
Here are the recipes!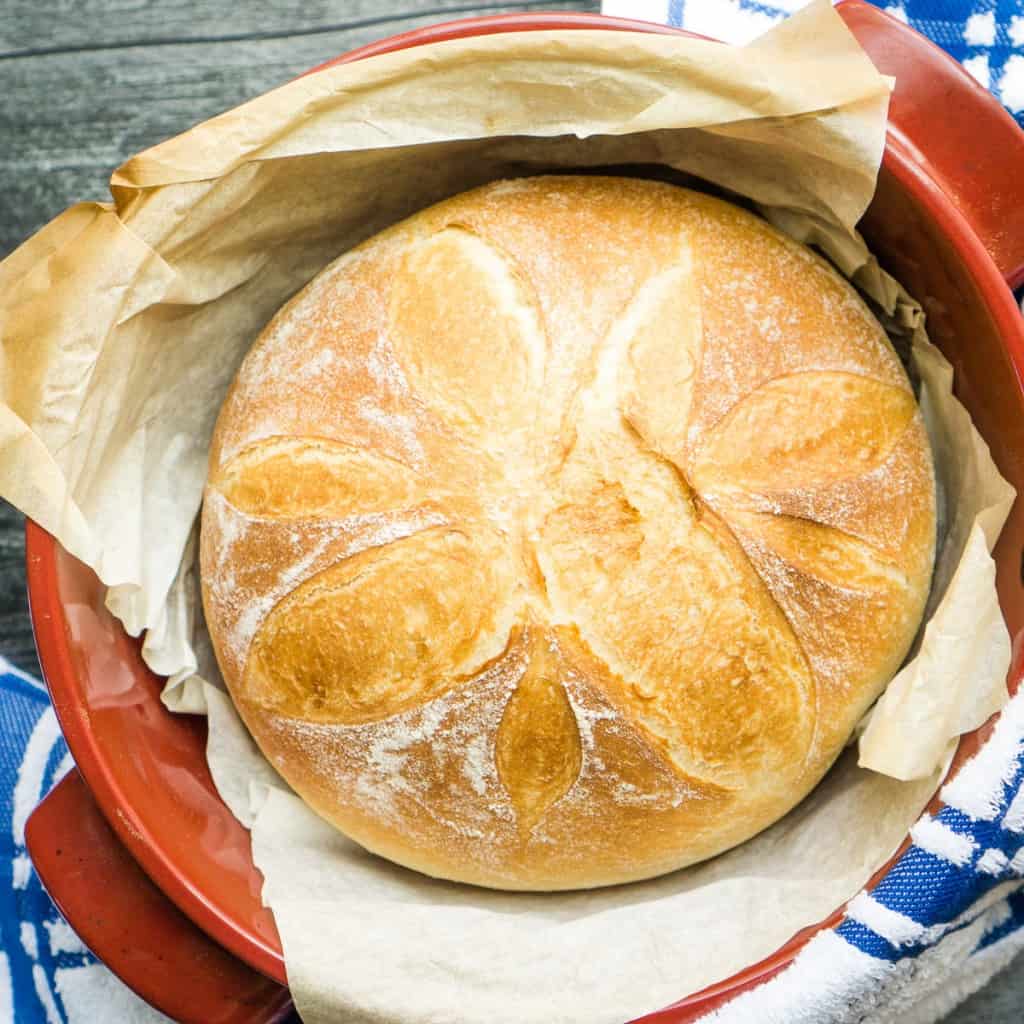 Rustic French bread is one of the easiest bread recipes out there. All you need are four simple ingredients for a beautiful and professional looking loaf. It has a fine, soft texture and thin, crisp crust. It's also vegan and so it can be enjoyed by everyone.
Serve this with just about anything! You can slice it for sandwiches or just tear it into pieces and eat it like a wild animal.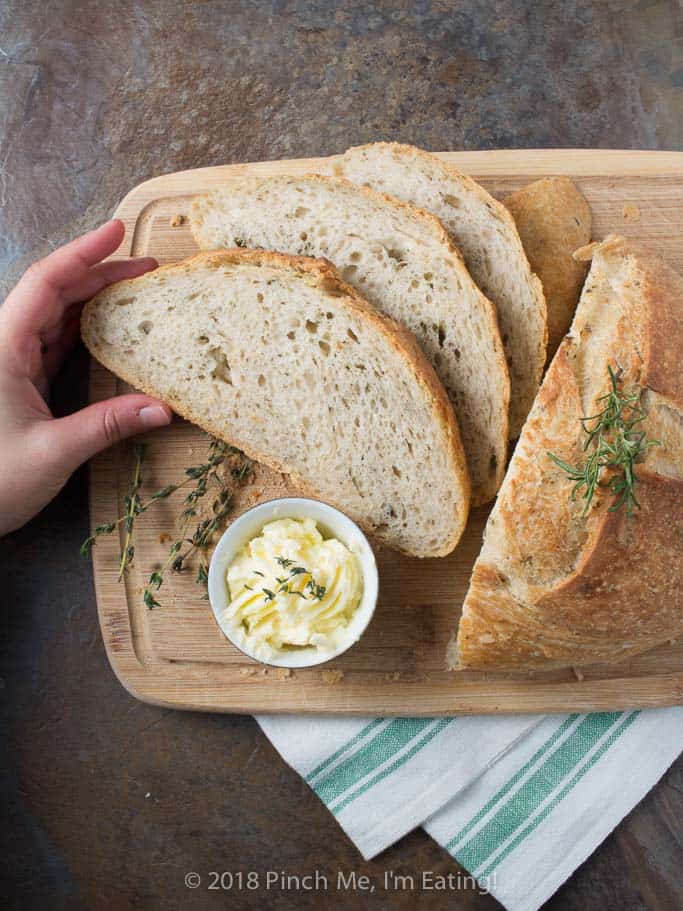 Now we get to a fun one! I love this recipe for all the flavor of the herbs and the fact that it's no knead! You simply mix up the dough and give it plenty of time to rest.
I think this would be delicious served with olive oil to dip in before a pasta dish, or on the side with something fancy like a prime rib.
Get the recipe from Caroline at Pinch Me, I'm Eating, where you can see step by step photos.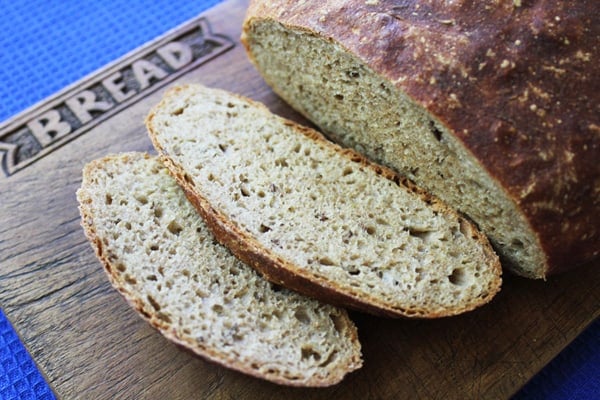 This is another no-knead recipe. They lend themselves really well to Dutch oven baking because they are usually a little bit wet and sticky. The Dutch oven goes a great job helping them hold their shape.
This rye bread recipe also benefits from all the the moisture that happens inside the Dutch oven, like a little steam oven. It helps the rye bread rise higher and lighter. This recipe comes from Jenny Can Cook, one of my favorite food blogs. It's the only rye bread I've ever made that I liked!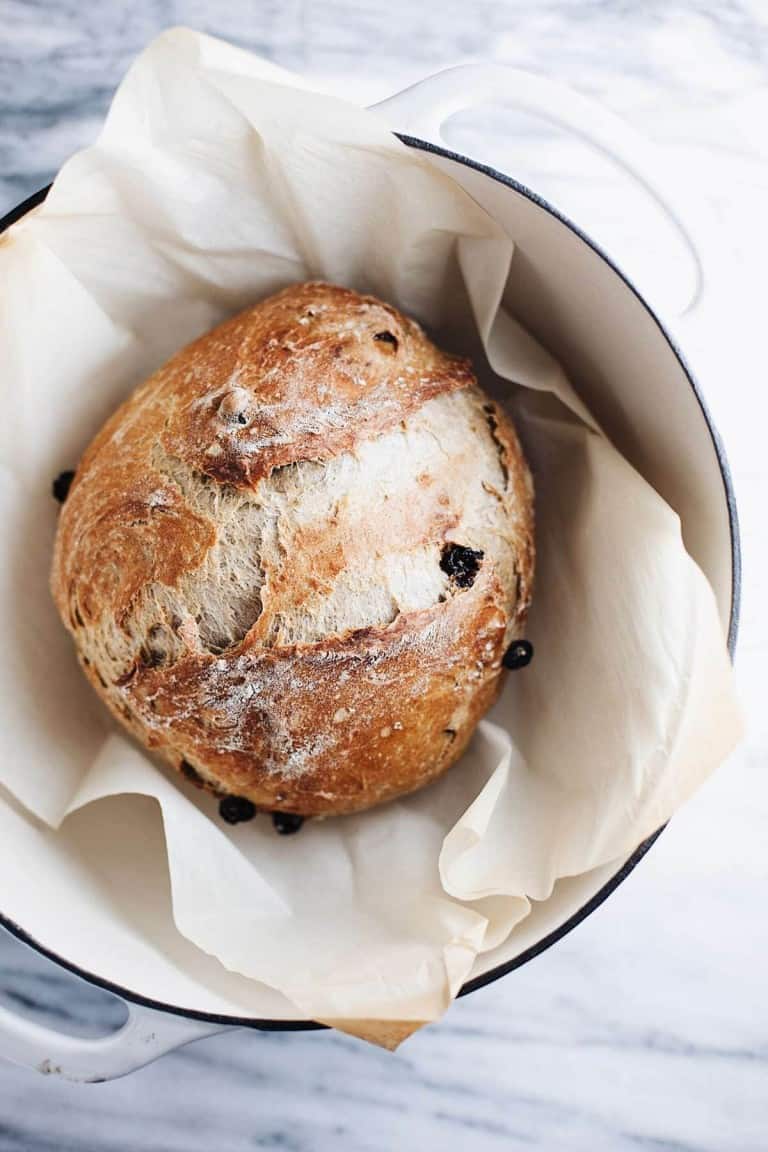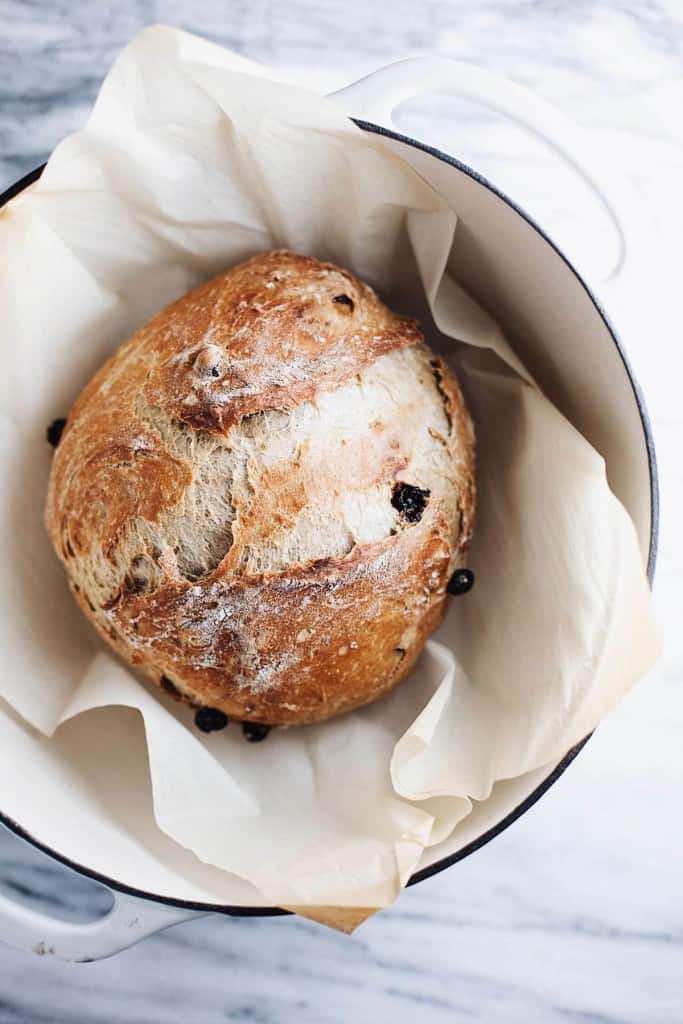 Look at this beauty! This recipe comes from Bethany at A Simple Palate. I am particularly partial to breakfast breads made in a Dutch oven, because you can mix them at night and bake in the morning. This cinnamon raisin one looks perfect for a quiet Saturday at home.
She's included a quick recipe for honey butter with a recipe as well that sounds lovely.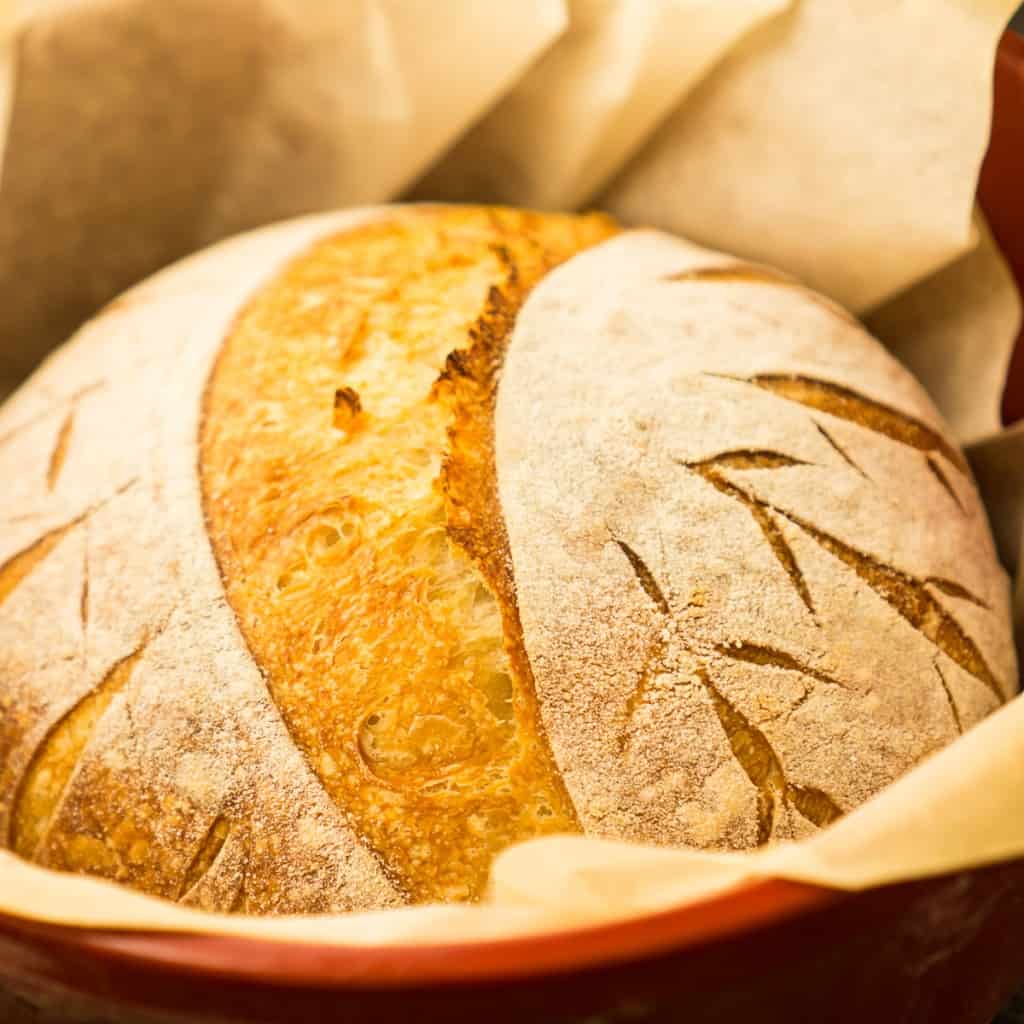 A Dutch oven is great any bread that needs a little help rising, like most sourdoughs. The lid traps the steam that the dough gives off as it bakes. This keeps a crust from forming so it can rise higher. This recipe is a classic boule that is great to try once you have an active sourdough starter.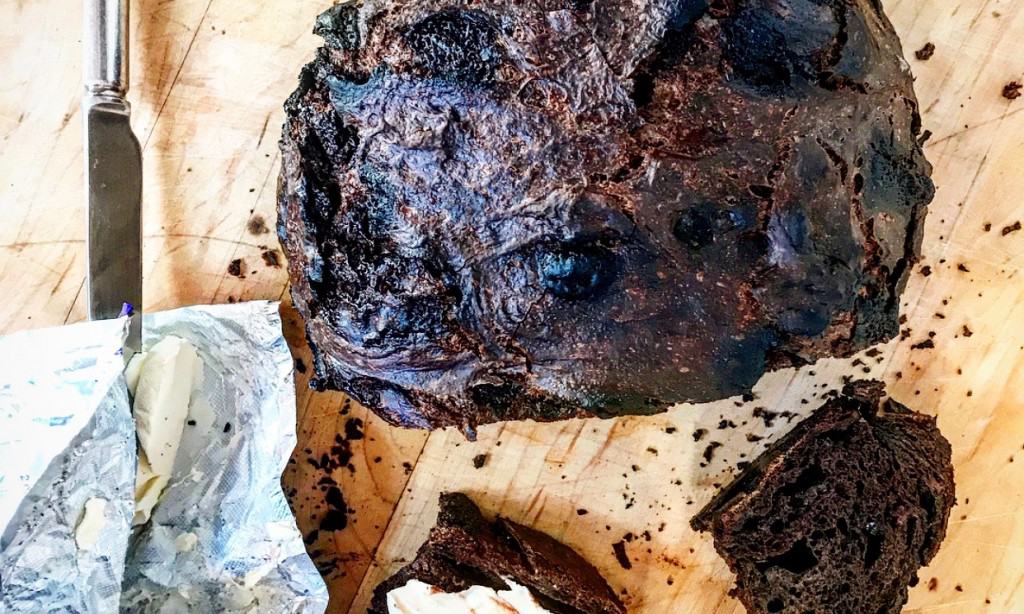 This recipe from Jessie Sheehan Bakes looks so indulgent and delicious. There is cocoa in the dough AND chocolate chunks mixed in. I imagining this served with a bowl of strawberries and whipped cream for breakfast, or made into a crazily amazing French toast. Or as a giant sweet bagel with cream cheese. Can you tell I'm really excited about this one?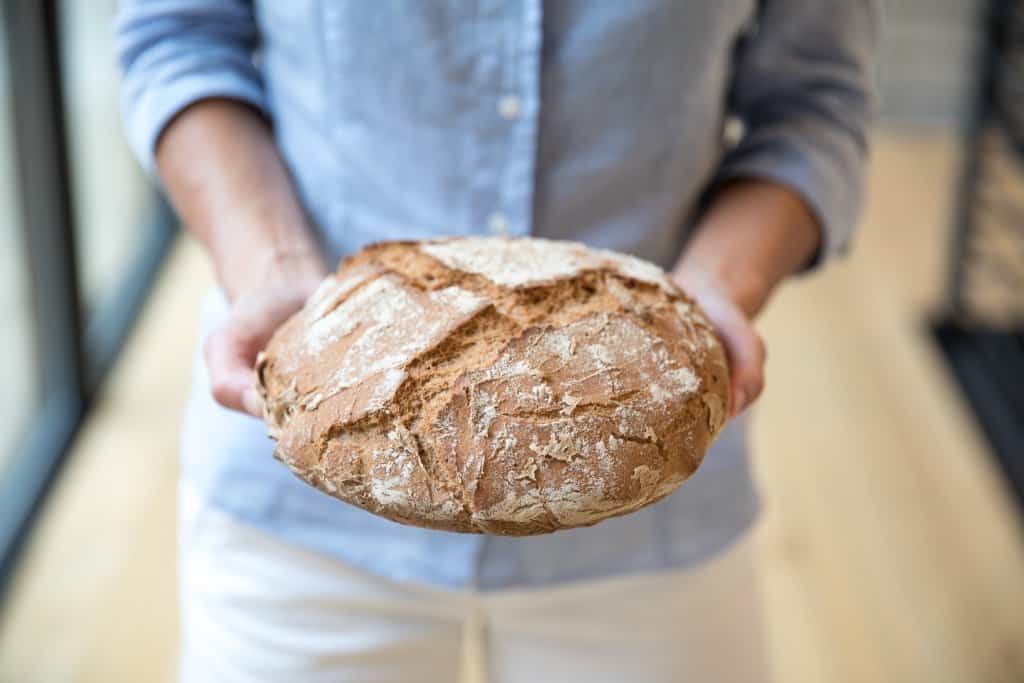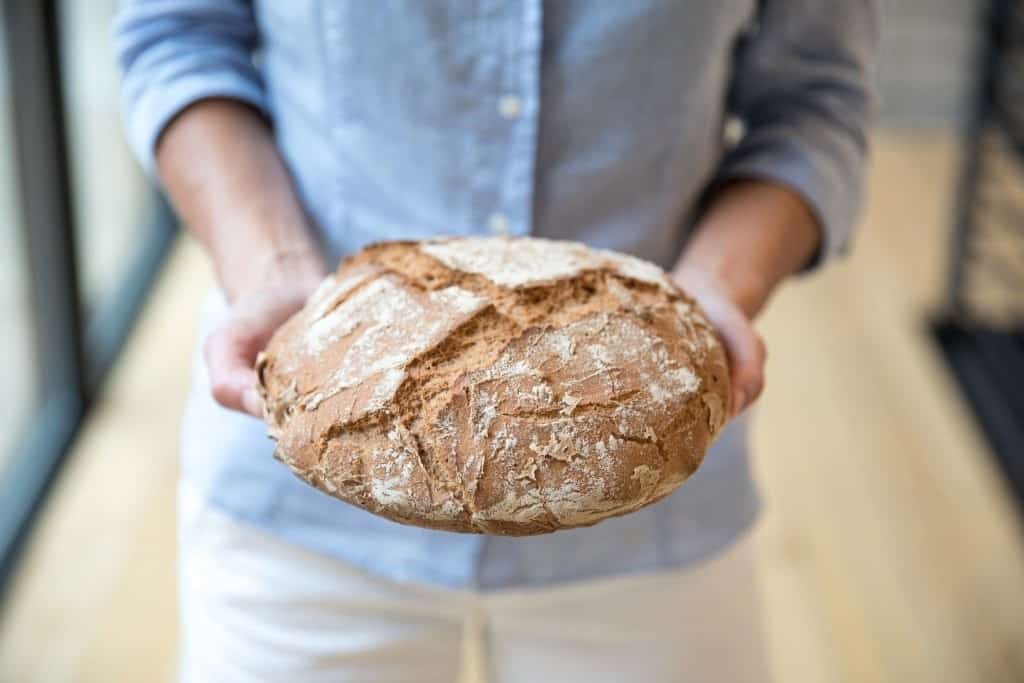 I don't know much about gluten free baking, but Jovial Foods has this recipe for a gluten free boule. The crust gets crisp thanks to the steam inside the oven, and it looks like this bread rises quite a bit.
Those of you who are missing delicious homemade bread because of problems with gluten, get the recipe here.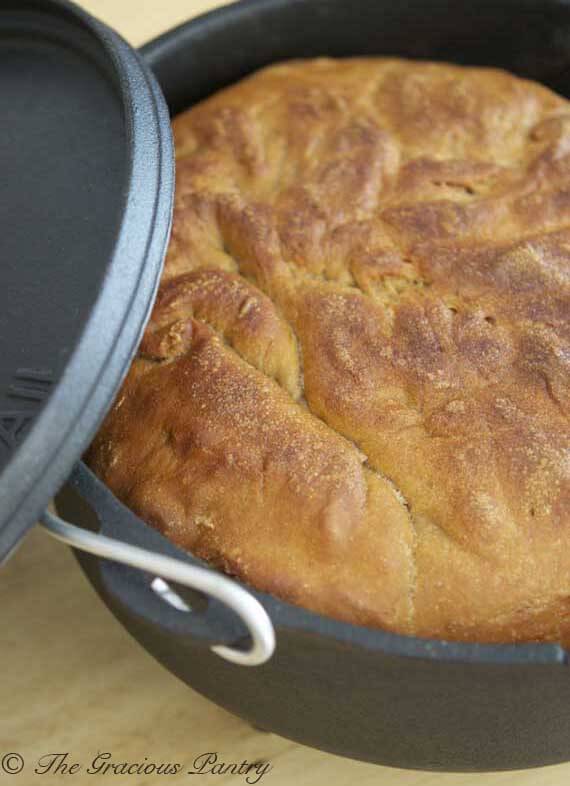 This recipe uses whole wheat flour for a more health-conscious bread recipe. Since whole wheat sometimes makes for a denser loaf, the steam of the Dutch Oven helps this clean eating bread to rise a little higher.
Get the recipe here, from Tiffany at The Gracious Pantry.
9. no-knead raisin bread
If you're looking for a sweet loaf, this is a perfect choice. Plump raisins, plenty of cinnamon, and almost no hands-on time.
Find the cinnamon raisin bread recipe here.
And that's it!
Hope you give at least one of these a try! If you have any bread baking questions, let me know!