An easy artisan style sourdough loaf with an open crumb and crisp crust. This recipe needs to be started more than 24 hours ahead of serving
An easy and straightforward technique for a classic, artisan style loaf of sourdough bread with big holes and sour flavor. Perfect for sandwiches or serving with a meal.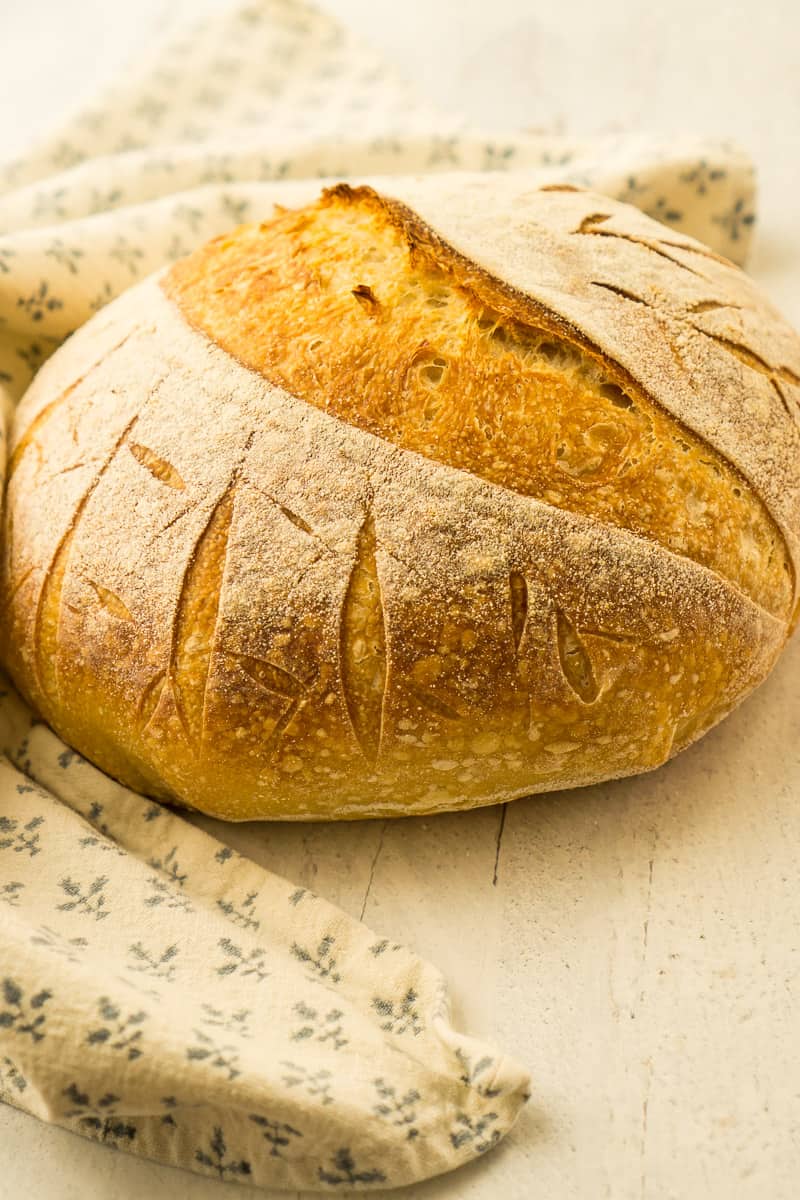 ❤️ Why you'll love this recipe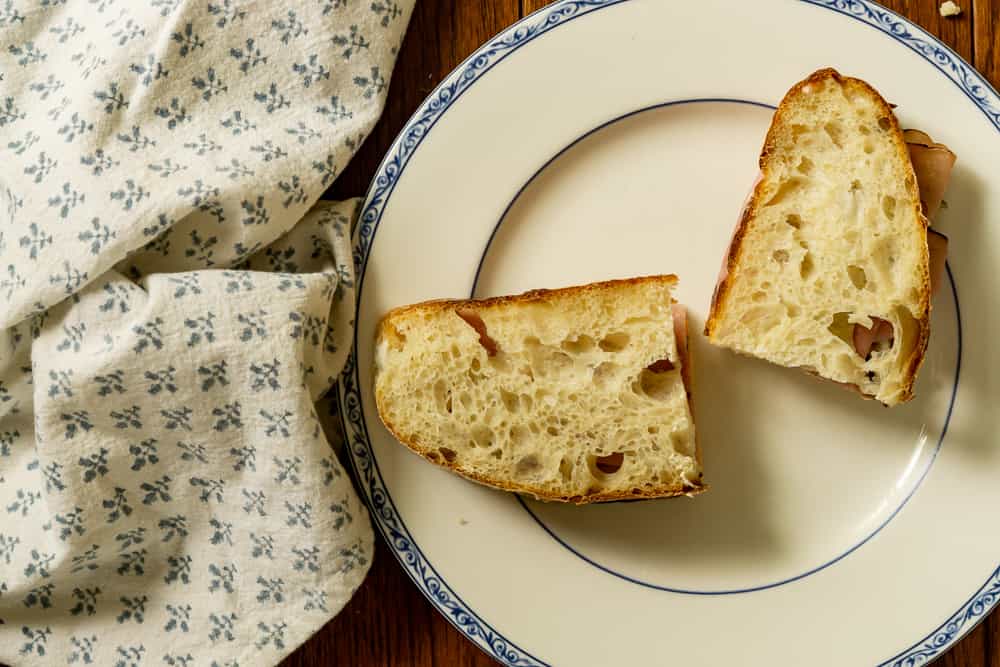 A challenge that you'll love. I have been working on this recipe for approximately five years when I first got my little hungry jar of starter in the mail. I fed it, read about it, experimented with it, and then got frustrated with it. My loaves were flat, hard, stupid looking, and I hated them. Recipes said things like "oven spring" "banneton" and "lame". It was a whole new world, sourdough baking, and I was not ready. My starter got tucked in the fridge and starved to death, may it rest in peace.
Perfected throughout the years. A year ago, I tried again. I kept the starter on the counter so I could not kill it. I gathered recipes and altered them. At first, I mostly did things with commercial yeast added, like my sourdough rolls. Over time, the starter matured and I began to tackle loaves without yeast.
🧂 Ingredients
This is an overview of the ingredients. You'll find the full measurements and instructions in the printable recipe at the bottom of the page.
You'll need the following for this sourdough bread:
mature well fed starter
bread flour
room temperature water
diastatic malt powder OR sugar
salt
🥣 Equipment
large mixing bowl
spatula
plastic wrap
parchment paper
Dutch oven
🍴Instructions
step one: how to get an open crumb loaf with good height
I eventually learned that to get an airy, open sourdough loaf, I needed more water in my recipe. One big problem with this! It makes the loaf flat. So how do we balance this?
Well, you just have to give the dough a little strength. This is normally accomplished through kneading in a traditional dough. But with wet dough, it doesn't work as well. We need to build strength another way, through the stretch and fold technique.
step two: how to do the "stretch and fold"
After you knead the dough and it starts rising, it is so wet that it will just spread out into a blob and look like this:
But we need to give it structure, so we fold it back up. Like this: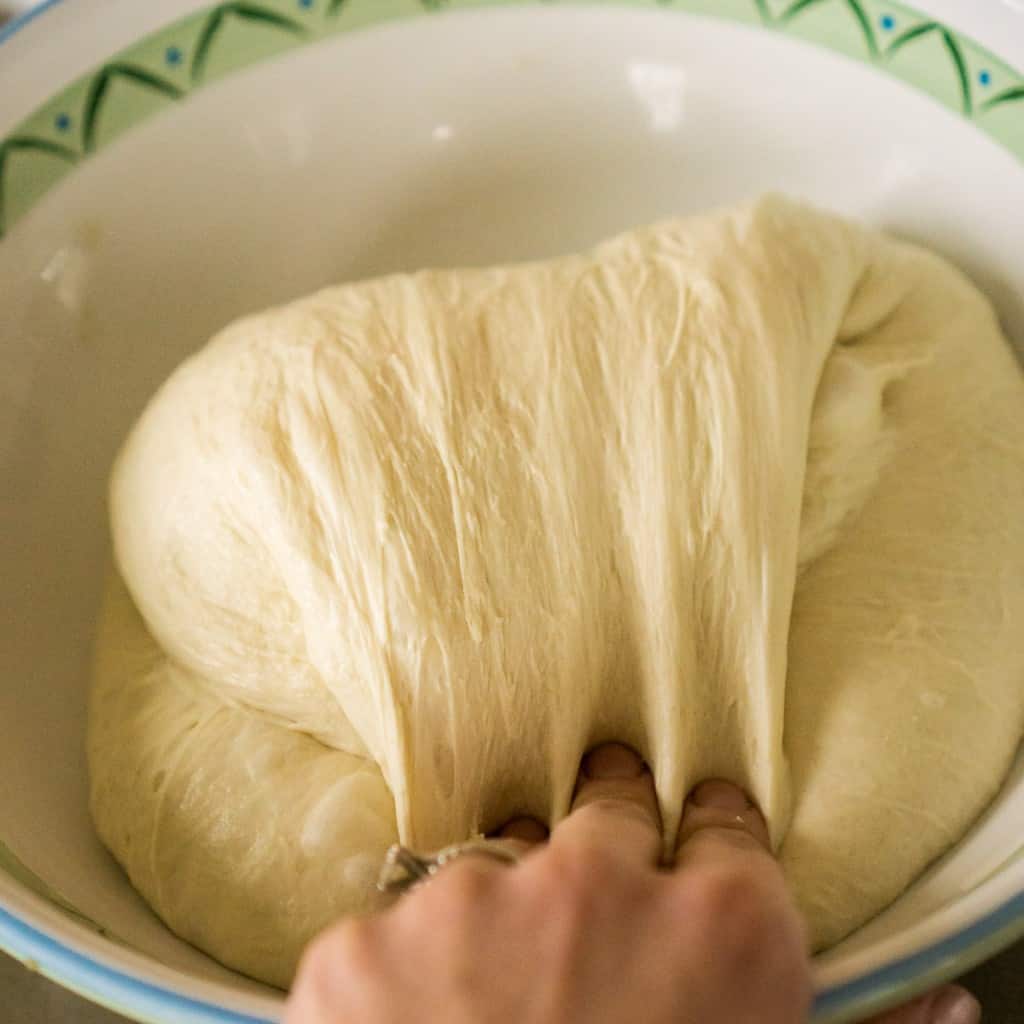 You keep folding it up on all sides until it looks like a ball again. An hour later, it will be a blob once more, and you reshape it.
Step three: dutch oven technique for steam
The next part of the recipe that helps the wet dough's tendency to flatten out is steam. A Dutch oven is perfect for this as it traps the steam created by the bread as it bakes. If you don't have a Dutch oven, you can preheat a baking sheet in your oven and pour water on it to create steam.
And finally, a secret ingredient called diastatic malt powder helps the dough spring up even more in the oven. It also helps brown the crust.
I firmly believe that everyone has their own way of making sourdough bread. Although there is nothing like a good recipe that can be followed exactly, for some reason sourdough bread is different. It is probably something to do with the fact that everyone's starter is a little bit different, and that technique is so important. I offer my method and recipe as a starting point for you, in the hopes that you will eventually tweak it and make it your own. I guess that's why it is called "artisan" not "scienceisan."
I'm done now.
a few notes before you begin baking artisan sourdough bread:
Perhaps I'm not done.
I would not try to make this recipe if you are new to bread baking. Start with something really simple and then move on to sourdough.
This recipe requires a mature starter, at least a few months old. Make sure it is well-fed and extra bubbly before you start. I feed mine the night before I want to make this bread, and then again when I wake up first thing in the morning.
Speaking of… this is a long process. So much so that there is a schedule for it.
Day One
5 AM: Wake up, feed starter
9 AM: Autolyse (mix everything except salt in a bowl and let it sit for 30 minutes.)
9:30 AM: Knead in salt.
10:30 AM: First fold
11:30 AM: Second fold
12:30 PM: Third fold
1 PM: Shape loaf, place in banneton, and put in the fridge
Day Two
9 AM: Preheat oven and remove dough from fridge
10 AM Place dough in Dutch oven and bake
11 AM Remove from oven and allow to cool
5 PM: Serve with dinner
Long does not mean hard! Baking this bread fits into the rhythm of your day and is just a few minutes of work here and there.
🥫 Storage instructions
Sourdough bread is best enjoyed the day it is made but can be stored in a paper bag at room temperature for up to 2 days. To freeze, wrap the bread tightly in aluminum foil or place it in a freezer bag. It will keep for up to 1 month.
🔍 FAQs
Can I use other types of flour?
You can use all-purpose, bread, or whole wheat flour.
Can I make this bread using a bread machine?
No – artisan sourdough bread is made using traditional methods and cannot be made in a bread machine.
👩🏻‍🍳 Expert tips
Use a starter that is well-developed and has a good sour flavor.
Mix the dough by hand for the best results. A machine might over-work the dough and produce smaller holes.
Allow the dough to rise for several hours, or even overnight, for a better flavor and texture.
Allow the dough to rise until it doubles in size.
📘 Related Recipes
🍽 Serve it with
Looking for something faster?
📖 Here's the recipe
Easy Artisan Sourdough Bread
Print Recipe
An easy artisan style sourdough loaf with an open crumb and crisp crust. This recipe needs to be started more than 24 hours ahead of serving
Click here for a FREE autumn cookbook (25+ Recipes!)
Ingredients
7

ounces

mature

well fed starter

15

ounces

bread flour

9

ounces

room temperature water

½

teaspoon

diastatic malt powder OR sugar

1 ½

teaspoons

salt
Instructions
Combine all ingredients EXCEPT the salt into a large mixing bowl and stir with a spoon or spatula to create a wet, sticky dough. Cover with a towel and allow to rest for 30-60 minutes.

After the resting period, measure the salt and add it to the dough. Knead gently on the counter for 40 turns until the salt is worked in. Place in a clean, lightly greased bowl. Cover with the towel and allow to rest at warm room temperature, ideally 80-90 degrees, for 1 hour.

After an hour, do ONE knead/ fold motion of the dough. This can be done right in the bowl or on the counter. You are trying to reshape the dough back into a round ball, even though it will want to relax back out to a flat shape. Shape it once and then cover and allow it to rest for another hour.

Repeat step three, two more times, for a total of three kneads/ and folds, each spaced an hour apart. Cover the bowl for a final 1 hour rest at warm room temperature.

Your dough should now be puffier, but may not have doubled in size (or even close). It is now time for the second proof, which is a cool rise in the fridge overnight. Dust a banneton or bowl with a tea towel VERY generously with flour (rice flour is best) and place the dough into it. Remember that what is on the bottom of the bowl will be the top of your loaf.

Cover tightly with plastic wrap and place in the fridge overnight, for 12-18 hours.

In the morning, preheat your oven to 425 degrees. Sprinkle a sheet of parchment with cornmeal, then dump your dough into the center. Gently lift off the basket or bowl. You should have a rounded loaf and the bottom should now be on the cornmeal coated parchment. Dust again with flour and slash with a lane or very sharp knife. Place this sheet carefully into a dutch oven and cover with the dutch oven's lid.

Bake with the lid on for 30 minutes, then remove the lid and bake for 30 minutes more

Remove bread from the Dutch oven and peel off the parchment. Allow to cool at least 3 hours before slicing.
Notes
Sourdough bread will stay fresh at room temperature 2-3 days. It freezes very well as a whole loaf if allowed to fully cool before wrapping and freezing.
Nutrition
Calories:
128
kcal
|
Carbohydrates:
26
g
|
Protein:
4
g
|
Fat:
1
g
|
Saturated Fat:
1
g
|
Sodium:
291
mg
|
Potassium:
35
mg
|
Fiber:
1
g
|
Sugar:
1
g
|
Calcium:
5
mg
|
Iron:
1
mg
Did you make this recipe?
If you loved it, please leave a review!