For the easiest loaf of sourdough you'll ever make, all you need to do is mix, wait, shape, and bake. This no-knead recipe rests on the the counter while you go about your day, and magically produces a beautiful loaf.
Everyone knows making sourdough bread is hard, right? There's the schedules, the weird techniques, and that hard-to-handle dough.
Well, this no-knead recipe is so hands-off and straightforward that anyone can do it! It's truly a matter of mixing, waiting, and baking., and it's a delicious loaf with a mildly sour taste. This bread recipe will earn a place in your rotation, whether this is your first loaf or your three hundredth.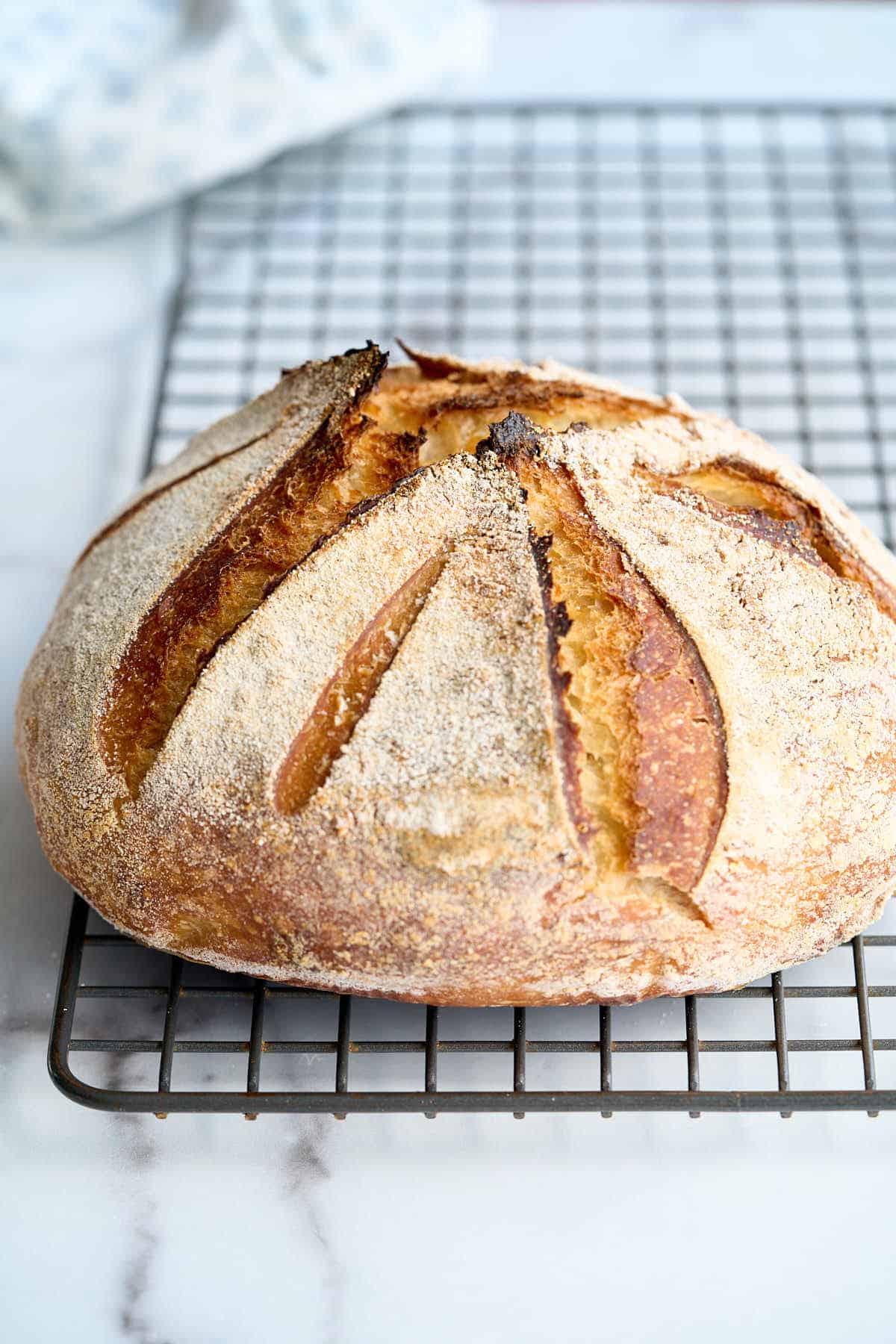 ❤️ Why you'll love this recipe
No kneading and very little stretching! No-knead bread is a method of making bread in which instead of a kneading process, there is a very long rest period that develops gluten. It works for any kind of bread. It's becoming popular because it's easy and hands-off. Sourdough and the no-knead technique are the perfect combination because sourdough is naturally made from a wetter dough and has longer rise times. If you find bread baking intimidating, no-knead recipes are a great place to start.
It's delicious! Soft, open crumb and a classic sourdough taste.
🧂 Ingredients
This is an overview of the ingredients. You'll find the full measurements and instructions in the printable recipe at the bottom of the page.
You'll need the following:
A healthy, active starter. Your starter should double by four to eight hours after you feed it. If you don't have a bubbly starter, your dough won't rise properly and will seem dense. (Read more about how to keep your starter healthy here.)
Bread flour. If you bake bread regularly, you'll want to keep this on hand anyway. It's white flour with a higher protein level for chewy, crusty loaves.
Water
Salt
🥣 Equipment
A proofing basket. Wet dough will flop into a pancake-shaped loaf during the final proof unless it's in a container that will hold its shape. A proofing basket does this perfectly. You can try substituting a bowl lined with a tea towel, but it's not quite the same.
Dutch oven with a lid. This helps your nicely shaped dough rise super high as it bakes in a sealed, steamy environment.
Parchment paper. It is basically impossible to keep this from sticking without parchment. I prefer the sheets, so you don't have to wrestle with a roll.
🍴Instructions + baker's schedule
The full recipe printable recipe is below.
This schedule is not intended to stress you out and make you think that this bread recipe is a complicated production. But I want to give you a sense of the time that this will take. It's hands-off time, but it definitely takes a while!
Day One, morning:
First, mix everything up in the morning.
Making no-knead sourdough bread is done by putting all the ingredients in a bowl and letting it rest to give it strength. This is a very long rest time, and occasionally you will stretch it and fold it a bit to provide it with even more structure.
The long rise time means the dough will hang out on your counter for a while, and you'll need to pay attention to it for a minute every now and then. So you can't be asleep.
See how easy the stretch and fold is? Just a few seconds of work. You're working with sticky dough, so it might be helpful to have wet hands or spray them with nonstick cooking spray.
Day One, evening:
You've been stretching and folding and watching all day, and now it's time for the next step.
This is when you'll shape the loaf, place it in the proofing basket, and pop it in the fridge. Do not get worked up about shaping your loaf. If it looks like a ball, you did it.
And then it goes in the fridge until morning.
Day Two, morning: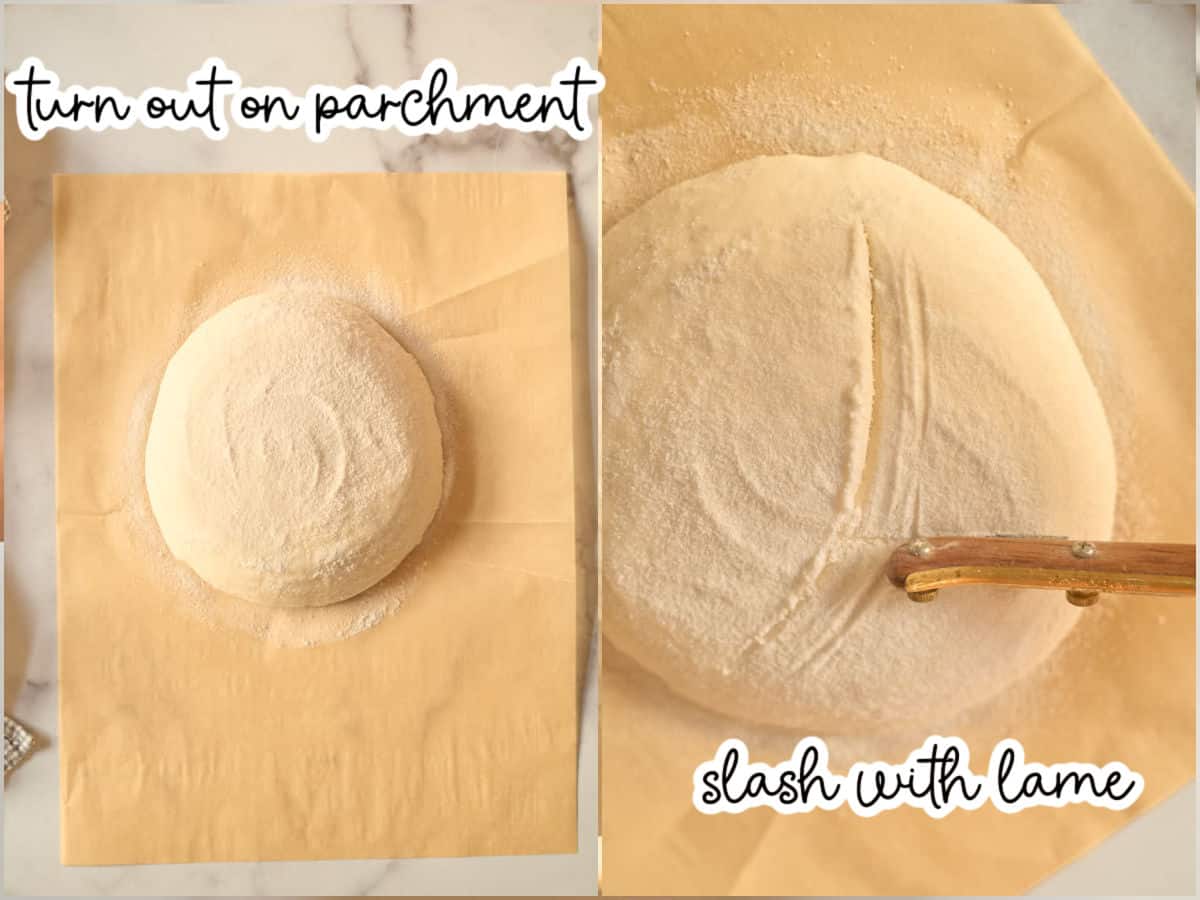 Now we bake! First, you will preheat your oven with the empty Dutch oven inside. As the oven preheats, you can take the dough out of the fridge and get it ready.
All you need to do is dump it out onto a piece of parchment, rub more flour on the top, and slash with a sharp knife or lame. You can see here how ugly my slashes are. Don't worry; it will still be pretty once it goes in the oven.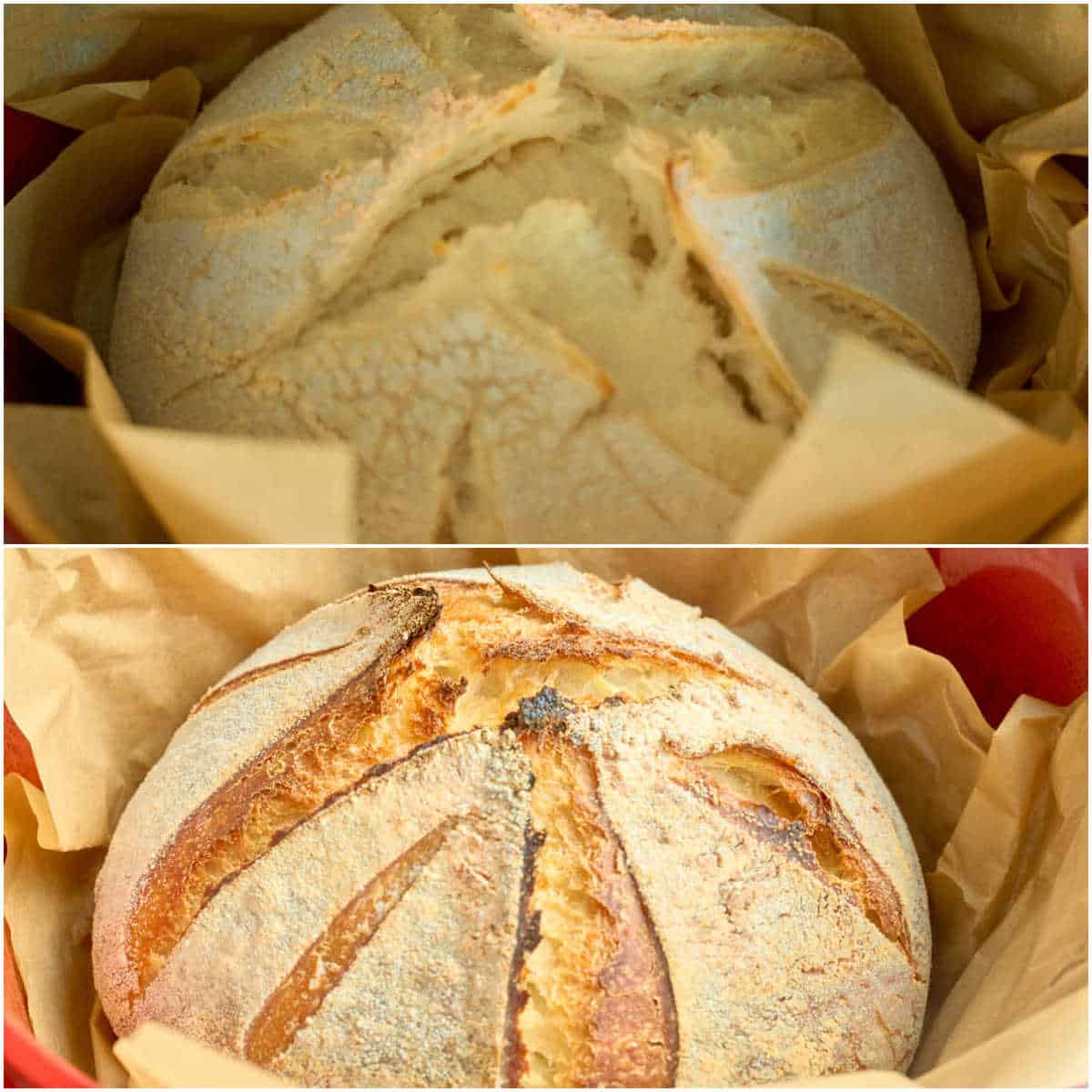 Bake for 50 minutes (30 with the lid on, during which the loaf will rise a lot, and 20 minutes with the lid on so the loaf can brown. Carefully remove the Dutch oven, and let the bread cool for at least four hours.
Day Two, afternoon.
You eat!
🥫 Storage instructions
Sourdough doesn't need to be stored in an airtight container., and you can keep it on the counter for 2-3 days, either in a bread bag or box.
It also freezes well, either sliced or as a whole loaf. After the bread has cooled completely, put it in a ziplock bag and freeze it for up to a month.
Variations
For a more sour taste: Add 1/4 teaspoon of citric acid with the other ingredients. Since this dough has a long bulk ferment and a cool overnight rise, it is already on the tart side.
In step one, you can add mix-ins to the bread dough, like cubed cheese, dried fruit, or nuts. These add a delicious flavor without a lot of extra work.
🔍 FAQs
Do I really have to stretch and fold?
No. You can also just let it rise undisturbed, then shape the loaf and place it into a proofing basket to rise again. It will rise a bit higher with the stretch and folds but I have made this before without them and it turned out fine! This means if you miss one fold or get off schedule, it's no big deal. This is supposed to be easy, right?
What kind of flour should I use?
I like to use bread flour because it has higher gluten than all-purpose. If you use all-purpose, reduce the water to 5 ounces because it absorbs water differently.
You can add some whole wheat flour to your bread do, but don't substitute all of it. Try adding 25% whole wheat flour; if you like the results, increase the proportion slightly.

Do I need the Dutch oven?
The Dutch oven is optional, but I recommend it. Two reasons: by preheating the Dutch oven before you bake, you'll create a hotter environment in the bottom of your oven. This will help the bread evenly brown. Also, the tightly sealed atmosphere traps the humidity of the loaf as it bakes, giving it an excellent oven spring. (You can simulate this by preheating a rimmed metal baking sheet. in the oven and pouring a cup of water onto it before you bake.)
Why is my sourdough bread gummy?
It's either under proofed (and was too dense to bake through), underbaked, or most likely, just needs to cool more. Every sourdough recipe should cool completely (for at least four hours!) before slicing, or you'll have a gummy interior.
Why no autolyze stage?
Experienced sourdough bakers are familiar with the step in sourdough breads in which the dough has a brief rest before the salt is added. This recipe skips it. This way, you can just mix the salt in the beginning without having to knead it in late. It doesn't make much of a difference, and it's way easier this way.
More Easy Sourdough Recipes:
📖 Here's the recipe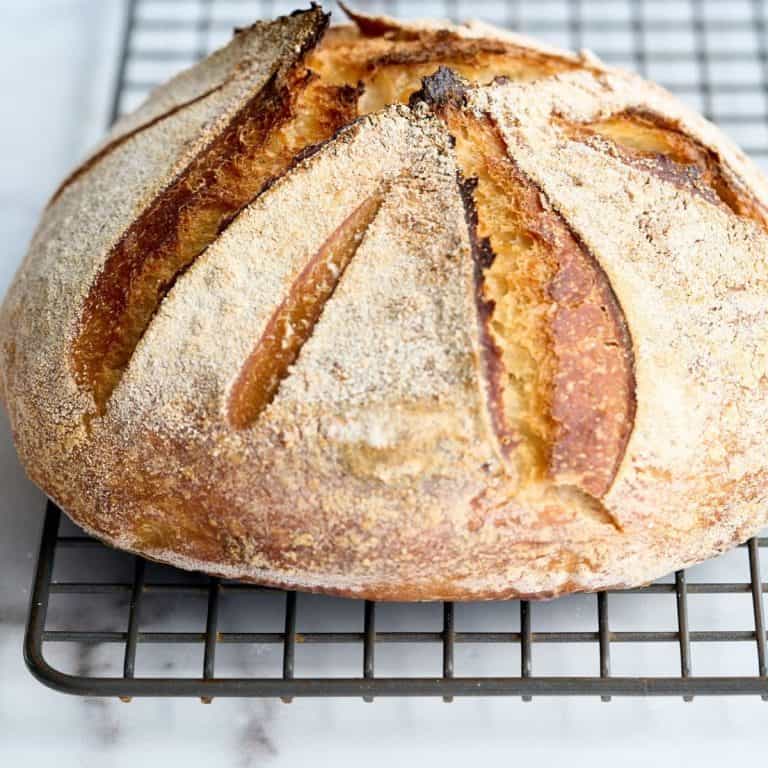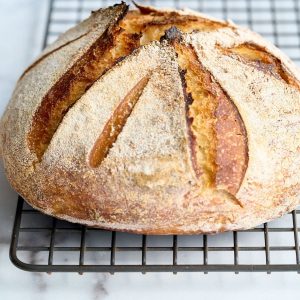 Easiest-Ever No Knead Sourdough Bread
Print Recipe
For the easiest loaf of sourdough you'll ever make, all you need to do is mix, wait, shape, and bake. This no-knead recipe rests on the the counter while you go about your day, and magically produces a beautiful loaf.
Click here for a FREE autumn cookbook (25+ Recipes!)
Equipment
Lame

Dutch oven

Proofing Basket
Ingredients
5 ½

ounces

sourdough starter

active and bubbly (155 grams)

15

ounces

bread flour

(425 grams)

10

ounces

water

(285 grams)

1

tablespoon

sugar

1 ½

teaspoons

salt
Instructions
Mix all ingredients. In a large mixing bowl, combine the sourdough starter, bread flour, water, sugar, and salt. You may need to use your hands or a rubber spatula to make sure all the ingredients are fully incorporated. The dough will be shaggy looking and sticky. Cover the bowl tightly with plastic wrap and allow to rest for three hours.

Let dough rest for ten hours, stretching and folding every few hours. Cover the bowl tightly with plastic wrap and allow to rest for three hours. Stretch the dough from the outside, pulling in, to reshape the dough into a ball. Cover again and let the dough rest on the counter for three more hours. Stretch and fold again.

Shape and cold proof overnight. Prepare a proofing basket by lining it with rice flour. Fold the dough as you have been for the stretch and folds, but this time pull it a bit tighter to form a ball. Gently place it into the proofing basket. Cover tightly with plastic wrap and allow to rest in the fridge 12 hours, or overnight.

Remove from the fridge and score. In the morning, preheat your oven to 450 degrees with an empty Dutch oven inside. Lay out a piece of parchment on the kitchen counter, sprinkle cornmeal on it, and turn the dough out into the center. Score the loaf using a lame or serrated knife in an X shape or slash down the center.

Bake. Carefully remove the hot Dutch oven from the oven and place the parchment with the dough inside. Place the cover on top and bake the loaf at 450 degrees for 50 minutes, with the lid on for 30 minutes and the lid off for 20 minutes. Remove from the Dutch oven, and place on a cooling rack for four hours, until fully cool.
Notes
Don't obsess over the timing of the stretch and folds. Just do it every few hours a few times. No big deal.
Nutrition
Calories:
158
kcal
|
Carbohydrates:
32
g
|
Protein:
5
g
|
Fat:
1
g
|
Saturated Fat:
1
g
|
Polyunsaturated Fat:
1
g
|
Monounsaturated Fat:
1
g
|
Sodium:
351
mg
|
Potassium:
43
mg
|
Fiber:
1
g
|
Sugar:
1
g
|
Vitamin A:
1
IU
|
Calcium:
7
mg
|
Iron:
1
mg
Did you make this recipe?
If you loved it, please leave a review!