This recipe for No-Knead Jalapeno Cheddar Bread is going to be your new favorite!
It has just enough kick from spicy jalapenos and sharp cheddar cheese that will make your mouth water. (But don't worry if you can't handle too much heat because it isn't too spicy).
Best of all, it couldn't be easier.
Want some free Christmas printables? Click here to grab 'em
Equipment
Plastic Wrap

Cooking Spray

Baking Sheet
Ingredients
425

grams

all-purpose flour

3 ¼ cups plus 2 tablespoons

280

grams

water

1 cup plus 3 tablespoons

1 ½

teaspoons

salt

1

teaspoon

sugar

1/2

teaspoon

yeast

instant or active dry

60

grams

chopped jalapenos

1/3 cup

90

grams

diced cheddar cheese

1/2 cup (cut into approximately ½ inch cubes)
Instructions
Mix the ingredients. If you're using pickled jalapenos, be sure to drain any excess liquid. In a large mixing bowl, combine the flour, water, salt, sugar, yeast, cheddar, and jalapenos. It's important to mix everything together at once so that the cheese and peppers will disperse easily. Use a rubber spatula to mix well, incorporating any dry areas of flour. The dough should form a shaggy ball. If there are any dry bits that are not being incorporated, add a few more teaspoons of water and mix again.

Cover and allow to rise. Tightly cover the bowl of dough with plastic wrap. Place the covered bowl on the counter and allow it to rise for ten hours. Ideally, it will have doubled in size. If the dough has not changed much in size, give it more time to rise on the counter. You can always place thte dough in the fridge to slow the process down and start again later.

Shape into a ball. Prepare a baking sheet by lining it with parchment or spraying generously with nonstick cooking spray. This bread can really stick to the pan as the cheese melts, so if you have parchment paper, be sure to use it. Gently pick the dough out of the bowl and shape it into a smooth ball. Pull from the bottom of the dough to smooth out the top rather than smashing the dough down. Deflate any large air bubbles that have formed. Place the dough onto the prepared baking sheet. If you'd like a fancier-looking loaf, sprinkle with flour and place slices of jalapeno on top. Using a very sharp knife or lame, make a slash in the center of the loaf, cutting around ¼ inch deep.

Allow the dough to proof. Prepare a warm place for the second rise, either by briefly turning on your oven or placing a bowl of hot water inside it. Cover the ball of dough with greased plastic wrap, making sure that the loaf is completely covered. Allow to rise in a warm place for about 45 minutes, until puffy but not quite doubled in size. Towards the end of the rising time, preheat the oven to 425 degrees with the rack in the center. Be sure to remove the dough first.

Bake. Bake the loaf for 35-40 minutes at 425. The finished loaf will be deep golden brown and have an internal temperature of 200 degrees. Some cheese may have leaked from the loaf, but don't worry, most will still be inside. Carefully remove the bread from the baking sheet and place it on a cooling rack. Allow to cool at least thirty minutes before serving. If you cut into the loaf too soon, the cheese can leak out.
Notes
If you don't have jalapeno peppers (or aren't a fan!), you can substitute diced green bell peppers or just leave them out
Nutrition
Calories:
194
kcal
|
Carbohydrates:
33
g
|
Protein:
7
g
|
Fat:
3
g
|
Saturated Fat:
2
g
|
Polyunsaturated Fat:
1
g
|
Monounsaturated Fat:
1
g
|
Cholesterol:
9
mg
|
Sodium:
407
mg
|
Potassium:
60
mg
|
Fiber:
1
g
|
Sugar:
1
g
|
Vitamin A:
90
IU
|
Vitamin C:
1
mg
|
Calcium:
73
mg
|
Iron:
2
mg
Did you make this?
Let me know how it was! Please see below for serving ideas, storage instructions, and substitutions.
Best of all, there is no kneading required, so anyone can make it!
Get out that mixing bowl and let's start baking some deliciousness together today! This post includes step-by-step instructions along with pictures to guide you through every part of the process.
Why you'll love this recipe:
Perfect for beginners: the rising times are long but flexible. If you have to leave the house during the rest period, it's no big deal.
You don't need any special tools: a Dutch oven is helpful but not required. You can simply bake on a parchment-lined baking sheet.
The jalapenos add just enough spice to make this loaf delicious.
Serve with chili, or slice and make my favorite grilled cheese: spread cream cheese on top, add some sliced cheddar and cooked bacon, then pan-fry.
No-knead tips for success:
When you knead bread, gluten formation is encouraged. Gluten gives bread structure and helps it rise as it bakes. However, we're skipping the kneading here. So how do we get those stretchy strands of gluten? Magically, a long and slow rise creates gluten too. If you're used to traditional bread baking, you might not believe it, but it works.
The importance of the long rise means you can't rush this process. The long rise times are essential. You can pop the dough in the fridge if it's getting late in the day. But don't move on to the next step until you've waited for the dough to rise.
The flavor and texture will be well worth it!
The dough will be somewhat wet when you first mix everything. Don't worry about it. It gets firmer as the gluten forms during the long rise times, but it's still effortless to work with.
Let's get started.
What you'll need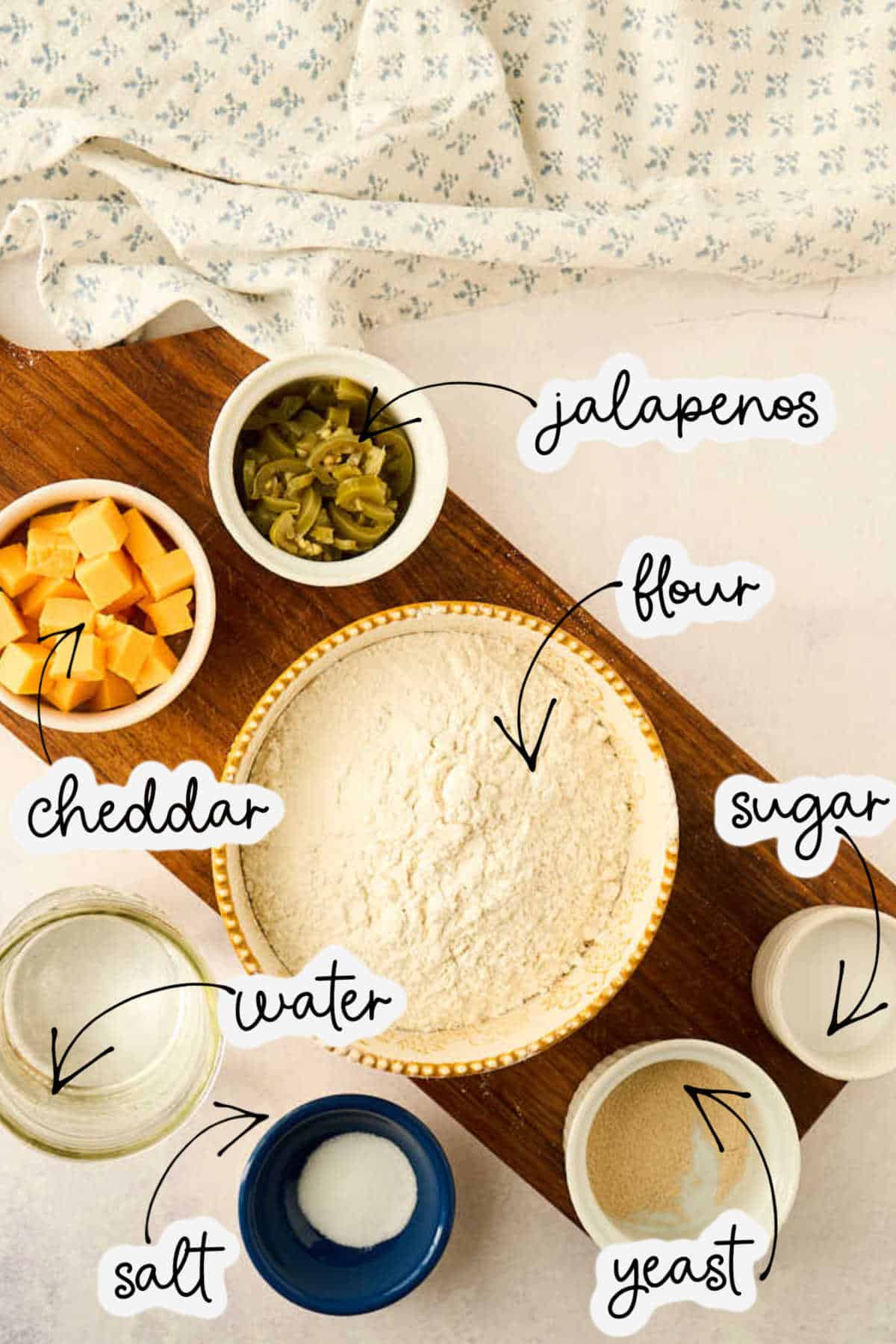 Plastic Wrap
Cooking Spray
Baking Sheet
all-purpose flour
water
salt
sugar
yeast (I prefer instant yeast for this and all bread recipes)
chopped jalapenos (pickled or fresh are both fine)
diced cheddar cheese (I used mild but medium or sharp are great too)
The process
The first step is a simple matter of mixing all the ingredients—no particular order. Just dump and mix.
Remember that flour will absorb water differently depending on the brand and how it is stored; you may need to add a bit more flour or water. You want the dough to be soft and slightly sticky. It should come together and hold its shape, not like a batter. But it should not be stiff or dry. Use the pictures as your guide and tweak as needed. Go slowly because adding even a tablespoon of water will make a big difference.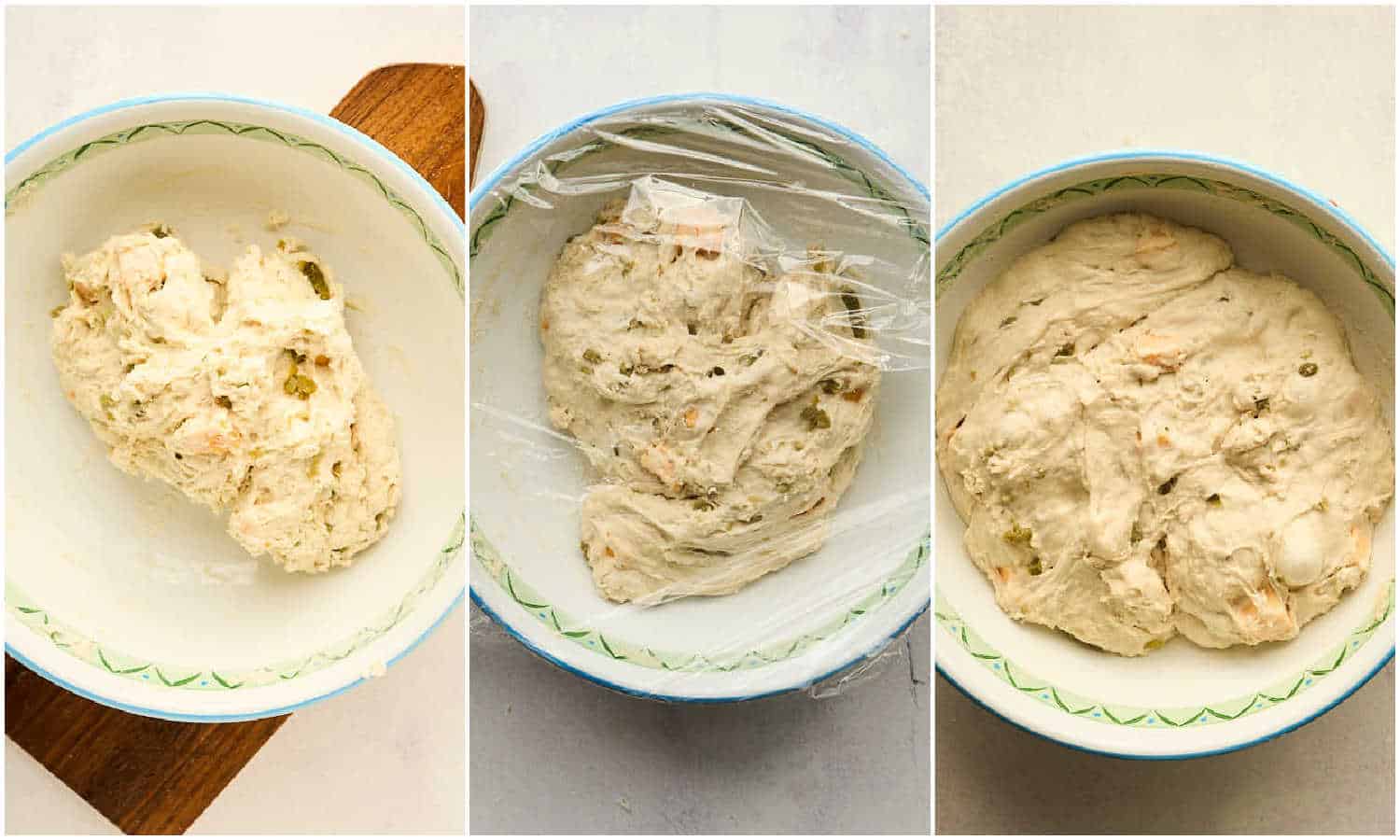 Next is the long rise. Again, look at the pictures and wait until your dough is puffy, large, and bubbly. If it's not ready after ten hours, give it more time. This process will happen faster in a warm kitchen and slower in a cooler spot.
All that's left to do is bake. Shaping is simple: just pull the bottom of the loaf until the top smooths out into a ball.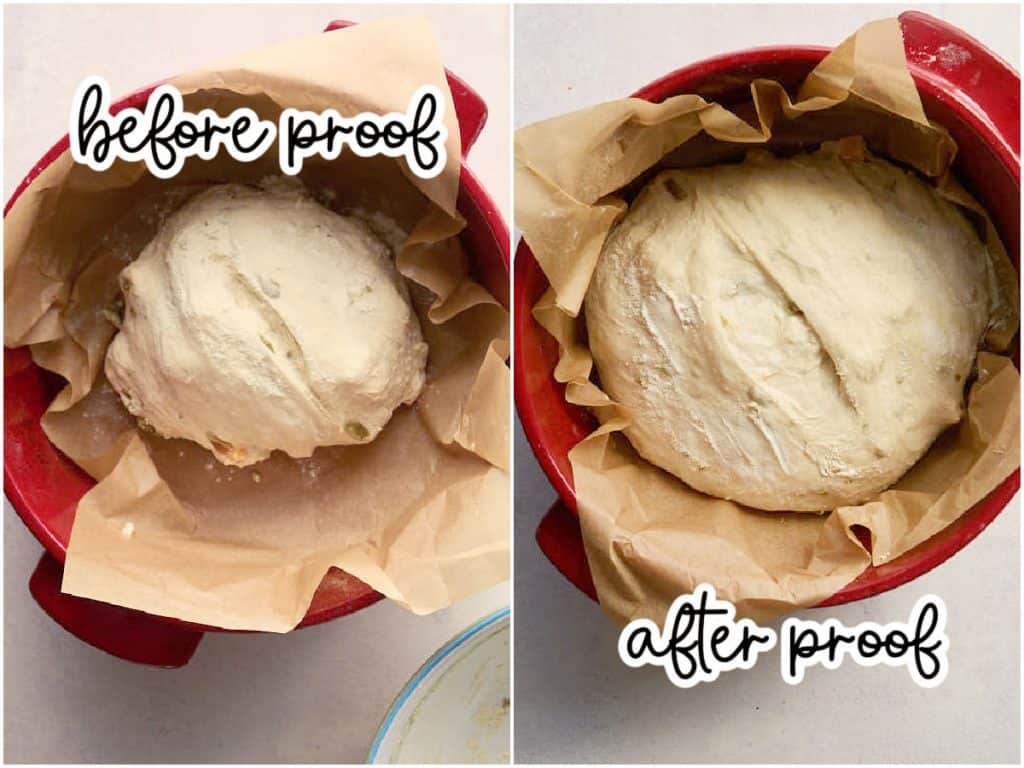 To make sure that you get a perfectly risen loaf, be sure to follow the instructions. You'll want to deflate any large air bubbles that form before the second rise. To do this, simply press gently down on any big pockets of air.
All that's left to do is bake.
Place it on a baking sheet or in a Dutch oven lined with parchment and allow it to rise again. You can do the second rise in a warm place, and it will be much faster than the first, only an hour.
Then bake, cool, and slice!
More easy bread recipes
This no-knead cheddar jalapeno bread recipe will change everything for you! With just three ingredients and one easy step, this recipe is perfect for beginners looking for an easy way to bake fresh bread with minimal effort.