A recipe for brioche burger buns that are rich and a little bit sweet, but still let your burger or sandwich shine. They will remind you of the burger buns you get at nicer restaurants. Easy to make, they freeze well and elevate a simple homemade burger into something special.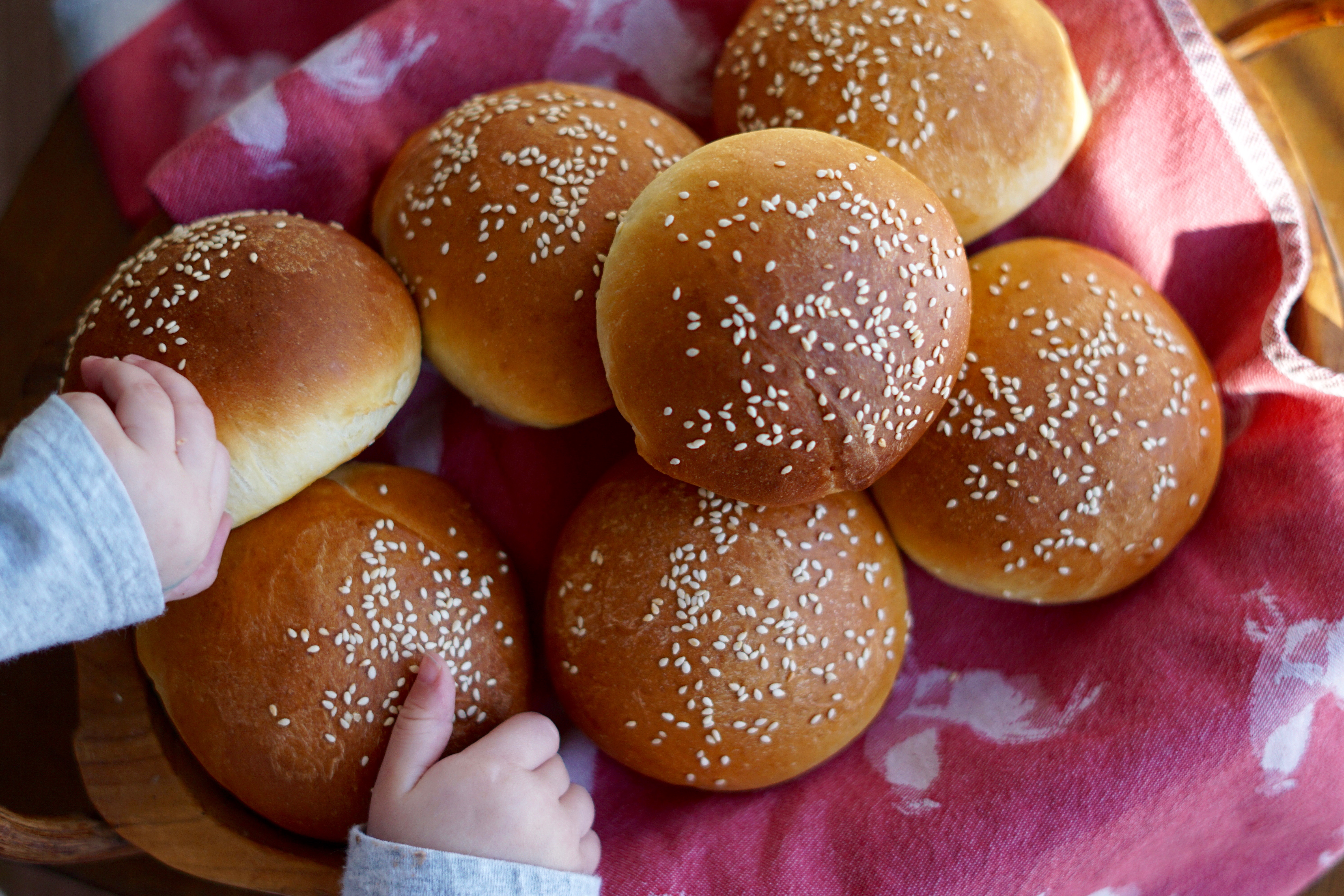 If you have never made a yeast bread before, please check out my beginners guide to yeast bread baking, which will go over the basic steps and different methods you can try.
Finding good burger buns is a challenge
Have you ever tried to make burger buns at home? It's not that easy, especially if you are trying to duplicate the soft, white kind you find at the store. But the store bought ones always seem stale within a day or so of being purchased, which means I have to run out and buy them the night we are eating burgers. Too complicated, and yet my homemade ones were always just okay.
So after years of frustration, I've gone in a different direction and starting making these brioche style buns. They are light, soft, and not too sweet, based on a popular New York Times recipe. I've changed a few things and adapted the recipe for a bread machine.
Brioche bread is French in origin, and is an enriched dough with eggs, milk, and sugar. That means that your dough will be sticky and slower to rise than a typical dough. A bread machine is perfect for these due to the sticky nature of the dough.
Brioche dough, despite its slowness and stickiness, is foolproof if you know its requirements. Your brioche burger buns will be soft and light, with a great texture because of the richness of the dough.
No more running out to the store to buy soft buns the day you want to make burgers!
They will keep at least two days, especially since they are best if you toast them before putting on your burger and toppings. They freeze very well too, just in a plastic bread bag, for a month or two. They are also good untoasted for sandwiches. And if you wanted to serve them as dinner rolls there would be no shame in that.
Storing brioche
Looking for more of a sweet breakfast bread?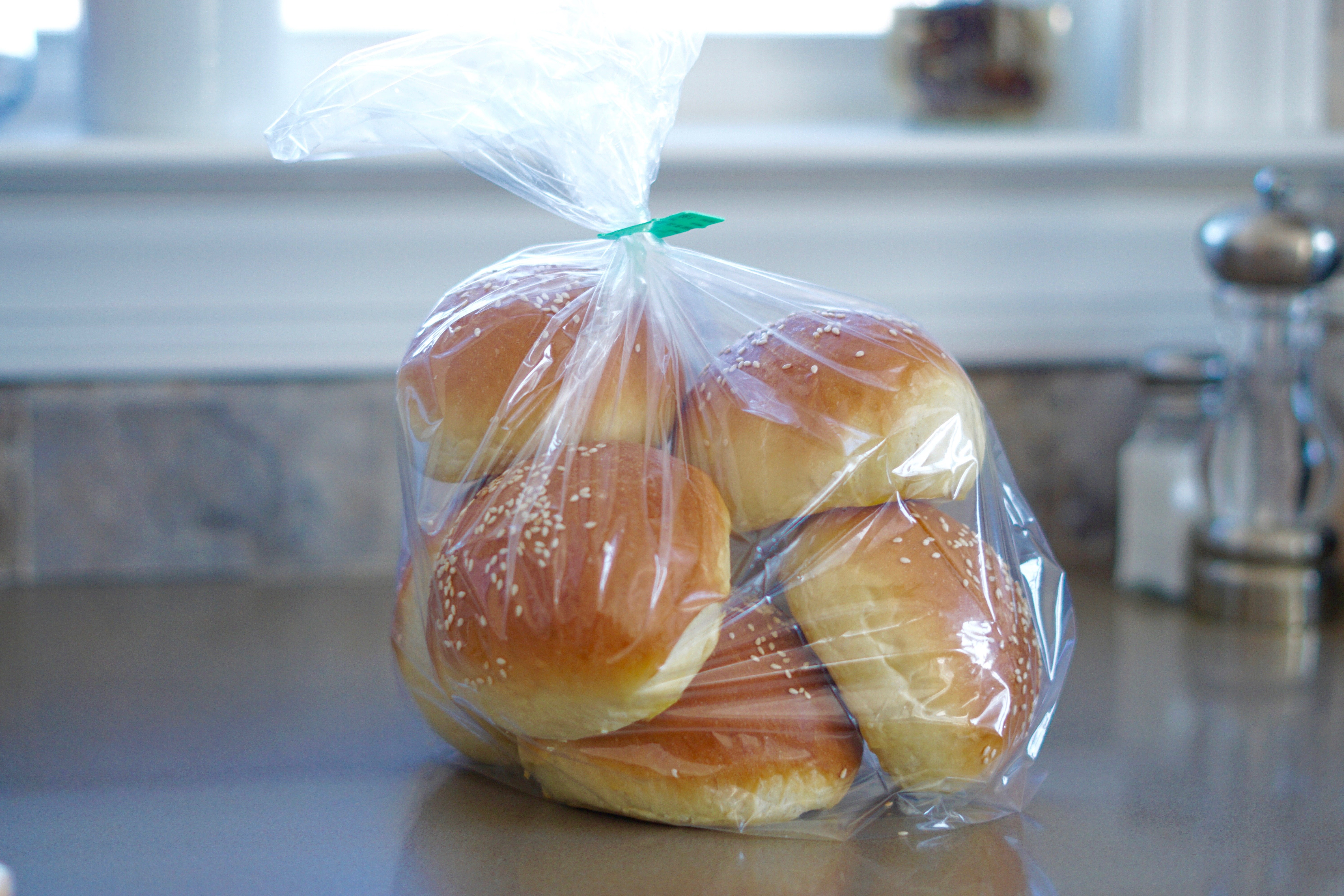 Looking for more of a crusty sandwich roll?
Try my recipe for French sandwich rolls, which I love to keep stocked in the freezer as well.
Here's the recipe!
Brioche Burger Buns
Print Recipe
Click here to grab a free mini-cookbook with my best seasonal recipes
Instructions
In a glass measuring cup, put the water, milk, and unsalted butter. Microwave on low for 30 seconds to soften the butter and slightly warm the milk

Add the contents of the measuring cup to your bread machine bucket or stand mixer bowl. Then add the remaining dough ingredients in the order listed.

Set machine for DOUGH cycle, or knead in stand mixer 8-10 minutes on low.

Allow dough to rise 2 hours, tightly covered, until very puffy. (This is part of the bread machine dough cycle.)

Divide dough into 8 pieces, using electric scale if you are particular.

Line baking sheet with parchment paper. Shape dough pieces into balls and place on baking sheet. Cover tightly with greased plastic wrap.

Allow to rise 1 hour at warm room temperature. Towards the end of the rising time, preheat oven to 400 degrees and put an empty, spare baking sheet on a lower rack.

Brush rolls with egg wash and sprinkle with seeds if desired.

When oven has preheated, pour 1 cup water on empty baking sheet to create steam in oven. Put risen rolls in the oven at the same time

Bake for 16-18 minutes, until very golden brown. Cool on wire rack. Toast before using as burger buns
Nutrition
Calories:
166
kcal
|
Carbohydrates:
24
g
|
Protein:
2
g
|
Fat:
5
g
|
Saturated Fat:
3
g
|
Cholesterol:
51
mg
|
Sodium:
455
mg
|
Potassium:
23
mg
|
Sugar:
4
g
|
Vitamin A:
178
IU
|
Calcium:
13
mg
|
Iron:
1
mg