Everyone will think you've gotten these at a French pastry shop, but this soft and rich chocolate chip brioche is deliciously homemade.
A recipe for soft, rich chocolate chip brioche buns with a light and fluffy texture. The perfect addition to any special breakfast or brunch.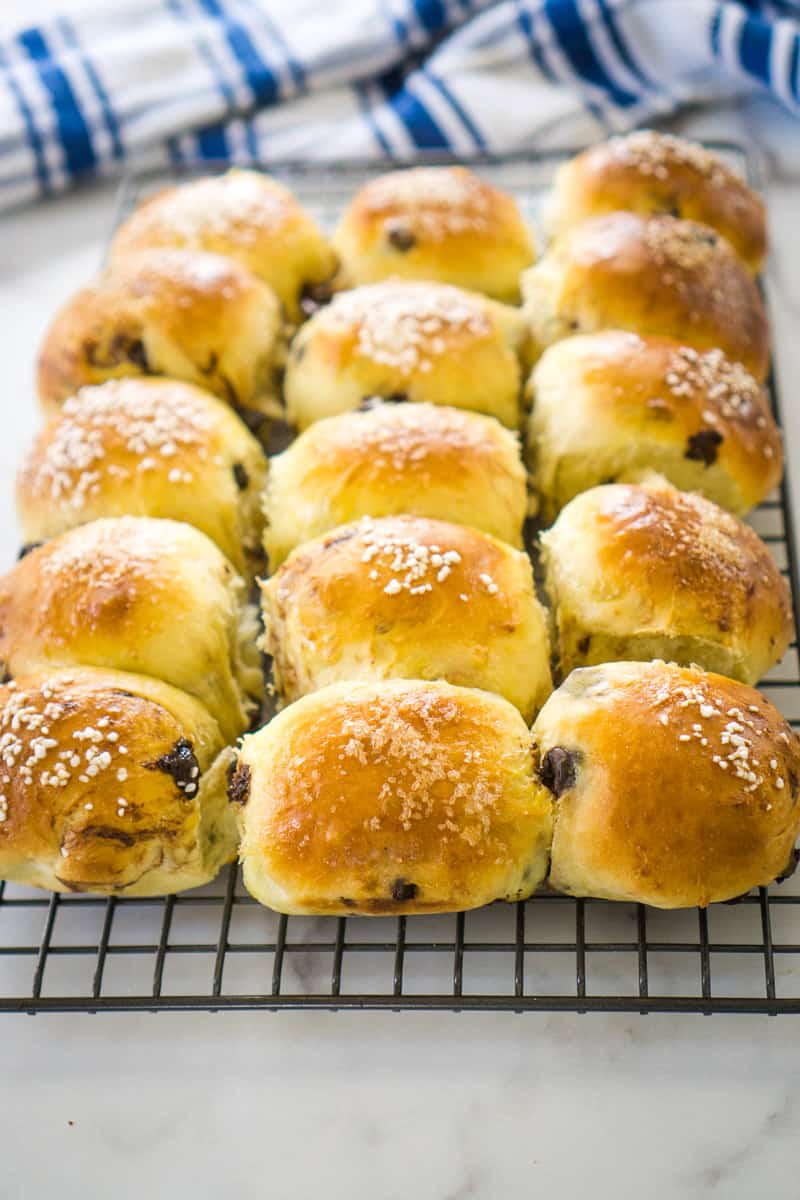 I once spent about a year trying to master croissants so that I could make pan au chocolate, or chocolate filled pastries. Let me tell you, those are hard to make and mine were never that great. Lucky for me, I discovered how much easier it is to make brioche, which tastes totally different but still feels fancy. Adding chocolate chips just made good sense.
Brioche is a French bread that is enriched with sugar, eggs, and milk. This makes it softer, richer, and sweeter than your average bread recipe. It also makes it a little tiny bit harder to work with. It rises a little slower and can be very sticky. But don't let that scare you!
You can make a lighter brioche, like my favorite brioche burger buns, or you can make a richer one, like this recipe.
It's very simple to make if you have a bread machine or a stand mixer because you don't have to deal with the sticky dough on your hands. .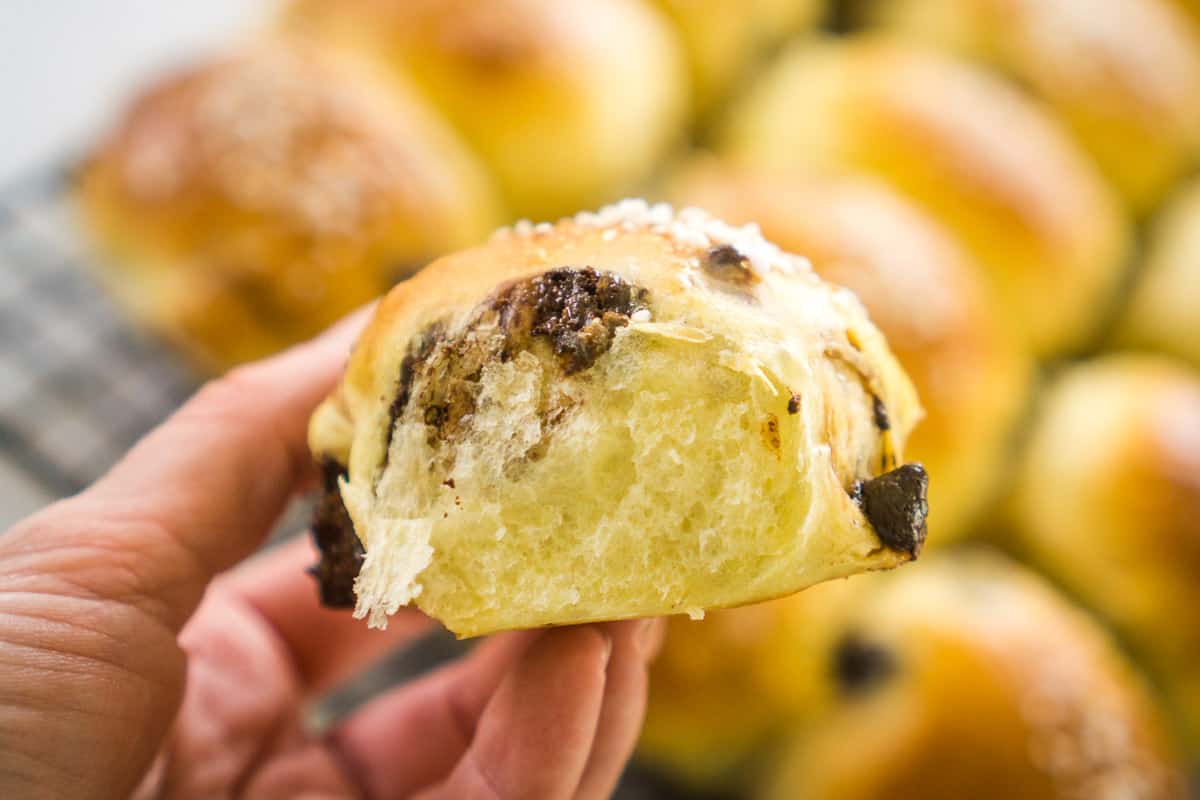 This post contains affiliate links, meaning that if you make a purchase after clicking on a link I may earn a small commission at no additional cost to you. As an Amazon associate, I earn from qualifying purchases.
Special tools and ingredients:
What to serve with chocolate chip brioche:
A baked omelette or other savory breakfast dish for a crowd
Fresh fruit
Skillet home fries
Step by step brioche making
If you have never made a yeast bread before, please check out my beginners guide to yeast bread baking, which will go over the basic steps and different methods you can try.
You'll want to begin with slightly warm or room temperature ingredients. Cold milk, eggs, or butter will fight against the yeast and make it harder for the dough to rise.
To warm up the cold ingredients, I simply microwave the water, milk, and butter for 45 seconds on low in a glass measuring cup. The eggs can be left out on the counter or dunked in a cup of warm water for a few minutes.
When you are using instant yeast, you don't need to worry about adding the ingredients in any particular order. Just dump everything (except the chocolate chips!) into your bread machine or the bowl of your stand mixer.
Press the dough cycle if using a bread machine, or knead on low with your mixer using the dough hook. (Read this if you need more help using your stand mixer to knead dough.) You'll want to make sure all the flour gets incorporated, so use a spatula to scape down the sides as needed.
???? Related: Bread Machine Coffee Cake with Cinnamon Sugar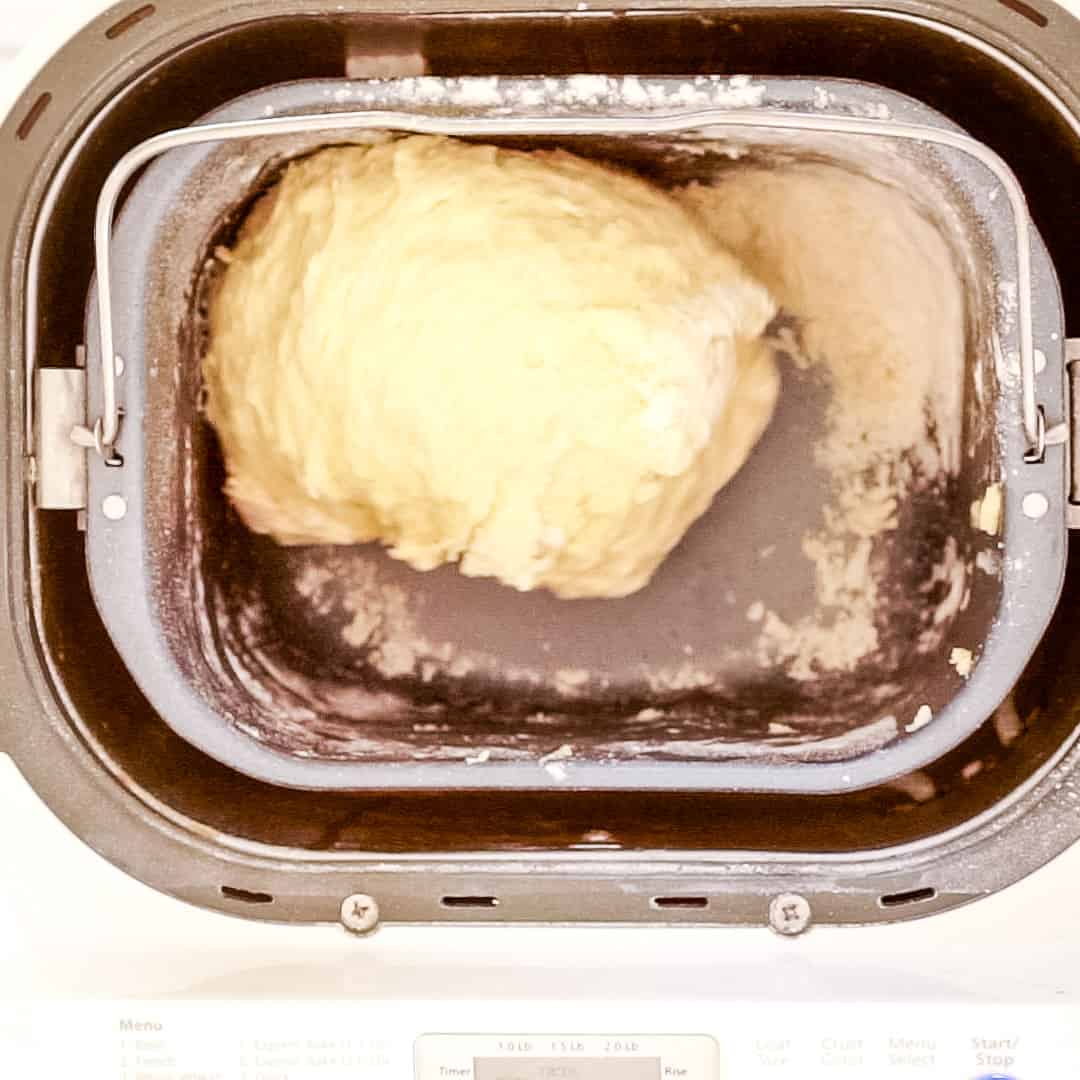 At first the dough will seem very wet and sticky, but it will tighten up a bit as it kneads. If it still seems very wet, almost like a batter rather than dough, add more flour a few teaspoons at a time. It should seem sticky but not wet.
Once the dough has come together, add the chocolate chips and let them knead in for just a minute or two. If you are using a bread machine, this means you have to be aware of when the kneading portion of the cycle is about to end.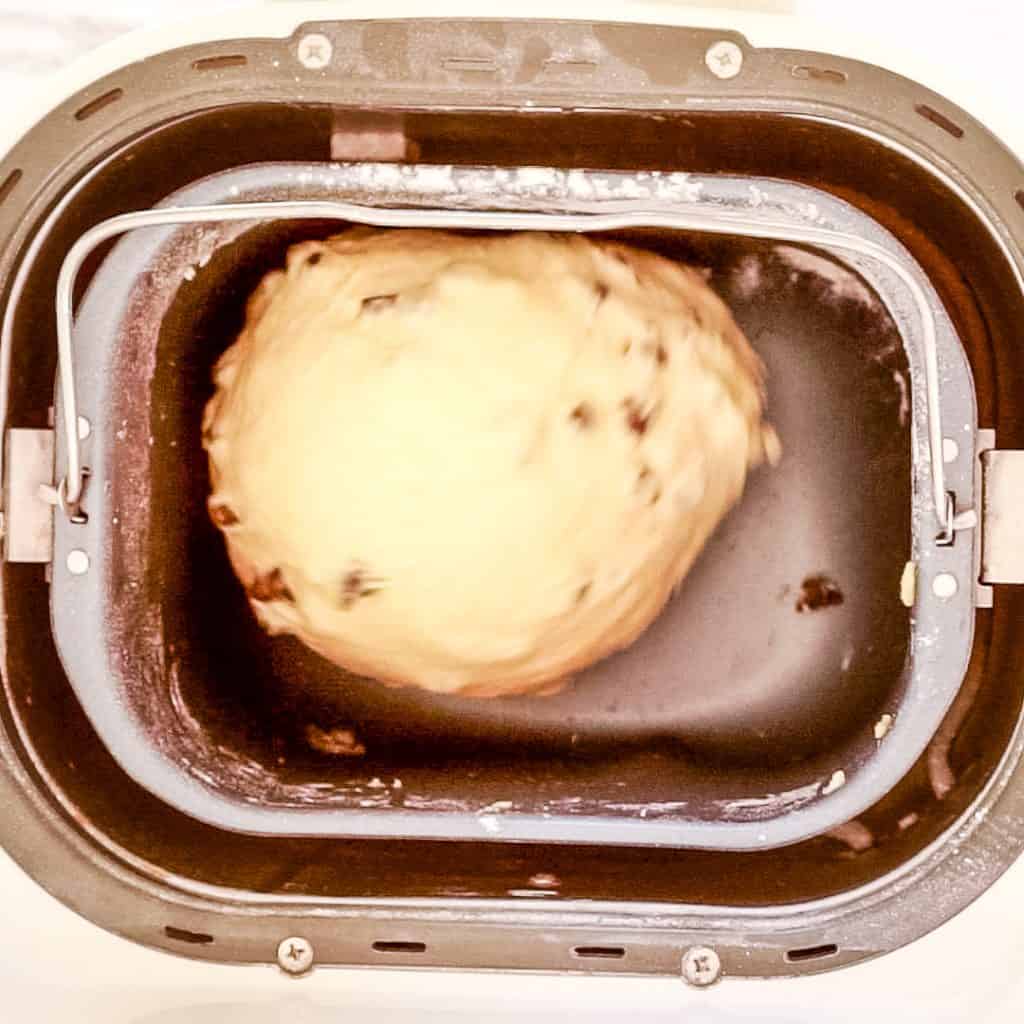 Once you are satisfied with the dough, allow it to rise 1 hour at warm room temperature.
It should look very puffy and have doubled in size when it is done.
Now it's time to divide them into rolls. One tip: make them small! Since chocolate chip brioche is so rich, big rolls are overwhelming to eat and look disturbingly like hamburger rolls. Divide this recipe into 16 pieces or more. If the dough sticks too much to your hands, lightly oil them with cooking spray.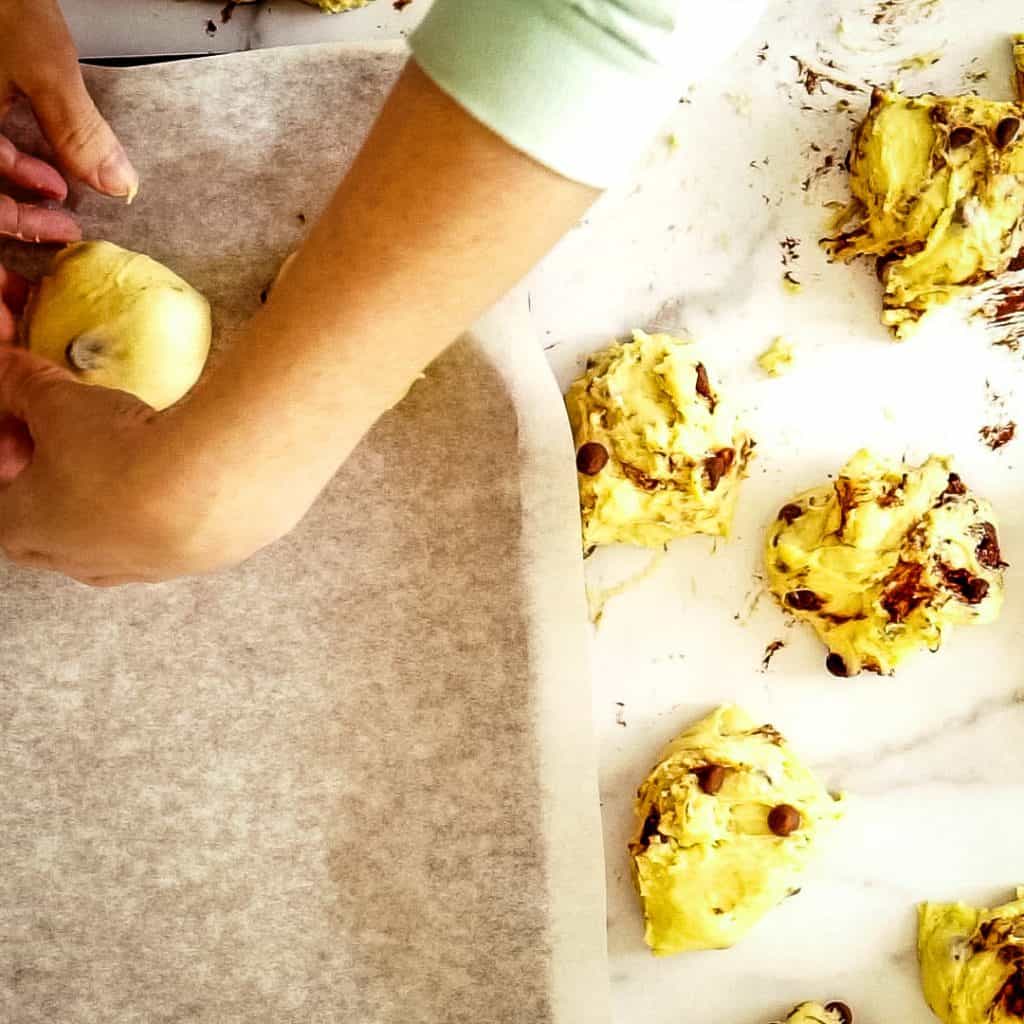 Shape them gently and place them on a parchment lined baking sheet. They will touch as they rise and bake. Brush them with an egg wash, which gives the brioche a beautiful golden color. You can sprinkle them with sparkling sugar.
When you cover the rolls for the final rise, make sure you use something that won't stick. My preference is plastic wrap that's been heavily sprayed with cooking spray. If you use a tea towel, it's likely to stick, which will ruin the rolls.
Let them rise in a slightly warm place for about 45 minutes, or until very puffy.
Bake for 15-18 minutes at 400. The buns will be very golden brown. You can let them cool slightly right on the baking sheet and have people pull them apart. Or you can remove them to a cooling rack and serve individually.
Here's the recipe!
Chocolate Chip Brioche
Print Recipe
Everyone will think you've gotten these at a French pastry shop, but this soft and rich chocolate chip brioche is deliciously homemade.
Click here to grab a free Christmas cookie and candy ebook + holiday planner printables!
Ingredients
For the dough
1/2

cup

water

1/2

cup

milk

4

tablespoons

unsalted butter

3

eggs

3

tablespoons

sugar

3 3/4

cups

all purpose flour

up to 4 cups if needed

1 1/2

teaspoon

salt

1 1/2

teaspoons

instant yeast

1 1/2

cups

chocolate chips
To top the buns
1

egg

beaten

Sparking or pearl sugar
Instructions
Place the water, milk, and butter in a microwave safe bowl or measuring cup and microwave on low for 45-60 seconds.

Add all the dough ingredients, except the chocolate chips, to a large mixing bowl or to the bucket of your bread machine, and knead. This dough is difficult to to knead by hand, but does well in a stand mixer or bread machine on the dough cycle. The dough will seem very wet at first, but should tighten up as it kneads. You are looking for a sticky dough that still forms a ball. It will stick to to the sides and but should still hold its shape. It is seems more like a batter, add more flour a tablespoon at a time.

When the dough is smooth and elastic, add the chocolate chips and gently knead to mix them throughout. If you are using a bread machine, this means you will need to pay attention to the timer and add them when about 3 minutes remain on the knead cycle. (If you are using a bread machine, skip ahead to step 5 once the machine beeps.)

Transfer the dough to a clean, lightly oiled bowl. Cover and allow to rise 1 hour at warm room temperature, until doubled in bulk.

Turn out onto a countertop or cutting board and divide into eighteen pieces. Gently shape into round balls. If the dough sticks to your hands, try spraying your hands with cooking spray. Place the rolls on a parchment lined baking sheet. They will all fit on one sheet and will be relatively close together. Brush with beaten egg and sprinkle with sparkling sugar. Cover with heavily greased plastic wrap and allow to to rise at warm room temperature for 45 minutes. Towards the end of the rising time, preheat oven to 400 with the rack in the center.

Bake for 15-17 minutes until the rolls are very golden brown. They will rise and touch each other to create soft, pull apart rolls. Remove from the oven and allow to cool on wire rack. Best served immediately while slightly warm.
Notes
Brioche freezes very well. Allow to cool completely, wrap well and freeze for up to 1 month.
To serve, defrost in microwave and warm up slightly in oven. This recipe works well with any type of chocolate chip. Try adding orange zest with the chocolate chips for a twist.
Nutrition
Calories:
146
kcal
|
Carbohydrates:
23
g
|
Protein:
5
g
|
Fat:
4
g
|
Saturated Fat:
2
g
|
Cholesterol:
44
mg
|
Sodium:
212
mg
|
Potassium:
60
mg
|
Fiber:
1
g
|
Sugar:
2
g
|
Vitamin A:
142
IU
|
Calcium:
18
mg
|
Iron:
1
mg
Any bread baking questions? Leave me a comment and I'll do my best to help!
Want more country recipes?