A moist pound cake made with everyday ingredients and topped with an extra simple icing of lemon juice and powdered sugar, then sprinkled with sweetened coconut.
A recipe for coconut lemon Bundt Cake that you'll be proud to serve for a special occasion: a moist lemon cake topped with an easy-to-make icing and sweet coconut flakes.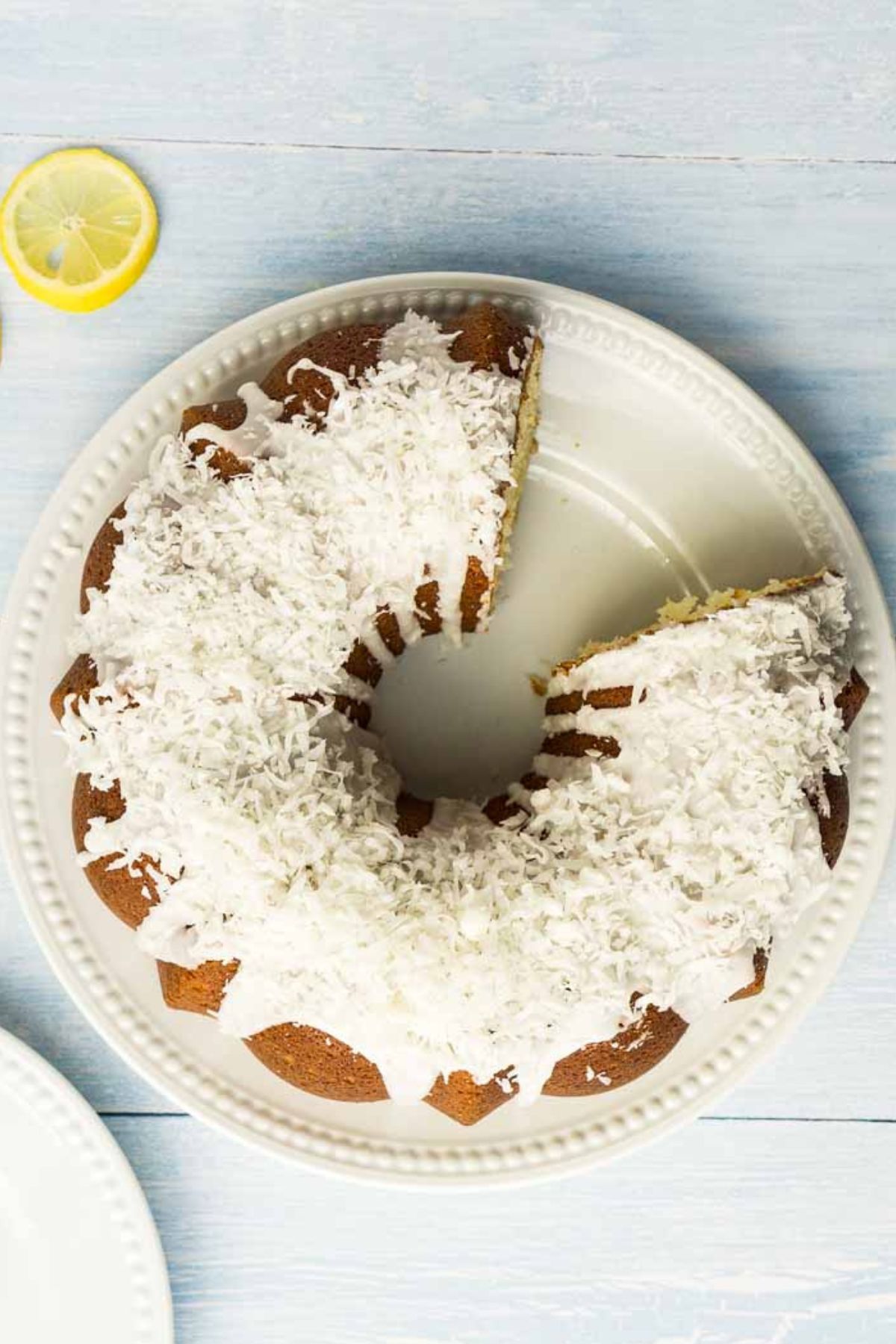 Why you'll love this Bundt Cake recipe
You won't need any usual ingredients to make this cake that feels like a special treat; you likely already have everything you need right in your kitchen. The cake itself is moist, dense, and has plenty of lemon flavor. The icing is extra lemony and takes literally seconds to make.
And even though this cake is beautiful, it's easy to make and you don't have to do any fussy decorating. That's the best thing about Bundt Cake recipes; they are beautiful right out of the pan!
Ingredients You'll Need
For the cake
1 cup softened unsalted butter
2 cups granulated sugar
4 eggs (room temperature is best)
1 teaspoon coconut flavor or extract. (substitute vanilla extract if you don't have any coconut)
1 cup milk (whole milk is always best for baking, but its okay if you don't have it. You can also substitute coconut milk)
3 cups flour
1 teaspoon salt
2 teaspoons baking powder
2 teaspoon lemon zest
2 teaspoons lemon juice
A non-stick cooking spray or shortening dusted with flour, to coat the pan
To make the icing
1 3/4 cups powdered sugar
2 tablespoons lemon juice
1/2 cup or more of sweetened flaked coconut.
(Three or four lemons in total should do it.)
A note about your pan and sticking
Bundt cakes are notorious for sticking, so make sure you take a moment to prevent that from happening. If you have a cooking spray with added flour, such as Pam for baking, that is great choice for this recipe. Otherwise, try brushing the pan with melted shortening, using a pastry brush to get into the crevices. Then dust flour on top.
Whatever method you choose, don't forget the inside circle of the Bundt Cake pan. When working with a Bundt pan, it's best to spray it right before you put the batter in. If you spray it, then set it aside, the cooking spray will often settle at the bottom and leave the sides uncoated.
Step by step coconut lemon bundt
The cake batter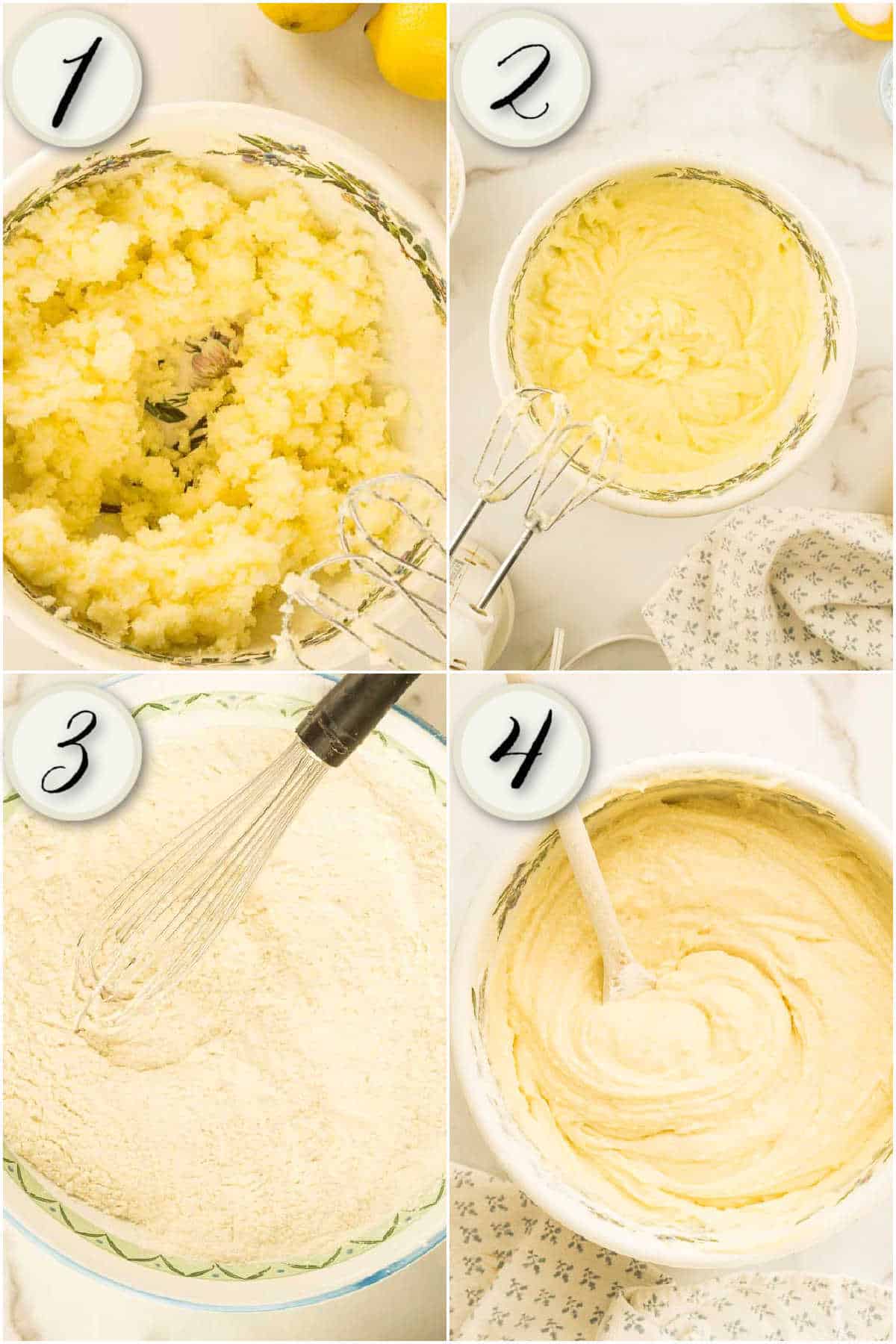 For the best results, use room temperature ingredients, including your eggs and milk. At the very least, make sure. your butter is softened, or it won't cream properly. Preheat your oven to 350 degrees.
If you have an electric stand mixer it will be handy for this recipe, but if not, a hand mixer will work too.
Being by creaming the butter and sugar together until they are light and fluffy. This will take at least three minutes, and you will see the mixture lighten in color when it's done. Don't rush this step!
Once the butter and sugar are done, add the eggs, one at a time, mixing each in before you add the next. Make sure to scrape down the sides of the bowl as needed. After the eggs, add to the coconut or vanilla extract.
Next, in a separate mixing bowl, combine the flour, baking powder, and salt. Add a third of the flour mixture to the butter mixture and mix on low. Add half the milk, then another third of the flour mixture, the rest of the milk, and then the rest of the flour. Keep the mixer on low and be sure to not over mix.
Finishing and baking
Stir in the lemon juice and lemon zest by hand.
Then spray or coat the cake pan and pour the batter in, smoothing it with a spatula the best you can.
Bake the cake for 45-55 minutes, until it is golden brown and a cake tester comes out clean.
Cooling and frosting
When it's time to remove it from the oven, let it cool in the pan for about ten minutes before turning it out. This helps it come out just a little easier.
After it has cooled about an hour, make the lemon icing. Simply mix the powdered sugar and lemon juice together to make a thick frosting that is barely pourable.
Put the cake on a wire rack on top of a rimmed baking sheet before you frost it. Spread the icing on the very top part of the cake and allow it to drip down the sides. Sprinkle the coconut on top, and you're done!
I hope you enjoy this cake, as it's one of our favorite recipes. It's a dessert that works for the holidays as well as spring or summer.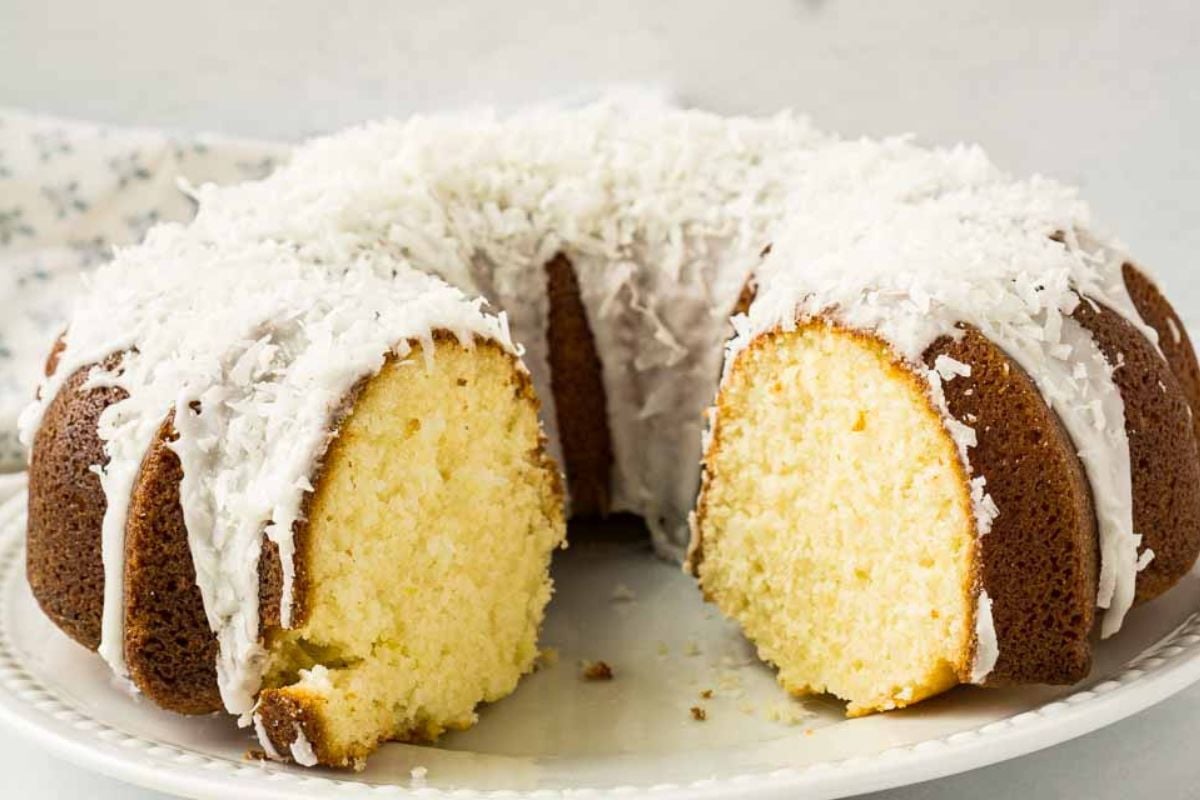 More Bundt cakes and lemon cakes:
Print the recipe here
Coconut Lemon Bundt Cake
Print Recipe
A moist pound cake made with everyday ingredients and topped with an extra simple icing of lemon juice and powdered sugar, then sprinkled with sweetened coconut.
Click here for a FREE autumn cookbook (25+ Recipes!)
Ingredients
For the cake
1

cup

butter, unsalted, softened

2 sticks

2

cups

granulated sugar

4

eggs

1

teaspoon

coconut extract

3

cups

all purpose flour

1

cup

milk

1

teaspoon

salt

2

teaspoons

baking powder

2

teaspoon

lemon zest

2

teaspoons

lemon juice
For the icing
1¾

cups

powdered sugar

2

tablespoons

lemon juice

½

cup

sweetened flaked coconut
Instructions
Make the Cake
Preheat oven to 350 degrees with the rack in the center

Beat butter and sugar using an electric mixer for 3 to 5 minutes, until light and fluffy. The color of the butter will change when it has been beaten enough. Add the eggs, one at a time, and beat each in until well combined. Add the coconut extract.

Combine the flour, baking powder, and salt in a separate large mixing bowl. Add to the butter mixture, alternating with the milk, one third at a time, mixing on low until just combined. Do not overbeat. Stir in the lemon juice and lemon zest by hand.

Prepare a 10 or 12 cup Bundt pan by generously spraying with cooking spray or coating with shortening and dusting with flour. Pour the cake batter into the pan and smooth the top.

Bake for 45-55 minutes until a cake tester inserted into the center comes out clean. Allow the cake to cool in the pan for about 10 minutes, then carefully flip onto a wire cooling rack. Once the cake has coole, make the frosting.
To finish
Combine the powdered sugar and lemon juice in a small bowl and mix untill it is smooth. The icing should be thick and barely pourable.

Pour onto the very top of the cake and allow the icing to settle down the sides of the cake. Sprinkle the flaked coconut on top before the icing sets. Serve immediately, or within a few hours. Cake will keep tightly covered at room temperature for at least 2 days.
Notes
Don't have any coconut extract? Just substitute vanilla. It will still be delicious!
Nutrition
Calories:
385
kcal
|
Carbohydrates:
54
g
|
Protein:
3
g
|
Fat:
18
g
|
Saturated Fat:
5
g
|
Cholesterol:
57
mg
|
Sodium:
483
mg
|
Potassium:
68
mg
|
Fiber:
1
g
|
Sugar:
53
g
|
Vitamin A:
789
IU
|
Vitamin C:
2
mg
|
Calcium:
76
mg
|
Iron:
1
mg
Did you make this recipe?
If you loved it, please leave a review!