A classic, creamy tomato soup for either fresh or canned tomatoes.
Use fresh or canned tomatoes for this creamy tomato soup recipe with basil, cream, and lots of flavor.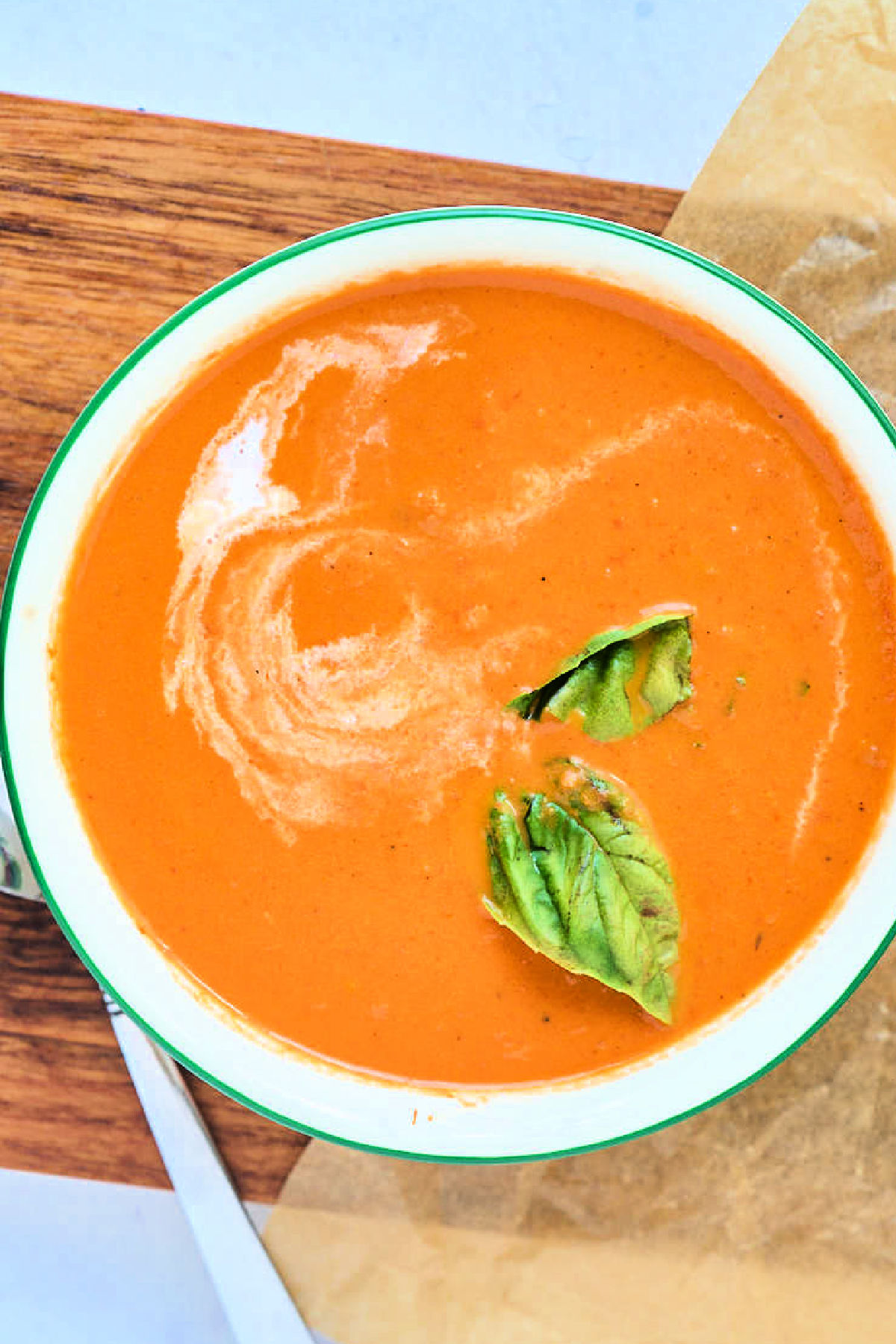 ❤️ Why you'll love this recipe
Way better than canned tomato soup. The roasting adds an extra layer of flavor, and the onion and spices take it way beyond the simple sweetness of canned soup. I wish I could have made some for her.
Can make a full meal. On cold weekends, I often serve this for lunch with grilled cheese sandwiches made on sourdough bread. Simple, and something even the kids will love.
🧂 Ingredients
This is an overview of the ingredients. You'll find the full measurements and instructions in the printable recipe at the bottom of the page.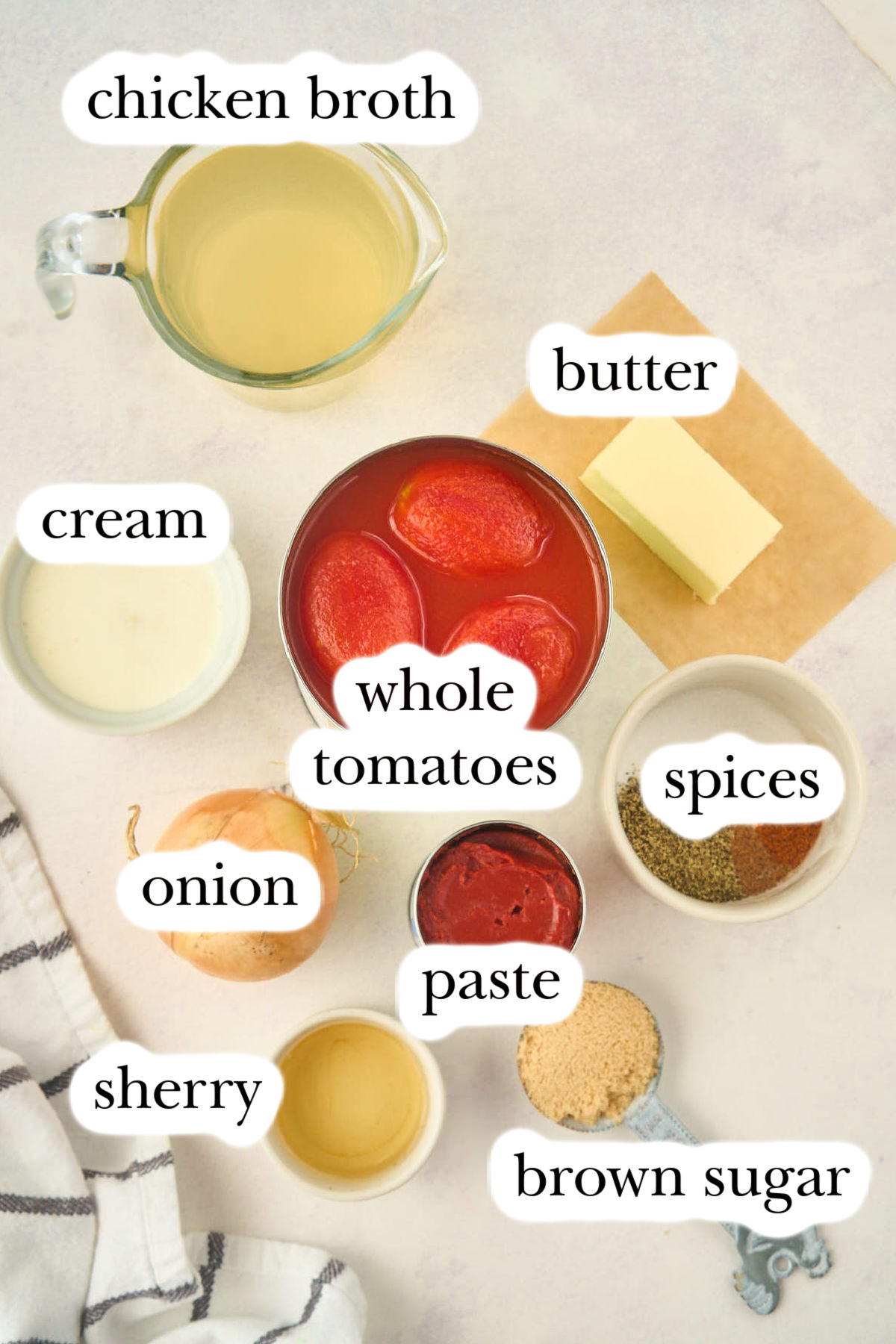 You'll need the following for this homemade soup:
canned whole tomatoes
brown sugar
unsalted butter
onion
tomato paste
chicken broth
water or reserved tomato juice
heavy cream
cooking sherry
salt
nutmeg
dried basil
pepper
cayenne pepper
fresh chopped basil
🥣 Equipment
This article contains affiliate links, meaning that if you make a purchase after clicking on one, I may earn a commission at no extra cost to you. As an Amazon Associate, I earn from qualifying purchases.
🍴Instructions
Step One
We begin by preparing our tomatoes and roasting them. Preheat the oven to 425 and set the tomatoes on a foil-lined baking sheet. If you're using fresh, just cut them in half and scoop out the center with all the seeds. Don't worry about the skins. To bring out the sweetness of the tomatoes, sprinkle 2 tablespoons of brown sugar on top. Then bake them for 30 minutes. They will have just started to turn color. When they are done, remove them from the foil and set aside.
Step Two
Meanwhile, in a large saucepan, heat ½ a stick of butter and add the onion. Cook them on low until they have softened, about 7 minutes. Then add 1 (8 ounce) can of tomato paste and stir until everything is combined and heated through.

Step three
Next, we add the liquid. Slowly add in 2 cups of chicken broth, stirring as you pour. Add the 3 cups of water, still stirring. And now the roasted tomatoes. Bring to a boil, and then reduce heat, cover the pot and simmer on low for about 10 minutes, stirring occasionally.
Step Four
To blend the tomatoes into a smooth soup, use either an immersion blender right in the pot, or if you don't have one, carefully transfer into a food processor and blend.

Once the soup is smooth, add the cream, sherry, salt, pepper, and cayenne and heat again, about 15 minutes on low, until it is piping hot. Taste for seasoning, divide into four bowls and top with fresh basil.
🥫 Storage instructions
Leftover soup will keep well, tightly covered in the fridge for 3-4 days.
Once you add cream to something, don't freeze it. But you could make this soup through step 5, then freeze it. The best way to freeze soup is to fill gallon-sized freezer bags, lay them flat on a baking sheet, and once they have formed a flat frozen block, stack them up in the freezer. Make sure you add a note to the container to add the cream and seasonings before serving.
This doesn't make a huge batch, so if I want some to freeze, I double the recipe and freeze half. You will need an extra baking sheet for the extra tomatoes.
🔍 FAQs
Can I make this dairy-free?
Yes! Substitute oil for the butter and coconut cream for the heavy cream. It's still delicious.

What other things can I put on top?
Parmesan, croutons, whatever!
👩🏻‍🍳 Expert tips
An immersion blender is so, so helpful! Totally worth it just for making soups.
I've made this with fresh tomatoes, and it honestly isn't any better! Canned is a great choice here, and much easier.
📘 Related Recipes
🍽 Serve it with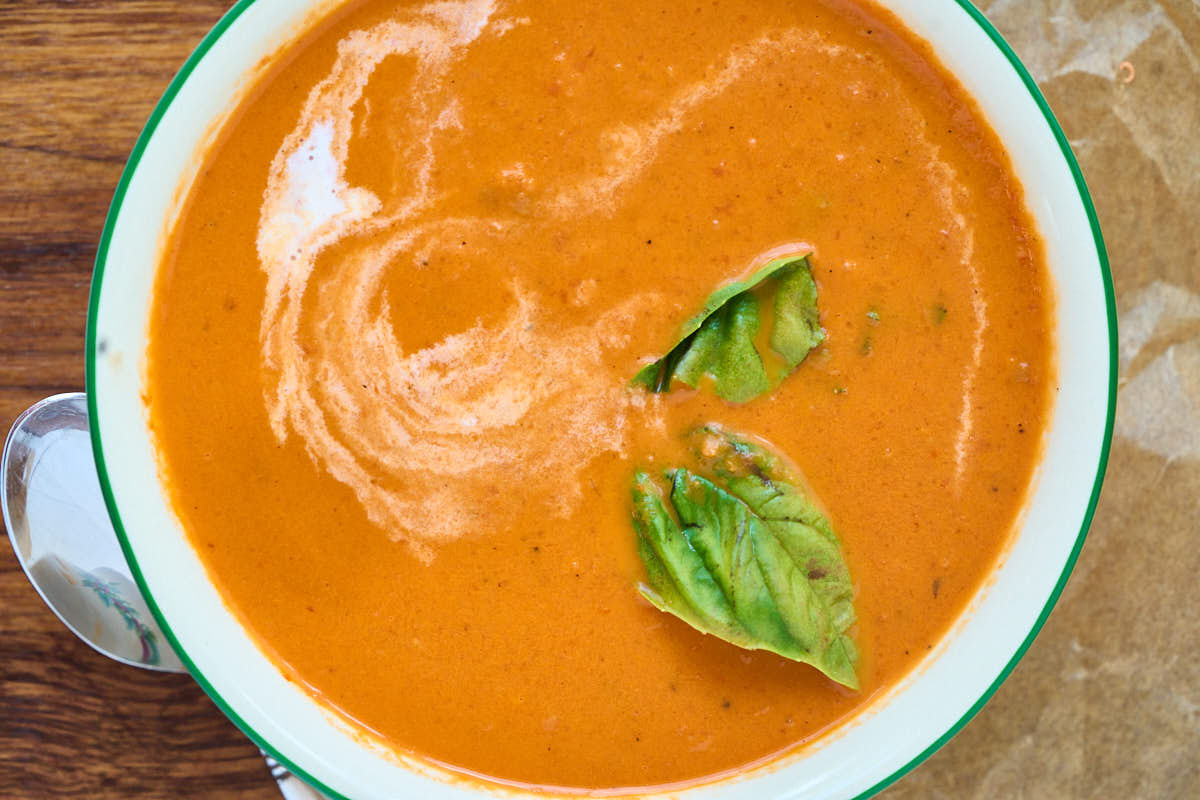 📖 Here's the recipe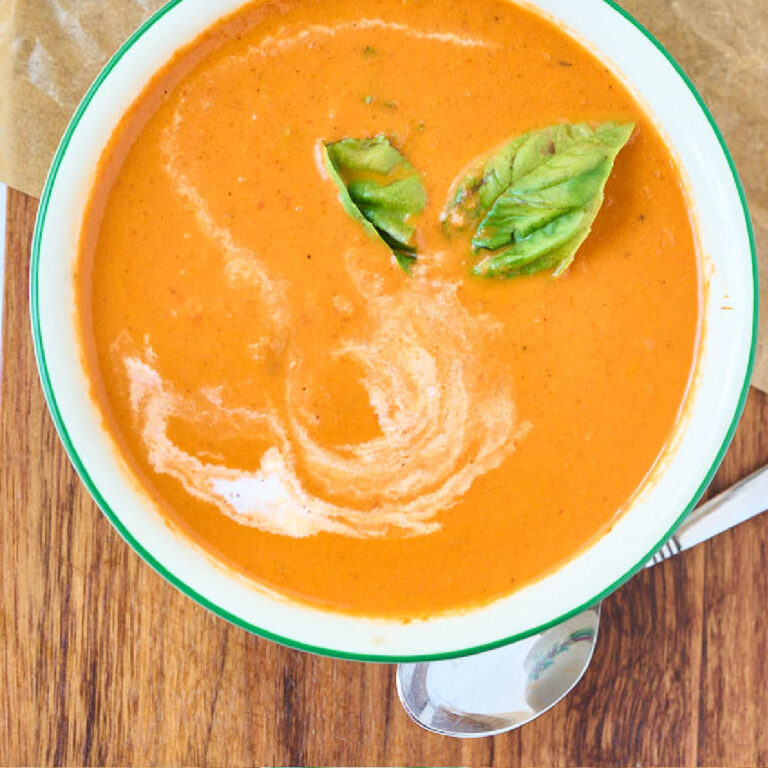 Creamy Tomato Basil Soup
Print Recipe
A classic, creamy tomato soup for either fresh or canned tomatoes.
Click here to grab a free seasonal e-cookbook!
Ingredients
2

28 ounce

cans whole tomatoes (or 20 small fresh tomatoes) cut in half, seeds mostly removed

2

tablespoons

brown sugar

4

tablespoons

unsalted butter

1

small onion

finely

1

8 ounce

can tomato paste

4

cups

chicken broth

1

cup

water

or reserved tomato juice

½

cup

heavy cream

3

tablespoons

cooking sherry

1

teaspoon

salt

¼

teaspoon

nutmeg

½

tablespoon

dried basil

½

teaspoon

pepper

pinch

cayenne pepper

optional

1

tablespoon

fresh chopped basil
Instructions
Preheat the oven to 425 and prepare a baking sheet by lining it with aluminum foil. Place tomatoes on the baking sheet, sprinkle the brown sugar on top, and roast for 30 minutes, until they look shriveled and the edges are starting to brown. When they are done, allow them to cool slightly and then remove from the foil and set aside.

Heat the butter in a large saucepan over medium heat until it foams, then add the onion and cook until softened, about 5 minutes. Add the tomato paste and stir to combine.

Pour in the chicken broth and water slowly, whisking to combine. Add the roasted tomatoes back into the soup. Bring to a boil, then reduce heat and simmer, covered, for 10 minutes.

Puree the soup right in the pot using an immersion blender, or puree in batches in the food processor (b.e careful not to splash yourself)

Add the cream, sherry, salt, pepper, nutmeg, and cayenne (if using), and heat for 15 minutes more. Serve in bowls, topped with fresh basil.
Notes
Be very careful if you are pureeing in the food processor. Don't overload the bowl's capacity, and make sure hot soup does not splash in your face.
If you are using canned tomatoes in tomato juice, you can save some of the tomato juice and substitute it for the water.
Nutrition
Calories:
132
kcal
|
Carbohydrates:
7
g
|
Protein:
1
g
|
Fat:
11
g
|
Saturated Fat:
7
g
|
Cholesterol:
41
mg
|
Sodium:
1033
mg
|
Potassium:
116
mg
|
Fiber:
1
g
|
Sugar:
6
g
|
Vitamin A:
437
IU
|
Vitamin C:
8
mg
|
Calcium:
37
mg
|
Iron:
1
mg
Did you make this recipe?
If you loved it, please leave a review!