Make your own Chobani Flips style yogurt with this easy recipe. All you need is plain Greek yogurt, sugar or other sweetener, and mix ins of your choice.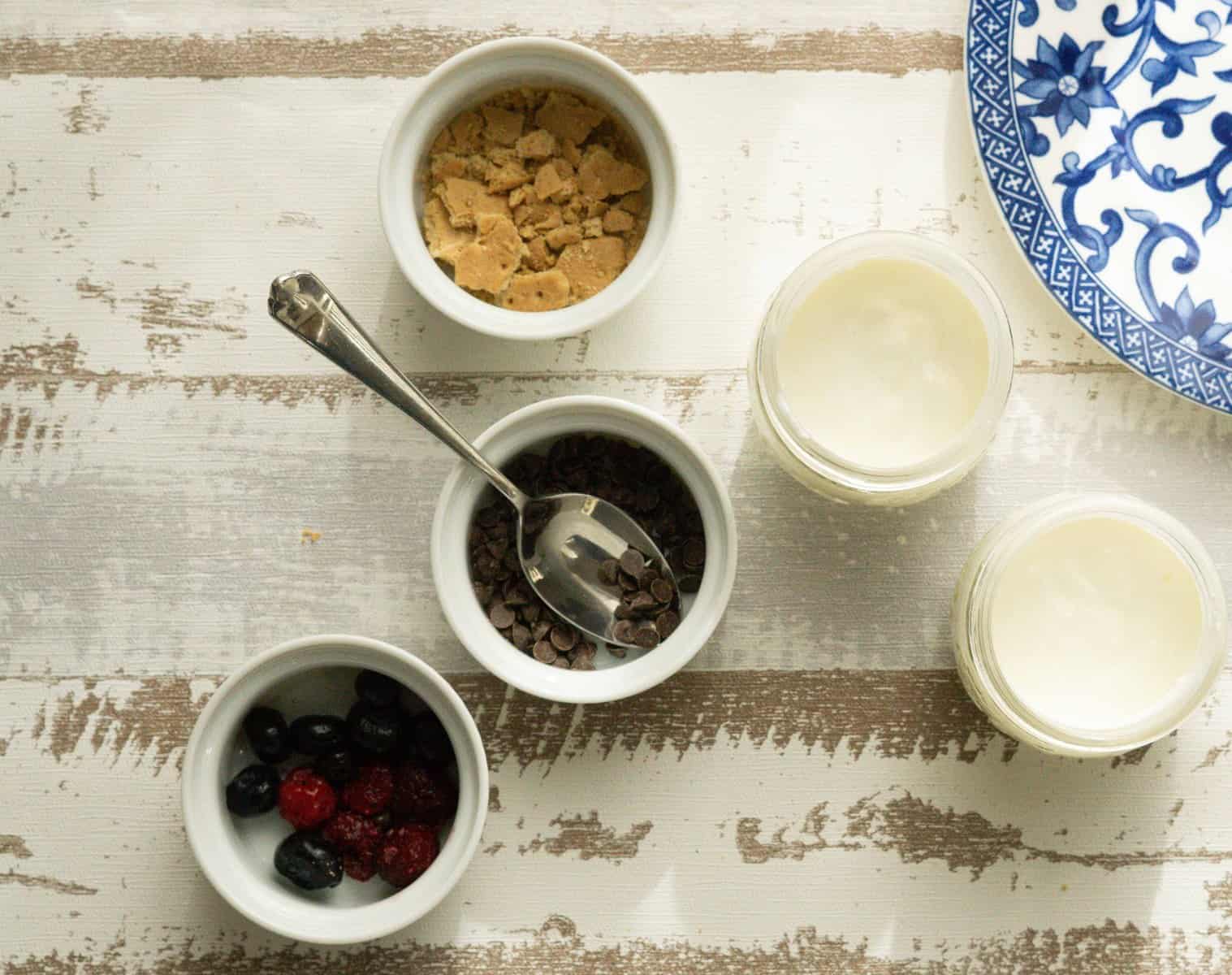 Stop spending a dollar per serving on yogurt!
I have written about my love for Chobani flips a lot. Perhaps too much. (Is mentioning them in SEVEN different posts too much?) They are delicious, slightly healthy, and are killing my grocery budget. When whining about how much I spend on food, I realized that spending more than one dollar for a single serving of yogurt was just not practical. I had decided to just give them up when my friend Katherine suggested that I attempt to make my own.
It took me a long time, but I have finally gotten there. These are DELICIOUS. They aren't super healthy. (If that's your thing, I will consistently disappoint you.) I just wanted something that would taste good and not cost a fortune. It was important to me that I really loved these and that my kids would eat them too.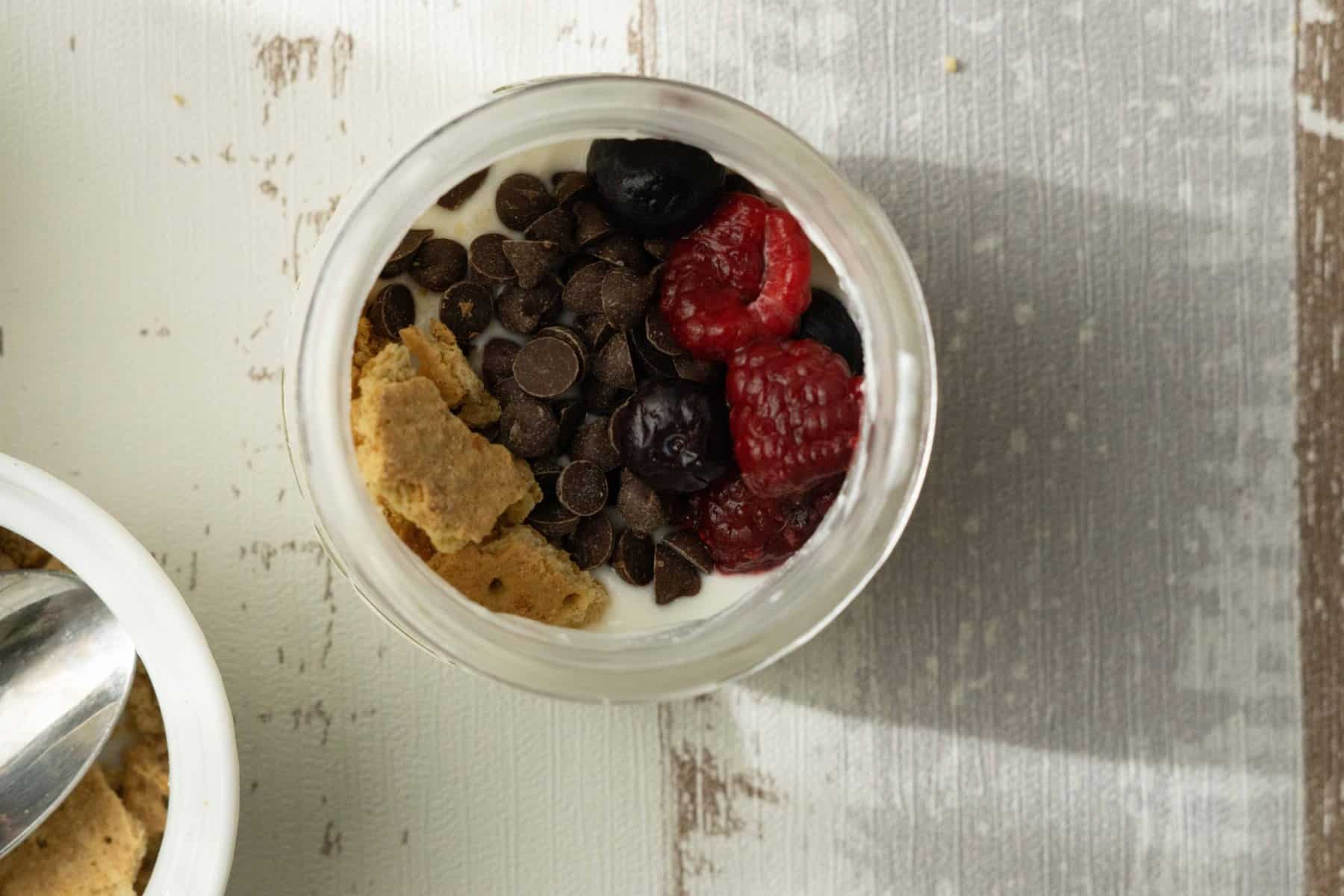 Customize the sweetness
The amount of sugar can be altered to your taste. I found that 2 teaspoons most closely mimicked the sweetness of Chobani Flips Vanilla Yogurt. If you actually like the taste of Greek yogurt, you might find this too sweet. Start with 1 teaspoon of sugar and work your way up from there. You can of course use honey, agave syrup, or stevia if you prefer. I would really recommend actually measuring out the ingredients so you can experiment with the sweetness and know exactly how much you're adding.
If you, like me, are obsessed with flavored coffee syrups (Torani and the like), these work GREAT for yogurt. One full pump per 1/2 cup of yogurt is just right. Vanilla and any fruit flavor are good candidates to mix in, and if you have a sugar free one, save yourself some sugar.
The base of these is plain, unflavored, unsweetened Greek yogurt. I make my own, but that is absolutely not necessary. The only reason I make my own is because I want whole milk yogurt for my toddler and I can't find it at the grocery store.
But buying bulk containers of plain Greek yogurt will still save you a ton of money over buying Flips. It is also nice to have on hand for recipes.
And one last thing I must note: It is best to mix these up individually, right before eating. If you sweeten the yogurt ahead of time, the yogurt becomes thinner. I don't really know why, but it has happened to me every single time. Adding sugar right before you eat them is not that hard.
Print the recipe here!
Want a free fall cookbook? Click here to grab a cookbook with 25+ of my best autumn recipes
Ingredients
1/2

cup

plain Greek yogurt

2

teaspoons

sugar

few drops vanilla extract

(optional)
Mix Ins: Choose Two or Three
1

tablespoon

mini chocolate chips or crushed chocolate bar

1

tablespoon

crushed graham crackers

1

tablespoon

slivered almonds

6

crushed raspberries

1

tablespoon

granola

1/2

tablespoon

crushed peppermints

1

tablespoon

dried cherries

1/2

tablespoon

crushed candy bar
Instructions
Sweeten your yogurt with the sugar, and add vanilla if desired.

Add mix ins of your choice
Notes
1-2 full pumps of flavored coffee syrup can be substituted for the sugar
Some of my favorite combinations:
Berry Crumble- Raspberries, blueberries, and crushed graham crackers
Caramel Preztel- Crushed pretzels, crushed hard caramel candies, mini chocolate chips
Key Lime- Crushed graham crackers, dollop of lime curd, white mini chocolate chips
Chocolate cherry- Chopped dried cherries, mini dark chocolate chips
Nutrition
Calories:
282
kcal
|
Carbohydrates:
36
g
|
Protein:
15
g
|
Fat:
10
g
|
Saturated Fat:
3
g
|
Cholesterol:
5
mg
|
Sodium:
46
mg
|
Potassium:
250
mg
|
Fiber:
3
g
|
Sugar:
26
g
|
Vitamin A:
533
IU
|
Calcium:
161
mg
|
Iron:
1
mg
Did you make this?
Let me know how it was! Please see below for serving ideas, storage instructions, and substitutions.
Let me know if you can think of any good combinations, or what your favorite flavor is at the the store.