All you need are four basic ingredients to make this easy, hands-off loaf of bread. A few minutes of mixing + a long rise make this recipe foolproof.

Making bread at home has a reputation for being difficult. But it doesn't have to be! This recipe for no-knead bread, requires no stand mixer, no special tools, and is perfect for beginners. And of course, there's no kneading.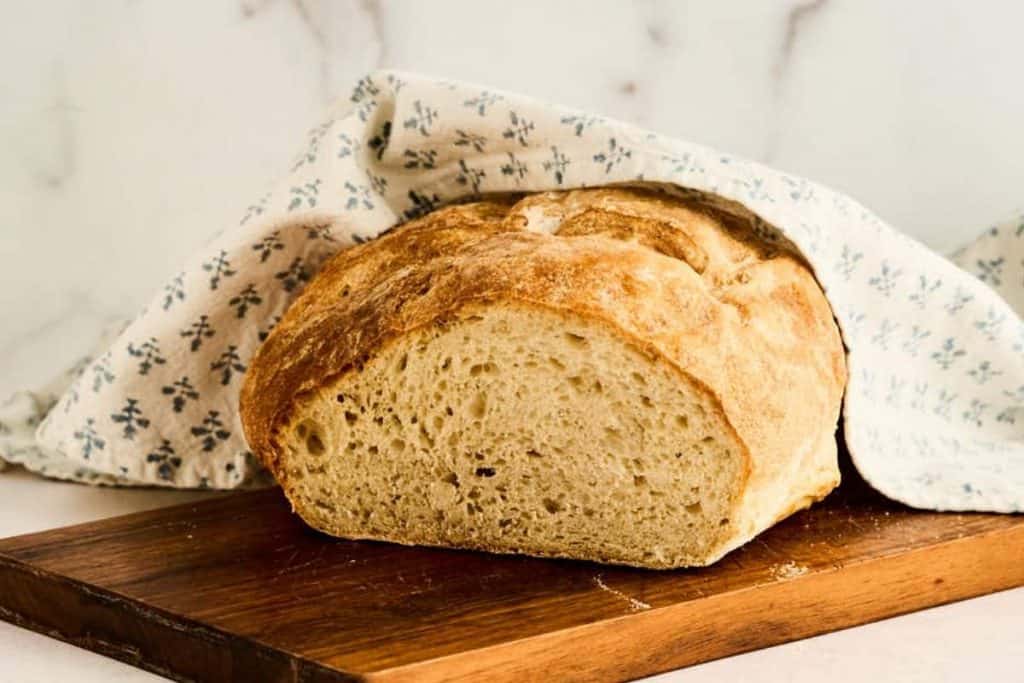 The secret to this easy loaf of bread is the long rise at room temperature. Mix up the dough in the morning and let it sit all day before shaping and rising for one hour more. This wet dough and the long rise combine to develop proteins and gluten without kneading.
To be honest, the science of it all isn't terribly important. All you need to know is how to make it. If you can hold a spoon and mix for a minute, you can do this. Let's get started.
How to make beginner-friendly no-knead bread
My friends, this couldn't be easier.
Why no-knead bread is perfect for beginners
No-knead bread doesn't require a stand mixer. And this recipe doesn't need a Dutch oven. So you don't need to invest in any tools before deciding you like bread baking.
No-knead bread isn't finicky about temperatures or timing. Sure, if your kitchen is cooler, it will take longer to rise. But it will still get there.
The shaping is easy. Just make a ball.
You can absolutely make this recipe successfully on your first try.
How no-knead bread works
The wet dough and long rise combine to develop proteins and gluten without kneading. It doesn't seem like it should work, but it does.
If you give the dough enough time, it will triple or quadruple in volume.
It takes about 12 hours from start to finish, including rising time. To break it down, the first rise will take about 10 hours. Then you shape the dough into a ball, then let it rise again for 1 hour.
What you'll need
Large Mixing Bowl
Spatula or wooden spoon
Cooking Spray
Baking Sheet
All-purpose flour
Water
Salt
Instant yeast
That's it!
You can't rush this recipe
You need to begin the recipe at least 12 hours before you want to bake, so plan ahead.
If you're baking in the summer, it might rise a bit faster, and in the winter, a bit slower So use this recipe but don't be alarmed if the times are different for you.
Tips for the rising process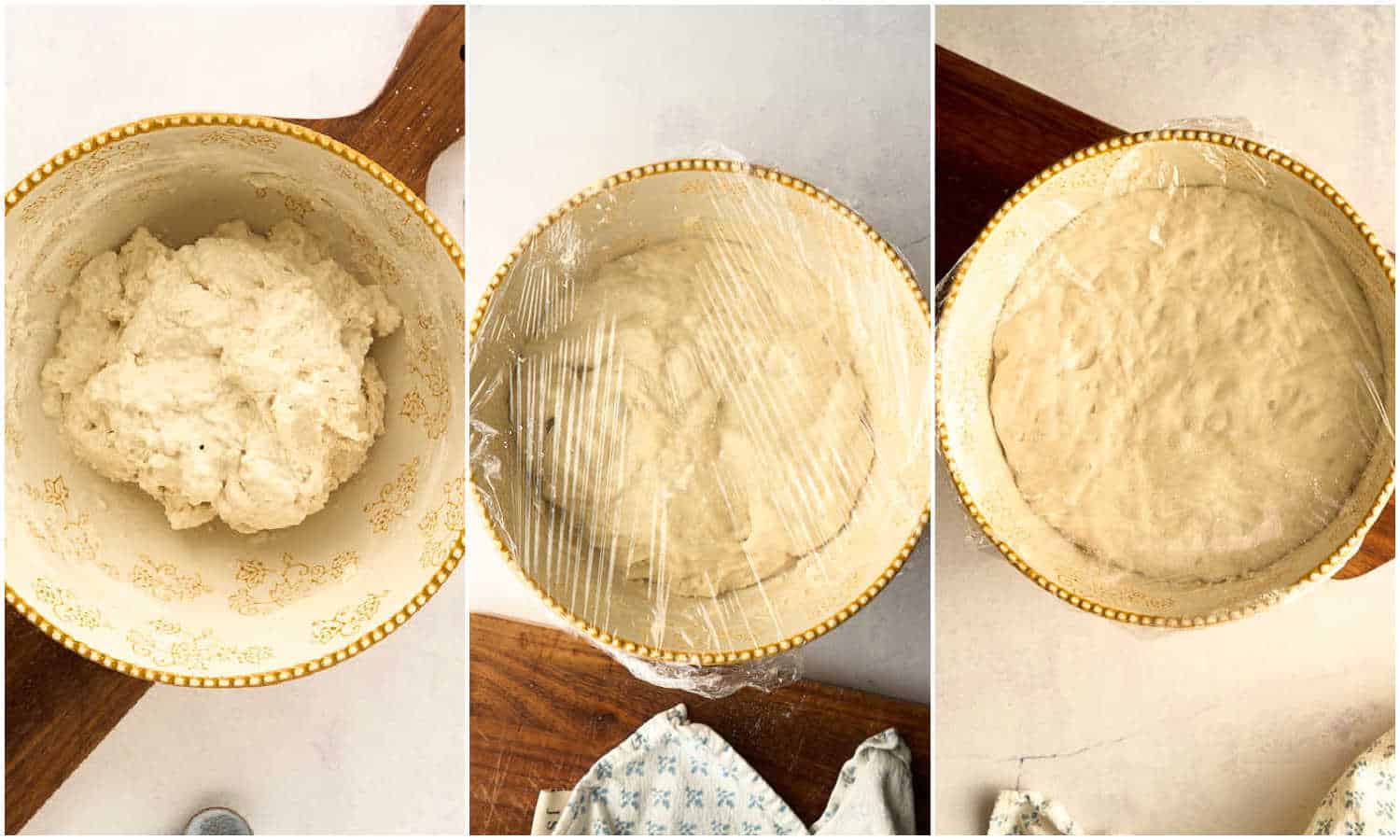 The dough will dramatically increase in size as it rises, to more than double in size.
Shaping
Don't get worked up about this. Just hold it in one hand and pull on the bottom until the top smooths out into a round ball. The tighter you can get it, the better. But don't stress about it.
The final rise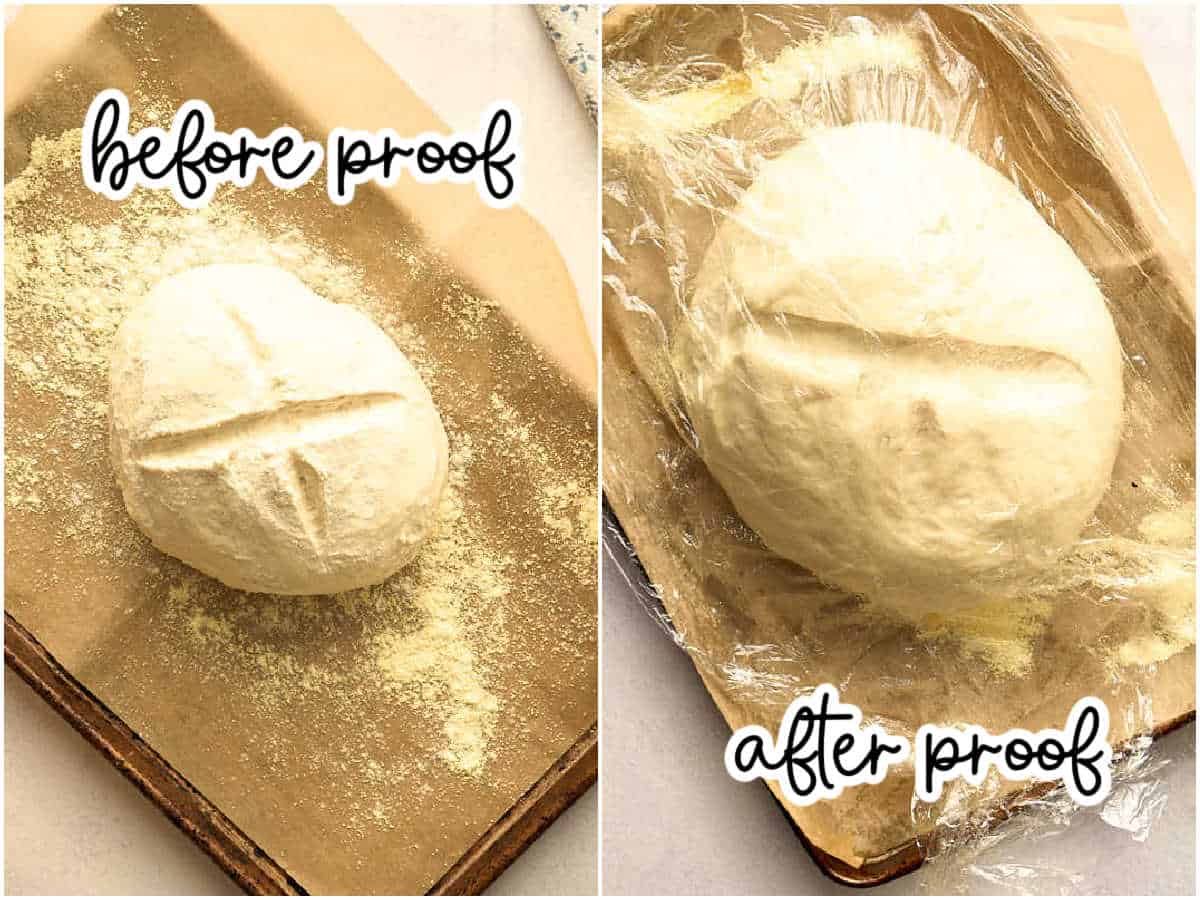 When you're ready for baking, place the dough on a piece of parchment paper that's been lightly sprinkled with cornmeal or extra flour. . Sprinkle some flour over the top and slash it. Make sure you cover with sprayed plastic wrap so that the dough doesn't dry out as it rises and so that the plastic wrap doesn't stick to the dough.
Baking
You can bake this bread on any old baking sheet. It's done when it's golden brown.
More bread recipes that don't require kneading
Recipe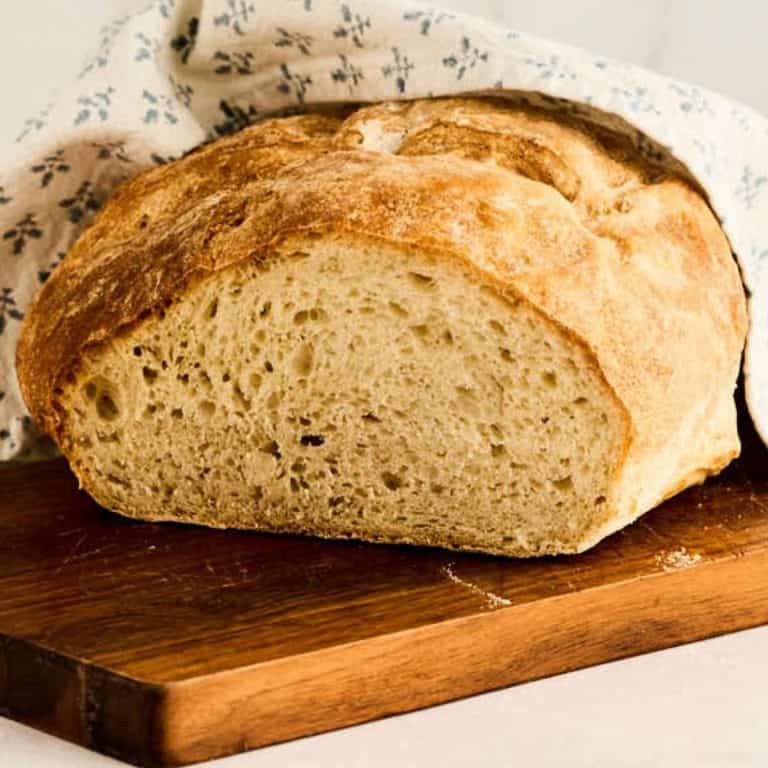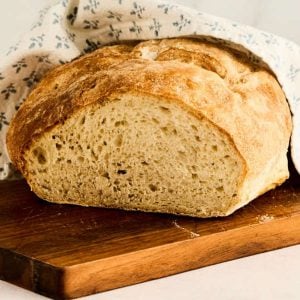 Simple No-Knead Bread (No Dutch Oven Required!)
Print Recipe
All you need are four basic ingredients to make this easy, hands-off loaf of bread. A few minutes of mixing + a long rise make this recipe foolproof.
Click here to grab a free Christmas cookie and candy ebook + holiday planner printables!
Equipment
Cooking Spray

Baking Sheet
Ingredients
3 ¼

cups

all-purpose flour

400 grams

1

cup

plus 3 tablespoons water

281 grams

1 1/2

teaspoons

salt

1

teaspoon

yeast

instant or active dry
Instructions
Mix the ingredients. In a large mixing bowl, combine the flour, salt, and yeast. Add one cup of water. Use a rubber spatula to mix well. The dough should form a ball, but it will still look very rough and lumpy. If the dough is not forming a ball and is very dry, add more water a teaspoon or so at a time.

Cover and allow to rise. Tightly cover the bowl of dough with plastic wrap. Place the covered bowl on the counter at room temperature and leave it to rise for ten hours or overnight. Since this recipe is no-knead, this long rise is necessary. Be sure to leave it for the full ten hours. At the end of the rise time, the dough should be very puffy and have doubled in size. When you poke it with your finger, your finger should leave an indentation that fills slowly. If the dough is still very firm or has not changed much in size, give it more time.

Shape into a ball. Prepare a baking sheet by lining it with parchment or spraying generously with non-stick cooking spray. Gently pick the dough out of the bowl and shape it into a smooth ball. Pull from the bottom of the dough to smooth out the top rather than smashing the dough down. Place the dough onto the prepared baking sheet. Using a very sharp knife or lame, make an X-shaped slash in the center of the loaf, cutting around ¼ inch deep.

Allow the dough to proof. Prepare a warm place for the second rise, either by briefly turning on your oven or placing a bowl of hot water inside it. Cover the ball of dough with greased plastic wrap, making sure that the loaf is completely covered. Allow to rise in a warm place for about 45 minutes, until puffy but not quite doubled in size. Towards the end of the rising time, preheat your oven to 425 degrees with the rack in the center of the oven, taking care to remove the dough first.

Bake. Bake the loaf for 35-40 minutes. The finished loaf will be deep golden brown and have an internal temperature of 200 degrees. Remove the bread from the baking sheet and place it on a cooling rack. Allow to cool at least 15 minutes before serving.
Notes
You can experiment with different designs for slashing your bread. Try an initial, a heart, or a zig-zag pattern.
Nutrition
Calories:
173
kcal
|
Carbohydrates:
33
g
|
Protein:
6
g
|
Fat:
2
g
|
Saturated Fat:
1
g
|
Polyunsaturated Fat:
1
g
|
Monounsaturated Fat:
1
g
|
Cholesterol:
4
mg
|
Sodium:
373
mg
|
Potassium:
55
mg
|
Fiber:
1
g
|
Sugar:
1
g
|
Vitamin A:
38
IU
|
Vitamin C:
1
mg
|
Calcium:
34
mg
|
Iron:
2
mg
Making no-knead bread is actually easier than you may think. The secret to the success of this recipe is in its simplicity and long rise at room temperature, which can be done without a Dutch oven or any special tools. To make it even simpler for beginners, there's only one shaping step- just hold it with your hand and pull on the dough until it smooths out into a round ball! This wet dough requires 12 hours from start to finish including rising time so plan ahead if baking during summer months when rises faster or winter months where rises slower. No matter what season you're living in, using these tips will help ensure that your perfect loaf of no-knead bread comes out every time!