Sharp cheddar, spicy jalapeños, and a great loaf of sourdough combine for a recipe you'll make over and over.  Perfect to serve with chili or make into a sandwich.
A jalapeno cheddar sourdough bread recipe that's loaded with flavor. A beautiful crust, soft interior, and sharp cheese and spicy peppers combine for a loaf you won't forget.
If you love the idea of a sourdough bread with mix-ins, try lemon zest and blueberry sourdough too!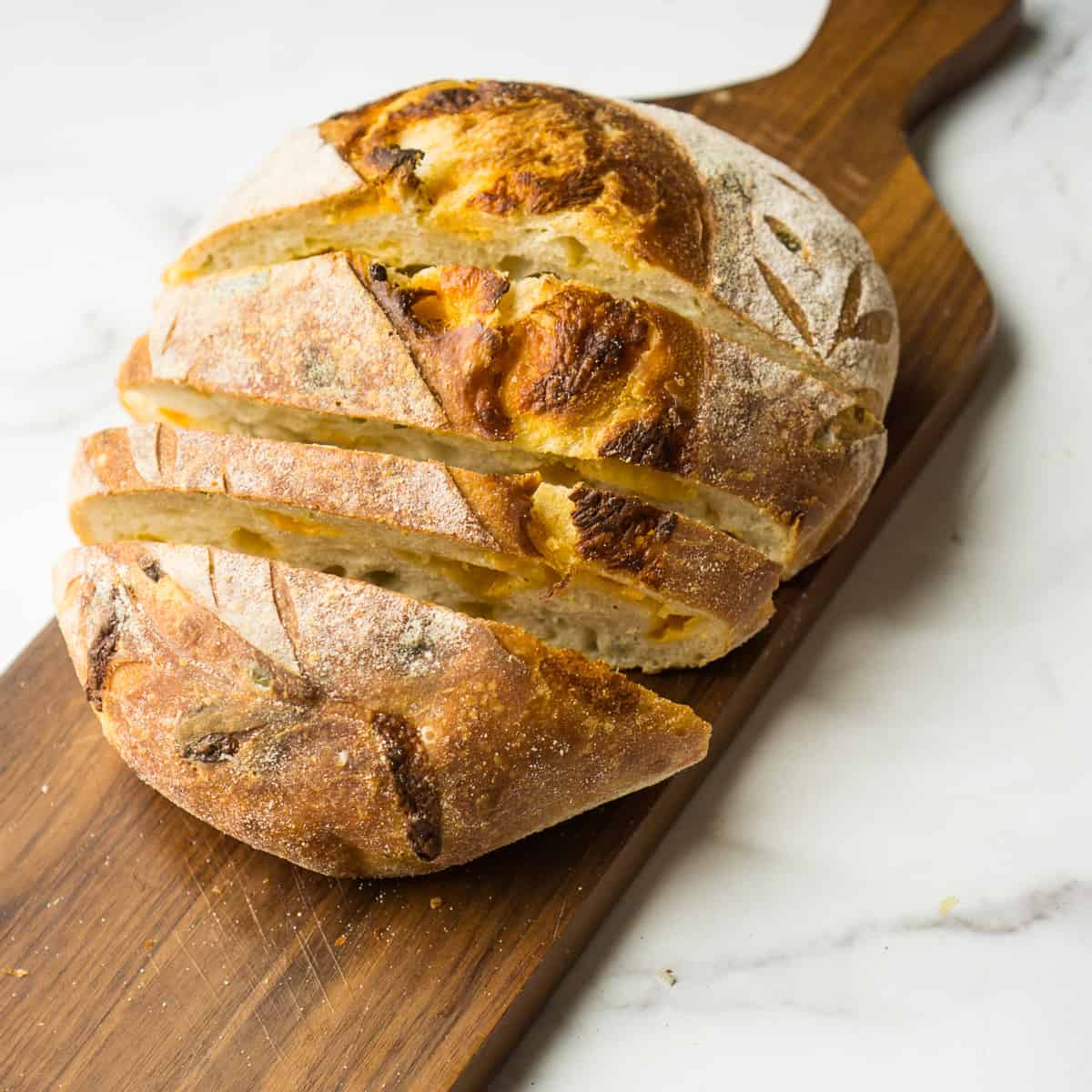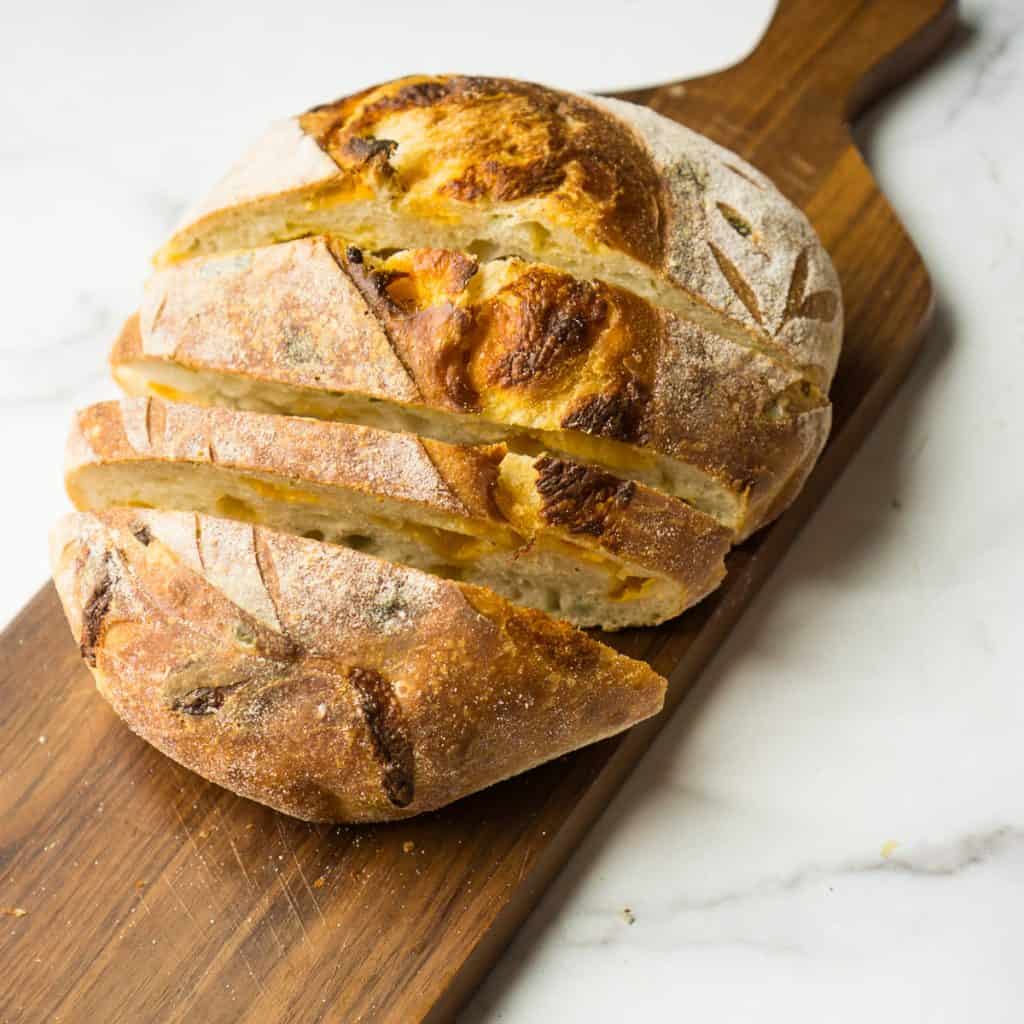 The eternal problem with sourdough bread is that your starter has to be fed and discarded all the time and you are forced to bake bread constantly. And sometimes…. your favorite recipes get a little… boring.
And the antidote to boring bread? Adding cheddar cheese and jalapenos!
The best part of this bread is that its just as easy as to make as regular artisan sourdough bread. The cheese and jalapenos don't do anything to hurt the rise of the bread or anything like that. If you have a made successful loaf of sourdough bread, this recipe is going to turn out great.
Helpful tools and special ingredients
[adthrive-in-post-video-player video-id="g7Ud0XdC" upload-date="2020-01-16T00:00:00.000Z" name="Jalapeno Cheddar Sourdough Bread" description="A sourdough bread recipe that's loaded with flavor. A beautiful crust, soft interior, and cheddar cheese and jalapeños combine for a loaf you won't forget." player-type="collapse" override-embed="false"]
Step by step jalapeno cheddar sourdough
We being with an autolyse stage. Don't be alarmed. It just means to stir the bread flour, water, starter, and sugar together and let them sit in a bowl. This is not a very high-hydration recipe, so it might look a little rough and somewhat dry. Just use your hands to combine everything into one mass. Cover it with a clean tea towel and let them rest at room temperature for thirty minutes.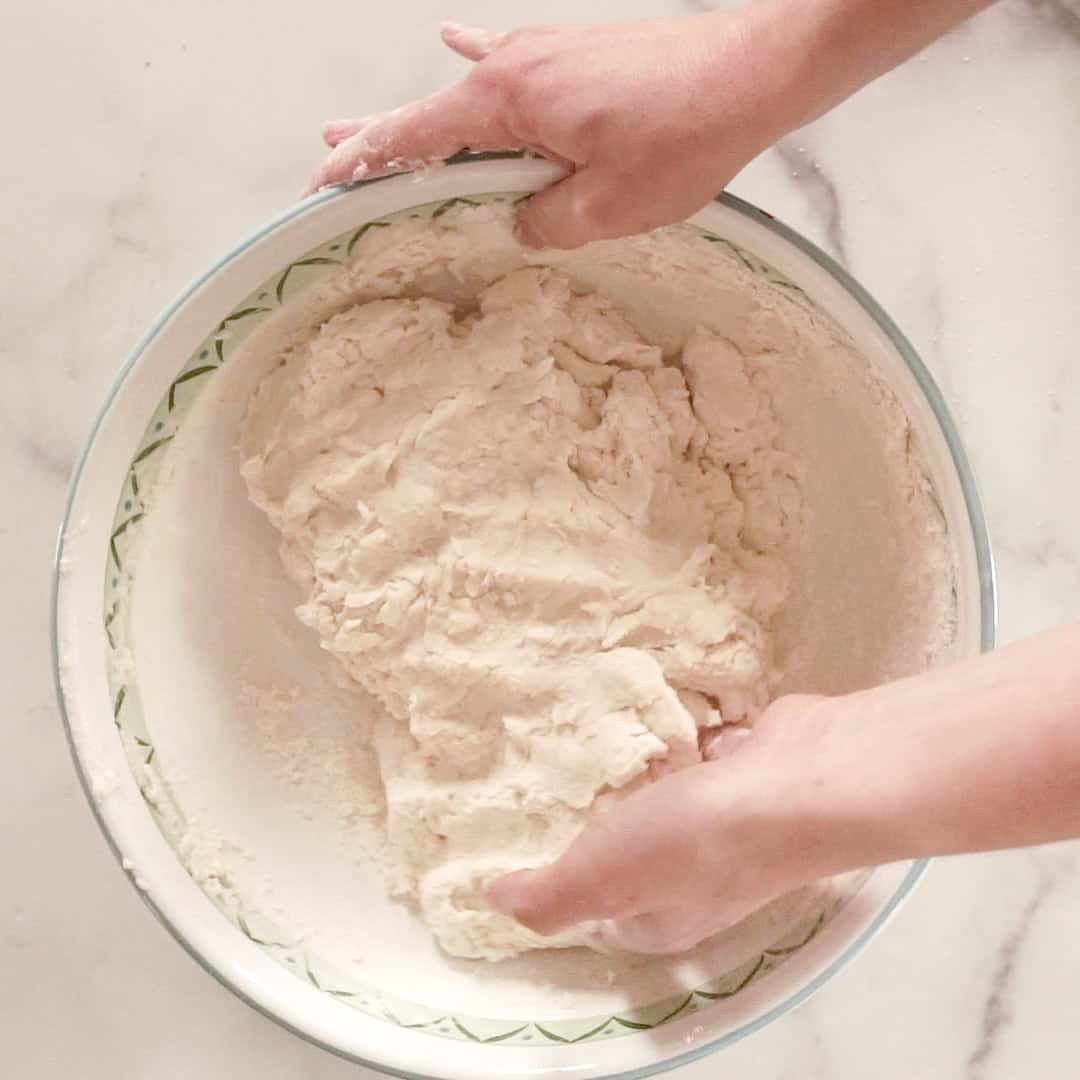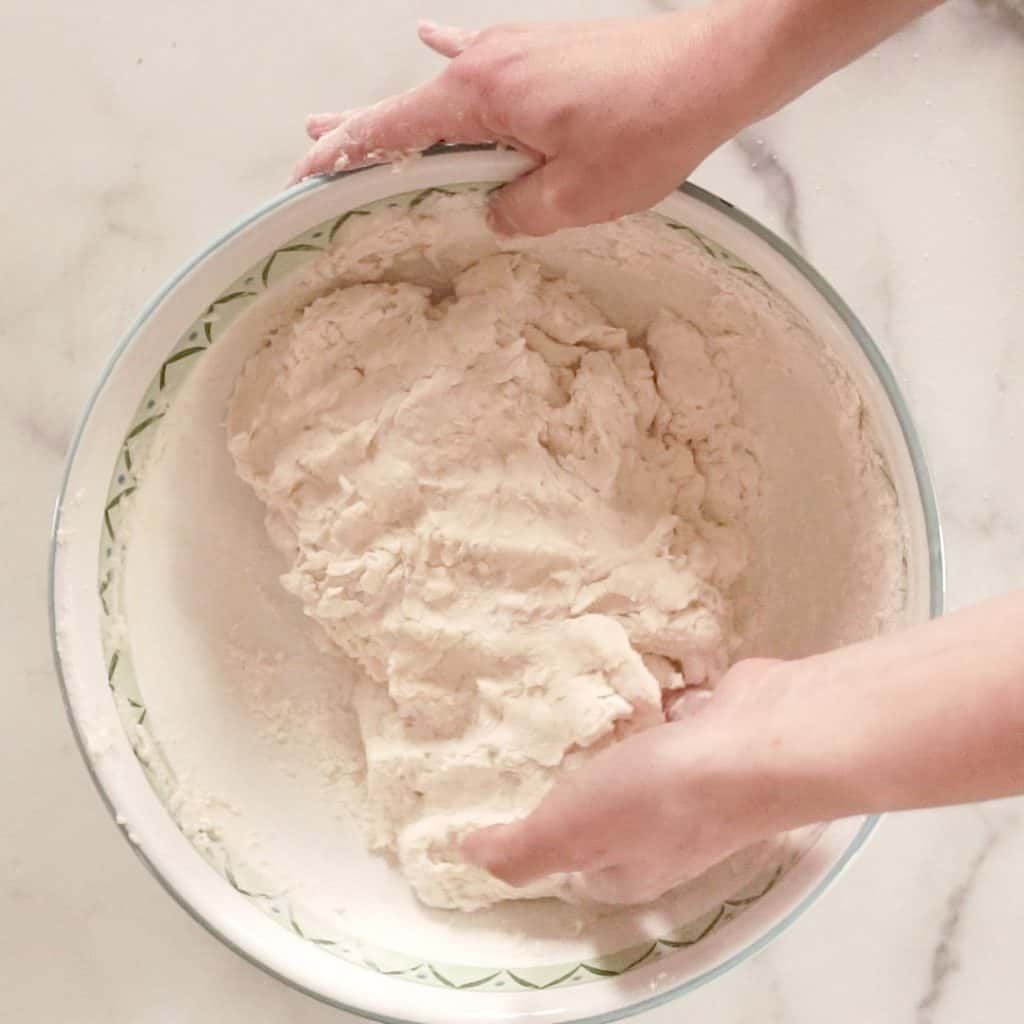 Once the dough has rested, it's time to add in the salt, cheddar, and jalapeno. Dump it right on top of the dough and knead it in. You'll want to knead by hand for a few minutes to make sure that everything gets incorporated well.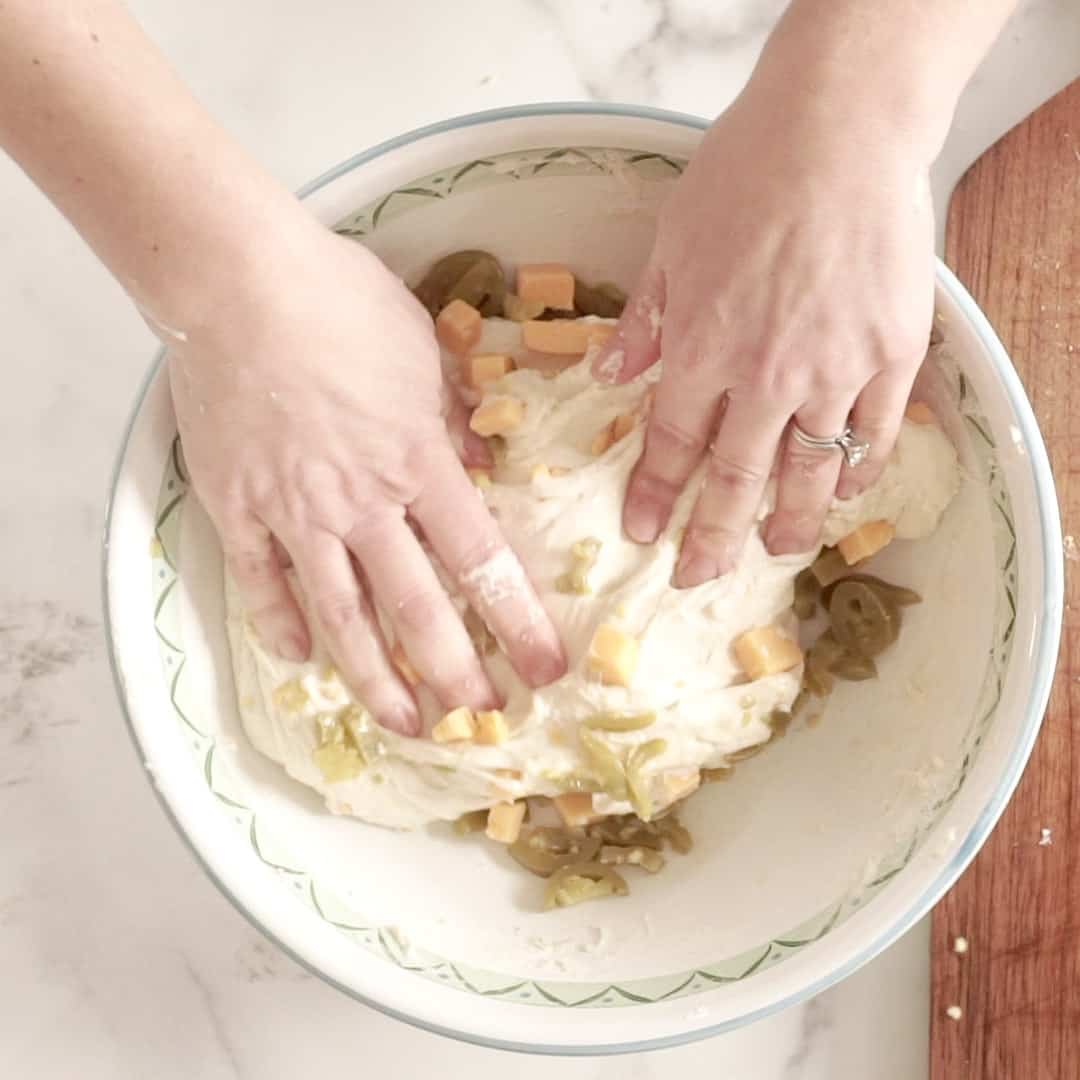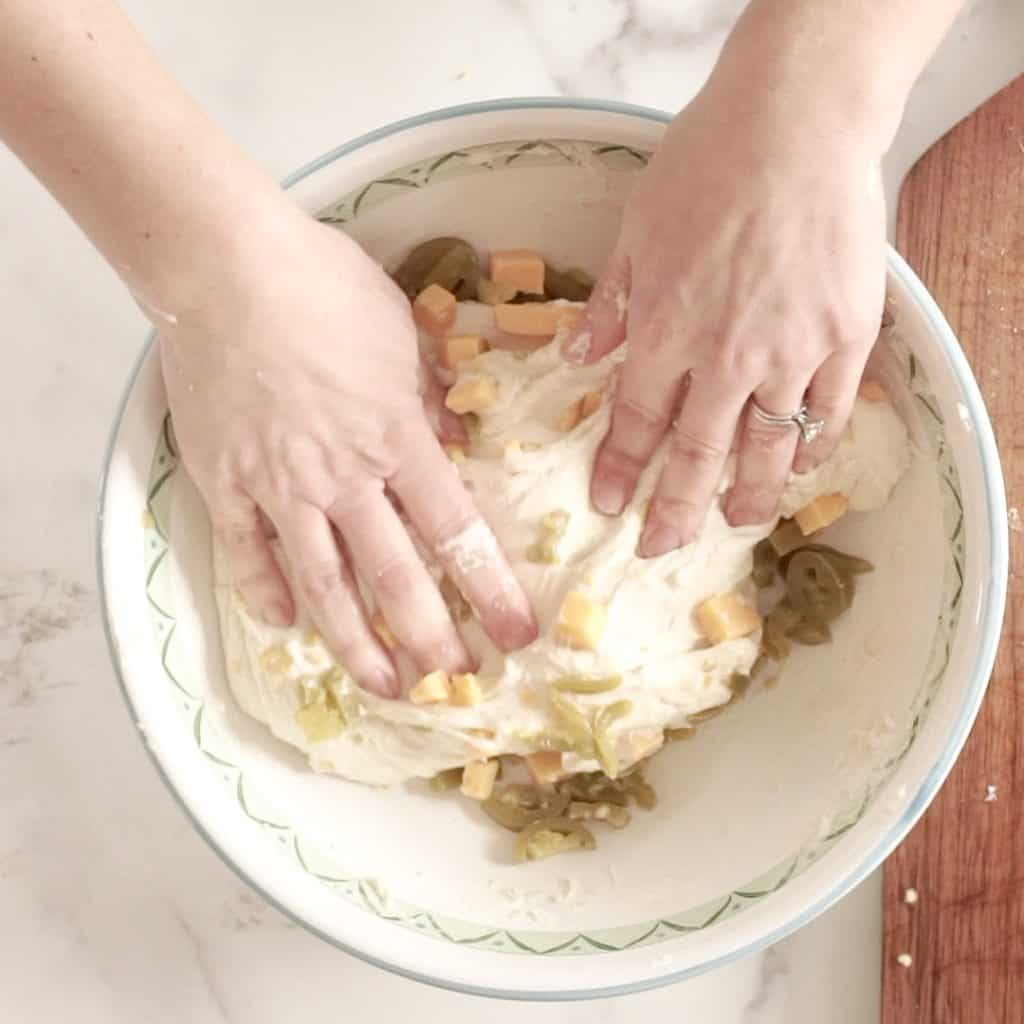 Now that the mix ins are worked in well, it's time to let the dough rise. Put it in a clean, lightly oiled bowl and cover it with greased plastic or a damp tea towel.
The first rise will take about three to four hours at room temperature. But every hour during this rise, you will need to reshape the dough back into a ball. When the next hour passes, the dough will have relaxed again into the shape of the bowl, like this: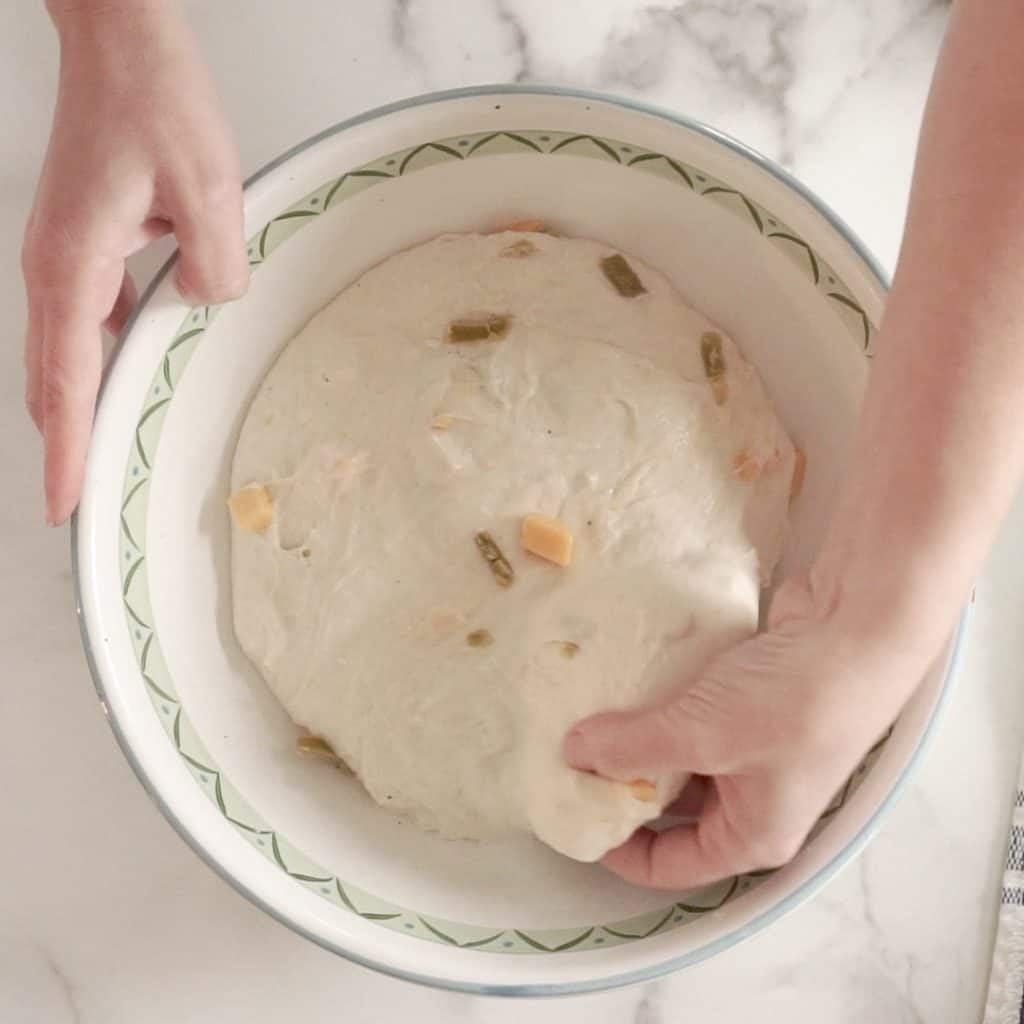 You want to build up structure in the dough and fold it back up like this: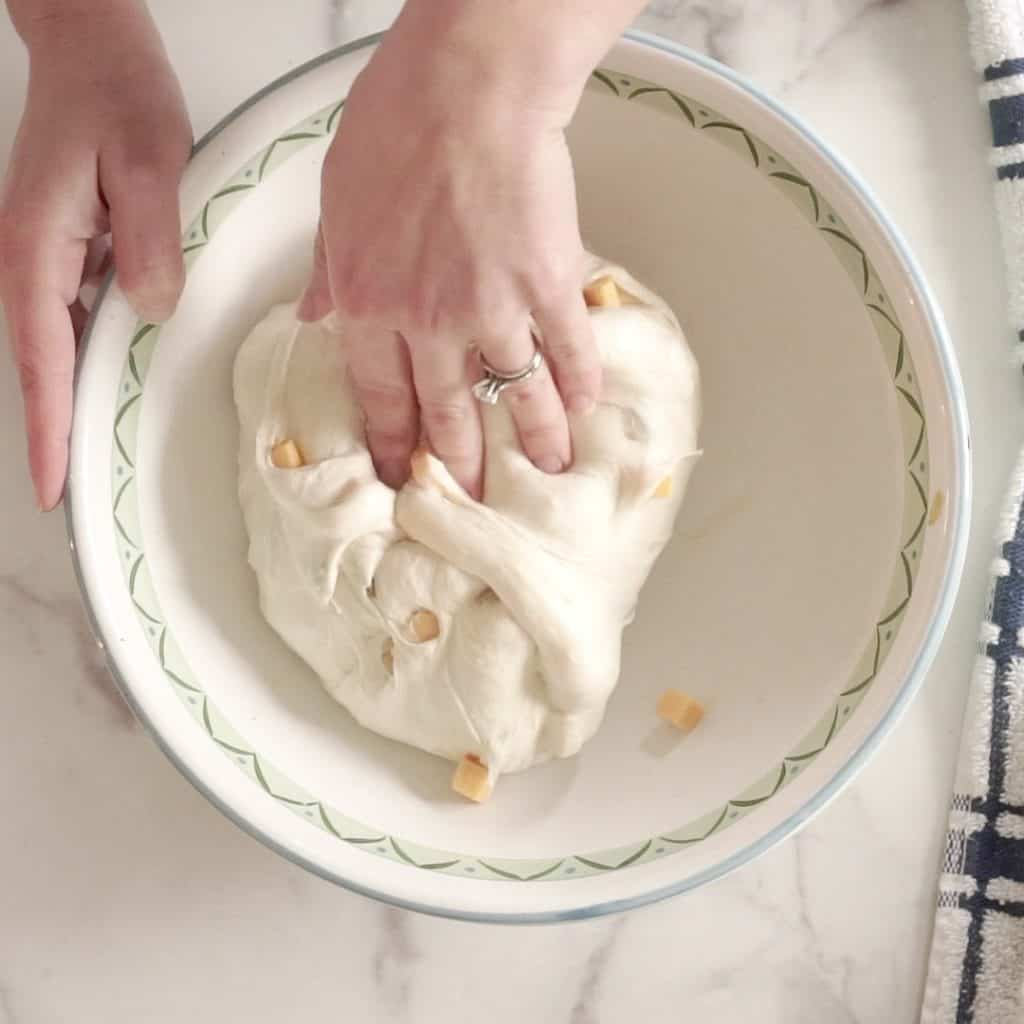 After three folds, you can move on the next stage. It's time for the second proof, which is a cold proof in the fridge, overnight.
Place the ball of dough into a well-floured proofing basket and cover it with plastic wrap. Pop it in the fridge overnight. In the morning, it should look like this: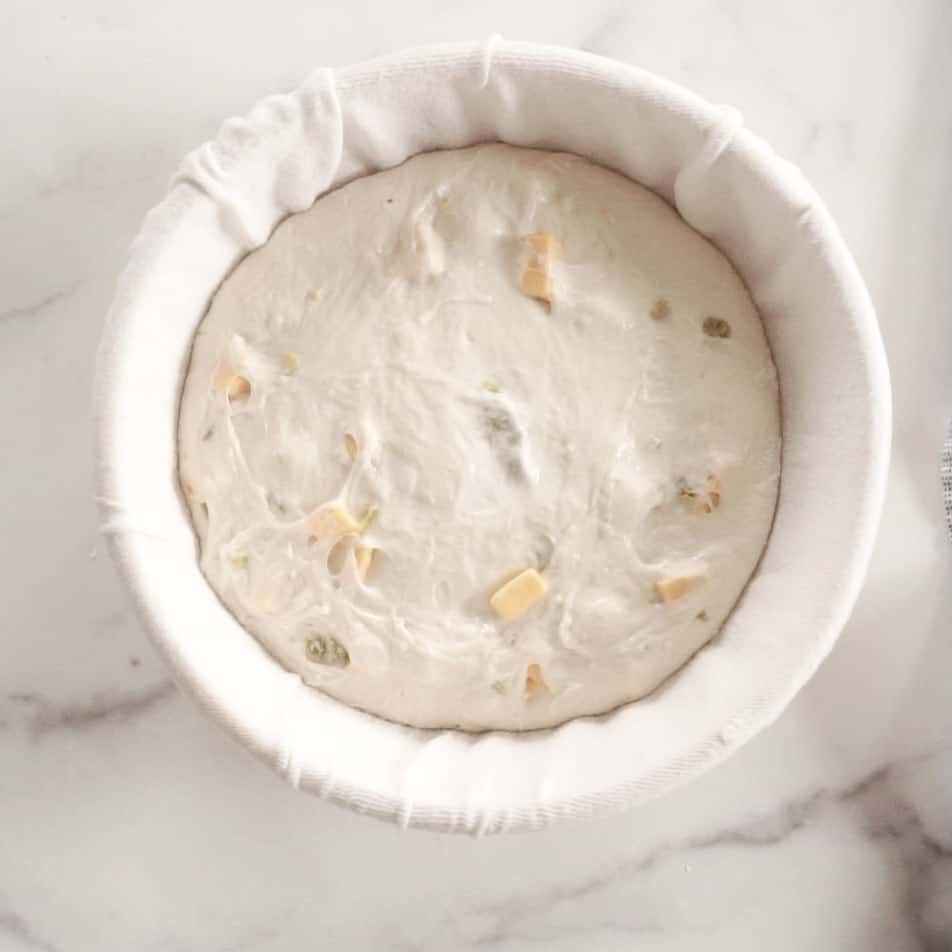 In the morning, take the dough out of the fridge and preheat your oven to 450 degrees with a rack in the middle.
Turn the dough out onto a piece of parchment paper and slash with a lame. One slash down the middle is fine, or you can get fancy!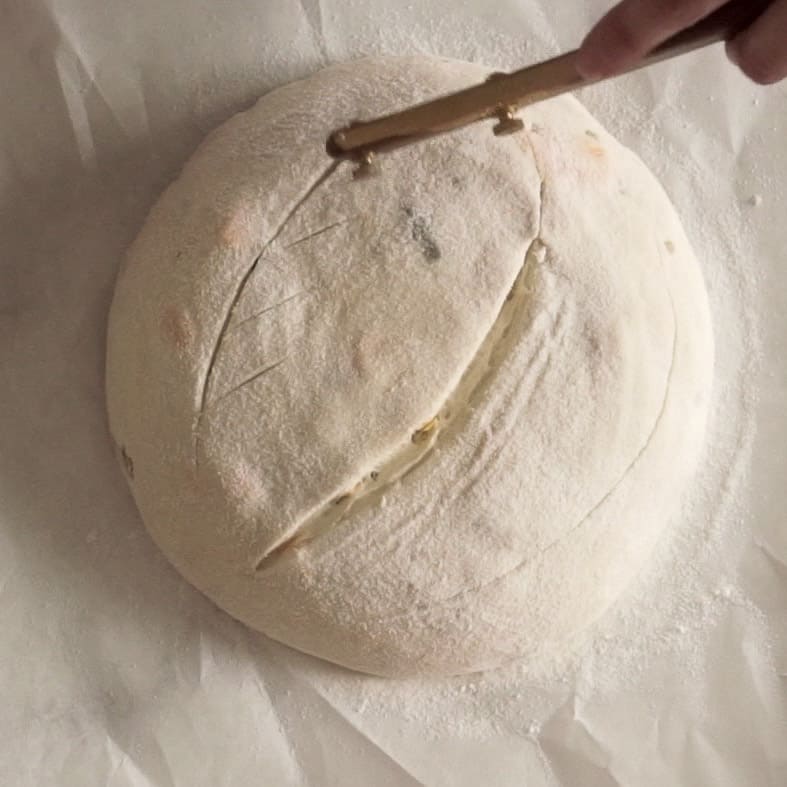 Place the paper and the dough into a Dutch Oven with a lid. Bake for 25 minutes with the lid on, 25 minutes with the lid off. Then (this is optional), remove the loaf from the Dutch Oven and the paper and bake directly on the oven rack for five more minutes. This helps to brown and crisp the crust all over.
Let cool for at least 3 hours, and slice and serve. Now since this is a jalapeño cheddar sourdough with tons of flavor, I like it best with something plain, like making a turkey sandwich or serving alongside a roast chicken. But of course, you can serve it however you like.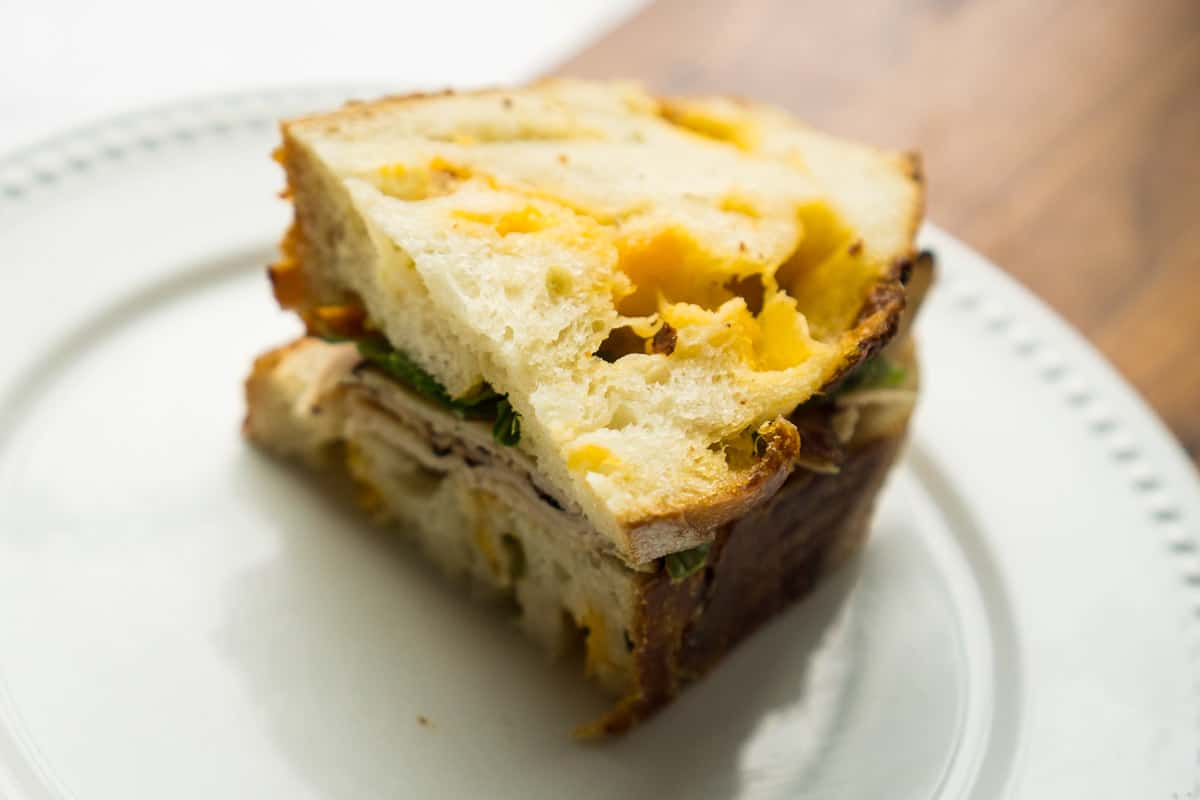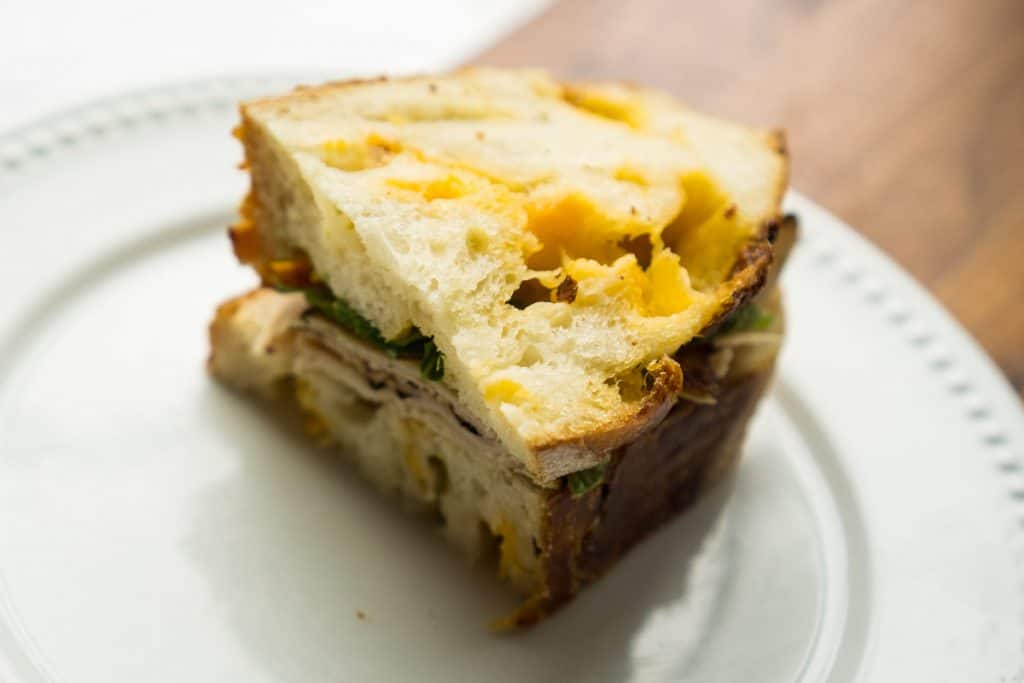 Here's the recipe!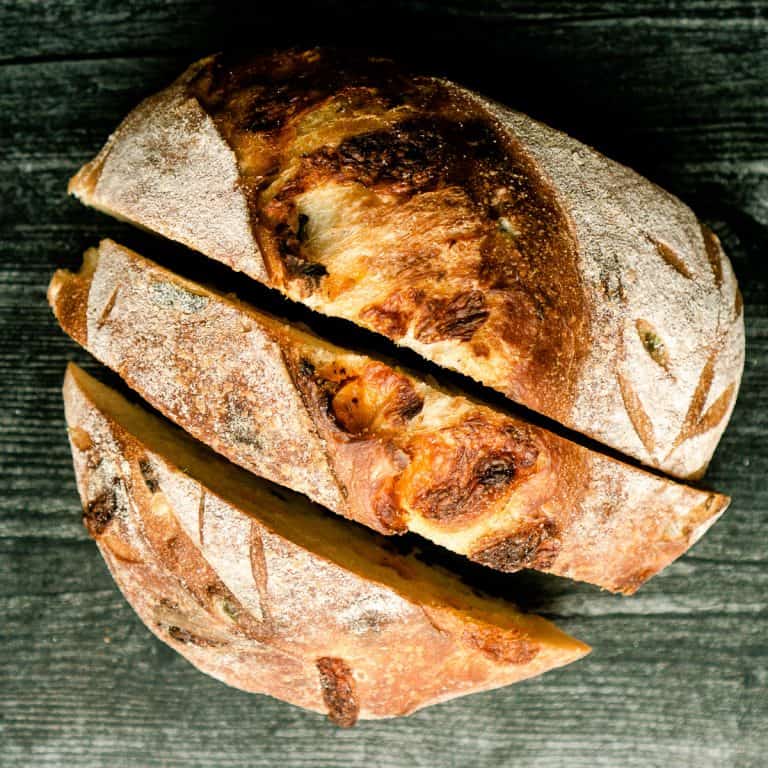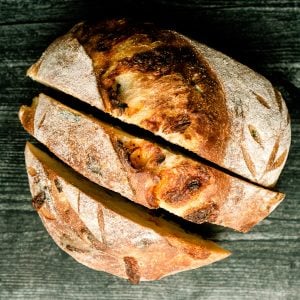 Jalapeno Cheddar Cheese Sourdough Bread
Print Recipe
Sharp cheddar, spicy jalapeños, and a great loaf of sourdough combine for a recipe you'll make over and over. Perfect to serve with chili or make into a sandwich.
Click here for a FREE autumn cookbook (25+ Recipes!)
Ingredients
3

cups

bread flour

450 grams/ 15.85 ounces

1 1/3

cups

lukewarm water

300 grams/ 10.6 ounces

3/4

cup

mature

well fed sourdough starter (165 grams/ 5.85 ounces)

3/4

tablespoon

white sugar

1 1/4

teaspoons

salt

1/3

cup

diced jalapenos

fresh or pickled (about 2 whole)

1

cup

diced sharp cheddar
Instructions
Combine the flour, water, sugar, and starter in a large bowl and stir. Use your hands to incorporate any dry bits. Cover with a clean, damp tea towel and allow to rest at room temperature for 3o minutes.

After the rest period, add the salt, cheddar cheese, and jalapenos and knead for a minute or two until everything is thoroughly mixed in. Cover with damp towel and allow to rise in a warm place for three hours, reshaping the dough into a ball once per hour.

Heavily dust a banneton with rice flour. When it is time to shape the dough the third time, place the loaf into the banneton and cover with plastic wrap. Allow to proof overnight in the fridge.

In morning, preheat oven to 450 with rack in the center. Remove dough from fridge and turn it out onto a sheet or parchment paper, trying to have it land in the center. Slash the top with a lame or very sharp knife. Place the parchment paper and dough into a lidded Dutch Oven and put the lid back on top.

Bake for a total of 55 minutes: 25 minutes covered, 25 minutes uncovered, and then remove from the Dutch Oven and bake directly on the rack for 5 minutes to brown the crust. Bread should be 200-210 internally when it is done.

Remove from Dutch Oven and remove parchment paper. Allow to cool on a wire rack 3 to 4 hours before slicing. Will keep at room temperature, tightly wrapped, for a few days.
Notes
Be sure to use a block of cheddar rather than shredded cheese.
You can use fresh or pickled jalapeños, just make sure the liquid from pickled jalapeños.
To freeze, allow to cool completely, wrap well, and freeze up to 1 month.
Nutrition
Calories:
1852
kcal
|
Carbohydrates:
285
g
|
Protein:
73
g
|
Fat:
44
g
|
Saturated Fat:
25
g
|
Cholesterol:
119
mg
|
Sodium:
3616
mg
|
Potassium:
486
mg
|
Fiber:
9
g
|
Sugar:
13
g
|
Vitamin A:
1132
IU
|
Calcium:
871
mg
|
Iron:
4
mg
Did you make this recipe?
If you loved it, please leave a review!
Want more bread recipes?
Dutch ovens make the best, crusty round loaves. Check out my favorite Dutch Oven bread recipes here.
Jalapeno cheddar sourdough is not an everyday bread but these sourdough rolls are something you will always want on hand in your kitchen.
And if your sourdough starter is taking over your life, don't forget you can use your sourdough discard for all kinds of things
And check out all my recipes here:
Happy baking!