A soft and delicious cookie with all the goodness of cranberries and oats plus the sweetness of white chocolate chips. A perfect easy Christmas cookie!
Soft and chewy cookies loaded with the goodness of old fashioned rolled oats and the sweetness of dried cranberries and white chocolate chips.
Why you'll love these cookies!
If you like chocolate chip cookies but you're looking for something that's more festive, you have found your perfect Christmas cookie. We are taking the warm and cozy oatmeal cookie recipe we all know and love and turning into a chocolate cranberry oatmeal treat. It's the perfect combination of old fashioned and a little bit modern.
Christmas cookies on your mind? Here are the best old fashioned Christmas cookie recipes!
Ingredients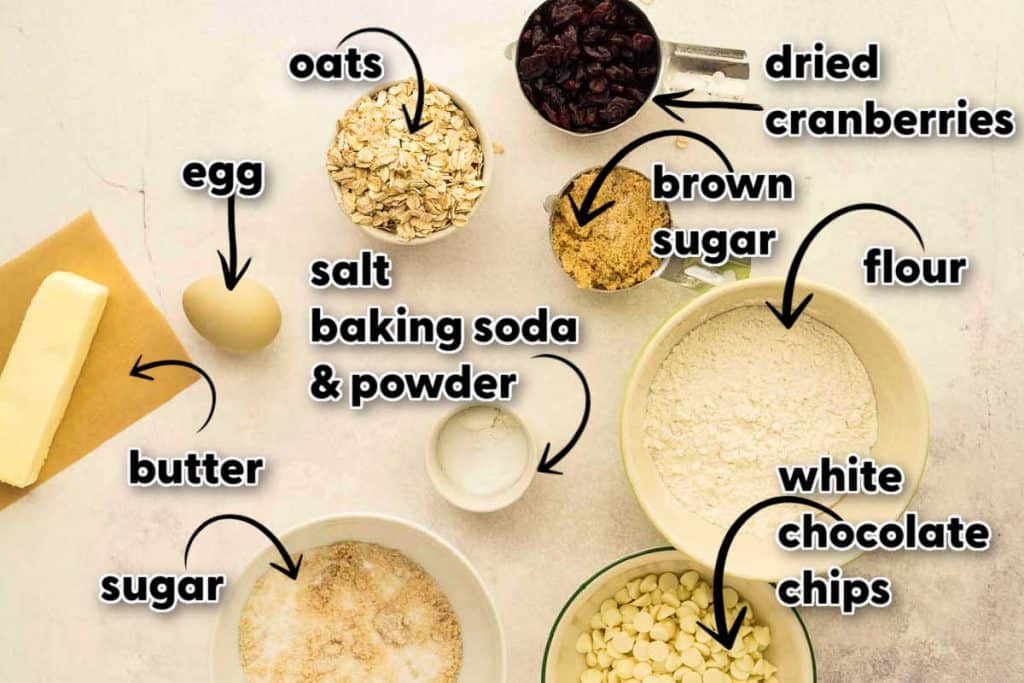 ½ cup butter, at room temperature
½ cup granulated sugar
1/3 cup brown sugar
1 egg
1 ½ cups flour
½ teaspoon baking soda
½ teaspoon baking powder
1 cup old fashioned oats (not quick or instant)
¾ cup white chocolate chips
¾ cup dried cranberries
Step by step
Mixing the cookie dough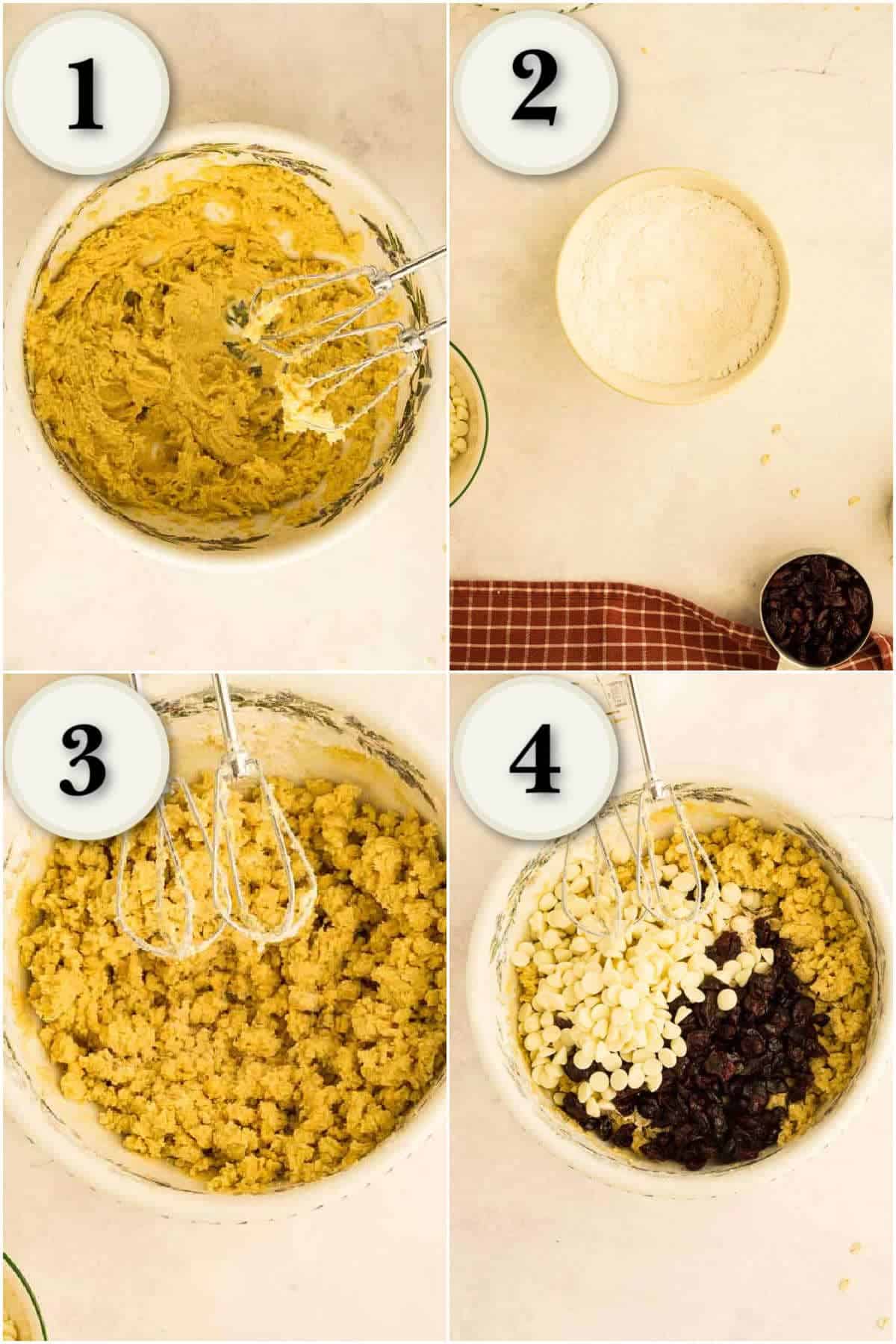 Before you get started, preheat your oven to 350. Get two baking sheets ready either by lining them with parchment paper or spraying with baking spray.
This recipe begins by beating the butter and sugars with the egg until they are light and fluffy. If you have one, it's easier to do this in the bowl of a stand mixer. If not, a hand mixer works perfectly fine and I typically just use that!
In a separate mixing bowl, whisk the dry ingredients: the flour, baking soda, baking powder, and salt. Then, with the mixer on low, add these dry ingredients to the butter mixture, one cup at a time. You don't want to over mix the dough, just mix until it's combined.
Now for the fun part! Add the oats, cranberry, and white chocolate chips and stir in. If you're strong, do it by hand. Otherwise, use the mixer set on low or stir.
Shaping and baking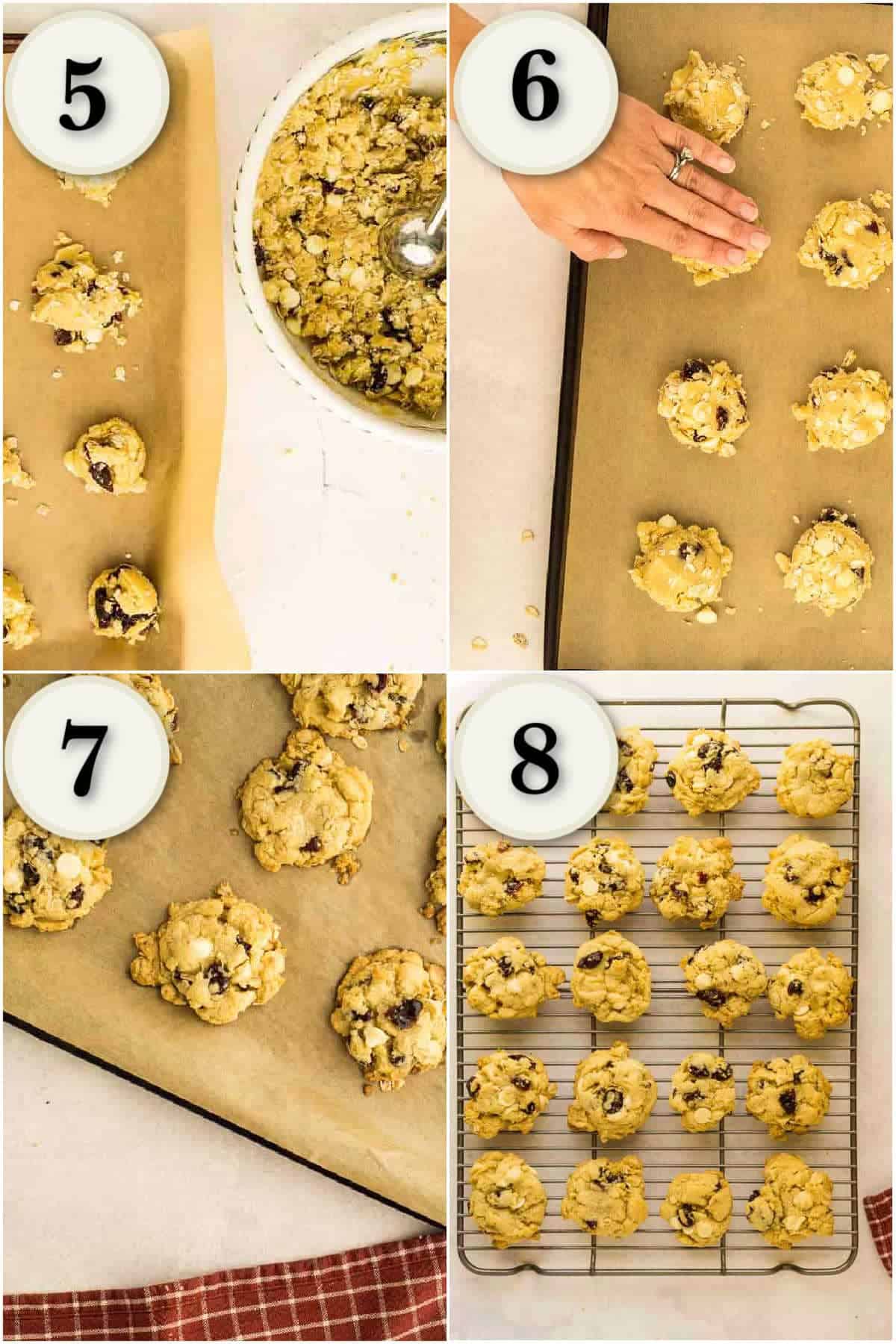 Now we scoop! I do a smaller cookie that's one tablespoon in size. For a bigger, bakery-style cookie, two tablespoons is a lovely size.
For a slightly flatter cookie, I press them down gently so they are discs, rather than balls. But if you like them very thick and rounded, simply leave them how they are.
Also, feel free to press extra cranberries or chocolate chips on top so that they look extra beautiful.
Bake them in the preheated oven for 10-12 minutes, if doing tablespoon size, or 11-13 if doing the larger size. The bottoms should be light brown and the edges slightly golden. This will give you a nice soft cooking. Adjust the baking time if you prefer them slightly crisper.
Transfer to a wire rack and let them cool. Then pile up on a plate and gobble them up!
Variations:
Substitute dark chocolate chips or chunks for all or part of the white chocolate
Add one teaspoon of vanilla extract with the egg
Add one teaspoon of orange zest with the cranberries and white chocolate
Add crushed walnuts or pecans
Go in a whole different direction and make caramel pretzel chocolate chunk cookies.
Storage tips
The easiest way to make cookies ahead of time is to bake as directed, let them completely cool and then freeze them. When you're ready to eat, just defrost them on the counter for a few minutes. (It's a great way to have your own secret cookie stash!)
If you want to be able to make the dough ahead of time and fresh-bake the cookies right before serving, that works too.
The best way to do it is to scoop out the cookies and place them on a baking sheet. They can be touching. Freeze them for an hour or so, then put them all in a freezer bag or vacuum seal them.
When it's time to bake, you'll have individual little balls of dough. Just add a minute or two to the baking time.
The recipe!
If you love this recipe, please give it five stars!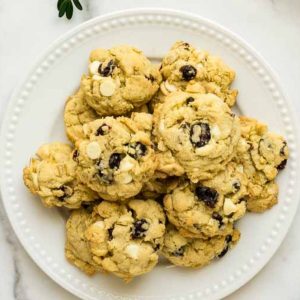 Oatmeal White Chocolate Cranberry Cookies
Print Recipe
A soft and delicious cookie with all the goodness of cranberries and oats plus the sweetness of white chocolate chips. A perfect easy Christmas cookie!
Instructions
Preheat oven to 350 degrees with the rack in the center. Prepare two baking sheets by lining them with parchment paper or spraying with non-stick spray.

Beat the butter, sugars, and egg in a large bowl using an electric mixer, on medium, about 3-5 minutes, until smooth and slightly fluffy.

In a separate bowl, combine the flour, baking soda, baking powder, and salt and mix thoroughly. Add to the butter & sugar mixture one cup at a time, blending on low. Stir just until the dry ingredients are mixed in, being careful not to over mix. Add the oats, white chocolate chips, and dried cranberries on mix on low until just combined. The dough will seem slightly crumbly, but should hold its shape when scooped.

Scoop dough by tablespoon-sized scoops and place on preparing baking sheets about 2 inches apart. Press the cookie dough down slightly to flatten into discs. (If you prefer very thick, rounded cookies, you can skip the flattening step!)

Bake for 10-12 minutes until golden brown on the edges. Cool on wire rack. Cookies will stay fresh, tightly covered, for about 3 days at room temperature.
Notes
To freeze cookies, either freeze after fully baked and cooled, or freeze the balls of dough and bake straight from frozen, adding a minute or two to the baking time.
Dark chocolate chips instead, of addition to, the white chocolate chips, are delicious!
Nutrition
Serving:
1
cookie
|
Calories:
98
kcal
|
Carbohydrates:
19
g
|
Protein:
2
g
|
Fat:
2
g
|
Saturated Fat:
1
g
|
Cholesterol:
7
mg
|
Sodium:
37
mg
|
Potassium:
43
mg
|
Fiber:
1
g
|
Sugar:
12
g
|
Vitamin A:
15
IU
|
Calcium:
24
mg
|
Iron:
1
mg
Enjoy this recipe!