The ultimate comfort food, so easy to make, and will make your kitchen smell like you've stepped into grandma's house.
Everyone loves a warm bowl of hearty, home-cooked soup that's filled with tender beans, smoky ham, and aromatic veggies. Budget-friendly and makes plenty for the whole family plus leftovers.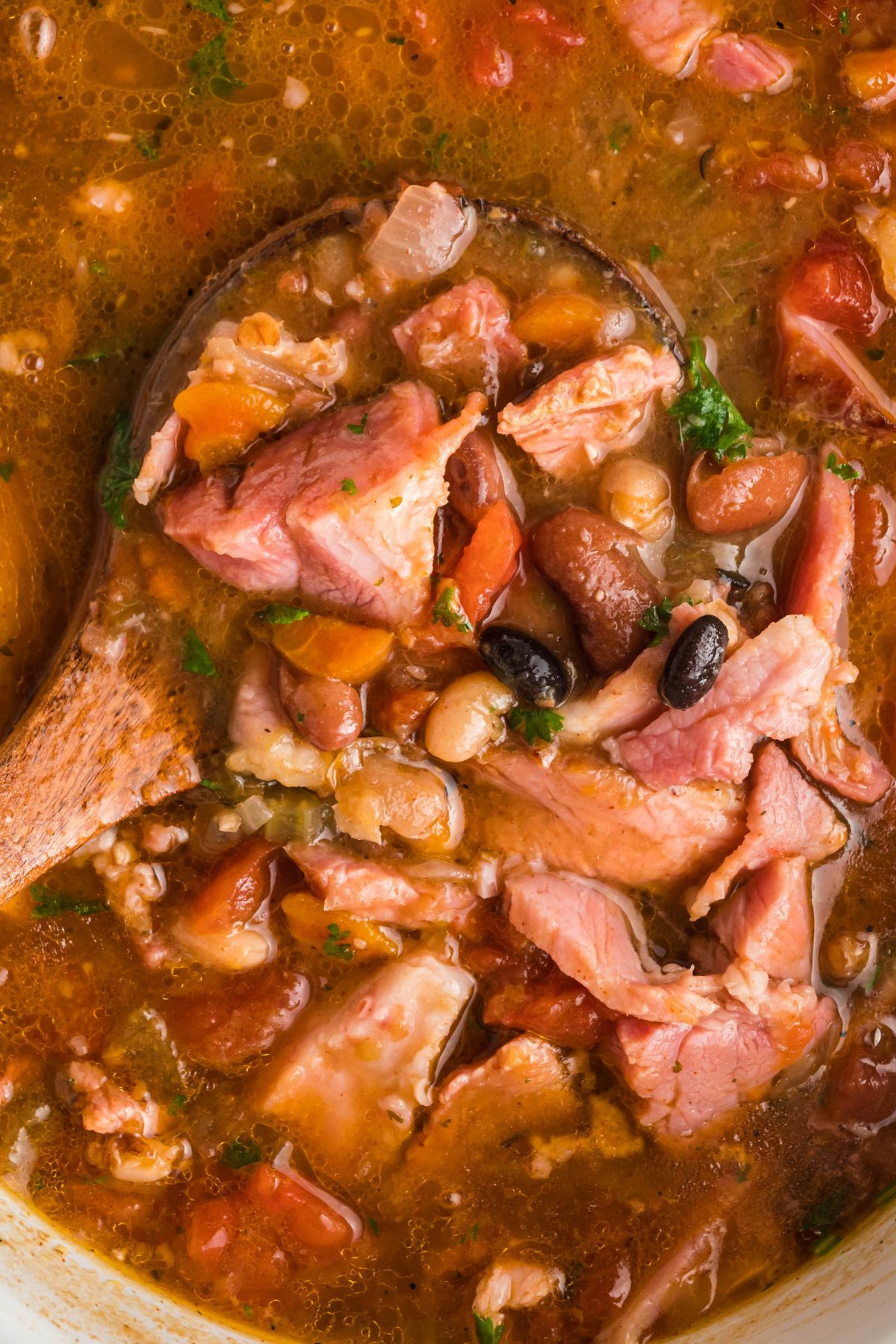 ❤️ Why you'll love this recipe
It's Super Tasty: With savory ham, a medley of beans, veggies, and spices, every bite is just filled with deliciousness.
Effortlessly Easy: This is truly a 'set it and forget it' kind of meal. Just chuck all your ingredients in the slow cooker and let it do all the heavy lifting.
Mega Meal Prep: This recipe is great for meal prep. It makes a hefty batch, meaning you've got lunches or dinners sorted for several days.
Nutritious and Hearty: Who says comfort food can't be healthy? Packed with protein from the ham and beans, and loaded with veggies, this soup will fill you up and keep you going without weighing you down. Plus, you can easily adjust the ingredients to cater to your dietary needs or preferences.
🧂 Ingredients
This is an overview of the ingredients. You'll find the full measurements and instructions in the printable recipe at the bottom of the page.
You'll need the following for this cozy winter meal:
A package of 15 Bean Soup (I used Hurst's HamBeens with that Ham Flavor Packet)
A medium-sized onion
Some celery stalks
A couple of large carrots
A few cloves of garlic
Ham hocks, or a ham bone with meat (diced ham works too!)
Kosher salt
Black pepper
A little bit of chili powder
Chicken stock
A few bay leaves
Fresh thyme sprigs
A can of diced tomatoes
And finally, the juice from a lemon
🥣 Equipment
a 6 quart or larger slow cooker
🍴Instructions
Step One
First things first, give those beans a good rinse under cold water and then let them drain. You'll find a little flavor packet inside the bean package; just pop that aside for now – we'll use it in a bit.
Next up, take out your slow cooker – a 6-quart one should do the trick. Toss in the beans, diced onion, sliced celery, chopped carrots, minced garlic, and those juicy ham hocks. Sprinkle in your salt, pepper, and chili powder, then rip open that flavor packet from the beans and add it in, too.
Step Two
Pour in your chicken stock, and give everything a good stir until it's all mixed up nicely.
Now it's time to get a bit fancy with the herbs. Tuck in the bay leaves and fresh thyme sprigs among all the other ingredients in your slow cooker. Don't worry about them too much, we're gonna fish them out later.
Step three
Now, cover up your slow cooker and let it do its thing. If you're in a bit of a hurry, set it on HIGH for about 5 hours. Got more time? Set it on LOW for 7-8 hours. The goal is to get those beans tender and all the flavors melding together.
Once that's done, you must remove the ham hocks (or ham bone), bay leaves, and thyme sprigs. Be careful, it's hot! Separate the meat from the bone – the meat should be falling off easily by now. Take that meat and mix it back into the slow cooker. Toss in the diced tomatoes and squeeze in that fresh lemon juice.
Give it one last blast on HIGH for another 30 minutes.
Step Four
Get yourself a big ol' chunk of crusty bread, maybe garnish with some fresh parsley if you're feeling fancy, and dig in.
🥫 Storage instructions
Fridge: Got some leftovers after your feast? Grab an airtight container, ladle in your soup, pop the lid on, and stick it in the fridge. It'll stay good for up to 4 days. When ready for round two, warm it on the stove over medium heat or nuke it in the microwave until it's piping hot.
Freezer: This soup is a total champ in the freezer. To freeze, let your soup cool down first. Then, ladle it into freezer-safe containers or heavy-duty freezer bags (pro tip: laying bags flat in the freezer saves space!). Your soup will keep its flavor for a good 3-4 months. J
Thaw and Reheat: When ready to enjoy your frozen soup, let it thaw in the fridge overnight. Then, you can heat it on the stove over medium heat, stirring occasionally, or in the microwave, stirring every few minutes. Make sure it gets nice and hot before you dig in!
🔍 FAQs
Can I use a different type of bean in this soup?
Yes. 😊 If you can't find the 15-bean mix, feel free to mix and match your favorite beans. Great northern beans, pinto beans, black beans, kidney beans, navy beans, cannellini beans, you name it. Just remember, if you're using canned beans, give them a good rinse and drain before adding them.
I'm not a fan of ham. Can I substitute it with something else?
Smoked turkey legs could work great.
I like my soup spicy. Any ideas?
You can add some diced jalapeños, cayenne pepper, or even a splash of your favorite hot sauce. Adjust to your liking and get ready to feel the burn (in a good way)!
Can I cook this soup on the stove instead?
Sure thing! If you don't have a slow cooker or prefer the stove, you can make this soup in a large pot. The process is pretty much the same, but you'll need to simmer the soup on low heat for about 2-3 hours, or until the beans are tender. Remember to stir occasionally to prevent sticking.
👩🏻‍🍳 Expert tips
Soak Your Beans: If you're using dried beans, you might want to soak them overnight before cooking. This can help them cook more evenly and reduce the cooking time. Just remember to rinse and drain them before adding to the pot.
Layer It Up: When adding your ingredients to the slow cooker, it's a good idea to add the beans first, then the veggies, then the ham and spices, and finally pour the stock over everything. This helps ensure everything cooks evenly.
Check Your Beans: Cooking times can vary based on your slow cooker and the beans you use. Check for tenderness after 4 hours on high or 6 hours on low. You're aiming for beans that are tender but not mushy.
Use Fresh Herbs: Fresh thyme makes a difference in this recipe. If you don't have any on hand, dried thyme works too – use about a third of the amount.
Adjust to Taste: Everyone's taste buds are a bit different. Feel free to adjust the salt, pepper, and chili powder to your liking. Remember, it's easier to add more seasoning later than to try to fix a soup that's too salty or spicy!
Add Acid at the End: Adding the lemon juice at the end helps brighten the flavors of the soup. If you don't have a lemon, a splash of vinegar would work, too.
📘 more slow cooker Recipes
Slow Cooker Ranch Chicken and Potatoes
Crockpot Cheesy Chicken Broccoli Rice
Slow Cooker Barbecue Beans
🍽 Serve it with
Crusty Bread: A loaf of fresh, crusty bread is just what you need to sop up all that delicious broth. You can't go wrong here, whether it's a baguette or your favorite artisan sourdough bread.
Grilled Cheese Sandwich: Take that bread up a notch and whip up a grilled cheese sandwich. The crunch of the toast and the melted cheese make for a perfect partner to the hearty soup.
Side Salad: If you want something lighter, a simple green salad with a tangy vinaigrette is refreshing. It'll balance out the richness of the soup.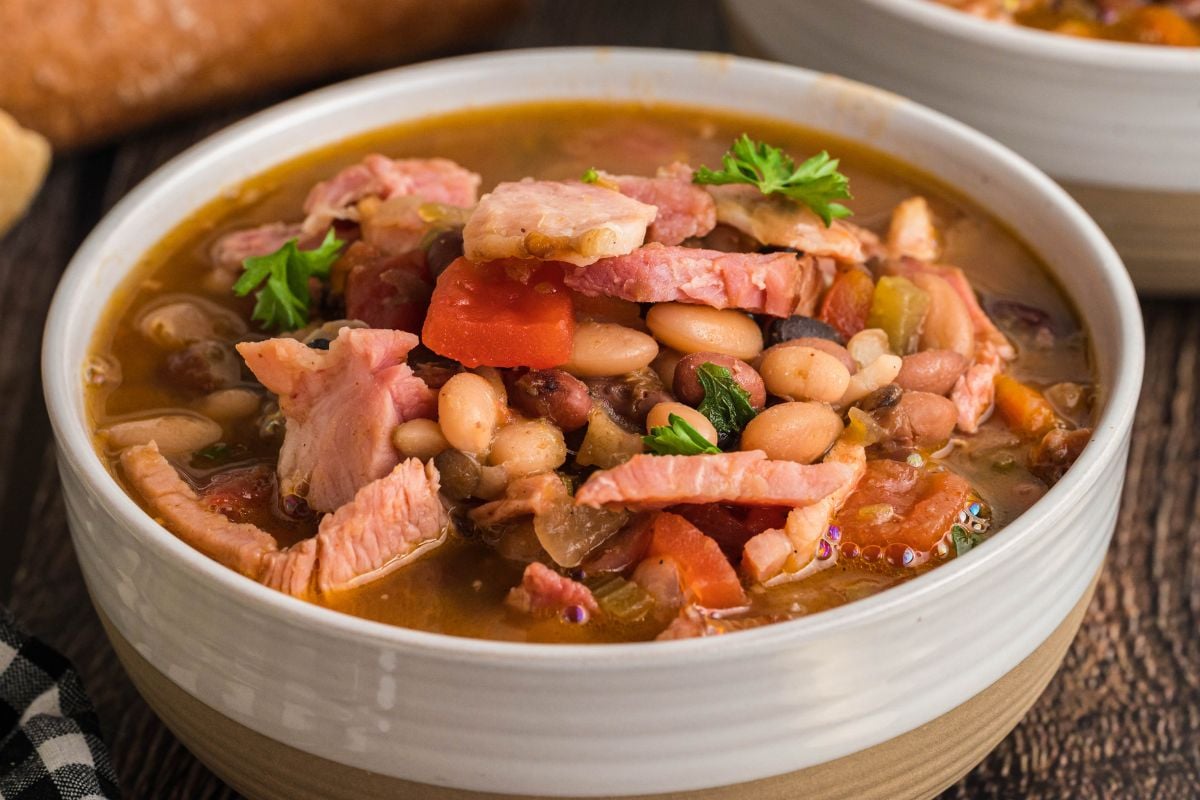 📖 Here's the recipe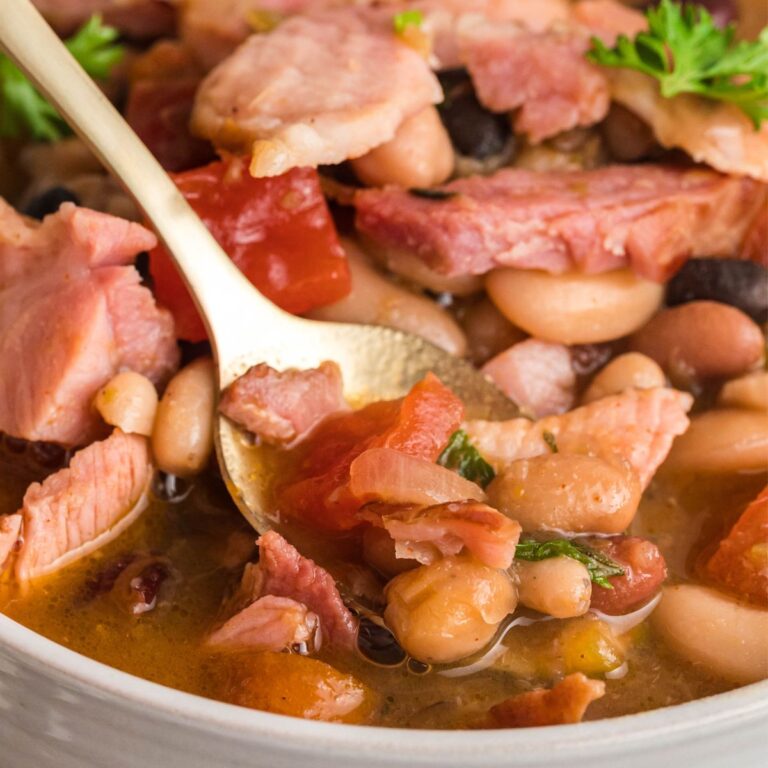 Crockpot Ham and Bean Soup
Print Recipe
The ultimate comfort food, so easy to make, and will make your kitchen smell like you've stepped into grandma's house.
Click here for a FREE autumn cookbook (25+ Recipes!)
Equipment
1 6 Quart or larger slow cooker
Ingredients
1

Package 15 Bean Soup

I used Hurst's HamBeens with Ham Flavor Packet

1

Medium Sized Onion

Diced

3

Celery Stalks

Sliced

2

Large carrots

Peeled and Chopped

3

Garlic Cloves

Minced

2.5

Pounds

Ham Hocks

or Ham Bone with Meat, Diced Ham

1

Teaspoon

Kosher Salt

1

Teaspoon

Black Pepper

1

Tablespoon

Chili Powder

8

Cups

Chicken Stock

3

Bay Leaves

5

Sprigs Fresh Thyme

1

14oz Can Diced Tomatoes

Juice From 1 Lemon
Instructions
Rinse and drain the beans. Set the seasoning packet aside.

In a 6 quart or larger slow cooker, add the beans, onions, celery, carrots, onions, ham hocks, salt, pepper, chili powder, seasoning packet and chicken stock. Mix to combine.

Add in the bay leaves and fresh thyme.

Cover and cook on HIGH for 5 hours or LOW for 7-8 hours, until the beans are tender.

Remove the ham hocks, bay leaves and thyme sprigs. Separate the meat from the ham bones, mix the meat back into the slow cooker along with the diced tomatoes and lemon juice.

Cook on HIGH for another 30 minutes.

Serve hot with crusty bread, garnish with fresh parsley if desired. Enjoy!
Notes
If you cannot find a 15 bean mix, you can use great northern beans, pinto beans, black beans, kidney beans, navy beans, cannellini beans. Dry beans are recommended for this recipe, but canned beans can be used as well. Rinse and drain if using canned beans.
Ham bones or ham hocks add a lot of flavor to this soup, but may not yield a lot of meat. If using either, you may want to have some diced ham on hand to add to the recipe for a heartier meal.
Did you make this recipe?
If you loved it, please leave a review!