A recipe for a sourdough boule made by hand with no expensive gear
This recipe will show you how to make a classic sourdough loaf on a budget. When you are just starting out or can't afford all the recommended sourdough gear, you can still make a lovely loaf of sourdough bread. All you need is a healthy, well fed starter, bread flour, water, salt, (and a pinch of sugar!) and a little work.
Isn't it funny how the quest for "simple living" can lead to the acquisition of more and more things? You want to learn how to bake bread, so you need all these supplies. You want to garden, so rush out to buy new things for that. If you stick with these hobbies, the supplies are worth it and pay for themselves. But if you don't, it has all been a waste of time and money. So it's often better to start small and get things as you feel you need them.
If you have just gotten your starter going and aren't sure what to make next, this recipe is perfect. If you aren't overly confident about the strength of your starter, you can always add a pinch of commercial yeast to the recipe. But if you have a bubbly starter that looks ALIVE, you should be fine.
You won't need a scale, parchment paper, a Dutch oven, a lame, a banneton, or anything else you can't pronounce. You CAN make a lovely loaf of sourdough bread on a small budget.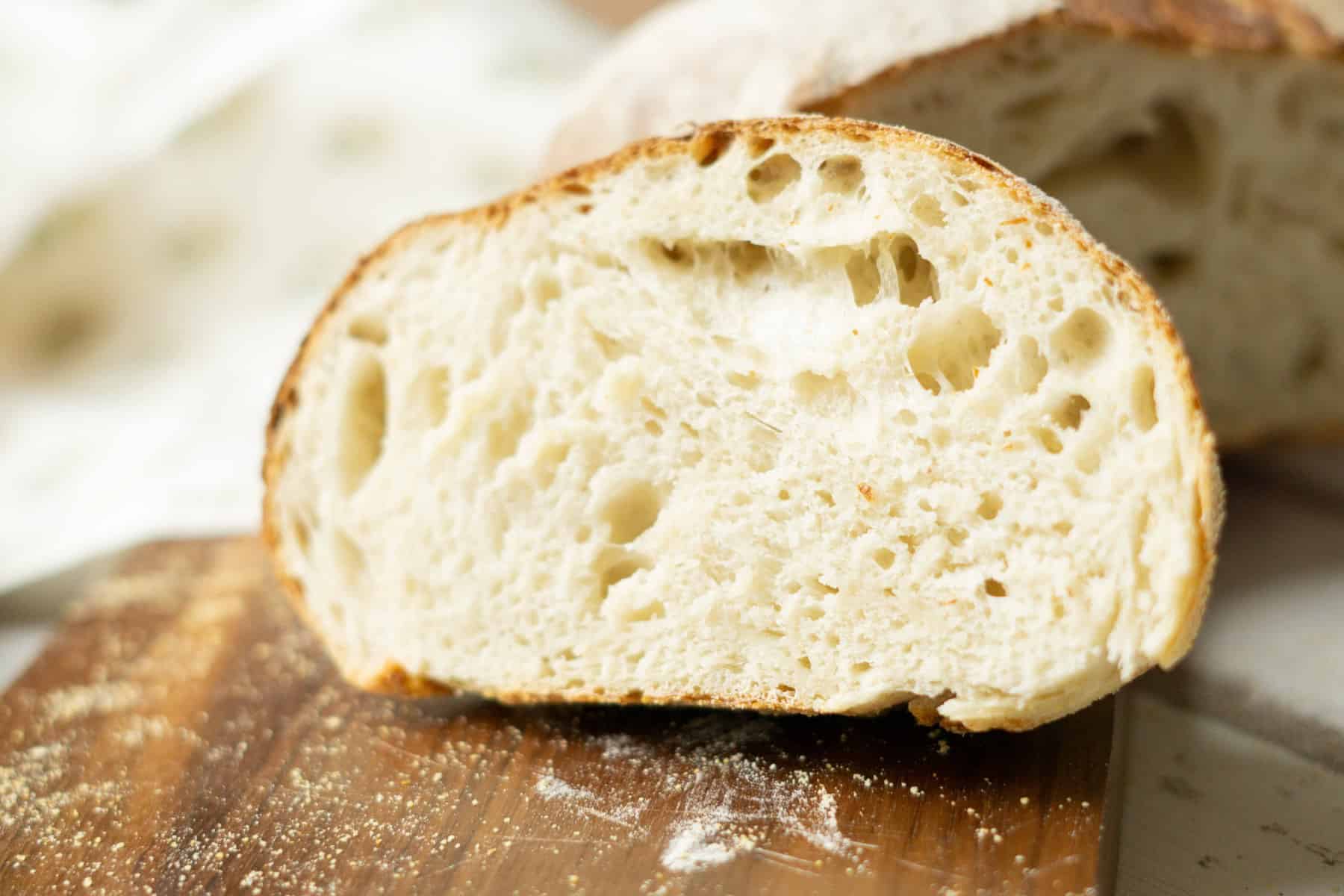 Other Good Beginner Sourdough Recipes:
Sourdough waffle and pancake batter
The recipe and video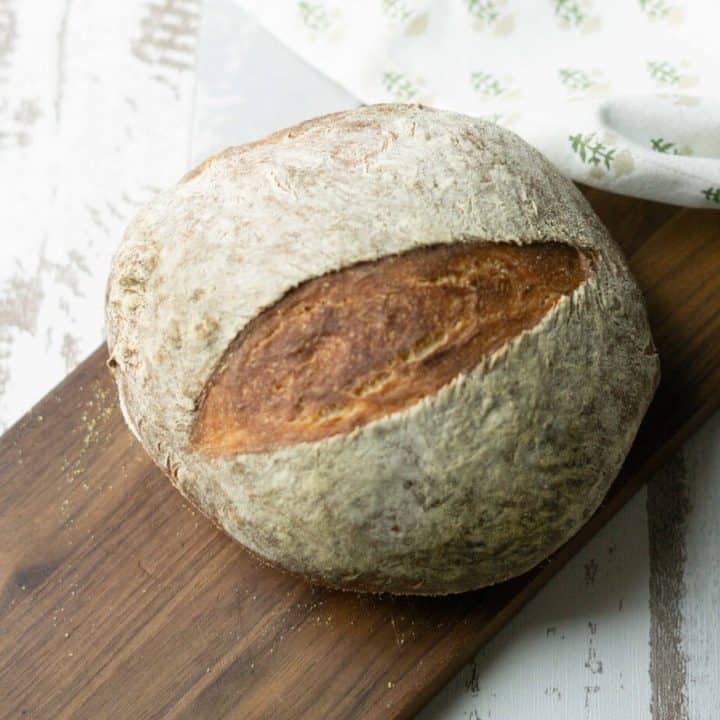 Sourdough Bread on a Budget
Print Recipe
A recipe for a sourdough boule made by hand with no expensive gear
Click here for a FREE autumn cookbook (25+ Recipes!)
Ingredients
1 1/4

cups

sourdough starter

2 1/2

cups

bread flour

3/4

cup- 1 cup water

room temperature

1/2

teaspoon

sugar

1 1/2

teaspoons

salt
Instructions
In a large mixing bowl, combine the starter, flour, and sugar. Slowly add 3/4 cup of water and stir. If the dough does not come together, add more water a bit at a time, up to 1 cup total. The dough should be sticky and shaggy but not wet. Cover with damp towel and allow to rest at room temperature for 30 minutes to an hour.

Add the salt and knead by hand to incorporate. One minute of kneading should do. Stretch the dough out to make sure the salt is incorporated then reshape into a ball and place in a greased bowl. Cover with damp towel and let rise at warm room temperature for 2 hours. An oven warmed slightly and then turned off works well.

Prepare your baking sheet either with parchment or non stick spray topped with a generous amount of cornmeal.

Gently shape the dough into a ball by pulling up from the bottom and pulling towards the center. Flip it onto the prepared baking sheet.

Cover with heavily greased plastic wrap and allow to rise at cool room temperature for 1 hour.

After 1 hour, preheat your oven to 450 degrees with an empty baking sheet on a lower rack. This will be needed to create steam in the oven. Remove the plastic wrap from your rising loaf and rub flour into the top without smashing it. Slash deeply using a serrated knife. One slash down the center will be fine. Recover and allow to rise one more hour as oven finishes preheating.

When oven is hot and bread looks puffy, pour 1 cup water into hot baking sheet in oven to create steam. The sheet may buckle, this is okay. Immediately place loaf inside and bake for 30-45 minutes until well browned.

Allow to cool completely before slicing, at least 2 hours.
Nutrition
Calories:
178
kcal
|
Carbohydrates:
36
g
|
Protein:
6
g
|
Fat:
1
g
|
Saturated Fat:
1
g
|
Sodium:
437
mg
|
Potassium:
39
mg
|
Fiber:
1
g
|
Sugar:
1
g
|
Calcium:
6
mg
|
Iron:
1
mg
Did you make this recipe?
If you loved it, please leave a review!