A soft and fluffy sandwich loaf made with sourdough starter.  Perfect for everyday sandwiches and toasting.
This is a recipe for soft, fluffy white sourdough sandwich bread Perfect for toast or sandwiches.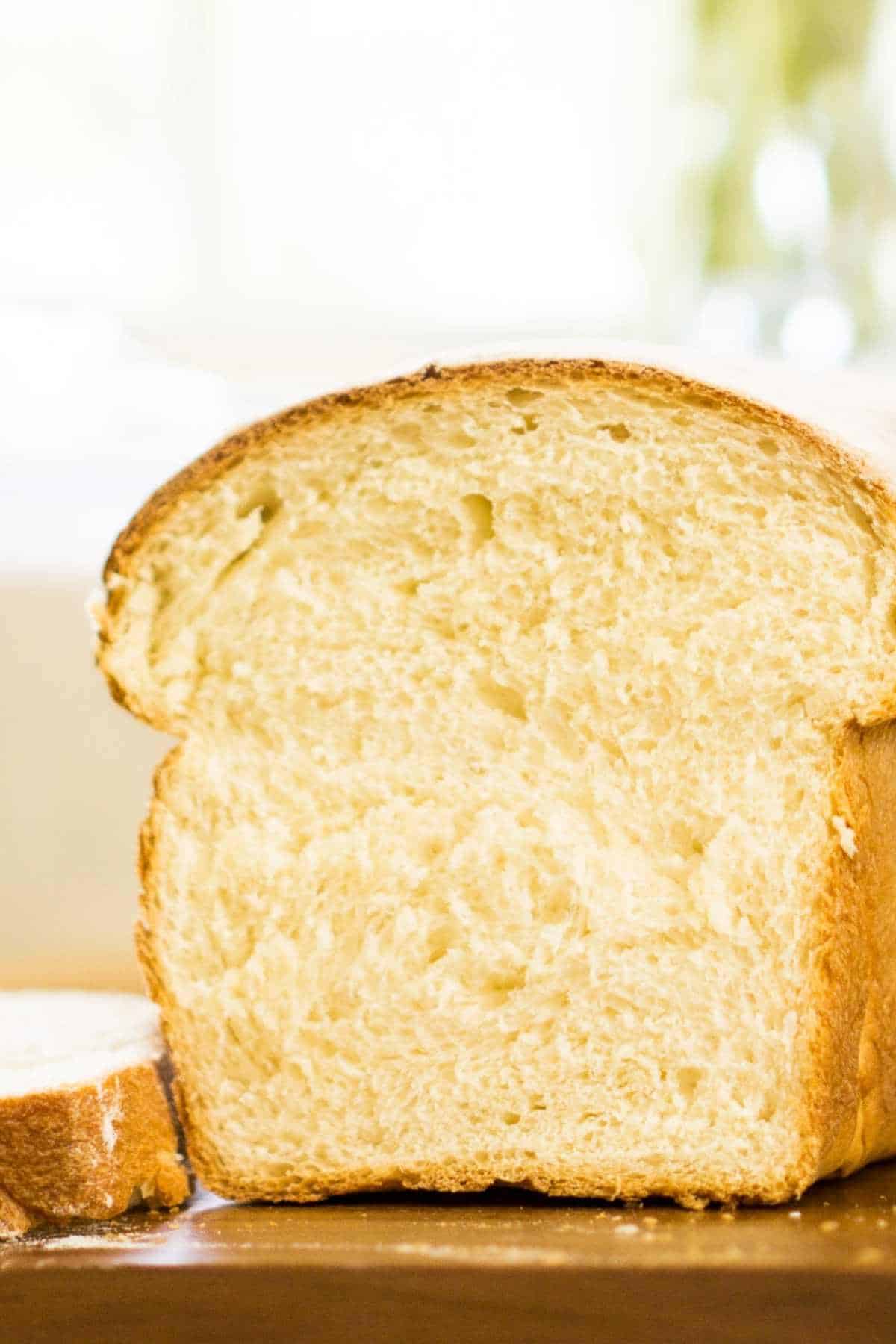 ❤️ Why you'll love this recipe
Real sourdough method. This recipe rises beautifully without any yeast. It takes a while, but the results are worth it: great texture, sour flavor, and a versatile loaf perfect for everything from BLT to your morning toast.
Super-versatile. Look no further for a soft but sturdy white sandwich bread using your sourdough starter. This bread is soft but hearty
Simple to make. This will take a while, but it's not hard.
🧂 Ingredients
This is an overview of the ingredients. You'll find the full measurements and instructions in the printable recipe at the bottom of the page.
You'll need the following
sourdough starter (active and mature)
all-purpose flour
powdered milk
sugar
salt
butter
water
egg
🥣 Equipment
8.5 x 2.5 x 4.5 loaf pan
stand mixer or bread machine (unless you want to knead by hand)
large mixing bowl
plastic wrap
🍴Instructions
Step FouR
Step One: Mix the dough
First, you want to combine all your ingredients in a large bowl, gently stir, and let them rest. When you are working with a sourdough starter it's always helpful to let everything hydrate before you knead. Anywhere between twenty to forty minutes is good, covered with a tea towel. The dough will seem shaggy and slightly sticky, but it will all smooth out during kneading.
If it seems very dry and the flour is not incorporated, add water a tablespoon at a time. If it seems too wet and a ball is not forming, add flour a tablespoon at a time.
Step Two: Rise and shape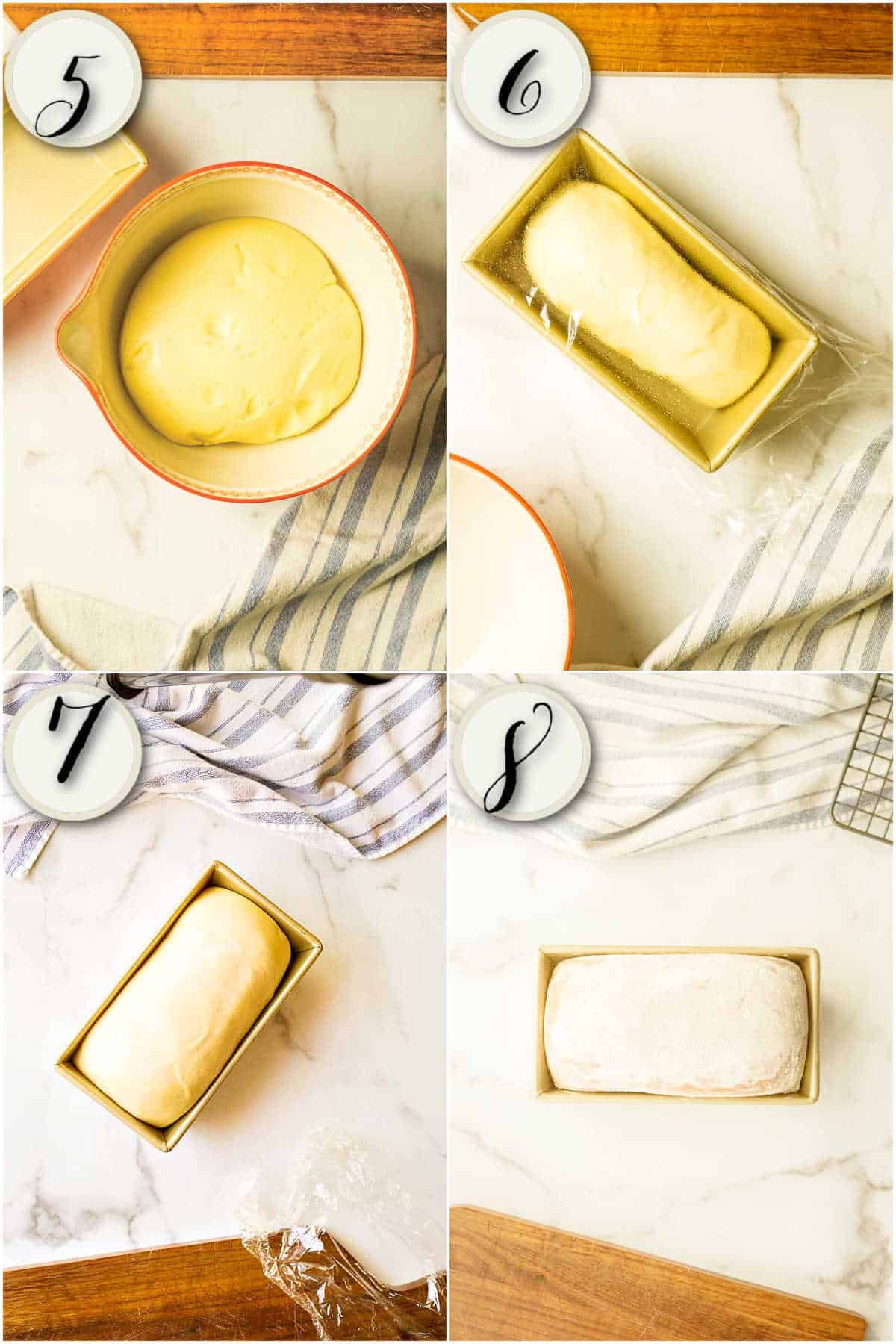 After a three-hour rise in a warm place, the dough will be puffy. This is good! If it's not there yet, leave it longer. Sourdough requires patience, and this dough is enriched so it will be even slower
After the rest, knead the dough. A bread machine or stand mixer works well for this. We are not doing a typical sourdough kneading process, but following a yeast bread process. The full dough cycle on your bread machine will work very well. The dough should be very smooth and bouncy feeling once it is fully kneaded.
Now we shape it into a loaf. The basic objective of this is to not have seams on the outside of the loaf. I don't always get this done perfectly, and that's okay. Just fold and press so that the outside is smooth.
Step three: Bake
Flip it over, gently place in the loaf pan, and cover with generously greased plastic wrap.
When the dough has risen 1 inch or 2 inches over the top of the pan, it's ready to bake. Generously but gently cover the top with flour
And bake until a nice golden brown.
🥫 Storage instructions
Don't the bread before you store it. This will help keep the bread from drying out.
Store the bread in an airtight container. This will help keep the bread from getting stale.
If you are not going to use the bread right away, you can freeze it. Just be sure to wrap it tightly in plastic wrap before freezing. It freezes very well.
🔍 FAQs
Do I really need powdered milk for this recipe?
Yes! It's the magic ingredient for a high-rising, soft loaf. You can find it in the baking aisle of your grocery store very inexpensively.
Can you add yeast to a sourdough recipe?
You sure can, and it works beautifully with this particular loaf. You don't need it, but it will cut the rise times to about 1 hour each and give you a fluffier loaf.
Can I use whole wheat flour?
I always recommend starting with a small amount, maybe 25% of the flour. If you like the results, increase a bit more next time. But expect a somewhat denser loaf.
👩🏻‍🍳 Expert tips
Tips for shaping a sandwich loaf:
Shape the dough into a loaf by lightly stretching it in a 9 x 18-inch rectangle shape. Fold the corners of dough together and roll it back up like a log with seams on one side, then put it seam-side down into an oiled loaf pan.
📘 Related Recipes
🍅 make it along with me
Follow along step by step. The slides will turn every 7 seconds, or you can click ahead.
📖 Here's the recipe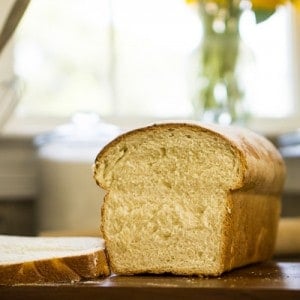 Sourdough White Sandwich Bread
Print Recipe
A soft and fluffy sandwich loaf made with sourdough starter. Perfect for everyday sandwiches and toasting.
Click here for a FREE autumn cookbook (25+ Recipes!)
Ingredients
¾

cup

sourdough starter (active and mature)

3

cups

all purpose flour

¼

cup

powdered milk

2

tablespoons

sugar

1 ½

teaspoons

salt

2

tablespoons

butter

½

cup plus 2 tablespoons

water

may need a bit more depending on how hydrated your starter is

1

egg
Instructions
Combine all ingredients in a large mixing bowl and stir. Texture should be slightly sticky and will look "shaggy". Allow to rest 20 minutes at room temperature.

Knead by bread machine, stand mixer, or hand until dough is very smooth and elastic (at least 10 minutes.)

Allow to rise 4 hours, covered, in a warm place, until very puffy and doubled in bulk.

Shape into sandwich loaf and place in greased loaf pan. Cover with heavily greased plastic wrap and allow to rise in warm place until dough rises 1-2 inches over the top of the pan. (You can place the loaf in the fridge if it's getting late and continue the rising process in the morning.) ½Towards the end of the rising time, preheat oven to 350 degrees.

Dust generously with flour and gently rub in. Bake for 40 minutes or until golden brown. Cool on rack before slicing.
Notes
For a softer, fluffier loaf, add 1 1/2 teaspoons instant yeast and cut the rising times to 1 hour each. It will have less sour flavor.
Nutrition
Calories:
120
kcal
|
Carbohydrates:
23
g
|
Protein:
4
g
|
Fat:
1
g
|
Saturated Fat:
1
g
|
Cholesterol:
12
mg
|
Sodium:
233
mg
|
Potassium:
69
mg
|
Fiber:
1
g
|
Sugar:
2
g
|
Vitamin A:
34
IU
|
Vitamin C:
1
mg
|
Calcium:
25
mg
|
Iron:
1
mg
Did you make this recipe?
If you loved it, please leave a review!
Happy Baking