A soft and fluffy sandwich loaf made with sourdough starter.  Perfect for everyday sandwiches and toasting.
This is a recipe for soft, fluffy white sourdough sandwich bread Perfect for toast or sandwiches.
Look no further for a soft but sturdy white sandwich bread using your sourdough starter. This recipe rises beautifully without any yeast. It takes a while, but the results are worth it: great texture, sour flavor, and a versatile loaf perfect for everything from BLT to your morning toast.
If you're looking for more ways to use your sourdough starter, you'll love this variation with raisins and cinnamon sugar, and our popular sourdough rolls that are perfect for sandwiches.
This post contains affiliate links, meaning that if you make a purchase after clicking on a link I may earn a small commission at no additional cost to you. As an Amazon associate, I earn from qualifying purchases.
Instructions
3/4 cup sourdough starter (active and mature)
3 cups all purpose flour
1/4 cup powdered milk
2 tablespoons sugar
1 1/2 teaspoons salt
2 tablespoons butter
1/2 cup plus 2 tablespoons water may need a bit more depending on how hydrated your starter is
1 egg
Step by Step Sourdough Sandwich Bread
Mixing up the dough
First you want to combine all your ingredients in a large bowl, gently stir, and let them rest. When you are working with sourdough starter its always helpful to let everything hydrate before you knead. Anywhere between twenty to forty minutes is good, covered with a tea towel. The dough will seem shaggy and slightly sticky, but it will all smooth out during kneading.
If it seems very dry and the flour is not incorporating, add water a tablespoon at a time. If it seems too wet and a ball is not forming, add flour a tablespoon at a time.
Rising and shaping the loaf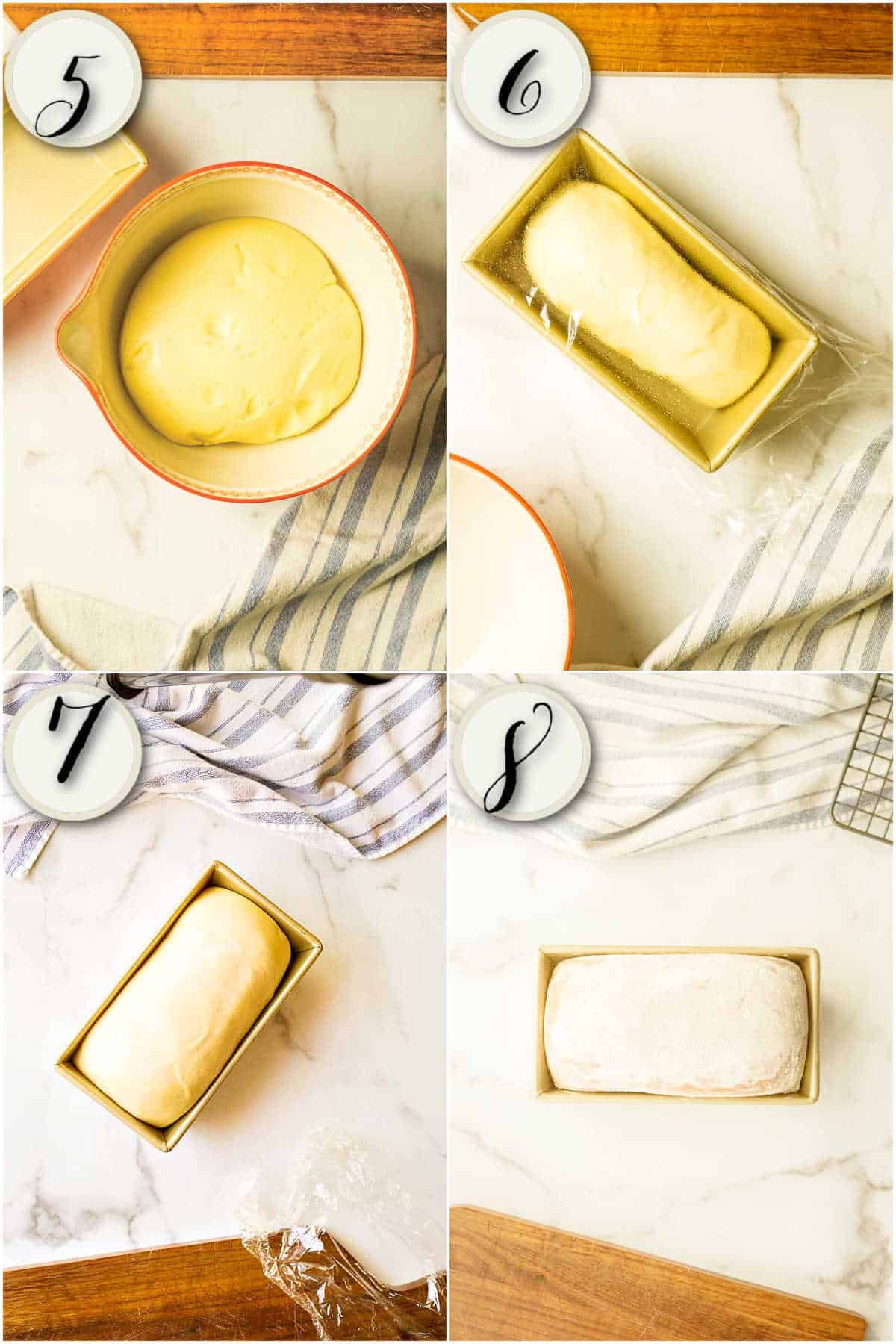 After a three hour rise in a warm place, the dough will be puffy. This is good! If it's not there yet, leave it longer. Sourdough requires patience, and this dough is enriched so it will be even slower
After the rest, knead the dough. A bread machine or stand mixer works well for this. We are not doing a typical sourdough kneading process, but following a yeast bread process. The full dough cycle on your bread machine will work very well. The dough should be very smooth and bouncy feeling once it is fully kneaded.
Now we shape it into a loaf. The basic objective of this is to not have seams on the outside of the loaf. I don't always get this done perfectly, and that's okay. Just fold and press so that the outside is smooth.
Looking for sourdough recipes that WORK, written in a language you understand?
Sign up for my sourdough email series that takes you from making a starter to baking all kinds of sourdough recipes! You can
grab it here
Flip it over, gently place in the loaf pan, and cover with generously greased plastic wrap.
When the dough has risen 1 inch or 2 inches over the top of the pan, it's ready to bake. Generously but gently cover the top with flour
And bake until a nice golden brown.
???? Print it here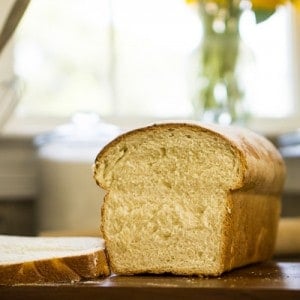 Sourdough White Sandwich Bread
Print Recipe
A soft and fluffy sandwich loaf made with sourdough starter. Perfect for everyday sandwiches and toasting.
Click here to grab a free Christmas cookie and candy ebook + holiday planner printables!
Ingredients
3/4

cup

sourdough starter (active and mature)

3

cups

all purpose flour

1/4

cup

powdered milk

2

tablespoons

sugar

1 1/2

teaspoons

salt

2

tablespoons

butter

1/2

cup plus 2 tablespoons

water

may need a bit more depending on how hydrated your starter is

1

egg
Instructions
Combine all ingredients in a large mixing bowl and stir. Texture should be slightly sticky and will look "shaggy". Allow to rest 20 minutes at room temperature.

Knead by bread machine, stand mixer, or hand until dough is very smooth and elastic (at least 10 minutes.)

Allow to rise 4 hours, covered, in a warm place, until very puffy and doubled in bulk.

Shape into sandwich loaf and place in greased loaf pan. Cover with heavily greased plastic wrap and allow to rise in warm place until dough rises 1-2 inches over the top of the pan. (You can place the loaf in the fridge if it's getting late and continue the rising process in the morning.) ½Towards the end of the rising time, preheat oven to 350 degrees.

Dust generously with flour and gently rub in. Bake for 40 minutes or until golden brown. Cool on rack before slicing.
Notes
For a softer, fluffier loaf, add 1 1/2 teaspoons instant yeast and cut the rising times to 1 hour each. It will have less sour flavor.
Nutrition
Calories:
120
kcal
|
Carbohydrates:
23
g
|
Protein:
4
g
|
Fat:
1
g
|
Saturated Fat:
1
g
|
Cholesterol:
12
mg
|
Sodium:
233
mg
|
Potassium:
69
mg
|
Fiber:
1
g
|
Sugar:
2
g
|
Vitamin A:
34
IU
|
Vitamin C:
1
mg
|
Calcium:
25
mg
|
Iron:
1
mg
Happy Baking