Knead this sweet yeasted coffee cake in your bread machine and then bake it in the oven for a sweet strawberry treat in the morning.
This sweet, soft, and delicious breakfast cake is topped with fresh strawberry jam and a vanilla glaze. Any slow summer morning is improved by a little sweet treat.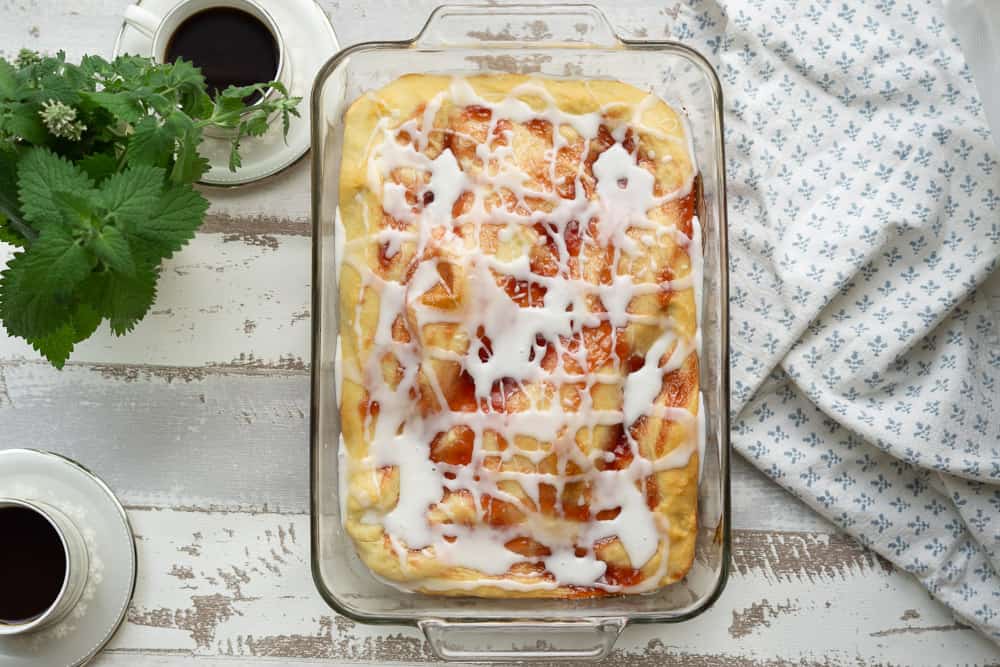 This article contains affiliate links, meaning that if you purchase after clicking on one, I may earn a commission at no extra cost to you. As an Amazon Associate, I earn from qualified purchases.
How to make sweet strawberry bread
Before you write off this recipe for strawberry breakfast bread as too weird (bread machine?! potato flakes?!), let me tell you that is is delicious. It's a sweet yeast bread that mixes up very easily. The dough is topped with a light layer of fruit jam (any kind is fine, but strawberry is my favorite) and a simple vanilla glaze. If you don't have a bread machine, you can knead the dough in a stand mixer or by hand. It can be made ahead the night before and put to rise overnight in the fridge. In the morning, simply put on the jam, bake it, and top with the glaze.
If you have a bread machine this recipe becomes even easier. It does a great job kneading the dough because it is very soft and a little sticky so its a bit messy to knead by hand.
First add all the ingredients to your bread machine or stand mixer:
Select the dough cycle which will knead the bread have it rise in the machine. You will need to keep an eye on it at first and make sure it doesn't stick in the corners of the machine. Use a soft spatula to remove the dough from the corners if necessary. It will be soft and slightly sticky, but it should clear the sides of the bowl. If it doesn't, add a little flour a teaspoon at a time.
The dough will rise in the dough cycle of the bread machine but because of the butter and sugar in the recipe, it won't be all the way to the top. This is fine!
(If you don't have a bread machine, you can knead in your stand mixer or even by hand. It will take about 7 minutes. Once you are done kneading, cover the dough in a clean, lightly oiled bowl and have it rise in a warm spot)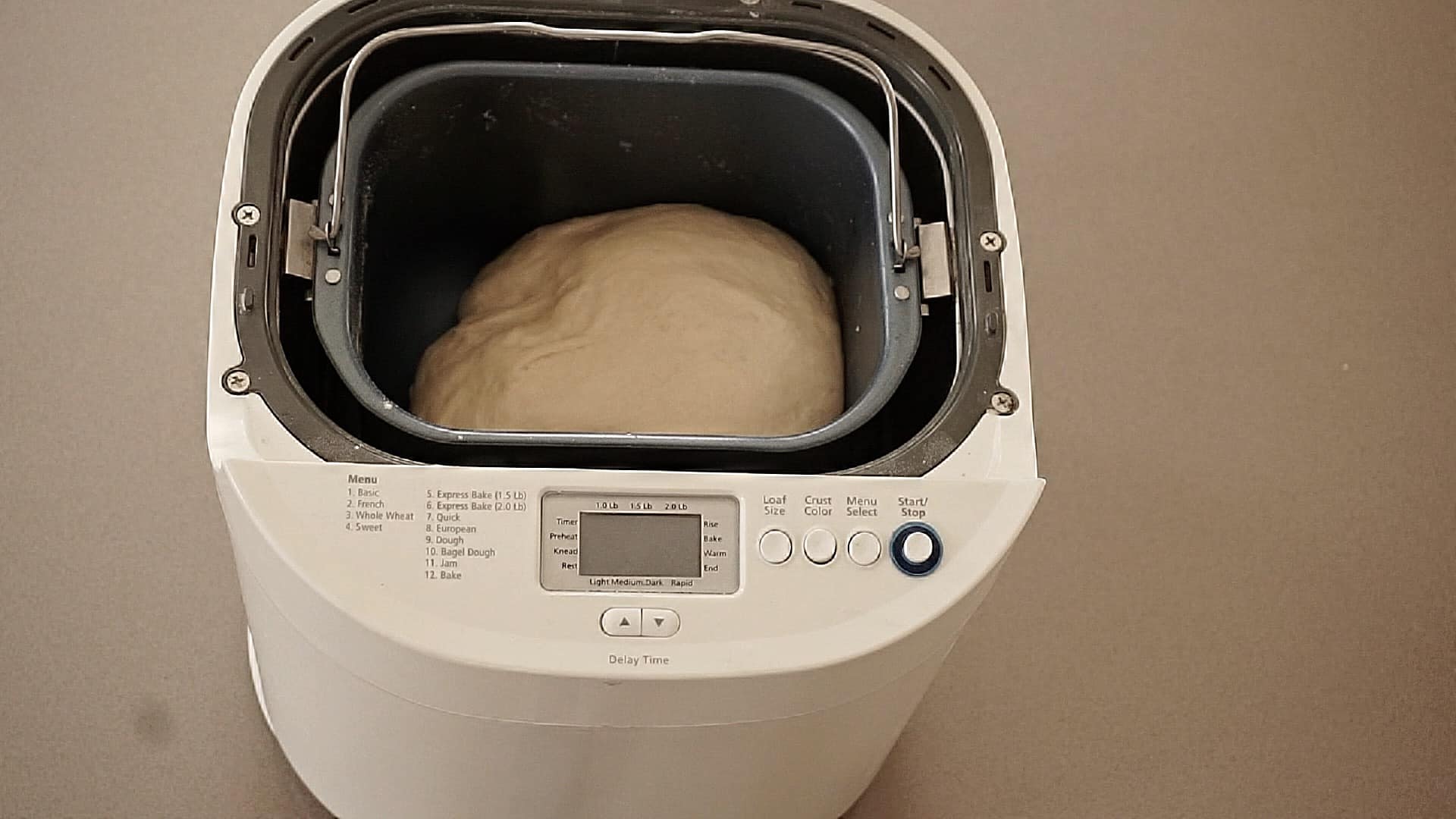 Once it has risen, it's time to shape. Stretch out the dough in a greased 9 x 13 pan. It doesn't need to be flat or perfect looking.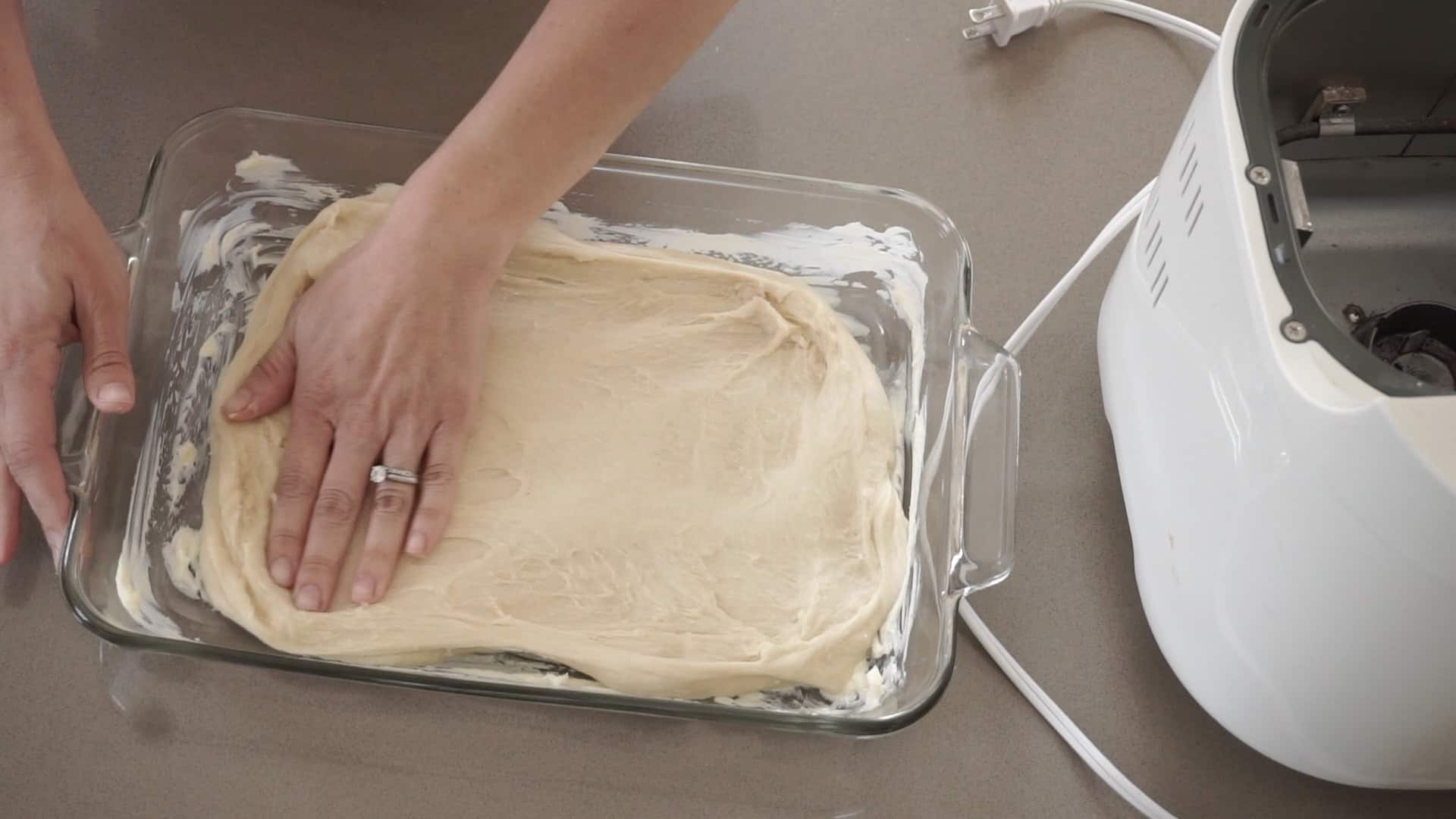 Now the dough needs its second rise. This will take 1 hour in a warm place. But it will also work just fine overnight in the fridge. Either way, cover the pan with plastic wrap or a damp dish towel. There is no real worry about the dough sticking, so I find that a damp towel works fine.
In the morning, the dough will look like this:
As soon as you take it out, you can preheat the oven to 350. There is no need to let the dough come to room temperature before baking. Spread on a thin layer of strawberry jam.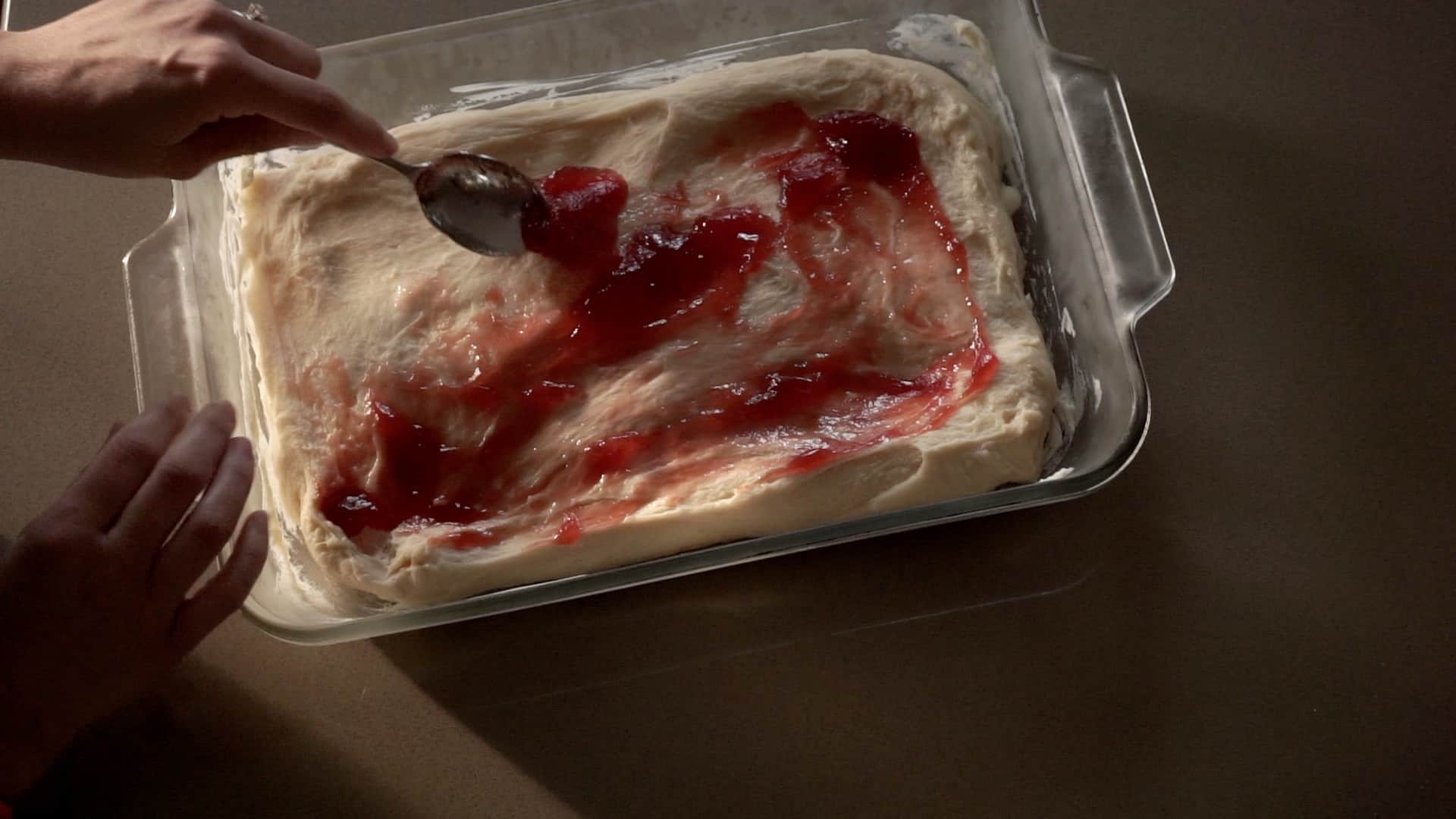 Then bake at 350 for 30 minutes. You want the edges golden brown and no doughiness underneath the jam.
Let the bread cool on the counter, in the pan, for an hour or so. You just want it cool enough so that the icing won't melt too much. The icing is simple 1/2 cup powdered sugar with 2.5 teaspoons of milk and a dash of vanilla extract.
Pour it on top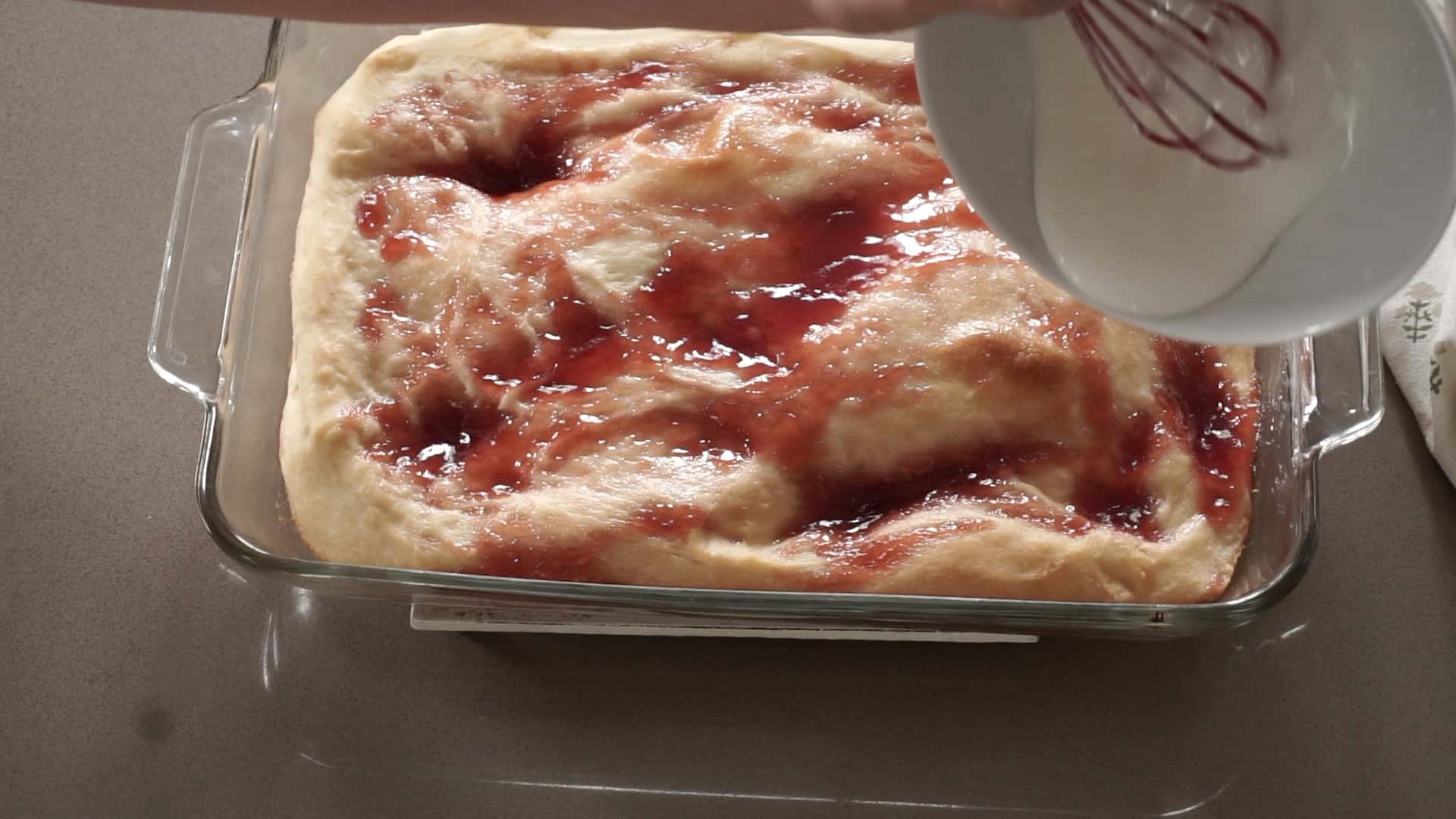 And you are done! You can serve it directly out the pan, either slightly warm or at room temperature.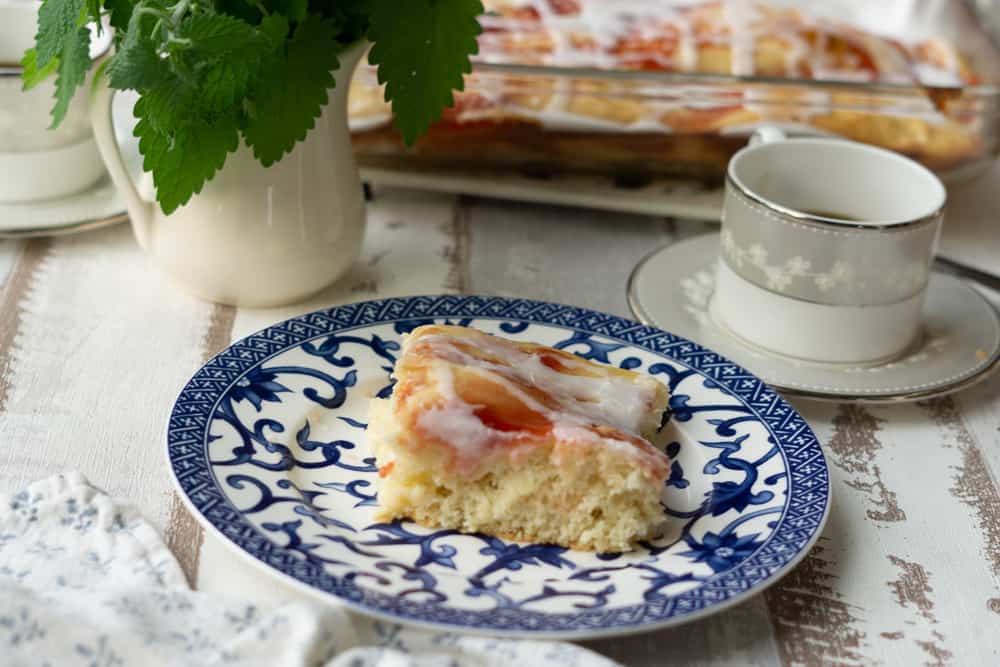 A few things:
My kids love this recipe, so it is great for a morning playdate with a mix of adults and little ones.
Of course any jam will work, but I don't like preserves because of the big bites of fruit. And definitely don't use fresh fruit, it is too wet.
You could definitely do something fancy with the dough, like a braided and filled loaf. But this method keeps it simple and casual.
If you want to make a sweet bread that is more of a roll, try my sweet orange rolls.
My favorite bread making tools:
I only use a bread machine for kneading and rising the dough, never for baking. So this very basic model that I have is perfect.
Instant yeast bought in bulk is better and cheaper than the packets at the store. Keep it in a mason jar in the freezer.
Here's the recipe and video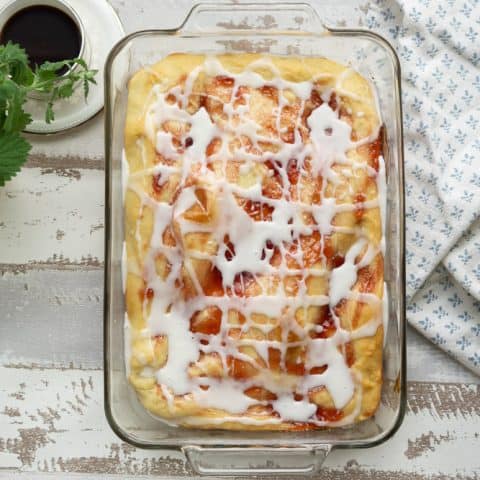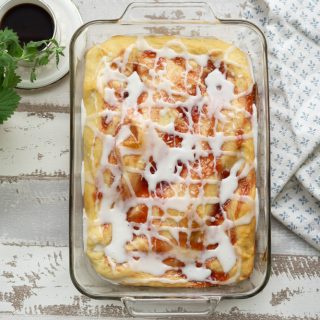 Sweet Strawberry Breakfast Bread
Print Recipe
Knead this sweet yeasted coffee cake in your bread machine and then bake it in the oven for a sweet strawberry treat in the morning.
Click here to grab a free seasonal e-cookbook!
Ingredients
The Dough::
1/3

cup

instant potato flakes

2

cups

all purpose flour

1/3

cup

white sugar

1/3

cup

softened butter

unsalted

1/2

cup

water

3/4

teaspoon

salt

1/2

teaspoon

vanilla

2

teaspoons

instant yeast

Strawberry Jam for Topping
Glaze:
1/2

cup

powdered sugar

2

teaspoons

milk or cream

splash of vanilla extract
Instructions
In a bread machine or stand mixer, combine all ingredients to form a soft, slightly sticky dough.  The dough should clear the sides of the bowl but will seem very soft.  In a bread machine, complete the full dough cycle. (If using stand mixer: knead on low for 5-7 minutes with a one minute rest halfway through.  When dough seems smooth and kneaded, rise in a warm place for 1 hour, in a covered, greased bowl.)

Prepare a 9×13 casserole dish with cooking oil spray or butter.  Stretch dough to fit pan. Cover and allow to rise in a warm place for 1 hour OR in the fridge overnight.

After dough has risen, top with a thin layer of jam. 

Bake at 350 degrees for 25-30 minutes.  The edges should be slightly browned.

Allow bread to cool for an hour or so and mix up the glaze.  It should be easily pourable but not runny. Pour over the sweet bread while it is slightly warm.  

Serve directly out of the pan
Notes
Any jam is fine, but a berry flavor seems to work best
Do not use fresh fruit as it will release juices and make the bread doughy and underbaked.
If you prefer to use salted butter, reduce the salt to 1/2 teaspoon
Nutrition
Calories:
134
kcal
|
Carbohydrates:
22
g
|
Protein:
2
g
|
Fat:
4
g
|
Saturated Fat:
1
g
|
Sodium:
156
mg
|
Potassium:
45
mg
|
Fiber:
1
g
|
Sugar:
9
g
|
Vitamin A:
169
IU
|
Vitamin C:
1
mg
|
Calcium:
4
mg
|
Iron:
1
mg