My mom's famous sugar cookie recipe, with crisp edges, a soft center, and great flavor.  Perfect for any time of year.  
This recipe makes the best tasting sugar cookie in the world! It focuses on taste, not beauty, for a buttery, soft cookie with crisp edges. Perfect for Christmas or any other time.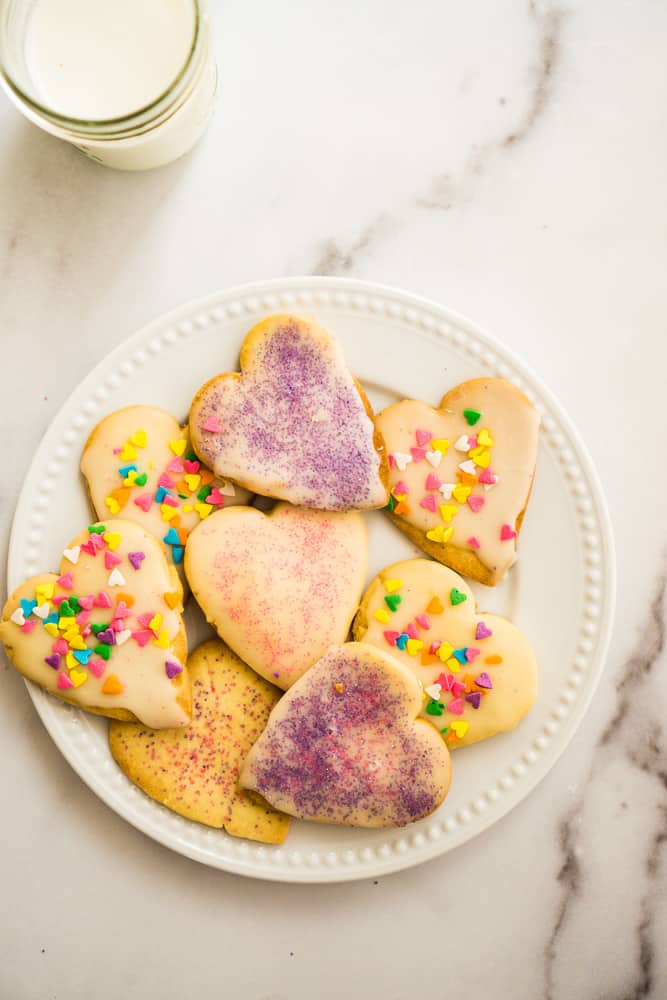 This is my mom's recipe that she has made year after year at Christmas. She always makes them plain with just colored sugar sprinkled on top. They are delicious and simple to make that way,. When I do them I always dip in a glaze or do the whole royal icing extravaganza.
Everyone loves sugar cookies, but sometimes they look better than they taste. It is so common to see a beautifully decorated cookie that actually tastes terrible. This recipe is not like that. They are beautiful in a homemade, charming sense, but they will not win any cookie decorating awards. Where they really shine in is in texture and flavor. Cookies are for eating, not looking at. This recipe will win the taste award any time.
Cut-out cookie ingredients
These cookies use simple ingredients. One thing that is essential for their texture is using powdered sugar. This keeps the texture tender and also makes the process of making them easier.
The classic sugar cookie flavoring is vanilla and that is our favorite, but you can use a variety of flavors. You don't need vanilla extract for sugar cookies if you don't have it or don't like it. Try a teaspoon of almond extract, or a citrus extract like lemon or orange. If you are frosting or glazing the cookies, try adding a drop or two of extract to the icing. For more flavor variations, check out some of these creative ideas.
This recipe called for salted butter. If you are using unsalted, simply increase the salt to 1 teaspoon.
Tips for sugar cookie baking success
This recipe seems very dry at first, but resist the temptation to add water. Keep stirring gently and wait for the dough to come together. If it is still very dry and crumbly, slowly add water a drop at a time.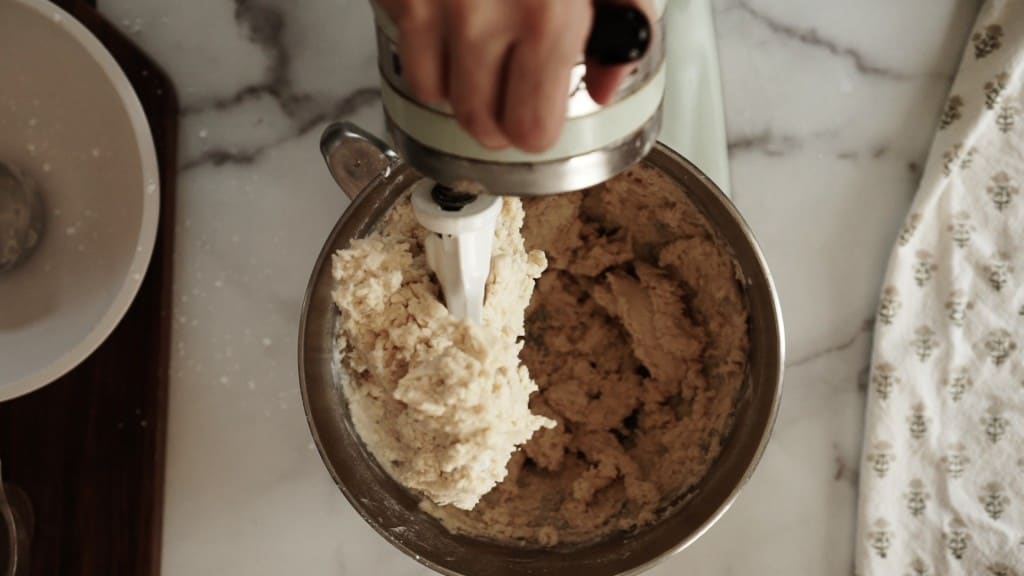 This recipe needs time to chill. Don't rush it. It is easiest to make these the day before you want to bake so they have adequate time to chill.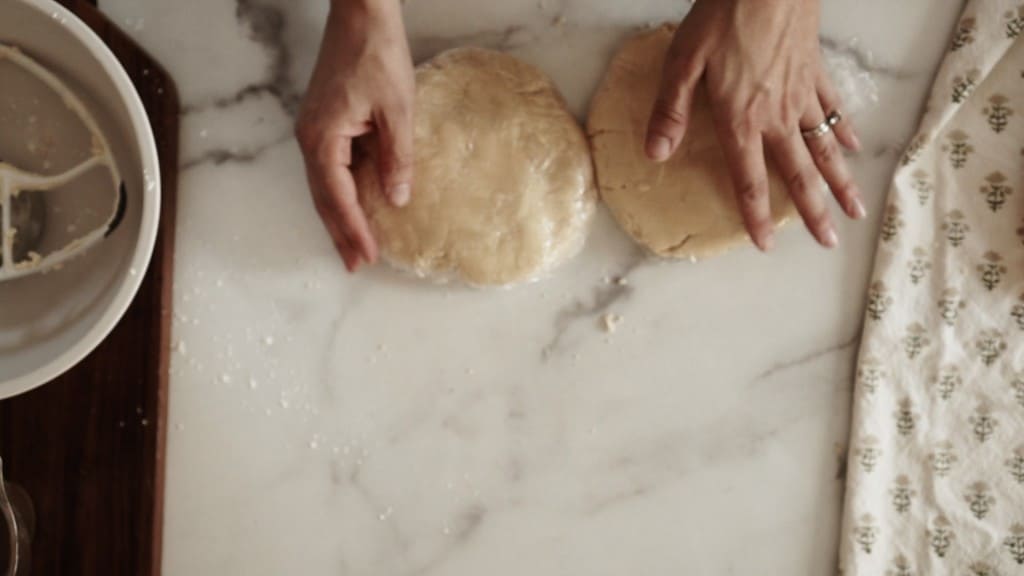 You'll need to let the dough slightly soften before you roll it out. You still want it chilled when you are rolling, but it needs to be soft enough to roll out smoothly.
Any cookie, but especially sugar cookies, need to be baked well for the best result. The edges should be golden brown. No one likes pale doughy cookies.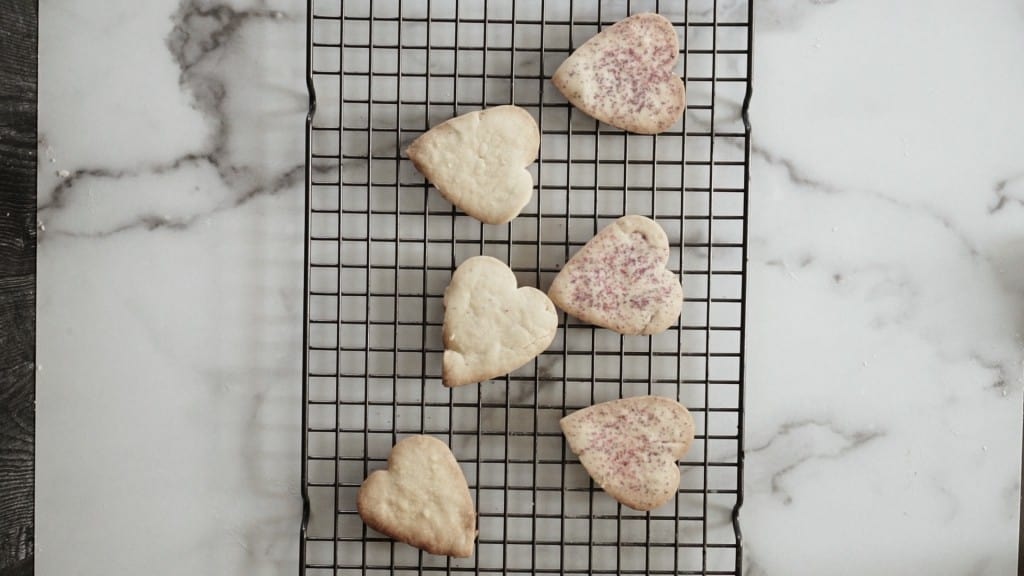 How to make Christmas cookie frosting
If you don't want to frost the cookies, you don't have to. Just sprinkle on colored sugar before you bake.
If you do want to frost them, there are a lot of options. My favorite is a simple glaze that is just mixed by hand: 2 cups powdered sugar, 2 tablespoons of corn syrup, a dash of vanilla, and a teaspoon of milk. It will look thick, but when you dip the cookies in, it settles into a smooth glaze.
If you want to do a royal icing (which is beautiful, but not delicious), try this great royal icing recipe. It does require meringue powder, but it dries smooth and looks perfect.
My favorite way to frost these cookies is with buttercream. You can't stack them because it doesn't dry hard, but it tastes great and is fun to do. This is my favorite simple buttercream for cookies.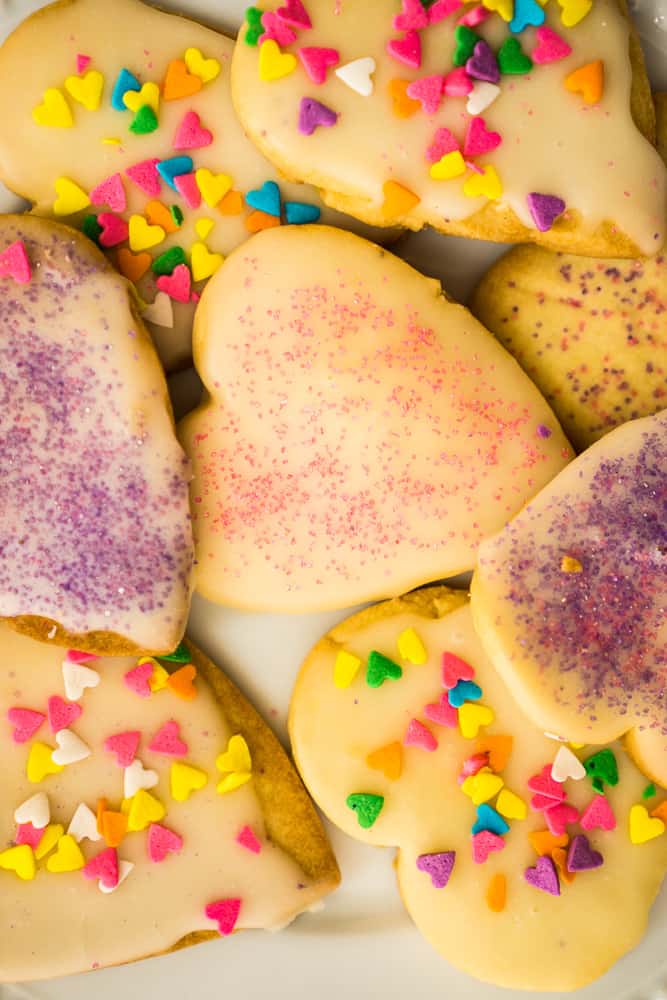 Print the recipe here!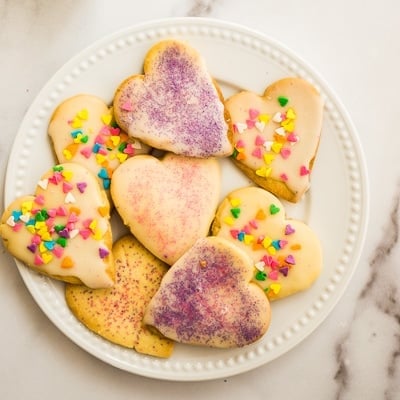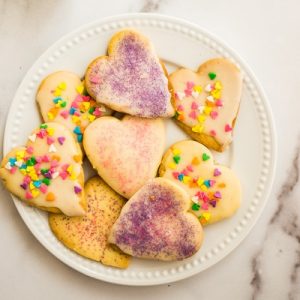 The Best Cut Out Sugar Cookie Recipe
Print Recipe
My mom's famous sugar cookie recipe, with crisp edges, a soft center, and great flavor. Perfect for any time of year.
Click here to grab a free seasonal e-cookbook!
Ingredients
1 1/4

cups

powdered sugar

18

tablespoons

salted butter

1 cup + 2 T. at room temperature

1

egg yolk

1/2

teaspoon

salt

1 1/2

teaspoons

vanilla

2 3/4

cups

all purpose flour
Instructions
Combine the butter and sugar in a stand mixer on medium speed until smooth. Add the egg, vanilla, and and salt and blend again, scraping the sides down as necessary.

Turn off the mixer and add half the flour. Mix on the lowest speed until flour is mixed in, and then add the rest of the flour. The cookie dough will seem very dry and crumbly at first. If the dough does not come together after 1 minute of mixing, add water a few drops at a time.

Turn dough out onto counter and divide in half. Press into rough discs, wrap in plastic wrap, and refrigerate. Allow the dough to chill at least 2 hours, and up to 1 day.

When you are ready to bake, work with one disc at a time. Let it sit on the counter to slightly soften. generously flour counter and rolling pin.

Roll cookies out to a thickness of 1/8 of inch to 1/4 inch. If the dough seems too stiff, let it sit at room temperature for a few more minutes.

Cut out cookies, placing the cookie cutters as close as possible to each other. Reroll the scraps, but only once. Place the cookies on a parchment lined baking sheet, making sure they are not touching.

Bake at 350 degrees for 12-15 minutes. Thicker cookies will take longer to to bake. The edges should be slightly browned. Cool on baking sheet.

Wait until the cookies are completely cool and decorate as desired. (See notes for simple glaze recipe.)
Notes
To make ahead, freeze the dough as a disc as described in step 3. Fully baked, un-iced cookies also freeze well.
You can flavor these with flavors other than vanilla. Try lemon, almond, or orange extract.
You can add sparkling sugar before baking as a simple decoration.
If you want to decorate with a simple glaze, mix 2 cups powdered sugar, 2 tablespoons corn syrup, and a small dash of milk. Dip the cookies in and add sprinkles or colored sugar.
You can of course also decorate these with royal icing or buttercream for a fancier cookie.
Nutrition
Calories:
155
kcal
|
Carbohydrates:
17
g
|
Protein:
2
g
|
Fat:
9
g
|
Saturated Fat:
5
g
|
Cholesterol:
31
mg
|
Sodium:
124
mg
|
Potassium:
18
mg
|
Fiber:
1
g
|
Sugar:
6
g
|
Vitamin A:
273
IU
|
Calcium:
6
mg
|
Iron:
1
mg
Did you make this recipe?
If you loved it, please leave a review!
More cookies perfect for Christmas or every day:
I hope you agree that these are the best tasting cut out sugar cookies in the world. They really lend themselves well to different flavors, so experiment with different extracts and see what you love. Enjoy!