Do you want to make your homemade sweets even better? Then it's time to master this delicious vanilla cream filling. Super easy and quick; you throw everything in a bowl and beat it.
You can use it to fill cupcakes, put it between cake layers, or even use it as a fruit dip.
It will make your homemade treats taste like they came from a fancy bakery.
Want a free fall cookbook? Click here to grab a cookbook with 25+ of my best autumn recipes
Equipment
stand mixer or hand mixer
Ingredients
¼

cup

butter

room temperature

¼

cup

shortening

2

cups

powdered sugar

2-3

tablespoons

milk or cream

1

teaspoon

vanilla

½

teaspoon

salt
Instructions
Beat until smooth. Combine all ingredients and blend on low speed. Then turn up the speed to medium-high speed and beat until very fluffy. This will take a few minutes.

Use or store. Use immediately or cover and refrigerate.
Notes
Cold butter won't mix well and can lead to a lumpy filling. Make sure it's softened before you start.
If you want a pure white filling, use clear vanilla. I used regular in these photos and I think it's fine 😊.
Did you make this?
Let me know how it was! Please see below for serving ideas, storage instructions, and substitutions.
Whip up this fluffy vanilla cream filling and watch your desserts go from good to 'wow'—it's the secret touch your sweet treats have been missing!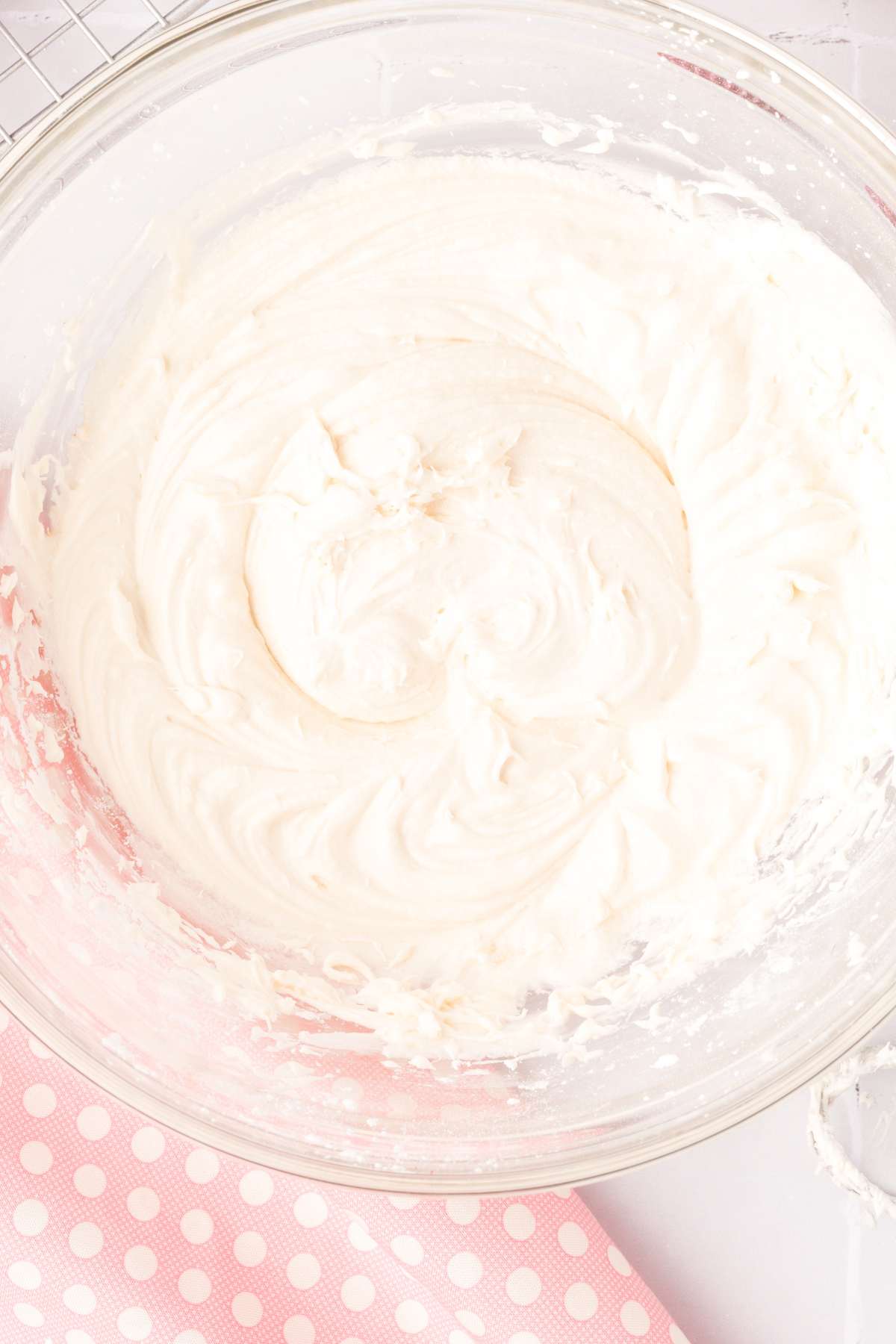 Tools and ingredients you'll need
This recipe is made with everyday ingredients, but each plays a crucial role in creating the perfect texture and taste.
Butter at room temperature ensures a smooth and creamy consistency.
Shortening adds stability to the filling, making it hold up better at room temperature.
(Note: You can use all butter if you prefer. The texture will be less stable at room temperature.)
Powdered sugar sweetens the mix without grittiness
Vanilla is the star flavor here. If you're looking for a different flavor, almond or coconut are both delicious.
A pinch of salt is essential to balance the sweetness and enhance the overall flavor profile.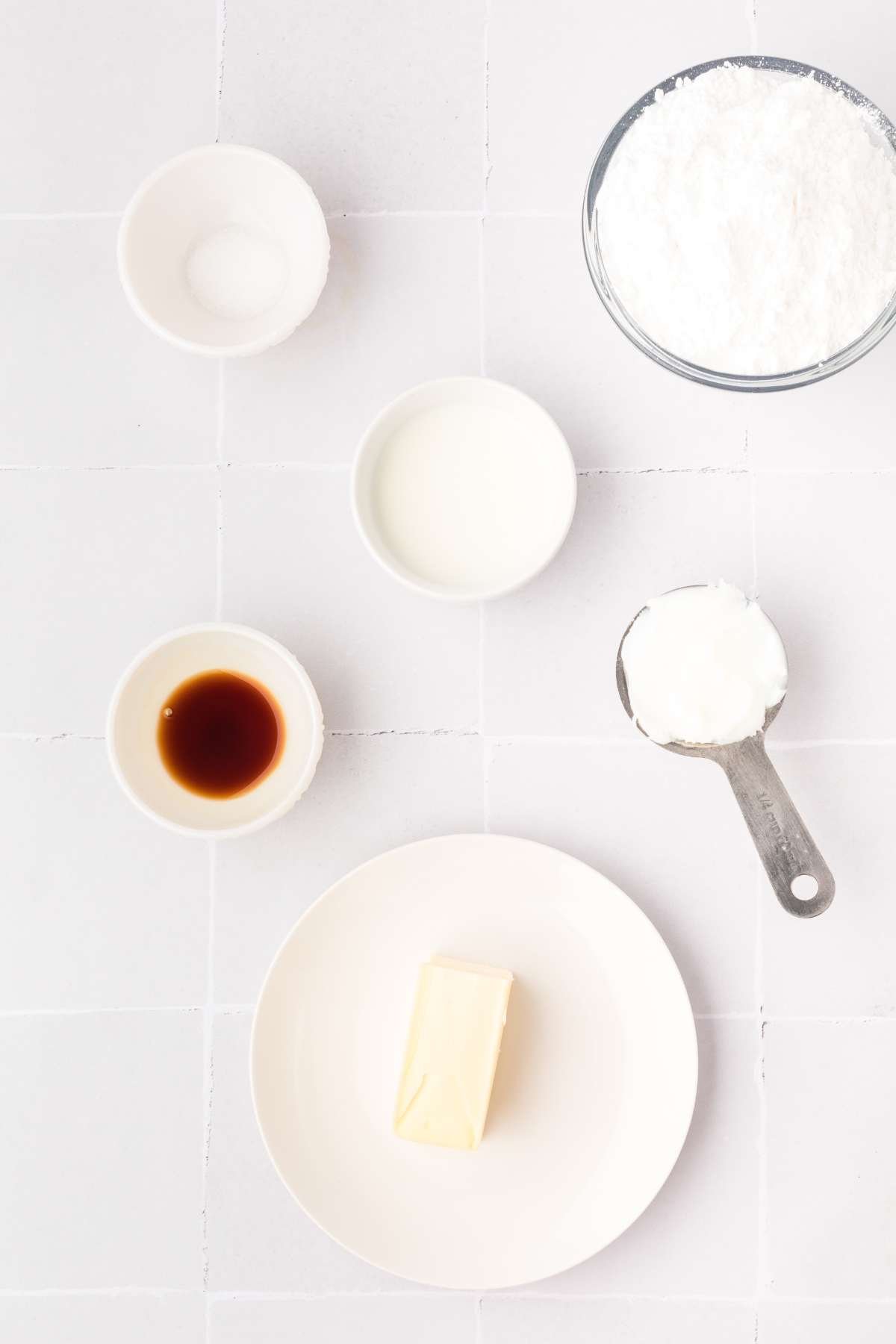 The following tools are helpful:
Stand Mixer or Hand Mixer: These are indispensable for getting that light, fluffy texture.
Spatula: A flexible spatula will help you scrape down the sides of the bowl, ensuring all ingredients are well incorporated.
Measuring Cups and Spoons: Accurate measurements are key to the perfect balance of flavors.
Glass Bowl: Using a glass bowl lets you see the consistency of your filling as you're mixing.
Piping Bag (optional): If you plan to fill pastries or cupcakes, a piping bag will give you more control and precision.
16 Pcs Reusable Pastry Piping Bags Silicone Icing Bags with 8 Coupler for Icing Frosting Decorate Cake, (10,12,14,16 inch) Lareina Ceramic Mixing Bowls for Kitchen, 3-Piece Large Colorful Serving Bowls, 3.13/1.68/1.18 Qt Deep Microwaveable Nesting Bowl, Stackable and Functional, Ideal Gift Now Designs Berry Patch Cotton Floursack Kitchen Dish Towels 20 x 30in, Set of 3, Red, Blue, Green, White
Tips for the best filling
Ensure your butter is at room temperature for a smoother blend.
Start your mixer on low speed to incorporate the ingredients without creating a powdery mess. Once the powdered sugar begins to be absorbed, increase the speed to medium-high to introduce more air into the filling, making it fluffier.
Consistency is key. The amount of milk or cream can be adjusted depending on how thick or thin you prefer your filling. Start with 2 tablespoons and add more if needed.
Feel free to add a few drops of food coloring for a fun twist or mix in flavor extracts like almond, lemon, or coconut to give it a different taste. Just add these slowly and taste as you go to get it just right.
Storing homemade cream filling
Keep any leftovers in the fridge, tightly covered, for up to one week.
More ways to use the filling:
This versatile recipe can take the place of just about any buttercream or pastry cream. Here are some ideas.
It's the perfect filling for vanilla or chocolate cupcakes.
Layer it in a rainbow cake for a pop of creamy sweetness between bright colors.
Dollop it on top of fresh fruit tarts for an elegant treat.
Spread it between cookies for an indulgent cookie sandwich
Use it to fill eclairs or cream puffs for a classic French dessert.