Vintage texture, faded paper, and some pages with crinkly-looking edges. I'm here to share some absolutely gorgeous, free vintage sheet music printables for you to play around with.
You'll love this one if you're looking for a pretty, versatile vintage printable. Just don't go trying to actually play the music 😉.
Besides the obvious – they're free and gorgeous – there's a nostalgic charm about vintage stuff, isn't there? Like flipping through an old photo album or catching the scent of grandma's perfume.
I hope you like these, however you choose to use them.
Ways to use old sheet music
Home Décor: Frame these beauties and give your walls a bit of old-world charm.
Craft Time: Scrapbooking, gift wrapping, or even making personalized greeting cards
Personalized Journals: Cover a plain notebook with these sheets for that personal touch.
Unique Envelopes: Send out letters or invites in these, or glue inside envelopes as a pretty liner.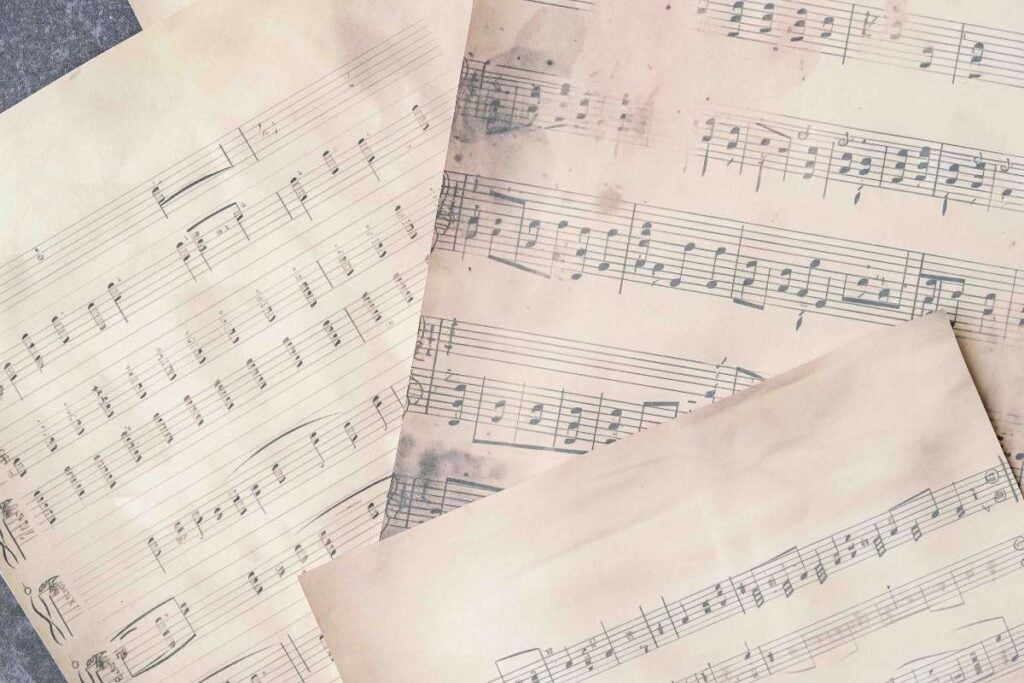 Of course, you can do whatever you want with them. My kids use them to play with or set up with their dolls. It doesn't have to be fancy. 😉
🎹 How to Print Without Losing Your Mind
1. Before You Print:
Quick check! Make sure there's enough ink in your printer. Maybe do a test print on a regular paper just to be sure it's looking good.
2. Size It Right:
If you need it big or small, adjust the size before you print. And always have a little peek before you go all in.
3. A Little Tip:
When you're printing, pick the 'best quality' option. It makes everything look extra nice!
More Pretty Vintage Printables
If you've been around here for a while you know how much I love making printables and love old-fashioned things! So here are some more PDFS you'll like!
Download the PDF here
Just click on the button below the image and it will open in a new window. From there, download and print. It's one file but there are five unique pages. You can print them all or just select your favorites.