Pie filling rolled up into a sweet, soft bread dough. All the best flavors of fall in one slice.
Your fall baking dreams are about to come true. This Apple Pie Yeast Bread brings together the best of both worlds: the softness of a freshly baked bread with sweet spiced apple pie filling.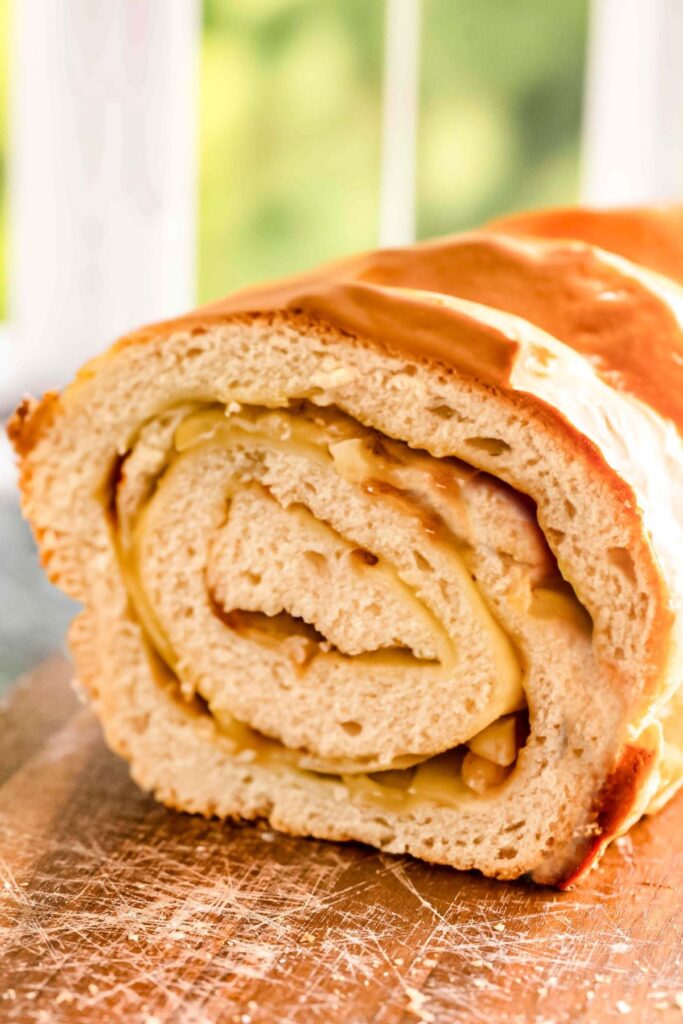 ❤️ Why you'll love this recipe
Fall Vibes: Every slice embodies the essence of fall.
Versatile: Perfect for breakfast, snack, or dessert.
Homey Aroma: Filling your home with the comforting scent of fresh bread and spiced apples.
🧂 Ingredients
This is an overview of the ingredients. You'll find the full measurements and instructions in the printable recipe at the bottom of the page.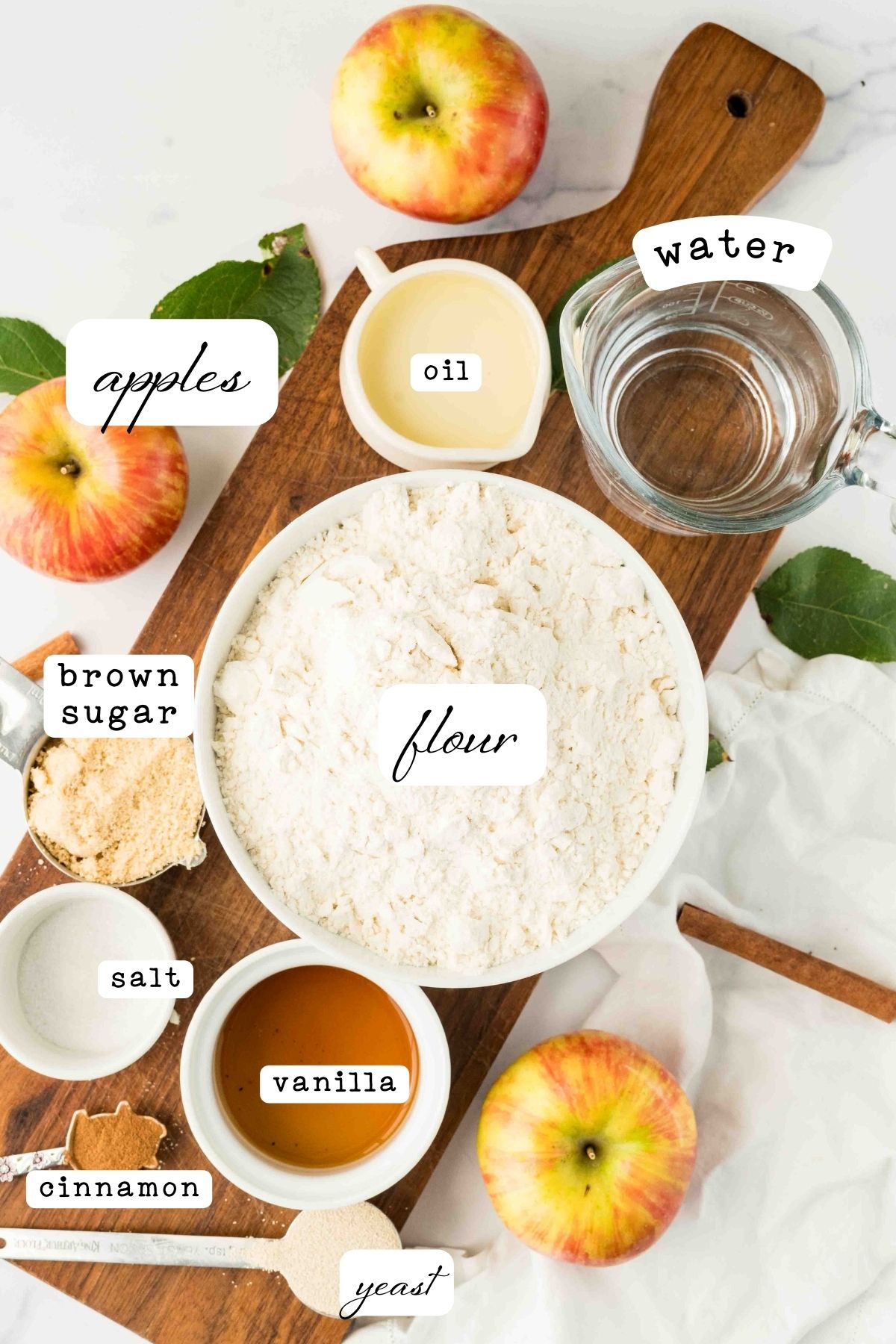 You'll need the following for this fall yeast bread:
Water
Vegetable oil or butter
All-purpose flour
Brown sugar
Salt
Egg
Instant yeast
Apple pie filling (homemade or store-bought are both fine!)
🥣 Equipment
🍴Instructions
Step One: knead the dough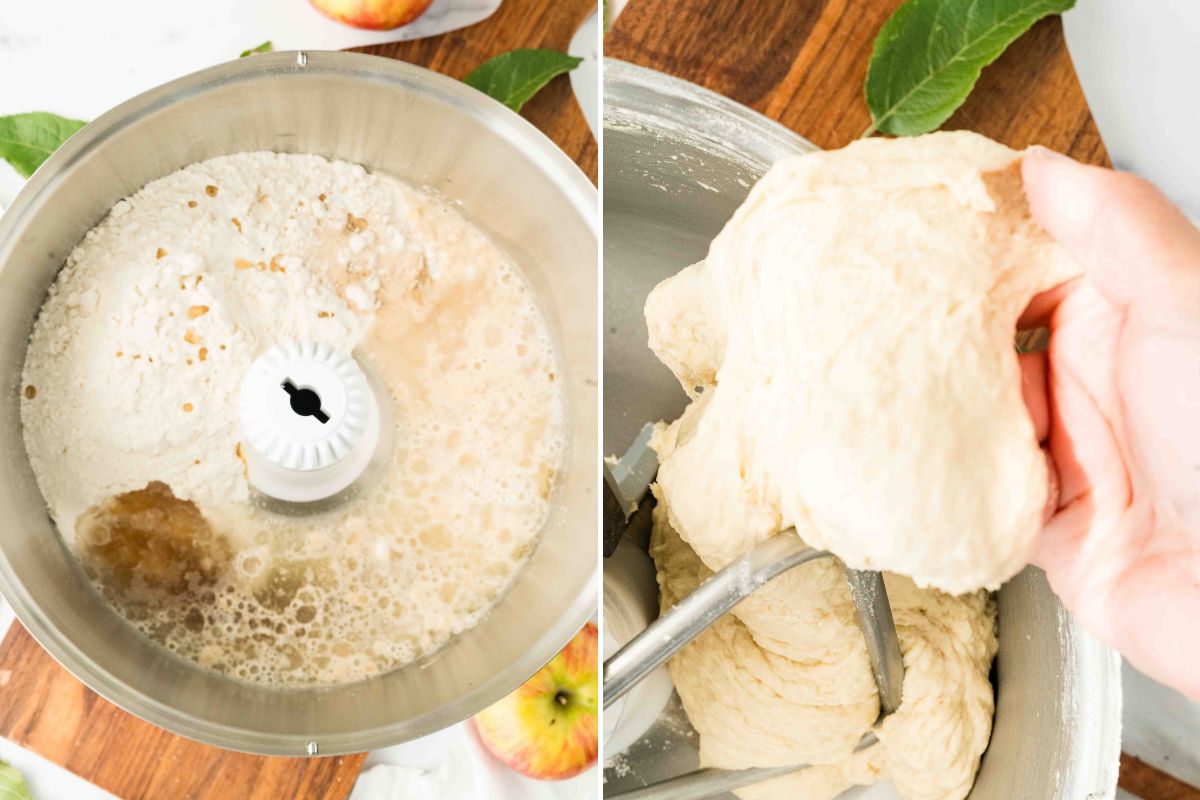 Combine and knead all those dough ingredients. If you're using a stand mixer or bread machine, you're looking for that soft, smooth texture. Kind of like a baby's cheek but doughy.
Step Two: first rise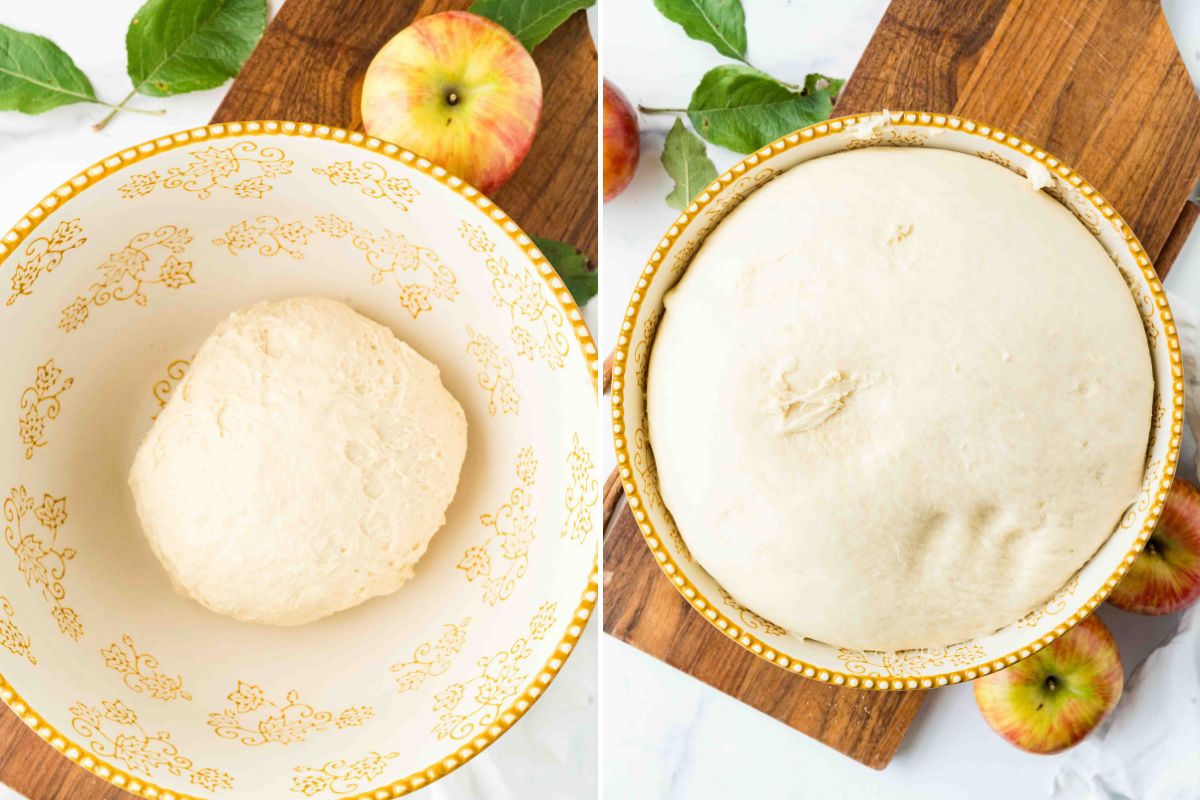 Pop that dough into a lightly-oiled bowl. Cover it snugly with some greased plastic wrap. Let it rise for about an hour in a warm place.
Step three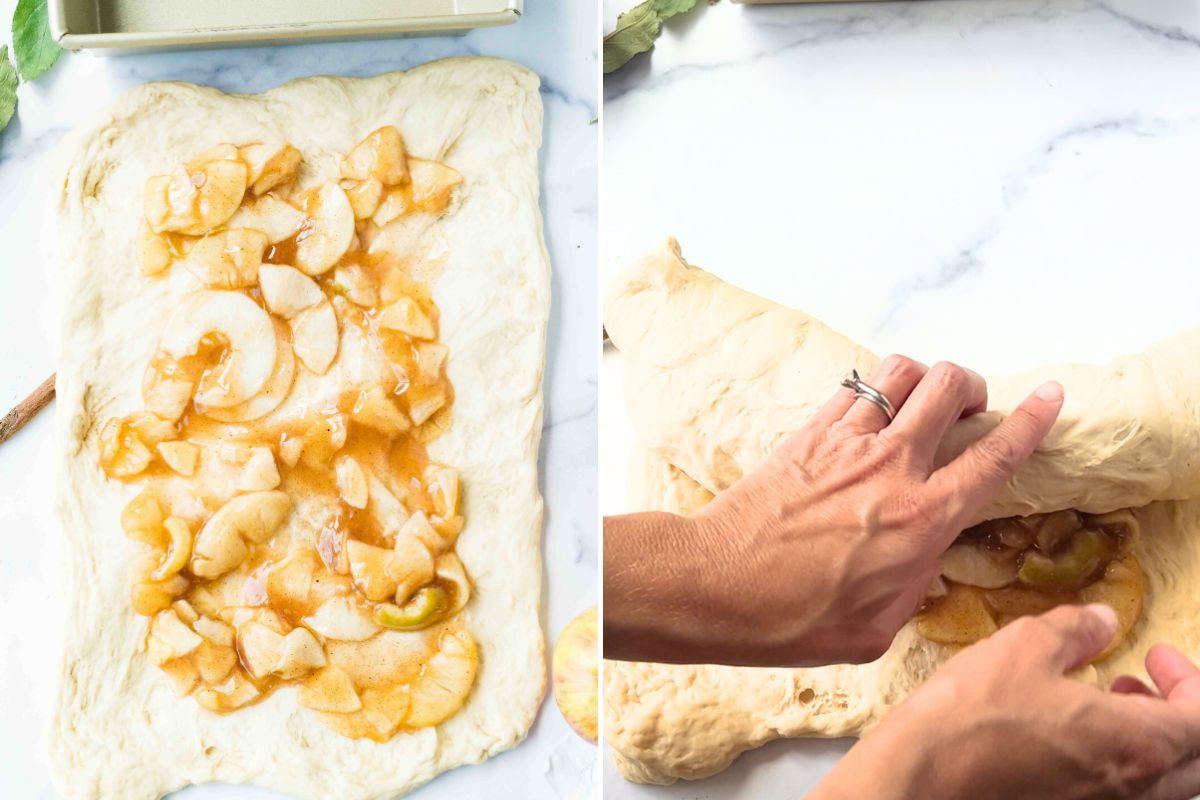 Once risen, gently spread it on your counter, aiming for a rectangle (about 9 x 24 inches). Evenly spread that yummy apple pie filling. Now roll it up and place it into your loaf pan. Think of it like giving it a cozy blanket.
Step Four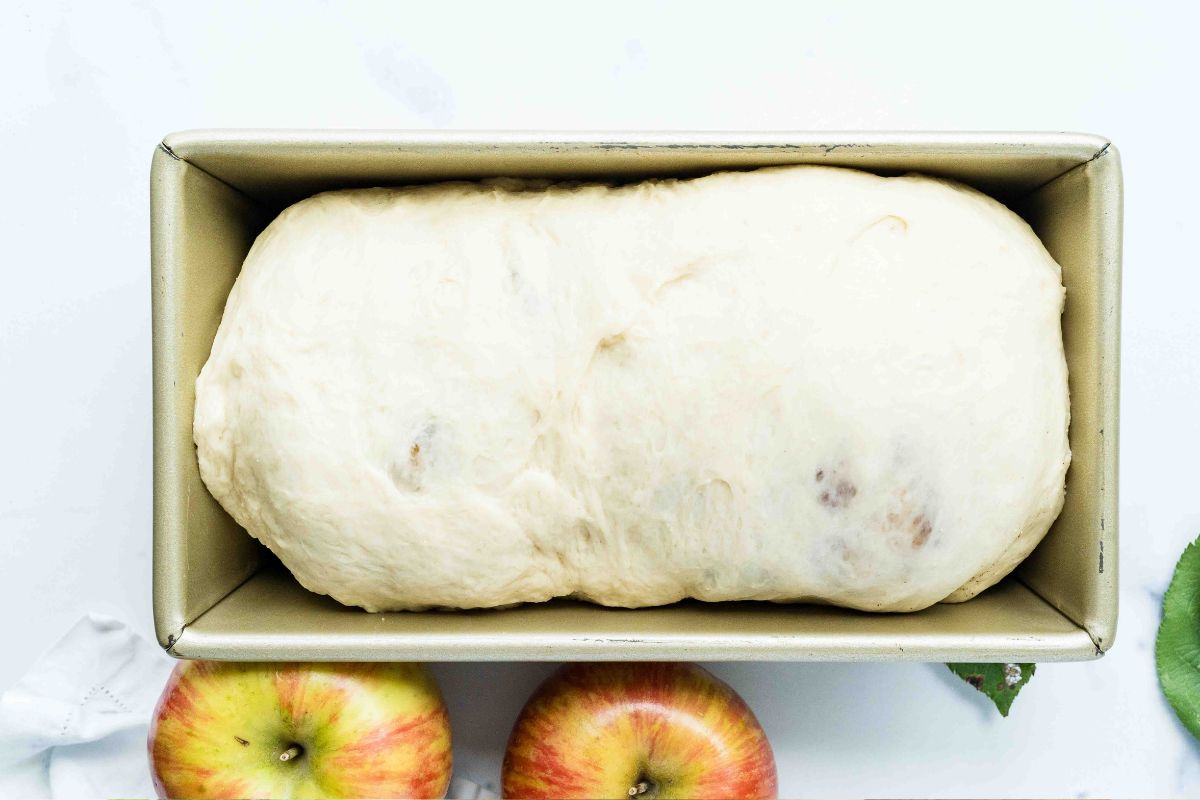 Step Five: second rise and bake

Rise Again: Let the dough rest for another hour covered in plastic wrap. After it has risen, brush it lightly with a beaten egg for a nice finish.
Baking: Preheat your oven to 375 degrees. Bake the loaf for 40 minutes until it achieves a golden-brown hue. Allow it to cool completely before slicing.
🥫 Storage instructions
Be patient! It's tempting to dive into your freshly baked bread, but waiting ensures the texture sets properly. Cutting into a hot loaf can cause it to become gummy or overly moist inside, so allow it to cool completely to get the best texture and flavor.
🔍 FAQs
How do I ensure my bread has a soft crust, not a crispy one?
If you prefer a softer crust, you can brush the loaf with melted butter immediately after it comes out of the oven. The butter not only gives the crust a delightful flavor but also softens it.
My bread didn't rise as much as I expected. What went wrong?
There could be several reasons. Your yeast might be old or inactive, the dough might not have been kneaded enough, or the environment might have been too cold for rising. Ensure you use fresh yeast, knead properly, and let the dough rise in a warm, draft-free location.
Can I use whole wheat flour instead of all-purpose flour?
Yes, but substituting whole wheat flour will give the bread a denser texture and a nuttier flavor. If you're not keen on using entirely whole wheat, try a mix of both whole wheat and all-purpose flour to maintain some of the original texture while adding a wholesome touch. Adjustments in liquid might be needed as whole wheat flour absorbs more water.
👩🏻‍🍳 Expert tips
Consistent Temperature: Make sure your oven maintains a consistent temperature throughout baking. An oven thermometer can be a handy tool if you suspect your oven might run hotter or cooler than indicated.
Check for Doneness: Apart from the golden color, another way to check if the bread is done is to tap its bottom. It should sound hollow. If it doesn't, give it a few more minutes in the oven.
Ingredient Temperature Matters: When the recipe calls for room temperature ingredients, it's for a reason. For instance, room-temperature eggs incorporate more easily into the dough, resulting in a better texture.
📘 more fall apple Recipes
🍽 Serve it with
Enjoy with a dollop of whipped cream or vanilla ice cream.
Perfect with a cup of chai or hot cocoa.
Makes a delicious base for French toast!
📖 Here's the recipe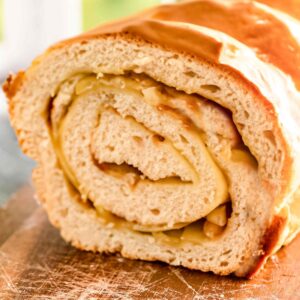 Apple Pie Yeast Bread
Print Recipe
Pie filling rolled up into a sweet, soft bread dough. All the best flavors of fall in one slice.
Click here for a FREE autumn cookbook (25+ Recipes!)
Equipment
Stand mixer or bread machine

optional

Large mixing bowl

Plastic Wrap
Ingredients
For Bread Dough
1

cup

water

1

tablespoon

veg oil or butter

3

cups

all-purpose flour

¼

cup

brown sugar

½

teaspoon

salt

1

egg

room temperature

2 ¼

teaspoons

instant yeast
For Assembly
½

cup

apple

pie filling

1

egg

beaten
Instructions
Combine and knead all ingredients. Add all the dough ingredients into the bowl of a stand mixer or bread machine. for 5-7 minutes, until soft and smooth. The dough should be soft, smooth and elastic.

Allow dough to rise once. Place dough in a clean, lightly-oiled bowl and cover with greased plastic wrap. Allow to rise in a warm place for 1 hour, until nearly doubled in size.

Shape and rise again. Turn dough out onto a clean counter and stretch into a 9 x 24-inch rectangle. Spread the apple filling in a thin layer. Fold down the top corners of the dough, then roll into a log. Pinch all seams shut and place seam side down into a greased loaf pan.

Second rise. Cover the loaf with greased plastic wrap and place in a warm place to rise again for an hour, until the dough has risen 1-2 inches above the edge of the pan. Brush with a beaten egg for extra shine. Towards the end of the rising time, preheat the oven to 375 degrees with a rack in the center.

Bake. Bake at 350℉ for 40 minutes until the loaf is deep golden brown. Turn out onto a cooling rack and allow to cool at least 2 hours before slicing. Refrigerate any leftovers after 1 day.
Notes
Don't slice until the loaf is cool! Use a very sharp knife as well.
Nutrition
Calories:
182
kcal
|
Carbohydrates:
36
g
|
Protein:
6
g
|
Fat:
1
g
|
Saturated Fat:
0.4
g
|
Polyunsaturated Fat:
0.3
g
|
Monounsaturated Fat:
0.5
g
|
Trans Fat:
0.004
g
|
Cholesterol:
33
mg
|
Sodium:
134
mg
|
Potassium:
92
mg
|
Fiber:
2
g
|
Sugar:
6
g
|
Vitamin A:
51
IU
|
Vitamin C:
0.3
mg
|
Calcium:
17
mg
|
Iron:
2
mg
Did you make this recipe?
If you loved it, please leave a review!