A sweet vanilla ice cream is blended with crushed peppermint candies to create a delicious Christmas treat.  Make sure you freeze your ice cream maker insert first, according to your manual's instructions!
A sweet vanilla ice cream base and crushed peppermint candy canes are the perfect combination for a Christmastime treat.
I know Christmas is all about cookies, pies, and other rich sweet treats. But there is something about this ice cream that is so perfect, even in the winter. Sometimes you feel like you can't eat one more chocolate or spicy dessert (okay I've never actually felt that way.) But when you want to serve something a little different, this ice cream recipe is just what you're looking for.

In the world of homemade ice cream, there are a lot of debates. Churn vs no churn? Cooked custard vs raw? Eggs or no eggs? Let me settle it for you. Yes, you must churn, and heat the custard, and use eggs. I know, these were all the hardest choices. But it's totally worth it to have the absolute best tasting homemade ice cream. If it's not going to be the best, why even bother?

So if you have an ice cream maker lurking in your cabinets, pull it out and get to work.

Ingredients and tools for homemade ice cream
The ingredients for candy cane ice cream are very simple but important.

You will want the freshest cream and milk you can find, and do not substitute lower fat versions.

For the candy cane flavor, you could certainly do it the hard way and crush candy canes or peppermint candies. But it is much simpler to buy crushed peppermint. I can find it at the grocery store during the holiday, stocked near the chocolate chips. But it's also available online. I've tried it with peppermint extract and feel that the flavor is better without it.

Other than that you just need eggs, vanilla, and a pinch of salt.

Tools you may need
Step by step homemade peppermint ice cream

To make ice cream properly, there are a few steps involved, but it's not hard.

We begin by heating the milk, heavy whipping cream, and ½ cup of the sugar over medium heat until it is warm but DO NOT let it boil.

While it is heating, beat the egg yolk and remaining sugar with a hand mixer until the color has lightened.

To avoid cooking the eggs, add roughly half of the warm milk mixture to the egg mixture a ½ cup at a time.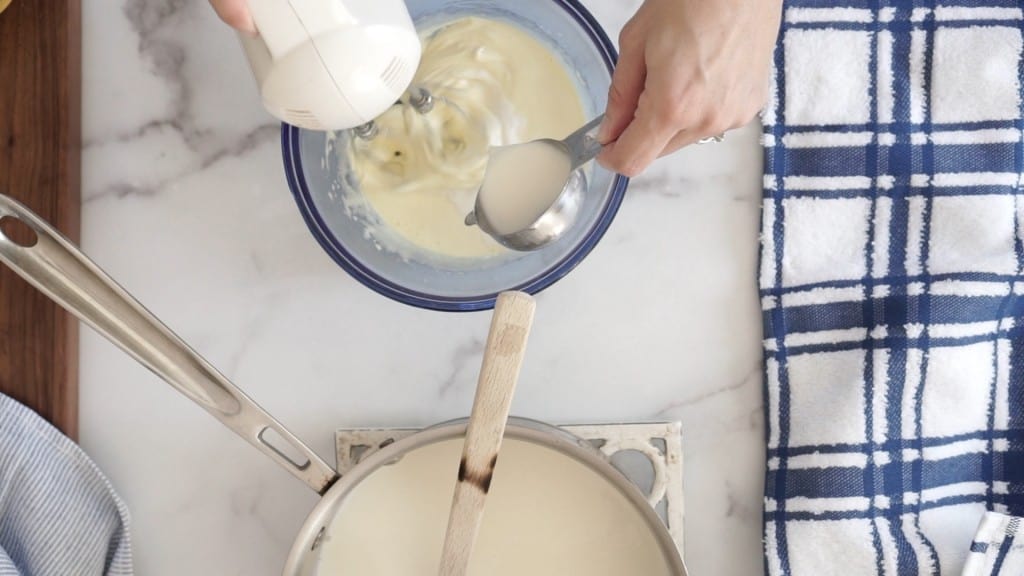 Now everything is warm. So add the egg-milk mixture into the large saucepan where the rest of the milk and cream is waiting. Put it all BACK on the stovetop and heat until it is 180-185. The custard will coat the back of a spoon when it has reached the right thickness. Again, do not let it boil! Off the heat, add the salt and vanilla, and stir.

Now we have to stain. You can simply set a strainer over a bowl, or use cheesecloth. I use a Greek yogurt strainer (that I also use for making keto greek yogurt). Either way, since we used eggs, we have to strain because there will inevitably be some little bits we don't want.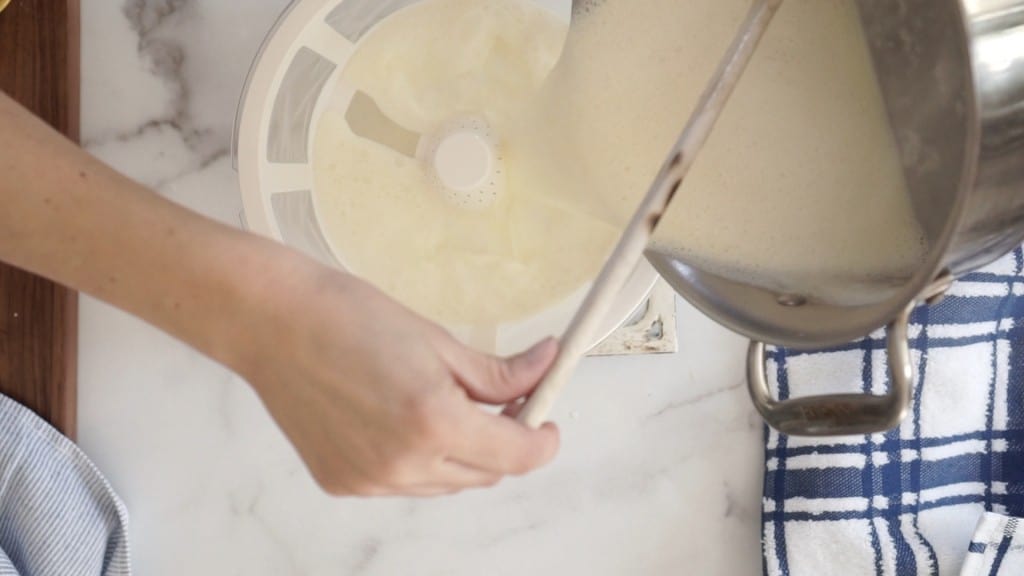 And now we must chill overnight. Don't rush this stage, or you will be frustrated when it comes time to freeze. Put the ice cream maker insert in the freezer and the custard in the fridge. Come back tomorrow.

We are almost done! This wasn't so hard, right?

Ice cream making day 2
The next day, we churn. How this works will depend on your ice cream maker's instructions. But an electric one does all the work, churning and freezing our custard into ice cream.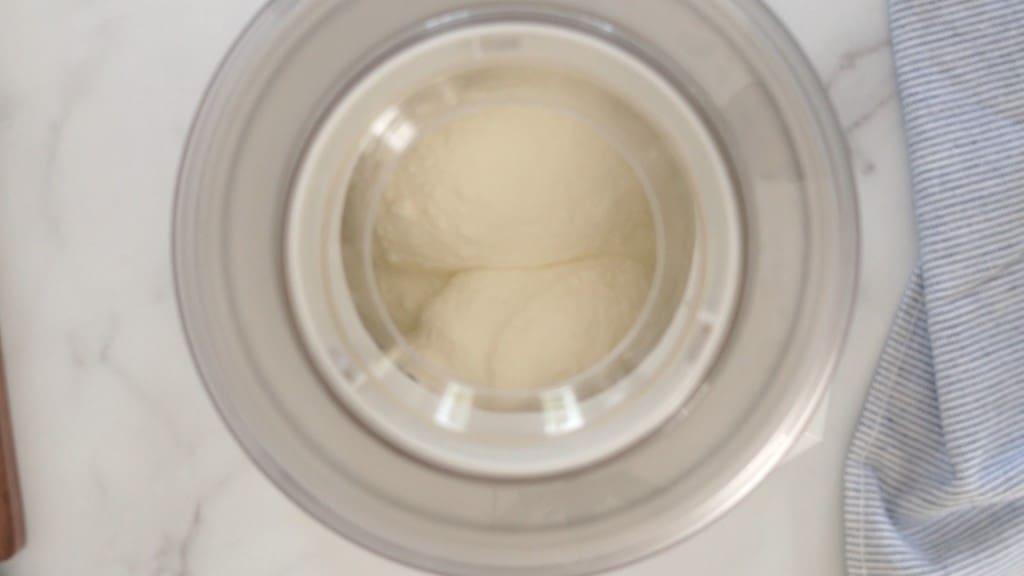 When it has started to look like soft serve ice cream, add the crushed peppermint candy.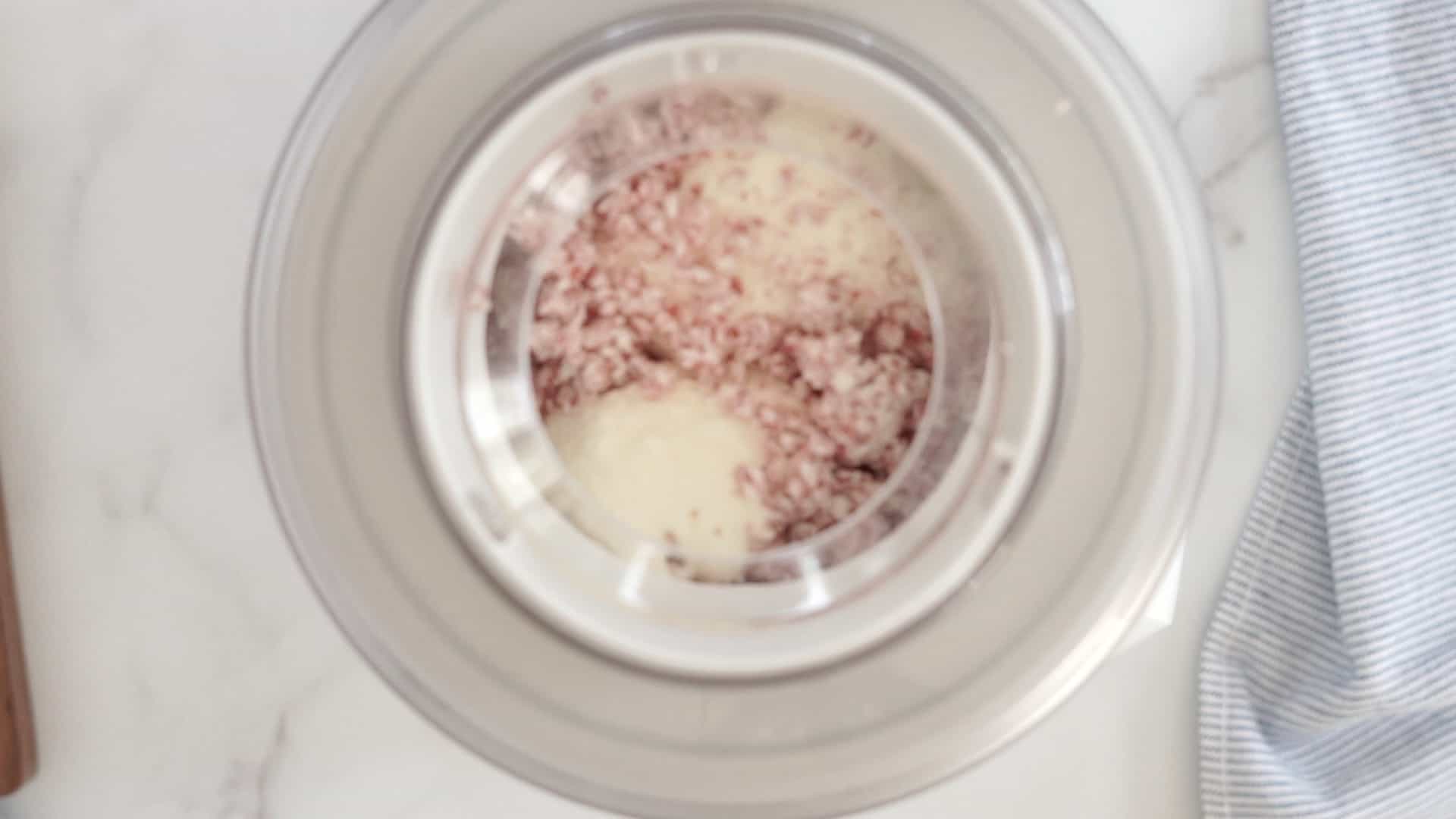 Yay! Isn't it beautiful? Are we done? No. Scoop it into a freezer safe container (a loaf pan works perfectly fine.) Put it back in the freezer and freeze for 2-4 hours until the ice cream has frozen and looks like…ice cream.

And now we scoop! It's delicious, and an absolute hit with little kids.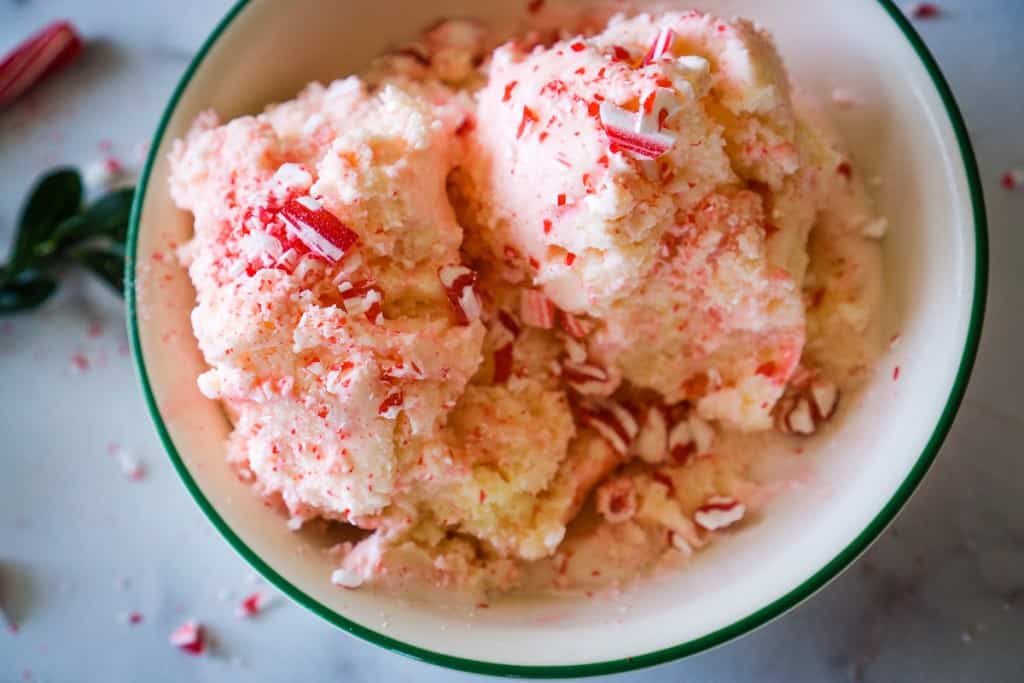 More holiday desserts:
More homemade ice cream:
Print the recipe here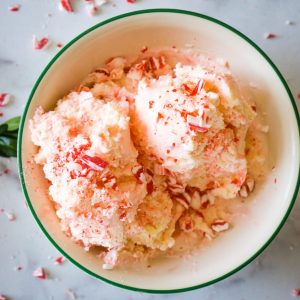 Candy Cane Ice Cream
Print Recipe
A sweet vanilla ice cream is blended with crushed peppermint candies to create a delicious Christmas treat. Make sure you freeze your ice cream maker insert first, according to your manual's instructions!
Click here to grab a free mini-cookbook with my best seasonal recipes
Ingredients
1 1/2

cups

whole milk

1 1/2

cups

heavy whipping cream

3/4

cup

sugar

4

egg yolks

1

teaspoon

vanilla

pinch

salt

1/2

cup

crushed peppermint candies
Instructions
Add the milk, cream, and 1/2 cup of the sugar to a large saucepan. Over medium heat, warm the mixture until it is very warm (175 degrees), about 5 minutes.

While the mixture is heating, combine the egg yolks with the remaining cup of sugar. Beat until it turns lighter yellow in color.

Remove the milk mixture from the heat, and half a cup at a time, add roughly half of it to the egg mixture. Mix after each addition. This keeps it from cooking the eggs. Once you have blended half of the milk into the eggs, pour the entire milk- egg mixture back into the saucepan. Place it all back on the heat and heat over medium and cook. Stir constantly and cook until the mixture is 185 degrees, or has thickened enough the coat the back of a spoon. Do not boil.

Remove from heat and stir in the vanilla and salt. Strain the mixture using a stainer or cheesecloth set over a large bowl. Allow to cool at room temperature, then cover and place in fridge until very cold- at least 6 hours, up to overnight.

Remove custard from fridge and set up ice cream maker, according to manufacturer's instructions. Churn until it is the consistency of soft serve ice cream, then add the crushed peppermints 1/4 cup at a time.

Cover and refreeze 2-4 hours until hardened. Scoop and serve. Will last up to week in the freezer.
Notes
Do not rush any stage of ice cream making or it will not freeze properly.
Variations:
Add 1/2 cup crushed chocolate sandwich cookies with the peppermint candies
Add 1/2 cup chocolate chunks or chips with the peppermint candy.
Nutrition
Calories:
380
kcal
|
Carbohydrates:
30
g
|
Protein:
5
g
|
Fat:
27
g
|
Saturated Fat:
16
g
|
Cholesterol:
218
mg
|
Sodium:
55
mg
|
Potassium:
138
mg
|
Sugar:
28
g
|
Vitamin A:
1147
IU
|
Vitamin C:
1
mg
|
Calcium:
123
mg
|
Iron:
1
mg
Enjoy this ice cream recipe!