One pan, thirty minutes, no chopping, and you can have a truly easy and crowd-pleasing dinner. Delicious and cozy.
This one-pan wonder delivers comfort food in just 30 minutes. It's the perfect quick yet indulgent dinner that will have even your pickiest eaters asking for seconds.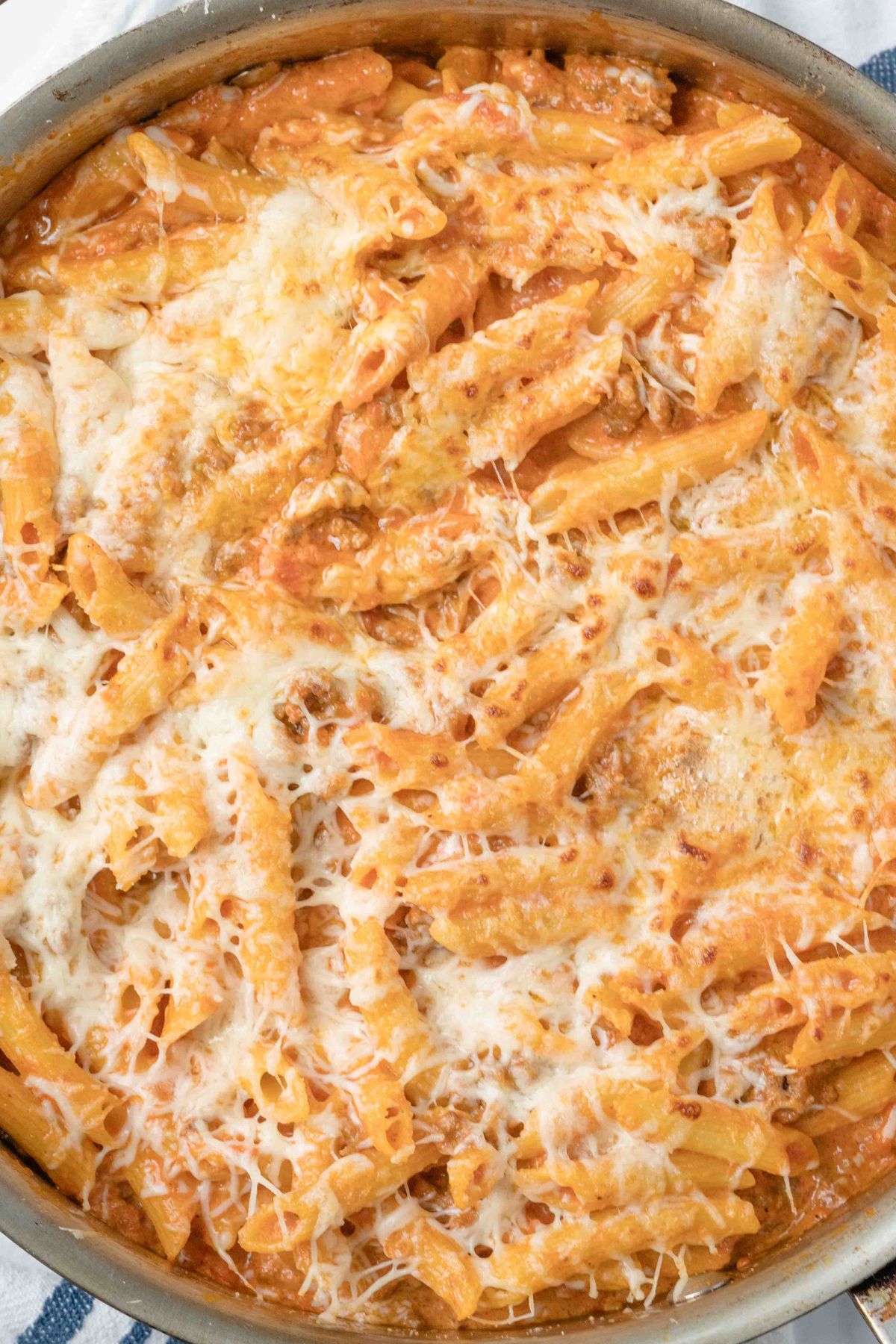 ❤️ Why you'll love this recipe
Incredible Taste: With its combination of hearty ground beef, creamy tomato sauce, and melted cheesy goodness, this dish offers a comforting and rich dinner.
Quick and Easy: It's a one-pan meal that can be prepared in just 30 minutes, making it perfect for busy weeknights when you're short on time but still want a homemade meal.
Minimal Prep: There's no tedious chopping involved, and with simple pantry ingredients, you can whip up this crowd-pleaser with ease.
🧂 Ingredients
This is an overview of the ingredients. You'll find the full measurements and instructions in the printable recipe at the bottom of the page.
You'll need the following for this easy ground beef dinner:
Penne pasta
Ground beef
Jarred marinara sauce
Heavy cream
Parmesan
Shredded mozzarella
Salted butter
🍴Instructions
Step One: cook the pasta
Begin by bringing a large pot of salted water to a boil. Add your penne pasta and cook it until it's al dente, or slightly undercooked by about a minute. This is because the pasta will continue cooking when it's added to the sauce later. Once cooked, drain the pasta and set it aside.
Step Two: Prepare the Meat Sauce
While your pasta is cooking, start making the meat sauce. In an oven-proof skillet, cook your ground beef over medium heat, making sure to break it into crumbles as it cooks. Cook until there's no pink left in the meat. If you notice a lot of grease, you can drain some off, but if you've used 85-90% lean beef, there shouldn't be too much excess. Now, pour in the jarred marinara sauce. Allow this to simmer for about 3-5 minutes to let the flavors meld together.
Step three: add the cream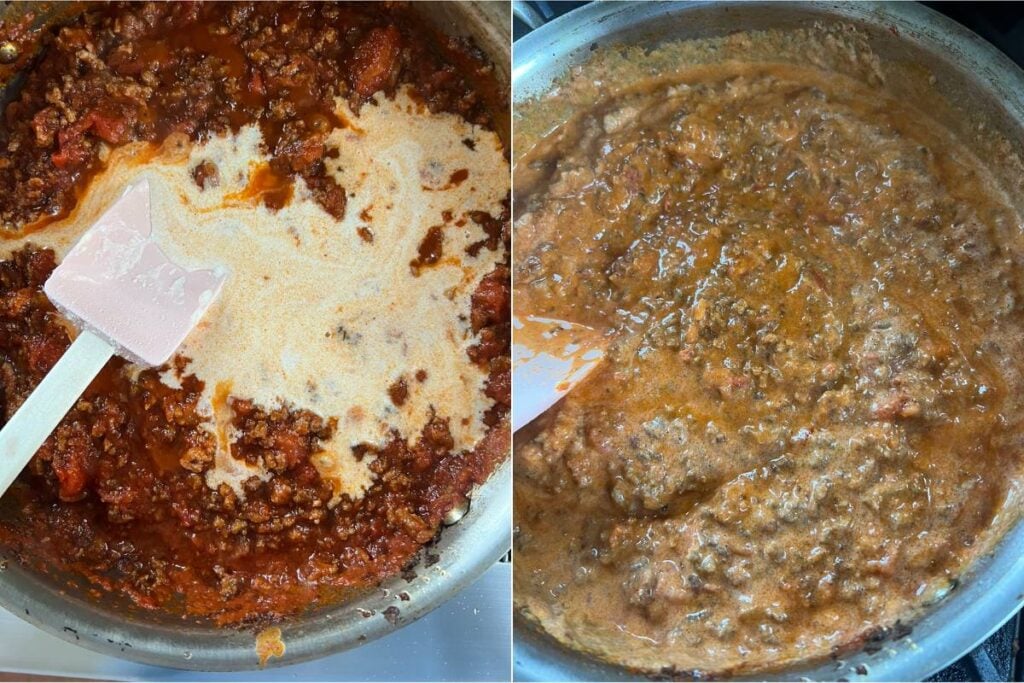 Lastly, add in the heavy cream and parmesan cheese, stirring until they're fully incorporated and the sauce is heated through.
Step Four: add pasta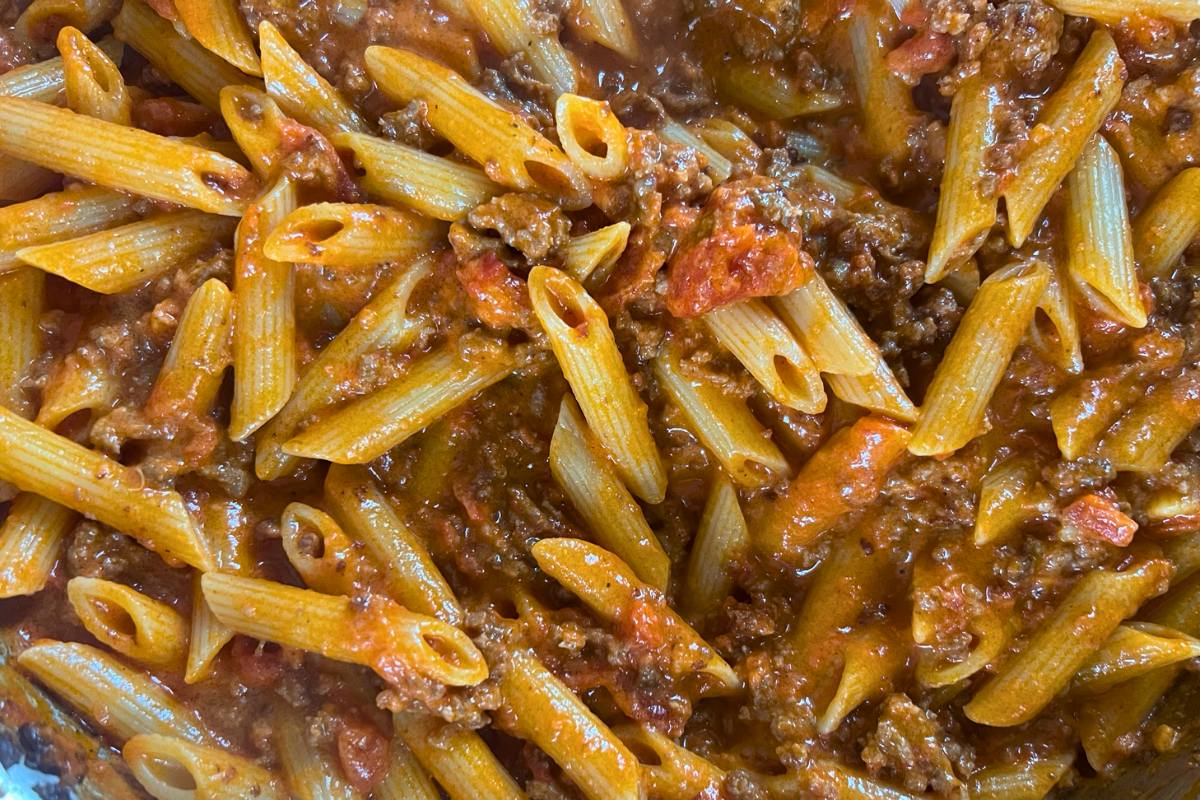 Before moving on to this step, ensure your oven rack is about 2 inches away from the broiler and preheat the broiler to high. Add the cooked and drained pasta to the skillet with the sauce, stirring gently to ensure each piece of pasta is coated. Let this simmer for about a minute.
Step Five: layer cheese and butter
Now, for the final touch – cheese! Sprinkle the shredded mozzarella over the top of the pasta and sauce, covering it as evenly as possible. Distribute small pats of butter over the surface of the cheese. Place the skillet under the broiler for 1-2 minutes, or until the cheese is melted, bubbly, and golden brown. Watch closely to avoid burning.
🥫 Storage instructions
Allow the pasta to cool down before storing. Place it in airtight containers or resealable plastic bags.
Store the pasta in the refrigerator. It should keep well for about 3-5 days.
To reheat, you can use a microwave, stovetop, or oven. If using an oven, cover the dish with aluminum foil to prevent the pasta from drying out. Heat at 350°F until warmed through.
🔍 FAQs
Can I use a different type of pasta for this recipe?
Yes, you can. Penne is used in this recipe because it holds up well with hearty sauces, but you can use other pasta types like rigatoni, or fusilli.
Can I substitute the ground beef with other kinds of meat?
Absolutely! Ground turkey, chicken, or pork would work well in this dish. You can even use Italian sausage for an extra kick of flavor.
What if I don't have an oven-proof skillet?
If you don't have an oven-proof skillet, you can transfer the pasta and sauce into a baking dish before adding the cheese and broiling. Just make sure the dish is deep enough to hold all the ingredients.
Can I make this dish vegetarian?
Yes, you can replace the ground beef with a plant-based substitute, or you could add in extra vegetables like bell peppers, mushrooms, or zucchini for added nutrition and flavor.

👩🏻‍🍳 Expert tips
Use Quality Ingredients: A dish like this is simple, which means the quality of ingredients can make a big difference in the final result. Try to use a high-quality jarred marinara sauce or even a homemade one if possible. The same goes for the cheese; freshly grated cheese will generally melt better and have a superior taste.
Don't Overcook the Pasta: It's crucial to cook your pasta until it's just shy of al dente since it will continue to cook in the sauce. This will help keep your pasta firm and not mushy.
Drain the Beef: If you find that your ground beef has released a lot of fat during cooking, draining some of it off can help keep your sauce from becoming greasy.
Keep a Close Eye During Broiling: When you're broiling the cheese on top of the pasta, it can go from perfectly melted to burnt quickly. Make sure to keep a close eye on it.
Add Some Freshness: Consider topping the finished dish with a sprinkle of fresh herbs like basil or parsley. This adds a bit of color and freshness to the dish.
Season to Taste: While the recipe doesn't explicitly mention it, you might prefer to season your beef as it's cooking with a bit of salt and pepper.
Make it Your Own: Feel free to experiment by adding other ingredients you like. Some sautéed onions, garlic, or bell peppers could add more flavor to the dish. Or try adding some red pepper flakes for a spicy kick.
📘 Related Recipes
🍽 Serve it with
Green Salad: A simple green salad with a vinaigrette can help balance the richness of the pasta.
Garlic Bread: This is a classic pairing with any pasta dish. The bread can be used to mop up any remaining sauce on your plate!
Italian Antipasto Platter: If you're making this dish for a gathering, an antipasto platter with olives, cured meats, and cheeses can be a nice starter.
Triple Berry Sangria: A sweet, red-wine based sangria that's perfect with Italian dishes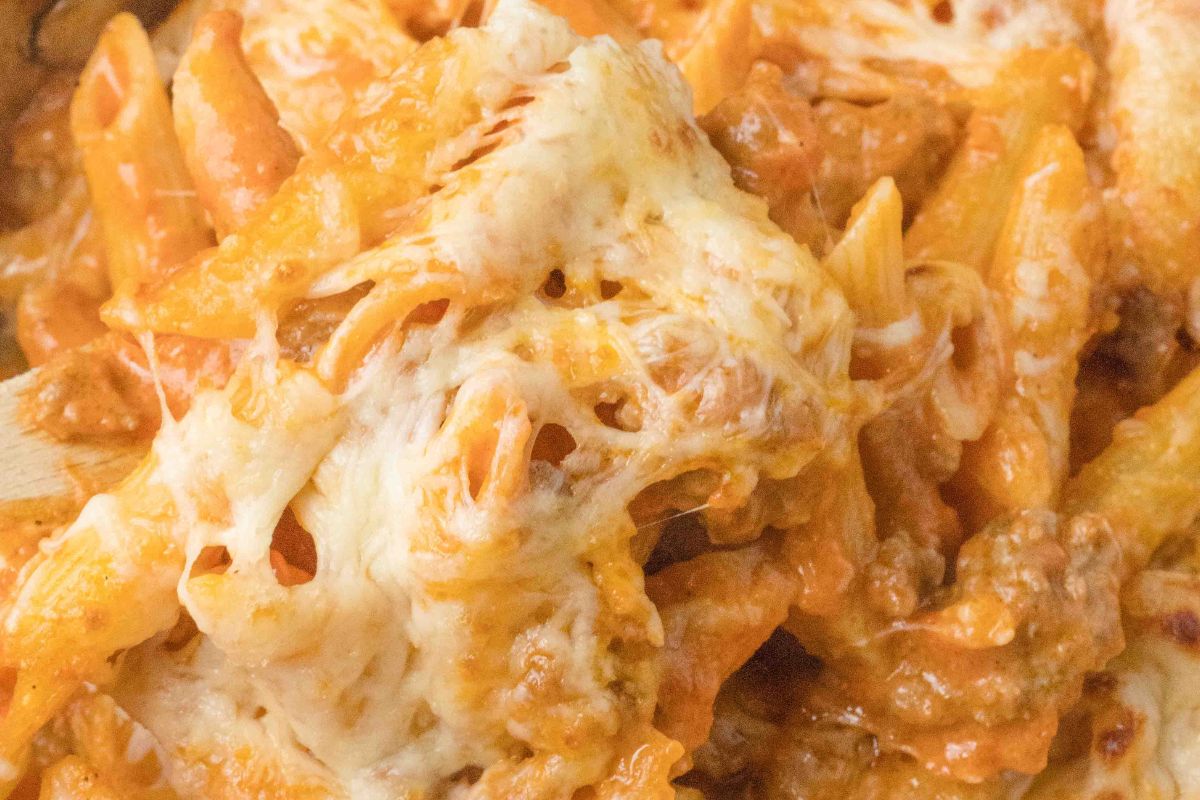 📖 Here's the recipe
Cheesy Ground Beef Pasta (With Creamy Tomato Sauce)
Print Recipe
One pan, thirty minutes, no chopping, and you can have a truly easy and crowd-pleasing dinner. Delicious and cozy.
Click here for a FREE autumn cookbook (25+ Recipes!)
Ingredients
¾

pound

penne pasta

1

pound

ground beef

85% or 90% lean is best

24

ounce

jarred marinara sauce

nice quality such as Rao's

½

cup

heavy cream

¼

cup

parmesan

1½

cups

shredded mozzarella

¼

cup

salted butter
Instructions
Cook the pasta. In a large bot of salted boiling water, cook the pasta until al dente or one minute less than al dente. (It will cook a bit longer in the sauce.). Drain and set aside.

Make the meat sauce. Cook the ground beef until no longer pink, breaking it up as you go. If there is a lot of grease, drain some of it. (If you used 85-90% lean beef, it should be fine.). Add the jarred marinara sauce and simmer briefly, 3-5 minutes. Add the cream and parmesan and mix until heating through and simmering again.

Add the pasta. Adjust oven rack so that is 2 inches away from the broiler and preheat it to high. Add the pasta to the sauce. and simmer for 1 minute. (Remember you are not adding the entire pound.).

Layer cheese on top. Sprinkle mozzarella generously over the surface and add the pats of butter evenly on top. Broil for 1-2 minutes until cheese is golden brown
Notes
It's important to use a nice-quality marinara sauce for this. Homemade and canned or frozen is a great choice, as is a premium brand like Rao's or Vittoria's
Don't turn your back on the broiler!
Nutrition
Calories:
665
kcal
|
Carbohydrates:
50
g
|
Protein:
30
g
|
Fat:
38
g
|
Saturated Fat:
20
g
|
Polyunsaturated Fat:
2
g
|
Monounsaturated Fat:
13
g
|
Trans Fat:
1
g
|
Cholesterol:
121
mg
|
Sodium:
900
mg
|
Potassium:
714
mg
|
Fiber:
4
g
|
Sugar:
6
g
|
Vitamin A:
1241
IU
|
Vitamin C:
8
mg
|
Calcium:
247
mg
|
Iron:
3
mg
Did you make this recipe?
If you loved it, please leave a review!