This recipe produces a chewy, candy-like dried strawberry that kids (and adults!) will love.
You'll love this recipe for oven-dried strawberries, that are sweet, chewy, and perfect to pack for kids on the go.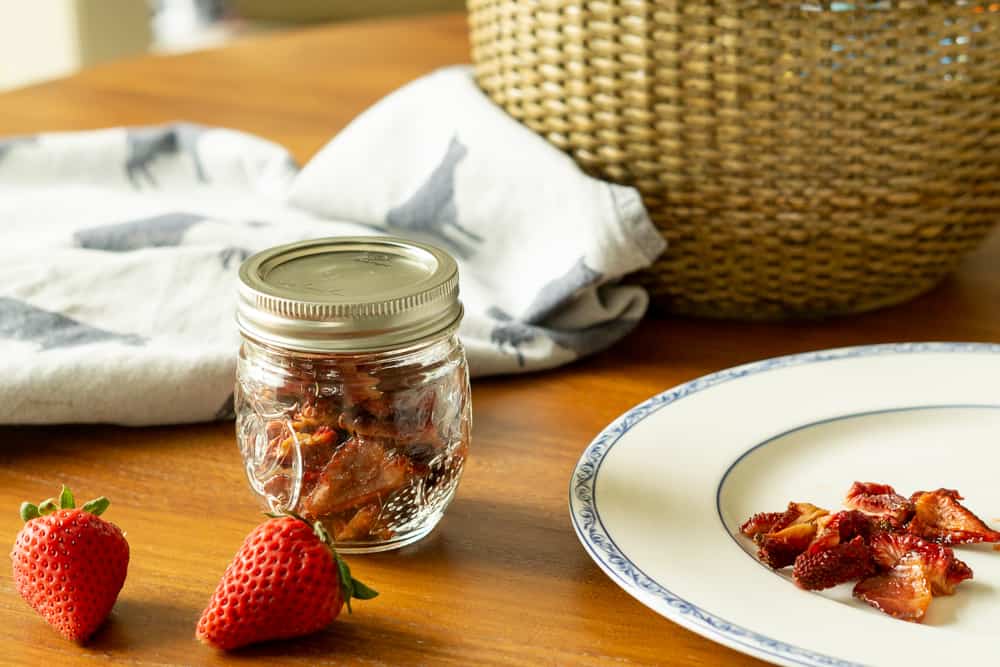 Once upon a time, my sister in law gave me a five pound bag of the most delicious dried fruit on earth. They tasted like giant, sweet gummy bears but were in fact dried strawberries. Imagine my horror when I went to buy some more, only to find that they were THIRTEEN DOLLARS A POUND. Very sad.
I have been on a five year mission to duplicate them. Have I succeeded? No. If I ever do, I will not post the recipe, but will instead sell them and be rich. Until that day comes, this recipe is very satisfying.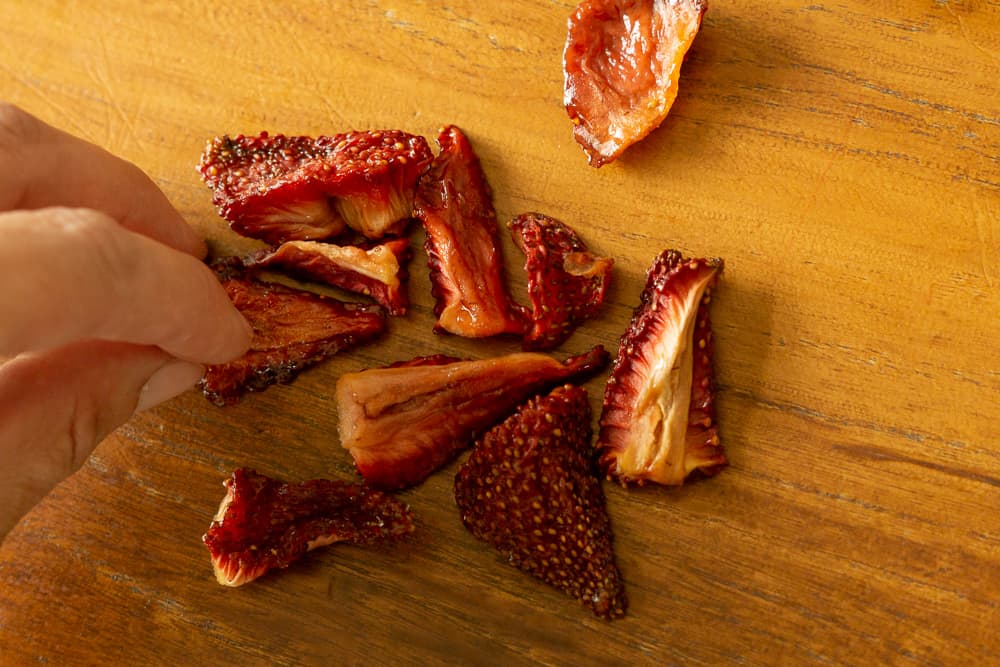 These strawberries have a candy-like chewiness, like a dried apricot. They are sweet, delicious, and hold up very well in packed snacks and lunches. I eat many of them each time I make a batch for the kids, and hardly miss those fancy ones at all.
There is nothing to this recipe. The only things to keep in mind are that your strawberries should sit in the sugar a few minutes to draw the juices out, and that you don't want them dehydrated. You want them chewy and still somewhat moist.
This means an oven temp of 175 or 200 is ideal. Mine only goes down to 200 and mine are ready somewhere between 2.5- 3 hours. Look for darkened edges and a sticky texture before taking them out.
Storing your oven dried strawberries
Before storing, allow them to cool completely, which may take a few hours.
They will last in the fridge for about 2 weeks, or can be frozen for 6 months. Mason jars are great for storing these.
How to use them
Well, obviously they are good as a snack by themselves. They are especially useful for packing in lunchboxes and snacks because they hold up much better than fresh strawberries.
We also like them as a mix in our DIY Chobani Flips.
I love them in salads with pecans and blue cheese, but my husband hates them in there, so who knows.
Don't forget to add them your printable canning planner, so you can make a big batch when strawberry season comes around!
Here's the recipe and video: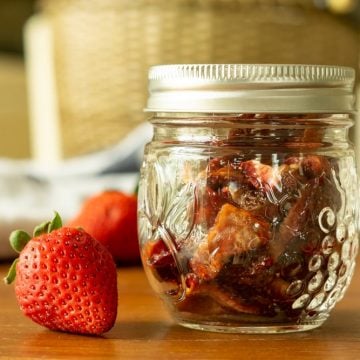 Chewy Oven Dried Strawberries
Print Recipe
This recipe produces a chewy, candy-like dried strawberry that kids (and adults!) will love.
Click here to grab a free mini-cookbook with my best seasonal recipes
Ingredients
2

pounds

fresh strawberries

halved or quartered

1

teaspoon

lemon juice

bottled or fresh

4

tablespoons

sugar
Instructions
Combine all ingredients in large bowl and allow to sit at room temperature for 30 minutes until strawberries have released their juices

Preheat oven to 175 if possible, or 200 degrees

Line two baking sheets with parchment paper or silicone baking mat and place strawberries on top in a single layer

Bake for 2-3 hours, rotating every 30 minutes. The strawberries are done when the edges are darkened and they have a sticky texture.

Allow to cool completely before storing. Will keep best refrigerated or frozen.
Nutrition
Calories:
60
kcal
|
Carbohydrates:
15
g
|
Protein:
1
g
|
Fat:
1
g
|
Saturated Fat:
1
g
|
Sodium:
1
mg
|
Potassium:
173
mg
|
Fiber:
2
g
|
Sugar:
12
g
|
Vitamin A:
14
IU
|
Vitamin C:
67
mg
|
Calcium:
18
mg
|
Iron:
1
mg
What will you try next?