A gentle baby soap recipe using nourishing oils and shea butter. Lavender helps relax little ones after a long day.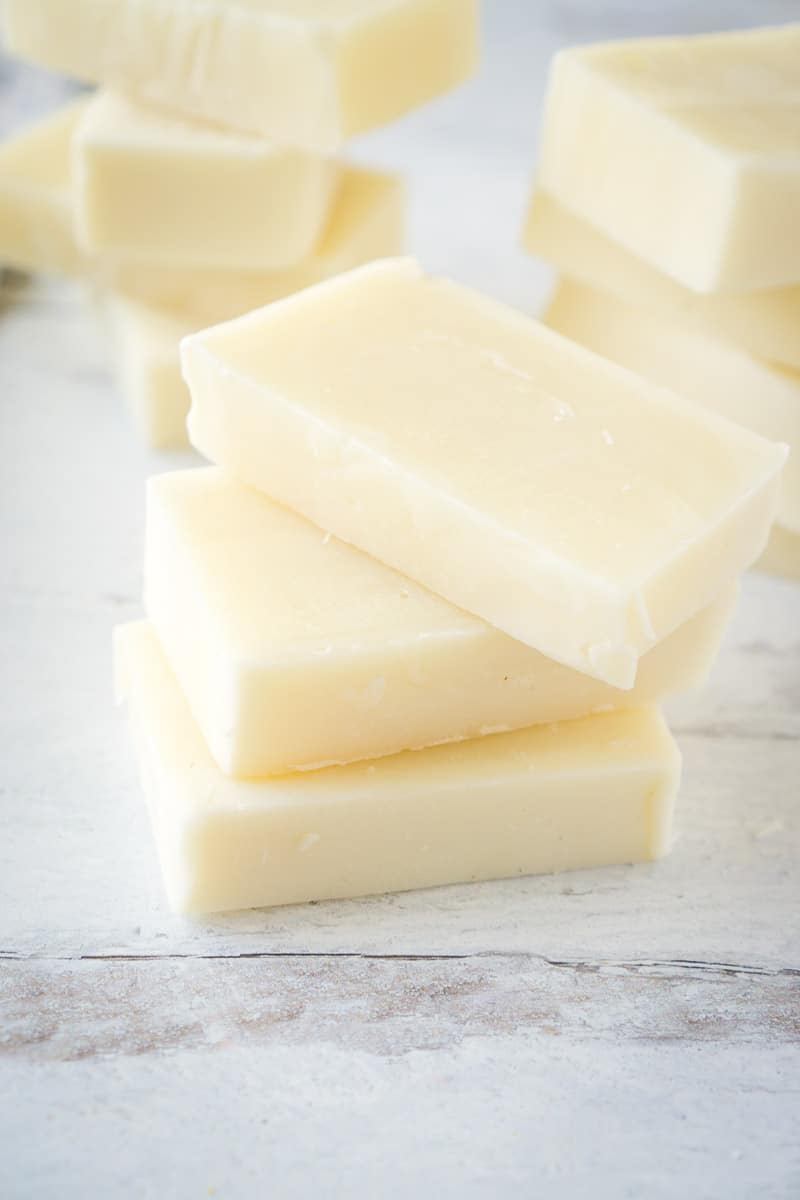 What makes a good baby soap recipe?
If you are familiar with soap making, you know that different oils have different properties that they bring a bar of soap. Some are nourishing, some are extra cleansing, some make the bar harder. A baby soap should get your little nice and clean, but most importantly, it should be moisturizing and gentle.
This recipe is very gentle on the skin. There is a pretty good amount of coconut oil (a very cleansing oil) to ensure the day's grime is washed away, but that is balanced by a lot of olive oil, and some almond oil, which is both very gentle.
Shea butter and beeswax help make the bar harder as well as nourishing baby's skin.
And finally, lavender essential oil leaves a relaxing fragrance without adding any chemicals.
Please note that since this is a real lye soap, it is not tear free. It will sting little one's eyes, so please be careful!
Ingredients and tools you will need
Step by step:
Like all soap recipes, we begin by measuring out the lye and water into two separate containers. Mix them together by adding the lye to the water and stirring until dissolved. The solution will get very hot. Set it aside to cool in a safe place.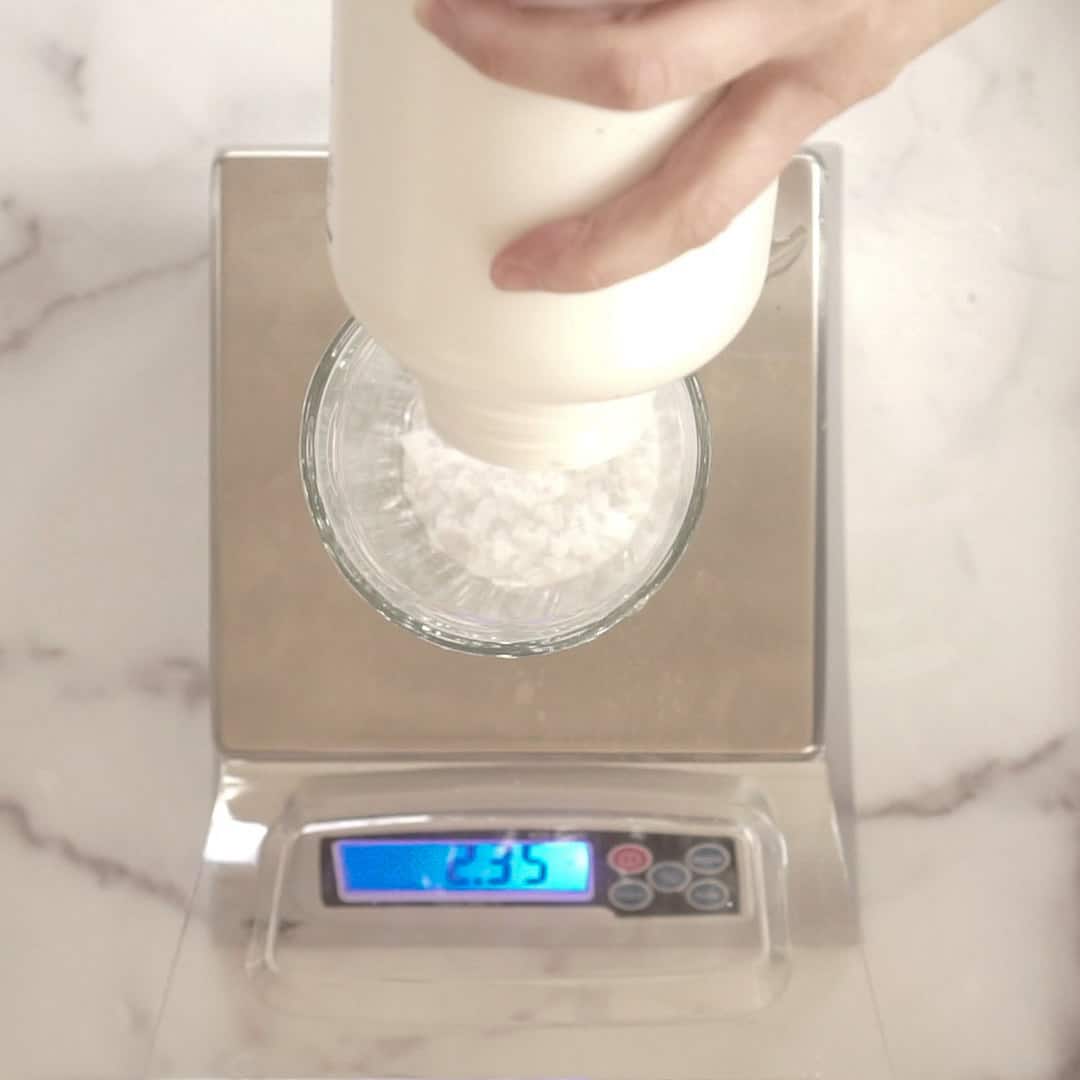 While the lye water is cooling, measure out the oils. Since this recipe contains beeswax, which is slow to melt, I like to give it a head start in the microwave. Measure all the soil oils (coconut, shea butter, and beeswax) and place them in a microwave-safe bowl or measuring cup. Microwave on low for a minute or two until they begin to melt.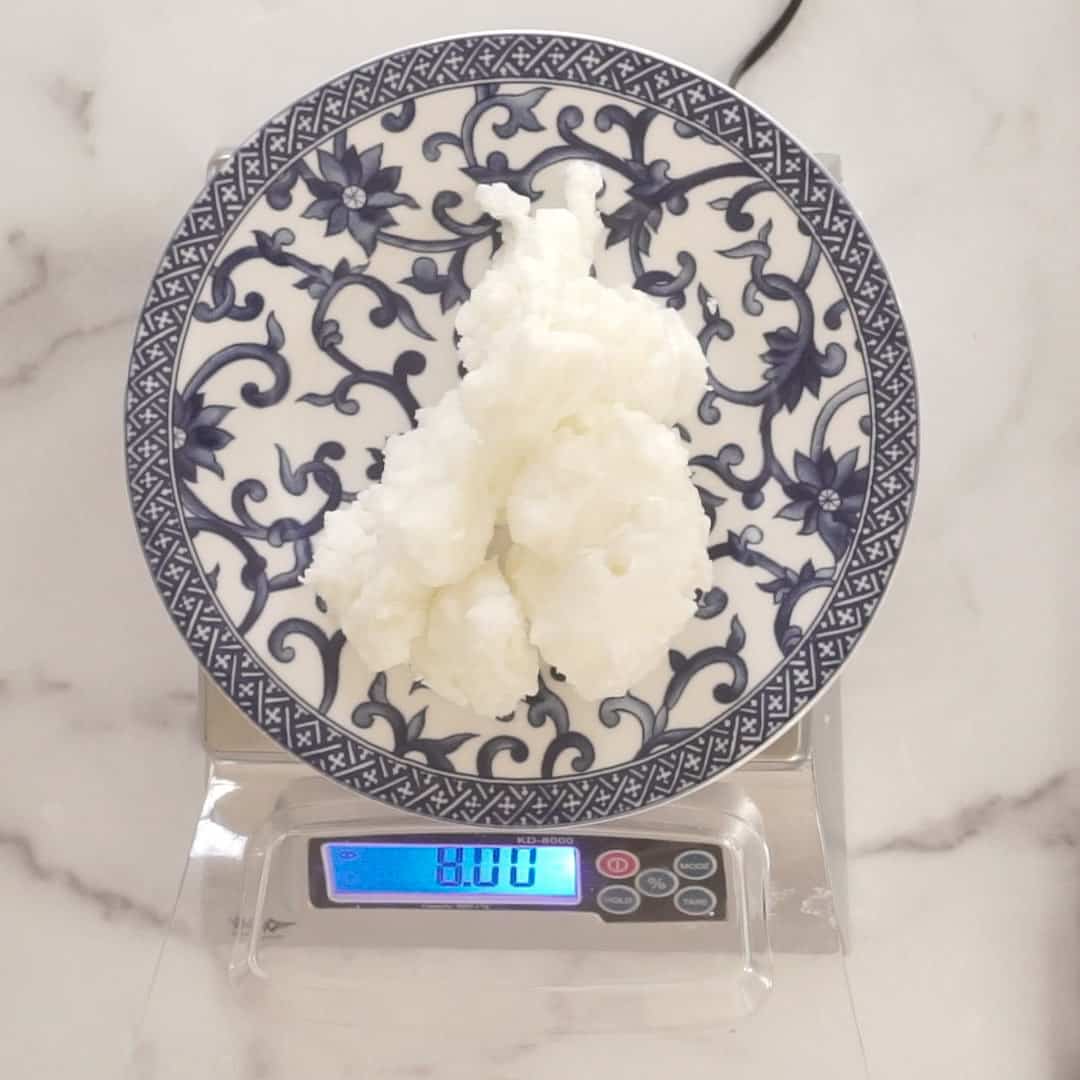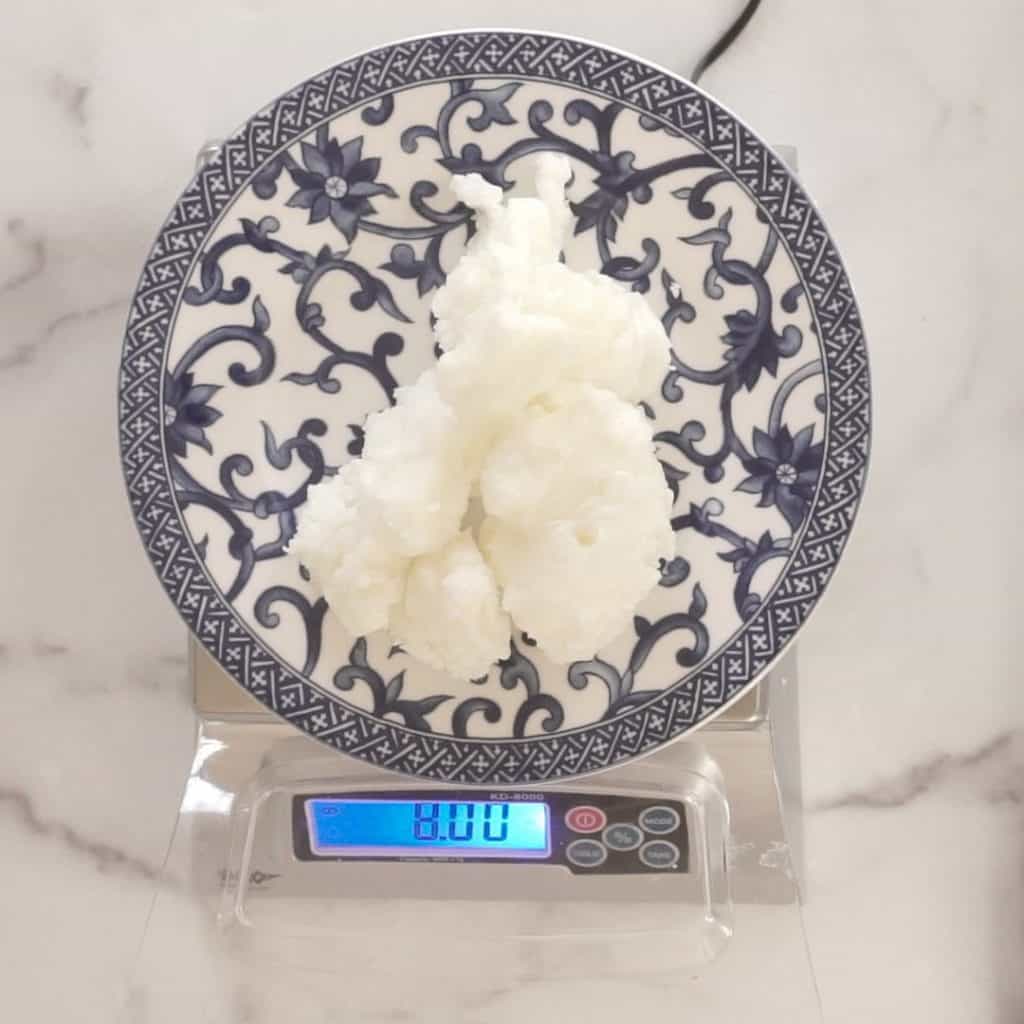 Measure the olive oil and almond oil. (I pour them right into the pot, but you should technically measure them out in separate containers.)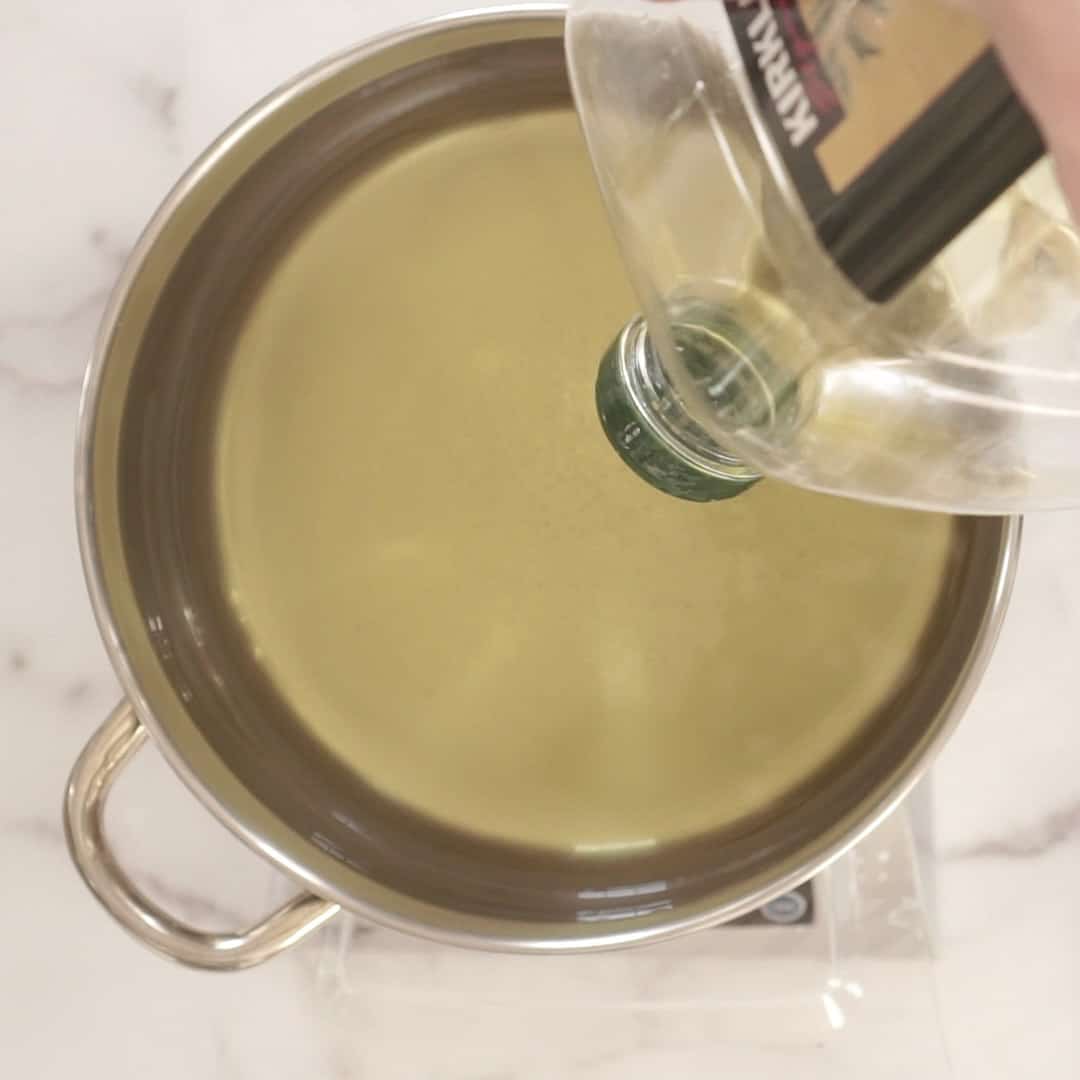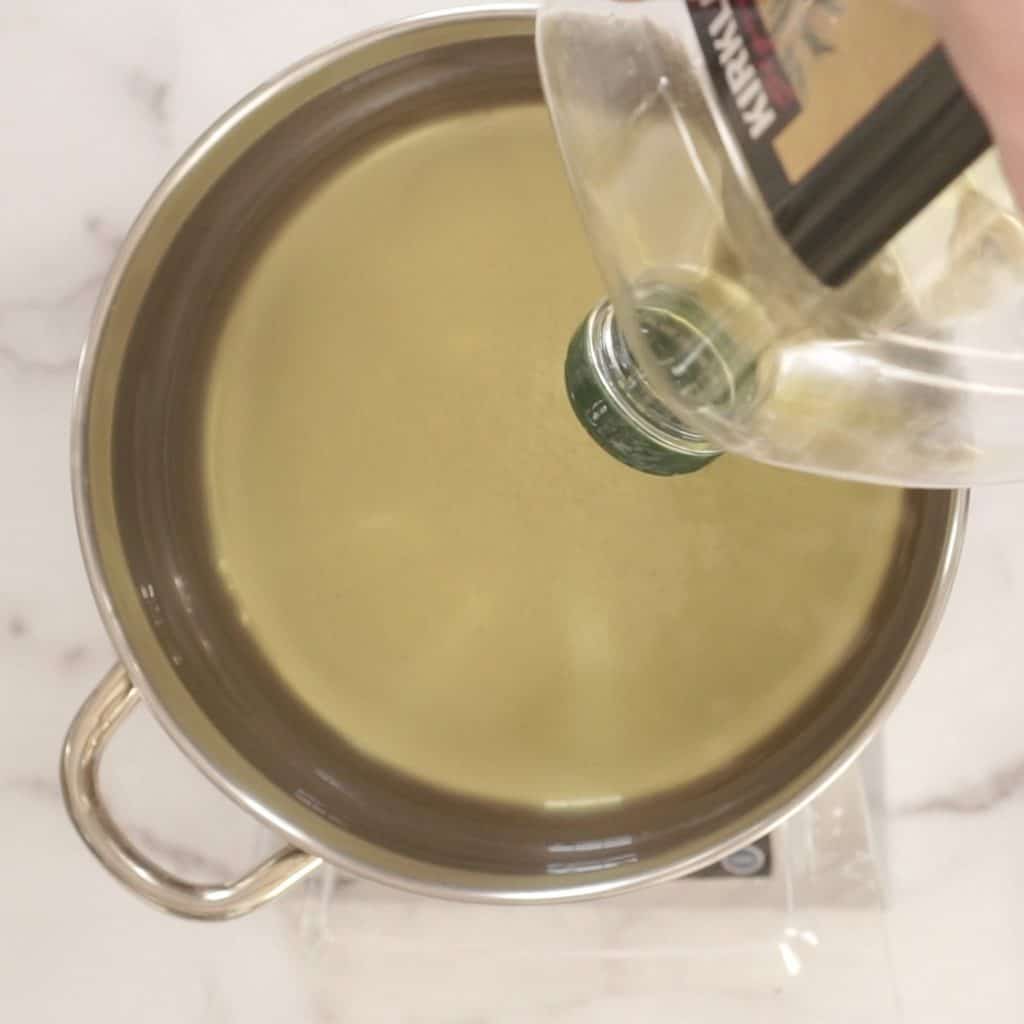 Now pour the pre-softened hard oils into the liquid oils and melt them all together. This will take a few minutes on the stovetop on low. You want them fully melted and about 140 degrees.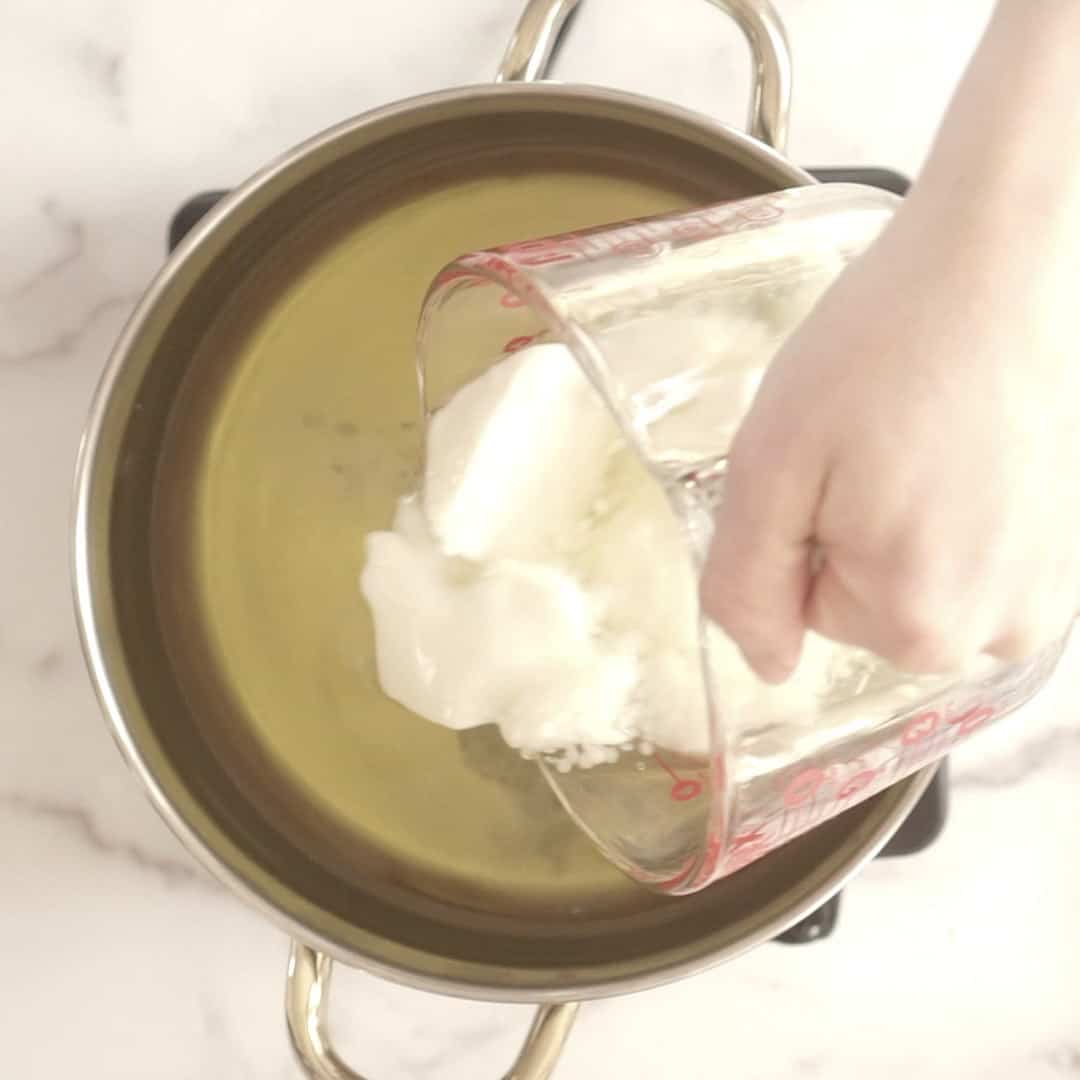 After the oils have melted, they need to cool. We want the lye water and the oils to be about 100-110 degrees. Ideally, they will be very close together in temperature.
This will take a few hours, depending on the temperature of your room. Once they have cooled off enough, it time to combine them into soap.
Before you begin, make sure you have your mold and fragrance ready to go. Pour the lye water into the melted oils and blend with your stick blender until you reach "trace".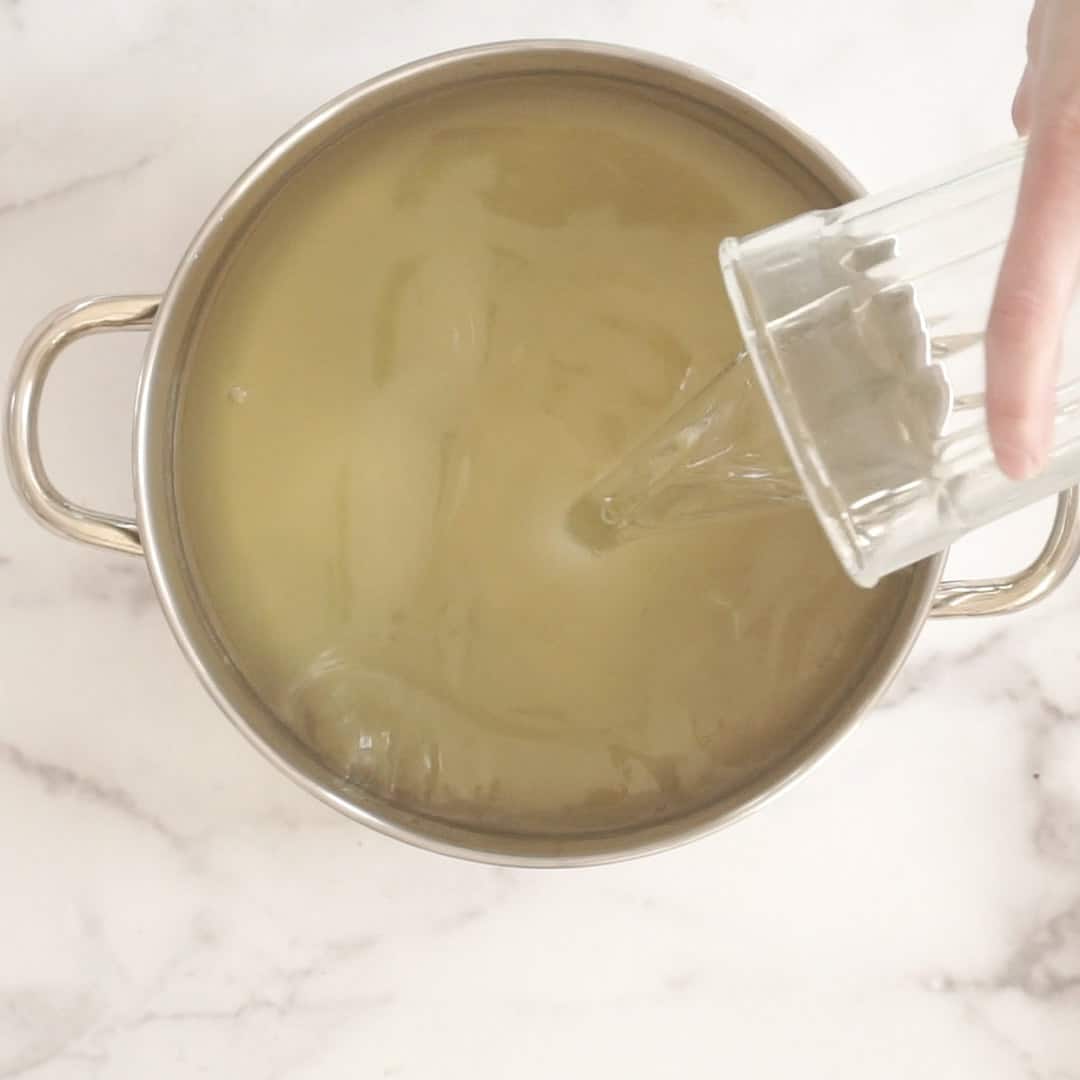 There should be so visible spots of oil, and the solution will thicken until it looks like a batter. When you lift up your stick blender, the soap will leave a trail that rests on top, rather than immediately sinking in.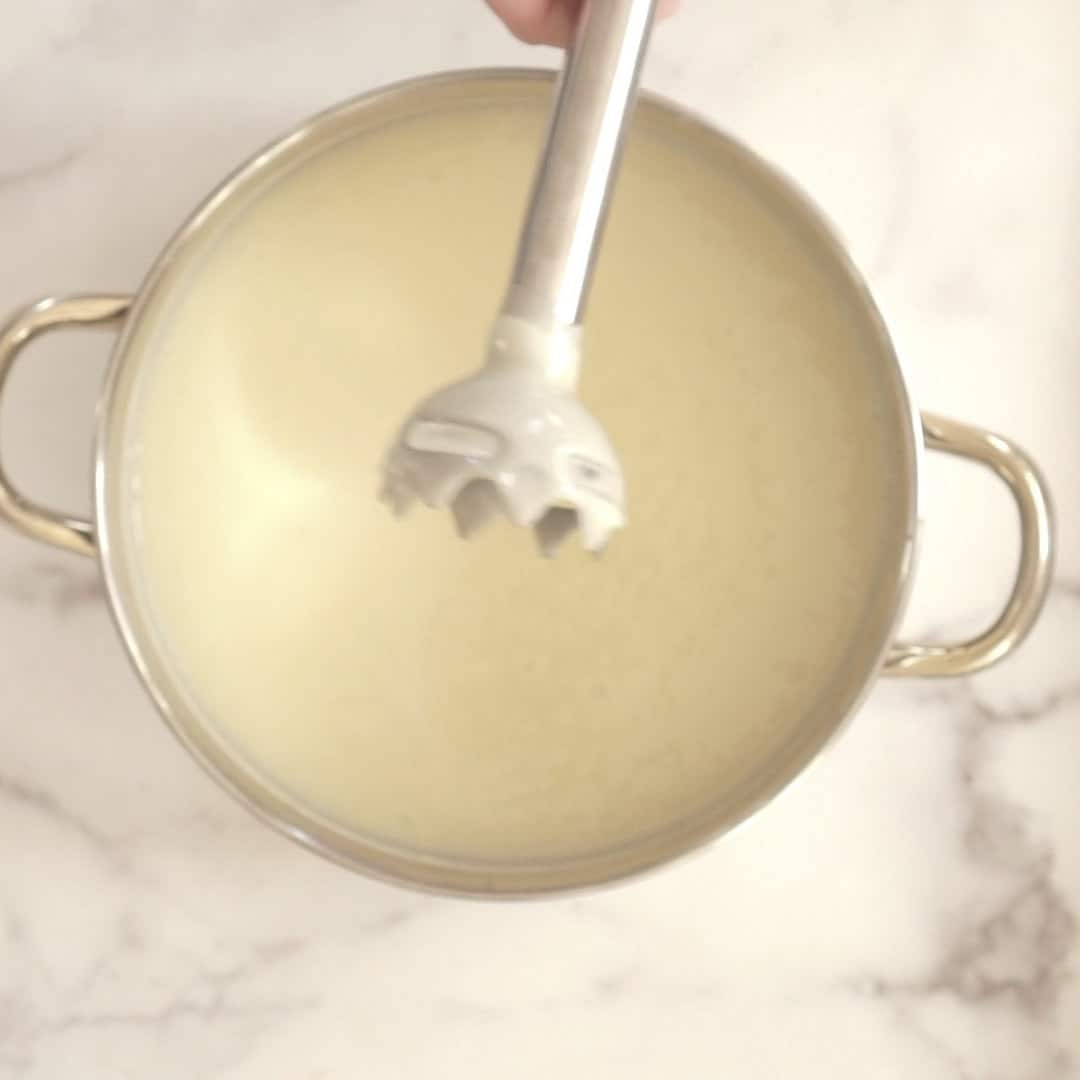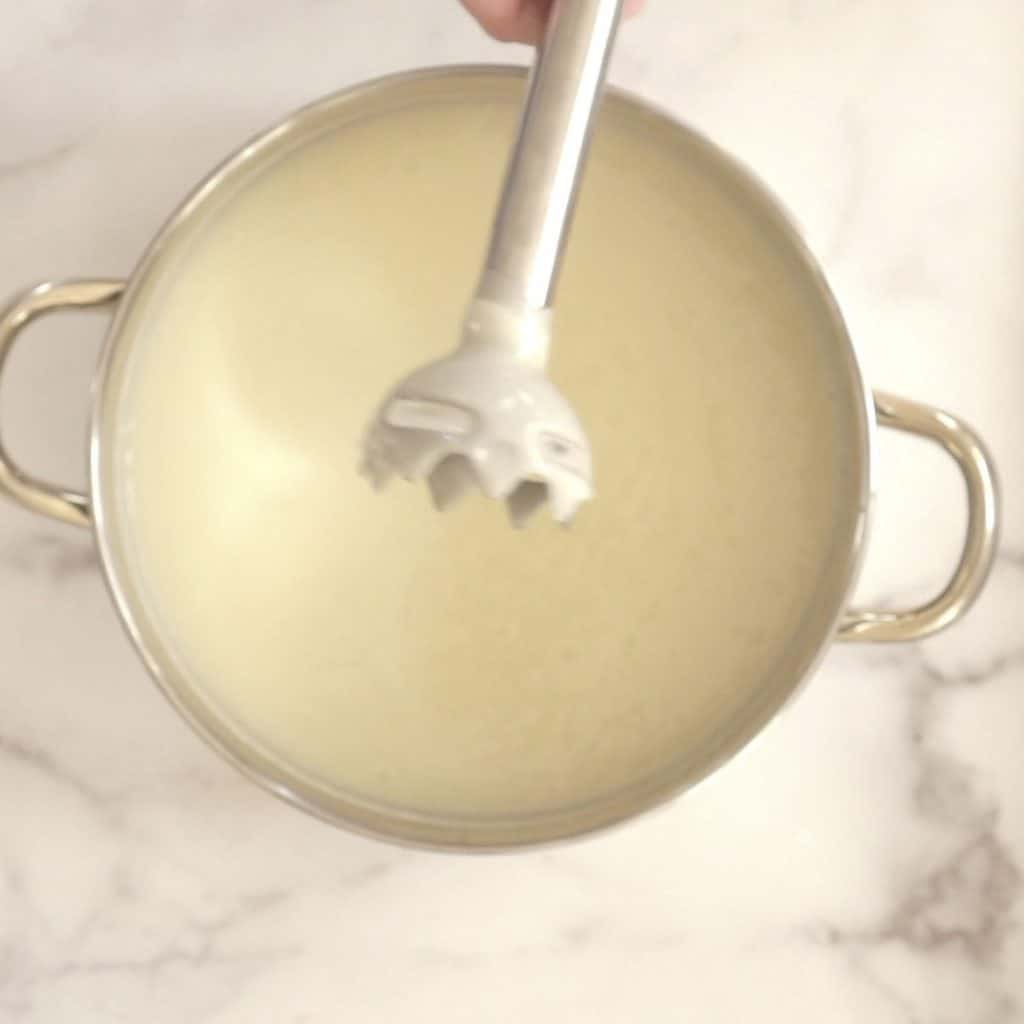 When trace is reached, add the fragrance and stir in by hand. Once the fragrance is added, it will start to set up very quickly. Immediately pour the soap into the mold.
Wrap the baby soap in an old blanket so that it will retain its heat as it cures. Let it sit, undisturbed, for one day, then turn out of the mold and cut into bars.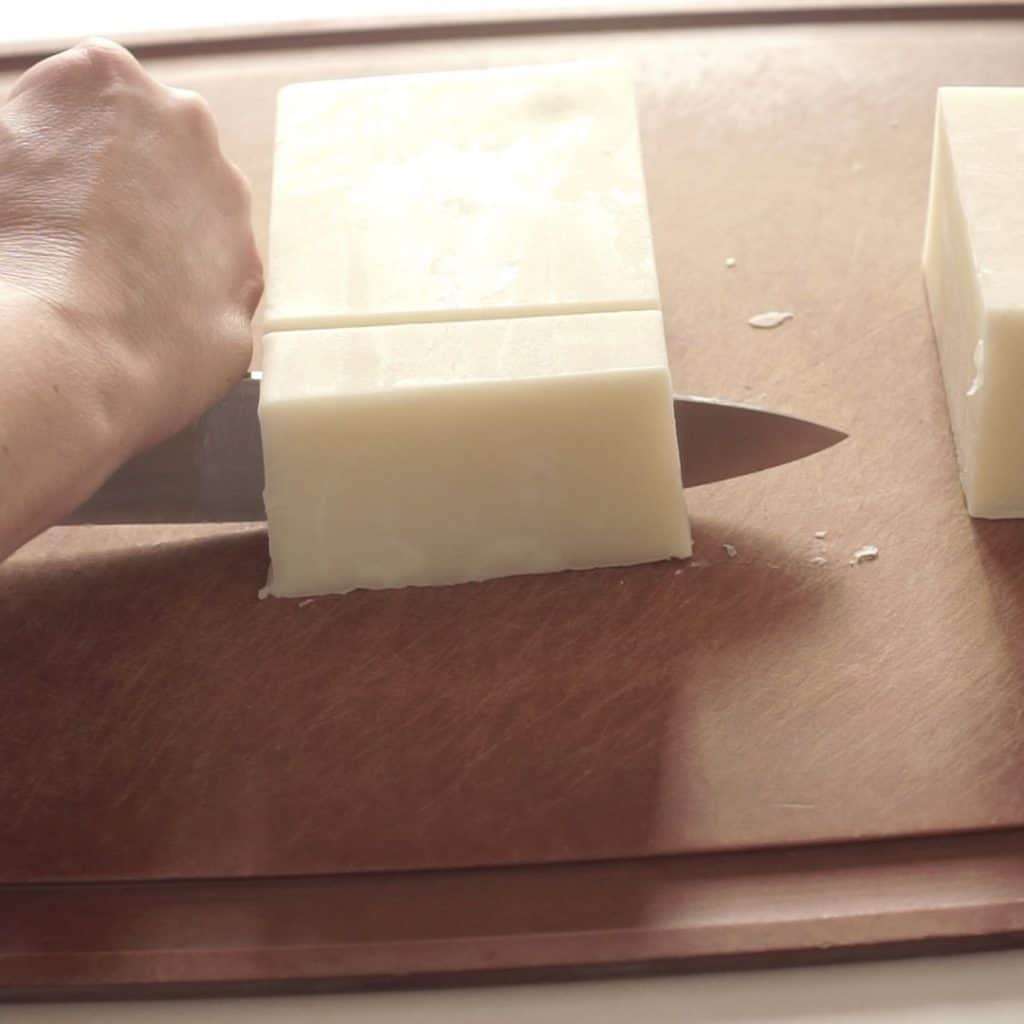 This soap is very high in olive oil, which means it will improve with a long cure time. It will be safe to use after 2 weeks, but after a month it will be a harder bar that will last longer.
Here's the printable recipe!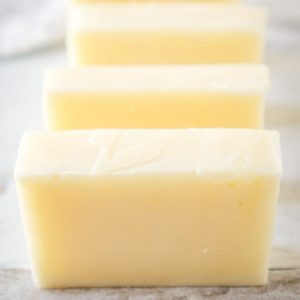 Gentle Cold Process Baby Soap Recipe
Print Recipe
A nourishing, palm-free soap recipe developed especially for baby's sensitive skin. Lavender helps little ones relax after a long day.
Click here for a FREE autumn cookbook (25+ Recipes!)
Ingredients
3

ounces

sweet almond oil

8

ounces

coconut oil

14

ounces

olive oil

4

ounces

shea butter

1

ounce

beeswax

4.10

ounces

lye

8 to 11

ounces

of water

2

tablespoons

lavender essential oil or fragrance oil

optional
Instructions
Measure out the lye and water into two separate containers, using a digital scale. Add the lye to the water (not the other way around) and stir until it's fully dissolved. It will get hot. Set it aside to cool in a safe place.

Measure out the oils and butters in separate containers. (Or at least measure the solid oils in one container, and the liquid oils in another.) Melt the solid oils, then add them to the liquid oils and melt on the stovetop on low until 140 degrees. Set aside to cool.

When the lye and the oils have both cooled down to about 110 degrees, it's time to make the soap. Prepare your mold and any fragrance you are using. Pour the lye water into the melted oil and blend with a stick blender. Blend until the soap reaches "trace", meaning that it has turned into a slightly thickened batter. There should be no visible oil droplets, and. if. you lift up your stick blender, the soap that comes off of it will rest on top of the soap instead of just sinking in. If you are adding fragrance, measure it out and stir by hand.

Immediately pour the finished soap into the mold. Cover with an old towel to insulate. it so it heats up evenly. After 24 hours, turn out and cut into bars. Allow. to cure for 2-3 weeks before using. Store in a dry, cool place.
Notes
Be sure to use gloves, goggles, and long sleeves, work in a well-ventilated area, and keep all ingredients away from pets and children!
To resize this recipe, use these percentages:
10% sweet almond oil
26.67% coconut oil
46.67% olive oil
13.33% shea butter
3.33% beeswax
6% superfat
Did you make this recipe?
If you loved it, please leave a review!
Looking for more homemade things for baby?
This homemade hand cream would be lovely for elbows, knees, and any other dry patches on a little one's skin. Just make sure to choose a skin safe essential oil, or leave it out all together.
If you have mango butter on hand, you can try this moisturizing soap recipe, also suitable for babies.
Any questions? Leave me a comment, and I will do my best to help.