A rich, moisturizing hand cream for those drying winter days.  Whips up in just a few minutes!
This hand cream recipe is a simple blend of four ingredients to naturally nourish dry winter skin.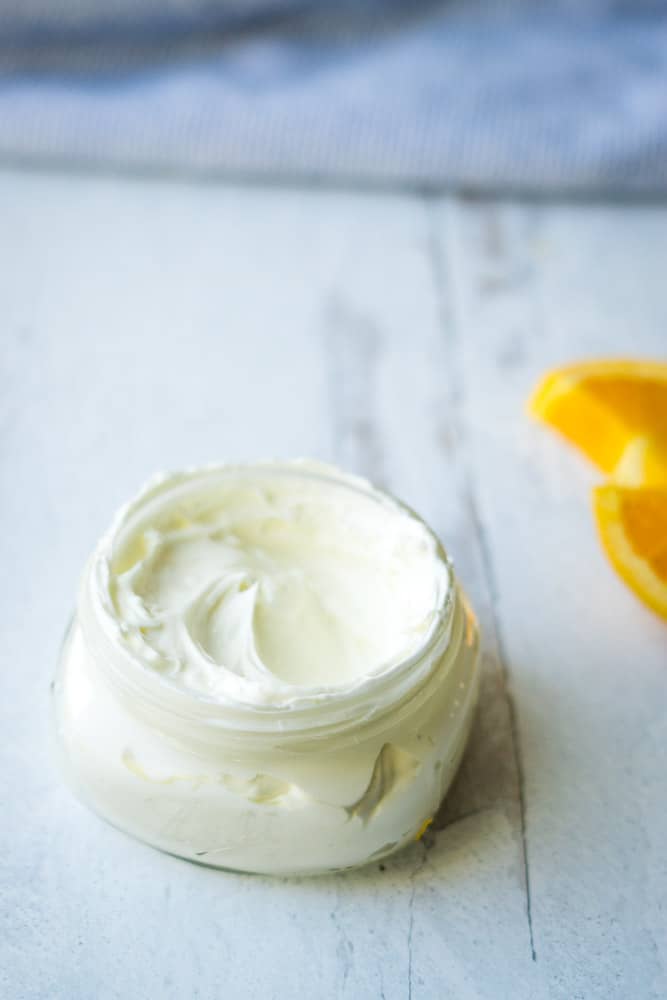 ❤️ Why you'll love this recipe
It's beginner-friendly: it makes a great gift and is a very easy project, one that kids can make with a little help.
If you are afraid of soap and lotion making, this is a great way to get into the world of homemade body products. If you are already a soap maker, you probably have most or all of these ingredients already.
This recipe makes a very thick, balm-like hand cream. It will melt on the skin and will absorb after a few minutes.
🧂 Ingredients
This is an overview of the ingredients. You'll find the full measurements and instructions in the printable recipe at the bottom of the page.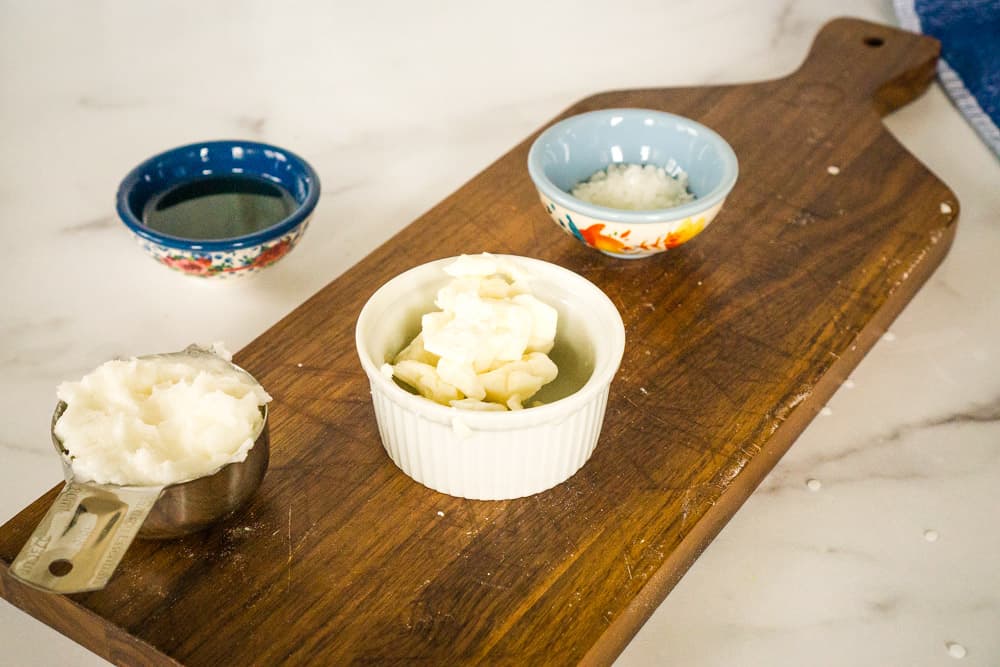 This article contains affiliate links, meaning that if you make a purchase after clicking on one, I may earn a commission at no extra cost to you. As an Amazon Associate, I earn from qualifying purchases.
You'll need the following for this project:
Olive oil. Any kind will work. Don't waste an expensive extra-virgin olive oil on this recipe.
Coconut oil. If you make a lot of soap or other bath and body products, get a variety that's not food safe. It's much less expensive. (You can get well-priced bulk oils at Nurture Soap.)
Beeswax. You will want to get the little beads, which are easier to measure out. Beeswax is very hard and difficult to work with in big pieces. (I use this kind of beeswax.)
Mango butter or shea butter. You only need a small amount. I prefer mango butter, which absorbs better on the skin. (I like this brand.)
Fragrance oil or essential oil. Make sure it is skin-safe.
🥣 Equipment
🍴Instructions
Step One: Measure, melt, and cool oils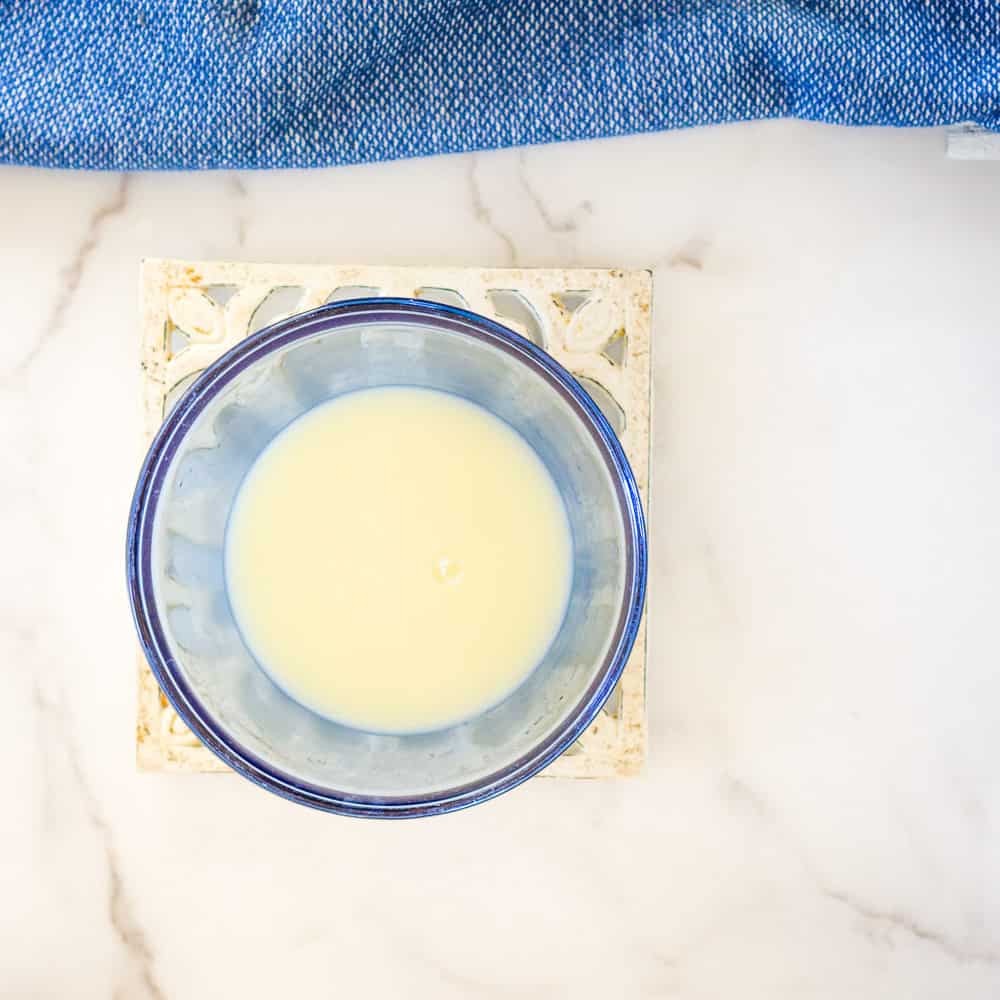 Measure all the ingredients using a kitchen scale.
Melt over a double boiler, or just a bowl set over a pan with an inch of water. The beeswax has a high melting point, so it may take a little longer than you expect.
Then let it cool on the counter until it looks like this: (Might take over 4 hours, up to overnight.)
Step Two: whip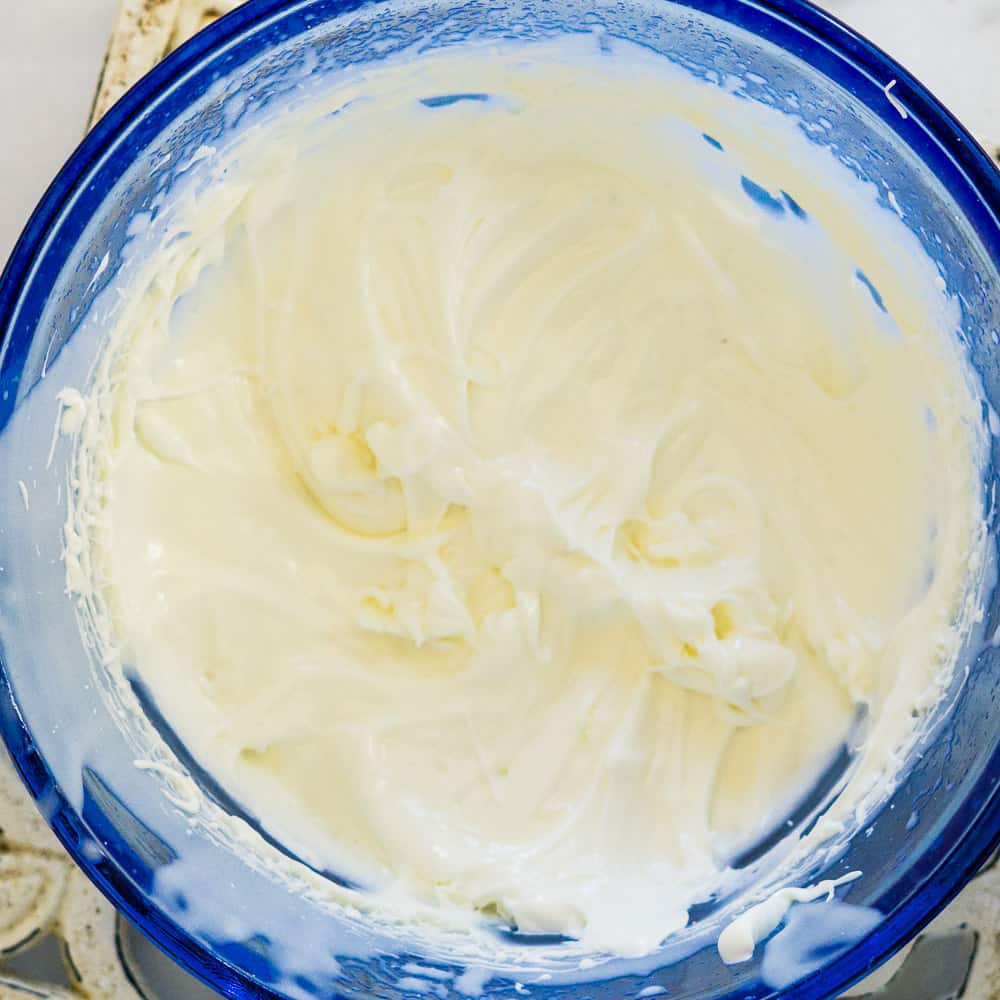 Then whip until it is fluffy. If you have a stand mixer, that works best. A hand mixer will work fine, it will just take longer.
Step three: store
Scoop the hand cream into a clean container and store it at room temperature.
🥫 Storage instructions
If your house gets very warm (above 80 degrees), it may melt and need to be rewhipped.
🔍 FAQs
Can I leave out the beeswax?
No, the cream will be too thin and won't have any "body" to it.
Why no preservatives? Won't it grow mold?
Nope, since there is no water in this recipe, you don't need to worry about mold growing. It's almost like a whipped chapstick!
Can I substitute some of the other oils and butters in the recipe?
You can make tweaks and substitutions, but the consistency will change. That doesn't mean it won't work, just that it will be different. I would recommend not increasing the amount of olive oil or beeswax, as they dramatically affect the finished product.
👩🏻‍🍳 Expert tips
Use a stand mixer if you have one; it's much easier
If you don't have an "official" double boiler, a bowl set over a pan of simmering water is all you need.
This recipe can also be simply melted and cooled and used like a balm without the whipped consistency.
📘 Related Recipes
📖 Here's the recipe
Please note that the finished product is very rich and stiff. If you want a softer cream more like a traditional store-bought cream, you will need to add emulsifiers and preservatives. My favorite body cream recipe can be found here.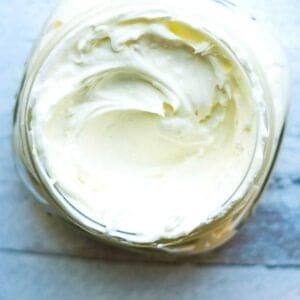 Homemade Hand Cream for Winter
Print Recipe
A rich, moisturizing hand cream for those drying winter days. Whips up in just a few minutes!
Click here to grab a free seasonal e-cookbook!
Ingredients
3

ounces

coconut oil

1.75

ounces

mango butter

1

ounce

olive oil

0. 125

ounces

beeswax
Instructions
Melt the oil, butter, and beeswax in a double boiler set over low heat.

Remove from the heat and add the fragrance oil and essential oil, if using. Stir well until fully combined.

Set on the counter to cool at room temperature until solidified, at least 4 hours, or overnight.

Whip until white fluffy using electric mixer, about ten minutes. If consistency does not change after whipping, place the oils in the fridge for 15 minutes and try again.

Store in clean container at room temperature. May melt if stored above 80 degrees.
Notes
If you don't have a double boiler, just use a glass on stainless bowl set over a pan with one inch of water.
If your house is very warm, you can store this in the fridge.
If you just want a moisturizing balm, there is no need to whip. Simply melt, mix, and store!
Did you make this recipe?
If you loved it, please leave a review!