Candied jalapeños are sweet, hot, and delicious.  Pour on top of cream cheese as an appetizer or use as a condiment for almost anything.
This recipe is a magical blend of sweet and heat for a surprisingly versatile way to can your jalapeños.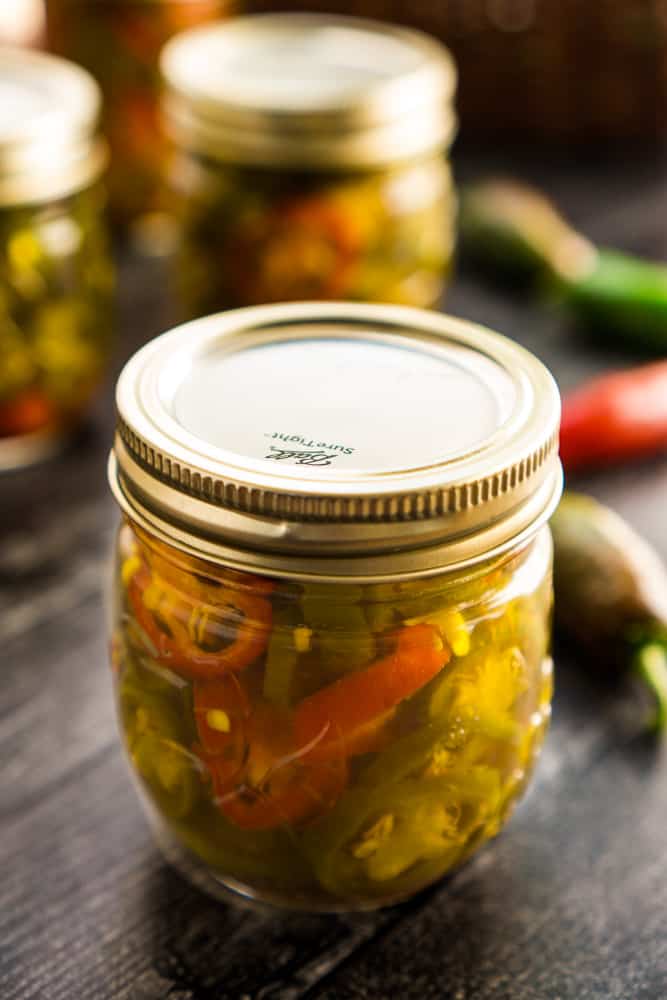 This post contains affiliate links, meaning that if you make a purchase after clicking on a link I may earn a small commission at no additional cost to you. As an Amazon associate, I earn from qualifying purchases.
So what exactly are candied jalapeños?
It's sliced jalapeños that are briefly cooked in a vinegar and sugar syrup and then canned. Sounds weird, but it's delicious. The end result is sweet at first but still retains a lot of heat.
Some versions of candied jalapeños are decidedly savory, and add garlic, onion salt, and things like that. Mine goes more into the sweet side, with cinnamon and ginger, which pair amazingly well with the jalapenos.
And how are you supposed to eat them?
There are so many ways. The most traditional use for them would be poured on top of cream cheese and served as a simple spread with crackers. They are also good chopped up and added to cornbread, served on top of chili, tucked into a grilled cheese sandwich, or used to garnish a cocktail. (This pineapple jalapeno drink looks amazing.)
Tips for working with fresh jalapeños:
WEAR GLOVES! Oh my goodness, please just do it. When you are slicing this quantity of peppers, you will get the hot oils all over your hands and spread them everywhere.
If you want to decrease the spiciness of the peppers, you can try removing the seeds, but it is very tedious, and a lot of the heat is in the "membrane" of the pepper. In this recipe, the sugar tones down the heat of the peppers and they will continue to mellow over time.
Red jalapeños tend to be milder than the green ones. You can't always find them at the grocery store, but if you grow them in your garden, any jalapeno variety will turn red a week or two after it has grown to its full size. I like to mix red and green when I make cowboy candy for canning, just because I think it is pretty.
Step by step cowboy candy making
If you are going to be waterbath canning these, go ahead and prepare your canner and jars. Wash the jars and put them in the oven or hot water to keep them warm. Get the water boiling in your canner and boil a small pan of water for the lids and rings. Make sure you have all the tools you need ready to go before you start making the cowboy candy.
Gather your peppers. If you have a scale, weigh them. You need 3 pounds. This will equal 8 cups of sliced jalapeños.
Put your gloves on, and get to slicing. I always do this by hand and it doesn't take that long. Put some music and just do it.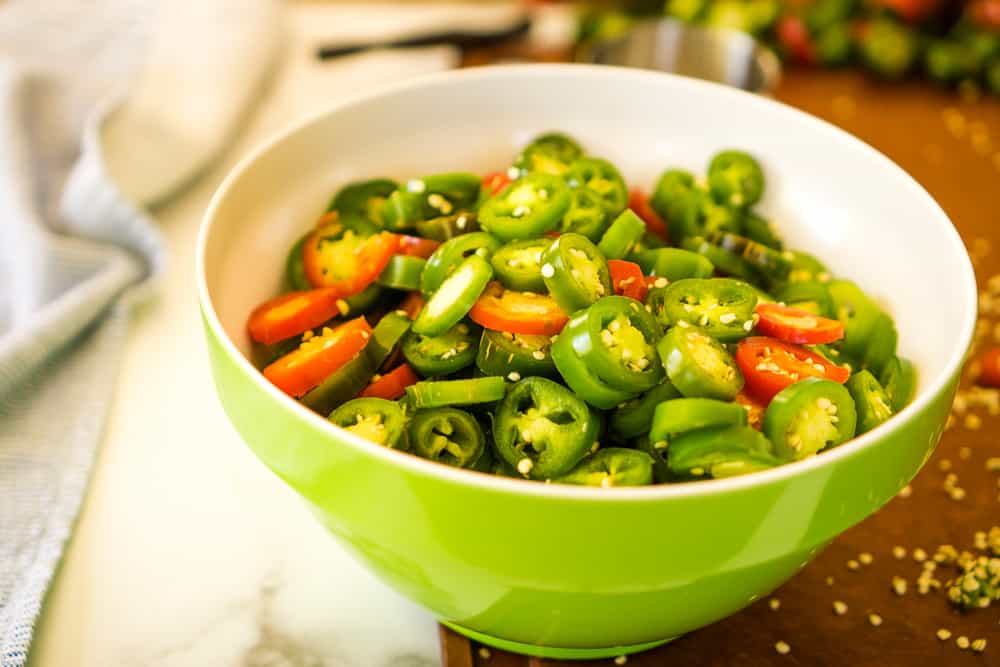 They're pretty, right? Like little Christmas peppers. You should have about 8 cups of sliced jalapeños. If you don't have quite that, its totally okay.
Next, we pour the vinegar, sugar, and seasoning into a stock pot or deep sauté pan. You want a wide surface area so that the liquid can reduce and form a syrup. Bring to a boil, and then reduce to a simmer. It will take a while for the liquid to reduce to a syrup, around 5 to 7 minutes. Keep your eye on it so it doesn't scorch or bubble over.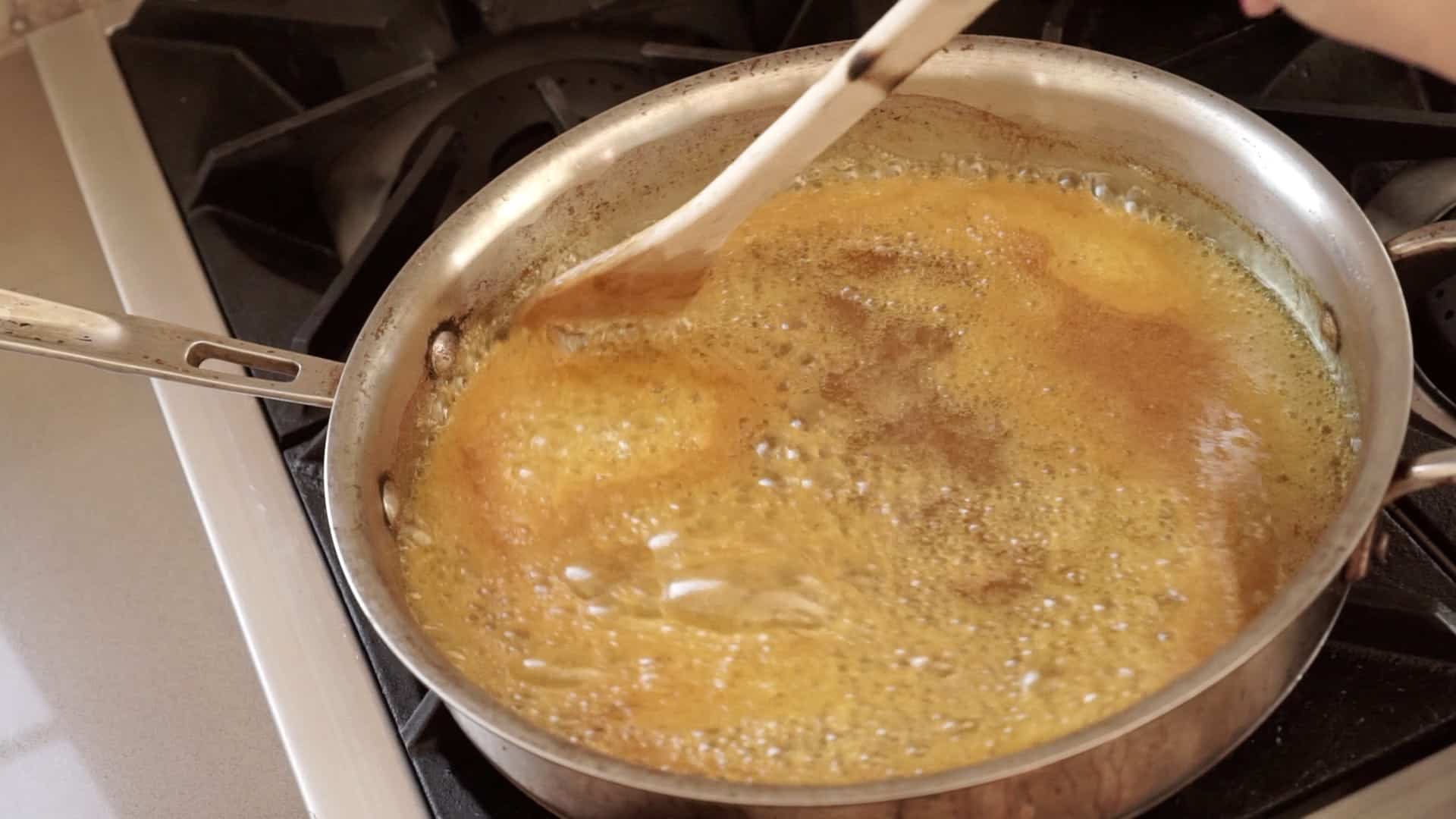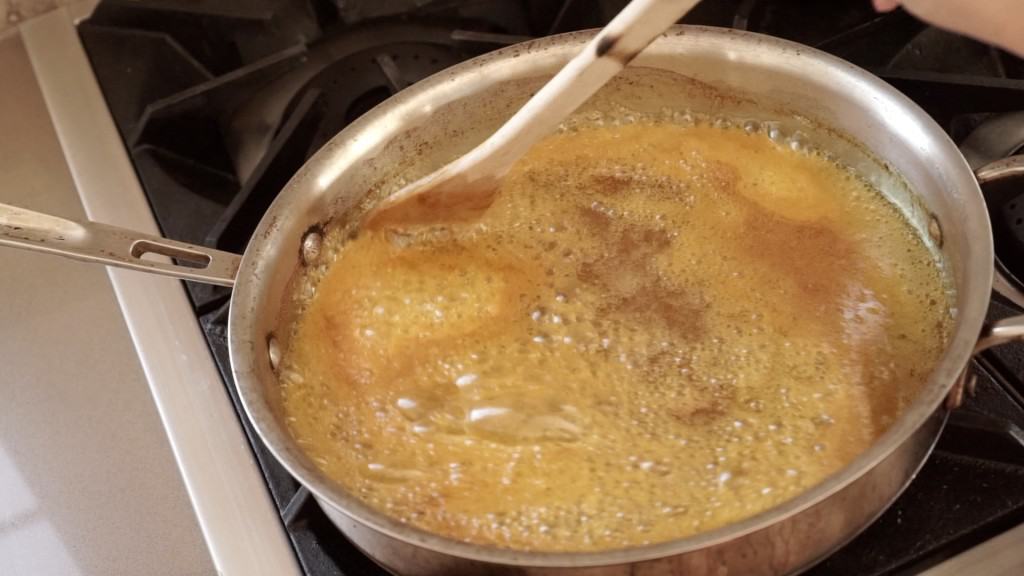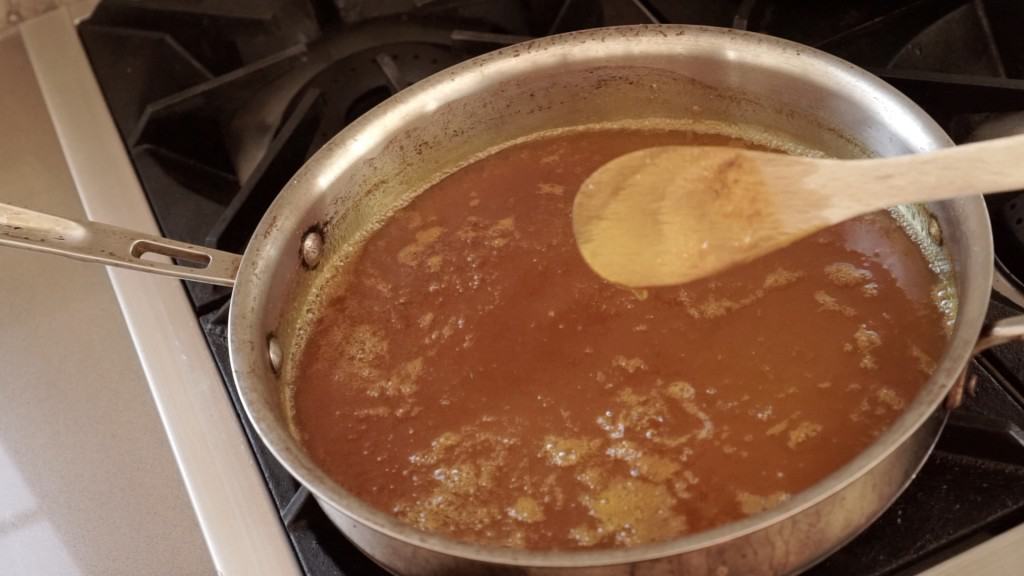 When it has thickened, add the sliced peppers. Then reduce heat and simmer for five minutes. The sliced jalapeños will change from a fresh green to more of a pea green, like pickles. This will take about five more minutes.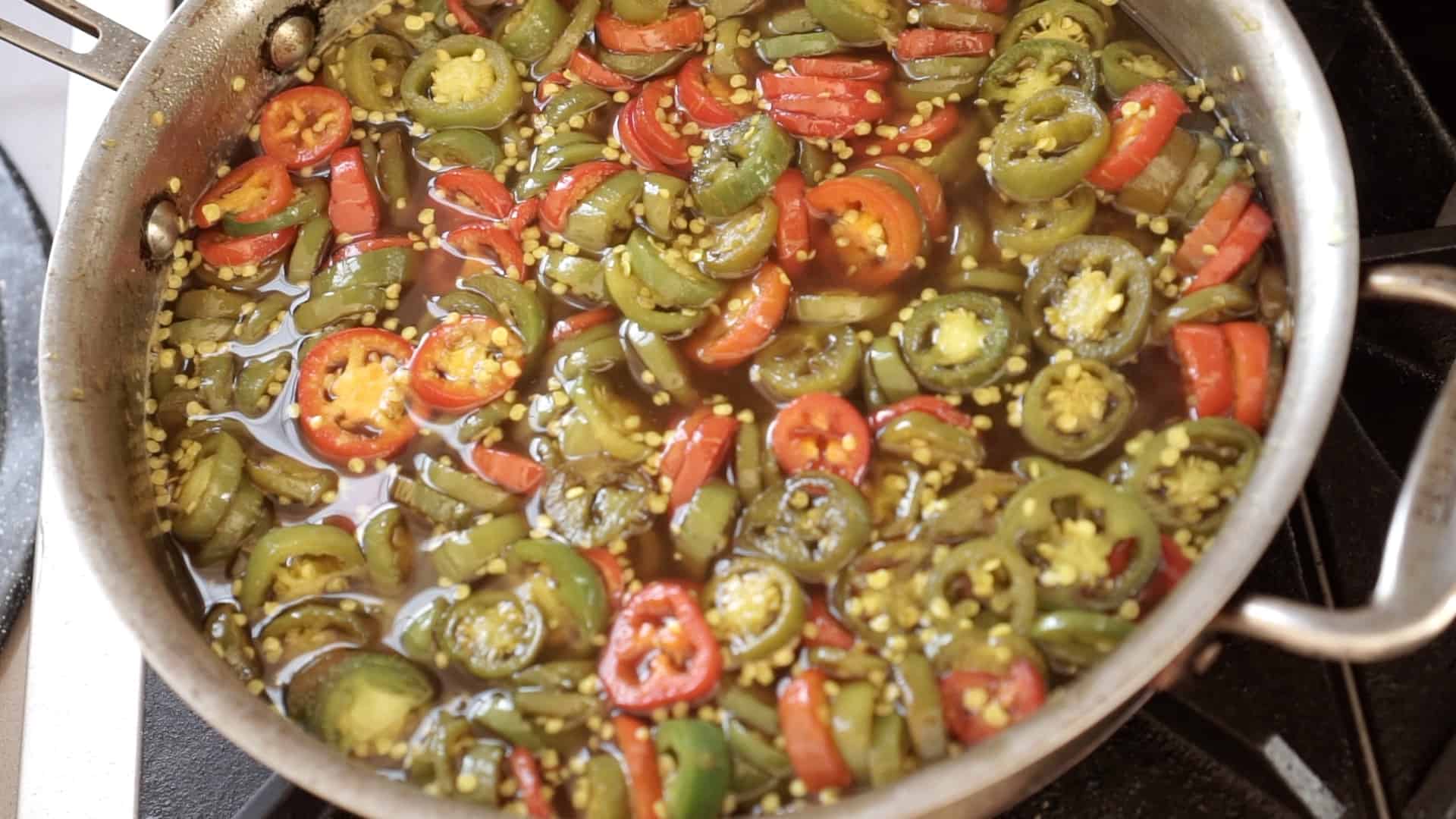 And that's it! If you don't want to can them, they can be stored in the refrigerator for up to three months.
To can your candied jalapeños:
If you have never canned anything before, you will want to carefully read this article on home canned food safety.
Now if you want to can them so they are shelf stable, there are a few more steps. Don't be scared. We are just boiling them in a huge pot of boiling water to kill anything that could spoil them and seal up the jars. No big deal, right?
You can technically use any large pot to waterbacth can, but I like to have one of the classic canners because they are lightweight and fit your rack just right. You can get a pot and accessory set without spending a lot of money.
It is best to have everything ready to go for the canning portion before you start making the actual recipe. So before you chop the peppers, get set up. Make sure your jars and clean, and heat them up, either in the oven on 200 or in a pot of hot water. They don't need to be sterilized, just hot so that the hot peppers don't crack them.
In a smaller pan of water, heat the rings and lids. Get your canner out, fill it with water, and start boiling. Then begin the recipe.
After you've made the cowboy candy, use a funnel to help you ladle the peppers into the hot jars.
You want to leave a 1/4 inch of headspace, which just means don't fill them up to the very top, leave a 1/4 inch of room in case they expand in the canner. Use your little tool to push down the peppers and get air bubbles out. Wipe the rims so they are very clean and the lid can seal to them properly.
Remove your lids and rings from the hot water and screw them on "fingertip tight", which means tightened until you feel a little resistance, but not too much. You could still twist it on or off with just your fingertips.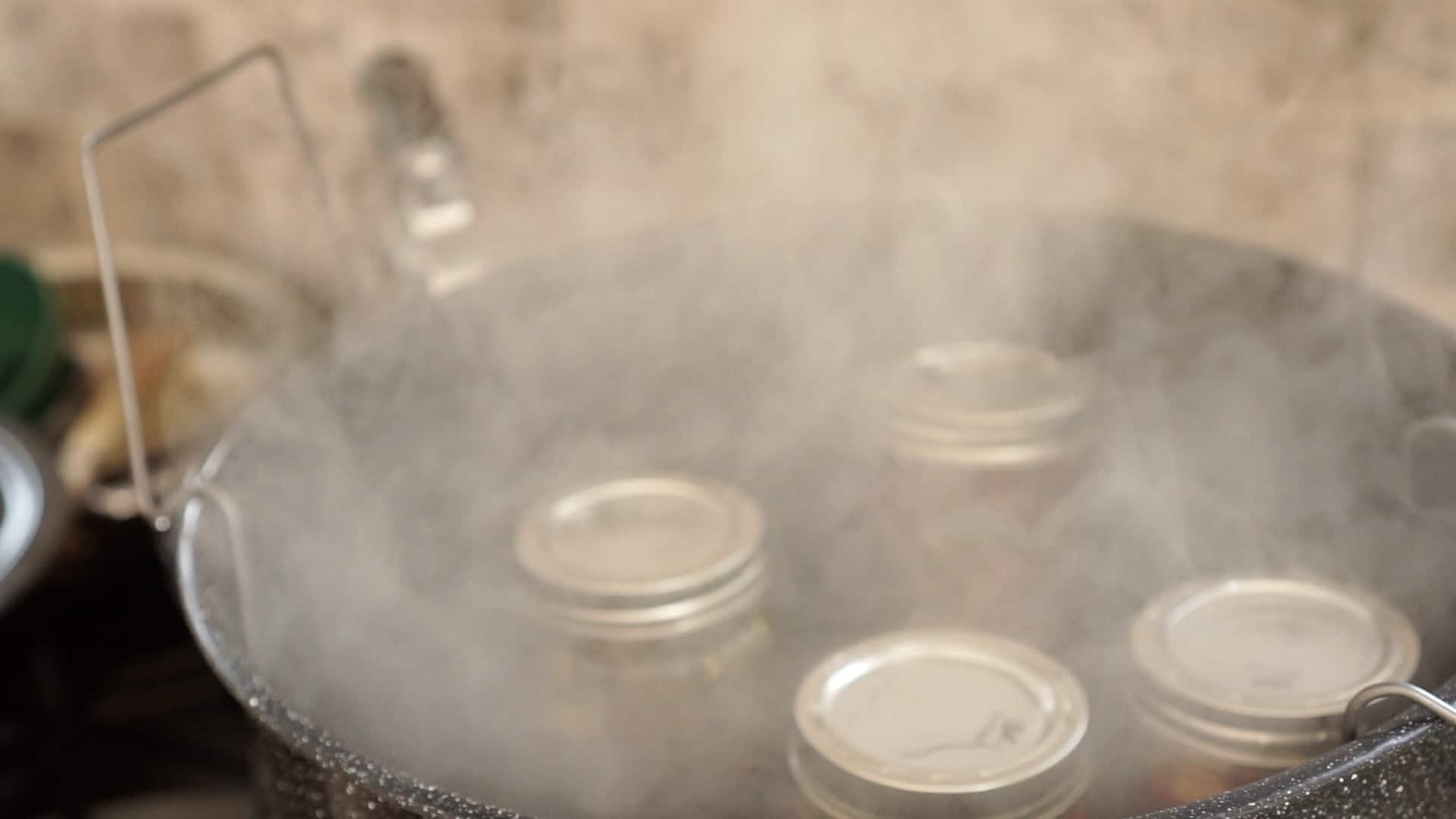 Then lower the jars into boiling water, cover the pot with the lid, and process for 10 minutes for half pints or 15 minutes for pints. Remove them carefully and set them on a towel to cool. Don't disturb them while they are cooling, as they need to seal. You will hear a popping sound and the lid will be totally flat.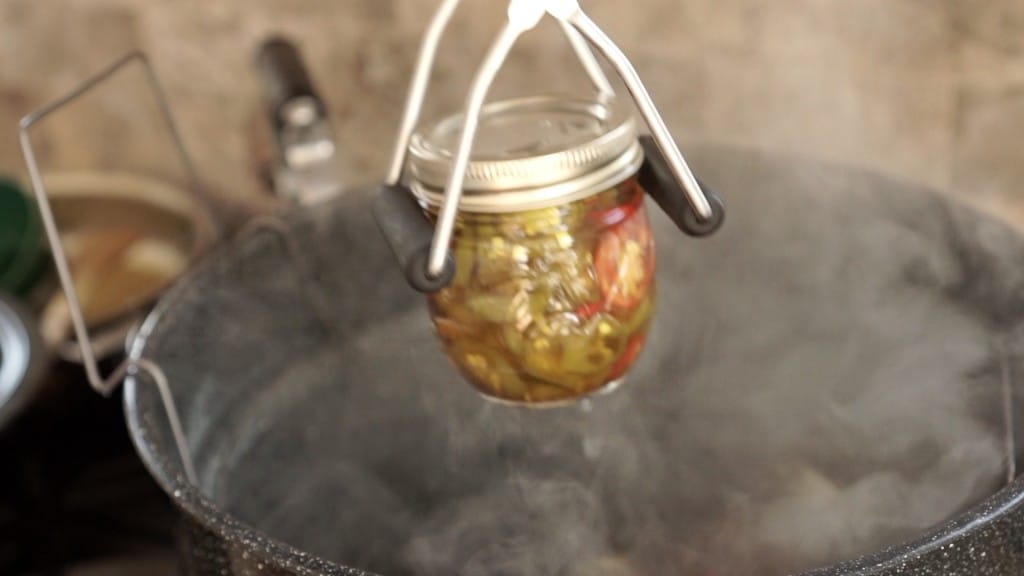 Store them in a cool dark place. They will keep at least a year.
More gardening and canning:
Here's the recipe and the video
Candied Jalapenos
Print Recipe
Candied jalapeños are sweet, hot, and delicious. Pour on top of cream cheese as an appetizer or use as a condiment for almost anything.
Click here to grab a free seasonal e-cookbook!
Equipment
Water bath canning equipment

Mason jars
Ingredients
3

pounds

of jalapeno peppers

sliced into 1/4 inch rings (equals 8 cups of sliced jalapeños)

1 1/2

cups

white vinegar

3

cups

white sugar

1

teaspoon

cinnamon

1

teaspoon

turmeric

1

teaspoon

ginger
Instructions
Combine vinegar, sugar, and spices in a large stockpot or high sided sauté pan. Bring to a boil over medium high heat. Reduce to low and simmer until the liquid reduces into a sticky syrup, about 5 to 7 minutes.

Add the sliced jalapeños. Increase heat to medium high until mixture boils, then reduce to a simmer. Simmer for five minutes. Jalapeños will change color and seem less bright green.

Ladle into hot, clean half pint jars with the help of a funnel. Clean the rims of the jars before putting the lids on, and turn them to fingertip tight, Lower into boiling water in a water bath canner and process for ten minutes.

Remove from canner and place on a dish towel to cool at room temperature until lids are sealed. After 24 hours, store in a dark place for up to 1 year.
Notes
If you don't want to can: Simply ladle the cowboy candy into clean jars, twist lids on, and allow to cool to room temperature. Refrigerate for up to 3 months.
Nutrition
Calories:
161
kcal
|
Carbohydrates:
40
g
|
Protein:
1
g
|
Fat:
1
g
|
Saturated Fat:
1
g
|
Sodium:
3
mg
|
Potassium:
171
mg
|
Fiber:
2
g
|
Sugar:
38
g
|
Vitamin A:
733
IU
|
Vitamin C:
81
mg
|
Calcium:
10
mg
|
Iron:
1
mg
Happy canning!