Chewy and crisp sourdough baguettes that you can start in the morning and serve with dinner.
This recipe combines gentle kneading with a pinch of yeast for crisp sourdough baguettes with a chewy interior.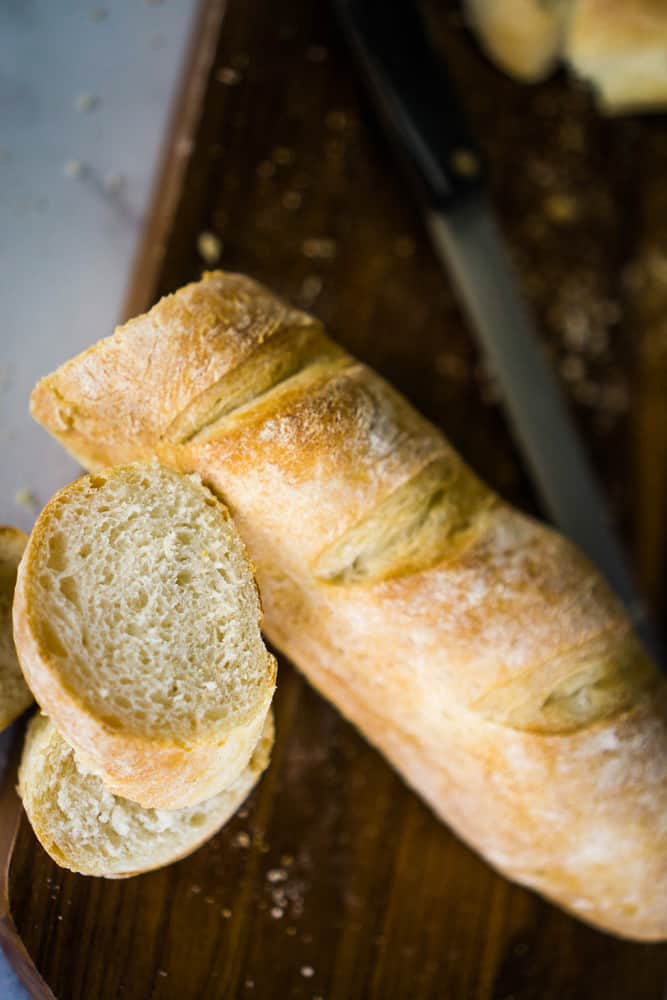 You know how sometimes the strangest things get you interested in a hobby for the first time? It was like that for me with baking bread. I read a novel in which a character goes on a picnic, and in the basket were some homemade sourdough baguettes. I read that sentence and just knew that baking bread was for me.
I have never once packed a picnic basket with a homemade baguette. But I have baked them many times, both the hard way and the easy way. I love them for my favorite red pepper bruschetta, spinach artichoke dip, and feeling French.
Baguettes can be for beginners
Baguettes are romantic, versatile, and often very challenging. They typically have long proof times. Shaping them is weird. The dough is sticky. This recipe is not like that. (Here's a great advanced baguette recipe if you're interested.)
I hesitate to even call these baguettes because they are not an open crumb high hydration recipe. I have one of those, but this is geared towards beginners. The dough keeps its shape and is easy to handle. "Serious" bread bakers might scoff at this recipe. But this one is for normal people. Don't be ashamed if more advanced baguette recipes scare you. We'll get there one day. Today, we bake something we know we can be proud of.
🥫 Storage instructions
🔍 FAQs
👩🏻‍🍳 Expert tips
📘 Related Recipes
🍽 Serve it with
🍅 make it along with me
Follow along step by step. The slides will turn every 7 seconds, or you can click ahead.
📖 Here's the recipe
Looking for sourdough recipes that WORK, written in a language you understand?
Sign up for my sourdough email series that takes you from making a starter to baking all kinds of sourdough recipes! You can
grab it here
Step by step baguettes, the easy way
First we need to mix our ingredients in a bowl and check the consistency. It's not going to be wet. If you are used to working with sourdough, it may seem very dry to you.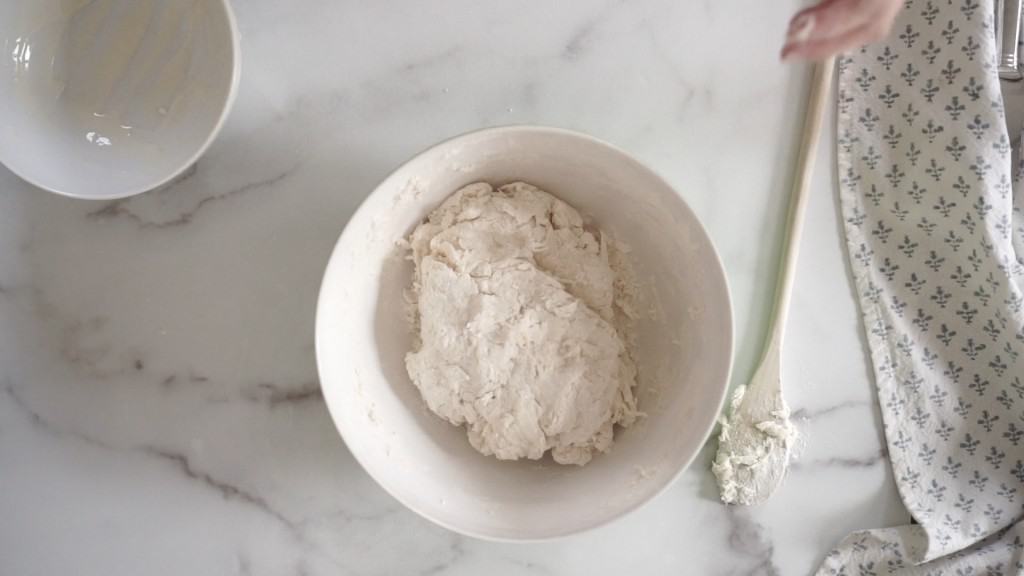 It's time to cover the dough and let it rest so that the flour can hydrate. We'll re-evaluate the consistency after this brief test. Give it anywhere from 20-40 minutes. If it still seems very dry, like the dough is not forming a ball, add water very slowly.
Then turn it out onto the counter and knead 5-10 minutes. We are having pretty long proof times with this recipe, so it's not necessary to go crazy with kneading. The dough should still look smooth: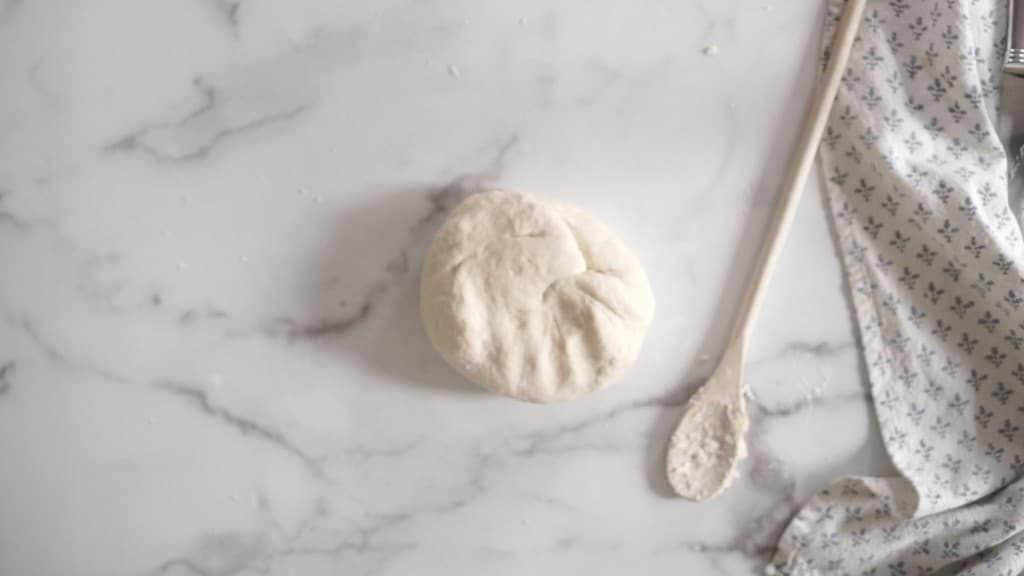 Now we do the first proof. It will take an hour in a warm place, and the dough should look very puffy when it's done.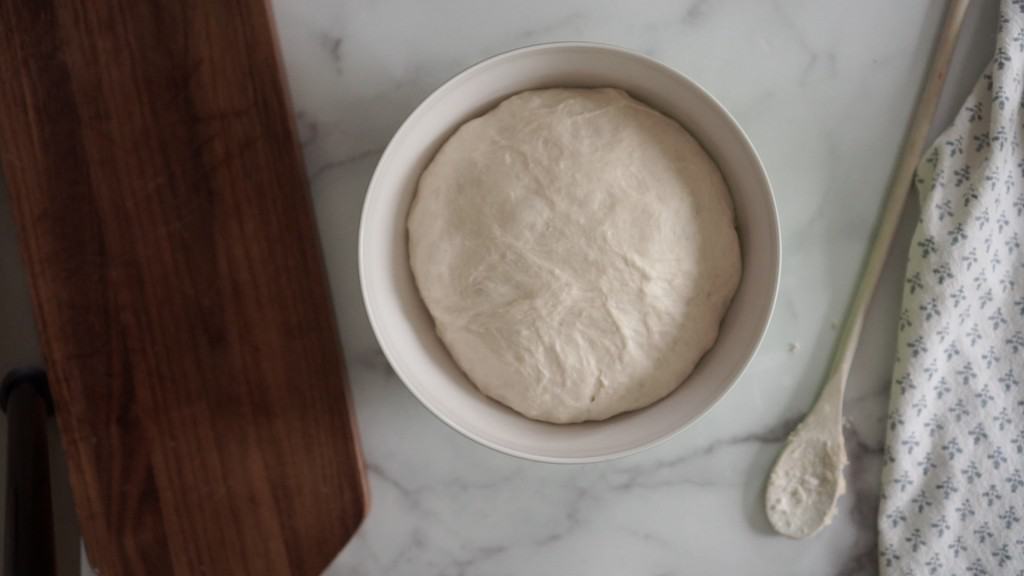 Shaping and proofing
We are going to shape these without getting hysterical about doing it perfectly. First, divide the dough in half and shape into rough logs. Let them rest about 10 minutes, which will make the dough easier to shape later.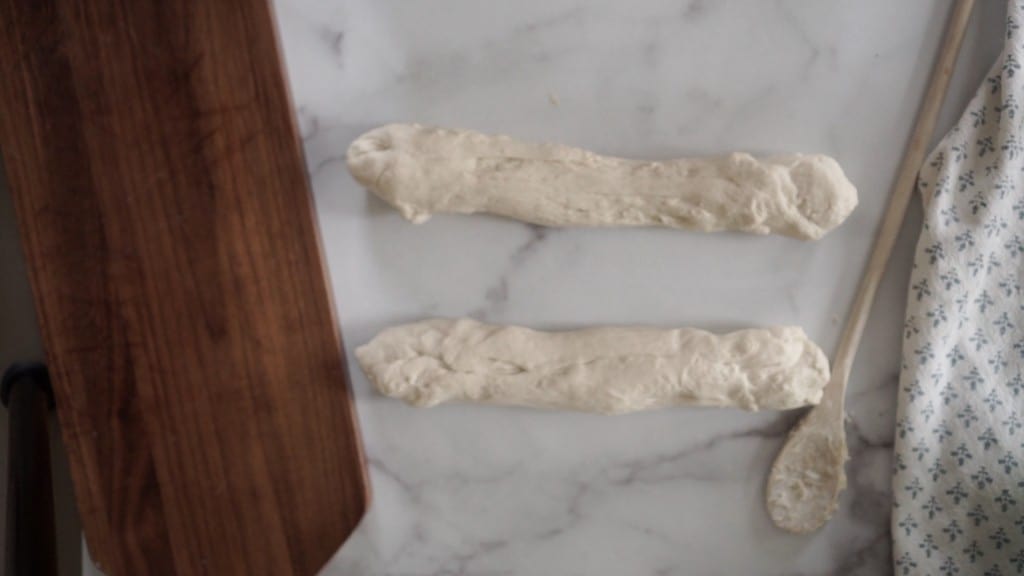 Now stretch them out to about 15 inches, and pinch them to shape. Just pinch along the long, smoothing out the baguette and pinching the seam.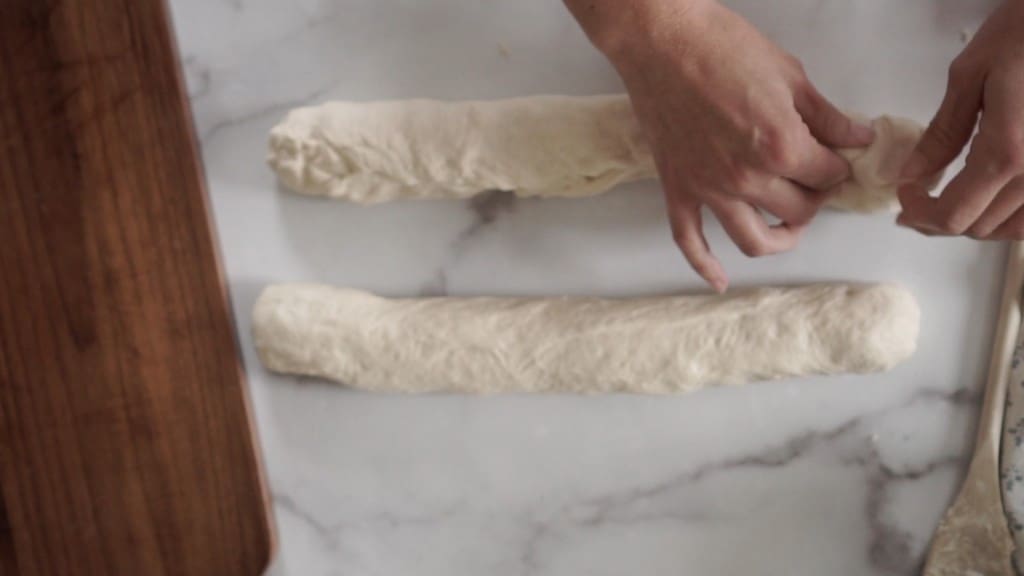 Dust the tops with flour, and the bottoms with cornmeal, then slash the tops. Place them either on a curved baguette pan or a parchment lined baking sheet, and cover them with heavily greased plastic wrap.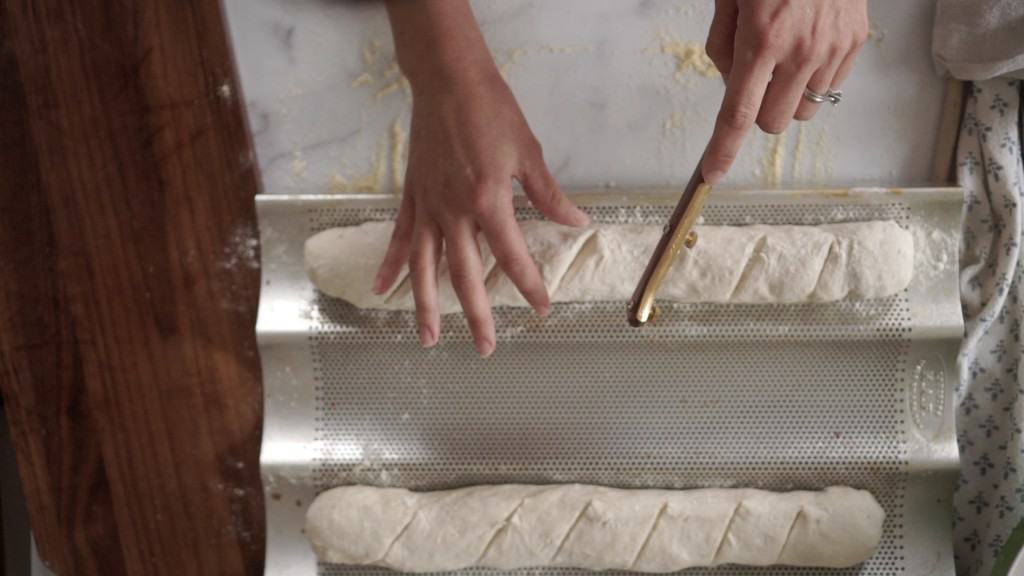 Now we cover and allow the loaves to do their final proof. This can be one hour in a warm place, or as long as four hours in the fridge. A cooler, slower rise will have a more pronounced sourdough flavor, and a shorter, warmer rise will taste more like a traditional white bread.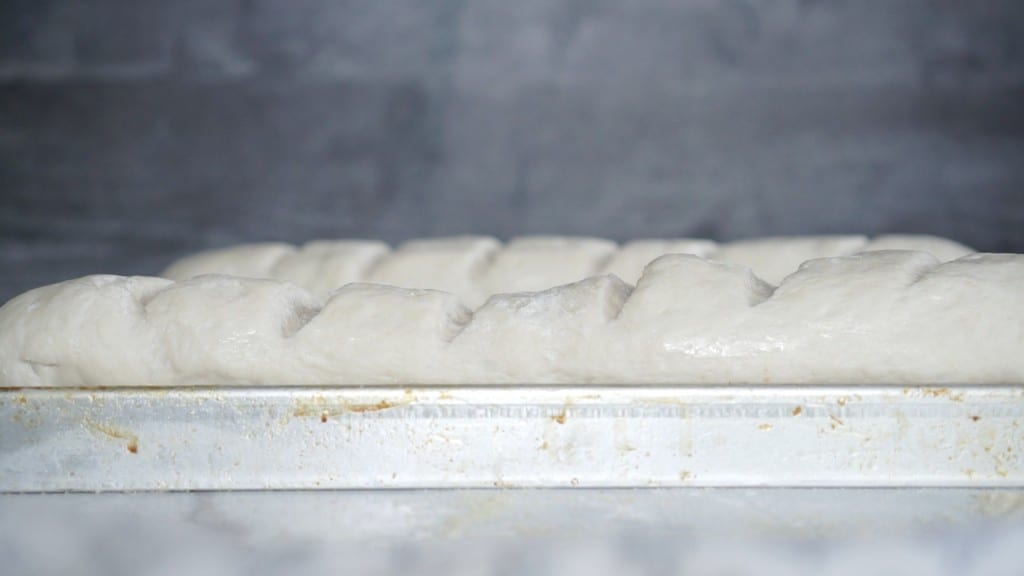 One they are puffy, bake the sourdough baguettes at 450 for twenty minutes.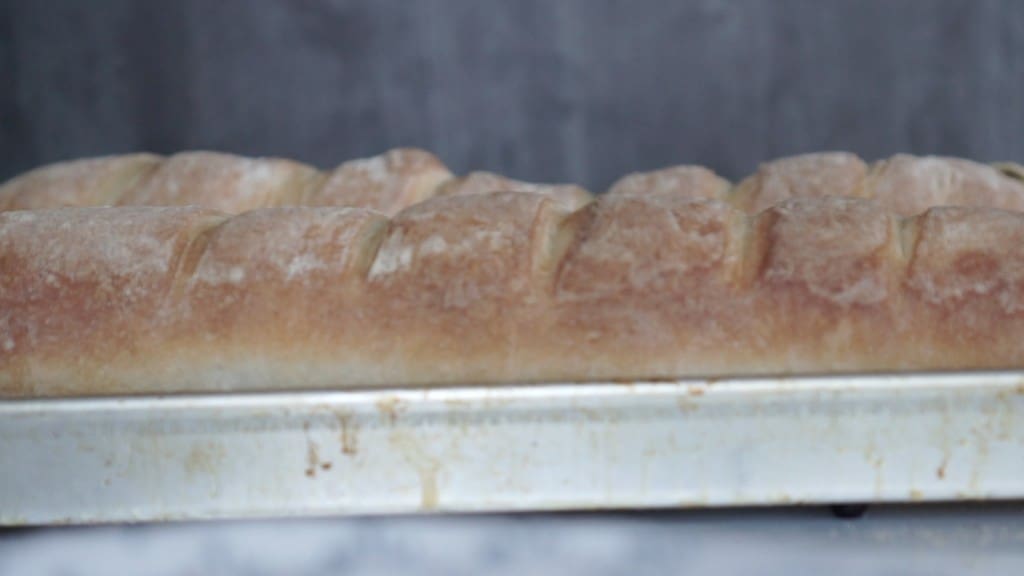 They should sound hollow when tapped and be golden brown.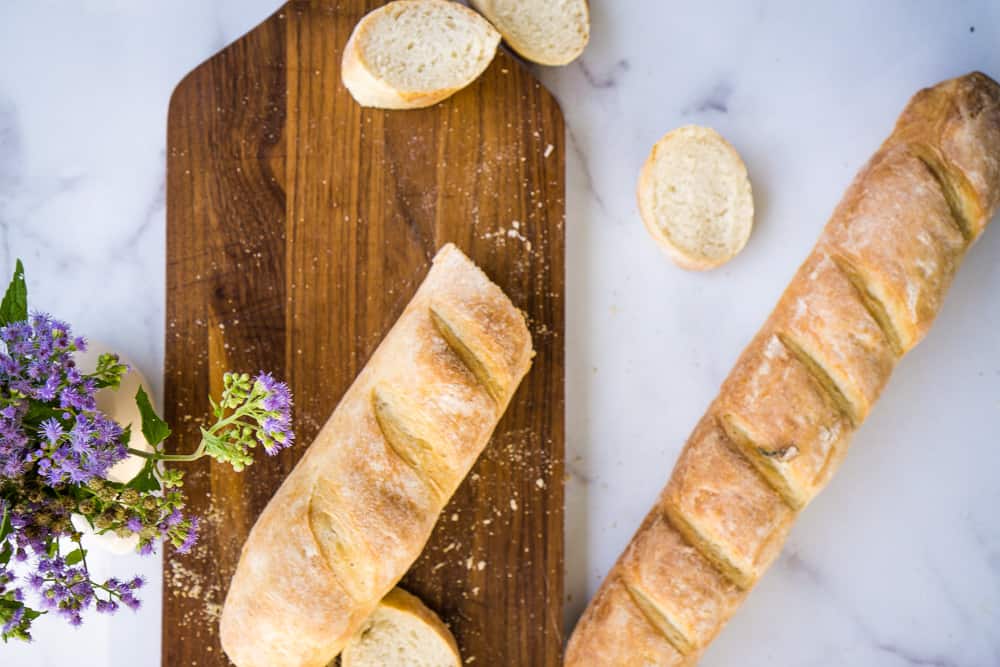 The recipe and video tutorial: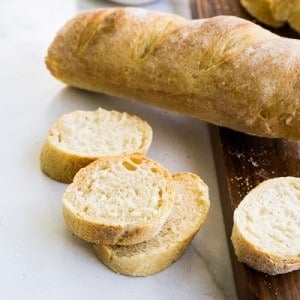 Rustic Sourdough Baguette Recipe
Print Recipe
Chewy and crisp sourdough baguettes that you can start in the morning and serve with dinner.
Click here to grab a free seasonal e-cookbook!
Ingredients
2/3

cups

water

2 1/2

cups

bread flour

1/2

teaspoon

sugar

1 1/2

teaspoons

salt

1

cup

sourdough starter

fed

1/4

teaspoon

instant yeast
Instructions
Combine all ingredients in large mixing bowl and stir.  Dough may look slightly dry but should come together.  Cover and allow to rest at room temperature for about 30 minutes.

Check consistency of the dough and add a tiny bit of water or flour until dough is soft but not wet overly sticky.  Turn out onto counter and knead 5 to 10 minutes by hand.  Dough should be relatively smooth.

Place dough in clean bowl and cover with damp tea towel.  Allow to rise at cool room temperature 2-3 hours, until doubled in bulk.

Turn out onto counter and divide in half.  Shape into rough 10-12 inch logs and cover with damp towel to rest 10 minutes. Prepare flat baking sheet or special baguette pan by spraying with vegetable oil spray and dusting with cornmeal.

Shape baguettes into 15 inch long loaves and rub with flour.  Make slashes 1/4 inch deep with a lame or sharp knife.  Place on baking sheet or baguette pan and cover with heavily greased plastic wrap.  Allow to rise 1 hour at room temperature or 3-4 hours in fridge. Towards the end of the rising time, preheat oven to 450 degrees.

Bake 20 minutes, or until golden brown, and allow to cool on rack.
Notes
If you prefer to leave out the yeast, you can!  Simply increase the rising times by a few hours.  You'll need to start the day before you bake.
Baguettes freeze very well: allow them to cool completely, then double wrap in plastic wrap and foil
Nutrition
Calories:
137
kcal
|
Carbohydrates:
28
g
|
Protein:
5
g
|
Fat:
1
g
|
Saturated Fat:
1
g
|
Sodium:
351
mg
|
Potassium:
31
mg
|
Fiber:
1
g
|
Sugar:
1
g
|
Calcium:
5
mg
|
Iron:
1
mg
Other beginner sourdough recipes you might like:
I hope you like these!