Extra soft and fluffy sourdough pancakes mixed up and ready in under 30 minutes.  
A recipe for thick, fluffy, and extra soft sourdough pancakes. Ready in just a few minutes!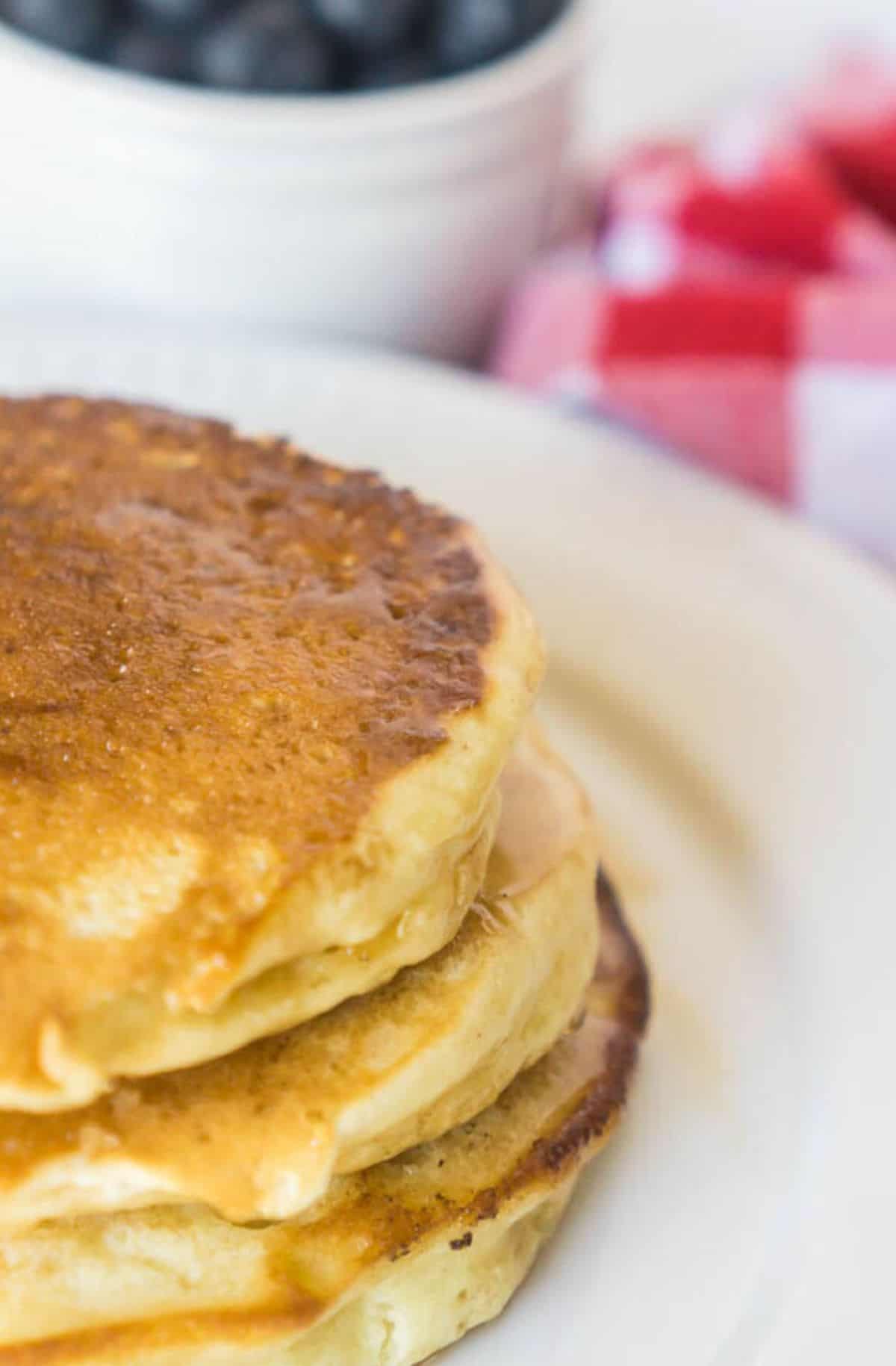 There's nothing like a good pancake recipe. And almost as satisfying as delicious pancakes is using your discard sourdough starter. This recipe is my favorite because it uses simple pantry ingredients and is mixed up and ready to go in just a few minutes. No overnight rest, no fussing.
Ingredients for sourdough pancakes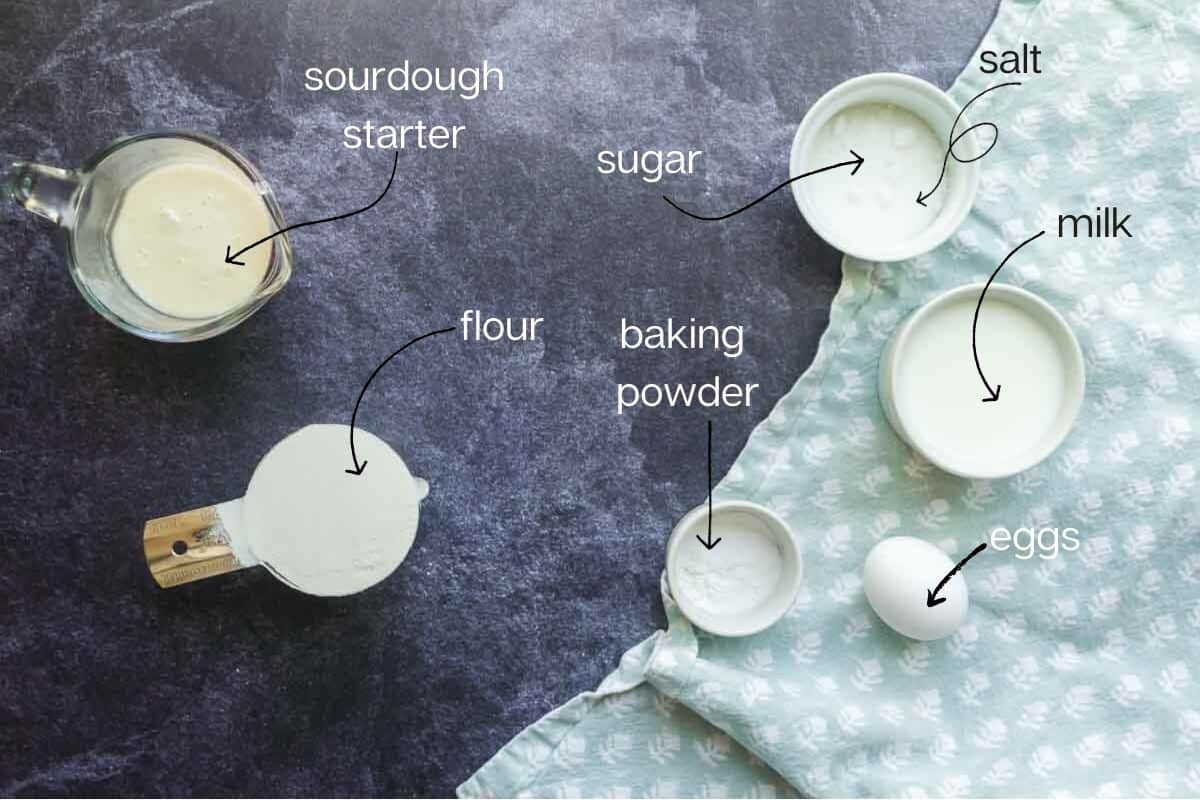 3/4 cup all purpose flour
3 tablespoons sugar
1/4 teaspoon salt
1 teaspoon baking powder
1/2 teaspoon baking soda
1/2 cup discard sourdough starter
1 eggs
1/2 cup milk
1 tablespoon vegetable oil
butter for the pan
Let's make them, step by step
Mixing up the batter
Making sourdough pancakes, like making any pancakes, is simple. If you want to be particular you can mix the dry ingredients in one bowl and the wet ingredients in a second bowl. If you are feeling lazy, mix everything up in one bowl. No big deal.
The batter may start to bubble up a bit, particularly if your starter is still a little active.
Cooking the pancakes
And now we cook! You can cook these on an electric griddle or on any skillet. Turn the heat to medium low and let the pan get hot before you add the butter. Add a tablespoon or so, then scoop about 1/4 cup to 1/3 cup of batter onto the hot skillet.
Let the batter cook until it bubbles up on the surface and then flip. These are thick and fluffy and typically take 2-3 minutes per side. The first pancake is almost always the strangest looking.
You will have to cook in batches, so you can either serve in batches or hold the cooked pancakes in a 200 degree oven.
Serve!
We love these served with powdered sugar, whipped cream, and fresh fruit. Of course there is absolutely nothing wrong with a big stack of sourdough pancakes served with butter and syrup. Whatever you like will work perfectly!
Need more sourdough discard recipes for breakfast?
Print the recipe here!
This recipe is for a smaller batch and makes 10-12 pancakes. For a larger batch, click the button on the recipe that says 2X, and it will double everything for you.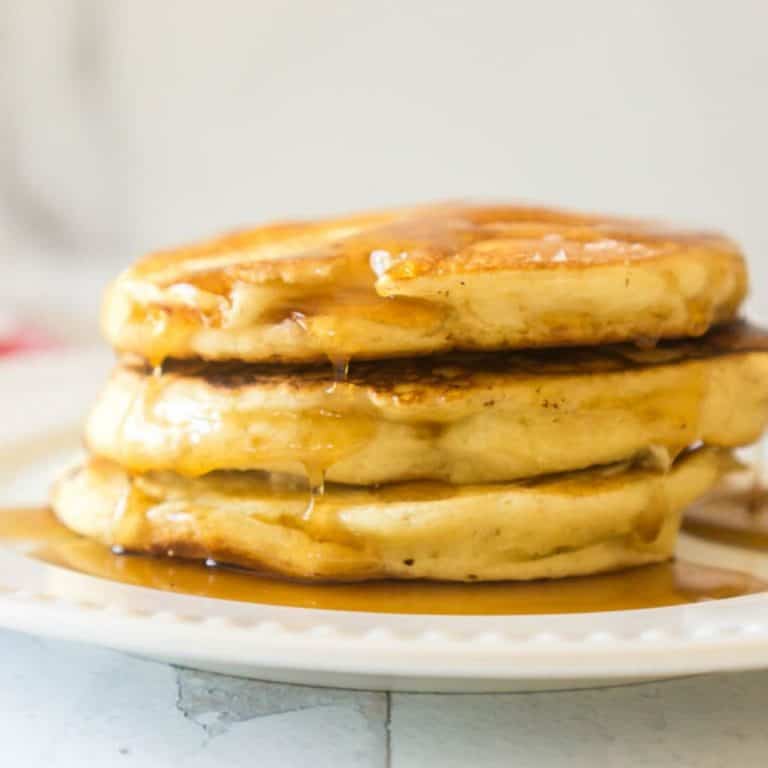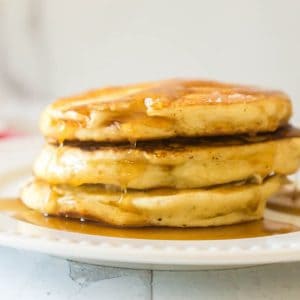 Fluffy Sourdough Pancakes
Print Recipe
Extra soft and fluffy sourdough pancakes mixed up and ready in under 30 minutes.
Click here to grab a free mini-cookbook with my best seasonal recipes
Ingredients
3/4

cup

all purpose flour

3

tablespoons

sugar

1/4

teaspoon

salt

1

teaspoon

baking powder

1/2

teaspoon

baking soda

1/2

cup

discard sourdough starter

1

eggs

1/2

cup

milk

1

tablespoon

vegetable oil

butter for the pan
Instructions
Combine all the dry ingredients in a large mixing bowl, and the wet ingredients in a medium mixing bowl. Pour the wet ingredients into the dry ingredients and gently mix until just combined. Do not over mix, a few lumps are okay.

Heat a cast iron skillet or other heavy pan over medium-low heat. Once the pan is hot, add a tablespoon of butter and allow it to melt. Scoop the batter into the hot pan in 1/4 cup to 1/3 cup amounts, depending on the size of pancake you would like. When bubbles appear on the surface, flip the pancakes. Cook them in batches. using a paper towel to wipe out the skillet in between.

Serve immediately, with syrup and butter or whipped cream and fruit.
Notes
You can hold cooked pancakes in a 200 degree oven.
Sprinkle on blueberries or chocolate chips before flipping for a special addition.
Enjoy!