Hosting a chili cookoff? Grab these free chili cookoff printables to make planning a breeze. Keeping your party organized is key to its success, and with these convenient and ready-to-use printables, you have one less thing to worry about.
Find everything from judging sheets and winner certificates to chili labels, ensuring your cookoff runs smoothly from start to finish.
Now, you only need to focus on cooking up that winning pot of chili. Get ready for a stress-free good time with friends and family!
With everything organized, all that's left is to enjoy the chili and the company of your guests!
How to use these printables at your party
For chili labels, place them visibly in front of each chili pot so everyone can easily see them. This helps in identifying each chili type without confusion but still keeps things anonymous.
Next, for the judging sheets, distribute one to each guest as they arrive, and make sure everyone has a pen or pencil to mark their scores. Clearly explain the scoring system and let everyone know when to submit their sheets.
After tallying the scores, use the winner certificates to honor the makers of the best chili. Hand them out with a smile and maybe even take a photo for a nice memory.
Supplies for Printing
A reliable printer is essential, preferably one capable of color printing to make the most of the printables' designs.
Standard printer paper works fine, but for a more durable and professional feel, consider using a thicker card stock. This type of paper is especially beneficial for certificates and labels, making them sturdier and longer lasting.
Scotch PRO Thermal Laminator and Pouch Bundle, 2 Roller System, Never Jam Technology Automatically Prevents Misfed Items (TL906) with Scotch Thermal Laminating Pouches, 100-Pack (TP3854-100) Springhill White 8.5" x 11" Cardstock Paper, 90lb, 163gsm, 250 Sheets (1 Ream) – Premium Lightweight Cardstock, Printer Paper with Smooth Finish for Greeting Cards, Flyers, Scrapbooking – 015101R Gorilla Heavy Duty, Extra Long Double Sided Mounting Tape, 1
Another great option to consider is laminating your labels and certificates. Lamination adds an extra layer of protection and gives a glossy, polished finish, ensuring your printables stand out and remain intact throughout your chili cookoff event.
You may also want double-sided tape for hanging up the number labels on tables.
It's up to you how fancy you want to get!
More Free PArty printables
Hospitality and printables just go hand in hand, right? Here are some goodies you'll enjoy:
Links to PDF downloads
Below each image, you will find a button that links directly to the PDF. Download it to your device and then print it. Make sure you print at "actual size" for the best results!
Judging Scorecard
Numbers for LAbeling Stations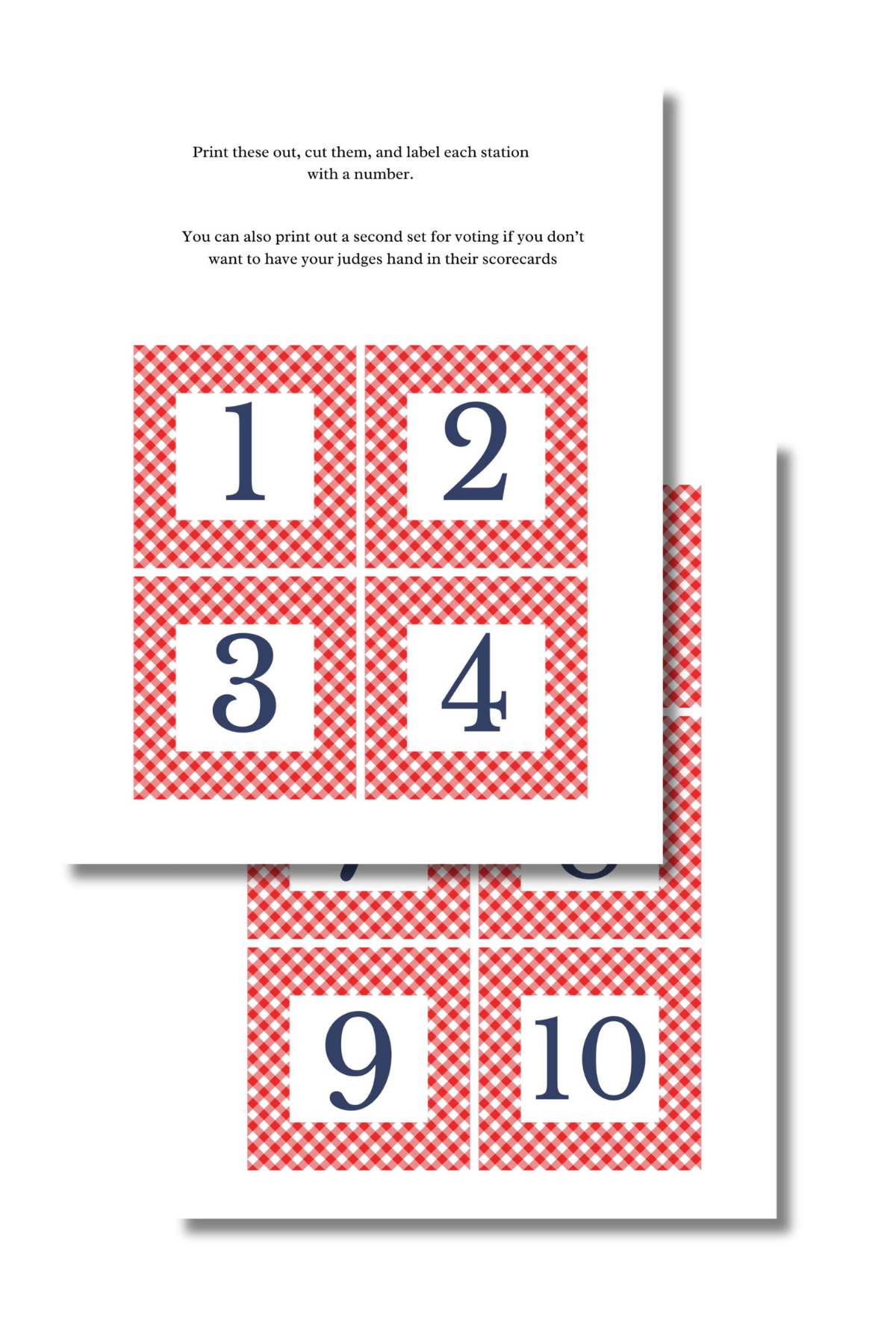 SIGN FOR VOTES
Winner Certificates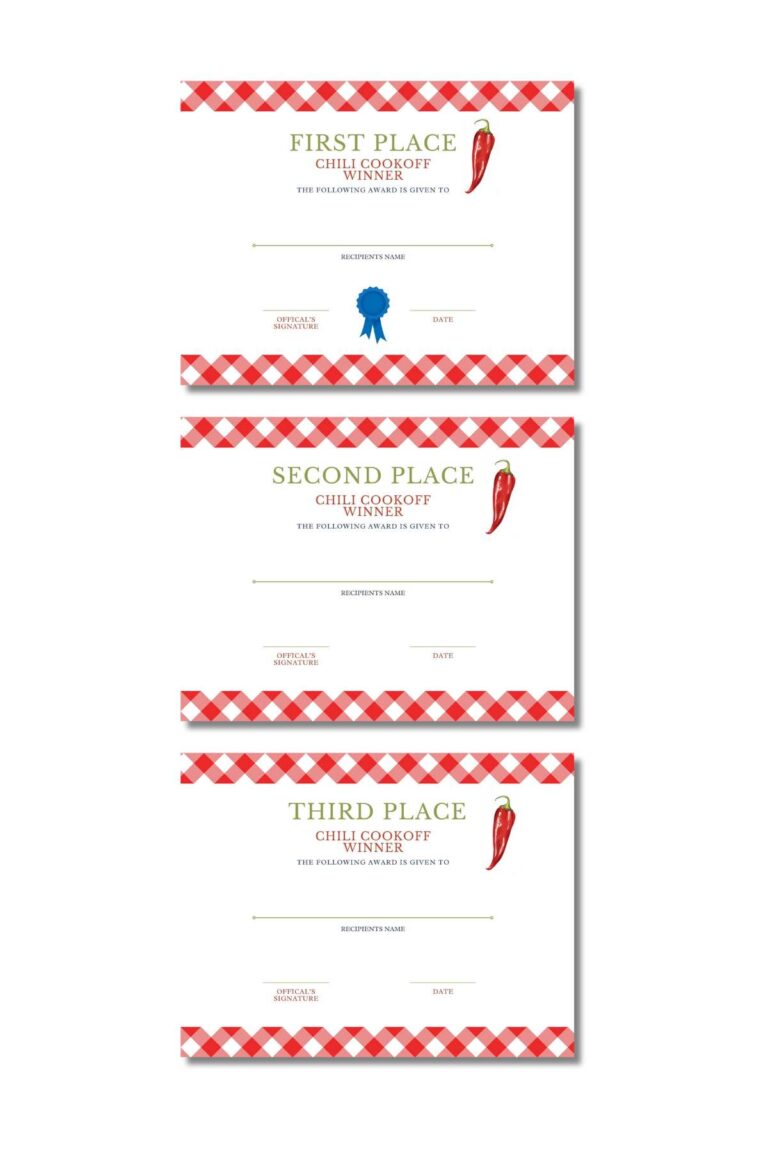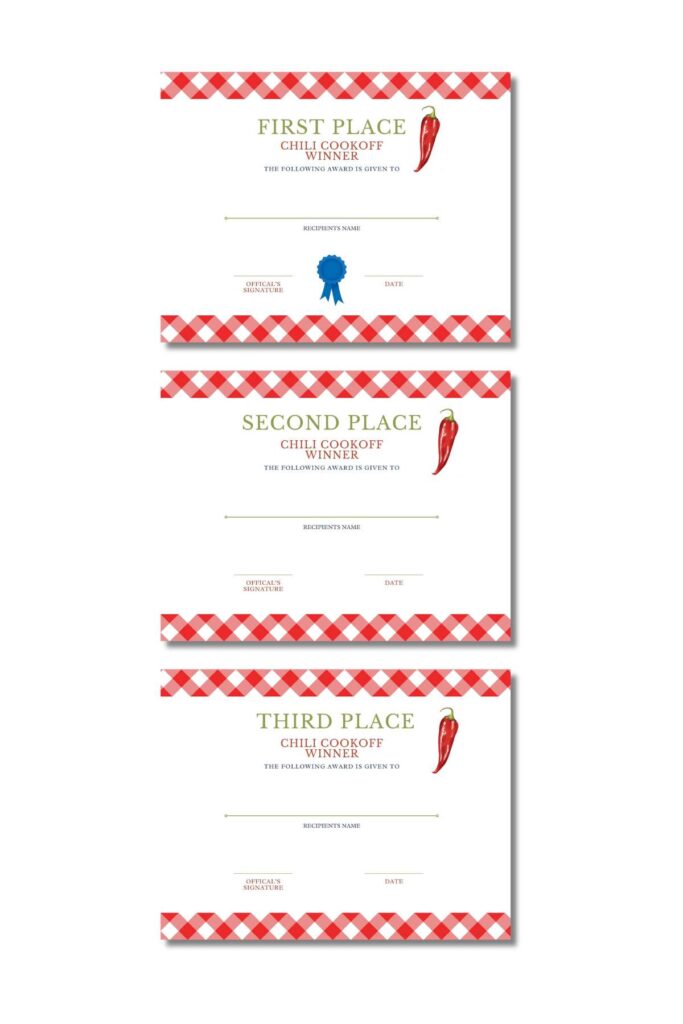 Using these printables is a practical and easy way for your even to feel more organized and polished. With minimal effort, these ready-to-use PDFs will help you sort every detail.
I hope they help you create a delightful and memorable chili cookoff experience for you and all your guests, letting you focus on what's most important – the delicious chili and the joy of friendly competition.