Looking to add a festive touch to your upcoming autumn events? You're in the right place! These free printable fall name tags are the perfect accessory to make your gatherings even more special.
With five different styles to choose from, these free farmhouse-style printables are not only easy to print but also highly customizable to match your fall décor. So these name tags will add that extra dash of charm, whether it's a family dinner, a cozy fall wedding, or a community potluck.
Find tips and the PDF files below.
This is a simple yet impactful way to infuse a little autumn magic into your events.
Ways to use these name tags
Name tags serve a real purpose: they eliminate the awkwardness that sometimes comes with meeting new people and forgetting what to call them!
All of these designs are suitable for kids or adult gatherings, but the watercolor and line drawing styles definitely feel a little more grown up.
I think they'd be perfect for fall parties, school trips to the pumpkin patch, or for big Thanksgiving gatherings where there are a few new faces.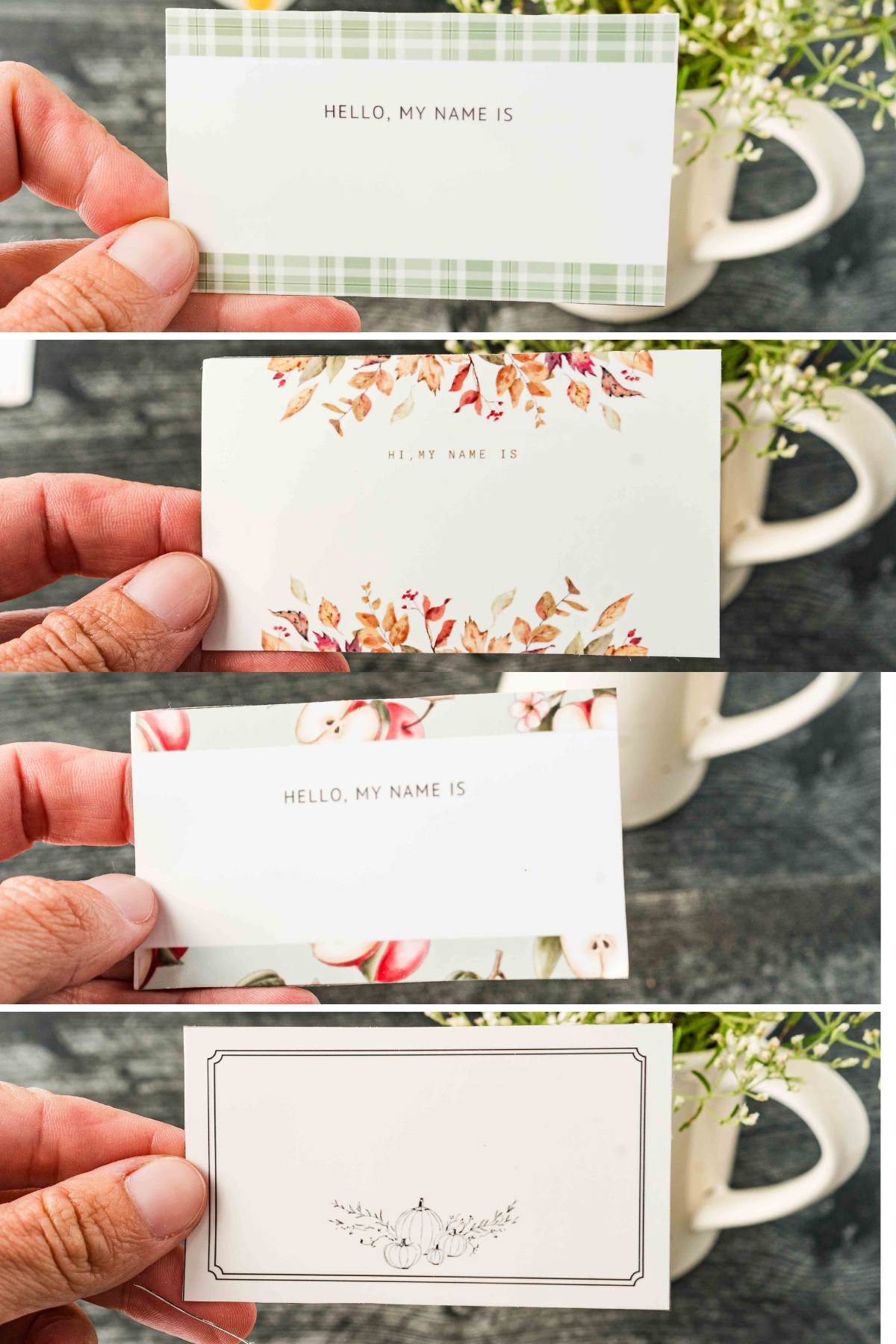 So, not only do they make guests feel special, but they also enhance the social dynamics of your gathering, making it easier for people to mingle, connect, and enjoy themselves.
Recommended products
HP Color LaserJet Pro M283fdw Wireless All-in-One Laser Printer, Remote Mobile Print, Scan & Copy, Duplex Printing, Works with Alexa (7KW75A), White Koala Printable Vinyl Sticker Paper for Inkjet Printers – 20 Sheets Glossy White Waterproof Adhesive Label Paper – 8.5×11 Inch, Tear-Resistant, Removable
So you're excited about the idea of sprucing up your autumn gatherings with our gorgeous, free printable fall name tags.
Now, let's get into the nitty-gritty of downloading and printing these name tags.
Printing tips
The type of paper you choose can significantly affect how your name tags turn out. I recommend using glossy sticker paper and cutting along the lines.
Matte sticker paper is okay, but the. colors won't be as vibrant.
Getting the perfect print involves more than just hitting the "Print" button. To make sure the colors on your name tags match what you see on your screen, you'll want to adjust your printer settings.
Look for a "high-quality" or "photo quality" setting to ensure you get the best resolution and color saturation. Also, if your printer has the option, select the type of paper you use (e.g., cardstock or photo paper) for more accurate results.
If possible, do a test print first to make sure everything looks as expected before printing out multiple copies.
More Fall Printables
It's the best time of year, and there are plenty of fun PDFs here for you to print.
Links to the downloads
There are five different name tag pages, each linked separately. The image is to show you what it looks like, click on the button below the image.
It's best to download to your computer and open using the free Adobe Acrobat Reader.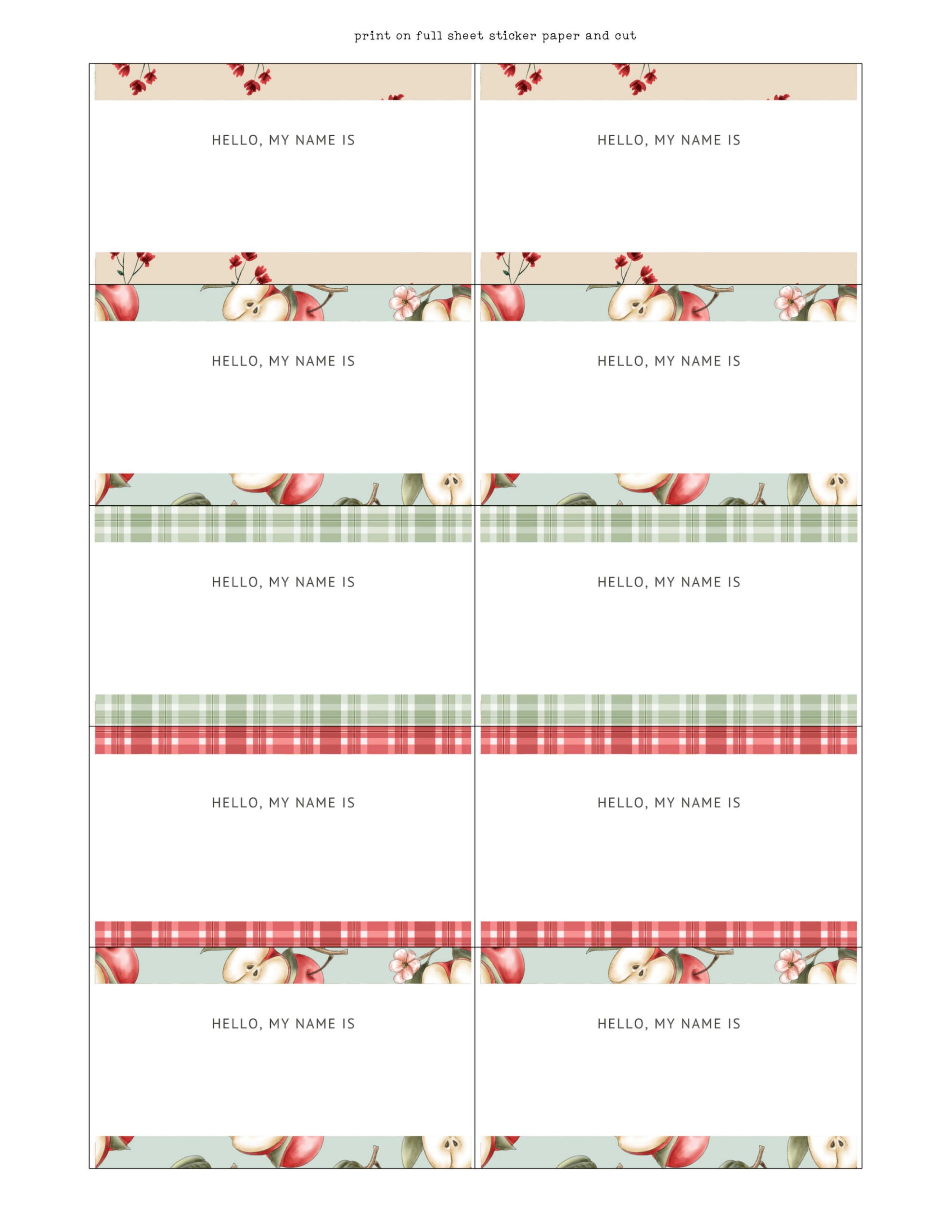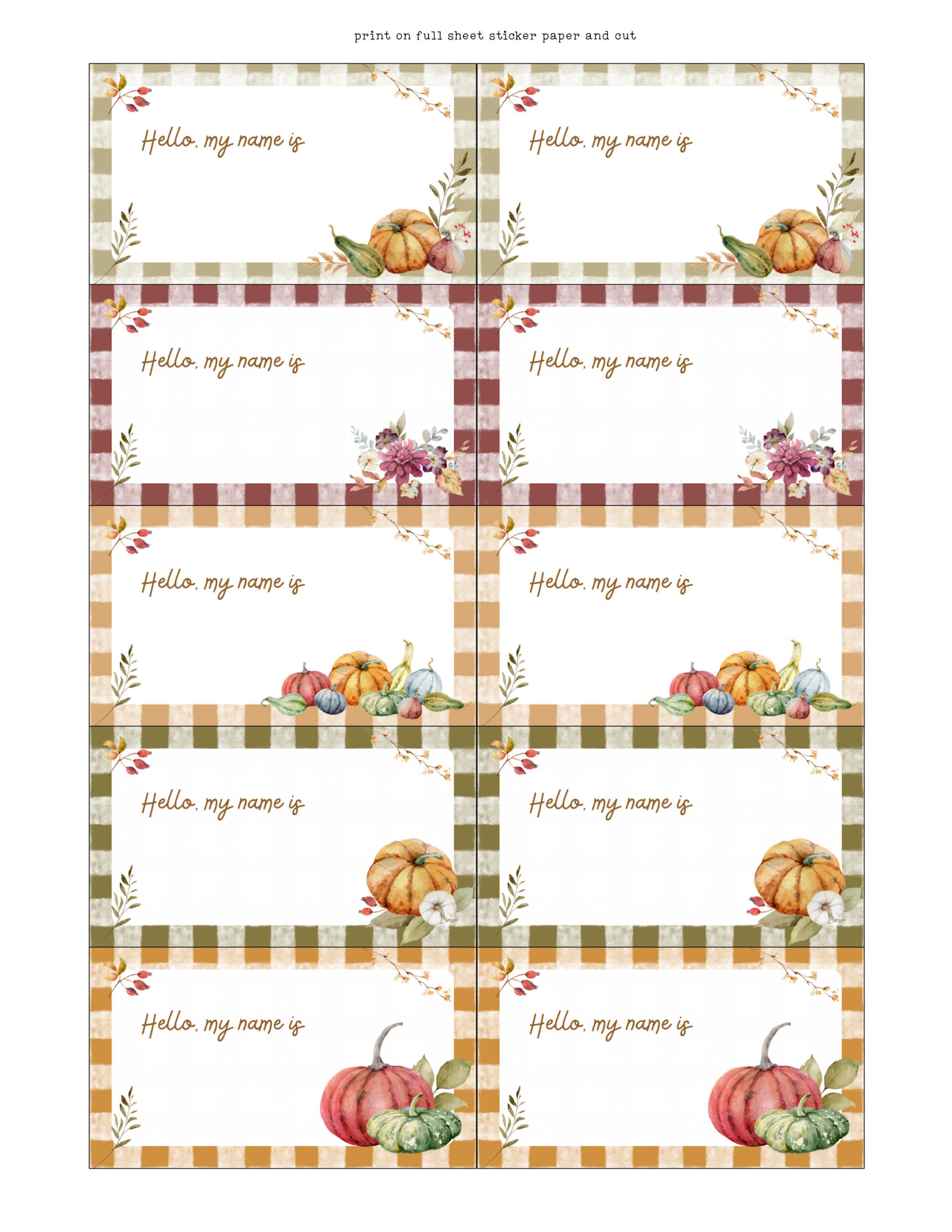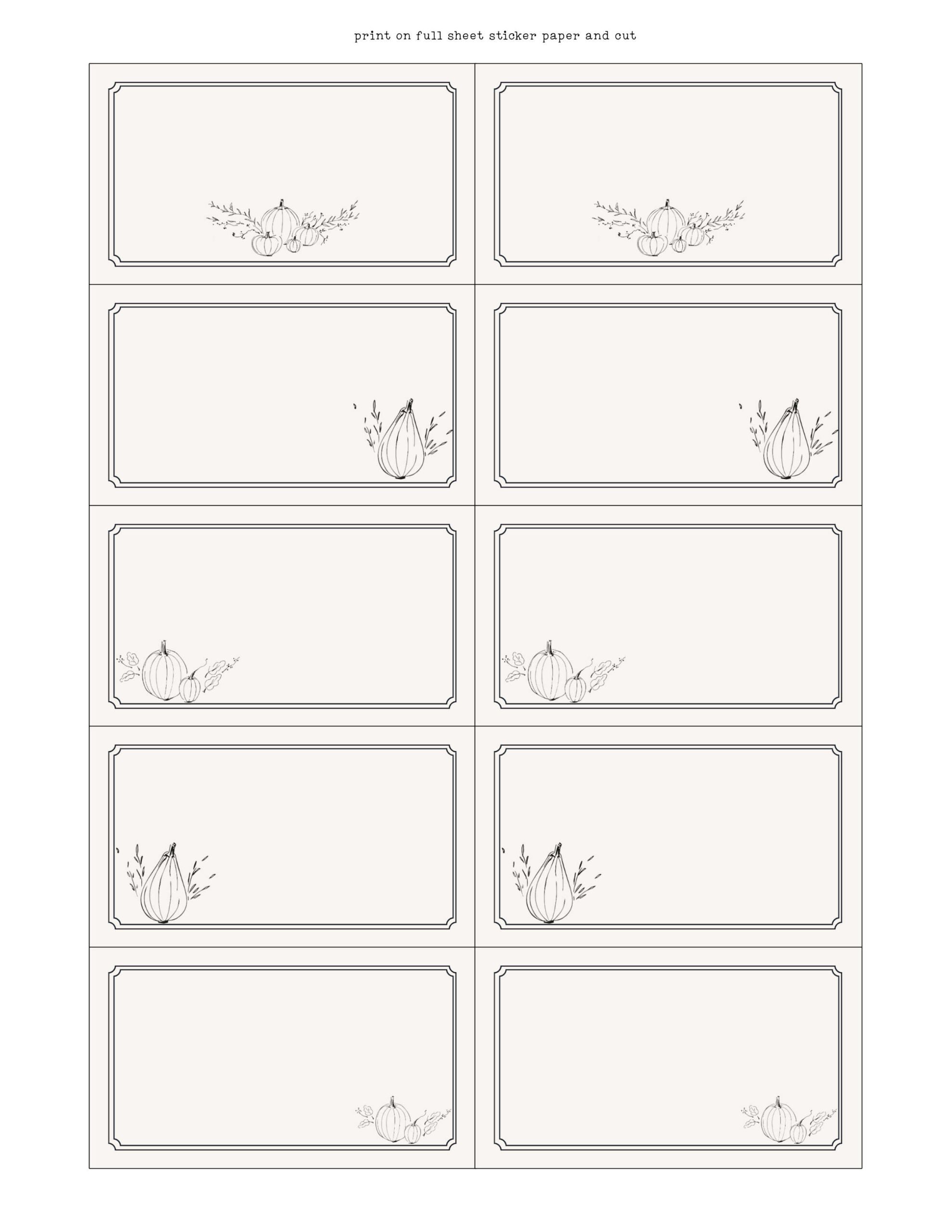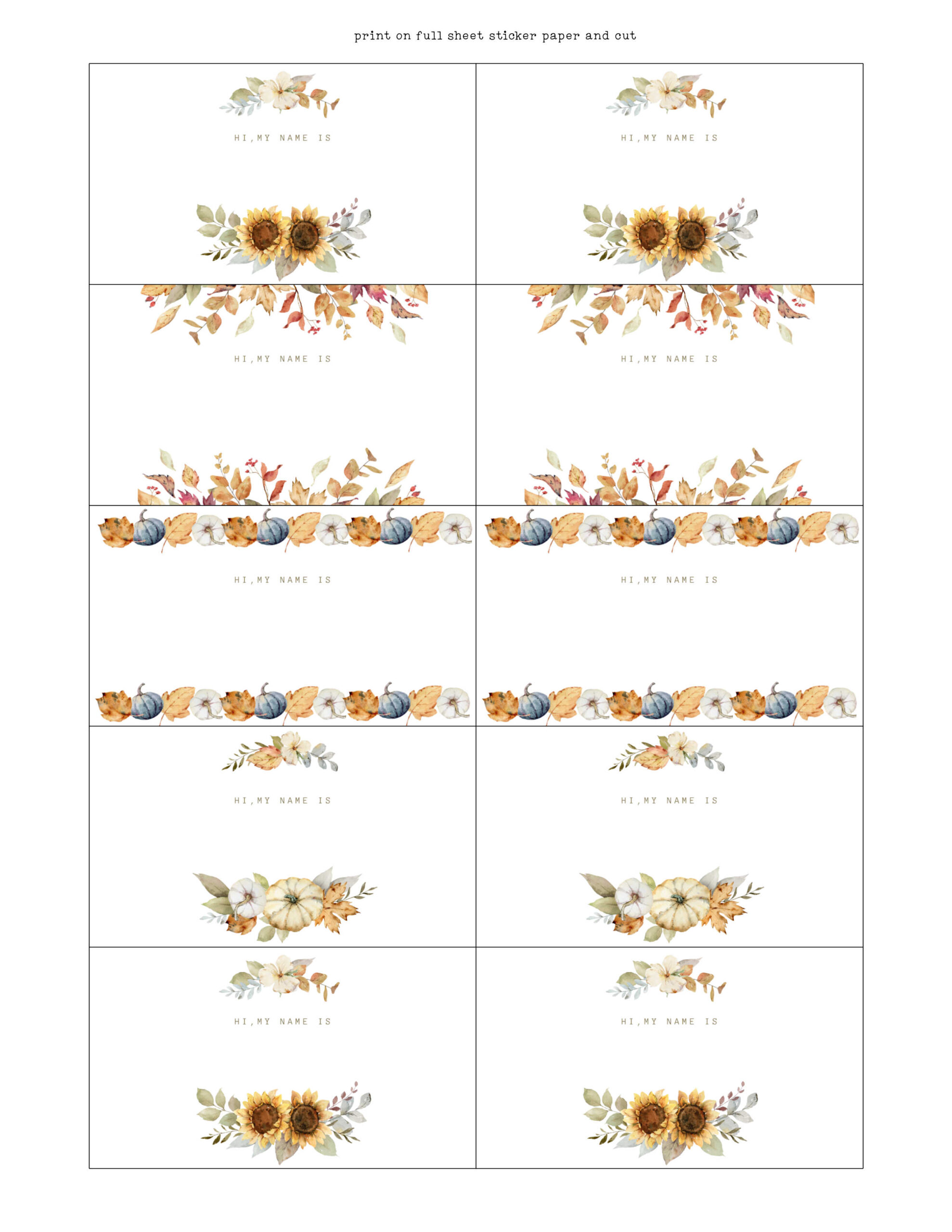 So as you prepare for a season full of crisp air, colorful leaves, and cozy gatherings, don't forget this simple yet impactful addition to your planning.
From me to you, happy fall and happy hosting!