Inside: how to stock your pantry in a practical way that will help you with emergencies and everyday life. What you need, plus tips for success.
There's something romantic about a pantry, isn't there? A basket of onions, a trio of sparkling jams, and boxes of pasta lined up perfectly.
But for some reason, the reality of your kitchen pantry is quite different. There's an enormous box that's holding snacks no one likes, a few bags of flaxseed from that healthy eating kick you were on, and oh yeah… the vacuum.
The truth is, your pantry can be more than just a neglected corner full of stuff you wish you hadn't bought. Here's how to stock a pantry that's designed for your family and filled with ingredients you'll really use. Done right, it will save you time and money.
Want a printable checklist + stock your pantry guide?
Why a pantry makes sense
You already have a pantry, in a sense, whether you realize it or not. There are multiple ingredients in your kitchen that you always have. You see it in a recipe and you don't need to go shopping for it. At the very minimum, salt. When you run low on salt, you buy it. It's always there.
Now imagine you had a fully stocked spice cabinet. (You probably do.) All your favorite herbs, spices, different kinds of pepper, kosher salt, the works. When you look at a recipe and see the seasonings needed, you probably have it. Cool.
But of course, we can take this principle further. What if you always had diced tomatoes? Canned beans? Peanut butter?
What if you always had everything you need to make all your regular meals? Always?
Start with your recipes
This is how we reverse-engineer a pantry that will actual work for you. The goal here is stock up on foods you are actually going to eat, not to stuff a bunch of things on a shelf to gather dust.
So pull out your recipe collection and starting writing things down. When you come across a shelf-stable ingredient in one of your family favorite recipes, write it down. When you notice certain things coming up again and again, mark them with a star. These things will be the building blocks of your pantry.
Make a lot of stir fries? Then you'll probably need to stock up on things like soy sauce and fish sauce.
Bake from scratch every week? Then your list will have baking powder, flour, and more.
Home cooks who cook from scratch will likely have ingredients on their list.. Some families will have prepared foods, mixes, and pre-made sauces. One is not better than the other! It is so important to be realistic while you are doing this. If you fill a shelf with brown sugar and you never bake, you have wasted time, space, and money.
It doesn't have to be a kitchen pantry
Your next step is to find a home for these things.
If you have a walk-in-pantry, that is wonderful! Maybe. Go take a look at that thing and make sure it's set up well for your needs. Is there a mix of deep and shallow shelving? (Canned goods will get lost in deep shelves.). If you need special shelves and organizers, get them.
No walk in pantry? Me neither. You'll just need to be a little more creative. You can either find one central place, like unfinished space in your basement, or use multiple areas. I have many areas in my kitchen that function as pantry spaces, and bulk storage in the basement. I store extra baking supplies on a high shelf above my baking corner, canned items and condiments in one lower cabinet, snacks and cereal above the fridge, and bulky items in the basement. It works!
If you have no extra kitchen space and are feeling super dedicated, you can try using the space under your beed (think of how many boxes of pasta could fit under there). You might also have a spare closet in a guest room.
Now there's no getting around the fact that stocking a pantry does indeed require a little extra space. One you have the location picked, it's time to set it up.
Keeping things organized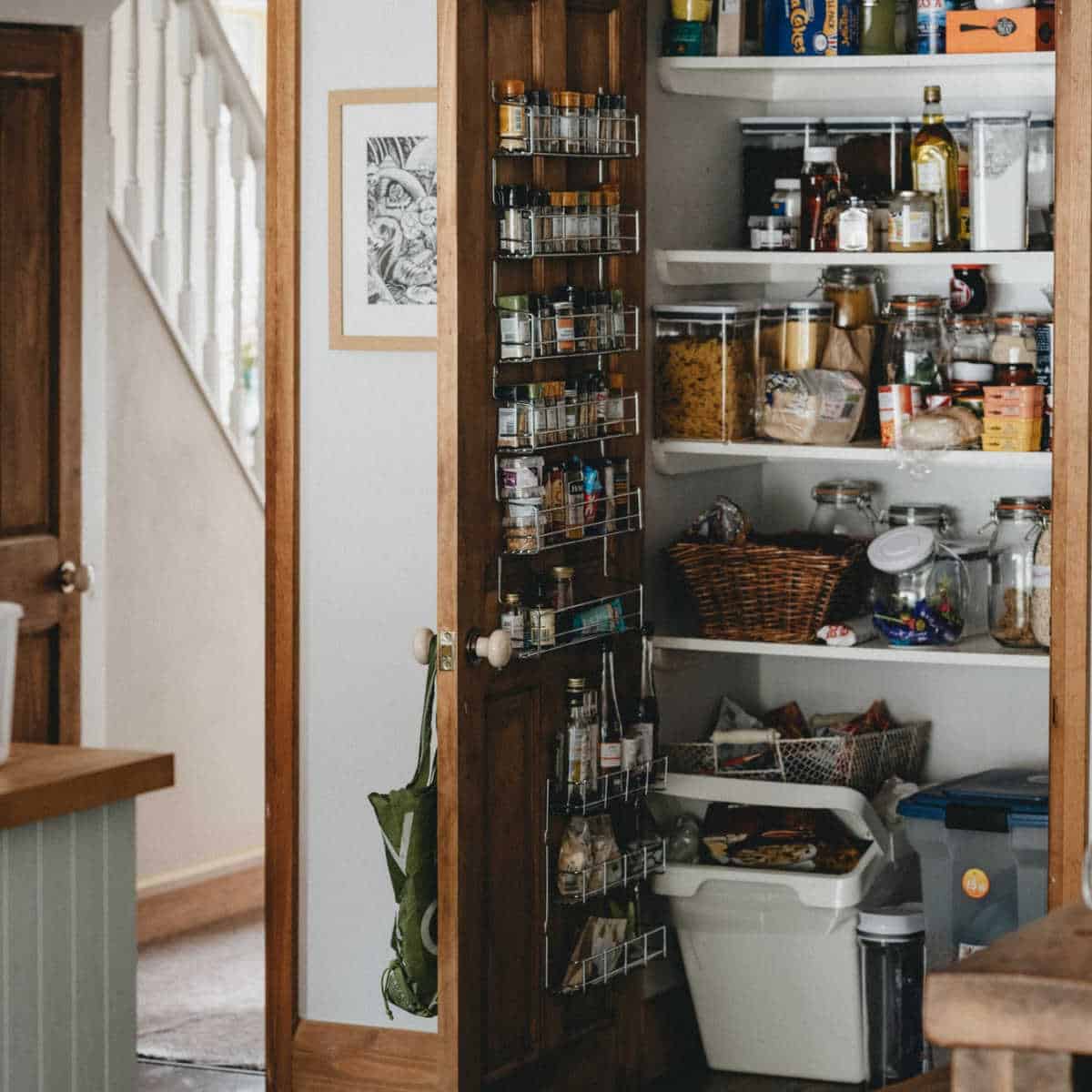 Beyond olive oil: example kitchen pantry staples
(This is intended to be a jumping off point to help you. Remember to look at your recipes to see what you need.)
Baking
flour
sugar (white and brown sugar)
salt
cocoa
cornmeal
baking soda
baking powder
yeast
Pasta, Grains, Rice, Beans
pasta (spaghetti, elbow, all others you eat)
popcorn
oats
rice (white and brown rice)
dried beans
quinoa and other whole grains
Canned
canned tomatoes
tomato sauce
canned fruit
pickles
canned beans (black beans, baked beans, others)
chicken broth
olives
Condiments
ketchup
mustard
salsa
hot sauce
soy sauce
barbecue sauce
mayonnaise
Produce
onions
garlic
potatoes
lemons
Spreads
jams
peanut butter (or other nut butters)
Oils and Vinegars
cooking oil
olive oil
white vinegar
specialty vinegars (red wine, sherry, rice, etc.)
cooking spray
Seasonings
garlic powder and onion powder
chili powder
sea salt
kosher salt
herbs and spices
mixes like taco seasoning, ranch dressing, etc.
Convenience Food
cereal
cake mix
snacks
quick cooking pasta and rice mixes
Drinks
Specialty Items
coconut milk
baking chocolate
sesame oil
dried fruits
Buying the ingredients
If you have a membership to a warehouse club, filling a new pantry is a great time to make use of it.
But at a place that sells everything in bulk you have to be especially sure to only buy ingredients based around your recipes. Stick to your list!
If you aren't a member of a warehouse club, you can make one trip, do it over time, or use an affordable grocery delivery service to avoid an overwhelming trip to the store.
How to stock your pantry on a budget
Feel like all this sounds great, but your grocery bill is already high and you just can't afford to buy extras of everything? I get it.
The answer to building a pantry on a budget is to do it bit by bit, over time. Set aside $5 per week and buy extras of just one thing. You can stock up on what's on sale, start with the ingredients in your favorite meals, or you can follow the schedule in the free Stock Your Frugal Pantry Guide, which tells you what to buy each week.
Just get started, however small it feels at first. Over time, you'll be amazed by how far you've come. (This is a good philosophy for just about everything.)
Grab your free pantry stocking guide
This is a resource to help you make a list tailored around your meals, a plan for buying the food you need, and more.
Making use of all this work
Believe it or not, many people never eat the food they put in their pantry. Hopefully we have avoided this by using our recipes and being realistic. But the next step is that you have to consume this stuff. When you sit down to work on your meal plan and shopping list for the week, don't forget about what you've already stored!
Of course, it is a great idea to replenish your stores and replace items as they get eaten. But make sure you are rotating things by eating what you have stored, not just eating your new purchases and letting things sit on the shelf indefinitely.
Which bring us to…
How a pantry saves you money
Once you've stocked up on things, you are in control. You can (and should) add to your stash before you run out, but you have the luxury of time. You can wait for a sale or a great coupon deal, and replenish ingredients when they are at their lowest price.
Consider yourself well and truly out of something when you open the last one on the shelf. At that point, it goes on your grocery list and must be purchased, whether it's on sale or not.
More frugal food tips
Making adjustments
As time goes by, you will get a great feel for what ingredients you really use up quickly and what you don't need to buy for a while.
As your family grows and tastes change, certain items won't be needed and others will join the list. Just account for those changes and you will be fine.
To review
Make a list of frequently used ingredients based on your family's favorite recipes.
Find a spot in your home for storage.
Get any type of organizer you need to store your food.
Use what you've purchased and replenish when prices are low.
As you add a recipes to your rotation, add any needed ingredients to your pantry.
That's it!
I hope this guide on how to stock your pantry helps you build a well stocked food storage area that will help you save money, be prepared, and minimize your trips to the grocery store.