How to add a designated laundry day to your housekeeping routine to help you tackle one of the homemaker's most dreaded chores.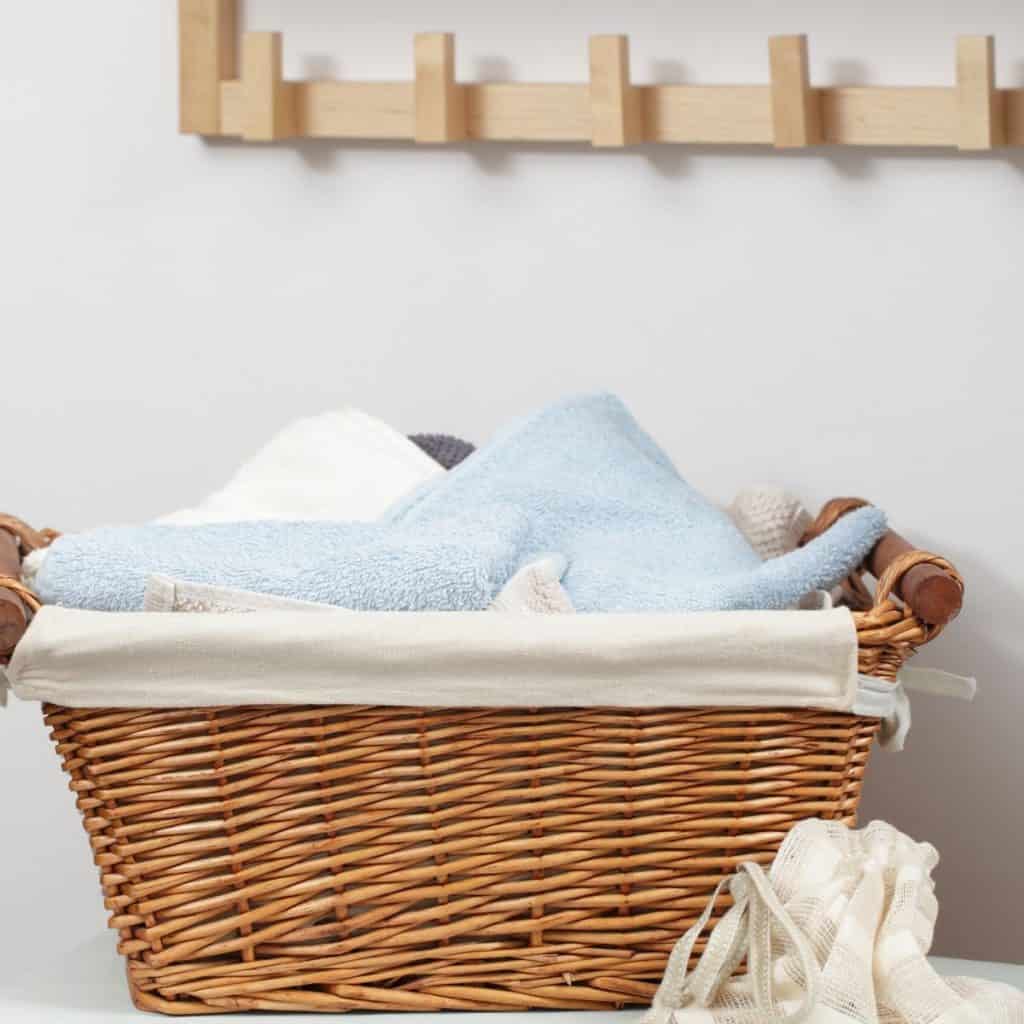 Why a designated laundry day is a good idea
It allows you to proactively get a lot of clothes and linens clean. You will no longer suddenly realize your guest room sheets are dirty right before company is due, or that the baby is out of pajamas right after her bath. You will address this head-on and take care of it before its an emergency.
It frees up other days for other projects. Laundry can be tiring and time consuming. If you try to get it done on the same day you have a doctor's appointment or a day of freezer cooking planner, you can get run down.
It gives a you a sense of accomplishment and a feeling that the laundry is done, even if that's not exactly true all the time!
Ready to settle into a slower, simpler life at home? Download your free guide: 3 Simple Steps to a Homemaking Routine You'll Love.
Getting started
Choose the right day
Adding a laundry day to your routine is easy. Pick a day and start washing stuff. Start with the sheets and towels, then move on to the clothes if there's time.
Monday is the classic laundry day for many people. Ma Ingalls washed her clothes on Monday, and if you can't pick a day, Monday is a great choice.
Why? Well, Monday feels like a fresh start and a fresh start calls for clean clothes and clean sheets. Families also tend to be home a lot on Monday's after busy weekends, which makes a home-based chore like laundry a great choice.
If you pick a day and it's not working, change it! Routines exist to help you, not trap you.
Decide what exactly you'll be doing
There are plenty of laundry tasks in the world, but they don't have to all be done in one day. Here are some ideas, but you probably can't do them all!
Wash the bedding and towels
Wash clothes
Wash kitchen towels and dish rags
Wash bathmats
Wipe down the washer and dryer
Soak stained clothing
Organize the laundry room shelving
Iron
Tips to make laundry day manageable
Still do laundry on other days of the week
Every time you have a full load of laundry to do, you should do it. Confused? Bear with me here. A little known secret is that when you hate a chore, you should actually do it more, not less. Chipping away at it a little bit at a time keeps it small and manageable.
If seems strange, look at the list above of ALL the laundry-related tasks in the world. You still need to work on them when you can to keep it from overwhelming you. Laundry day just helps you get ahead.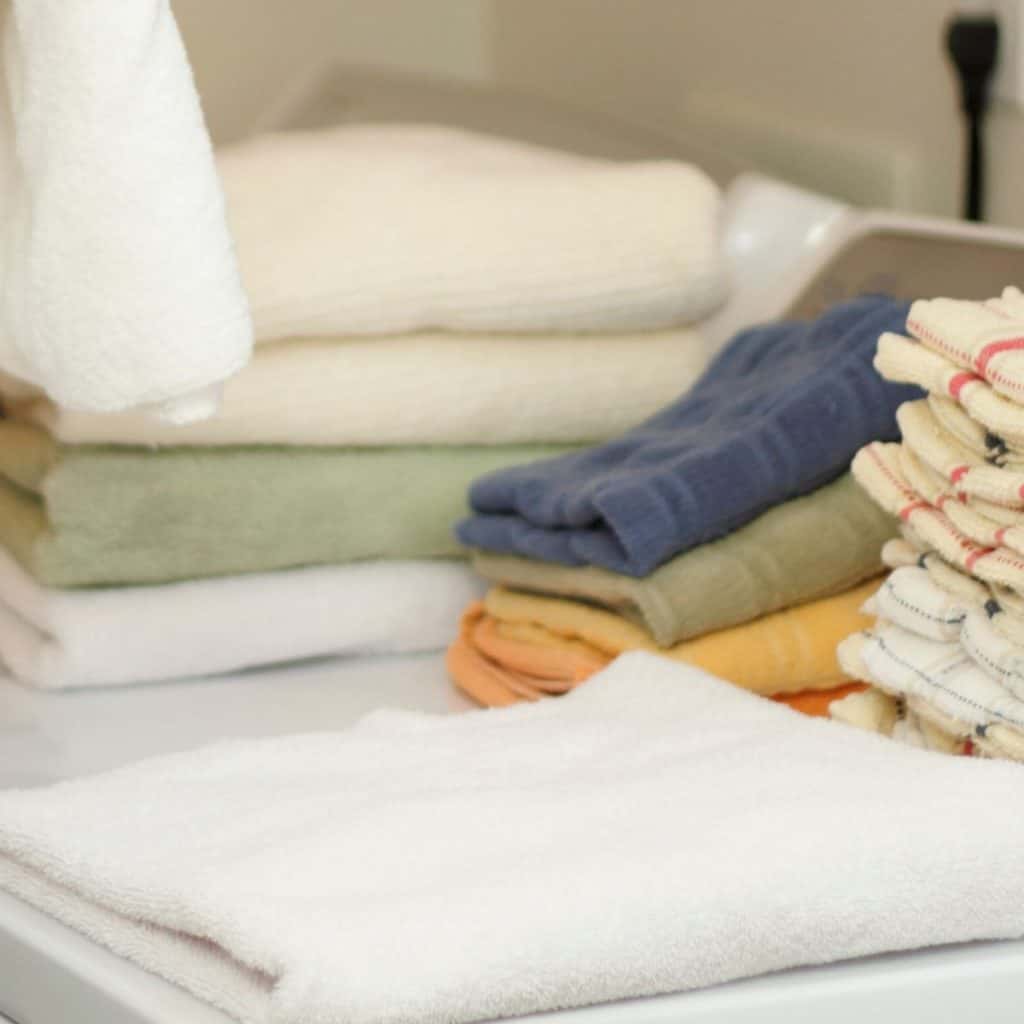 ???? Related: how to set up a cleaning schedule that works for you.
Simplify where you can
Less clothing = less to wash. Hang up church clothes to be worn again. Kids clothes can be worn a few times unless they are actually dirty. Eliminate any extra "stuff" that has to be folded and stored. You only really need ONE set of sheets per bed. Wash them and put them right back on.
Pare down your laundry supplies to the absolute essentials. You only need a detergent, stain remover, and dryer sheets. That's it! Even babies clothing will usually be fine with regular detergent and an extra rinse.
Wash clothes by person, not by color
Of course grandma would be shocked by this, but with a few exceptions, it's not really necessary to sort clothes by color. And the simplest way to sort clothes is by person.
In fact, you don't even need to sort them. Give everyone their own laundry basket to keep in their room. When it's full, wash it. Return the dry, folded clothing to that same basket and bring it back to their bedroom. Easy.
Delegate!
Little ones can be very helpful on laundry day. Some great tasks for even the smallest helpers:
Checking pockets for coins, rocks, and other things that don't belong.
Transferring clothes from washer to dryer.
Wiping down the floor of the laundry room with a damp rag
Cleaning out the lint trap
How to enjoy the process
Make it as beautiful as you can
Before you get started, and as you work, tidy up the space you are in.
If your washer and dryer are in your mudroom, tidy up the shoes and coats before you begin. It makes an amazing difference in your attitude when you are in a messy room vs. a neat one.
If you can invest in some pretty containers for your supplies, do it! Powdered detergent and laundry pods look nicer in glass jars. Dryer sheets can lay flat in a small tray or basket. If you make your own stain removal soap, you'll have pretty bars you can put on the shelf. When the every day things of life are beautiful, you don't need any more decorations.
Shop: Pretty and Practical Laundry Room Finds
Have a good attitude
At the risk of sounding preachy, keep this in mind: doing laundry is an act of service for people you love. Not everyone in the world has a family, or a working washing machine, or lots of clothes to wear. Make the best of it and count your blessings. And don't forget a job well done is its own reward.
Ready to dive deeper into a home you'll love?