An easy to make muffuletta bread recipe for a big round loaf, topped with sesame seeds, that's flat enough for delicious New Orleans style sandwiches.
Muffuletta sandwiches are a yummy, giant round sandwich layered with Italian meats and an olive tapenade. But the hardest ingredient to find is often the bread! It has to be just the right size, slightly flat, topped with sesame seeds, and sturdy but soft.
No worries, you can make your own easily enough! Here's how.
Ingredients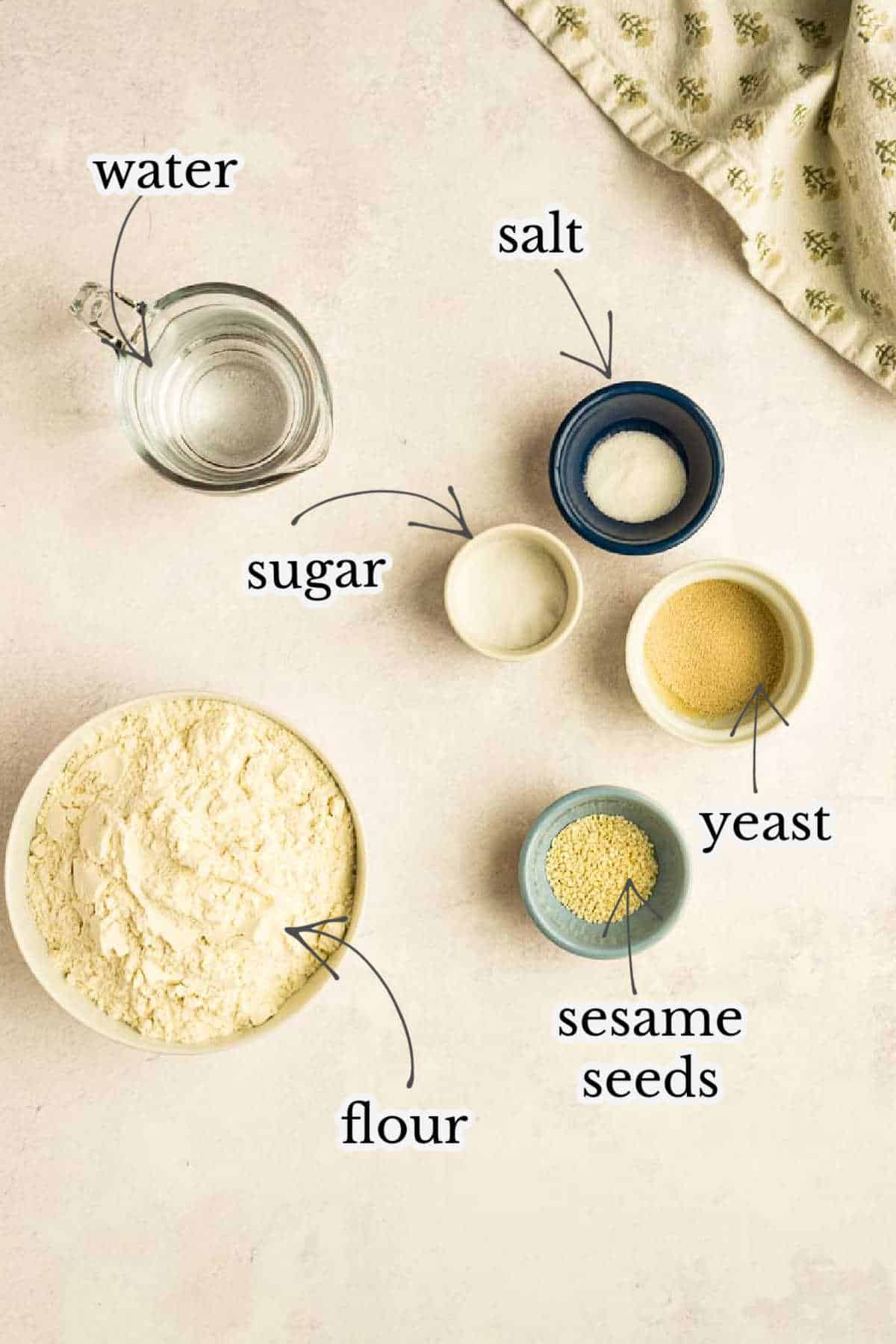 3 cups bread flour
1 cup plus 2 tablespoons water
1½ teaspoons salt
1 teaspoon sugar
2 tablespoons olive oil
2 teaspoons instant yeast (SAF brand recommended)
2 teaspoons sesame seeds
Muffuletta bread, step by step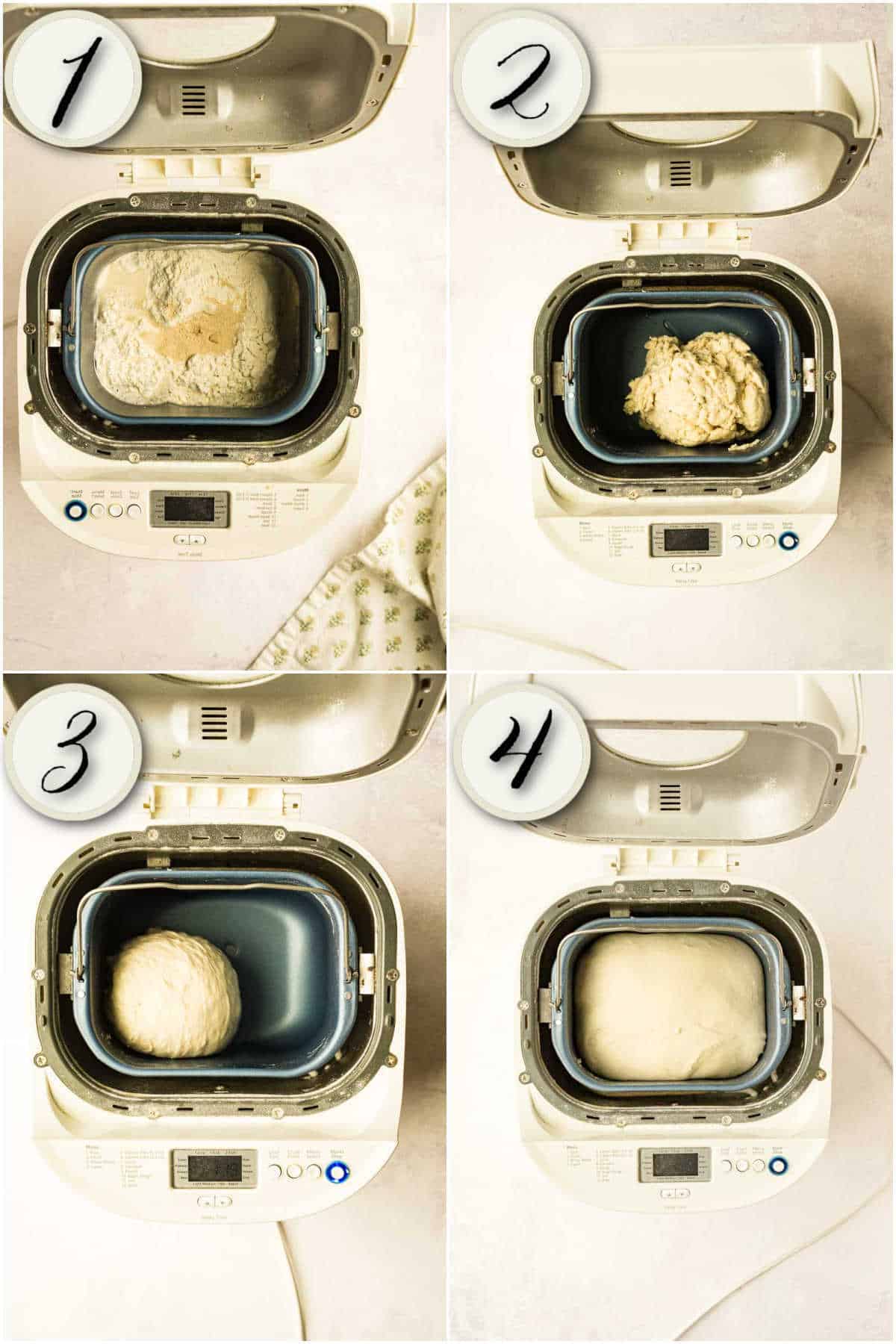 You can make this bread by bread machine, stand mixer, or by hand. I'm using my bread machine here but don't feel like you have to have one.
(See this if you need a little help using your stand mixer for bread dough.)
Just dump all the ingredients into your mixing bowl or bucket and start stirring them up. If the dough seems too dry to come together to form a ball, add a little more water, a teaspoon at a time. And if it seems too wet, add a little more flour. Don't overthink this.
Keep kneading the dough until it feels soft, smooth, and elastic. You can see in the photo above how kneading smooths out the dough.
Cover the dough and place it in a lightly oiled bowl to rise in a warm place. It will double in about one hour.
Shaping and baking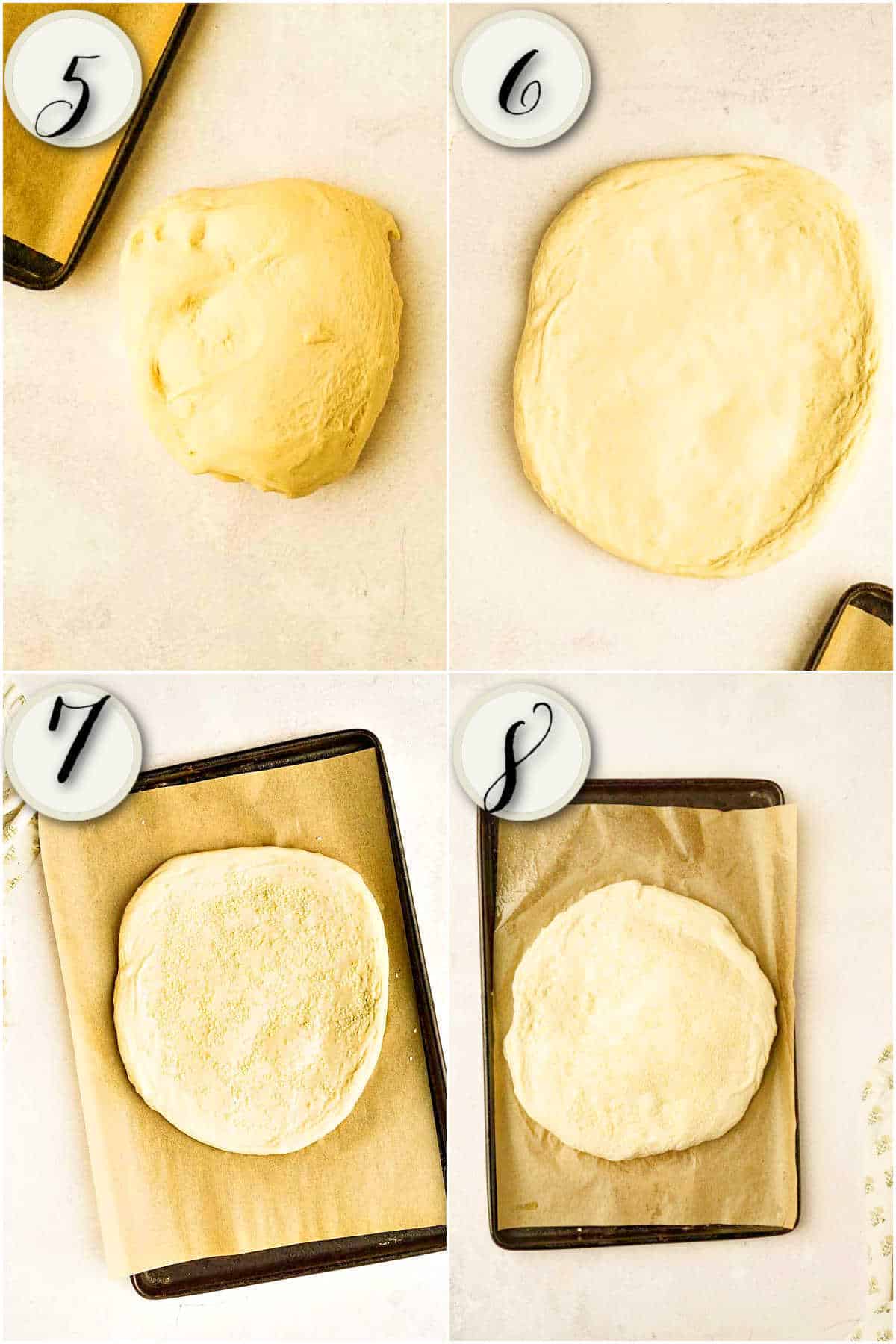 Once the dough has completed its first rise, it's time to shape it! Stretch it out into a disc that's nine or inches in diameter. It might look flat, but don't worry! A flattened bread is sort of the point.
Place it on a parchment lined baking sheet and brush the dough with water Gently press sesame seeds on top. Then cover the dough with greased plastic wrap and let it rise again somewhere warm. The dough be be puffier but still pretty flat. Towards the end of the rising time, preheat your oven to 400 degrees.
Bake for about 40 minutes, until your muffuletta bread loaf is baked through and golden brown on top. Let it cool to room temperature before slicing and adding your sandwich toppings.
Since muffuletta sandwiches are best if made a few hours beforehand, you might want to bake this the day before you serve them!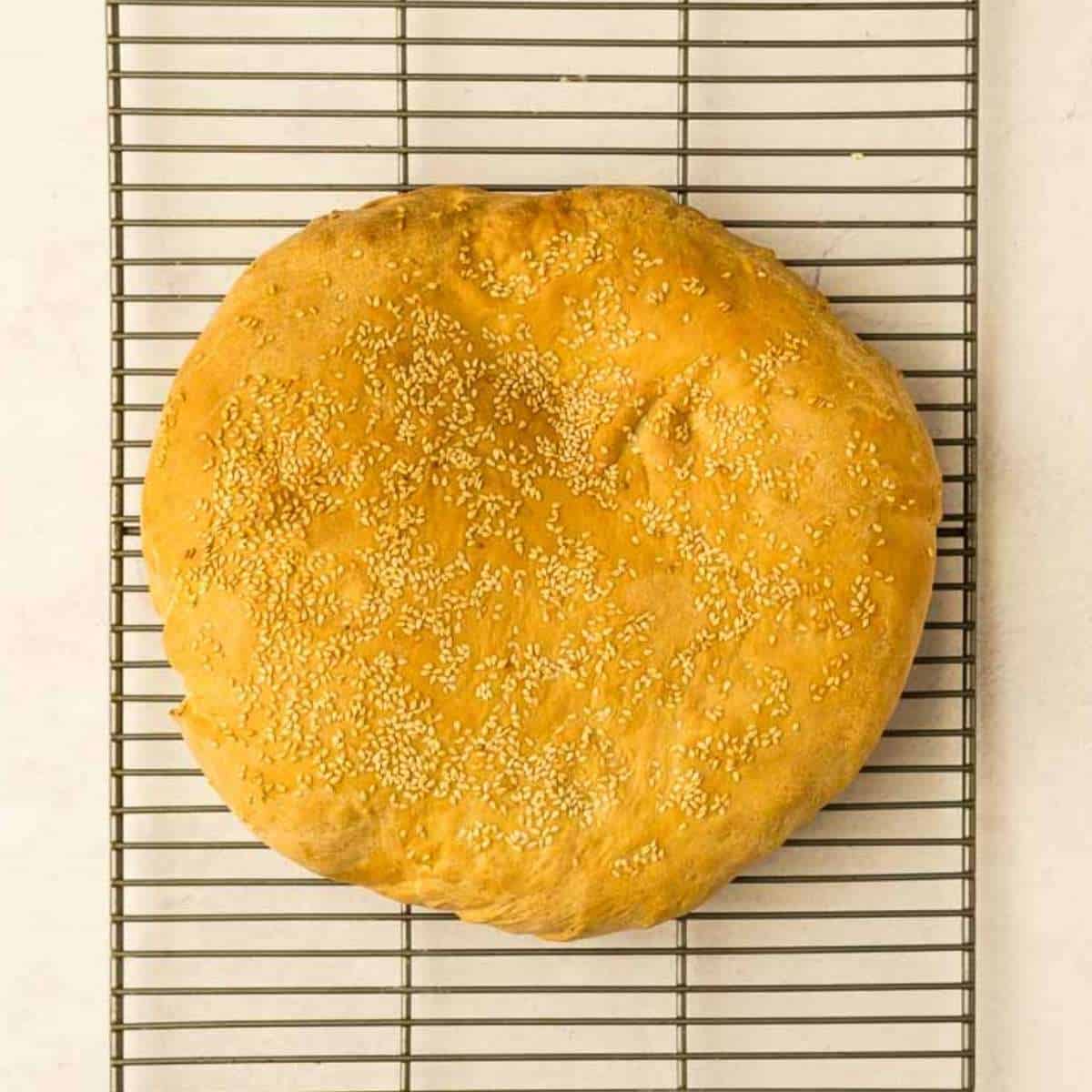 The loaf might not look like much, but it's sturdy enough to hold your delicious sandwiches and has just the right size and texture.
Enjoy!
Love the idea of baking all your own sandwich breads?
Print the recipe
Want some free Christmas printables? Click here to grab 'em
Ingredients
3

cups

bread flour

1

cup

plus 2 tablespoons water, up to 1¼ cups

1½

teaspoons

salt

1

teaspoon

sugar

2

tablespoons

olive oil

2

teaspoons

instant yeast

(SAF brand recommended)

2

teaspoons

sesame seeds
Instructions
Combine all ingredients and mix until well combined. This can be done by hand, in a stand mixer using the dough hook, or in a bread machine on the dough cycle.

Knead to form a soft, smooth, elastic dough. If the dough seems too dry, add more water a teaspoon at a time. If it is sticking to the bowl, add flour a teaspoon at a time. You are looking for a dough that forms a ball and clears the sides of the bowl or bread machine bucket. Knead for 7-12 minutes, or even more if kneading by hand, until the dough is stretchy enough that translucent areas appear when stretching it thin.

Gently shape the dough into a ball and place into a clean, lightly oiled bowl. Cover with a damp tea towel and place in a slightly warm place to rise. (90 degrees is ideal: a slightly warmed and turned-off oven will work well.) Allow it to rise until very puffy and doubled in size, about 1 hour.

Remove the dough and gently shape into a round loaf, 9 to 10 inches wide. Place onto a baking sheet lined with parchment paper. Gently brush with water and press sesame seeds on top of the dough. Cover the loaf with plastic wrap that has been generously sprayed with cooking spray. Return it to a warm place to rise again, until puffy, about 45 minutes.

Preheat the oven to 400 degrees towards the end of the rising time, taking care to remove the rising bread beforehand. Place the loaf inside and bake for 40 minutes, until golden brown.

Cool on wire rack for at least 30 minutes before slicing. Stays fresh up to two days, tightly wrapped at room temperature.
Notes
To make a muffuletta sandwich, layer on 1/3 lb of capicola ham, salami, sandwich pepperoni, sliced provolone and olive tapenade.
This bread freezes well. Just allow to fully cool and wrap in a double layer of plastic wrap.
Nutrition
Calories:
215
kcal
|
Carbohydrates:
36
g
|
Protein:
7
g
|
Fat:
5
g
|
Saturated Fat:
1
g
|
Sodium:
439
mg
|
Potassium:
78
mg
|
Fiber:
2
g
|
Sugar:
1
g
|
Vitamin A:
1
IU
|
Vitamin C:
1
mg
|
Calcium:
13
mg
|
Iron:
1
mg
Did you make this?
Let me know how it was! Please see below for serving ideas, storage instructions, and substitutions.