A super simple Italian bread dough is filled with parmesan, mozzarella, and pepperoni.   Very popular with kids!
A recipe for pepperoni bread with dough from scratch. This easy party food is a family favorite.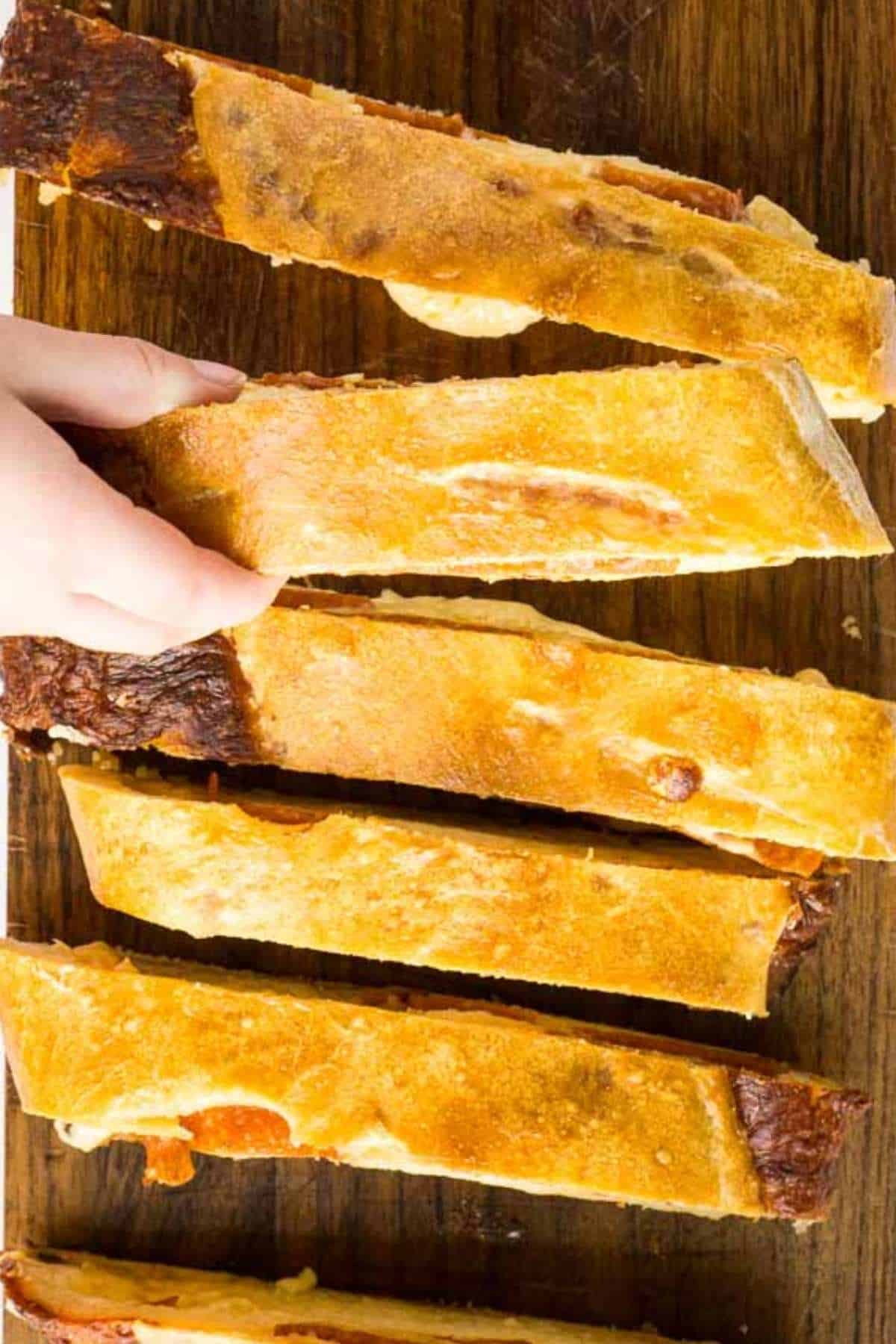 Why you'll love this recipe
This pepperoni bread recipe is one of the most budget friendly meals you can make. It's a basic, soft Italian dough filled with plenty of mozzarella, parmesan, and pepperoni. Popular with kids and very portable, this is a great choice to bring to a potluck.
And it's also great for parties! In the neighborhood I grew up in, there were outdoor block parties every Labor Day and Memorial Day. Every single year, twice a year, my mom made pepperoni bread and chocolate chip blondies. They were the only thing I would eat at the parties, for some reason, and never tried anything else. I loved them.
She used frozen bread dough, but this recipe uses homemade. It's so easy to mix up that there is no reason not too. The hardest part is rolling up the loaf anyway.
If you have never made a yeast bread before, please check out my beginners guide to yeast bread baking, which will go over the basic steps and different methods you can try.
Ingredients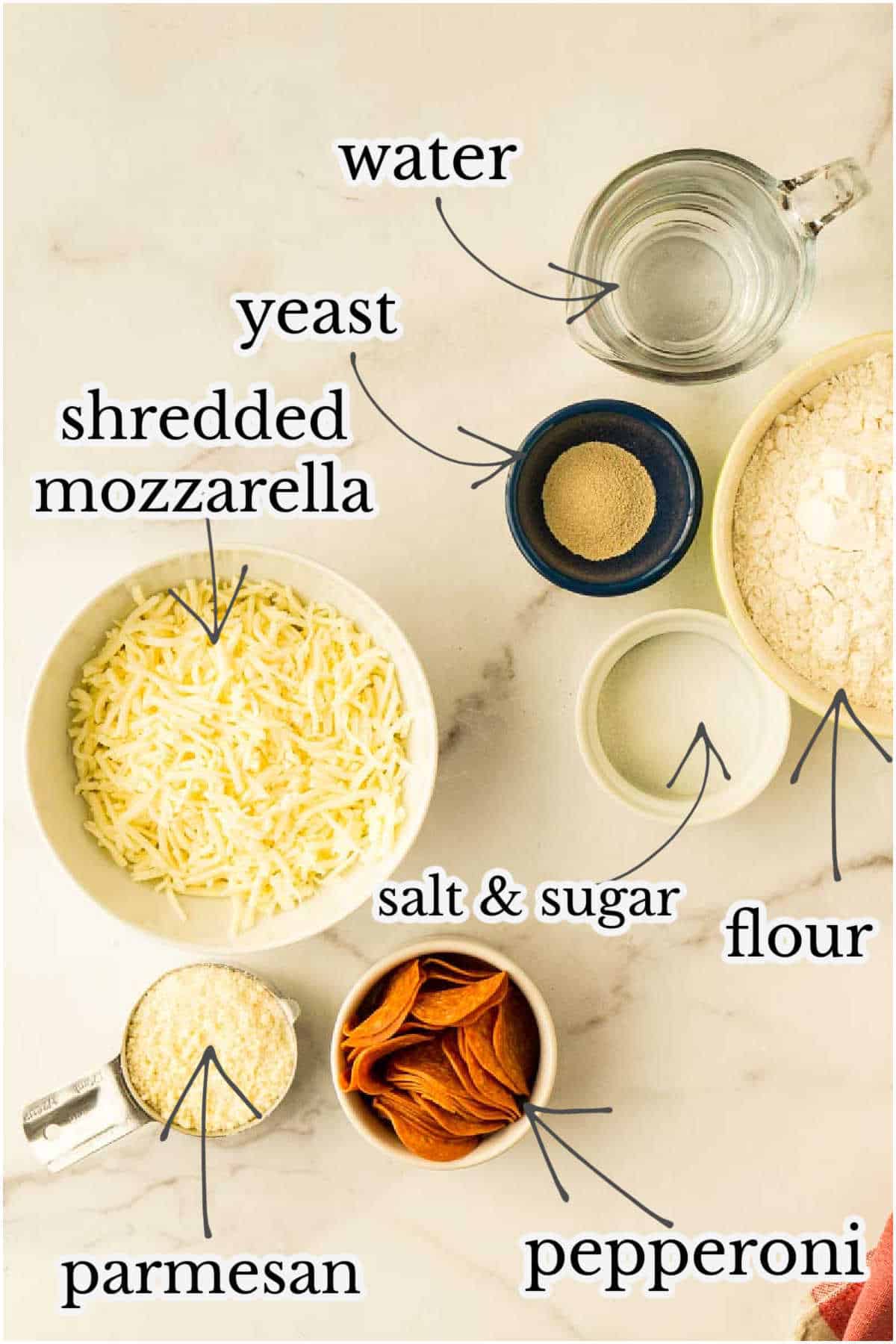 Bread Dough
1 1/4 cups tablespoons water
3 cups flour
1 1/2 teaspoons salt
1 1/2 teaspoons yeast (I recommend instant yeast for all breads)
1/2 teaspoon sugar
Filling
1/2 cup shredded or grated parmesan cheese
1 1/2 cup shredded mozzarella cheese
3 ounces sliced pepperoni (about half a package)
Topping
one egg (for the egg wash)
Helpful tools
A rimmed jelly roll pan
Parchment paper
You may also want marinara sauce or pizza sauce for dipping the bread.
Step by step, starting with the dough
Making the dough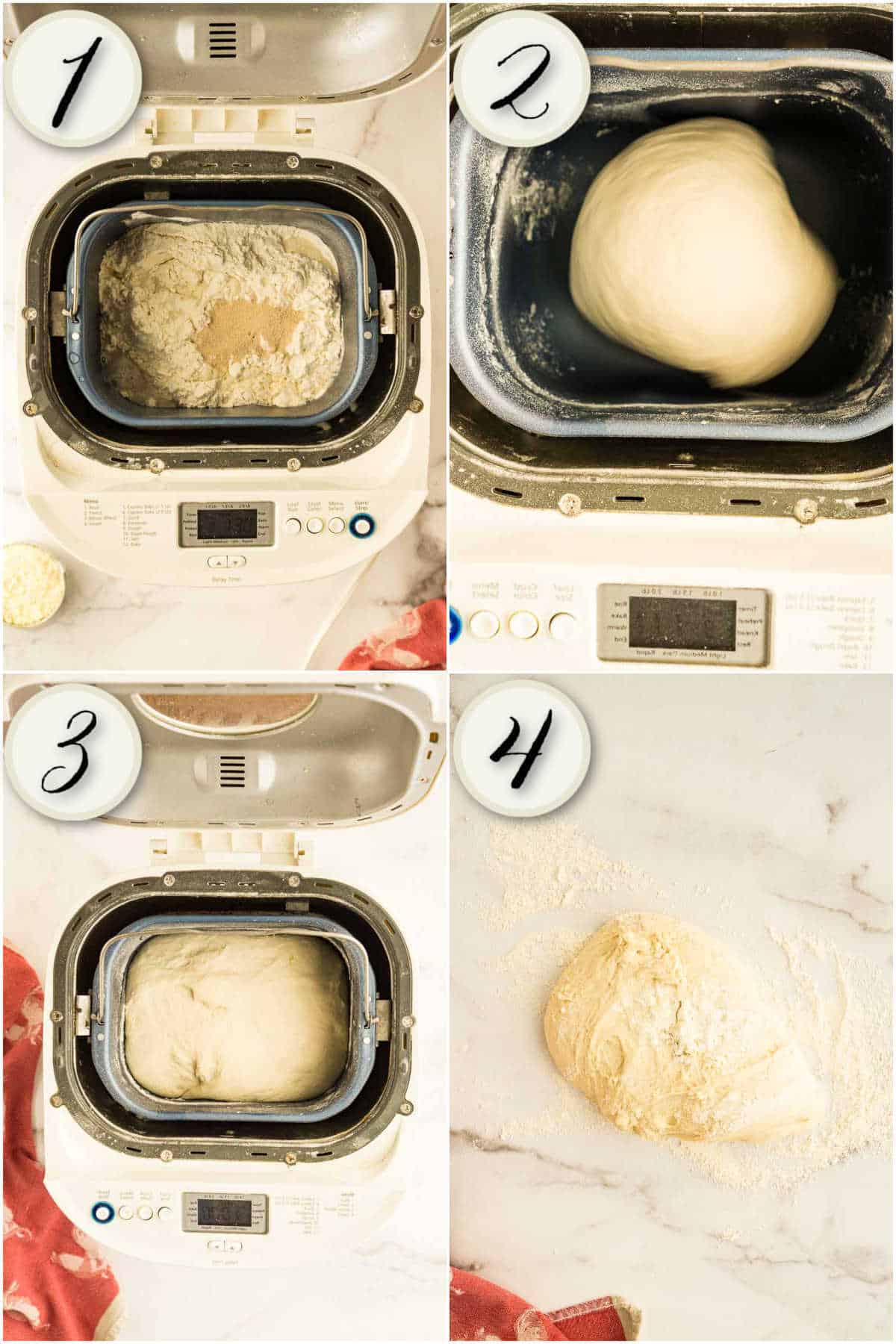 You can knead this dough however you'd like: by hand, stand mixer, or bread machine.
It's an easy dough to make. You're looking for it it to stick slightly to the bottom of the bowl but it shouldn't be too difficult to work with. I use my bread machine to knead dough whenever possible, and it works well in there.
Knead until smooth and stretchy, or let bread machine complete the dough cycle.
After dough has risen one hour, turn out on baking sheet lined with parchment. Stretch out into a rough oval and then let it rest, covered, for about 10 minutes. This lets the dough relax and will make it easier to stretch into its final shape.
While the dough is resting, preheat your oven to 375 with the rack in the center.
Rolling and baking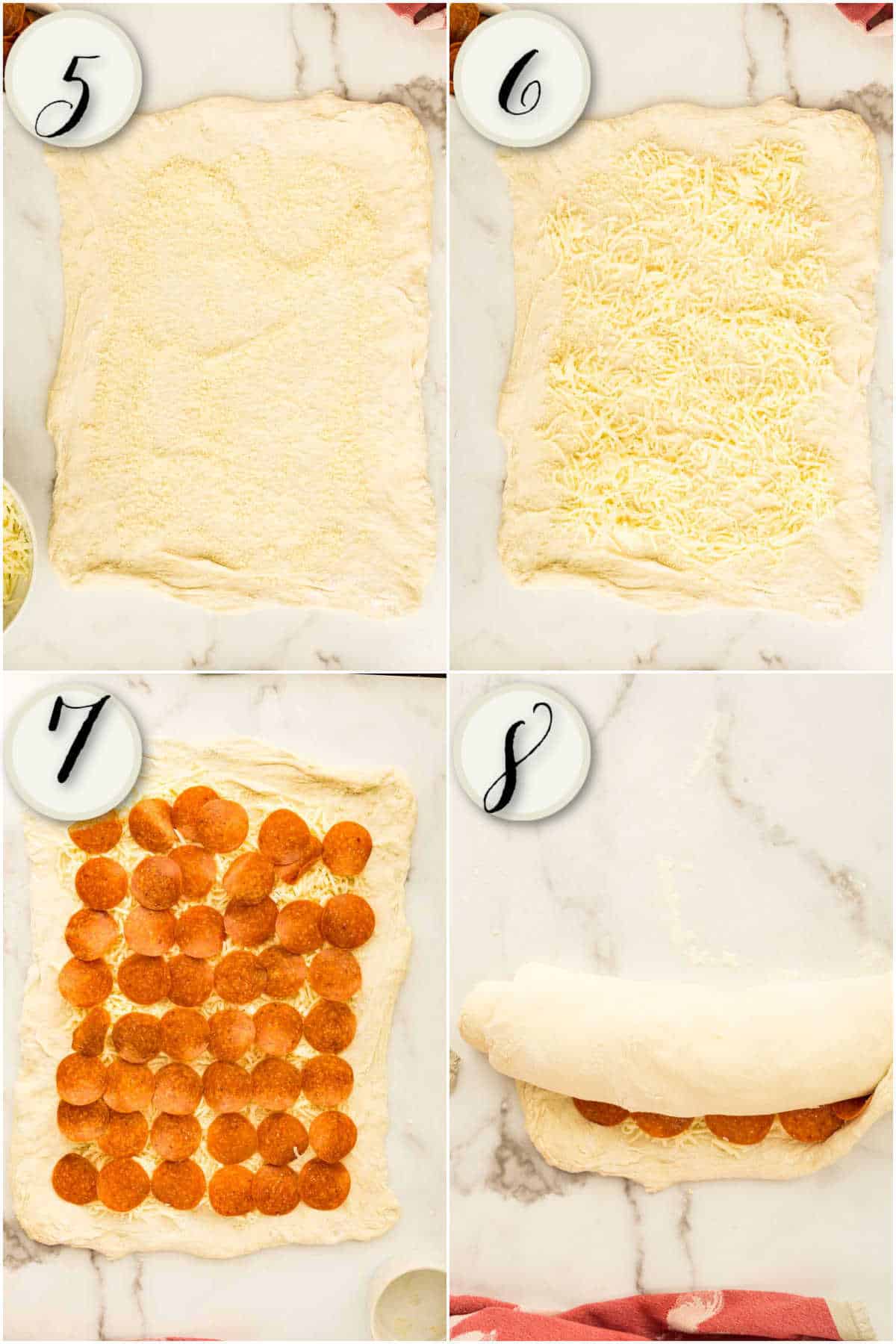 Stretch the dough out almost to the edge of the baking sheet
Then brush with a beaten egg and add the filling ingredients in order: Parmesan, mozzarella, pepperoni. Start rolling towards you, starting with a long side.
When you're almost done, roll the other side up and pinch to seal the dough. Seal the long sides of the roll and the short sides.
Carefully flip it over so it is seam side down, brush with egg, and bake.
Let the bread rest on the cookie sheet for a minute or two, then transfer it to a wire rack to cool.
Let the pizza bread cool for about fifteen minutes before you slice it, and serve warm or room temperature.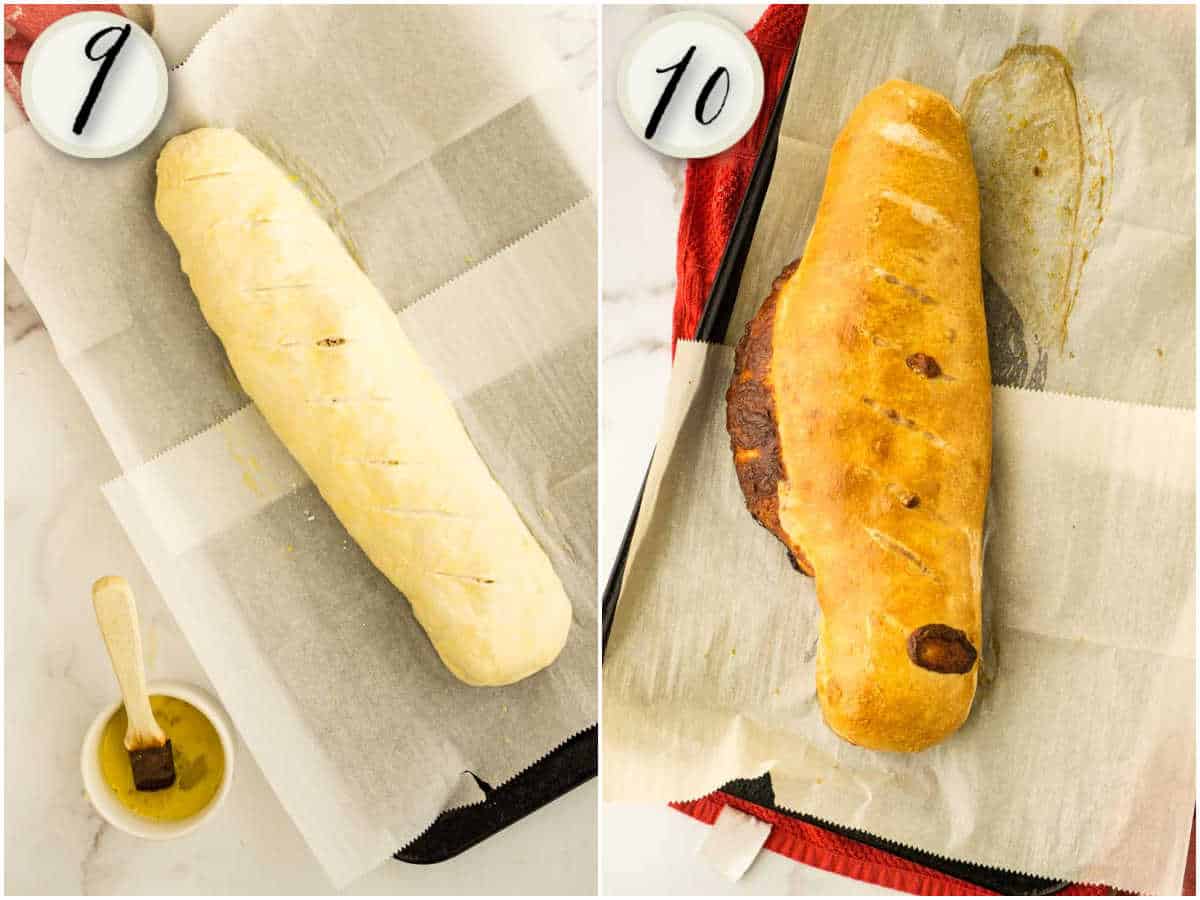 Tips for success
The dough can be little bit sticky when it comes time to roll it up, but just go slowly and you will be fine.
The parmesan cheese adds a lot of flavor, so don't reduce it or leave it out.
Make sure the roll is pinched all the way around to keep the fillings from coming out. If a little bit does come out during baking, just remove it after the cheese has firmed up.
If you don't want to make the dough from scratch, frozen is fine. Just make sure it's fully defrosted before you start.
Allow the bread to cool at least fifteen minutes before slicing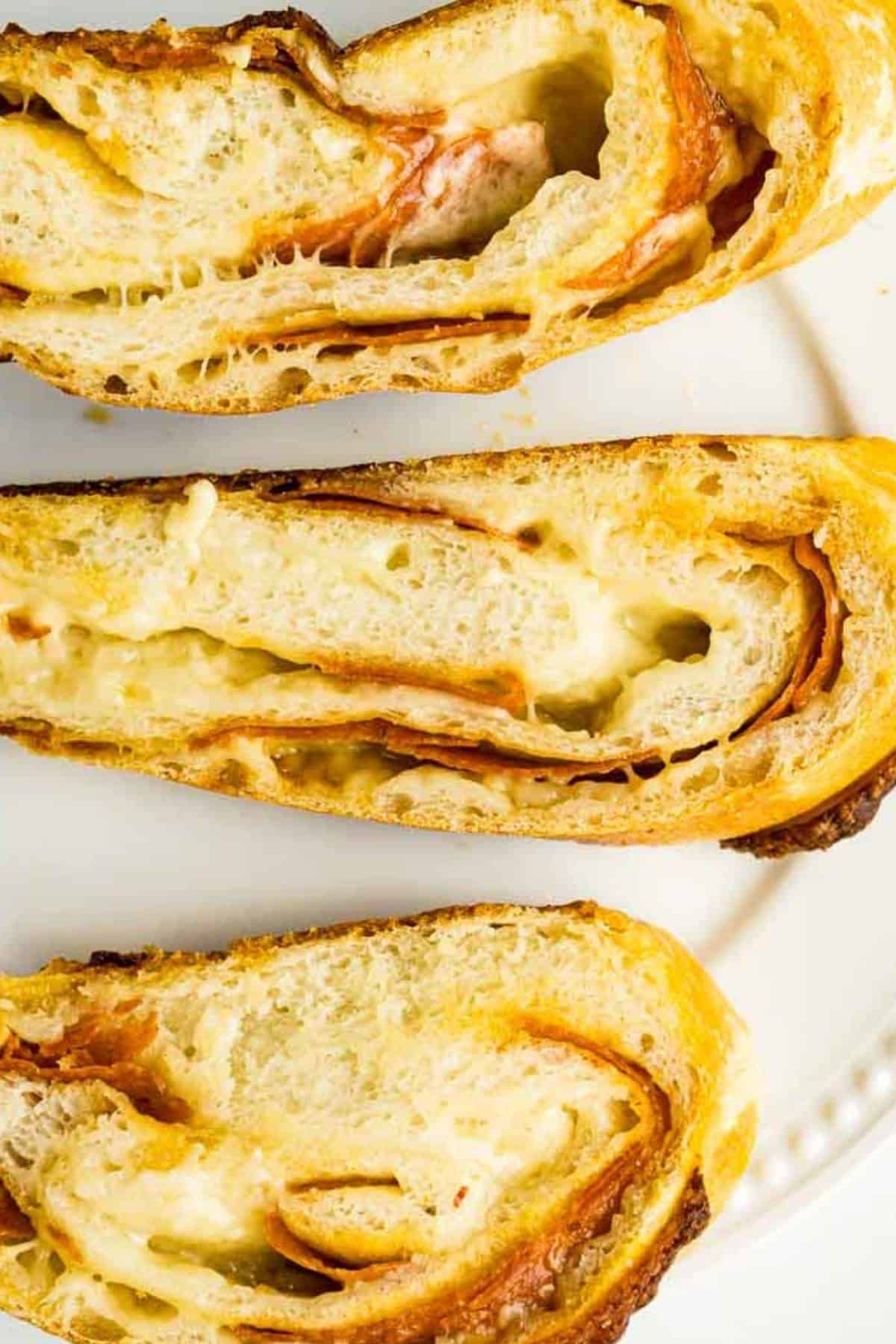 Variations
If you don't like pepperoni, you can substitute cooked, crumbled Italian sausage.
Try adding a teaspoon of garlic powder and Italian seasoning on top of the cheese. (Or try a special pizza seasoning.)
You can divide the dough into four and make smaller pizza rolls.
Serving ideas
Since this is very heavy on bread, I like to serve this with deep fried buffalo wings and a salad.
Serving a meal that's not so kid-friendly? Make this as an appetizer so the little ones will have something to enjoy.
For a party, this goes perfectly with a classic chili!
Print the recipe here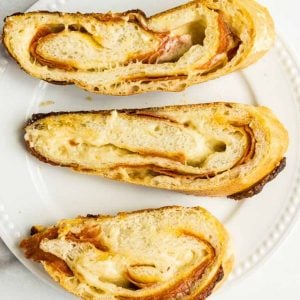 Pepperoni Bread with Homemade Dough
Print Recipe
A super simple Italian bread dough is filled with parmesan, mozzarella, and pepperoni.   Very popular with kids!
Click here to grab a free seasonal e-cookbook!
Ingredients
Bread Dough
1

cup

plus 3 tablespoons water

3

cups

flour

all purpose or bread flour are both fine

1½

teaspoons

salt

1½

teaspoons

yeast

½

teaspoon

sugar
Filling
½

cup

shredded or grated parmesan cheese

1½

cup

shredded mozzarella cheese

3

ounces

sliced pepperoni

about half a package
Instructions
Combine all dough ingredients in stand mixer or bread machine on the dough cycle. Knead until smooth or allow bread machine to complete its cycle.

(Skip this step if using bread machine, it will do this for you.)  Turn dough out into oiled bowl and cover.  Allow to rise in a warm place one hour or until doubled in bulk.

Prepare baking sheet with parchment paper.  Place dough on  top and stretch into 10 x 10 square and allow to rest ten minutes.  Preheat oven to 375.

Stretch dough out to full size of baking sheet.  Place fillings on top in this order: Parmesan, mozzarella, pepperoni, leaving a 1 inch border on each side.

Roll up carefully, pinching all around the loaf to seal in the filling.  Flip loaf over so seal is on the bottom. Brush with beaten egg and make  slashes on top.

 Bake for 40-50 minutes and allow to cool 15 minutes before slicing.
Notes
If dough sticks to parchment while rolling, pop in the fridge for a few minutes.
Don't use extra cheese; it will leak.
Nutrition
Calories:
213
kcal
|
Carbohydrates:
25
g
|
Protein:
10
g
|
Fat:
8
g
|
Saturated Fat:
4
g
|
Cholesterol:
21
mg
|
Sodium:
571
mg
|
Potassium:
82
mg
|
Fiber:
1
g
|
Sugar:
1
g
|
Vitamin A:
127
IU
|
Calcium:
126
mg
|
Iron:
2
mg