A refreshing recipe for raspberry peach iced tea. Enjoy summer's harvest along with freshly brewed iced tea for a sweet and delicious drink.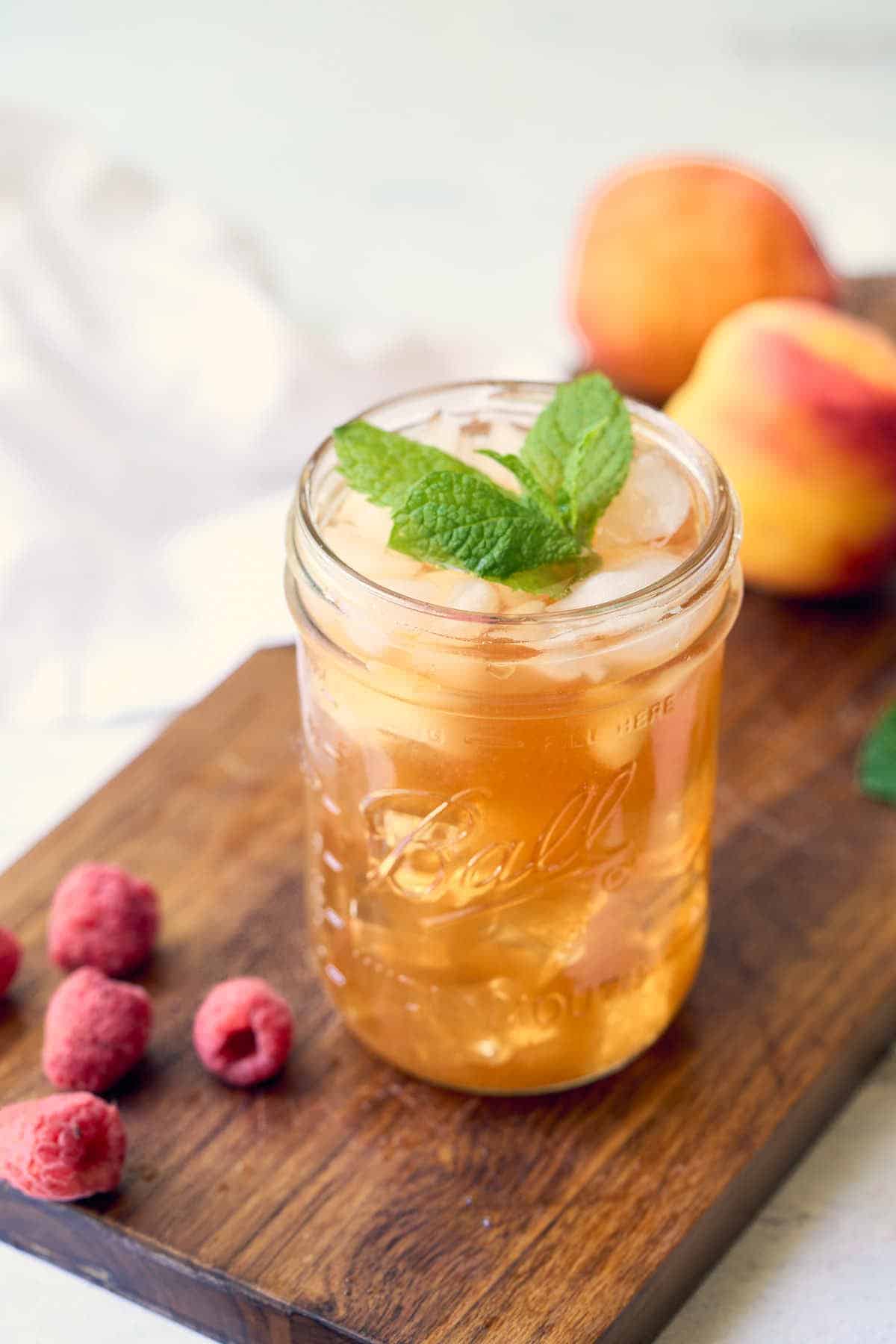 recipe
Want some free Christmas printables? Click here to grab 'em
Ingredients
For the Peach Raspberry Syrup
1

cup

sliced peaches

about 2 medium peaches

1½

cups

fresh raspberries

1½

cups

granulated sugar

1

cup

water
For the Tea
3

family sized tea bags

Luzianne brand recommended

6

cups

hot water

6

cups

cold water
Instructions
Make the fruit syrup. Add the peaches, raspberries, sugar, and water to a small saucepan and bring to a boil. Reduce to a simmer and allow to cook for 7-10 minutes, until the raspberries break down and the peaches are very soft.

Strain the syrup and chill. Using a mesh strainer, strain out the solid fruit bits. Press with a wooden spoon to get all the syrup out. Don't pres too hard or you'll have fruit bits in your tea.

Brew the tea. Place the tea bags in a heat-proof pitcher. Boil 6 cups of water and pour it on top of the tea bags. Bring 6 cups of water to a boil. Pour over the tea bags and allow to steep 3 minutes, then remove and discard. Pour 6 cups of cold water into the pitcher of tea.

Add the raspberry peach syrup and chill. Add the blackberry syrup and mix thoroughly.Place the pitcher in the fridge to chill 4 hours, or until very cold. Serve over ice with fresh lemon slices, whole raspberries, and mint leaves.
Notes
Don't want to make a big pitcher? You can freeze the part of the fruit syrup and mix it with tea later.
Strawberries or blackberries would be delicious instead of raspberries.
Did you make this?
Let me know how it was! Please see below for serving ideas, storage instructions, and substitutions.
Picking Ingredients
The fruit: make sure you pick the ripest raspberries and peaches. We are trying to extract the juice and flavor while we make the syrup, but we can't add flavor that isn't there. Ripe fruit will give you the best-tasting drink.
Plain sugar is all you need here. If you want to try a sugar substitute, you can! Just follow the conversation instructions for a recipe using real sugar.
Family-size tea bags are handy, but if you don't have them, no problem. Just substitute nine regular (individual) tea bags. We like Luzianne, but Lipton will do in a pinch.
More Fresh Fruit Drinks
Hope you enjoy this recipe!