If you are looking to add natural and local ingredients to your soap, beeswax and honey are perfect. This DIY recipe yields a sweetly scented bar that makes a charming gift… or something special for yourself.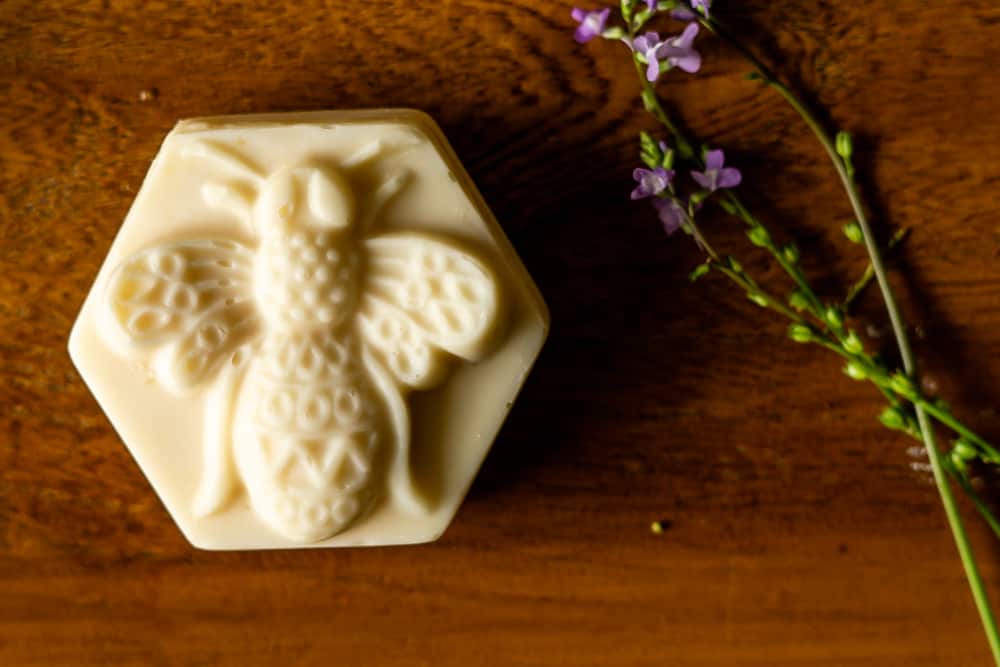 Why add beeswax to soap?
Beeswax has a few effects on soap. They are similar to the effects of shea butter or mango butter, but more pronounced. First, since it has a high melting point and returns to a solid form quickly, it makes the soap harder. This means that while you are soaping it will start solidifying right away, which is a negative. But in your finished bar, it will keep its shape well and will show the details of the mold you use. Any recipe containing beeswax is best made in individual bar molds, because it will be very hard to cut after curing.
Also, like any oil, butter, or wax added to soap, beeswax moisturizes the skin. It does an especially good job this because so much of it can't be saponified, or turned into soap why adding lye. There is a lot of leftover beeswax in the finished bar that stays in its natural state and moisturizes the skin.
Beeswax will also reduce the lather of your soap. Well… more like make the bubbles smaller. You won't get big, dramatic lather like you do with my shower soap recipe. I typically use this recipe for hand soap because it is so cute and also because the lather is not as great.
If you are using local beeswax that comes in a bar form, you will want to break it into smaller pieces to help it melt down. If you are buying it, pellet form is the easiest to work with.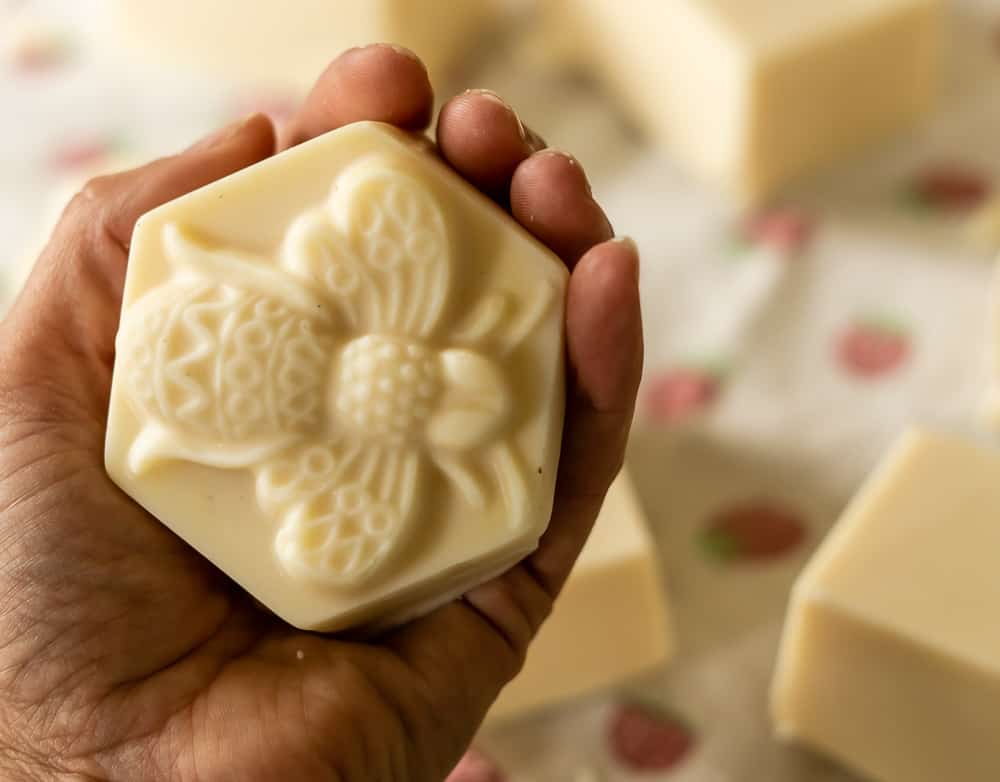 Why add honey to soap?
Honey adds moisture to the skin and the natural sugar increases lather. (This somewhat counteracts the lather decreasing properties of the beeswax.). It also colors the soap a tiny bit. (This post has more information if you are interested.)
Its main effect on soap is heating it. For whatever reason, any sugar added to a soap batter cause it to heat up tremendously. All soap batter heats up, occasionally enough that it "gels", or gets extra hot and translucent, altering the colors. But any soap recipe with honey will almost always gel. DO NOT put it in the oven to force gel phase, or it will go crazy and blow up.
Also, making this recipe in a loaf mold will cause all the heat to build and increase the chances of a soap overflow from too much heat. That is another reason that this recipe is best made in Individual molds. I place them in the freezer for 3-4 hours immediately after pouring and have not had any trouble.
If the honey gets very hot, like during a gel phase, it will discolor your soap slightly. The word "discolor" does not mean that anything has gone wrong! It just means that the honey will change the soap batter to a pretty honey color. It doesn't always happen, because it depends on the temperature of the soap. But it's pretty when it does. For a more predictable color, you could add colorant, but I like this soap in its natural state.
❤️ Why you'll love this recipe
🧂 Ingredients
This is an overview of the ingredients. You'll find the full measurements and instructions in the printable recipe at the bottom of the page.
You'll need the following
🥣 Equipment
🍴Instructions
Step One
Step Two
Step three
Step Four
🥫 Storage instructions
🔍 FAQs
👩🏻‍🍳 Expert tips
📘 Related Recipes
🍽 Serve it with
🍅 make it along with me
Follow along step by step. The slides will turn every 7 seconds, or you can click ahead.
📖 Here's the recipe
So… why exactly are we adding honey to this recipe? Well, to be honest, it is mostly for fun. There is some evidence that honey is naturally anti-microbial, which I like. But if you want leave it out, the final result will not be much different. It doesn't add any fragrance, and only a little color.
So do the beeswax and honey add fragrance to the soap?
Not really. You can smell the honey right after you add it, but after the soap cures, any honey fragrance will fade. That is why this recipe calls for a fragrance oil, Pure Honey from Brambleberry. It is soft, sweet, and one of my absolute favorites. I am comfortable with the research they do about the safety of their fragrance oils. But of course, it is completely optional.
To make almost any homemade soap smell good, you will need a fragrance oil of some kind. Since this recipe is quick to come to trace, don't use a floral one which will just accelerate trace even more. Use one that behaves well.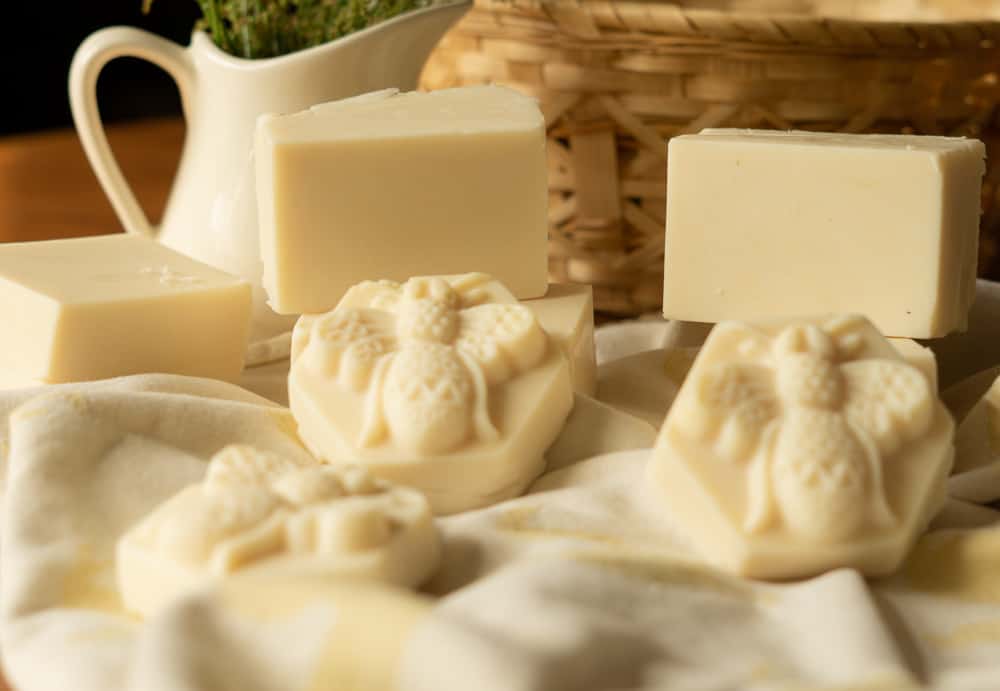 Is this recipe suitable for beginners?
I wouldn't recommend it for a beginner. Beeswax is weird to work with because it solidifies much faster than any typical soap-making oil. The honey makes things overflow. When you blend this recipe, it comes to trace very quickly and can get lumpy on you if you aren't careful. Soap making is fun and easy, but this recipe is a bit abnormal and is not great for your first time. A good beginner recipe would be my mango butter hand soap.
Ready for the recipe?
The Recipe: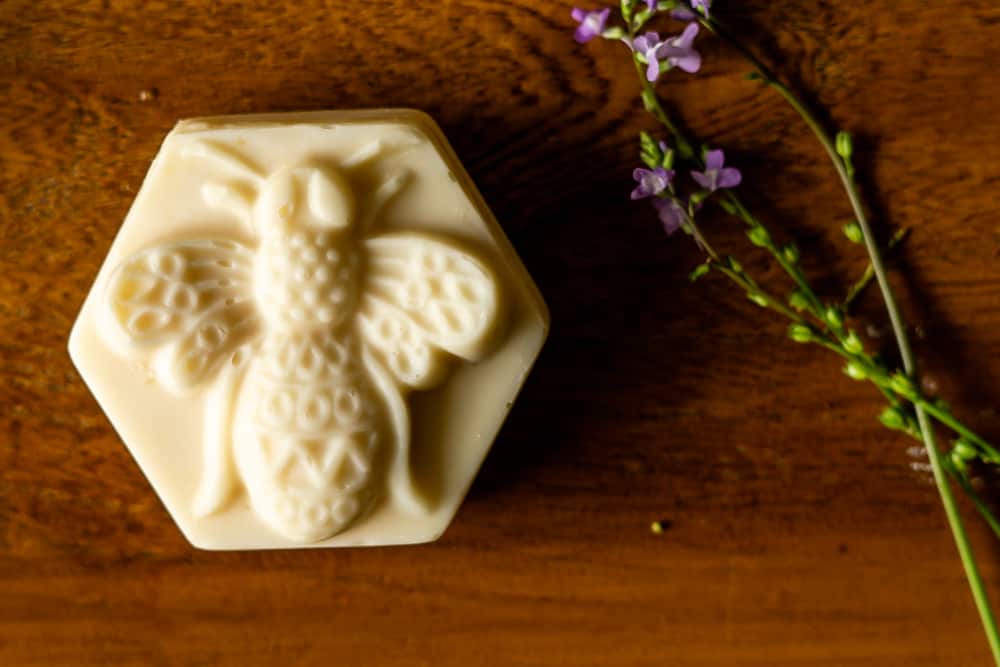 Want some free Christmas printables? Click here to grab 'em
Equipment
digital scale

Safety equipment
Ingredients
2

ounces

sweet almond oil

2

ounces

avocado oil

11

ounces

coconut oil

9

ounces

olive oil

9

ounces

palm oil

2

ounces

beeswax

1

tablespoon

honey

2.5

tablespoons

Pure Honey fragrance oil

optional

4.94

ounces

of lye

9-13

ounces

of water
Instructions
Measure out your lye and water in separate containers, using the digital scale. Add the lye to the water (snow floats on the lake), stir to dissolve. Set aside in a safe place to cool.

Measure out the oils and beeswax and heat to 160 degrees, until fully melted. Allow to cool.

Wait until the lye and oils have cooled down to around 110. At this temperature, some of the beeswax may have hardened slightly. If that is the case, melt again briefly for a minute, but don't fully heat the oils up.

Prepare your molds and have your fragrance and honey measured out and ready to go. This recipe will come to trace very quickly and start setting up right away.

Pour the lye water into the melted oils and blend with your stick blender. Be careful of false trace, as the beeswax cooling can trick you. Stir with the blend for a minute, then by hand, then with the blender again. Once thin trace is reached, add the honey. Then add the fragrance oil one tablespoon at a time and mix in by hand.

Immediately pour the soap batter into a mold. Place the mold, uncovered, in the freezer for about 4 hours to prevent a soap overflow.

After 4 hours, remove the soap from the freezer and allow to cure and harden overnight at room temperature. Unmold in the morning. Continue to let the soap dry and harden in a well ventilated area for 3-4 weeks before using.
Notes
Be sure to wear goggles, gloves, and observe all soap making safety guidelines.
Did you make this?
Let me know how it was! Please see below for serving ideas, storage instructions, and substitutions.