Each delightful combines a moist, tender cake and a sweet fruity frosting. This crowd-pleaser is not only easy to make but it's also guaranteed to steal the show at any gathering.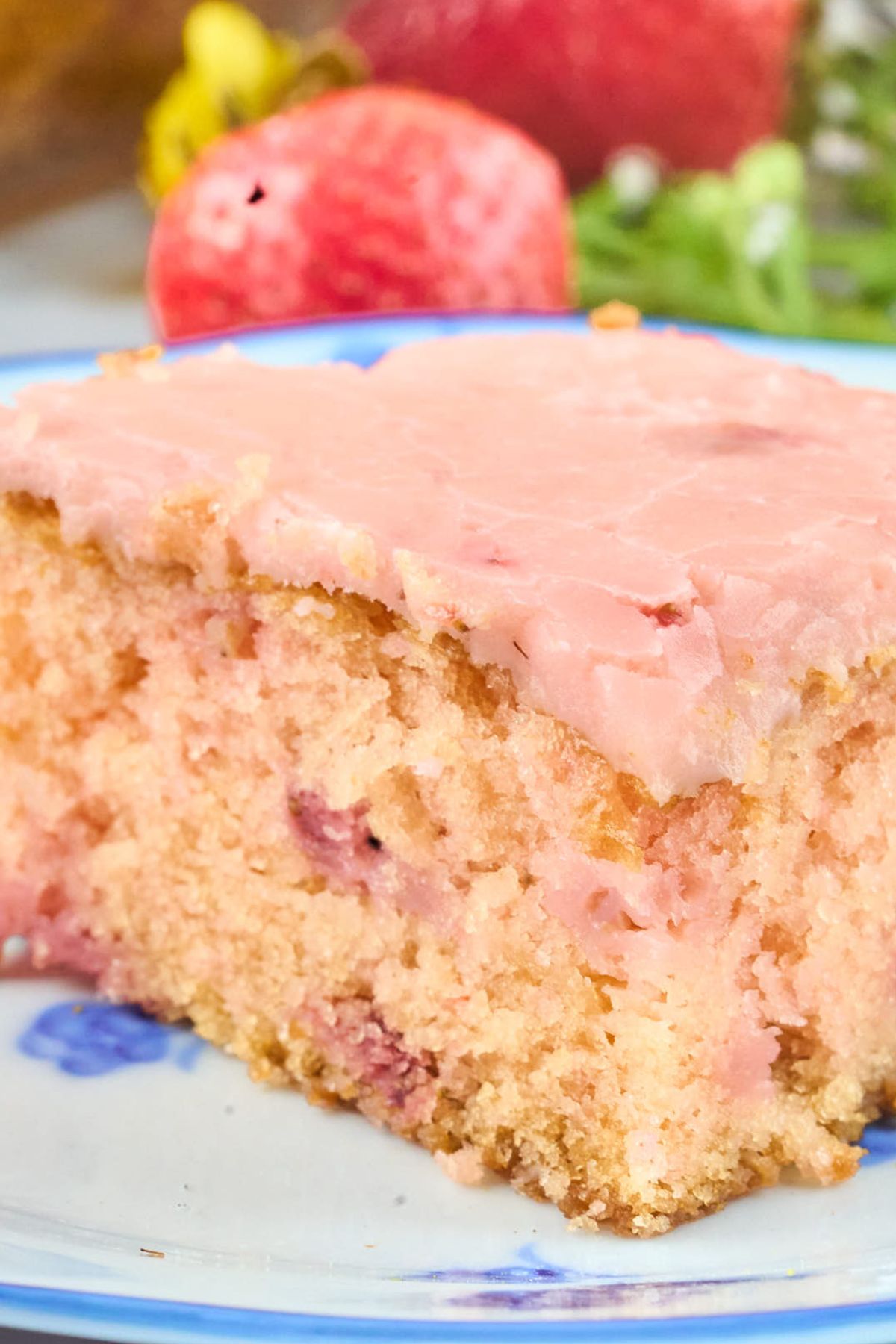 ❤️ Why you'll love this recipe
Simple to make: With easy-to-follow instructions and common ingredients, this recipe is perfect for bakers of all skill levels, from beginners to pros.
Perfect for gatherings: The generous size of a Texas Sheet Cake makes it ideal for feeding a crowd, ensuring there's plenty to share with family and friends.
Versatile: The recipe can easily be adapted to cater to different tastes or occasions, like swapping out strawberries for other fruits or using different flavored gelatin to create a unique twist on the classic.
🧂 Ingredients
This is an overview of the ingredients. You'll find the full measurements and instructions in the printable recipe at the bottom of the page.
You'll need the following for this springtime dessert:
Vegetable oil
Sugar
Large eggs
Vanilla extract
All-purpose flour
Strawberry-flavored gelatin
Baking soda
Baking powder
Table salt
Buttermilk
Fresh strawberries
Butter
Powdered sugar
🥣 Equipment
🍴Instructions
Step One: mix wet and dry ingredients in separate bowls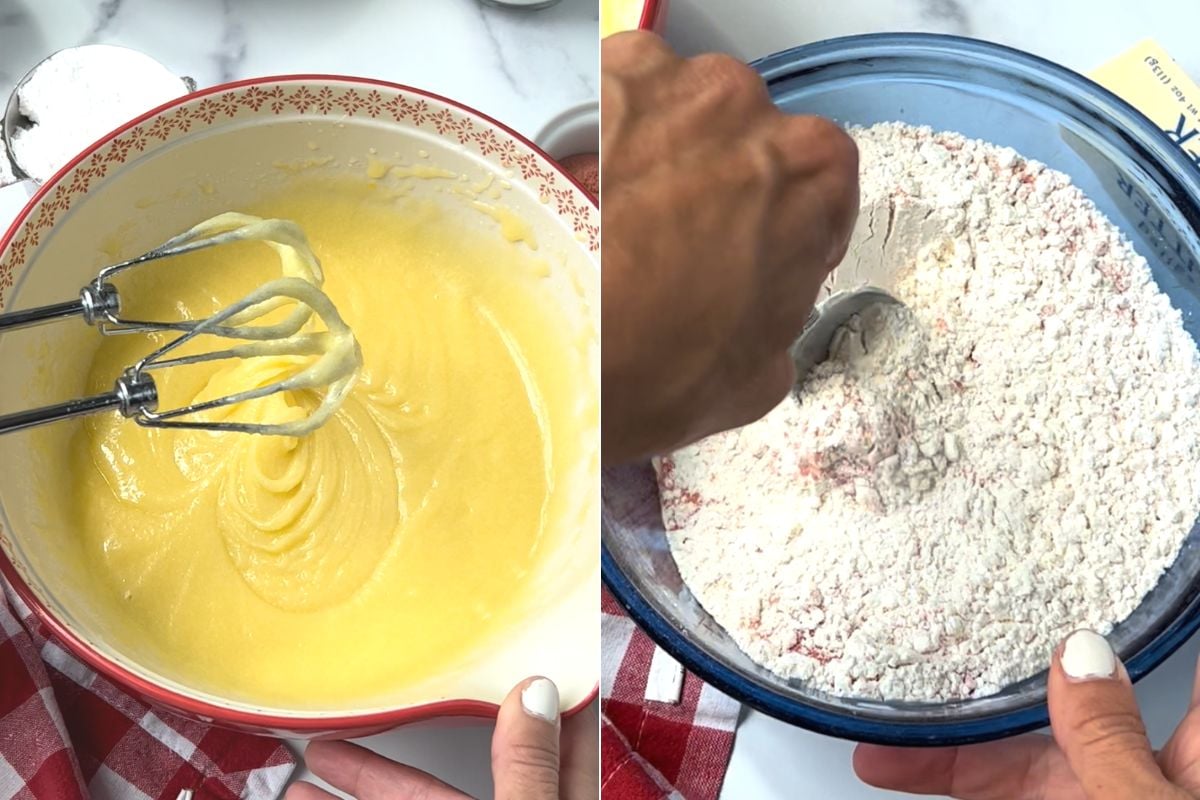 Preheat and prepare: Start by preheating your oven to 350°F (175°C) and give your 13×9-inch baking dish a generous spray with nonstick cooking spray to ensure your cake releases easily after baking.
Combine wet ingredients: In a large mixing bowl, whisk together the vegetable oil, sugar, vanilla extract, and eggs for about 2 minutes, or until the mixture is well combined and slightly pale in color.
Mix dry ingredients: In a separate bowl, whisk together the all-purpose flour, strawberry-flavored gelatin, baking soda, baking powder, and table salt, making sure everything is evenly distributed.
Step Two: finish batter
Alternate additions: Gradually add the dry ingredient mixture to the wet ingredients, alternating with buttermilk. Begin and end with the dry mixture, and mix on low speed just until combined, taking care not to overmix. This will help keep the cake tender and moist.
Fold in strawberries: Gently fold in the chopped fresh strawberries by hand, ensuring they're evenly distributed throughout the batter.
Step three: bake!
Spread and bake: Pour the batter into your prepared baking dish, spreading it evenly. Pop it in the oven and bake for 40-45 minutes, or until a wooden pick inserted in the center comes out clean. Let the cake cool in the pan on a wire rack for 30 minutes.
Step Four: frosting time
While the cake cools, it's time to make the luscious frosting. In a large saucepan, combine the chopped strawberries and vanilla extract, and heat until the strawberries are juicy and broken down. Add the butter, stirring until it melts. Remove the saucepan from the heat and whisk in the powdered sugar, beating with an electric mixer until smooth. The icing should be thick yet pourable, so adjust the consistency with more powdered sugar if needed.
Pour and set: Slowly pour the frosting over the cooled cake, ensuring it covers the entire surface evenly. Allow the icing to set before slicing and serving.
🥫 Storage instructions
Room temperature: If you plan to enjoy your cake within a day or two, simply cover it with plastic wrap or aluminum foil, and store it at room temperature. The frosting will set and protect the cake from drying out, ensuring it stays moist and flavorful.
Refrigerator: For longer storage, up to a week, place the covered cake in the refrigerator. This will help keep the frosting fresh and the cake moist. Before serving, allow the cake to sit at room temperature for about 30 minutes to bring out its full flavor.
Freezing. Wrap individual slices tightly in plastic wrap, then pop each into a zip-top freezer bag. Defrost at room temperature.
🔍 FAQs
Can I use frozen strawberries instead of fresh ones?
Of course! If fresh strawberries aren't available or you'd like to use up your frozen stash, just substitute your frozen ones. 😊
Can I substitute the vegetable oil with another type of oil or fat?
Yes, you can! If you prefer, you can replace the vegetable oil with other neutral-flavored oils like canola or sunflower oil. You could also use melted unsalted butter if you're looking for a richer flavor. Just keep in mind that the texture of the cake might be slightly different depending on your choice of oil or fat. I find vegetable oil cakes moister. and better overall.
Is there a way to make this cake dairy-free?
Absolutely! For a dairy-free version of this scrumptious cake, you can substitute the buttermilk with a plant-based milk (such as almond or soy milk) mixed with a tablespoon of white vinegar or lemon juice. Let it sit for a few minutes to thicken before adding to the batter. For the frosting, simply replace the butter with a dairy-free alternative like vegan butter or margarine.
What other fruits or flavored gelatin can I use in this recipe?
This cake is versatile and can easily be adapted to your preferences. You can swap out the strawberries for other fruits like raspberries, blueberries, or peaches, and use a matching flavored gelatin to complement the chosen fruit. Just remember to adjust the baking time if the chosen fruit releases more or less moisture than strawberries.
👩🏻‍🍳 Expert tips
Gentle mixing: Avoid overmixing the batter – mix just until the dry ingredients are combined with the wet ones. Overmixing may lead to a tougher and denser cake, so go easy and stop when you see no dry spots.
Choose ripe strawberries: For the most luscious cake, pick ripe, sweet strawberries. Their natural sweetness will truly enhance both the cake and the frosting.
Keep an eye on the oven: Since oven temperatures can vary, start checking your cake for doneness a few minutes before the recommended baking time. A wooden pick or skewer inserted into the center should come out clean or with a few moist crumbs to indicate that the cake is ready.
Cool before frosting: Allow your cake to cool for at least 30 minutes before adding the frosting. This ensures that the frosting sets nicely and doesn't become runny or seep into the cake.
Tweak the frosting: If your frosting is too thick or too thin, don't fret! You can adjust the consistency by adding more powdered sugar to thicken it or a splash more milk to thin it out. Aim for a pourable yet thick frosting that sets beautifully atop your cake.
📘 Related Recipes
📖 Here's the recipe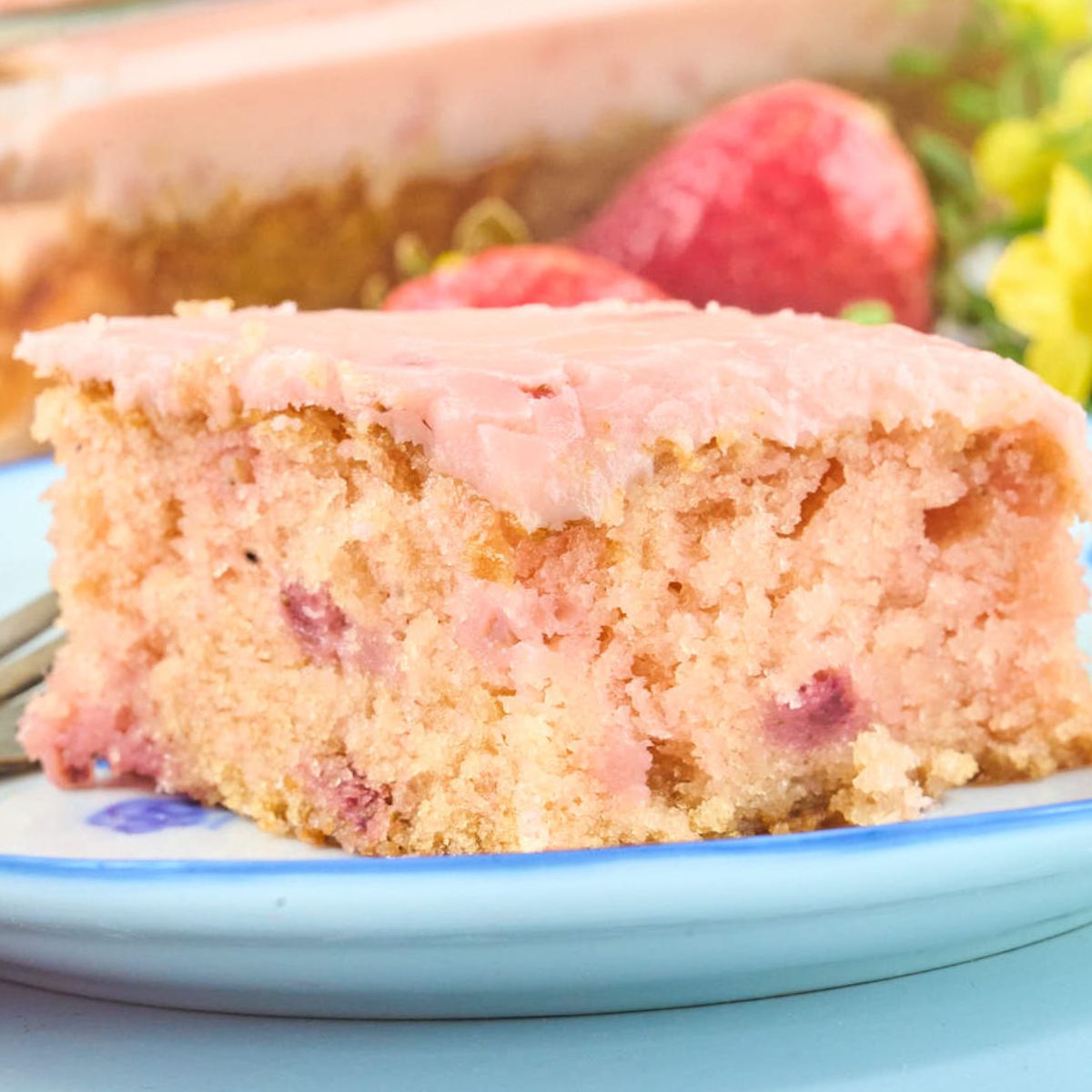 Want some free Christmas printables? Click here to grab 'em
Ingredients
1

cup

vegetable oil

2

cups

sugar

2

large eggs

1

teaspoon

vanilla extract

2½

cups

all-purpose flour

2

tablespoons

strawberry-flavored gelatin

½

teaspoon

baking soda

1

teaspoon

baking powder

½

teaspoon

salt

1

cup

buttermilk

⅔

cup

chopped fresh strawberries
Icing
¼

cup

chopped strawberries

1

teaspoon

vanilla extract

12

tablespoons

butter

3-4

cups

powdered sugar
Instructions
Preheat oven to 350°. Spray a 13×9 baking dish with nonstick cooking spray.

Beat oil, sugar, vanilla, and eggs, beating 2 minutes or until well combined

Mix dry ingredients in separate large mixing bowl. Add flour mixture to wet imgredients alternately with buttermilk. Beat at low speed just until just combined, with no dry spots. Do not over mix. Stir in strawberries by hand. Spread batter in prepared pan.

Bake at 350° for 40-45 minutes or until a wooden pick inserted in center comes out clean. Cool in pan on a wire rack 30 minutes.

As the cake cools, make the frosting. In a large saucepan, mix the strawberries and vanilla. Heat until juicy and broken down. Add the butter and stir until the butter melts. When it is melted, remove from the heat.. Whisk in the powdered sugar and beat with electric mixer until smooth. The icing should be thick but pourable. If it is very thick, add a small amount of milk. If it is too thin, add a bit more sugar. Pour over cake slowly. Try a small amount on a plate and make sure you will like the consistency before pouring the whole thing.

Allow icing to set and serve directly out the pan.
Notes
One pound of strawberries will be enough for the cake and the icing.
If your house is warm, pop the frosted cake in the fridge to help the icing set.
Nutrition
Calories:
312
kcal
|
Carbohydrates:
51
g
|
Protein:
3
g
|
Fat:
8
g
|
Saturated Fat:
5
g
|
Polyunsaturated Fat:
0.4
g
|
Monounsaturated Fat:
2
g
|
Trans Fat:
0.3
g
|
Cholesterol:
36
mg
|
Sodium:
184
mg
|
Potassium:
45
mg
|
Fiber:
0.5
g
|
Sugar:
39
g
|
Vitamin A:
254
IU
|
Vitamin C:
1
mg
|
Calcium:
33
mg
|
Iron:
1
mg
Did you make this?
Let me know how it was! Please see below for serving ideas, storage instructions, and substitutions.