Soft and sweet cakes with strawberry gelatin for color and flavor and a strawberry marshmallow buttercream filling.
Who can resist the allure of Strawberry Whoopie Pies? Soft, cake-like rounds bursting with strawberry flavor, sandwiched with a luscious strawberry marshmallow buttercream.
Whether you're looking for a unique dessert to impress guests or a fun baking project with the kids, this recipe delivers on all fronts.
Simple yet flavorful, these whoopie pies will have everyone reaching for seconds.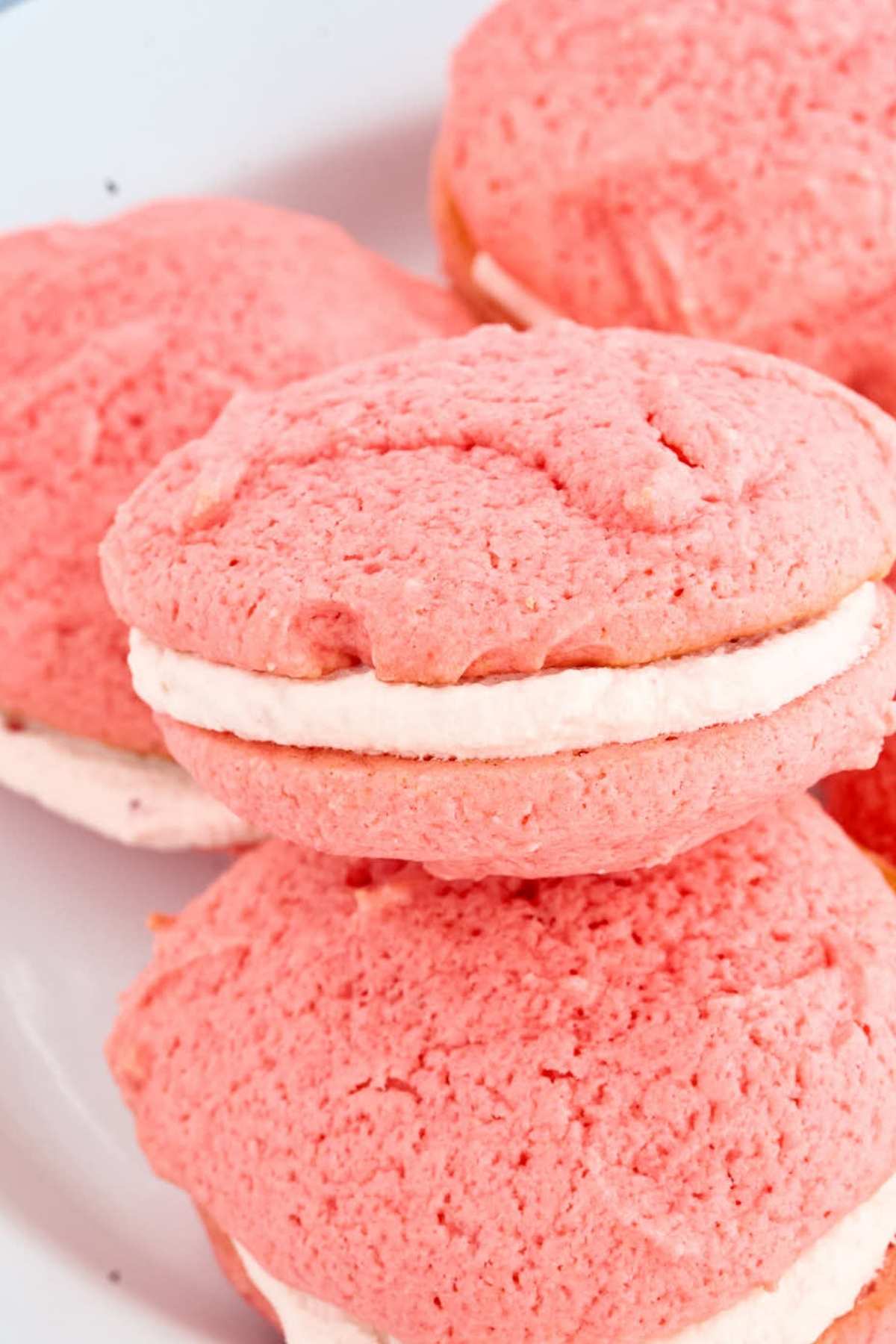 This one of the best from-scratch desserts for spring, especially when nothing is quite in season yet. Delicious!
What you need for Whoopie Pies
Strawberry Jello Powder: Gives the cakes both their vibrant color and fruity flavor.
Marshmallow Cream: Adds a fluffy, light texture to the filling.
Pantry ingredients: flour, sugar, butter, etc. These are a cookie/ cake hybrid. and you need all the baking basics to make them.
Parchment paper: They stick! You'll either need parchment or a lot of nonstick spray.
An extra-large baking sheet. While not essential (you can just rotate your pans, every baker deserves a baking sheet that holds as much as it can while still fitting a standard-sized oven!
Nordic Ware Naturals Big Sheet, Silver
Comfylife 120 x Parchment Paper Sheets – No Curl, No Tear, No Burn Baking Paper (16 x 12 inch) – No Chemical Unbleached – Cookie Paper Precut Baking Sheets For Baking
SUNNORN Large Cookie Scoop, 3 Tbsp Cookie Scoop for Baking, Cookie Dough Scooper, Melon Baller Scoop, Good Soft Grips, Comfortable Trigger Release
Don't worry about the strawberries being in season. Most of the flavor comes from the strawberry gelatin.
Tips for the best whoopie pies
Preparation: Before you start, make sure to preheat the oven and line your baking sheets with parchment paper. This will help you bake the cakes evenly without sticking.
Mixing: When you're combining the dry and wet ingredients, alternate adding the dry mixture with the milk to the butter mixture. This helps keep the batter uniform and prevents it from getting too dry or too wet.
Spacing: When scooping the batter onto the baking sheets, leave about three inches between each dollop. This gives them room to spread without merging into one large cake.
Testing: Use a cake tester or a toothpick to ensure the cakes are fully baked. Insert it into the center of a cake; if it comes out clean, they're done.
Filling: The butter and marshmallow cream should be beaten until fluffy for a light and airy texture. If the filling isn't holding well, you can put it in the fridge for about 30 minutes to firm up.
Storage: These whoopie pies freeze well, so you can enjoy them later. Just store them in a freezer bag and either eat them straight from the freezer or let them thaw at room temperature
More whoopie pies:
Whoopie pies are like a combination of all your favorite desserts. The cakes are between cake and cookie; the filling is part filling part frosting. Lucky for us, there are lots of types to enjoy.
These are especially popular with kids but adults will love them too. They melt in your mouth and have just enough strawberry flavor.
strawberry whoopie pie recipe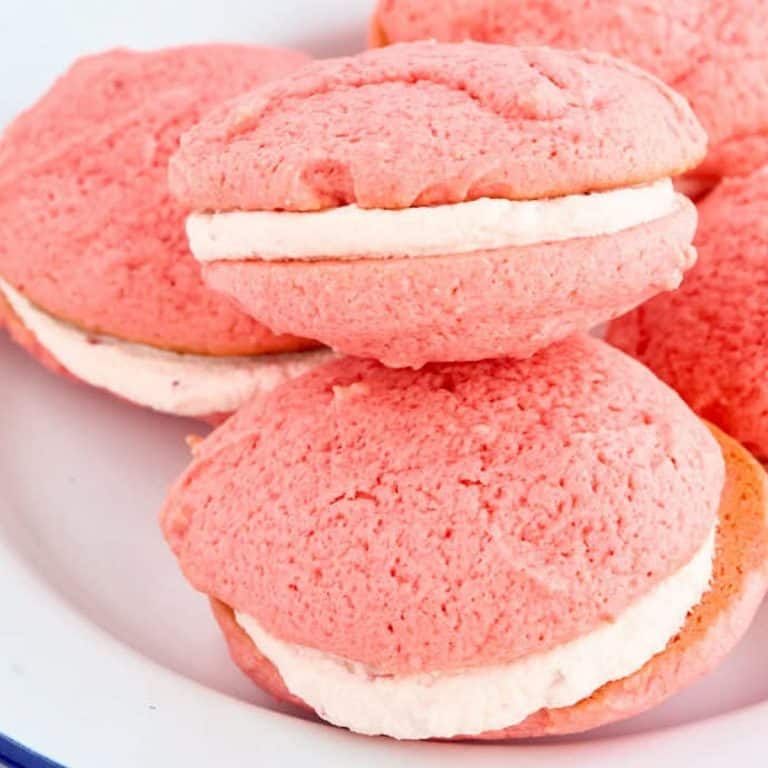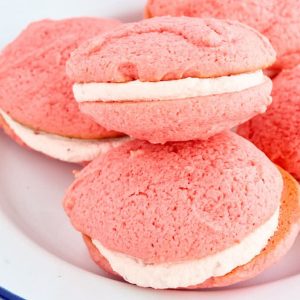 Sweet Strawberry Whoopie Pies
Print Recipe
Soft and sweet cakes with strawberry gelatin for color and flavor and a strawberry marshmallow buttercream filling.
Click here for a FREE autumn cookbook (25+ Recipes!)
Ingredients
Cakes
3

tablespoons

strawberry jello powder

½

cup

unsalted butter

softened (1 stick)

1

cup

granulated sugar

1

egg

2

teaspoons

vanilla

2¼

cups

all purpose flour

1½

teaspoons

baking soda

½

teaspoon

salt

¾

cup

whole milk
Filling
8

tablespoons

unsalted butter

softened (1 stick)

¼

cup

strawberries

chopped fine

1

cup

powdered sugar

1

teaspoon

vanilla

¼

teaspoon

salt

1

cups

marshmallow cream such as Marshmallow fluff brand
Instructions
Make the Cakes
Prep. Preheat oven to 350 with two racks in: one in the upper center and one lower center. Prepare two baking sheets by lining with parchment paper.

Make batter. Beat the butter, sugar, egg, and vanilla using an electric mixer on medium speed for 3 to 5 minutes, until the butter becomes fluffy and lighter in color. Combine the flour, salt, strawberry gelatin, and baking powder in separate mixing bowl. Add the dry ingredients to the butter mixture, alternating with the milk. The batter will be thick, somewhere between a cake batter and cookie dough.

Scoop and bake. Scoop the batter by ¼ cup scoops, leaving three inches of space between them. Bake until set, about 18 minutes, switching the sheets halfway through. They will be slightly golden brown on the edges, and a cake tester will come out clean.

Cool. Allow the cakes to cool 1-2 minutes on the parchment paper to make them easier to handle, then transfer them to cooling racks to cool.
Make filling
Beat ingredients. Beat the butter, sugar, and vanilla until fluffy with an electric hand mixer. Add the marshmallow cream and strawberries and beat until combined.

Assemble. Spread the filling on the flat side of the cakes, and place another one flat side down to make a sandwich. Serve immediately.
Notes
Baked and filled whoopie pies actually freeze very well! Simply pop them in a freezer bag and eat straight out of the freezer, or after defrosting at room temperature.
Place the filling in the center of the cakes, it will spread out when you put the top cake on top.
Test the consistency of the filling by doing one cake first. If the filling doesn't stay on, pop in the fridge for about 30 minutes to firm up.
Nutrition
Calories:
657
kcal
|
Carbohydrates:
86
g
|
Protein:
6
g
|
Fat:
32
g
|
Saturated Fat:
20
g
|
Cholesterol:
110
mg
|
Sodium:
498
mg
|
Potassium:
82
mg
|
Fiber:
1
g
|
Sugar:
54
g
|
Vitamin A:
1012
IU
|
Calcium:
42
mg
|
Iron:
2
mg
Did you make this recipe?
If you loved it, please leave a review!