Sweet and soft sandwiches made up of chocolate chip cakes and homemade marshmallow flavored filling.
A fun and delicious recipe for chocolate chip whoopie pies, with sweet marshmallow filling sandwiched between soft cakes.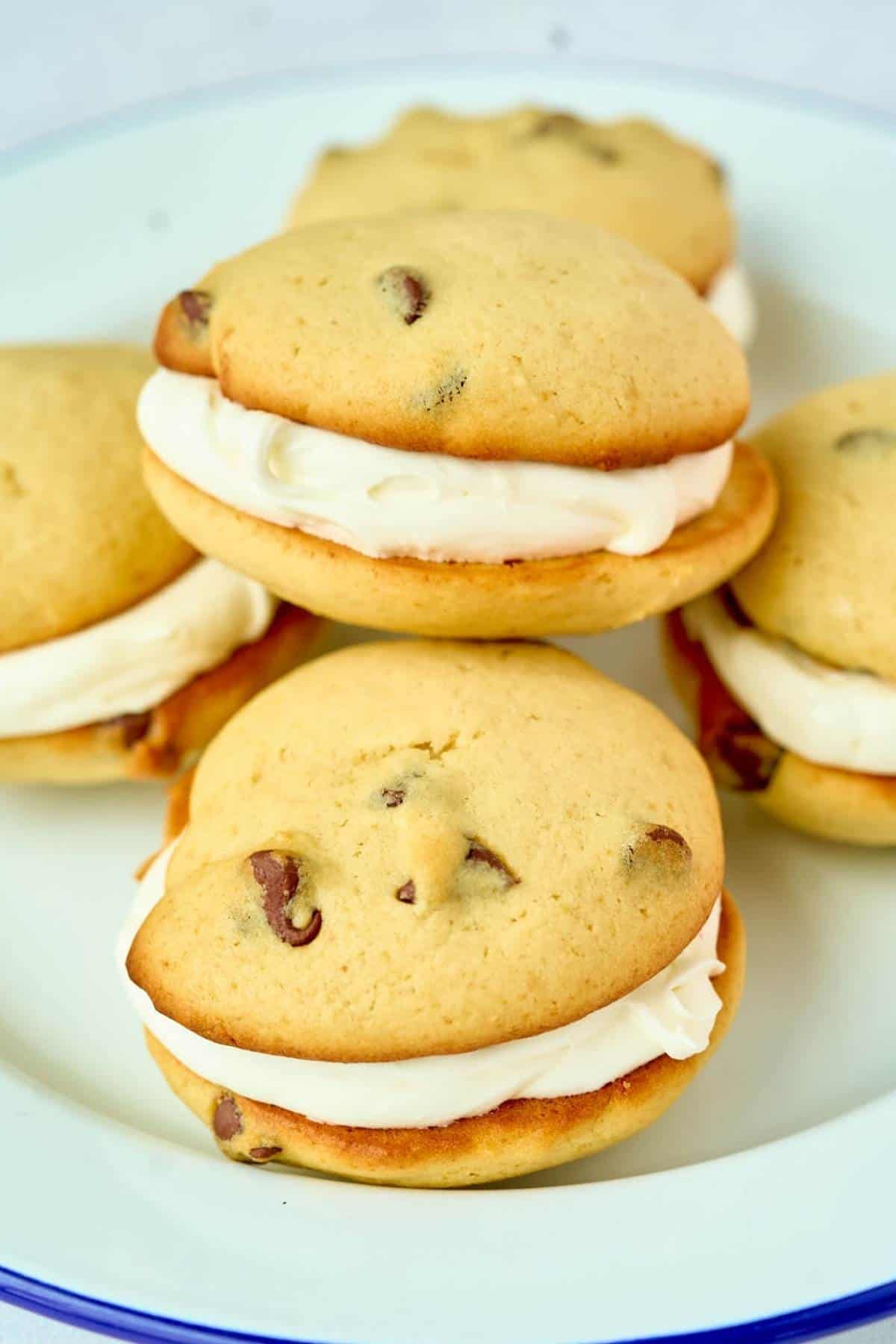 When my daughter turned six, her grandmother offered to make her cake and starting quizzing her about what she wanted. She said she wanted the sandwich cookies with the colored filling. Her grandmother agreed and said "okay great, that's easy." And on her birthday, she arrived with a bag of Oreos with yellow filling for spring.
But alas, what she wanted were these homemade delicacies. So the next time a little one in your life asks for something a little different for their birthday, give these a try. And if you put these on a platter at a party, be prepared for your guests to get excited.
What exactly are whoopie pies?
Whoopie pies look like sandwich cookies, but they are really cakes filled with marshmallow cream filling. My kids always get excited about them for some reason, probably something to do with the fact that they are sandwiches and that marshmallow filling is involved.
(If you're interested in the history of Whoopie Pies, the Farmer's Almanac has a good article. Many states claim that they invented them, but Maine seems to have the most convincing argument.)
The cakes are sweet, and the filling is very sweet, but that is how they are supposed to be! They are a kid-friendly dessert to serve. If you make both of the components ahead of time, it is also fun to have the kids help assemble them.

Why you'll love this recipe
They just feel special: When a cookie and a cupcake seem too boring, this is what you should make
Easy to make: If you can make a cake and frosting, you can make these
They're delicious! Soft, sweet, and amazing
What you need for whoopie pies: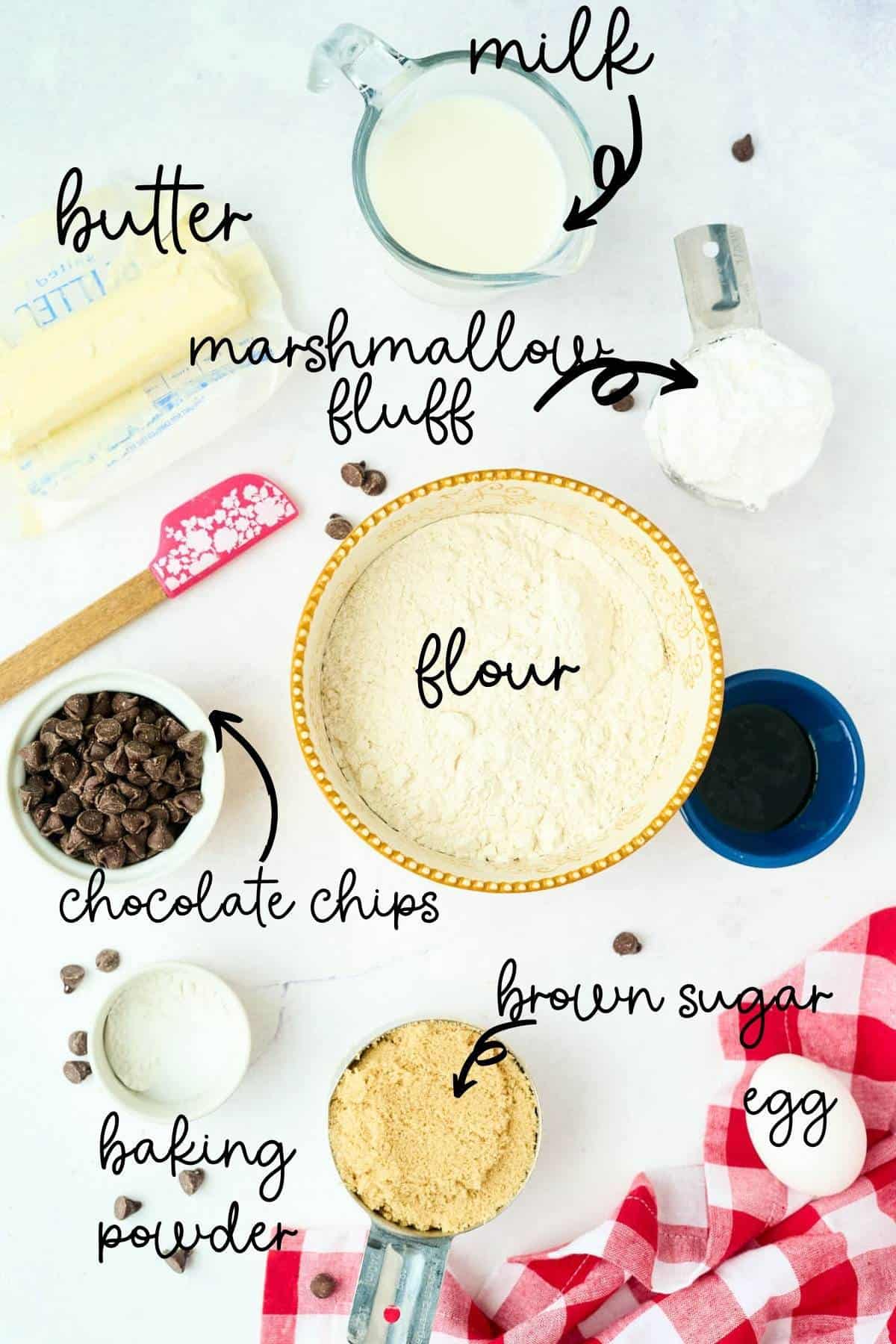 What you'll need
unsalted butter
light brown sugar
egg
vanilla
all-purpose flour
baking soda
salt
milk
chocolate chips
powdered sugar
marshmallow cream (such as Marshmallow fluff: this is usually in the baking aisle near the actual marshmallows or near the peanut butter)
You will definitely want parchment paper to line your baking sheet because the cakes are sticky and will be hard to remove from the baking sheet otherwise.
They are about as time-consuming as making cupcakes from scratch since you are basically making small cakes and frosting. They are just assembled a bit differently.
This recipe makes six large sandwiches, but you could always reduce the size of them and have more.
Step by step chocolate chip whoopie pies:
We begin by making the cakes, which are best done in a stand mixer because the butter and sugar need to be creamed. I did them with a hand mixer for the purposes of showing you the steps, but a stand mixer would have been better! Add the egg and vanilla.
Next, we mix the dry ingredients in a separate bowl and add them to the butter mixture alternately with the milk.
The finished batter will look somewhere in between cake and cookie batter.
Scoop the batter onto parchment-lined baking sheets. You can use a large cookie scoop, or just scoop out 3 tablespoons and eyeball the rest.
Bake until the cakes are set but still soft, about 15 minutes.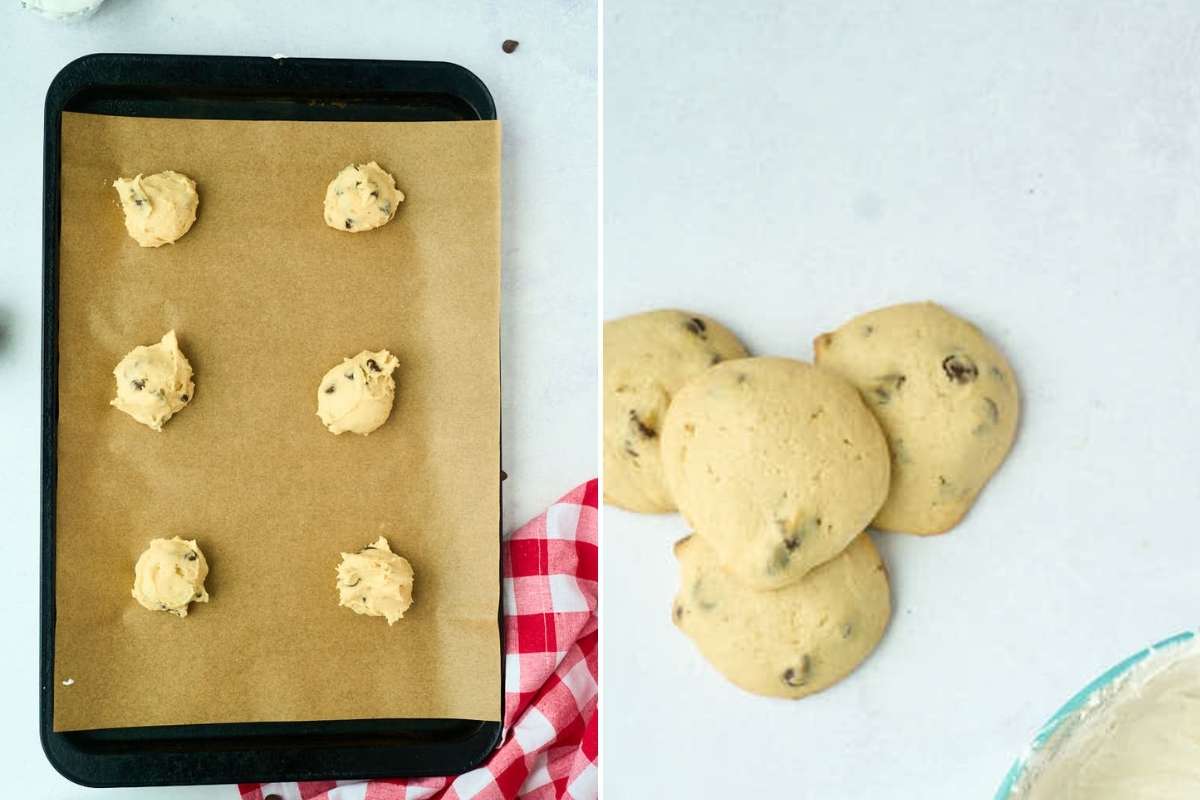 While they are cooling, we begin working on the filling. It is made like a buttercream with marshmallow fluff added at the end.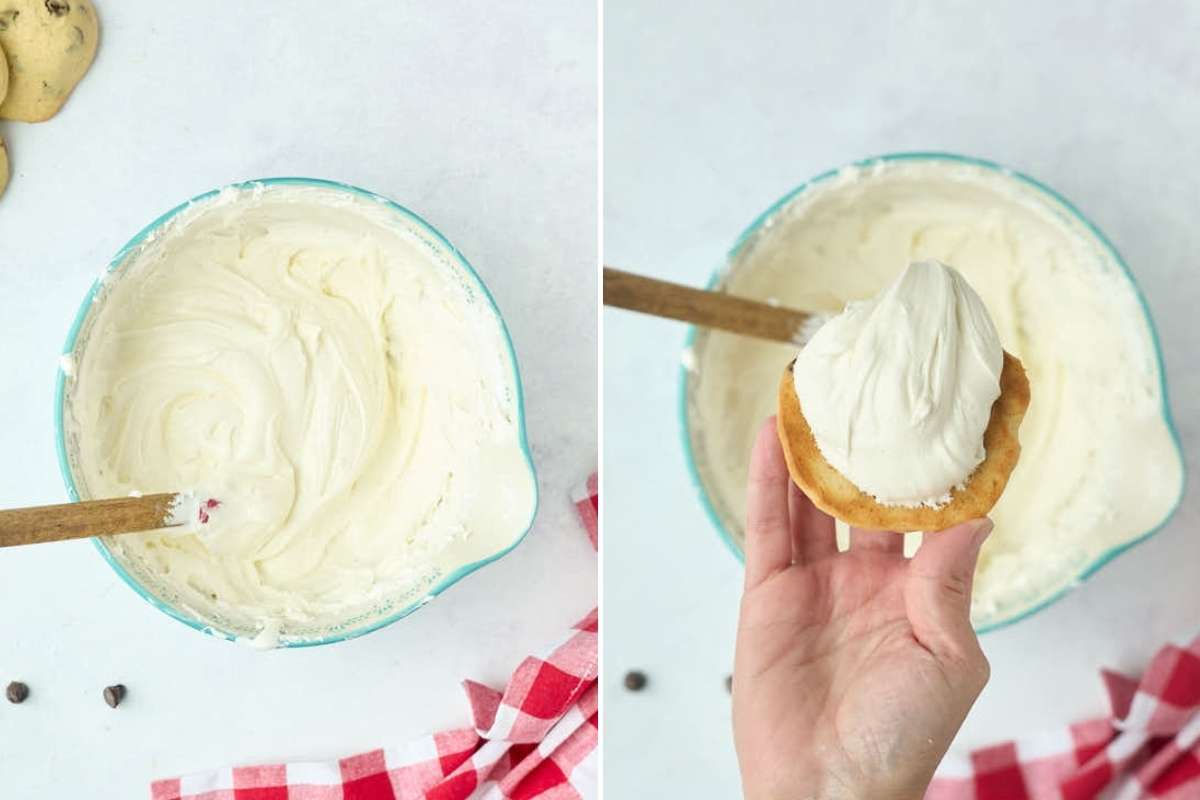 Make sure the cakes have cooled completely before you assemble. Do a test one first, and if the filling is too soft, put it in the fridge for a few minutes. Once you assemble them, it's best to either serve them immediately or refrigerate them so they hold their shape well.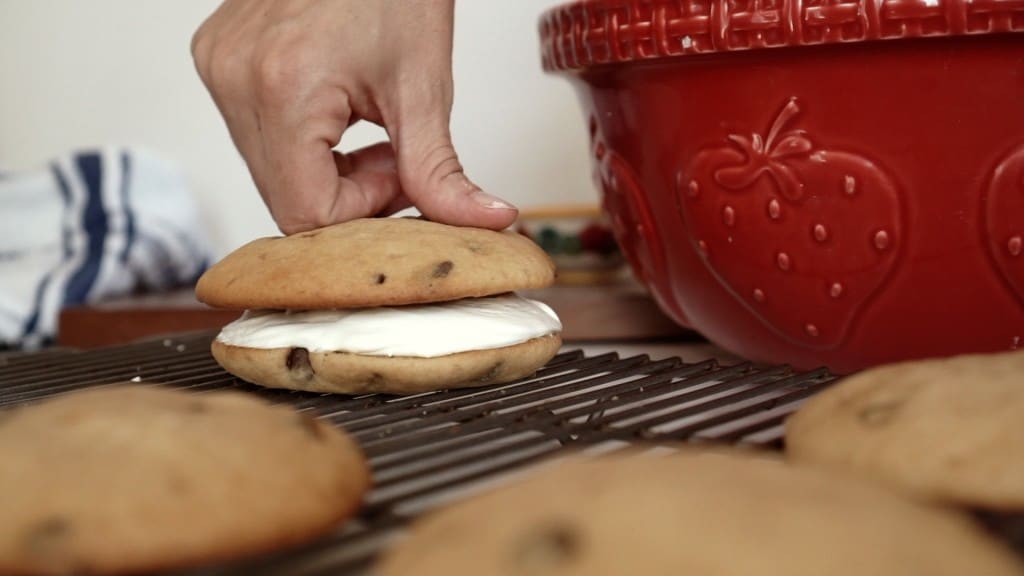 Essential baking tools:
This article contains affiliate links, meaning that if you make a purchase after clicking on one, I may earn a commission at no extra cost to you. As an Amazon Associate, I earn from qualifying purchases.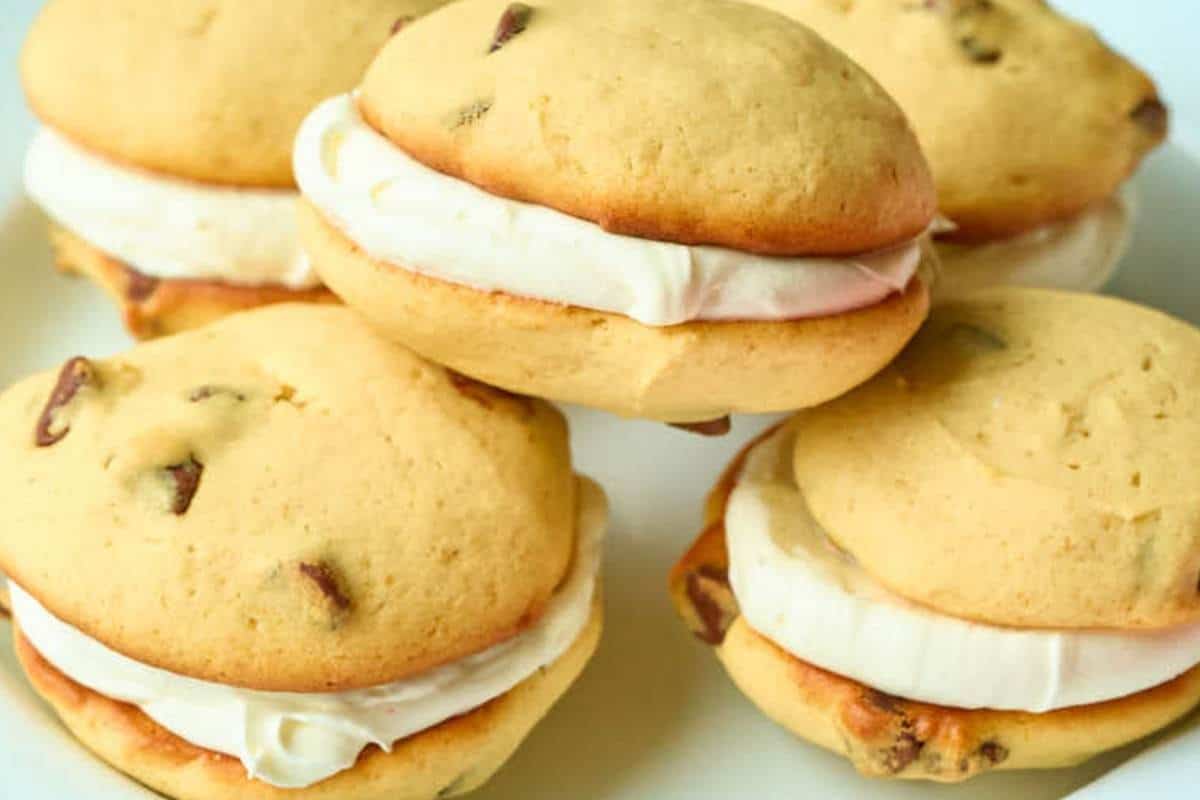 Here's the recipe and the video!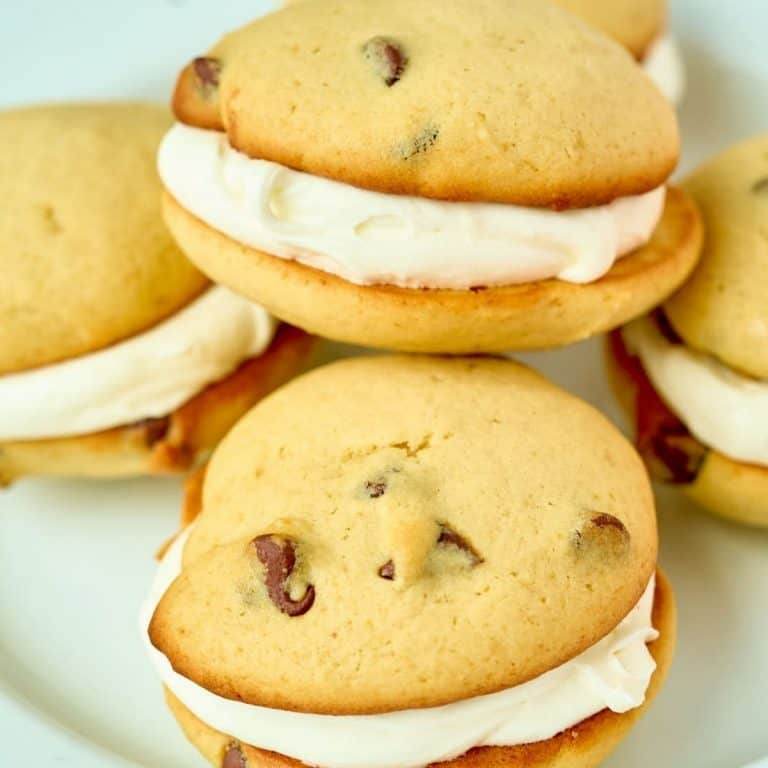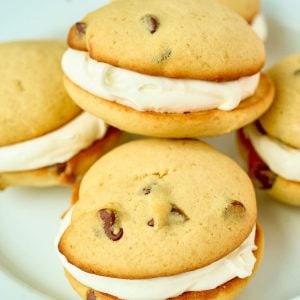 Chocolate Chip Whoopie Pies
Print Recipe
Sweet and soft sandwiches made up of chocolate chip cakes and homemade marshmallow flavored filling.
Click here to grab a free seasonal e-cookbook!
Ingredients
The cakes:
½

cup

unsalted butter, softened

1

cup

light brown sugar

1

egg

1

teaspoon

vanilla

2

cups

all purpose flour

1

teaspoon

baking soda

½

teaspoon

salt

¾

cup

whole milk

¾

cup

chocolate chips
For the filling:
12

tablespoons

unsalted butter, softened

1

cups

powdered sugar

1

teaspoon

vanilla

¼

teaspoon

salt

2

cups

marshmallow cream

such as Marshmallow fluff brand
Instructions
To make the cakes:
Preheat the oven to 350 degrees with two racks, in the upper middle and lower middle positions. Line 2 baking sheets with parchment paper.

Beat the butter and sugar in a stand mixer on medium speed until light and fluffy, or about 5 minutes. Beat in the egg and vanilla and scrape down the side of the bowl.

Combine the flour, salt, and baking bowl in a large bowl. Reduce the mixer speed to low. Add the dry ingredients to the butter mixture 1/2 cup at a time, alternating with the milk, beginning and ending with the flour. Stir in the chocolate chips by hand or on the lowest mixer speed.

Scoop 3 tablespoons of batter onto baking sheets. (Meeasure out the first one and then eyeballl the rest.) Space them 2 inches apart in all directions. There should now be 16 cakes. Bake at 350 degrees for 15-18 minutes, switching the baking sheets halfway through. When fully baked, a cake tester will come out clean but the cakes will still be soft. Remove to a cooling rack and allow to cool completely.
To make the filling
Beat the powdered sugar and butter together until light and fluffy using a stand mixer on medium speed. Add the salt and vanilla. Add the marshmallow cream and beat until fully combined.
To Assemble
Spread 1/4 cup of filling onto the flat side of half of the cakes. Place the remaining cakes on top to make a sandwich. Serve immediately or refrigerate.
Notes
If the filling seems too soft and is not staying on the cakes, refrigerate them until it firms up.
For smaller whoopie pies, scoop out 2 tablespoon sized cakes for a total of 24 (12 sandwiches)
Nutrition
Calories:
454
kcal
|
Carbohydrates:
101
g
|
Protein:
5
g
|
Fat:
5
g
|
Saturated Fat:
3
g
|
Polyunsaturated Fat:
1
g
|
Monounsaturated Fat:
1
g
|
Trans Fat:
1
g
|
Cholesterol:
26
mg
|
Sodium:
384
mg
|
Potassium:
114
mg
|
Fiber:
1
g
|
Sugar:
68
g
|
Vitamin A:
67
IU
|
Calcium:
59
mg
|
Iron:
2
mg
Did you make this recipe?
If you loved it, please leave a review!
More kid friendly treats: