Deliciously soft and sweet cakes loaded with vanilla bean marshmallow cream, everyone will love these vanilla whoopie pies.
When you need a special, kid friendly dessert and neither cakes nor cookies seem quite right, whoopie pies come to the rescue. Soft and cake-like but portable and easy to carry, with a filling that's a delicious cross between marshmallow fluff and buttercream.
This recipe adds plenty of vanilla flavor: vanilla in the cakes, vanilla in the filling, and then an extra hit of vanilla bean.
Ingredients you'll need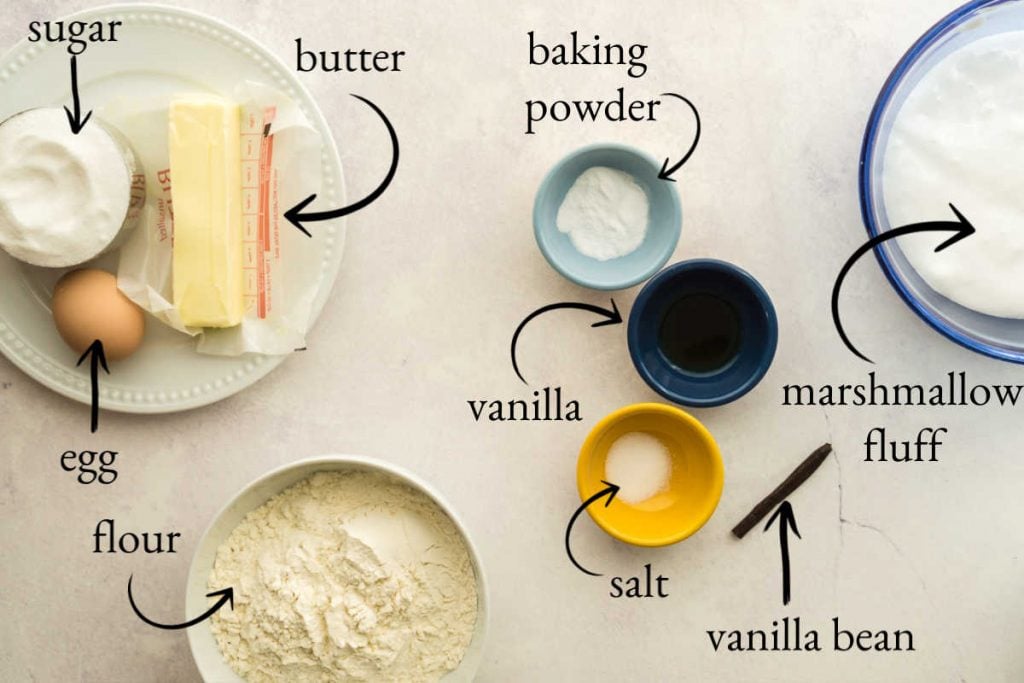 For the cakes:
1/2 cup unsalted butter, softened (1 stick)
1 cup granulated sugar
1 egg
2 teaspoons vanilla
2 cups all purpose flour
1 teaspoon baking soda
1/2 teaspoon salt
3/4 cup whole milk
For the filling:
12 tablespoons unsalted butter, softened (1 1/2 sticks)
1 cup powdered sugar
1 teaspoon vanilla
1/4 teaspoon salt
2 1/4 cups marshmallow cream such as Marshmallow fluff brand
2 vanilla beans or 1/4 teaspoon vanilla bean paste
???? Frugal Tip
All the ingredients for vanilla whoopie pies are accessible and affordable. Marshmallow Fluff is found in the baking aisle, or near the chocolate syrup, or near the peanut butter. (A weird assortment, right?!)
The most frugal way to have pure vanilla extra is to make your own. Look for vanilla beans on Amazon, and simply put them in a small bottle and pour vodka on top. Let them steep for 4 months. As a bonus, you'll have vanilla bean to use in this recipe and others!
My favorite parchment paper is not a true parchment paper, but a baking paper that lays flat. It's affordable and convenient! You'll really want it for dealing with sticky whoopie pie cakes.
Let's make them together!
Making and baking the cakes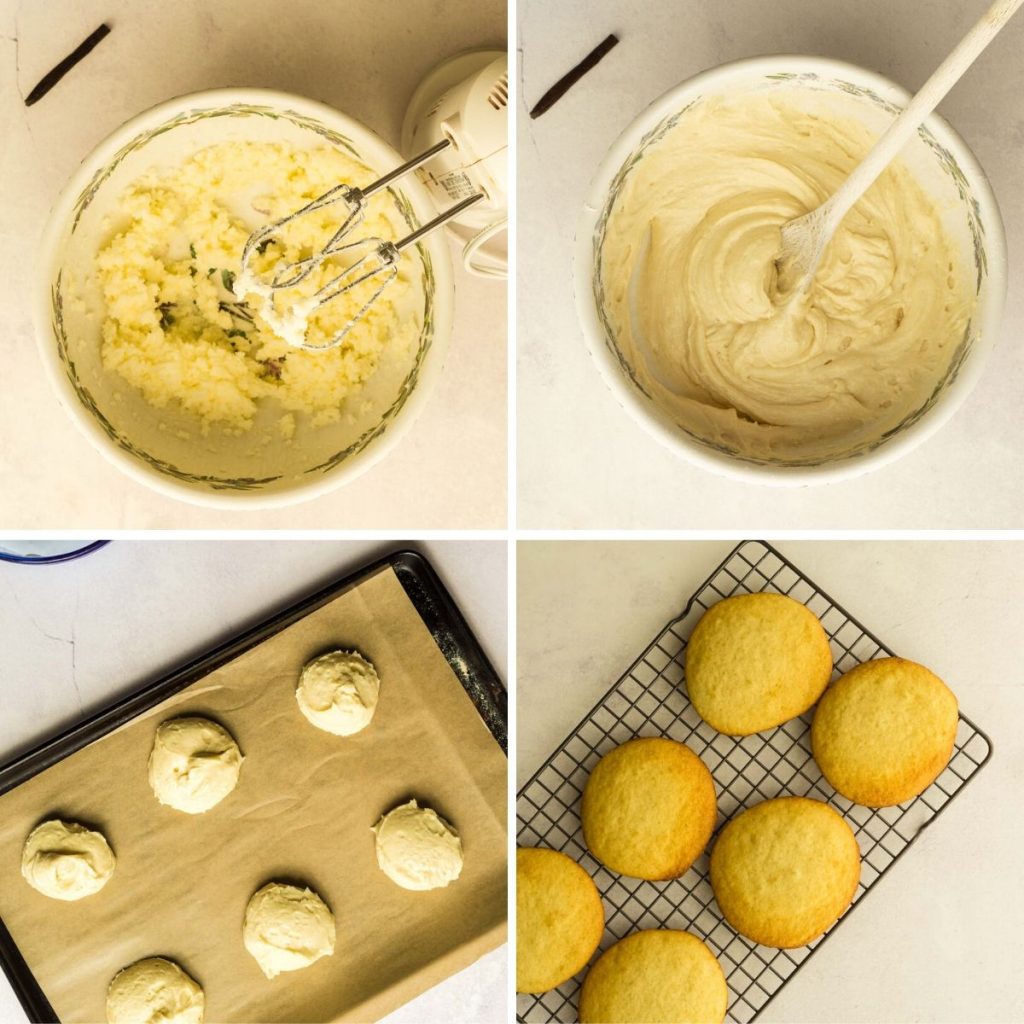 Let's start by preheating the oven to 350. You'll want two racks in, spaced equally apart. Prepare two baking sheets by lining them with baking paper and set them aside.
These are a cross between a cake and a cookie, but during the baking process they will seem very cake-like. We begin by beating the butter and sugar in a large bowl, or using a stand mixer.
In a separate bowl, combine the dry ingredients. Add them to the butter-sugar mixture, alternating with the milk.
To form the cakes, scoop them onto the lined baking sheets. If you are making large whoopie pies (as pictured in this post), use a 1/4 cup scoop or measuring cup. You'll be able to fit six cakes on each baking sheet, for a total of twelve. If you want them smaller, make them 2 tablespoons in size. You will need another baking sheet to have everything fit.
Bake them for 15-18 minutes, until a cake tester comes out clean and the edges are slightly browned. Let them cool on a wire rack and let them cool completely before adding the filling.
Making the cream filling and assembling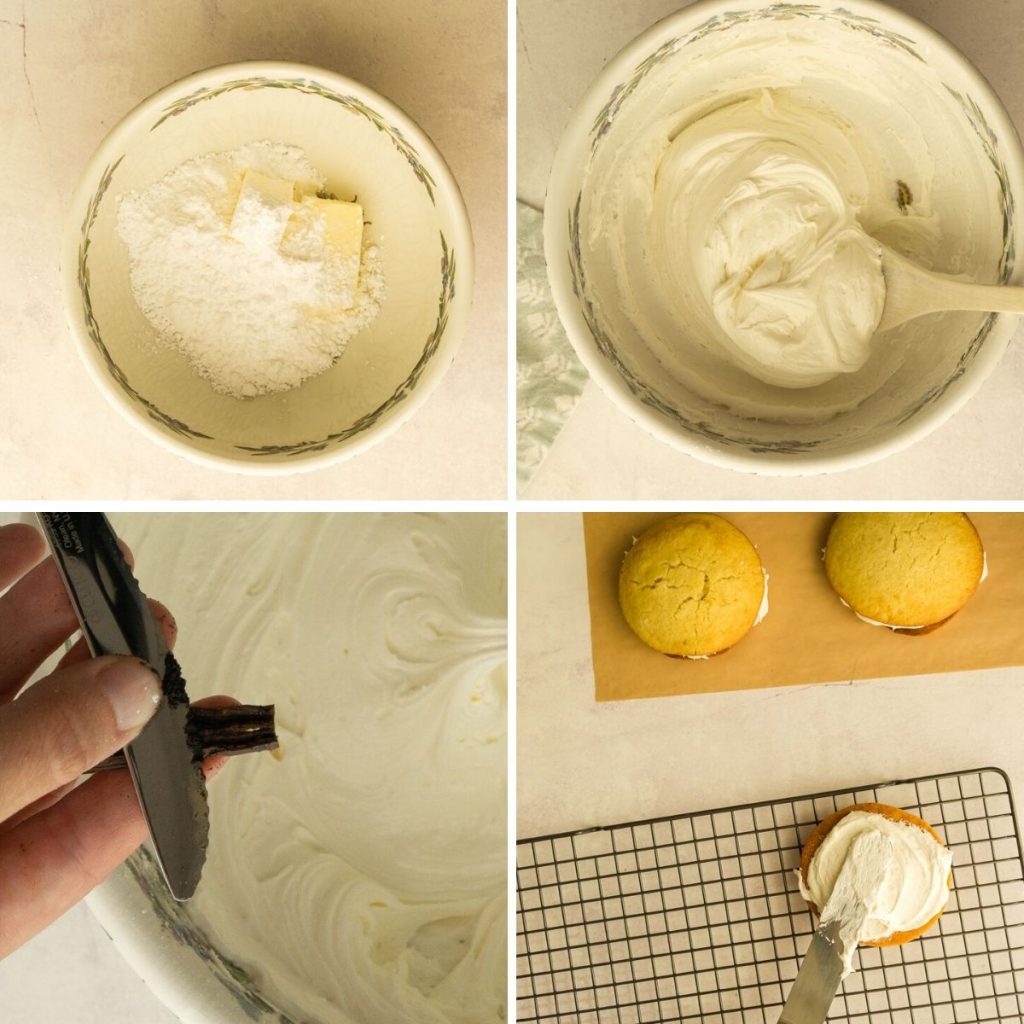 Now we are making the filling, which will look a lot like making a frosting. Beat the softened butter with the powdered sugar, then stir in the salt, vanilla, and marshmallow cream. Finally, add the the vanilla bean and thoroughly mix.
At this point you may want to test the consistency of the filling, which can vary a lot depending on the temperature of your kitchen. You want it to stay on the cakes but still be very spreadable. If the filling needs some tweaking, place it into the fridge to firm it up or add a splash of milk to soften.
Spread the filling onto the flat side of the cakes and place another on top. Pop them in the fridge or serve right away.
Need more whoopie pies?
Of course you do!
Print the recipe here!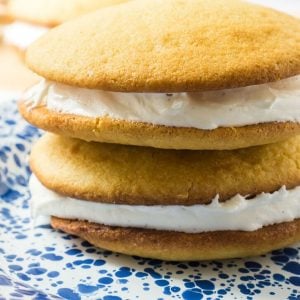 Vanilla Whoopie Pies from Scratch
Print Recipe
Deliciously soft and sweet cakes loaded with vanilla bean marshmallow cream, everyone will love these vanilla whoopie pies.
Click here to grab a free mini-cookbook with my best seasonal recipes
Ingredients
The Cakes
½

cup

unsalted butter

(1 stick)

1

cup

granulated sugar

2

teaspoons

vanilla

1

egg

2

cups

all purpose flour

1

teaspoon

baking soda

1/2

teaspoon

salt

¾

cup

milk

(whole preferred but not essential)
The Filling
¾

cup

unsalted butter

(1 ½ sticks)

1

cup

powdered sugar

1

teaspoon

vanilla

¼

teaspoon

salt

2

cups

marshmallow cream

(such as marshmallow fluff brand)

¼

teaspoon

vanilla bean paste

or inner portion of vanilla bean, scraped out
Instructions
Make the Cakes
Preheat the oven to 350 degrees with two racks, in the upper middle and lower middle positions. Line 2 baking sheets with parchment paper.

Beat the butter and sugar in a stand mixer on medium speed until light and fluffy, or about 5 minutes. Beat in the egg and vanilla and scrape down the side of the bowl.

Combine the flour, salt, and baking bowl in a large bowl. Reduce the mixer speed to low. Add the dry ingredients to the butter mixture 1/2 cup at a time, alternating with the milk, beginning and ending with the flour.

Using a 1/4 cup measuring cup, scoop batter onto baking sheets spaced 2 inches apart in all directions. There should now be 12 cakes. (For smaller cakes, make them 2 tablespoons each. You will need another baking sheet.)

Bake at 350 degrees for 15-18 minutes, switching the baking sheets halfway through. (Reduce to 10-13 minutes for smaller cakes.). When fully baked, a cake tester will come out clean but the cakes will still be soft. Remove to a cooling rack and allow to cool completely.
Make the Filling
Beat the powdered sugar and butter together until light and fluffy using a stand mixer on medium speed. Add the salt and vanilla. Add the marshmallow cream and beat until fully combined. Add the vanilla bean paste and stir in.
Assemble
Spread 1/3 cup of filling onto the flat side of half of the cakes. The filling should stay on but still be spreadable. It if it's sliding off, place in the refrigerator to firm up or add a bit more powdered sugar. If it's too soft to spread, add a touch of milk.

Place the remaining cakes on top to make a sandwich. Serve immediately or refrigerate.
Nutrition
Calories:
903
kcal
|
Carbohydrates:
131
g
|
Protein:
7
g
|
Fat:
41
g
|
Saturated Fat:
26
g
|
Cholesterol:
109
mg
|
Sodium:
511
mg
|
Potassium:
145
mg
|
Fiber:
1
g
|
Sugar:
89
g
|
Vitamin A:
1297
IU
|
Calcium:
98
mg
|
Iron:
2
mg
Enjoy this recipe!