Here are sixteen old school cleaning secrets. You'll be surprised by how practical these vintage cleaning tips are for the modern home.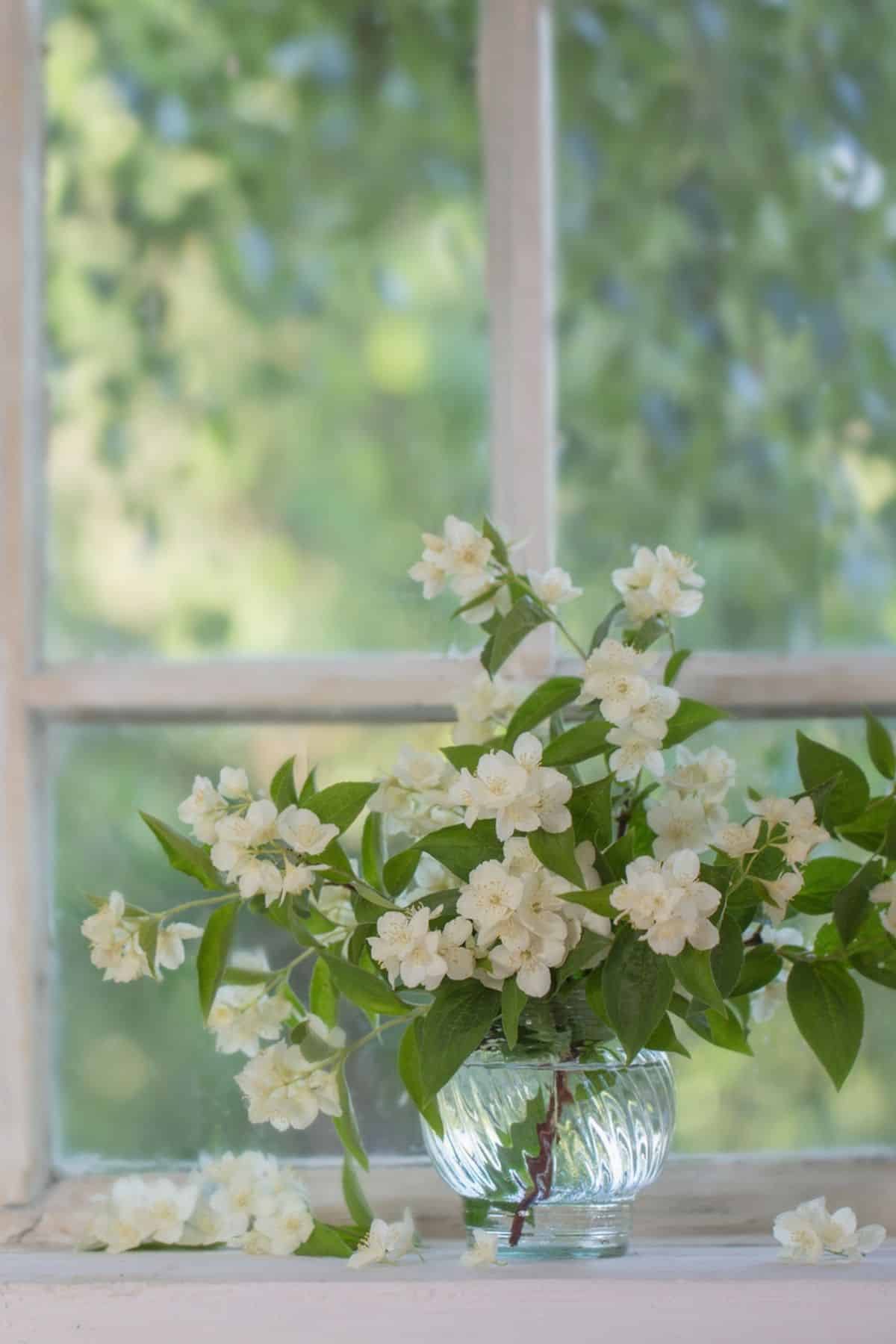 Every spring, I get the cleaning bug. (Don't we all?). And every spring, I go through the cabinet under my sink. For some reason, this year it bothered me. And here's why.
That area under my sink was absolutely stuffed with cleaning products: weird cloths and mop attachments I had been pressured into buying, scented powders, clingy things that were supposed to attach to the toilet, and more.
And yet… my house wasn't that clean.
My grandmother hadn't had any of these things and her home was always sparkling. And the hard truth is: it's the work that makes a home clean, not the products.
So let's set aside these newfangled cleaning gadgets and chemicals, roll up our sleeves, and get back to basics.
If you love old fashioned living, be sure to read this list of vintage-inspired money saving tips.
Dryer Sheets are versatile.
Dryer sheets can be helpful for more than laundry.
They can even get rid of stuck-on food in pots and pans. Place a non-woven dryer sheet in the bottom of your pot or pan with hot water. The residue will slide off after a couple of hours.
Clean the kitchen before and while cooking.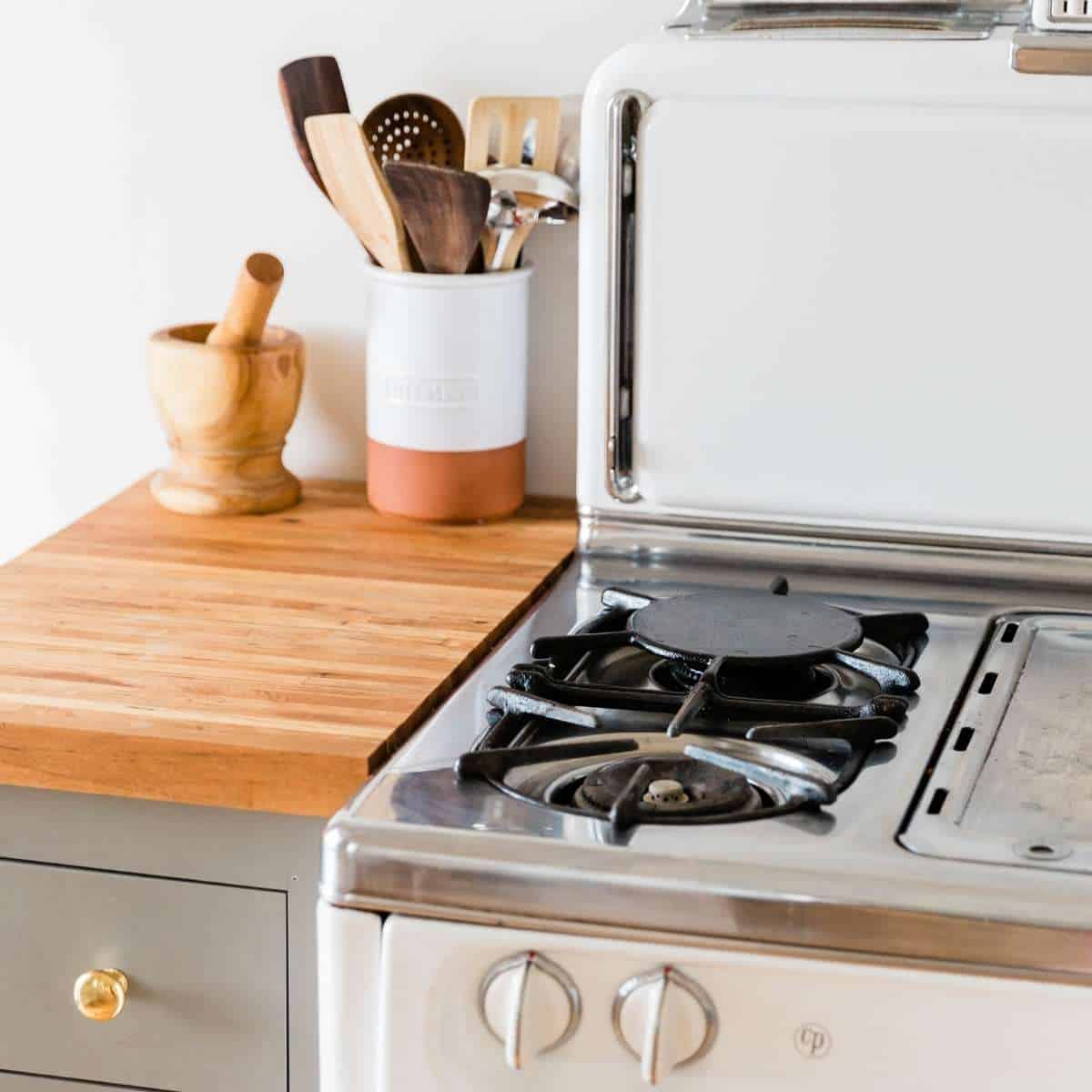 This tip took me a while to get on board with, but it has helped me cut the time I'm actually cleaning drastically. While cooking, if you're waiting on water to boil or a sauce to thicken, wash a dish while you wait.
You can also clean your kitchen before getting the dishes out to start cooking. It gives you more room on your countertops and in your sink instead of adding onto an existing pile. (This is one of my best canning tips too! Starting with a mess is overwhelming and don't lead to a happy kitchen kitchen experience.)
It also cuts down on the after-dinner clean up so you can enjoy time with your family.
Vinegar is your best friend.
White vinegar (approx. 5% acidity) or cleaning vinegar (approx. 6% acidity) are the best to eliminate dirt, food, odors, and some food-borne germs.
Pour water and vinegar together into an empty spray bottle, and you have a simple cleaning solution ready to go. Now you can ditch the surface cleaning products loaded with extra chemicals.
Vinegar can also be used to make your microwave sparkle.
Just place a few cups of water, depending on your microwave size, and then half of that amount of vinegar into the bowl and turn your microwave on for about 7 minutes to soften any dried-on food. Carefully use the warm water mixture and a rag to wipe the microwave down.
Need more ideas on what to do with vinegar?
It can clean your coffee pot, remove shower scum and lime buildup, and making glass and silver shiny again by pouring 1-2 cups of vinegar into the bottom of your dishwasher.
Don't forget about your windows and mirrors! Mix vinegar to 10 parts warm water in a spray bottle to remove dirt without any streaks.
Create a cleaning schedule.
Make a cleaning schedule for yourself, don't feel the need to do everything one day a week if you get overwhelmed easily, break tasks up.
Designate a specific day of the week for certain chores; for example, Monday is laundry, Tuesday is bathrooms, Wednesday mopping/vacuuming, etc.
You can grab a free printable weekly cleaning schedule plus tips to create your own here.
Read all about homemaking for beginners and get a handle on managing your home.
Dust with a damp cloth.
Damp cloths work much more efficiently to gather dust, unlike a dry cloth or even a feather duster. You don't need fancy sprays, expensive microfiber, or anything else. We're talking a rag + a little bit of water.
One exception: if you're cleaning up dry flour, use a dry cloth or else you'll make a sticky paste and spread it all over your counters. Not fun.
Lemon is your next best friend.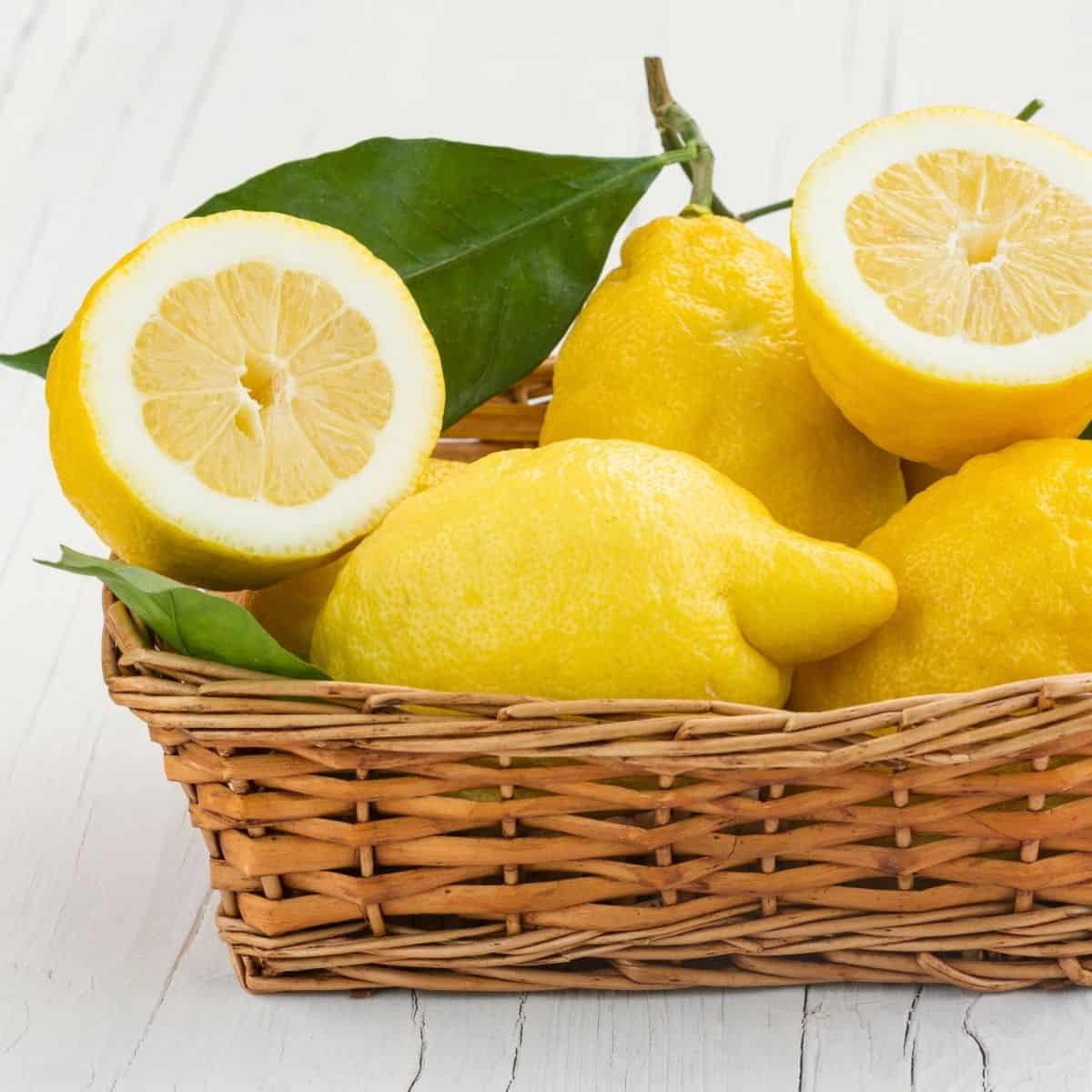 Lemon juice is a perfect rust remover, grout restorer, and deodorizer.
Stick some lemon peels into your garbage disposal for a fresh scent. Or, if you want to remove a smell from upholstered furniture, place 2 cups of hot water, 1/2 cup of lemon juice, and 1/8 cup of baking soda into a spray bottle.
Another trick from Grandma to make your home cozy is to put two lemons, two stalks of rosemary, and a teaspoon of vanilla in a pot with 2 quarts of water to a boil, lower the heat to a simmer to freshen up your house.
Need a simple recipe for wood furniture polish? Mix 2 parts white vinegar, 2 parts olive oil, and 1 part lemon juice. Dip your cleaning cloth into the mixture.
A little bit of this goes a long way! Wipe the excess off with a dry rag.
This recipe is great for the wood tables in your home, but do not use this mixture on wood flooring as the pH of the vinegar could be too rough for the flooring, and the oil could be a slipping hazard.
Hang your broom and scrubbing brushes.
To keep your broom and scrub brushes durable and prevent the bristles from warping, hang them up after each use. Plus, it looks cute and gives you an excuse to get nice wooden ones!
Don't throw out your old toothbrush.
Grandma was very proud of her silver. It would be a waste to let it rust.
Get an old toothbrush and toothpaste to polish your silver and make it look brand new again.
Old toothbrushes are also handy tools to clean the hard-to-reach spots in the bathroom.
Use an Abrasive Powder on Tough Stains
Baking soda, white vinegar, or lemon not doing the trick? Turn to a simple scouring powder like Bon Ami or Bar Keeper's Friend for the absolute best results in deep cleaning.
For cleaning white kitchen sinks, cloudy glass, or anything else that just don't budge, these powders are miracle workers that women have counted on for decadess.
Pour salt on spills in the kitchen.
I know I can't be the only one who makes a mess in the kitchen. So take note of this kitchen hack!
Spills happen, so when they occur around the stove or contain grease, pour salt on top of the spill, and it will reduce the number of paper towels you need to clean the mess.
Use the sun as a natural stain remover.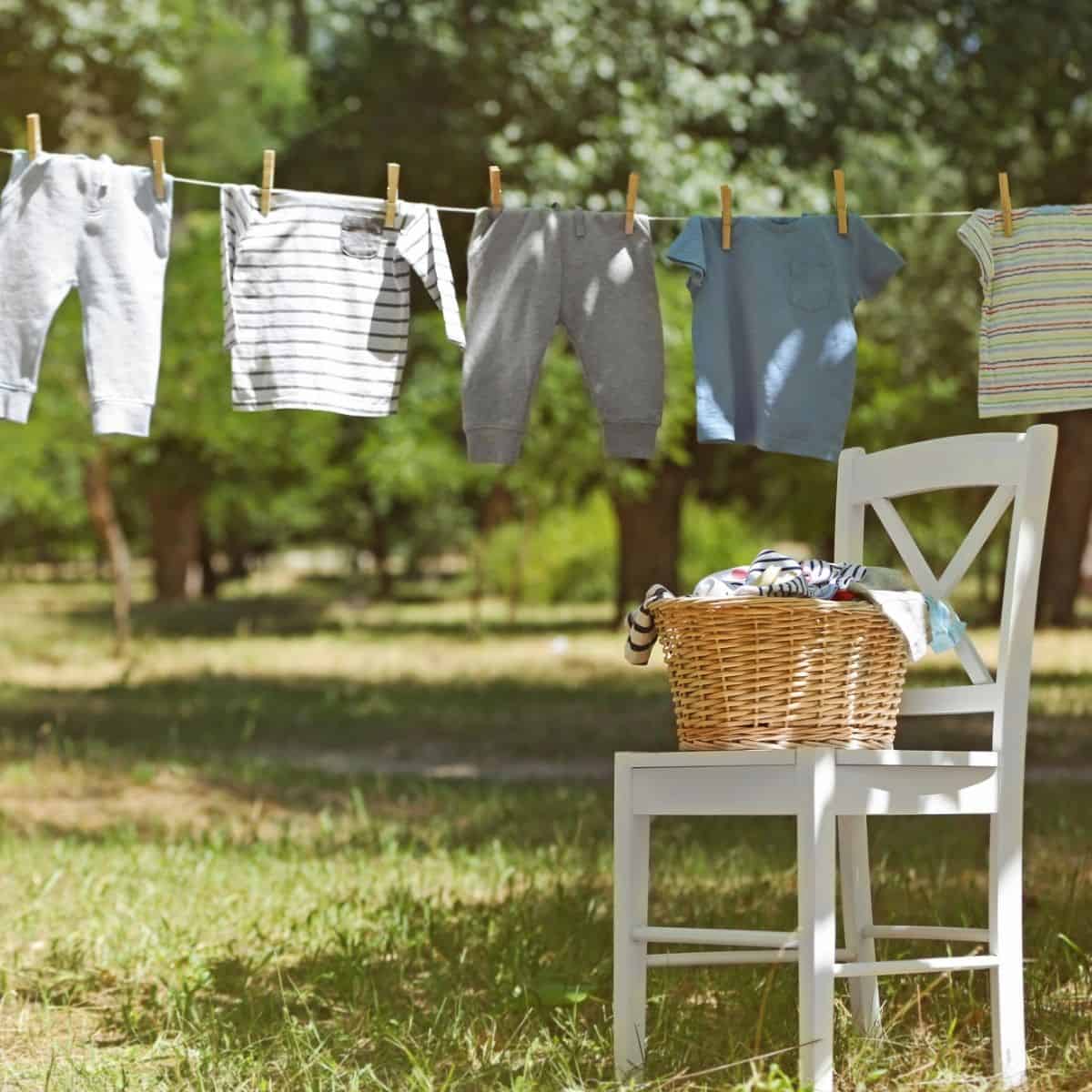 Did you know the sun removes those pesky laundry stains? I didn't until I had babies, and nothing I did would thoroughly remove the baby food stains.
The sun can also be used to remove perspiration stains.
If you don't have a clothesline in your yard, purchase a drying rack from the store and place your stained clothes outside on the rack immediately after washing. Do not place the stained clothes into the dryer as that will set in the stain even more.
Always clean top to bottom.
You may think this should go without saying, but I can't tell you the number of times I've caught myself cleaning the floors before dusting the bookshelves.
Start cleaning the taller surfaces up high and work your way down as you clean.
Take advantage of rainy days.
If the weather gets in the way of your plans for the day, do something extra.
Take the day to tackle a project in the house you've meant to get to or add some extra chores to your day, so when the weather clears up, you feel free to go out and enjoy it.
Use old fabric for cleaning surfaces.
Don't throw away your old shirts or any other fabric you have lying around.
They can easily be cut up and used for dusting or even sewn together for a thicker cleansing cloth.
Tea stain towels.
If you have a beautiful tea towel or cloth napkin, you want to use, but they have an ugly stain?
Simply tea stain the cloth to give the towel a more antique look while covering the food or spill stain.
Steep 5 tea bags in hot water for 10 minutes before removing the tea bags and putting the cloth into the tea. Let it sit until you have your desired shade. Dry the cloth to set and then wash in cold water.
Use baking soda as a deodorizer.
Sprinkle baking soda on the carpet or rugs in your home before vacuuming to get nagging odors out of your house.
Have fun!
Please don't roll your eyes; just hear me out.
Cleaning isn't always fun, and there are always tasks we prefer over others. So pair the least favorite cleaning activities with something you do enjoy.
My grandmother enjoyed listening to baseball on the radio. She would do laundry mending and ironing while listening.
Do something similar. Watch a show, listen to a podcast, or turn on a favorite show while you check off the to-dos on your cleaning list.
Get the kids involved in cleaning and make it a game or a race to see who can complete a task first. It doesn't have to be overwhelming if you try to make it fun and active.
Don't forget that as important as a clean home is, there is more to vintage homemaking that just cleaning. Enjoy the process.
Hope you find these tips inspiring and fun!