Creative and beautiful things to make with beeswax from beauty products to furniture polish and more. Any beekeeper will love these ideas.
What makes beeswax so special?
Beeswax is produced by wax glands of worker honey bees. When bees store honey, they "cap" each frame with beeswax. When you look at honeycomb out of the hive, you'll see that its made of beeswax.
Beeswax has some unusual properties that make it so useful for DIY projects. It is naturally very hard and very flammable. It is a great addition to homemade soaps, lotions, candles, and balms. It helps balms of all sorts stay solid, and it burns cleanly and steadily in candles and fire starters.
The downsides? Well, being very hard and very flammable make it difficult to work with. If melted beeswax hardens on a surface it can be difficult to remove, and it's hard to measure out exactly if you're using big chunks or bars. You'll also need to be careful
Since beeswax can only be produced in such a specific way and is relatively difficult to harvest, it is quite expensive per pound if you don't keep your own honey bees. Just keep in mind that a little goes a long way.
Most of these uses for beeswax use other ingredients too.
Whether you're a beekeeper or just someone who loves natural and handmade projects, you're sure to find one these things to make with beeswax right up your alley.
Best Beeswax for Crafting + Source
Most of these project use beeswax in smaller amounts, and you'll probably find that beeswax pellets are best. They are easy to work with because you can measure the exact amount you need without chopping into hard bars of wax. Find beeswax pellets here.
If you're making candles or something else that uses wax in larger quantities, you'll prefer to buy bars. They are more affordable per ounce.
Beeswax bars can be found on Amazon here.
Some people prefer the look of white beeswax, especially for skin care products, so make sure you make note of the color before purchasing.
Making a gift?
Be sure to grab these free bee printables and you can package up your homemade gift with a vintage style tag.
Beeswax Candles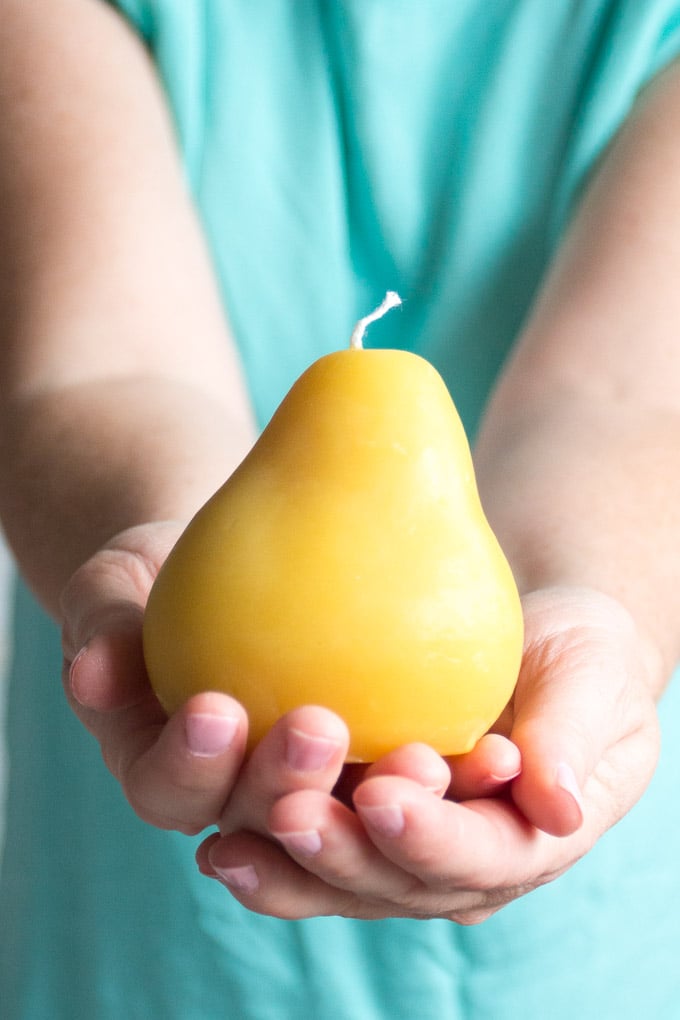 This beeswax candle tutorial uses 100% beeswax, which produces a beautifully hard and clean burning candle. Beeswax candles were historically highly prized and saved for special occasions.
But you can make your own with a few specialty tools, without spending a fortune!
The natural golden beeswax color paired with the natural sweet beeswax scent make this pear candle appear almost good enough to eat!
Homemade Hand Cream and body cream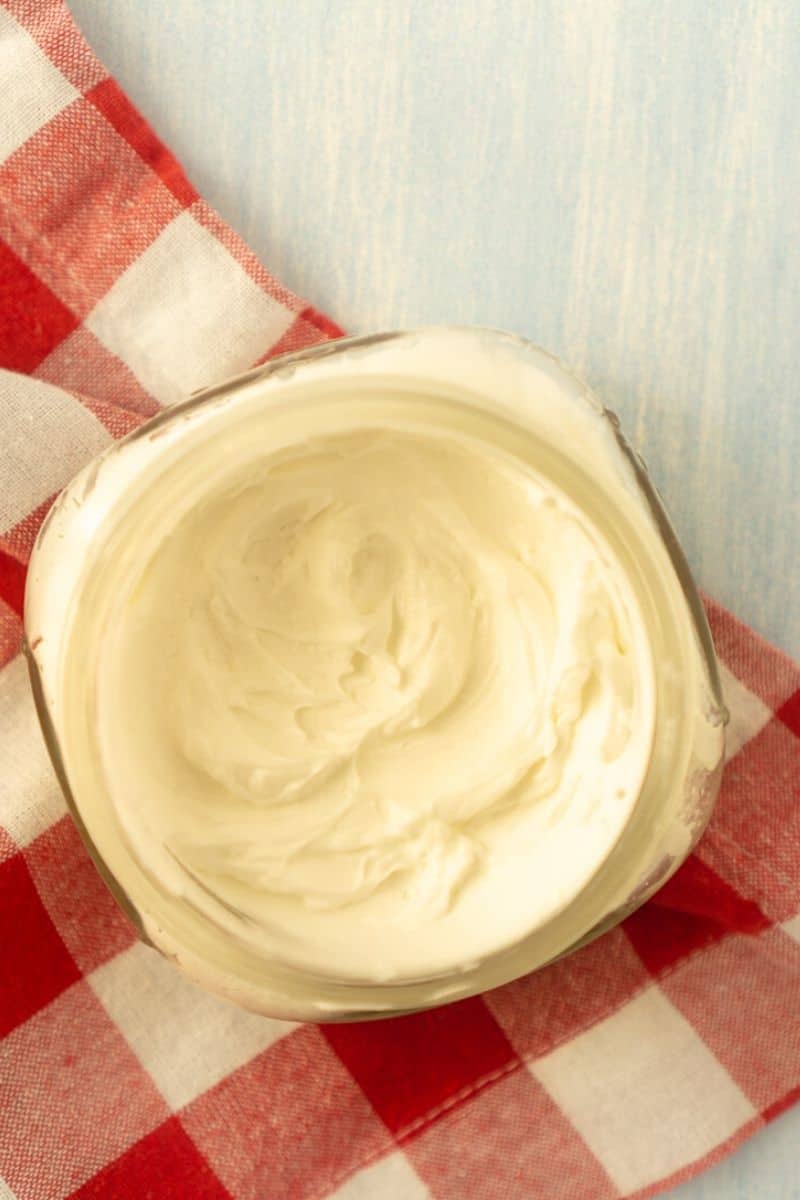 When you want to add firmness to a body cream, nothing does the trick like beeswax. These recipes both use it in small amounts.
This hand cream recipe is a simple blend of whipped oils and butters that's perfect for dry, rough skin. It's more like a body butter in consistency.
This beeswax and shea butter body cream is softer and lighter but still thick and nourishing thanks to the added beeswax.
Beeswax Furniture Polish
This furniture polish is simply beeswax and olive oil blended together to create a polish that shines and protects your wooden surfaces. It's all natural and easy to make. You basically just mix it and buff it o with a clean cloth!
Since beeswax is a great water repellent, it does a great job sealing and protecting your furniture from everyday damage.
Homemade soap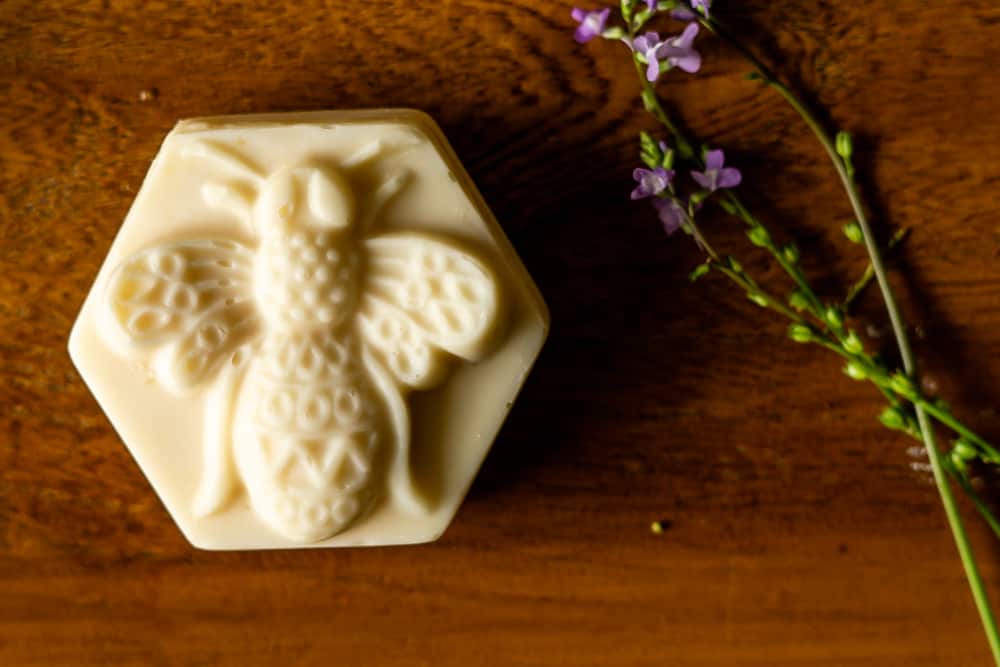 This beeswax and honey cold process soap recipe uses a beekeeper's bounty to make a beautiful bar of soap. If you are looking to add natural and local ingredients to your soap, beeswax and honey are perfect. This DIY recipe yields a sweetly scented bar that makes a charming gift… or something special for yourself.
You'll also find beeswax as an ingredient in this gentle homemade baby soap. This recipe uses nourishing oils and shea butter. You can use essential oils for fragrance and customize it in other ways. (Lavender helps relax little ones after a long day!)
Beeswax slightly decreases the lather of a soap, but its worth it for how hard and long lasting a bar you get. It's one of my favorite soap ingredients.
Beeswax food wraps
These homemade beeswax food wraps couldn't be easier. They are cute, make sweet gifts, and are a great way to use up extra fabric. They will also save you money and reduce your waste over time, as they replace plastic wrap in your food storage.
Homemade fire starters
Remember how flammable beeswax is? That's one of the reasons these fire starters are so great! They are simple to make and eco-friendly, using scavenged materials plus a cotton wick. If you've ever had trouble getting your firewood to burn at times, you'll find these DIY beeswax fire starters super practical.
Lotion Bars
We've already learned that body cream and hand cream can be enriched with just a little beeswax. But if you want to add a lot, you can make lotion bars, which stay completely solid and are rubbed onto the skin.
If you've never used a lotion bar, you'll love how portable they are and how effective they are for very dry skin.
Cast Iron Conditioning Oil
Just like how beeswax shines and protects wood, it does the same with cast iron. And you only need the smallest amount to mix with olive oil and make the best conditioning balm ever. It's easy to make, easy to use, and super practical.
Hair and Beard Pomade
This is a real money saver because these boutique style pomades are expensive. But they are so affordable and simple to make at home.
It helps you to tame crazy hair and even condition beards! If you use a blow dryer regularly it can help protect your hair, and if you have flyaways its great at smoothing things out.
Homemade Lip Balm
Here's a use for beeswax where it really shines! Lip balm is one of the best ways to use beeswax because it helps the balm keep its shape beautifully, even at room temperature.
If you want to dive into the world of DIY beauty products but feel a little intimidated by soaps and lotions, lip balm is a great choice.
I hope you found something on this list of things to make this beeswax that you'll be trying soon. Whether you get your beeswax from a local beekeeper or have it shipped, working with this special ingredient is fun and rewarding.
Enjoy these DIY ideas using beeswax!